California cities like San Francisco and Los Angeles regularly show up on the "Most Expensive Cities" lists for the United States. Despite this fact, there are TONS of cheap weekend getaways in California that are accessible from these large cities! Whether you are looking for budget vacations in California or free camping in California, it all can be found on this list. Keep reading for 10 Cheap Weekend Getaways in California!
Pin Me for Later!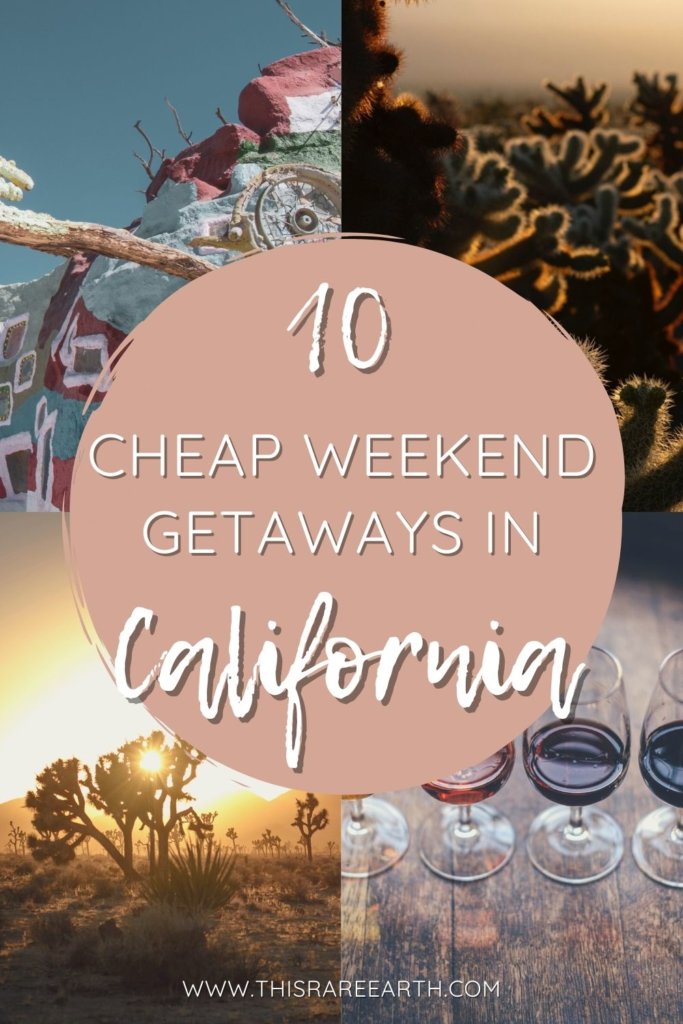 Despite housing some of the most expensive cities in the United States, California offers a surprising number of cheap activities and free things to do if you know where to look.
I've put together this list of ten cheap weekend getaways in California to help out both tourists and locals on a budget (who still want a little adventure in their lives!). From hiking and camping to lounging on the beach or discovering off-beat sites, there is something on this list for YOU.
Keep on reading for some inspiration!
You May Also Like: A Pacific Coast Highway Itinerary
Ten Cheap Weekend Getaways in California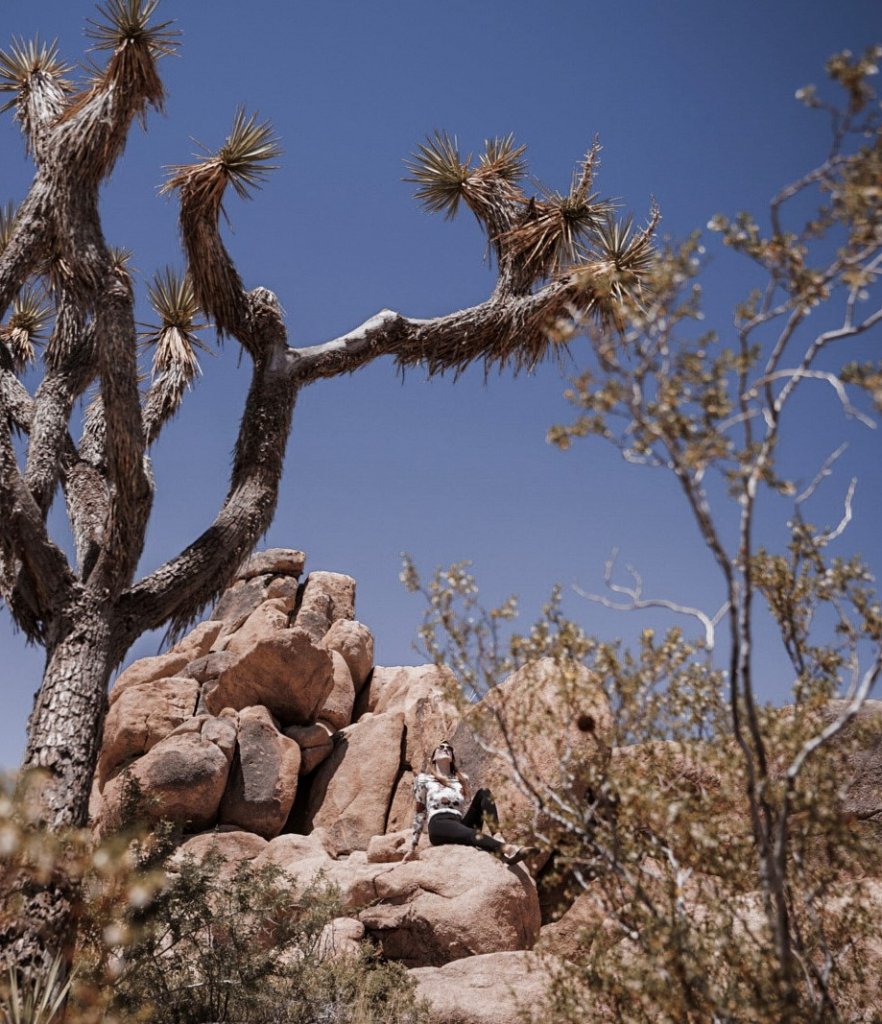 1. Joshua Tree National Park Hiking and Camping
Oh, Joshua Tree – one of my most favorite places. Not just in California, but on earth. The incredible scenery, full of rugged mountains, unique rocks, and spiky-but-lovable-plants is awesome. Not to mention, sunny blue skies almost every day of the year.
I absolutely love this otherworldly national park, and believe it or not, it is a very easy and cheap weekend getaway in California. Frankly, Joshua Tree National Park is a must-see.
First, if you already have the America the Beautiful Pass, then entry is free. (I personally always buy this pass; I find that I visit enough parks each year to make it worth it!). If not, then entry is $30 per car, not per person. So theoretically, you could pile multiple people into one car and split the cost, making it super-affordable.
Once you're in the park, most things are free. Hiking? Free. Photography? Free. Sightseeing? Free. In fact, the only thing that will cost you money inside the park is camping (typically $25-$30 per night), which can be reserved here.
Entry Fees: $30 per car; valid for 7 days.
Accommodation: Camping (both reservations and first-come-first-serve available.
Miscellaneous: Be aware that campsites do sell out, so this is something you should arrange in advance!
Drive: Approximately 3 hours from LA.
2. Upscale Malibu Without Breaking the Bank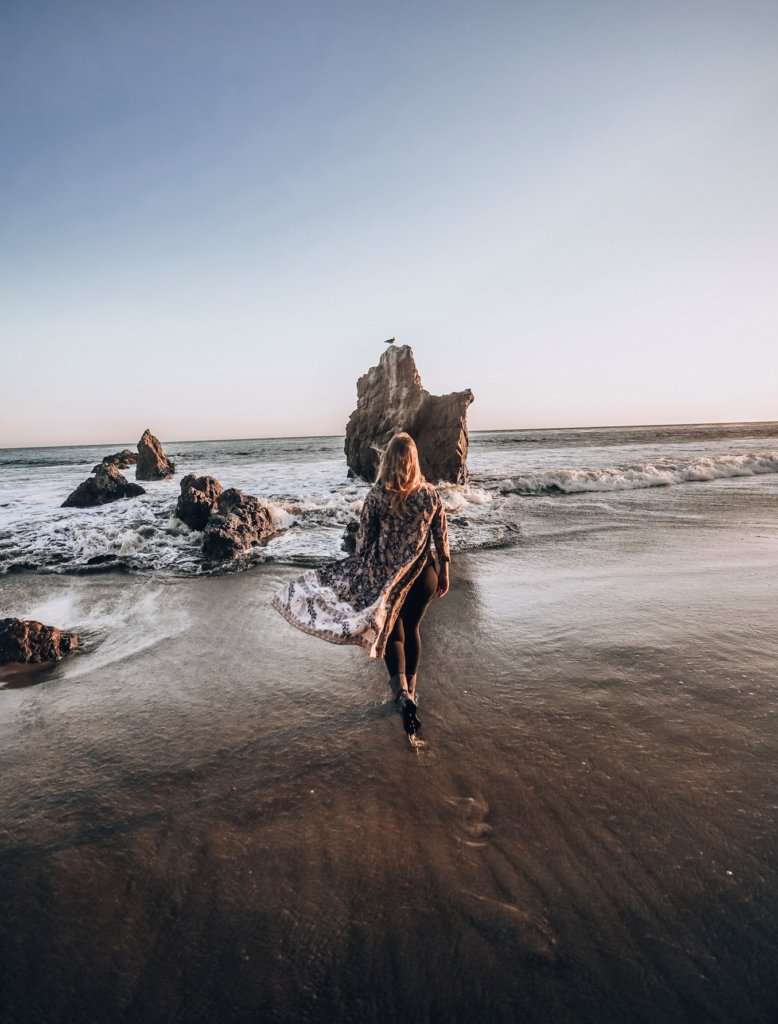 I bet you would never expect Malibu of all places to be included on a "cheap" list! But it's true, it is completely possible to see Malibu on a budget.
In many places, it is completely free and legal to park along the Pacific Coast Highway and stroll down to the beach – even at places as popular as El Matador State Beach. Though you will see paid parking lots lining the shore, it is not required to use them.
Entry onto said beaches is also free to the public. Sunbathing and swimming with the Pacific Ocean's sea creatures? Also free. And, there are loads of budget eateries for lunches and dinners along the PCH, too.
On the land side of the PCH, there are plenty of incredible hikes that give panoramic ocean views as a reward. And, camping in Leo Carrillo State Park is cheap and scenic.
Alternately, if you're traveling in a group, AirBnb's can sometimes be reasonable when split between several friends.
Here is a detailed breakdown on how to spend your time in Malibu – from where to go, what to do, and where to eat, I've got you covered.
Entry Fees: None.
Accommodation: Camping at Leo Carrillo is roughly $45.
Miscellaneous: Malibu stretches across roughly 28 miles of coastline. Drive the entire length for spectacular views!
Drive: 30 minutes – 1 hour from LA.
3. Red Rock Canyon State Park for a Secluded Camping Weekend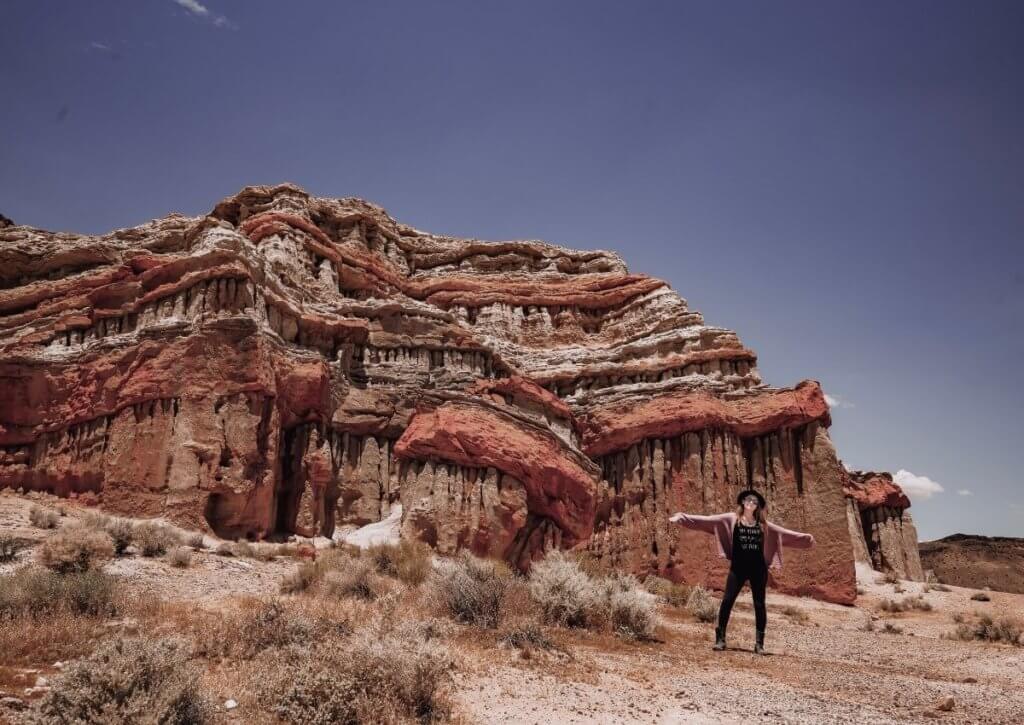 This small park is such a hidden gem! Somehow, Red Rock Canyon State Park has stayed very under the radar to Los Angelinos, despite being an easy 2-ish hour drive.
This park features tall desert cliffs with dramatic shapes and vivid red stripes. The hikes are beautiful, and it's easy to feel like you're in Arizona or Utah rather than California. Camping is all first-come-first-serve; no online reservations can be made. That said, I've never seen the park fill to capacity, even on weekends.
Check out my in-depth guide on hiking and camping in Red Rock Canyon State Park for more.
Entry Fees: The latest info can be found here.
Accommodation: Camping is $25 per night.
Miscellaneous: Don't miss the rocks near the Ricardo Campground! Those are the most stunning in my opinion.
Drive: 2 hours from LA.
4. Anza Borrego Desert State Park for Stargazing and Hiking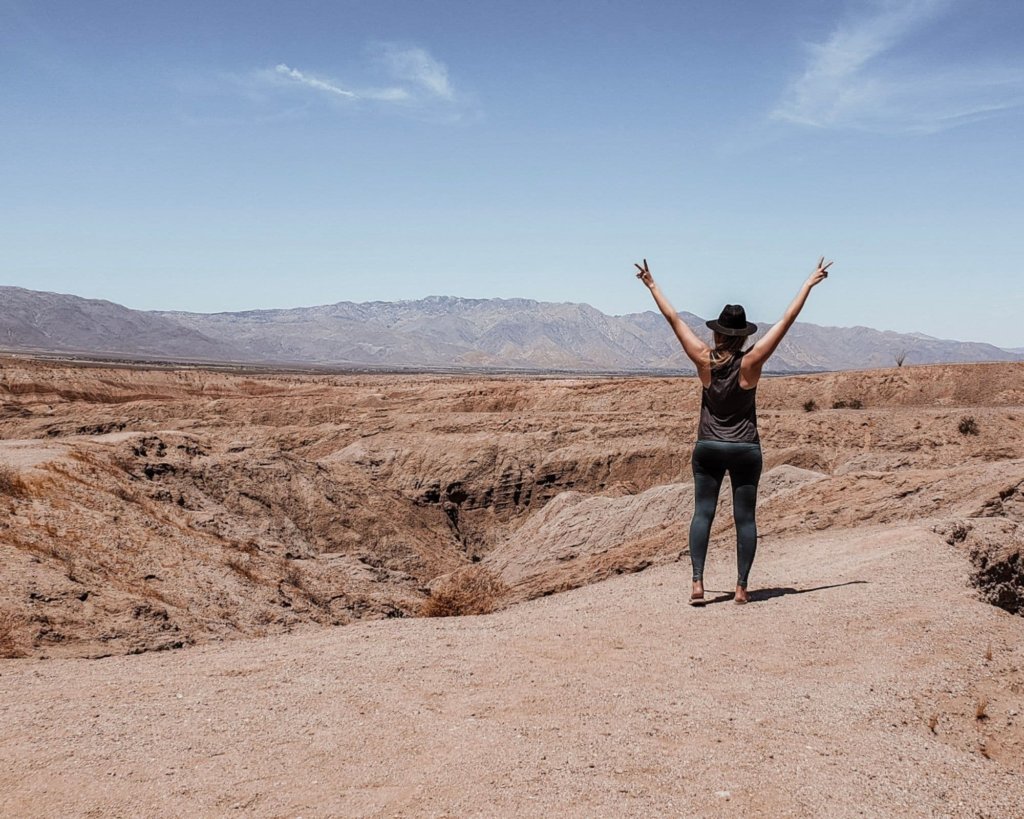 Another under-the-radar park in California, Anza Borrego definitely delivers on the "cheap weekend getaways" in California. Anza Borrego Desert State Park is designated BLM land, which – in terms of budget – means camping will be free here.
You read that correctly. Free!
This is an incredibly large park to explore, with tons of wild and rugged land as far as the eye can see. I have a few favorite hikes in Anza Borrego, and I highly recommend choosing at least one to try out! Consider hiking The Slot, which is a narrow slot canyon that is tucked down between steep walls in the earth. It's incredible.
Anza Borrego is also one of California's many Dark Sky Parks, meaning the stargazing is incredible. If you are into astrophotography, this place is a treat. It's far enough away from all the big cities to showcase the night sky uninterrupted. You have to see it at least once.
Entry Fees: $10 per day
Accommodation: Camping is FREE.
Miscellaneous: Don't miss the metal dinosaur sculptures if you're in the mood for some art!
Drive: 3.25 hours from LA.
5. Palm Springs for Fun in the Sun – On a Budget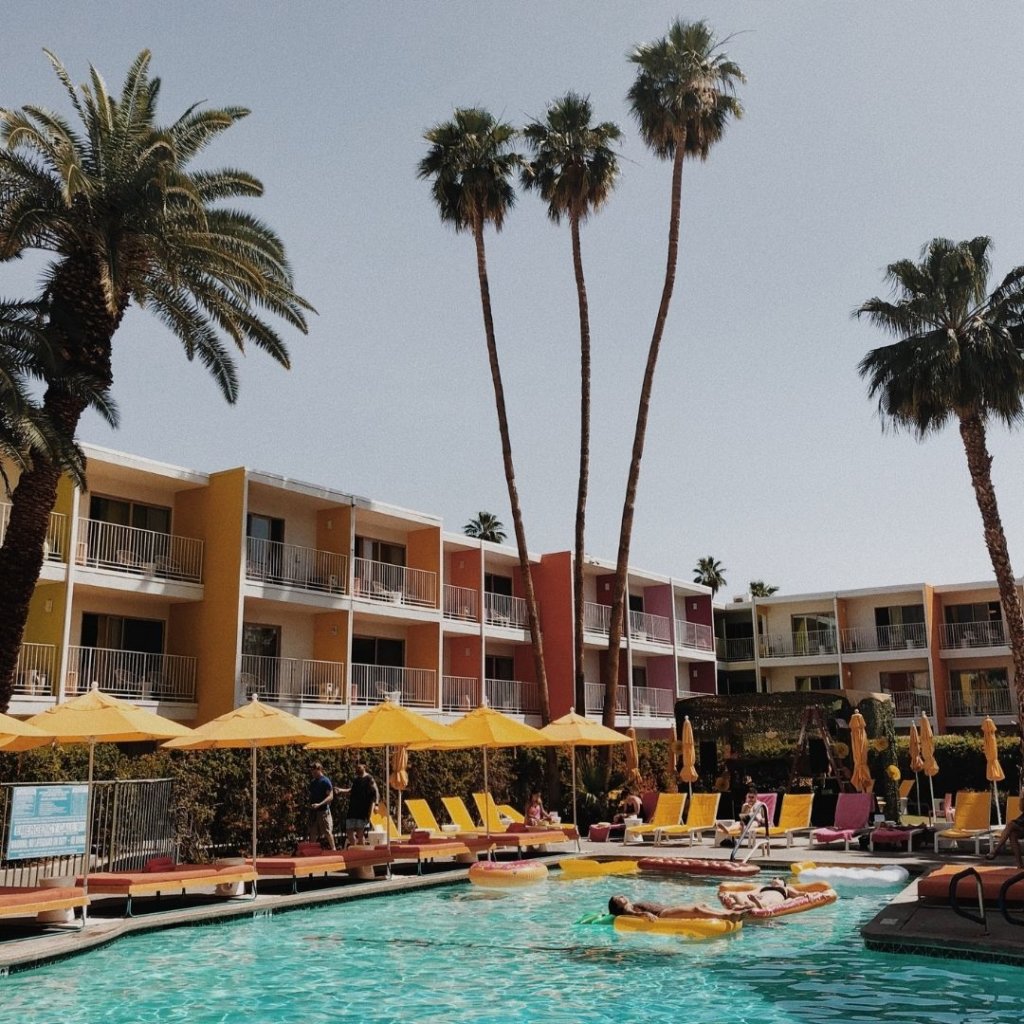 For anyone who is getting sick of all of the camping options, then Palm Springs is for you. A sunny, bright, scenic town with purple mountains and palm trees at every turn sounds pretty great, right?
And even better are all of the incredible restaurants, sparkling blue pools, and even green stretches of grass for the golfers out there. Hikers should check out the nearby Andreas Canyon hike – a great option for all levels of hikers. There is so much to do in Palm Springs, even for a quick visit!
Plenty of affordable hotels and AirBnb's abound, and I'm incredibly thankful that this area has stayed relatively affordable despite it's popularity. And, while I don't typically stay at the pricier resorts, many of them offer day passes to the mineral pools which is usually worth a visit.
For a full breakdown on how to spend your time in Palm Springs, check out this post.
Entry Fees: None.
Accommodation: Booking.com always has good, cheap options.
Miscellaneous: Definitely check out the Moorten Botanical Gardens or the Aerial Tramway (linked in the above post).
Drive: 2.75 hours from LA.
6. The Trona Pinnacles for some Sci-Fi Scenery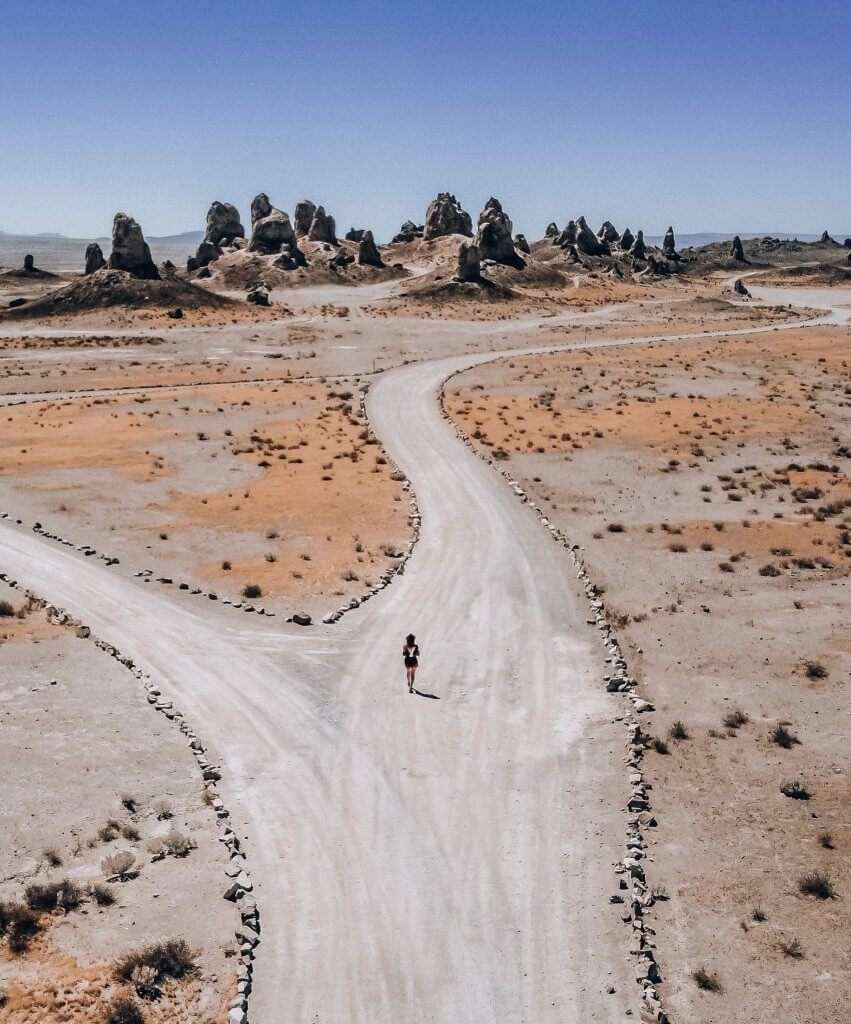 Another incredibly cheap weekend getaway in California is the Trona Pinnacles, located in Inyo County, about 3.5 hours north of Los Angeles.
This place is awesome because it's so obscure. Though you've probably seen it at some point on television or movies – the Trona Pinnacles have served as a backdrop in the film industry many times over- it remains relatively unheard of outside of Southern California.
Camping is also free at the Trona Pinnacles, which is a bonus you just can't beat. This means that besides gas money, this weekend getaway can be completely free! I recommend setting up your tent fairly close to the tufas, as the wind can get pretty crazy here overnight.
Check out my in-depth Trona Pinnacles post to learn all of the details!
Entry Fees: None.
Accommodation: Camping; Free.
Miscellaneous: This is NOT a good place to go if the roads are muddy and you don't have 4WD! In dry conditions, any car can make it.
Drive: 3.5 hours from LA.
7. Go Offbeat at Salvation Mountain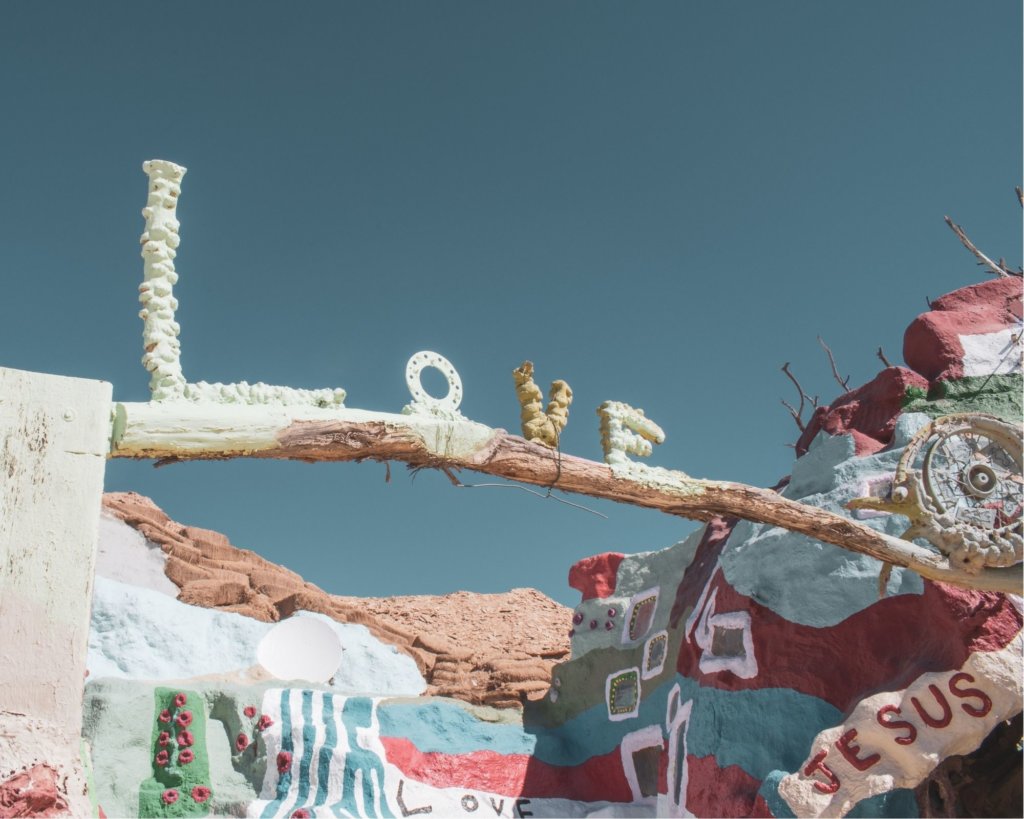 Smack dab in the middle of the dry California desert – not too far from Anza Borrego, in fact – sits the odd and unique Slab City. Slab City is somewhat of an artist's-haven – a city built on one man's heartfelt belief in Christianity, personified.
Salvation Mountain is one of the highlights of this art installation – a colorful, climbable, squatter's city in the desert. Though the founder is no longer living, his creation lives on and draws curious visitors in to explore.
The bright swathes of paint against the dry desert backdrop reminds me quite a bit of Seven Magic Mountains in Nevada – both creating such a colorful juxtaposition of the manmade versus the natural environment.
It's possible to do a bit of car camping if you're up for it. Otherwise, there are plenty of hotels in nearby Niland.
Entry Fees: None.
Accommodation: Car camping or nearby motels.
Miscellaneous: If you happen to be in the area, this is worth a visit!
Drive: Just under 4 hours from LA.
8. Death Valley National Park for Never-ending Scenery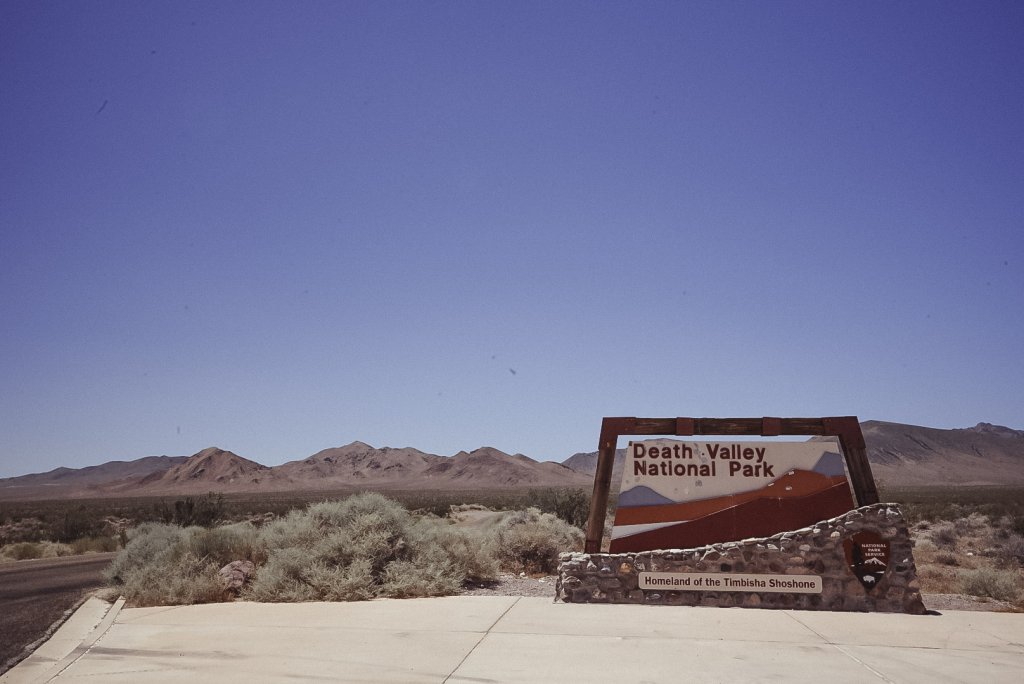 Death Valley is the largest National Park in the contiguous United States. It has so much to offer that it's difficult to sum it up in just one paragraph! Due to the size of the park, this is the perfect choice to explore over a cheap weekend getaway.
Some of the highlights include Badwater Basin – the lowest point in all of North America; Artist's Palette, a colorful wash (naturally!) emphasizing the rugged mountains; and, the Mesquite Flats Sand Dunes, a seemingly-endless stretch of golden sand dunes.
Death Valley is truly a sight to see.
There are cabins available for rent and even a resort located inside the park, but these are decidedly expensive, in my opinion. Better to camp for roughly ~$30 per night rather than spend over $100 per night on lodging.
Entry Fees: $25 per vehicle for 7 days.
Accommodation: ~$30 for in-park campgrounds.
Miscellaneous: Start your hikes early! Death Valley is one of the hottest places on earth.
Drive: 4.25 hours from LA.
9. Santa Barbara for a Nature and Art Filled Weekend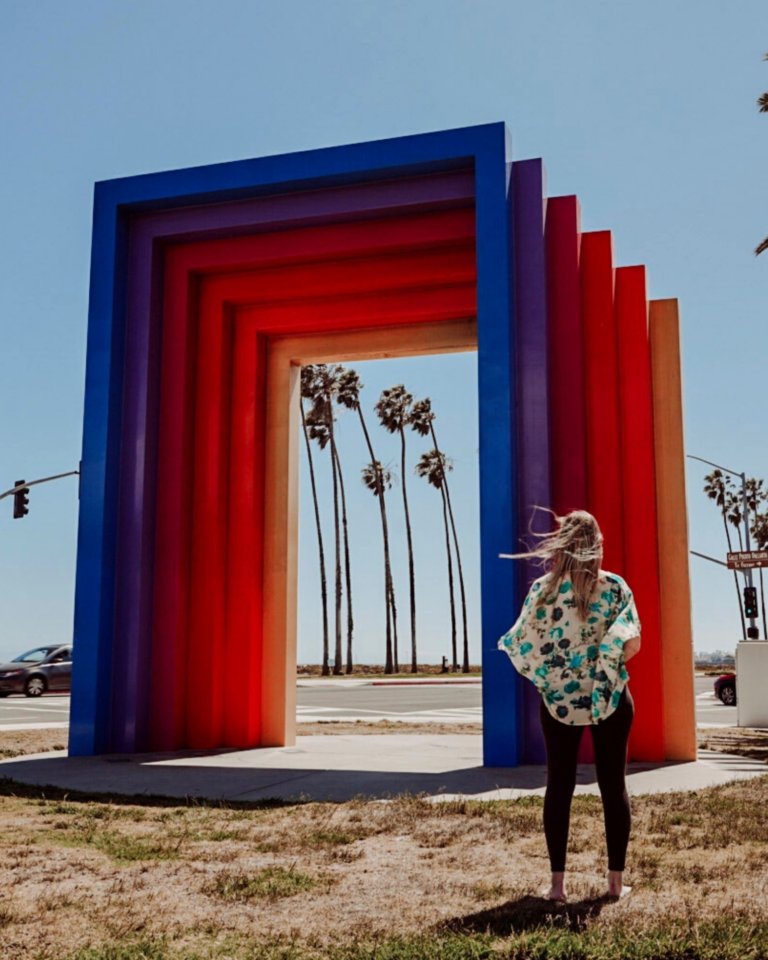 If arts and culture are more your style, then the chill Santa Barbara vibes might be exactly what you're looking for.
Many of the highlights of Santa Barbara can be explored by foot, so it's a great walking destination. Delicious food, stylish breweries, and eclectic art studios practically litter the streets of the popular Funk Zone. And, there is even an art museum if you want to explore your arts side further.
If you are up for some hiking, the nearby Gaviota Wind Caves hike is my top choice in the area. Or, if you'd rather lounge at the beach, Santa Barbara is right on the coast and has a long stretch of peaceful sand in front of the Pacific.
For sleeping, my go-to site is always Booking.com. I love the flexible free cancellation options. If you prefer Airbnb, accommodations can start at around $40 but go on up to around $200 (or more, I'm sure!)
Entry Fees: None. Budget food/drink or museum ticket prices accordingly.
Accommodation: ~$40 and up.
Miscellaneous: Some of the art studios will offer demonstrations of their process, from painting to ceramics.
Drive: 2 hours from LA.
10. The Small Town of Julian for Famous Apple Pies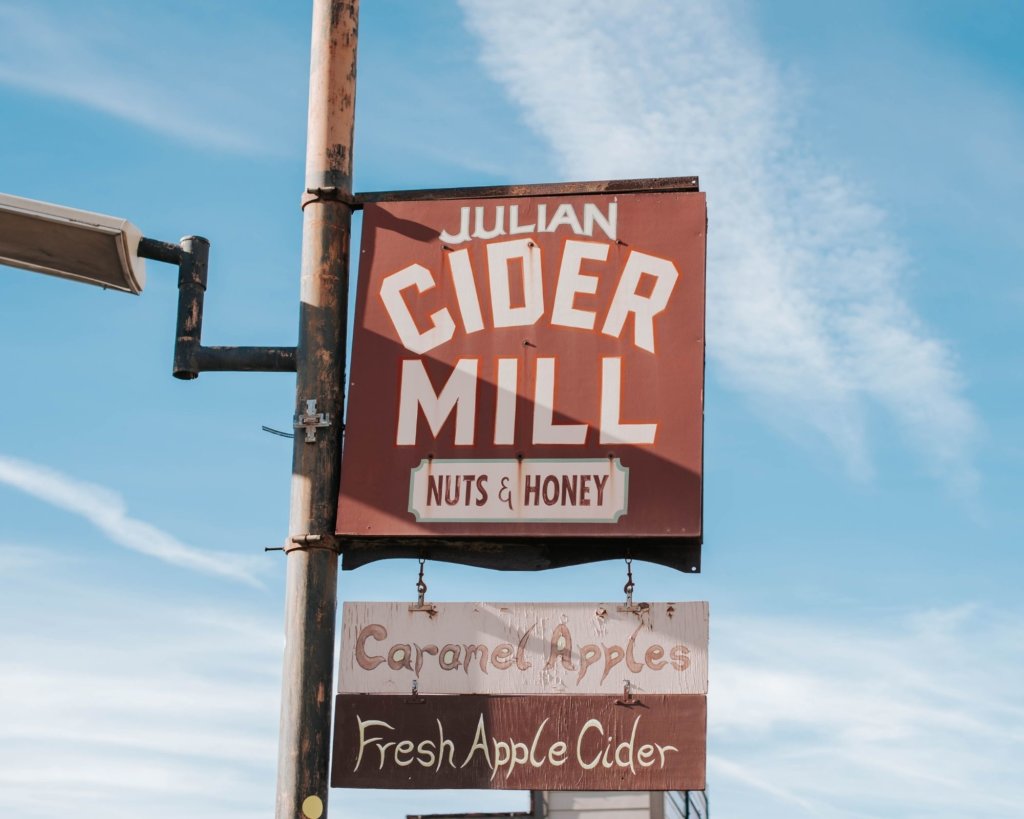 Last on the list of weekend getaways on a budget is tiny little Julian, a small town with a big reputation for it's famous apple pies.
Nestled near the Cuyamaca Mountains, Julian is near to everything from casinos, to Anza Borrego and Salvation Mountains, to even San diego!
Apple pies can be found in just about every small shop and bakery. They are not necessarily all made equal – try to get a fresh-baked pie rather than a packaged one. It will make a difference!
In addition to the apple pies, one thing that I appreciate about this ton is that it has all four seasons – a rarity in Southern California! Go in spring or fall for beautiful scenery.
Julian is still a small town, though quite known in California, so you can still get hotels in the $60-$70 range if you book in advance.
Entry Fees: None. Just the cost of the pies!
Accommodation: ~$60-$70 range for cheaper motels on Booking.com.
Miscellaneous: Visit in spring or fall for a gorgeous stroll around town.
Drive: 2 hours from LA.
***
You May Also Like: California Themed Gift Ideas
I hope that this list gives you loads of inspiration on fun and cheap weekend getaways in California. There is so much to see in Southern California, all drivable from LA, and even some small gems that can easily be missed if you don't know they're there.
So which one will you take first?! Let me know below!
Pin Me for Later!