Red Rock Canyon State Park in California is a hidden desert gem for desert hiking and camping. Just outside of Los Angeles, this secret spot is amazing! If you are visiting Red Rock Canyon State Park soon, here are all of the details you need for hiking in Red Rock Canyon, camping Red Rock Canyon, and driving through this beautiful desert park!
Pin Me For Later!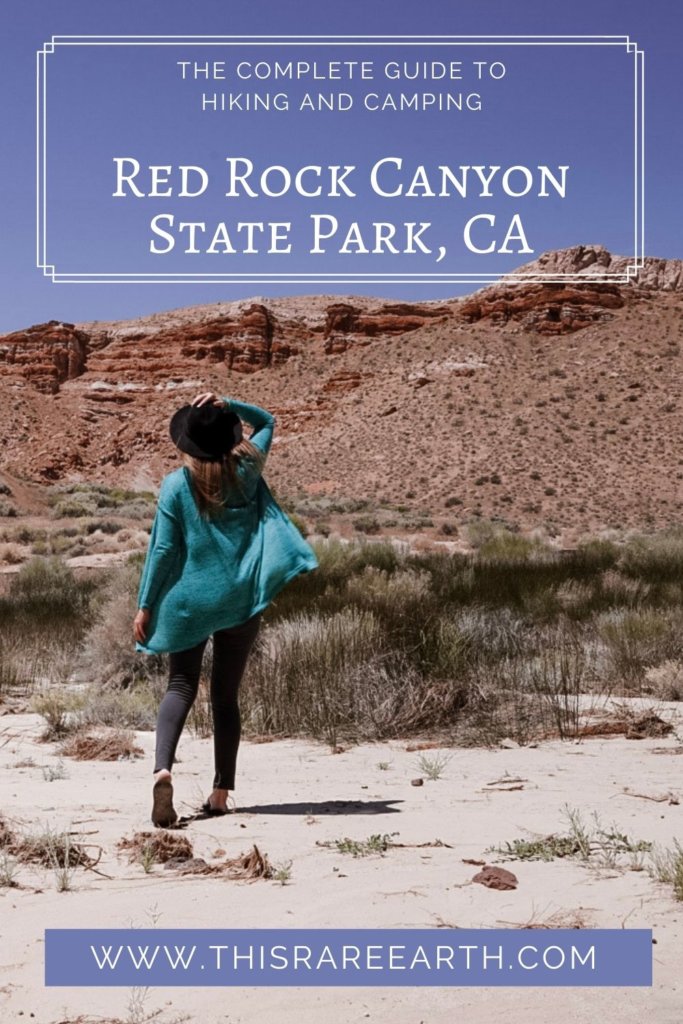 I absolutely love the desert. Any desert.
I could (and have!) spent long spans of days in various deserts around the world, from the California Desert to the Arabian Desert to the Sahara, to name a few. I can't get enough.
So when I stumbled across Red Rock Canyon State Park, I wondered why I had never heard of it before?
Somehow, Red Rock Canyon State Park has largely escaped detection, even from those who have lived in Southern California their entire lives. As someone who goes hiking and camping fairly frequently, this obscure spot – roughly two hours north of Los Angeles – is a true hidden gem.
If you are thinking of heading to Red Rock Canyon State Park, here is all of the information yo need to know!
You May Also Like: Things to Do in the Mojave Desert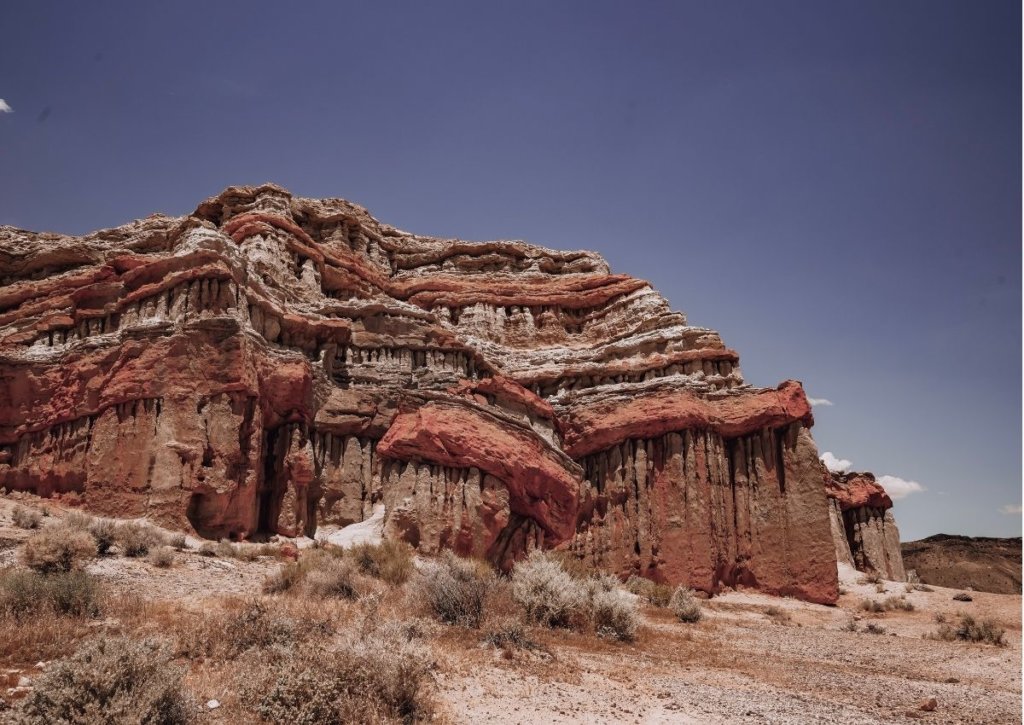 Red Rock Canyon State Park Basics
Red Rock is a rugged and mountainous park, located in the small town of Cantil, California. Situated where the El Paso and Sierra Nevada Mountains collide, this park showcases colorful and unique red rock formations that you won't soon forget. The geology is stunning!
Most people visit Red Rock as a stop on a larger road trip, either up to Death Valley or Sequoia National Park. But I've also visited many times as a simple day trip from LA.
Los Angeles to Red Rock Canyon: approximately 121 miles (~2 hours) via CA-14
Death Valley to Red Rock Canyon: approximately 168 miles (~2.75 hours) via US-395 N and CA-14 N
Sequoia National Park to Red Rock Canyon: approximately 174 miles (~3 hours) via CA-65 S and CA-58 E
Bakersfield to Red Rock Canyon: approximately 81 miles (~1.25 hours) via CA-58 E and CA-14
Before You Go
First, let's talk about how to prepare for your visit.
➳ Red Rock Canyon does require a $6 day use fee for some areas. Camping will carry extra fees and will be discussed in detail below. Follow all signage accordingly.
➳ The park is open 24 hours. However, if you arrive late at night, it will be pitch dark.
➳ No matter what time of year you visit, definitely pack your sunscreen, sunglasses, and wide-brim hat. The sun is fierce here, and there is little to no shade found while you explore the trails. Check out my complete desert hiking essentials packing list. You'll thank me for sure!
➳ The park is pretty remote, so you won't be able to buy water or snacks unless you exit the park land. Be sure to bring your own water bottle or, better yet, bring a Camelbak backpack with a water bladder that will last you for hours.
➳ Dogs are allowed on the trails (leashes are a must), and horses are permitted, as well.
➳ The landscape is flat, occasionally rocky, and sometimes home to spiky desert vegetation. Closed toe shoes are a good idea.
Hiking Trails in Red Rock Canyon State Park, CA
The rock formations here are breathtaking. They are reminiscent of what you might see in Utah and Arizona rather than what you would expect from Southern California!
I have never experienced a crowded day here – not even once! – which is part of the appeal. I love the solitude. Hiking alone or with your own friends, you will probably feel like you have the park all to yourself.
There are a number of trails to choose from. Whether you consider yourself a beginner hiker or want something more challenging, Red Rock Canyon State Park provides it. Additionally, there are several scenic drives you can take if you have an off-road vehicle.
Whichever hike you choose, the vast California desert landscapes will not let you down!
You May Also Like: 52 Hikes in Southern California
Easiest and Shortest Hike: The Red Cliffs Trail.
Distance: 1 mile
Type: Loop
Time: This hike takes roughly 30 minutes to complete, offering beautiful views of – you guessed it – gorgeous red cliffs.
Moderate Short Hike: Ricardo Camp South Loop Trail
Distance: 1 mile
Type: Loop
Time: Roughly 30 minutes to complete. The desert scenery stretches out for miles around you, and the trail is moderate.
Moderate Long Hike: Nightmare Gulch Loop Trail.
Distance: 8.8mile
Type: Loop
Time: It took me roughly 4.5 hours to hike this trail, stopping here and there to admire the scenery, take photos, or grab a drink (what did I tell you about that Camelbak?!) Avoid this one in summer and check for closures beforehand.
OHV Driving Trail: The Last Chance Canyon OHV Trail.
Distance: 14 miles
Type: Out & back
Time: Depends on your driving. I wouldn't recommend taking this trail by foot, though if you do, bring A TON of water. It is a beautiful stretch of land, but don't get caught out here after sundown. There are no lights and the park is technically closed at sunset.
Camping in Red Rock Canyon State Park, CA
After a long day of hiking, or preferably the night prior, you may choose to camp at the Ricardo Campground within Red Rock.
As far as I know, this is the only campground in the area, and it is super convenient. The campground sits toward the western edge of the park, near the Red Cliffs and Ricardo Loops trails mentioned above.
You will wake up to a stunning sunrise if you camp here!
Reservations
Advance reservations for campsites are not accepted, which – given how sparsely visited this park seems to be – has never been an issue for me. However, on a holiday weekend, perhaps it's best to plan ahead and arrive early.
50 camping spaces are available on a first come, first serve basis, and the cost is $25 per vehicle. An additional $6 is added for a second car. A maximum of 8 people are allowed per campsite.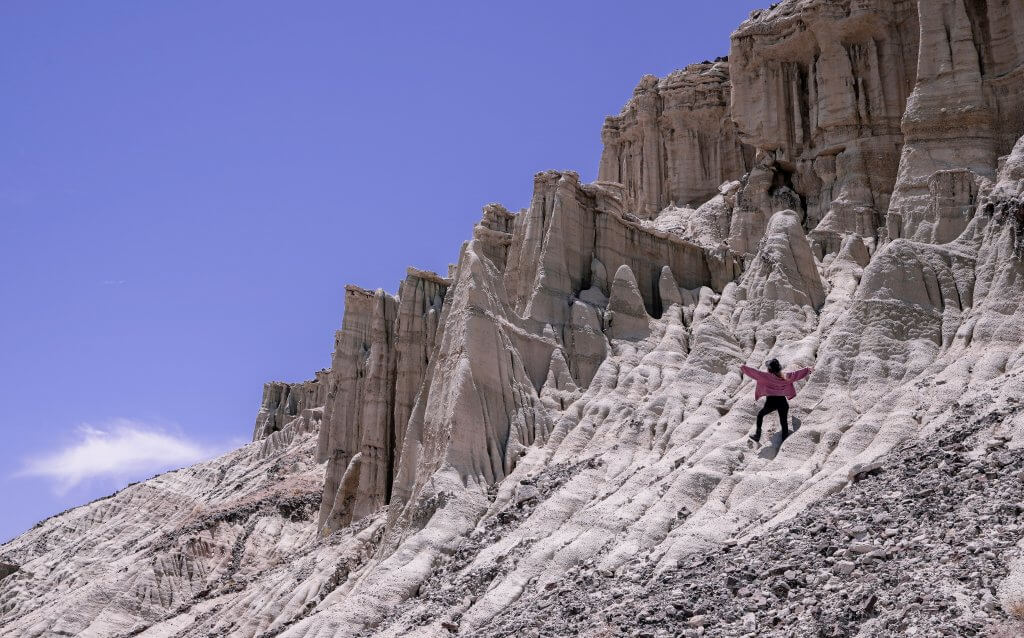 Know in advance that these are primitive campsites; there are no RV hookups and unfortunately no showers (I know, that's the worst part). My advice is to take some biodegradable body wipes, because trust me – after a day in the desert heat, whoever is sharing your tent will thank you!
If camping is not for you, there are a couple of hotels in California City, about 20 minutes south of the park. These are the closest accommodations with four walls. The nearest convenience stores and gas stations are also found in California City. Plan ahead for anything you may need!
Red Rock Canyon State Park provides helpful guidelines for first-time visitors. Page one of this document lists various rules and fun facts about the park. Page two provides a map for the hiking trails, off-roading, and campground locations.
Cell service can be spotty, so you may want to download that document to your phone beforehand.
Is Red Rock Canyon State Park Worth Visiting?
Yes! Without a doubt. It's a different type of desert escape where you can truly avoid the masses.
Should You Visit Red Rock Canyon Over Other Popular California Parks?
I suppose this largely depends on what you're looking for.
My absolute favorite park in all of California is Joshua Tree National Park, due to it's otherworldly rock formations and vegetation. Red Rock Canyon doesn't have quite the same array of landscape and scenery that Joshua Tree offers throughout the large park.
However, if you've already been to Joshua Tree and are craving a more peaceful hiking and camping adventure in the California desert, I would suggest you stick with Red Rock Canyon State Park. This is where you want to go if you're trying to escape the LA crowds.
Death Valley is an easy drive as well, and is a park that everyone should see in their lifetime. Or, if you're craving something other than desert, you could drive out to Sequoia instead.
(Bonus Tip, there is a FREE Desert Tortoise Research Natural Area nearby, which is a 40 square mile area of protected land for the reptiles. You can learn about desert creatures here as well, and they gladly accept donations. Please note that pets are not allowed here).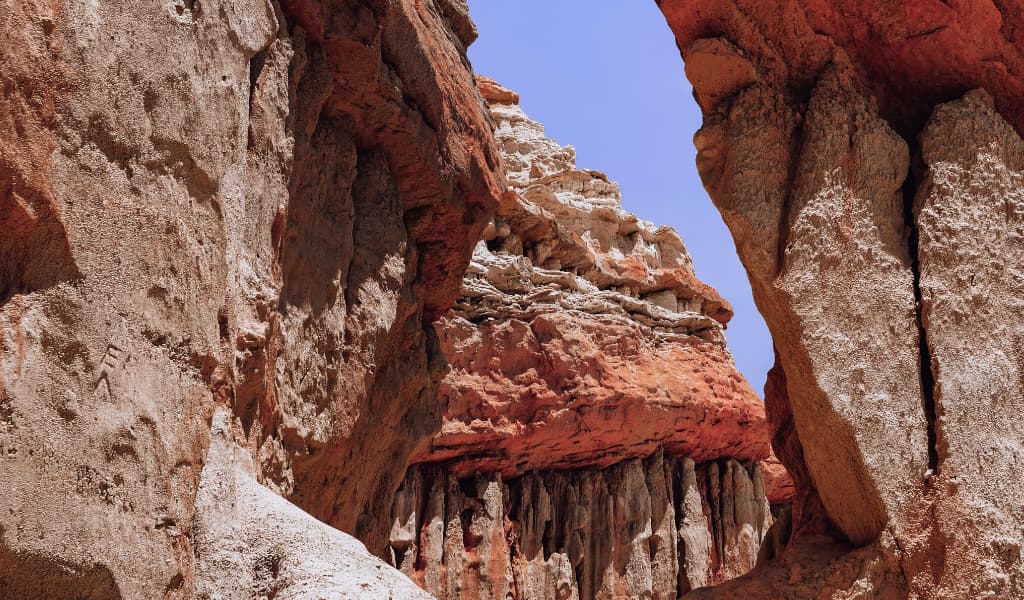 To Review:
Pack Sunscreen , sunglasses and a hat no matter what season you plan to visit. California desert sun is no joke.
Bring LOTS of water – many say bring twice what you think you will need. Again, a Camelbak backpack is a great idea.
Wear closed-toe shoes if you plan on hiking.
Bring your tent, sleeping bag, and any other gear you like to have when camping.
No showers are available, so biodegradable body wipes are necessary, in my opinion.
Dog are okay, as long as they are on a leash.
Horses are allowed.
Some trails are approved for off-road driving, as indicated in the Park's map and rules brochure I mentioned above.
And finally, have a great time, because Red Rock Canyon State Park, CA is a beautiful place to visit! Let me know how it goes in the comments below.
Pin Me for Later!