Visiting the Vasquez Rocks Natural Area Park is an incredible escape from Los Angeles. Whether you are in the mood for a Vasquez Rocks hike or a climb up the beautiful rocks, this quiet park is a great place to be. Keep reading for all of the details about Vasquez Rocks park!
Pin Me for Later!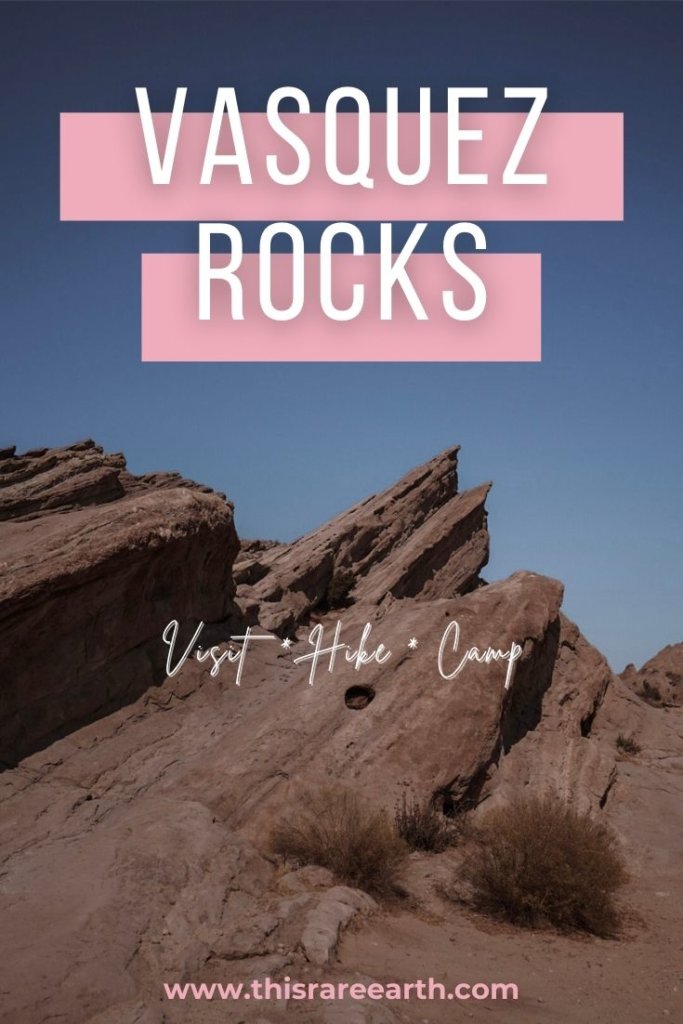 In a quiet and unassuming area north of Los Angeles, surrounded by horse ranches and burro farms, the morning air is quiet. Cars pass here and there, the horses neigh, and the sound of footsteps on gravel are the only signs of life.
One would never know that just off of the small main road sits an odd alien landscape full of sideways mountains and brush. It's hard to believe that while you're hiking the Vasquez Rocks, you're still technically in Los Angeles County.
The Vasquez Rocks Natural Area Park is a hidden gem. In a 932-acre county park just off of the Antelope Valley Freeway, these crazy sprawling rocks are an awesome place to spend a morning or three. It's become on of my favorite quirky day trips from Southern California when I'm craving fresh air, nature, and fantastic scenery.
Vasquez Rocks Park Basics
Opening Hours: Sunrise to Sunset
Fees: None
Activities: Hiking, Rock Climbing, Horseback Riding
Dogs Allowed: Yes, on-leash
Camping: yes, with reservation – call (661) 268-0840
The park entrance is well marked with signage guiding the way. When you pull into the Vasquez Rocks park area, follow the dirt road south. You will drive between several interesting rock formations and begin to gain a sense of how vast this park is.
A small parking area is located on the left-hand side of the dirt road. You can park here and walk through some of the rocks and brush to get to the tallest rocks. Alternately, you could continue to drive further and pass the tallest rocks to a larger parking area in the back.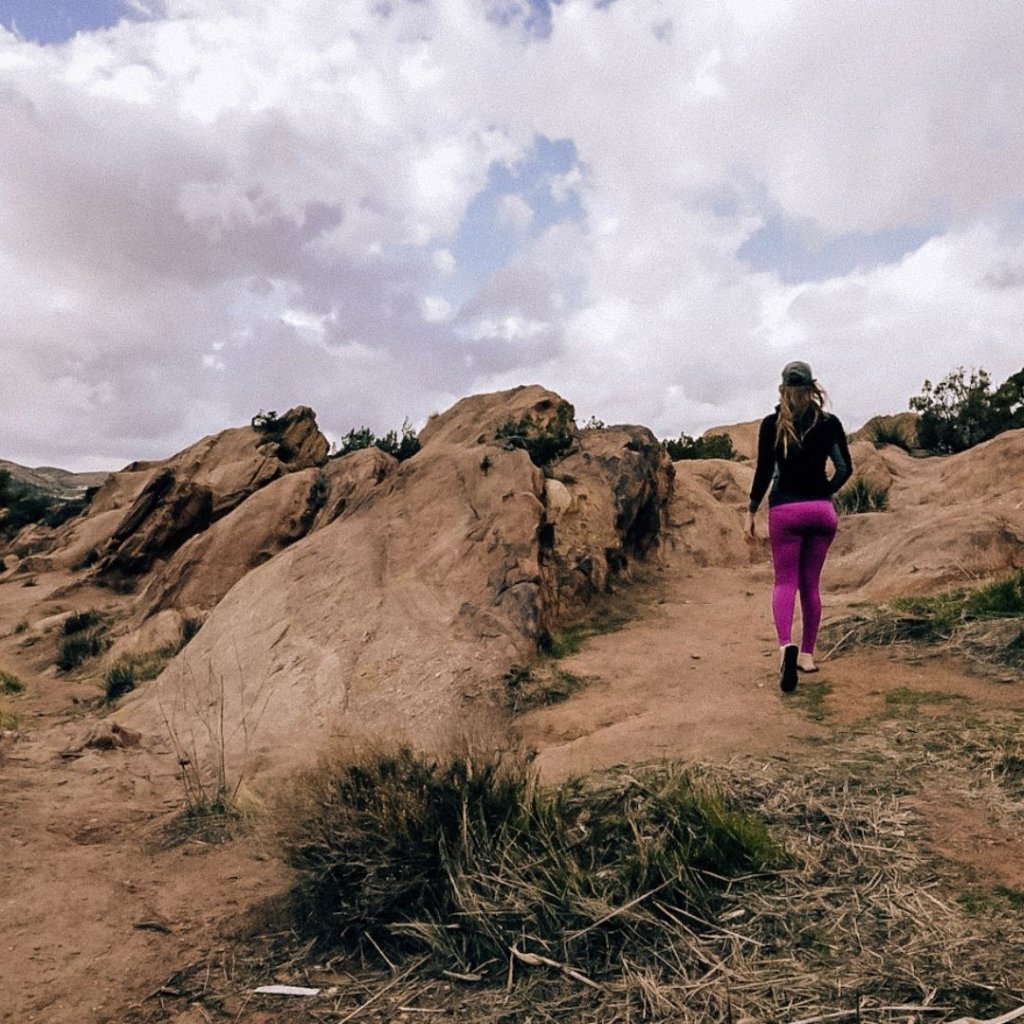 If you park in the first lot, you can explore the Geology Trail, covered in rocks and brush. It's not a far walk from here to the tallest rocks. If you park in the farther lot, you'll have immediate access to these rocks. This is a great place to park if you plan to climb to the pinnacle of the tallest rock.
There is a park signboard in the back parking lot that usually has maps available, as well as pamphlets highlighting some features of Vasquez Rocks.
The Vasquez Rocks Hike
The Vasquez Rocks area is actually a stop on the famous Pacific Crest Trail, which goes straight through here. Because of this, hikers have options ranging from very short to a longer loop trail covering grassy wildflower fields (depending on the time of year).
To take the Pacific Crest Trail, park in the farther lot and look for a small brown and yellow sign pointing back toward the first parking lot. This is the entrance to the loop and in the beginning is well-marked.
One important note about hiking here – this sometimes feels like a bit of a "choose your own adventure" type of hike as the trails are seemingly nonexistent in some spots. The main loop itself is anywhere from 2.5-3.5 miles in length depending on your trail, and this hike will take around 2 hours to complete.
For shorter hikes and sight-seeing hikes, aim for the Geology Trail that runs through the rocks between the two hiking areas. A quarter mile from the Geology Trail is the History Trail, which is worth the short hike just to view the orange pictographs painted on some of the rocks.
If you take the large PCT Trail, it will include both of these shorter hikes.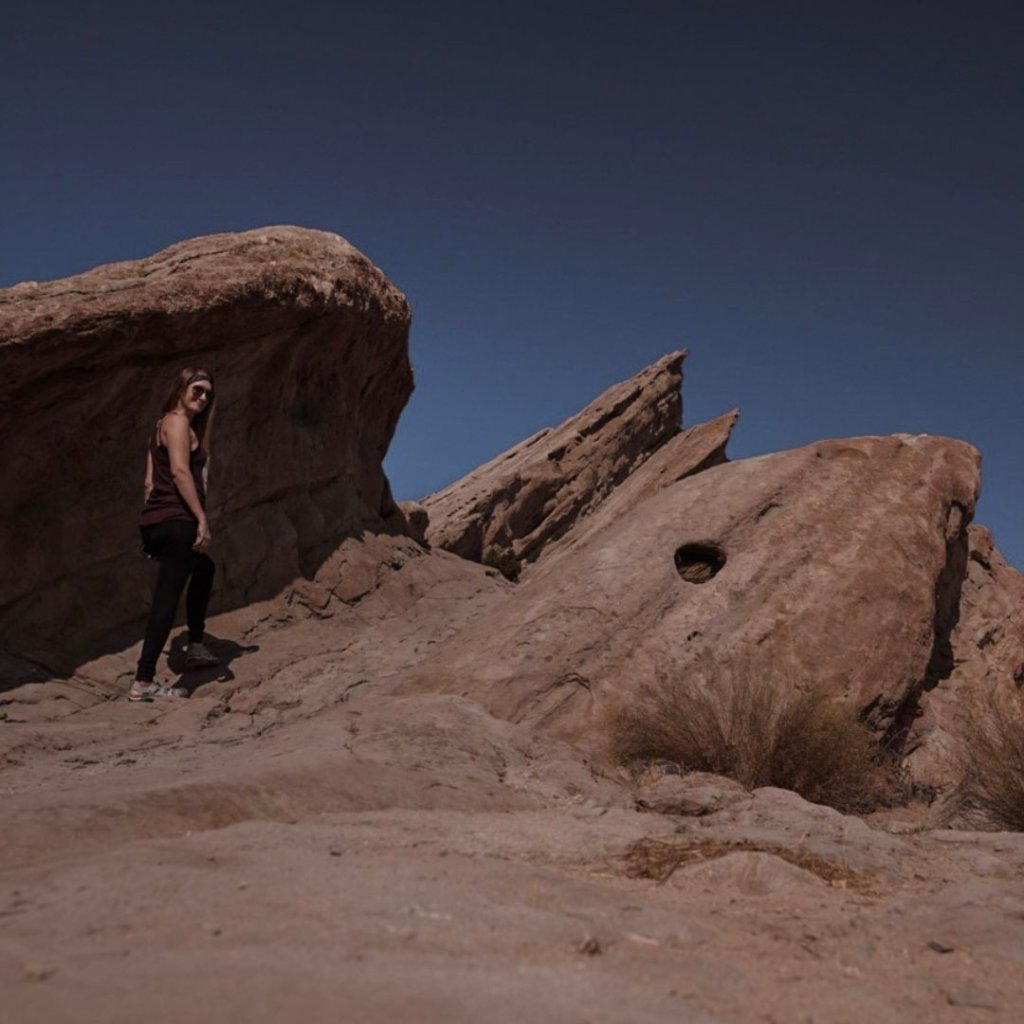 The History & Geology of the Vasquez Rocks Natural Area Park
The Vasquez Rocks got their name from a famous fugitive named Tiburcio Vásquez. In 1874, Vasquez hid in these rock formations to avoid capture by law enforcement. Ever since this ordeal, the area has been known as Vasquez Rocks.
The tectonic movement of the San Andreas Fault and Elkhorn Fault are responsible for the upheavals of sandstone that formed the Vasquez Rocks. Wind and water erosion also played a major part in shaping these odd stone ridges.
Movies Filmed at Vasquez Rocks Natural Area Park
Vasquez Rocks have made an appearance in many movies, television shows, and commercials over the years. Some of the most notable works filmed here are:
Movies:
Star Trek V: The Final Frontier
Bill & Ted's Bogus Journey
Amazon Women on the Moon
Dante's Peak
Hot Shots! Part Deux
Rustlers' Rhapsody
The Flintstones
Blazing Saddles
TV Shows:
Star Trek
Zorro
The Fugitive
F Troop
The A-Team
MacGyver
Whether you are hiking, camping, climbing, or sight-seeing, Vasquez Rocks is such a great, quick escape from Southern California! You will feel like you're transported to another world, similar to the Trona Pinnacles (and probably why both locations are featured in multiple sci-fi series).
Another great option if you'd like to extend your trip would be Red Rock Canyon State Park, which also offers incredible scenery by way of towering red rocks and Joshua Trees. Red Rock is roughly one hour north of the Vasquez Rocks.
Planning a trip here? Let me know how it goes! And don't forget to Pin Me or Share with your hiking buddies.
Pin Me for Later!