Planning to visit Joshua Tree National Park? As a frequent visitor I have loads of info to share. Here are 10 tips for visiting Joshua Tree National Park that will set you up for a smooth journey. I can all but guarantee that you're going to enjoy it!
Pin Me for Later!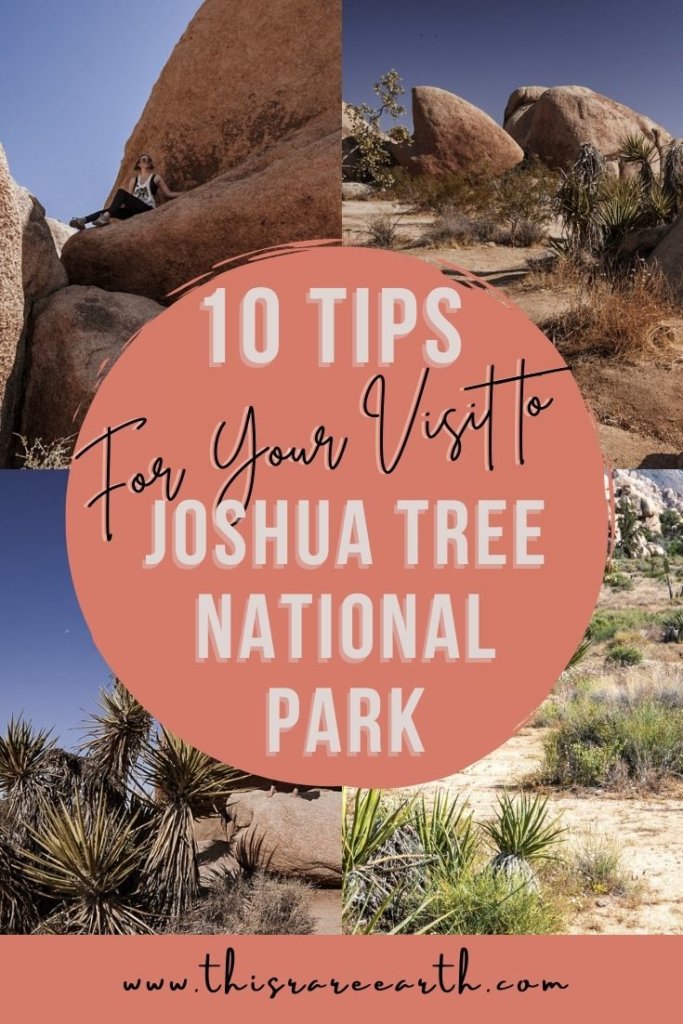 As you plan your visit to Joshua Tree National Park, you might be surprised to learn just how much this popular park has to offer. As a Joshua Tree addict frequent visitor myself, I have really gotten to know the many nooks and crannies in the park.
I know all the best sunrise spots. I have a list of my favorite hikes, all of which I keep returning to time and time again. And, I have a perfect one day itinerary for you to peruse, as well.
But, nowhere else have I listed out my top insider tips to know before you visit Joshua Tree National Park. And, it's probably time.
After more than a decade of visiting Joshua Tree, here are 10 tips that will make your visit delightful.
Joshua Tree National Park: 10 Tips For Your Visit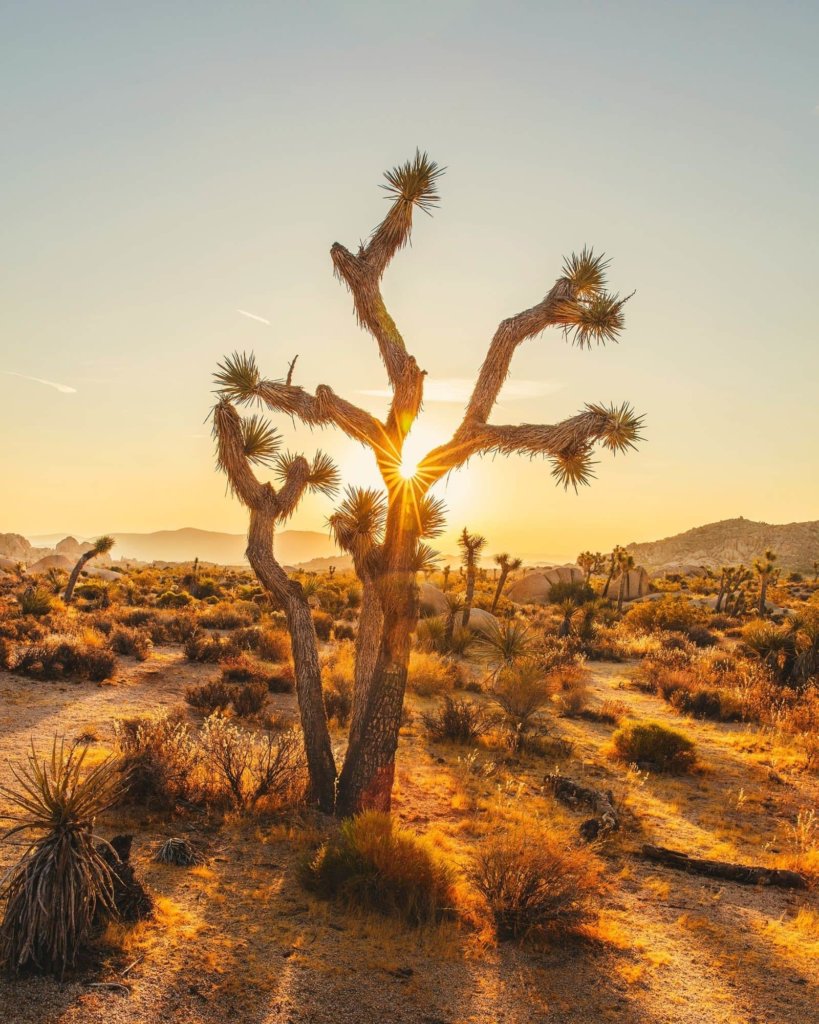 1. The Park is… Primitive.
I am all for keeping the wild WILD. When you're in Joshua Tree, you will definitely feel that this is the case. Vast expanses of dry desert stretch out, anything but barren.
The tall and wild Joshua Trees litter the landscape. Giant boulders have been scattered here and there onto the earth. Bighorn sheep, rattlesnakes, and jackrabbits can be spotted.
This desert is ALIVE.
But, in order to keep as true to nature as possible, the National Park system has declined from providing the more… "luxury" amenities you may find in other National Parks.
Here you will NOT find:
Running water
Electricity
Food or snack services
Cabins or hotels
Cell phone service (in most areas)
Street lights
Flush toilets
So, come mentally and physically prepared!
Bring food and LOADS of water. Download offline maps. Pack a headlamp.
And definitely check out my desert hiking guide – it will provide you with a list of everything you need in the desert, from short walks to long treks. Heck, even if you don't pan to hike, it will help you be prepared for any unforeseen circumstances. And you can't go wrong with that!
2. It's Your Closest National Park from both San Diego and LA.
Depending on your exact starting location, you can expect your visit to Joshua Tree National Park to take anywhere from a 2.5 hour to a 3 hour drive from either city.
The park is centrally located in the California High Desert. Expect crowds and long wait times at the entrance on holidays and some weekends.
You May Also Like: National Parks Near Los Angeles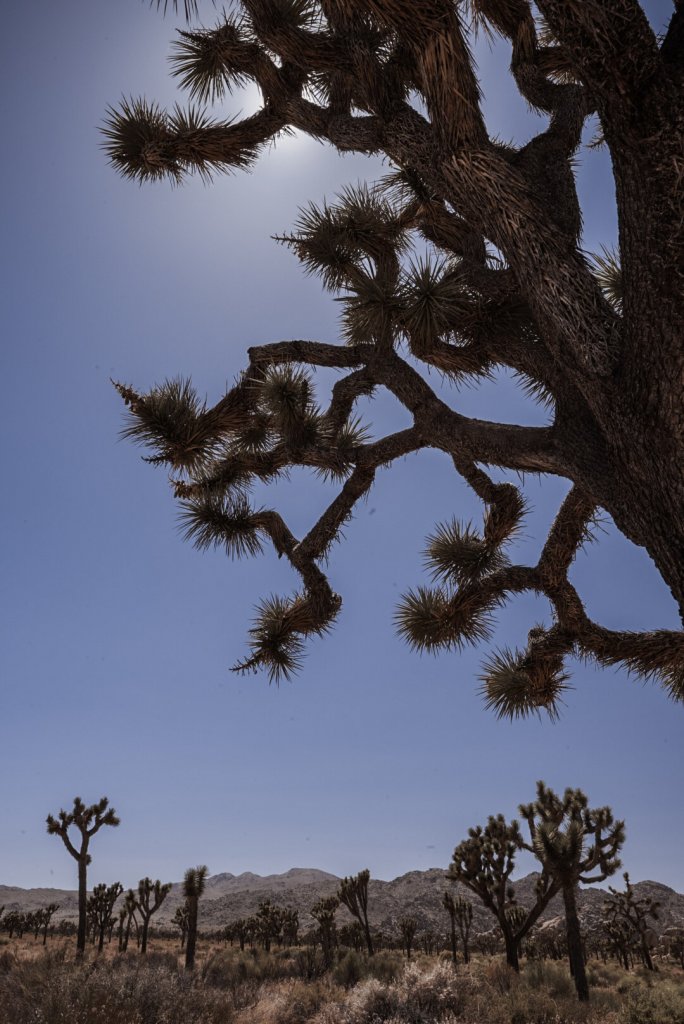 3. There Are Ways to Make Your Trip Cheaper.
7 Day entry into the park coss a flat $30. There are no passes for a single day.
Alternately, you can buy an annual pass specific to Joshua Tree itself. This is a great option if you think you may be back even just twice in a year. It costs $55 so with only two visits, it pays for itself.
Another option (and the one that I personally do) is to obtain the America the Beautiful Pass. This pass gets you into every single National Park in the USA for an entire year for the reasonable price of $85.
Once at the park, all passes can be purchased at:
North Entrance Station – cards only
West Entrance Station – cards only
Joshua Tree Visitor Center – cash or card
Oasis Visitor Center – cash or card
Cottonwood Visitor Center – cash or card
4. Or, Get In For Free on the Annual Free Entrance Days.
You can plan to visit Joshua Tree on one of their annual "Free Days" if you'd like to save some cash. ndw ho wouldn't?!
Just be prepared for some crowds, because a lot of people take advantage of this deal.
Joshua Tree & US National Parks are Usually FREE on:
Martin Luther King, Jr. (MLK) Day
3rd Saturday of April: First day of National Park Week
August 4: Great American Outdoors Act Signing Day
4th Saturday in September: National Public Lands Day
November 11: Veterans Day
5. Consider Camping for an Unforgettable Experience.
There are over 300 campsites within Joshua Tree National Park. Some are nestled between the large rocs and some are a bit more out of the way.
As mentioned earlier, there is no running water or electricity at any of the campsites. Be sure to pack everything you need (and remember to Pack It in / Pack it out and brush up on the Leave No Trace Principles, too!)
Many amazing experiences can be had when camping here. You can walk up before dawn and experience the beautiful solitude of a sunrise hike. You can get early access to some of the best photo spots and hiking trails. And, you can see more stars than your mind can fathom. (More on that one toward the end of the article.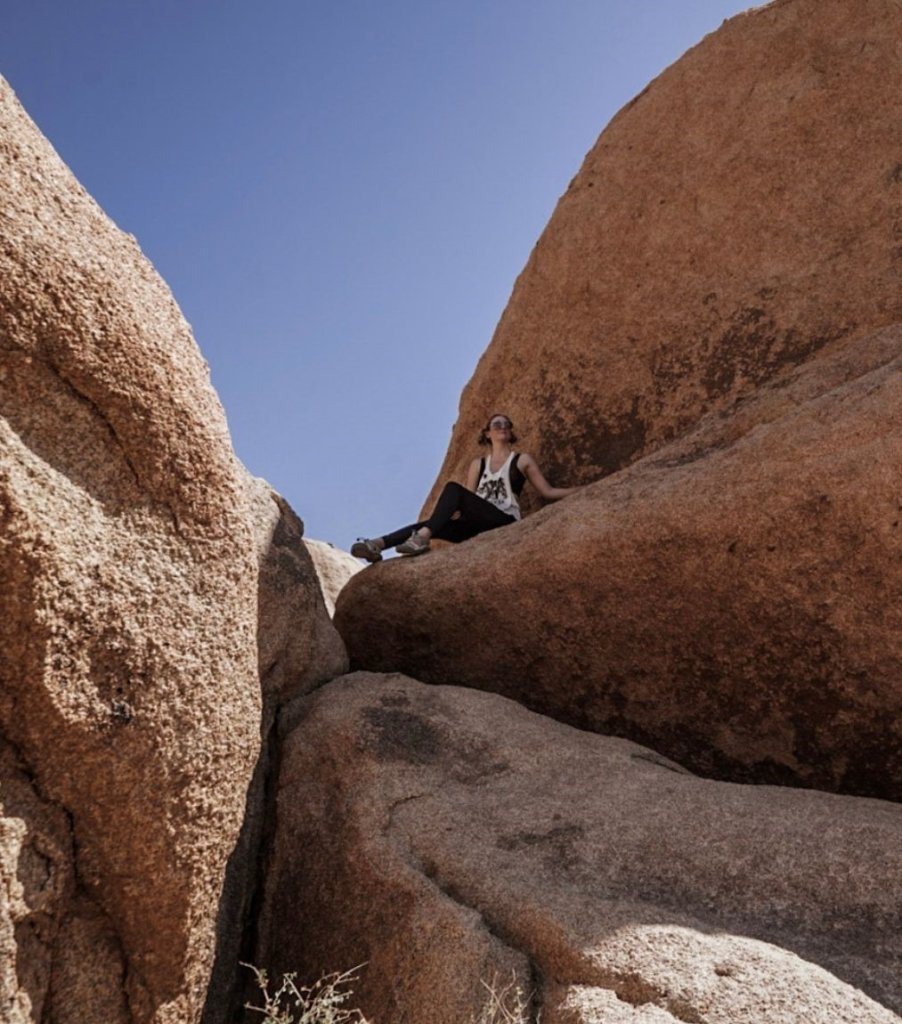 6. Consider Taking a Class or a Guided Tour.
Joshua Tree is a haven for rock climbers and hikers. I used to climb fairly regularly, and this was easily one of the best spots for rock climbing in Southern California.
For anyone well-versed in climbing, you will enjoy tackling some of the 8,000 climbing routes to choose from. This is truly a world-class climbing destination and offers all of the traditional-style crack, slab, and steep face climbing you could ever want.
Never tried it? No problem! If nothing in that last paragraph made sense to your brain, that doesn't mean you can't get out there and try it. Day classes are regularly offered where you can learn from a pro.
Anyone planning on climbing should check this page for any closures or updates.
For hikers, I have an entire post on hiking in JT so I won't go too far into it here. Just know that this is one of the best places to hike on the planet.
7. Don't Forget to Explore the Town of Joshua Tree.
The town of Joshua Tree deserves at least a half-day of exploring in and of itself. A wonderfully-eclectic and artsy town, I personally love all that this spot offers.
Prefer vegan and vegetarian food? They have it. Need to get some crystals or sage? They have it. Want to check out an off-beat art gallery? They have it.
Joshua Tree is a haven for artists, and that includes visual art, music, performance, and everything in between.
I love the lack of fast food stops and superstores. You won't find any Burger Kings or WalMarts here – and that is intentional. The residents have worked hard to keep their area "authentic" and avoid things like malls and corporations.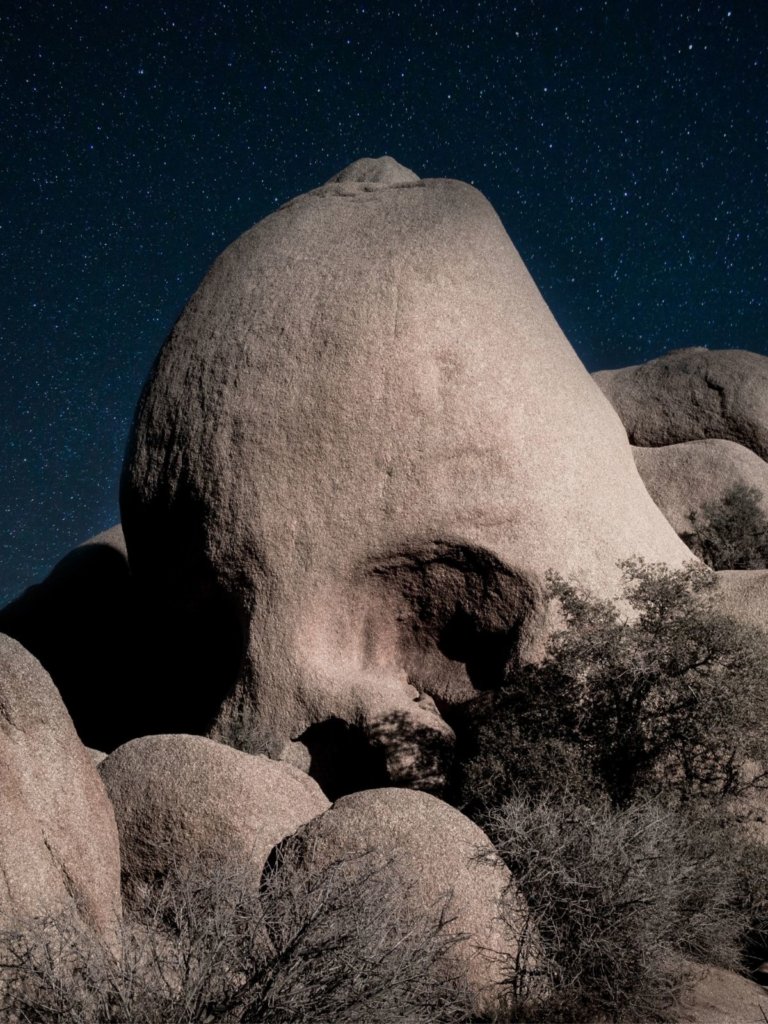 8. Look Up.
If you do decide to camp in the park – and I wholeheartedly think that you should – don't forget to look up. There is world-class stargazing here, and that's not just my opinion!
In 2017, Joshua Tree was designated an International Dark Sky Park (which the nearby Anza Borrego Desert State Park has also has earned, fyi.)
This is a testament to the incredible night sky and the lack of light pollution in the area. If this is something that interests you, remember that the East side of the park is the place to be. Here there is very little light pollution whatsoever, since the closest major city to the East is Phoenix, Arizona. (And even that is roughly 300 miles away!)
Pro-Tip: Avoid the full moon. Even though it is absolutely beautiful, it will create too much light to really see all the stars. Stargazing in Joshua Tree reminds you of just how small you are in this big wide world.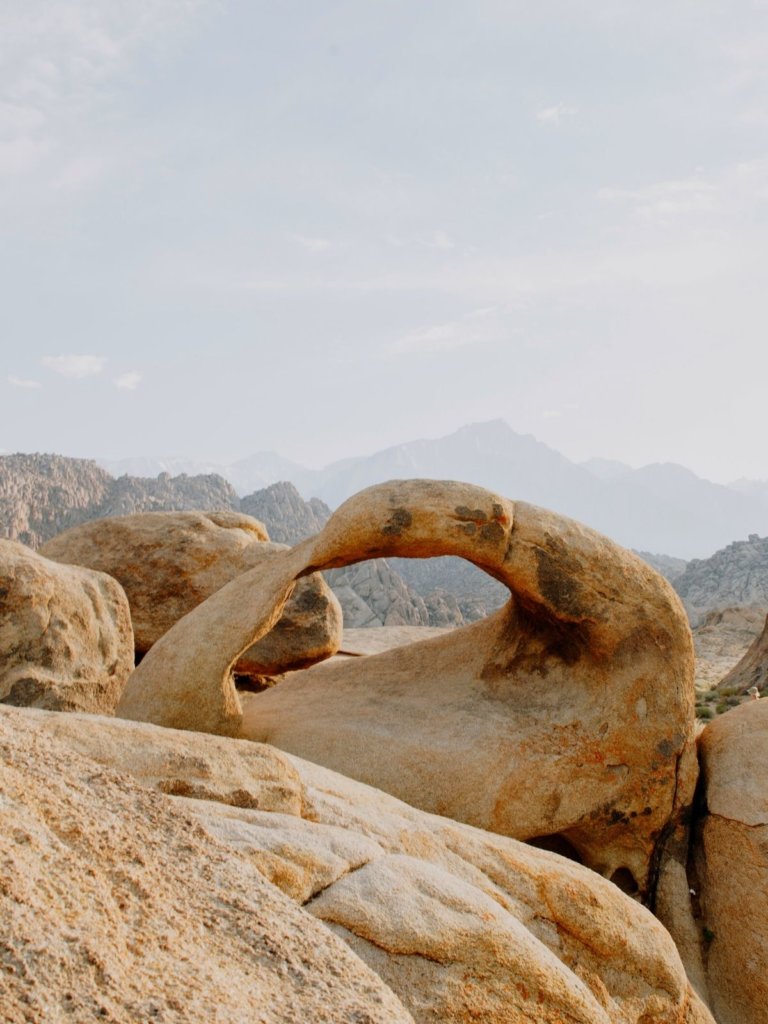 9. All of the "Tourist Spots" Are Worth the Visit.
There are several well-known exhibits in the park that all the tourists stop at – and with good reason. You will see them noted on both maps and signage, so they're pretty easy to spot if you drive the whole park.
Skull rock, pictured above with the stars, is a fan favorite. The famous Arch Rock is a cool spot accessible via a short and easy hike. Hall of horrors is a sight. And the Cholla Cactus Garden is one place I never miss.
Don't skip out on these spots just because they're crowded or you have to wait a few minutes for parking. Some of them may just become your best memory from the day.
10. You'll Probably Learn Something New.
When you visit Joshua Tree National Park, you will quickly find that it offers so much more than pretty sights!
The National Park Service regularly facilitates scientific research on topics like conservation, invasive species, and air pollution, to name a few. This park – largely inside of the Mojave Desert – is such a rare ecosystem that it definitely deserves to be understood and protected.
Additionally, for those with kids, families, or classrooms – you could consider attending educational workshops or downloading materials to enhance your curriculum in the classroom.
At many of the park exhibits, you will also find placards with information on the desert, the rock formations, the plants or the animals found here. So, you are likely to leave a smarter (albeit dirtier) person. WORTH IT!
***
If you have the chance to visit Joshua Tree National Park, I highly suggest doing it! There is so much to see; so much to explore; so much to learn here.
This beautiful desert locale is one of my favorite spots on the planet, and I can't wait for you to see why. Let me know what you're most excited to see below!
Pin Me for Later!