The Best Hikes in Joshua Tree National Park – all in one place! If you are planning on hiking in Joshua Tree, I've got you covered. From flat terrain to rugged peaks to green oases, there is truly a hike in Joshua Tree for everybody. Here is a list of the best hiking trails in Joshua Tree National Park for all levels!
Pin Me for Later!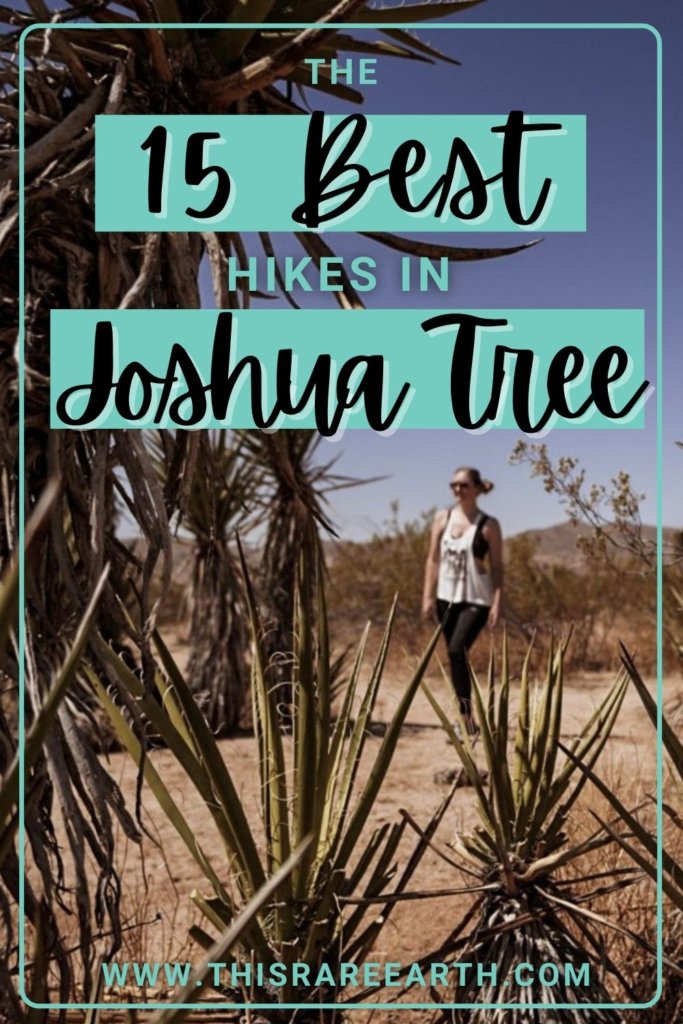 A hike within Joshua Tree National Park is not something you'll easily forget. The scenery of this stretch of land is like nowhere else; vast, rugged, sometimes-prickly, and downright covered in otherworldly-looking plant life and geology.
I've been lucky enough to visit Joshua Tree National Park more times than I can count – and yet, I still never tire of the place. The desert is my home. There's always some new corner to explore.
Whether you've got one day in Joshua Tree or have been there many times like me, here are the best hikes in Joshua Tree, for all levels and abilities.
But first, a note about preparation and safety.
Desert hikes are no joke. The heat is a real threat, and many an experienced hiker has made an unfortunate mistake on the trails. Be sure to brush up on desert hiking essentials as well as my notes about safety below.
Easy Hikes in Joshua Tree National Park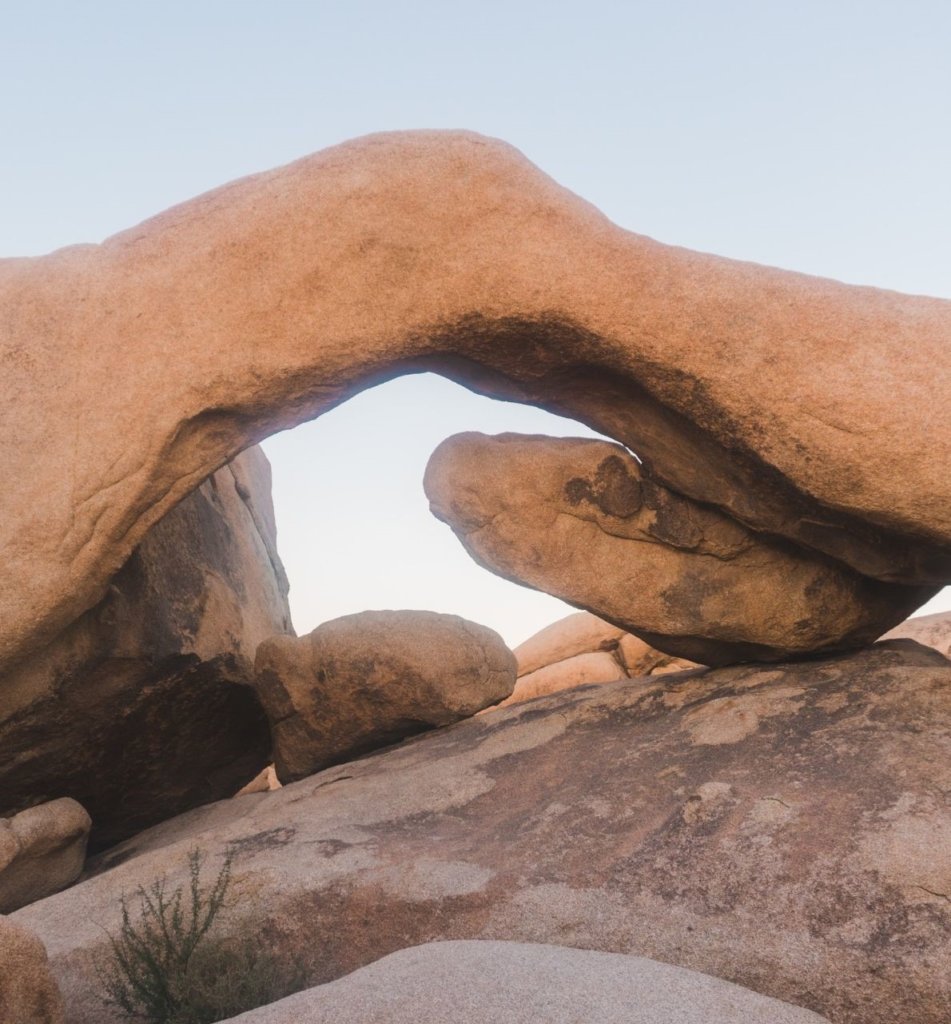 Arch Rock
Length: 1.2 Mile
Elevation Gain: 88 feet
Trailhead: Across the street from White Tank campground (small parking lot area)
This easy out and back trail leads to an iconic natural arch formed from white granite rock. The hike itself is mile and fairly flat, but the abundant rock formations are what make it a treat!
For those who drive, this railhead can be picked up across the street from White Tank campground. For anyone camping, you can head out directly from your site.
Barker Dam
Length 1.1 Mile
Elevation Gain: 50 feet
Trailhead: East end of the paved road, past Hidden Valley Campground
Barker Dam was built by cattle ranchers at the end of the nineteenth century. During winter, just after rain, a sparkling pool greets hikers. Hikers will also encounter plenty of Joshua Trees and boulders. The loop hike trail begins from a side road near the Hidden Valley campground.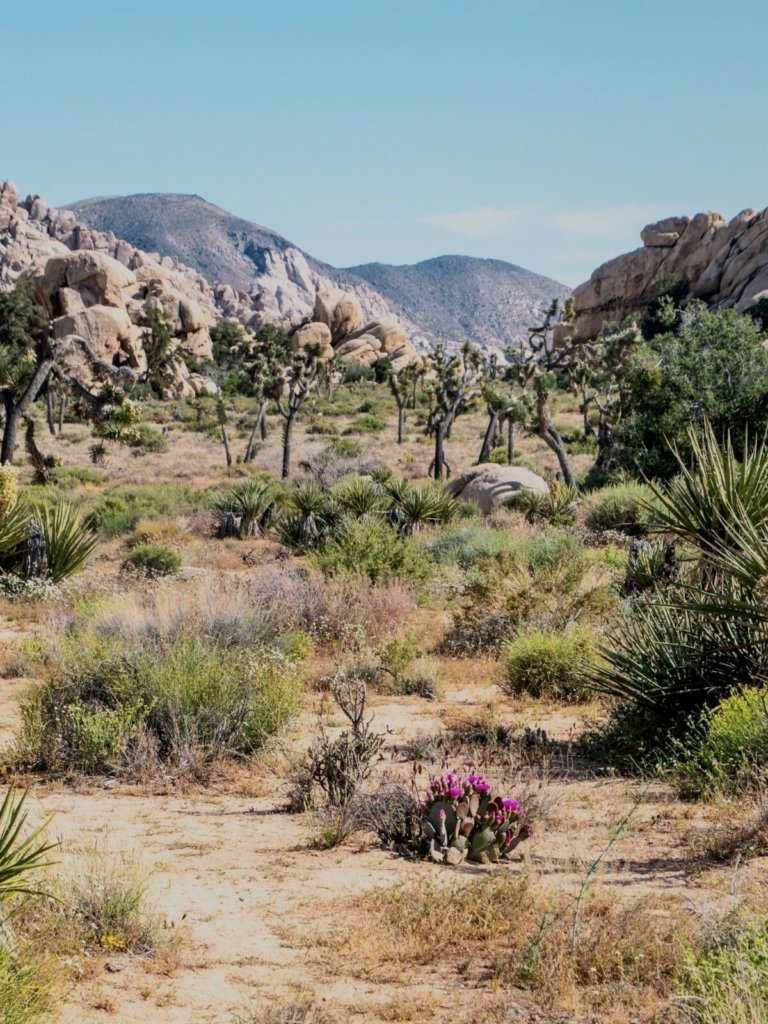 Cap Rock
Length: 0.7 Mile
Elevation Gain: 20 feet
Trailhead: Parking lot along the main road near the Keys View turnoff
This easy nature trail winds features quintessential desert views. Curious Joshua Trees surround stacked piles of boulders, and plaques along the trail educate hikers on the desert wildlife.
The trailhead is along the main road near the Keys View turnoff, in Lost Horse Mine.
Cholla Cactus Garden– .5 Mile Loop
Length: 0.5 Mile
Elevation Gain: 9 feet
Trailhead: Pinto Basin, along the main road
This may be the shortest trail on the list, but it is one of my favorites.
Tucked away in the Colorado Desert portion of the park, on the west side of Pinto Basin, sits the Cholla Cactus Garden. Visitors will get an up-close look at the prickly Teddy Bear Cholla.
In Arizona, these guys are often nicknamed "jumping cacti" and that name doesn't lie – the haphazard spines will attach to your shoes and clothes and you may just walk away with portions of the plant stuck on your body. Beware!
The Cholla Cactus Garden is one of the best sunrise spots in Joshua Tree. Don't skip it.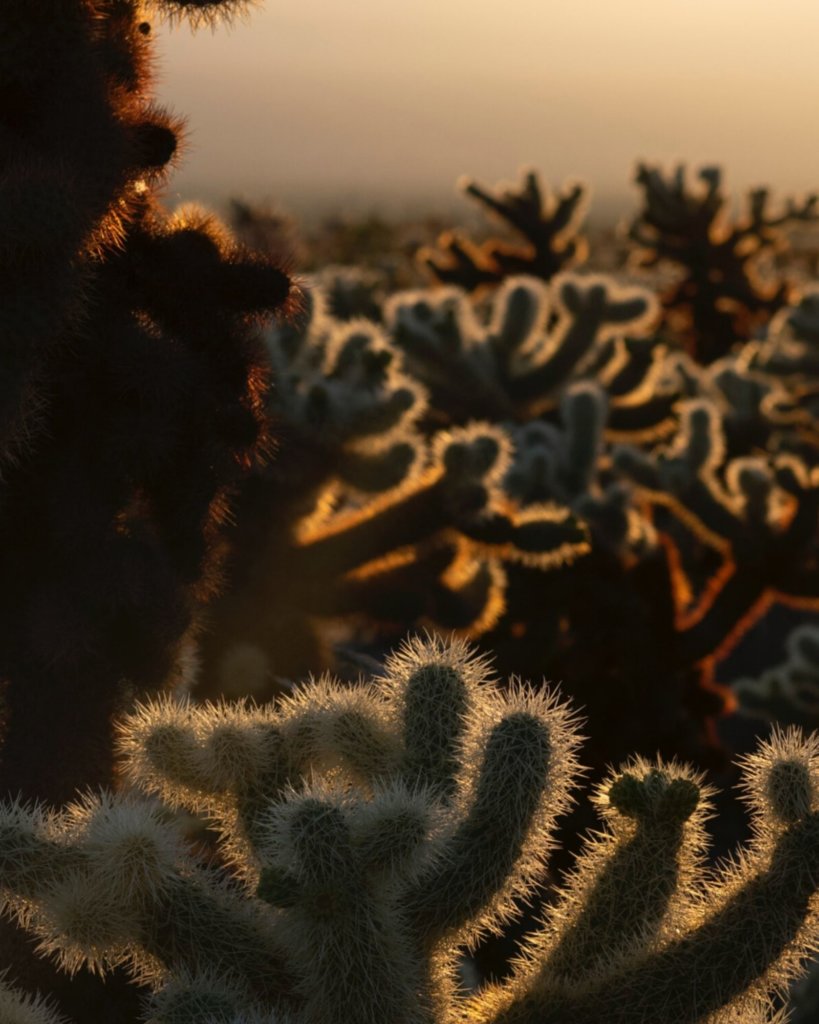 Lucky Boy Vista
Length: 3.1 Mile
Elevation Gain: 200 feet
Trailhead: On Desert Queen Mine Road, north of Park Blvd
This loop trail is pretty easy except for one steep patch.
There are two old and fenced-off mines located on the south side of the trail. The mines are not the highlight of the trail in my opinion, but rather the viewpoints along the way.
You will be hiking over sand rather than dirt for during the beginning of this hike. Wildlife is abundant; keep your eyes peeled for jackrabbits, coyotes, lizards, and more.
Mastodon Peak
Length: 2.6 Mile
Elevation Gain: 406 feet
Trailhead: Cottonwood Spring
This looped path crosses through both rocky slopes and dry sandy washes. Mastodon Peak, near the remains of an old gold mine, is the point of interest.
On a clear day, looking south, the Salton Sea can be visible, some 20-odd miles away.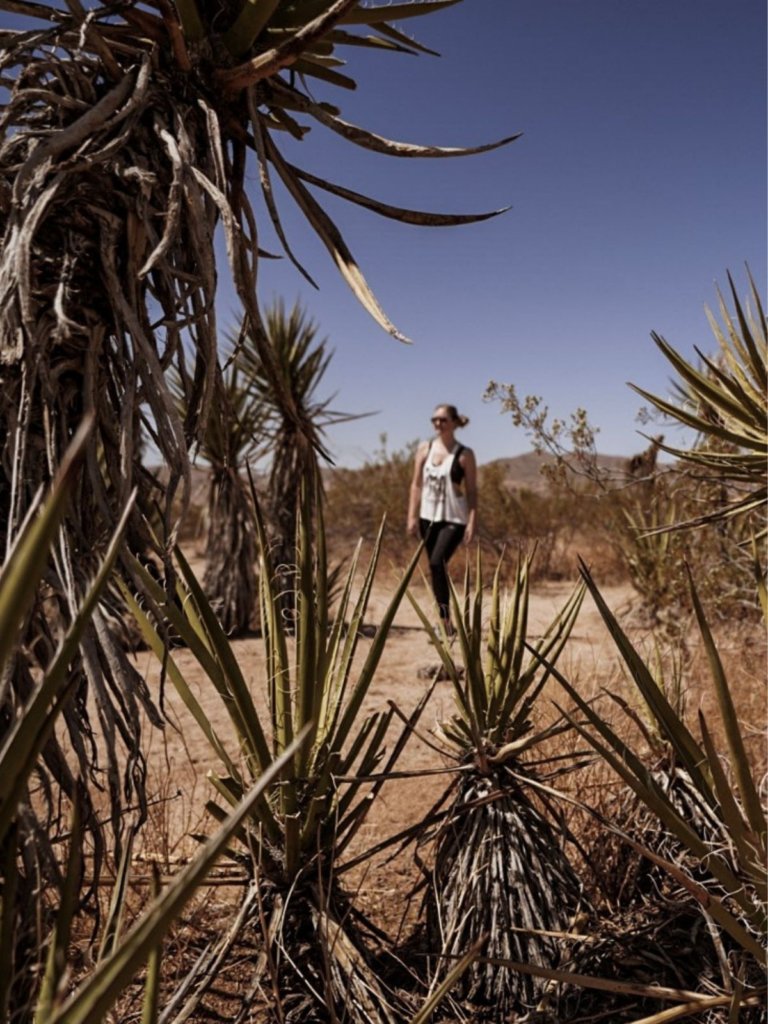 Skull Rock
Length: 1.7 Mile
Elevation Gain: 160 feet
Trailhead: On the main road near Jumbo Rocks campground
Easily one of the most popular hikes in Joshua Tree National Park, this loop hikes allows visitors to get up close and personal with Skull Rock, rather than just viewing it from the road.
Circling the large, distinctive boulders on either side of Jumbo Rocks campground, the trail leads to the Skull Rock. Some scrambling opportunities can be found. Signage along the way points out various plants and animals of the Mojave Desert.
Moderate Hikes in Joshua Tree
49 Palms Oasis
Length 3.1 Mile
Elevation Gain: 636 feet
Trailhead: South end of Canyon Road
This heavily trafficked out and back trail is found on the northern edge of the park border, near Twentynine Palms. The moderate, popular path climbs over rocky terrain and hillsides.
At first it may seem barren, but then drops down to a surprising group of California fan palms. They surround a real-life oasis in the desert, and the tall palms and greenery are a welcome sight. This is easily one of my favorite hikes in Joshua Tree National Park.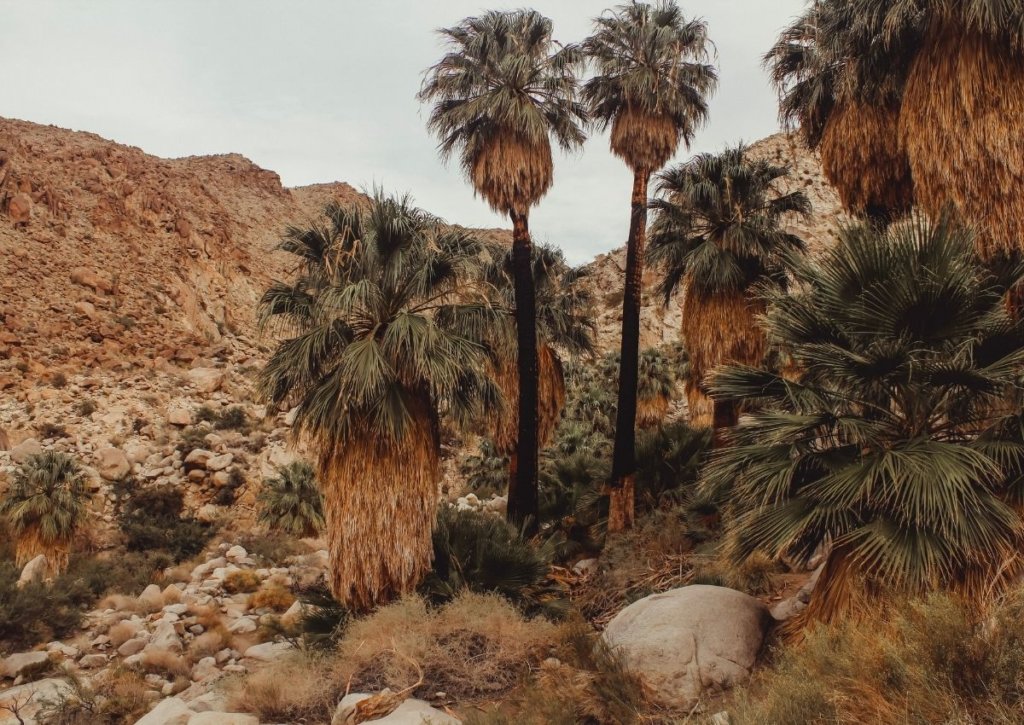 Boy Scout Trail 
Length: 8 miles
Elevation Gain: 1190 feet
Trailhead: Along the road near Indian Cove
The Boy Scout Trail takes hikers deep into the Wonderland of Rocks after a trek on rugged hillsides and chollas. Continue between the boulders for several miles before entering open desert filled with Joshua trees.
This is a very long hike through the desert on a one-way trail. My best advice is to take this trail when with a group, and create a car shuttle. One car can park at the Indian Cove trailhead, and another can park at the Boy Scout Trailhead. After 8 miles in the sun, a quick car ride back is the way to go.
Desert Queen Mine
Length: 3.4 Mile
Elevation Gain: 580 feet
Trailhead: Desert Queen Mine Road
Desert Queen Mine is one of those "overlooked" hikes in Joshua Tree. This moderate loop trail winds hikers past both an abandoned rock house and the old fenced-in mine.
The elevation change definitely gets your heart pumping, and there is limited shade, so this is not the best hike for hot summer days unless you start early. The Eagle Cliff views are beautiful.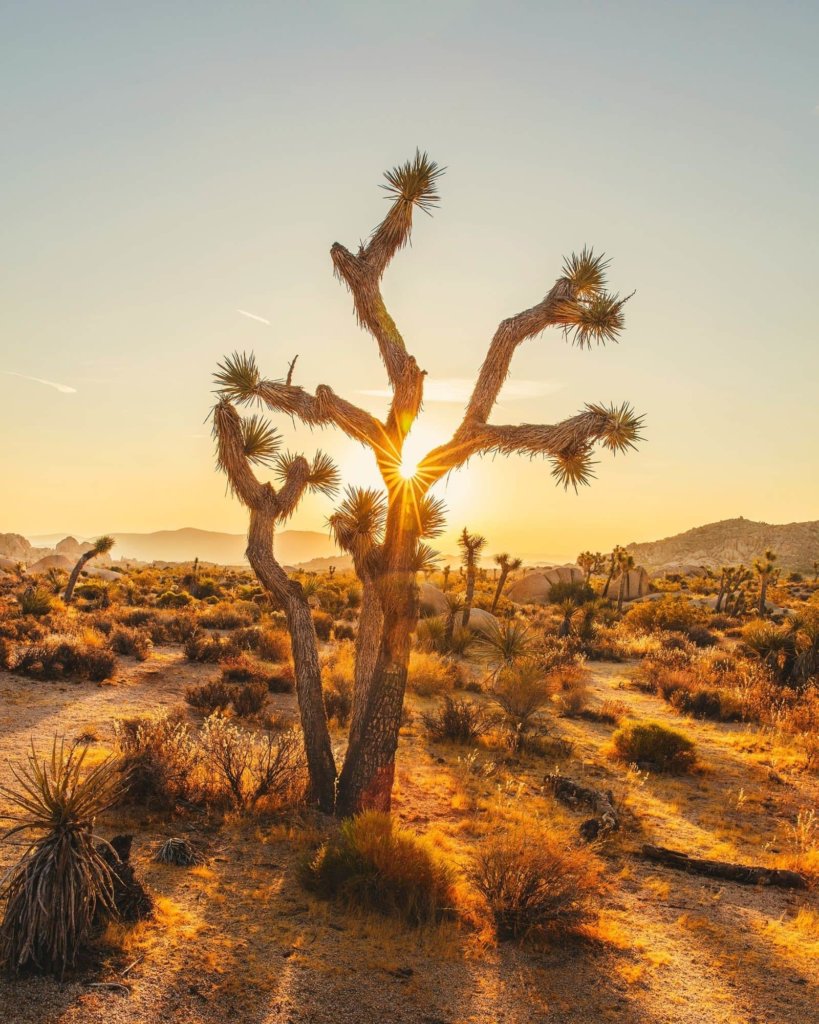 Lost Palms Oasis
Length: 7.2 Mile
Elevation Gain: 1026 feet
Trailhead: Cottonwood Soring
Another of the oasis hikes in Joshua Tree National Park, this hike features rugged ridges, sandy washes, loads of cacti and boulders, and impressive views on the way to the oasis. Much longer and more strenuous than the Fortynine Palms Oasis Trail, this hike is found in the southern portion of the park.
California fan palm trees surround the pools. It's a great shady stop before turning around and making your way back.
South Park Peak
Length: 0.6 Mile
Elevation Gain: 230 feet
Trailhead: Side road near the Black Rock Canyon campground
This trail may be short, but the moderate loop hike climbs up to a small summit overlooking the entire town of Yucca Valley. ;
This is not a heavily-trafficked trail; you likely will have it to yourself. There is no shade so wear a wide brimmed hat and bring loads of water.
Difficult Hikes in Joshua Tree
Lost Horse Mine Loop
Length 6.8 Mile
Elevation: 882 feet
Trailhead: At the end of a short track off of Keys View
The first of our difficult hikes in Joshua Tree, Lost Horse Mine Loop Trail leads hikers toward an old fenced-off mine from the gold rush era.
On the way, several restored buildings can be observed. The Lost Horse Mine is particularly well preserved. Past the mine, a small path continues along the mountain top before descending down, back to the start.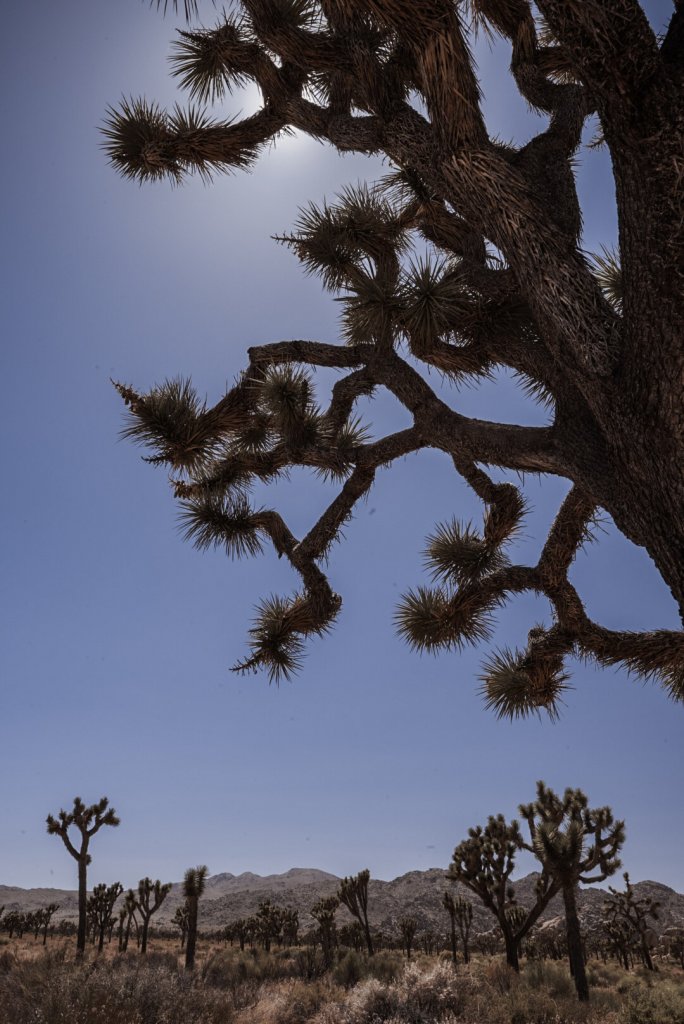 Ryan Mountain
Length 3 Mile
Elevation: 1069 feet
Trailhead: On the main road near Ryan Campground
This out and back rail takes hikers to the high summit of Ryan Mountain. This is one of the most popular hikes in Joshua Tree National Park, and for good reason!
The trail is somewhat isolated but can be easily reached. The views from its summit out to he surrounding areas below are some of the best in the park.
One mile west of the turn-off for the Sheep Pass group campground, and climbing steadily up the sloping rock, hikers pass Joshua trees at the lower elevations and pinyon juniper pine at the higher elevations.
Warren Peak
Length 6.3 Mile
Elevation: 1110 feet
Trailhead: Black Rock
I highly recommend this trail if you are looking for great views and solitude.
The length of the trail may have a lot of loose sand, which can make hiking a bit more strenuous. There is very little shade, as usual, so bring loads of water. It's well worth the trip to the top!
Potential Dangers in Joshua Tree
Rattlesnakes– Rattlesnakes aren't aggressive creatures, but if they feel threatened they may attack. Their expert camoflauge matches the desert palette perfectly, so always keep your eyes on the trail ahead. If you encounter a rattlesnake, give it space and you'll be fine.
Scorpions– Scorpions, like rattlesnakes, just want to be left alone. Watch your step and don't stick your hands into rocky crevices. That's where they love to lounge.
Flash Floods– Flash floods are a real danger in the desert. Stay out of washes and canyons if there is any threat of rain.
Be sure to read my post on Desert Safety to tackle these hikes with confidence!
Additionally, download this official Joshua Tree map offline before you go – there is little to no cell reception in much of the park.
No matter which of these hikes you choose, you are seriously in for a treat. The beautiful desert terrain, full of lush green palm trees in the desert, curious yuccas and prickly cacti will not disappoint.
I hope you enjoy these Joshua Tree National Park hikes even a fraction as much as I do! Let me know how it goes below.
Pin Me for Later!