Joshua Tree National Park is stunning. Wild yuccas, giant boulders, and endless desert. But there is pure magic in enjoying a Joshua Tree Sunrise (or a Joshua Tree sunset, for that matter!) Here are the best Joshua Tree sunrise hikes in the park. If you are visiting Joshua Tree, you simply cannot miss these. Let's go!
Pin Me for Later!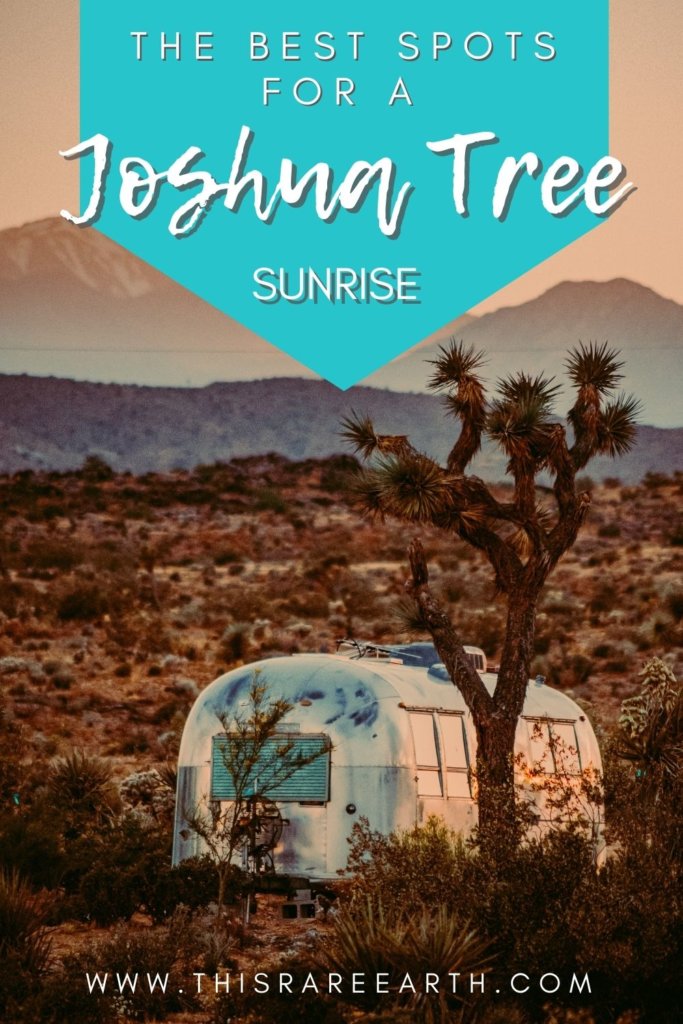 The Best Joshua Tree Sunrise Spots (That Nobody in their Right Mind Should Miss)
If you're new around here, you may not know – I am obsessed with Joshua Tree National Park. I make it a point to visit this park multiple times per year, and I never regret it.
Joshua Tree is stunning. The wild, rugged landscape, dotted with spiky dancing yuccas and round boulders never seems to disappoint. It's an amazing spot for reconnecting with nature and enjoying the desert solitude.
Whether you have just one day in Joshua Tree or a whole week, I can just about guarantee that you will leave in a more peaceful mindset than when you entered..
Spanning both the Colorado Desert and the Mojave Desert, the landscapes in Joshua Tree National Park are surprisingly varied across the 1235 square miles of park land. And, that variation is exactly what creates so many incredible places for a Joshua Tree sunrise.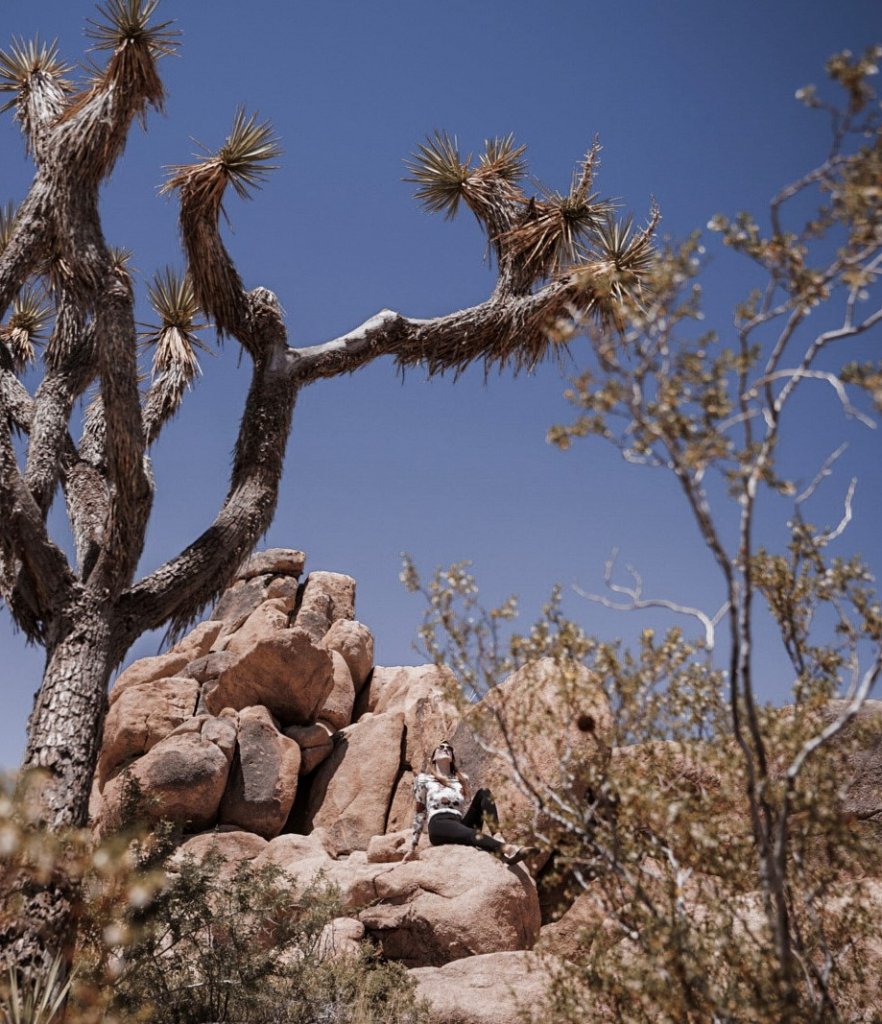 Preparing for a Joshua Tree Sunrise
First and foremost, you're going to need to arrive early, while it's still dark out. This requires a bit of research, since sunrise times change throughout the year. Be sure to check the daily sunrise times in the park.
Next, you'll have to decide where to sleep the night before. It's best to stay in a location that makes it easy to road trip into the park. Joshua Tree is open 24 hours a day, so an early entry is easy. Here are my top recommendations after countless visits to Joshua Tree over the years.
Alternately, you can think about camping inside of the Joshua Tree boundaries the night before your morning trek. There are a number of reserve-in-advance campsites as well as first-come-first-serve sites. The idea is to position yourself so that you are already as close as possible upon waking.
After you've got those details sorted, it's time to decide which magical sunrise spot you'd like to experience! Side note, each of these spots are also incredible for Joshua Tree sunsets, too.
You May Also Like: 10 Tips for Visiting Joshua Tree National Park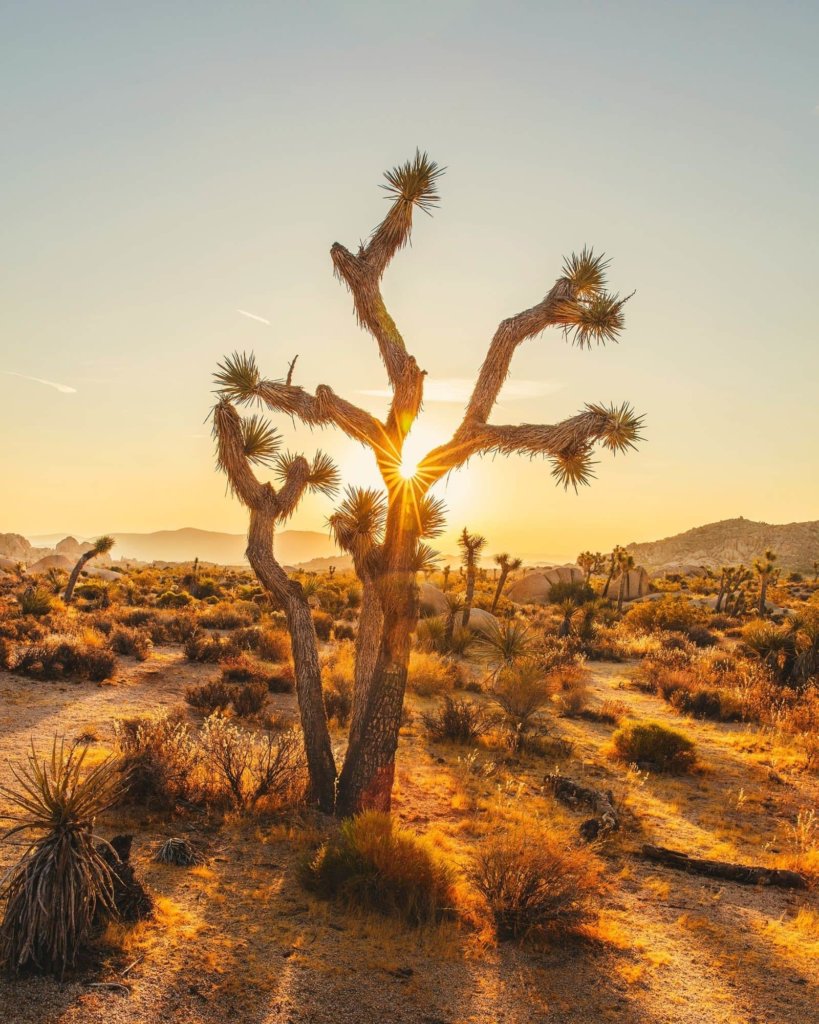 The Best Joshua Tree Sunrise Hikes & Locations
Sunrise is the perfect time to enjoy some solitude and escape the crowds. In summer, early morning offers bearable temperatures. In peak season, it offers a welcome escape from the crowds.
Full disclosure – a sunrise in Joshua Tree National Park can be incredible from just about any angle. The landscape is stunning in this Southern California desert park, so you almost can't "get it wrong".
But after all of my years visiting here, I have a few secret spots up my sleeves for those mornings when I want to experience something extra-special. And now, I'm sharing them with you.
You May Also Like: A Los Angeles to Joshua Tree National Park Road Trip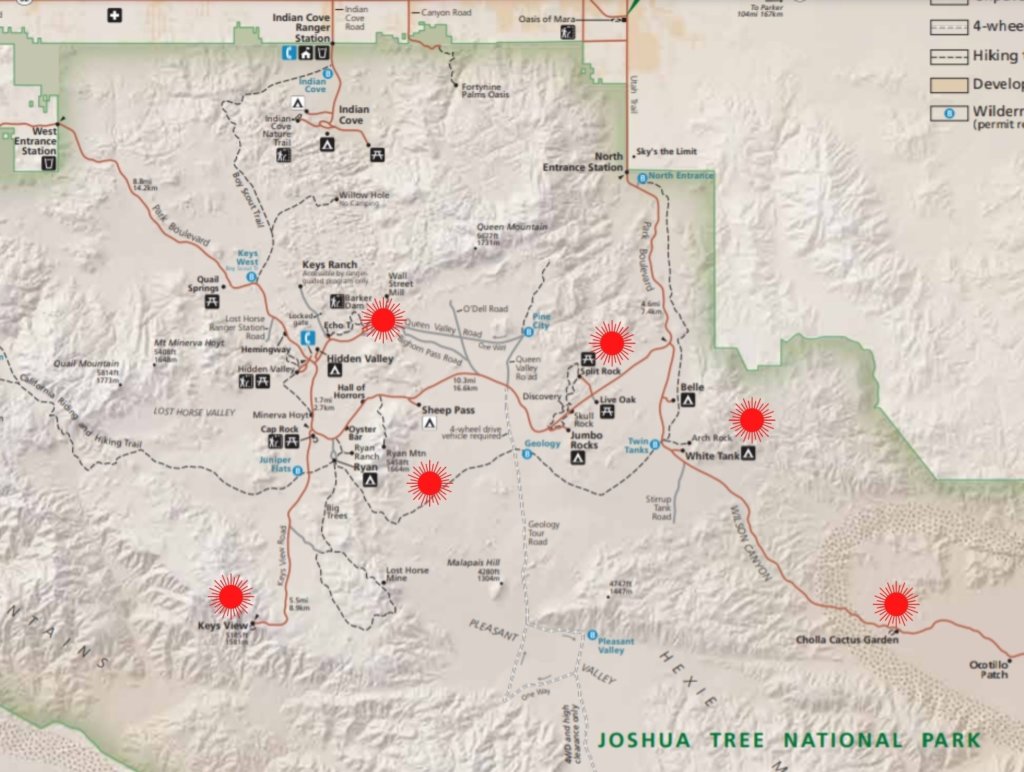 Sunrise Spot #1: Arch Rock
Arch Rock is an iconic spot in Joshua Tree, and for good reason. It's a cool place for photos, an easy hike even in desert temps, and an all-around interesting rock formation to explore. Capture the sun rising under the arch for an awesome memory.
Arch Rock Trail is an easy 1.2 mile out & back trail, suitable for most hikers. It is rated as easy, though if you want to get up close and personal with Arch Rock, some basic bouldering will occur.
I highly recommend this easy trek, even if you aren't typically a hiker. Come prepared for desert hiking by packing appropriate shoes and clothing and gear, though!
Distance: 1. 2 miles
Type: Out & Back
Difficulty: Easy
Time: ~30 mins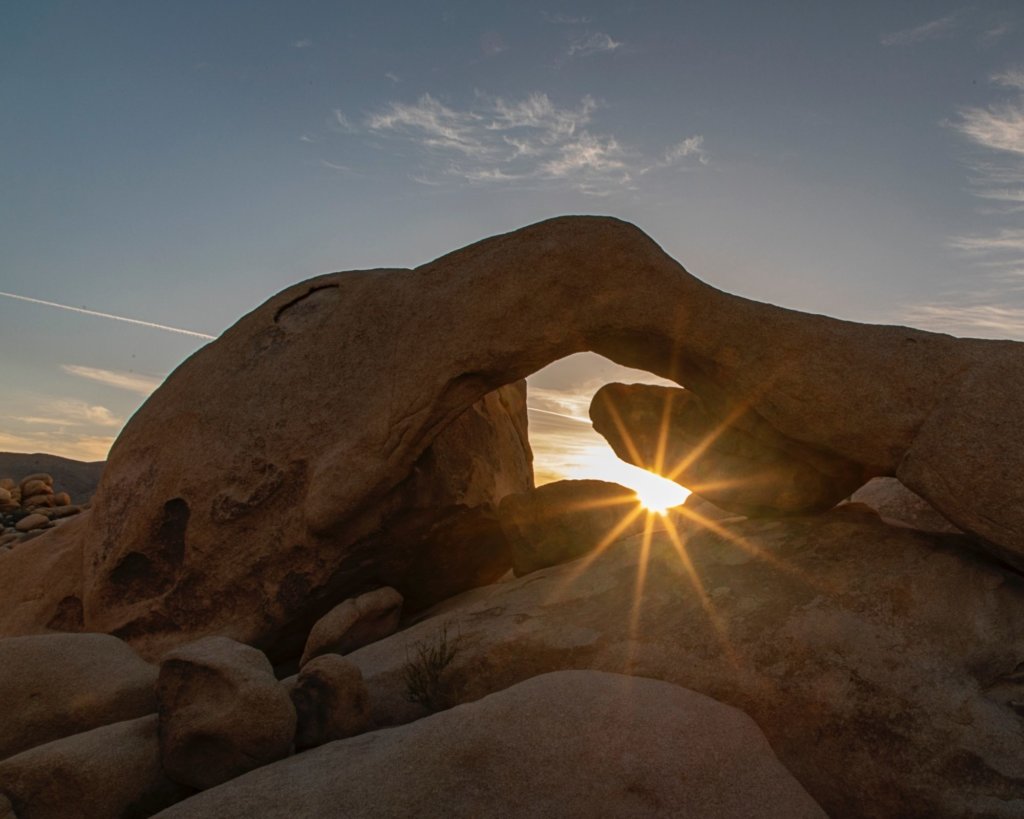 Sunrise Spot #2: Barker Dam & Barker Dam Trail
Barker Dam is one of the closest trails to the park's West Entrance, and because of that, it's typically driven right past to get to "the good stuff". That's a mistake! Don't miss this one.
For the longest time, I myself had no idea that this body of water existed within Joshua Tree. Once I finally discovered it, Barker Dam became one of my favorite Joshua Tree sunrise and Joshua Tree sunset spots in the park.
Catching those golden and red hues reflecting off of the water makes for an awesome photo, and the trail itself is alive with wildflowers and greenery in the spring.
Distance: 1.3 miles
Type: Loop
Difficulty: Easy
Time: ~30 mins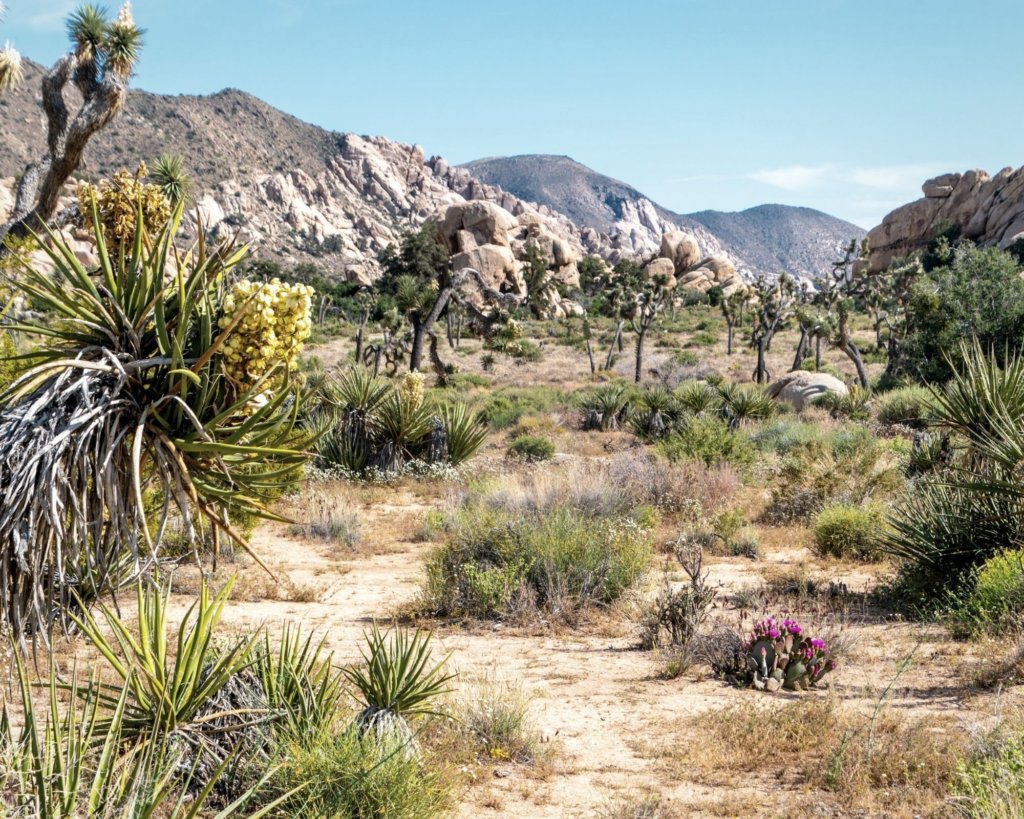 Sunrise Spot #3: Cholla Cactus Garden
I have spent many a sunset at the Cholla Cactus Garden, but only recently have enjoyed a sunrise here. I honestly recommend both experiences, but whichever you choose, you can't lose.
The Cholla Cactus Garden is a very short loop trail fairly far south into the park, within the Colorado Desert portion of Joshua Tree. In this area, you won't really see many Joshua Trees, but due to the lower elevation, you'll see tons of cacti!
Keep in mind that it will take a solid hour to reach this spot, so if you are driving from outside the park, take that into account.
The Cholla Cactus Garden is a super cool sunrise spot in Joshua Tree because the emerging light almost highlights all of the various spikes on the cacti, making them glow in a beautiful never-ending sea of thorns. Pinks and glowing oranges against the mountainous backdrop is breathtaking.
Distance: 0.25 miles
Type: Loop
Difficulty: Very easy
Time: However long your photos take!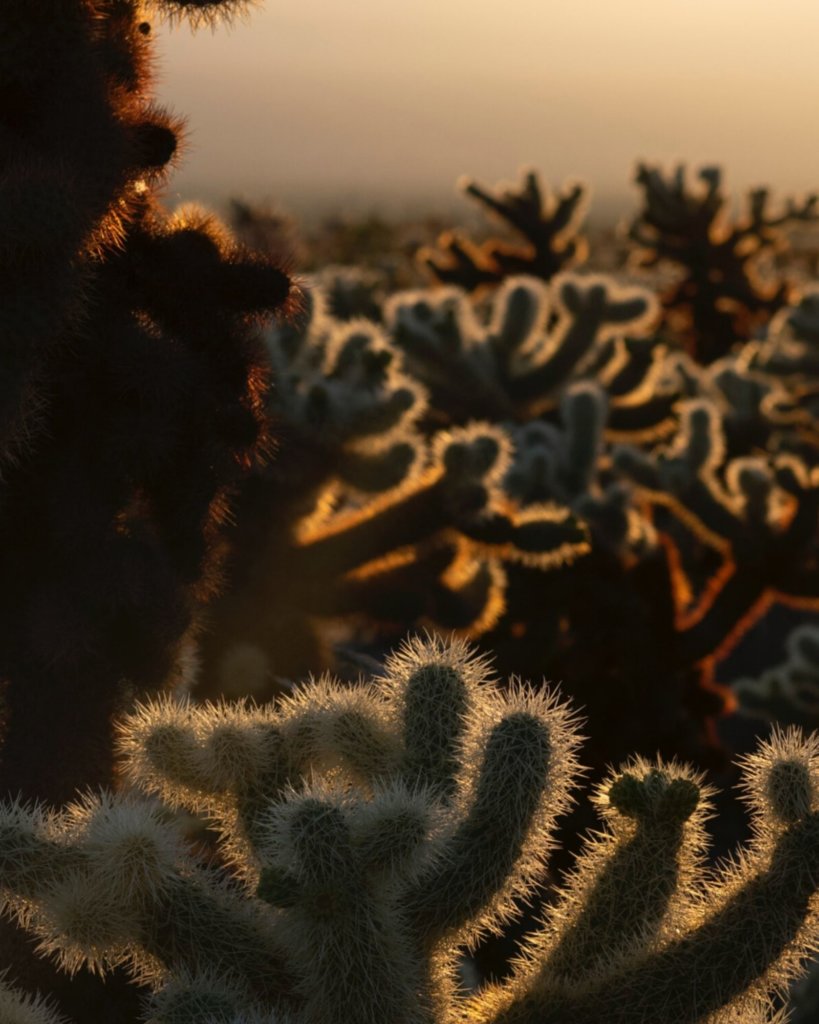 Sunrise Spot #4: Ryan Mountain
A "true" hike, Ryan Mountain offers a unique viewpoint if you're willing to put in the workout! It is steep and uphill from the get-go, and only continues gradually upward for over 3 miles.
To actually catch the sunrise here, you need to begin hiking in the darkness, so a headlamp (as well as sturdy footwear) is absolutely required. Dress in layers because the chilly morning will typically give way to very warm mid-mornings and downright hot afternoons.
As the day wears on, this spot will get more crowded, so sunrise is a great time to enjoy this spot completely solo.
Distance: 3.2 miles
Type: Out & Back
Difficulty: Moderate
Time: ~1.5 hours
If you would like to receive a download of this post (super-useful, as there is often no cell service inside of the park!), please sign up below.
Sunrise Spot #5: Split Rock
This easy 2-mile loop has a lot of interesting rock formations along the way to and from Split Rock. So while Split Rock is cool, there are actually plenty of other views you might like better for the sunrise.
This trail has varied terrain, wandering through dirt and over rocks, so again, a headlamp and solid shoes are a must. What I love about this trail is the solitude. I'm sure it gets more crowded as the day goes on, but the quiet valley in sunrise is so peaceful.
Skull Rock can also be viewed from this trail.
Distance: 2 miles
Type: Loop
Difficulty: Easy
Time: ~45 minutes to 1 hour, depending on your scrambling skills.
You May Also Like: Desert Wear and Hiking Essentials for the American Southwest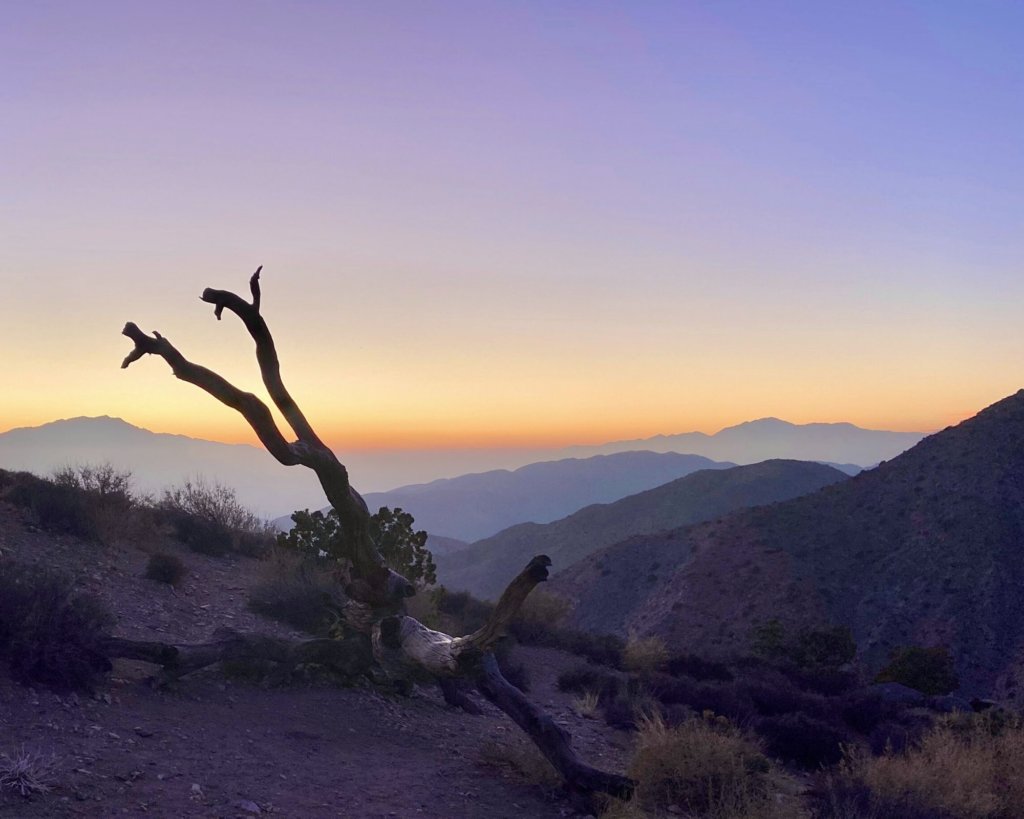 Sunrise Spot #6: Keys View
As one of the best overall viewpoints of Joshua Tree State Park, it should be no surprise that this is also an excellent spot for a sunrise. Views of the Coachella Valley's rugged mountains in the pink and gold morning light are incredible.
This is a place I can easily sit from full darkness to full sun and just watch the colorful changes against the mountain peaks.
Visitors can access Keys View by car (parking is nearby), so if hiking in the dark is not your thing, this is a great option.
Looking for more of the best Southern California hikes? My e-book covers hikes within Joshua Tree National Park and beyond! Click the image below for more details.
Additional Joshua Tree Sunrise Tips
*For additional information on JTNP entrance fees and what to see once the sun in high in the sky, check out this post!*
Pin Me for Later!