Looking for the best Joshua Tree photo spots? Here are the best photography locations inside of Joshua Tree National Park – from boulders to plants to panoramic viewpoints. Read on for the ultimate Joshua Tree photography guide!
Pin Me for Later!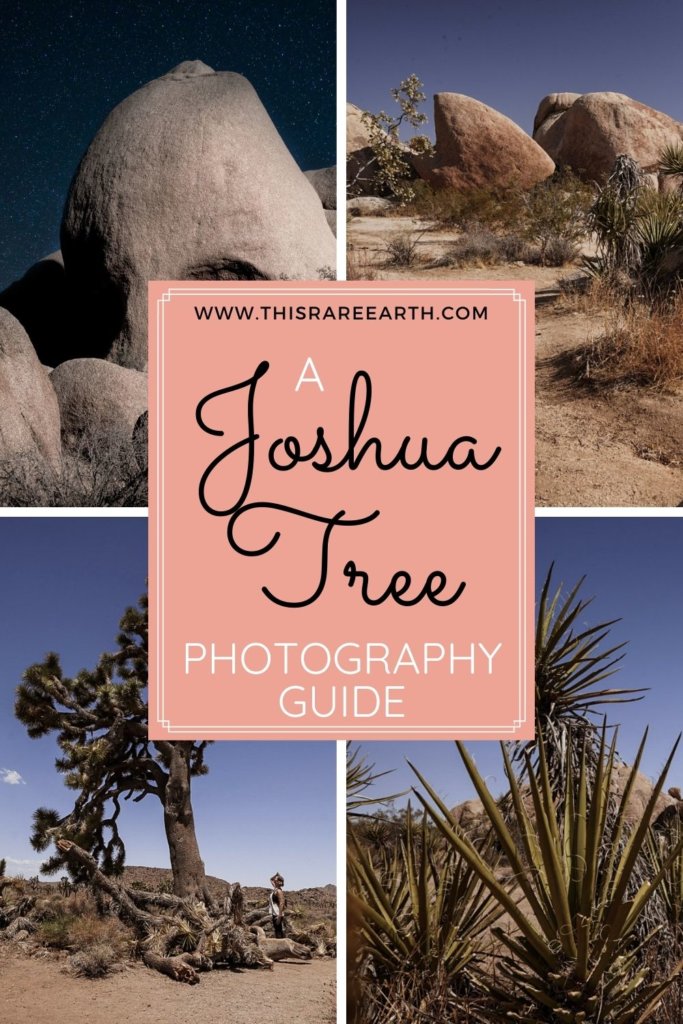 It's a well-known fact that Joshua Tree National Park is one of my favorite spots in the world. Yep, you read that right – the whole entire world.
The park is pretty spectacular. Located inside of the Mojave Desert, this is one of the few rare and perfect climates where the Joshua Tree exists.
The wild and spindly yuccas, the giant bulbous rocks, and the vast desert landscape stretch out for many miles – 1,235 square miles, to be exact.
Because of the unique environment and pitch black desert sky, Joshua Tree National Park provides endless options for eager photographers at all hours of the day.
If you have just one day in Joshua Tree, this photography guide will help you identify and choose the best photo spots in the park.
Keep reading to the end of the article for additional tips on when, how long, and why to visit Joshua Tree National Park!
A Joshua Tree Photography Guide: The Best Photo Spots in the Park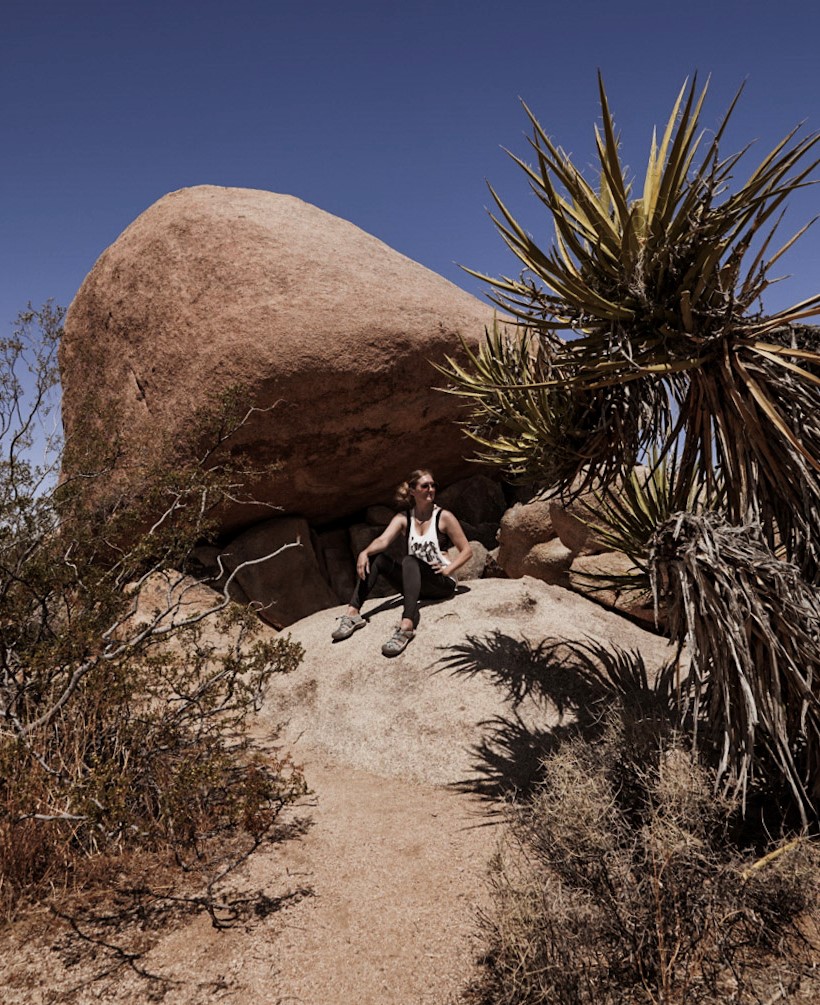 First Thing to Consider: When To Visit?
The desert can deliver both scorching hot days and below-freezing nights. It is without a doubt a harsh envoronment.
Photography can be done in any season, as the park is open year round, but due to the extreme temperatures, photographers may opt for one season over another.
Winter (December – February): The highs hover around 70 degrees Fahrenheit and the lows are in the 30s, near freezing overnight. Occasional snow may dust Joshua Tree in the winter, but it was a rare occurrence and a truly special one to photograph! Winter is also a great season for longer more strenuous hikes.
Spring (March – May): Great weather dominates the park at this time of year, with highs in the 80s and lows in the 50s. This is a beautiful time to visit the park and catch all of the colorful blooms from cacti and wildflowers. Hiking is still comfortable, but trails will be more crowded.
Summer (June-September): Summer months can be quite crowded, simply because school is out and family vacations are in full swing. However, most people would prefer to avoid the intense heat of summer at Joshua Tree if they could. Temperatures are typically in the triple digits. Photographers should be aware that daylight lasts much longer in these months.
Fall (October – November): Fall is similar to spring, with highs in the 70s/80s and lows in the 40s and 50s. Camping can be lovely in the fall months, once the temperatures drop. This is the most popular season in the park though, so expect crowds and plan campsites in advance.
If you are planning for astro-photography, keep in mind that many of the great photo locations are labeled as "day use only." The park takes the protection of wildlife seriously, which I respect greatly.
Some of the Joshua Tree photography spots listed below can only be accessed via the hiking trails. I highly recommend reading up on desert hiking gear essentials before you hit the trails.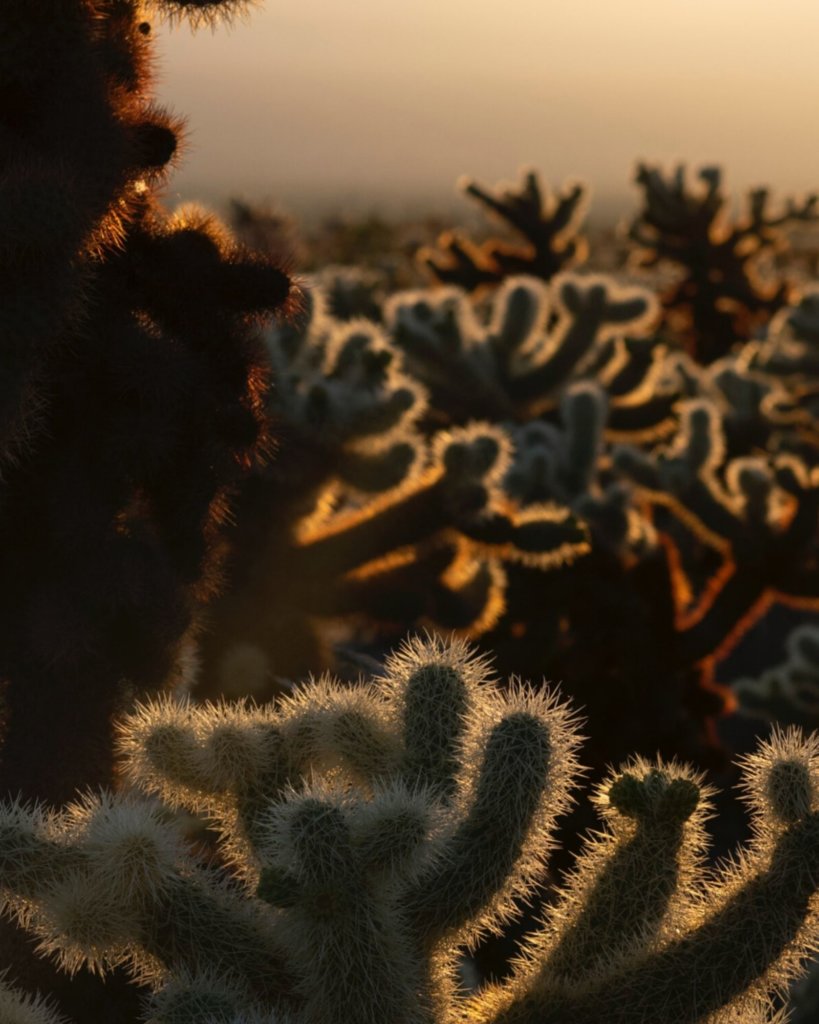 Photography Spot #1: The Cholla Cactus Garden
The Cholla Cactus Garden is one of my favorite spots in the park. Located further south in the park, many people skip this location simply due to the extra driving distance. I highly recommend you don't do this!
The high concentration of cholla cacti crammed into this one patch of land creates a stunning visual. Rugged mountains form a dramatic backdrop. And, visiting during sunrise or sunset bathes everything in pink and golden light that softens even the prickliest cholla arm.
Know Before You Go
Cholla Cactus needles are intense. The arms of the cactus are built to detach from the plant once they've lodged into your clothing – or skin! And the needles are thick and painful. Yes, I know this from experience.
When To Visit
Sunrise or sunset create the most beautiful pink and gold lighting.
Location
The Cholla Cactus Garden sits just off of Pinto Basin Road in the Colorado Desert portion of the park. It is one of the southern most attractions. It can take around 45 minutes to an hour to drive here from the northern attractions. Ample parking is provided.
You May Also Like: The Best Joshua Tree Sunrise Hikes and Locations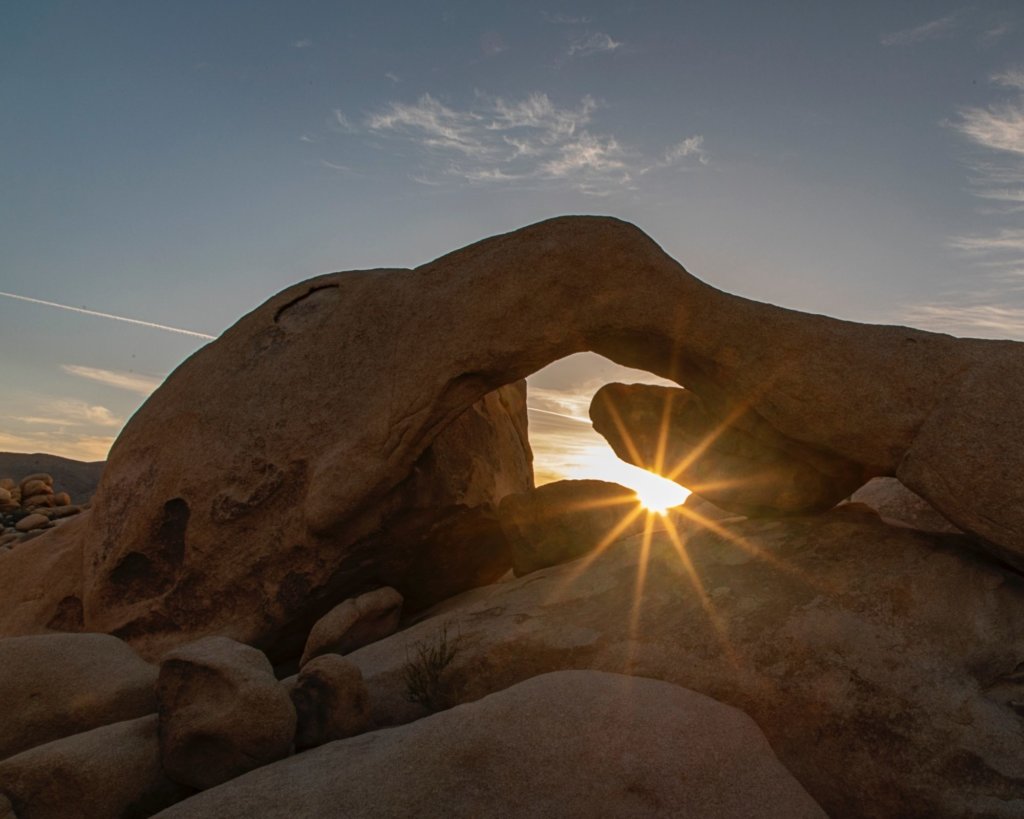 Photography Spot #2: Arch Rock
Arch Rock is one of the quintessential sight to see within the park, and is an absolute must for those wanting to try out some iconic Joshua Tree photography spots.
This natural granite archway creates a beautiful window out to the desert sky. Photographers can climb right up to the rock itself, or even inside the archway. I love my wide angle lens for most spots in Joshua Tree, and this one is no different.
Know Before You Go
Because Arch Rock is an iconic viewpoint, crowds can be a problem. Avoid busy times. Consider hiking early or camping overnight to get one of the earliest glimpses. Parking for non-campers is limited.
When To Visit
Sunrise is a beautiful option. Alternately, if you camp at White Tank Campground, this is a wonderful spot for nighttime photography in Joshua Tree National Park.
Location
Arch Rock is located in the northern Mojave Desert portion of the park, and can be accessed via White Tank Campground. The short hiking trail begins at campsite #9.
Photography Spot #3: Lost Palms Oasis
Lost Palms Oasis is one of my favorite hikes in Joshua Tree. As the name suggests, the highlight of this trek is a lush green oasis in the middle of the desert.
However, it can only be accessed from a somewhat strenuous seven mile hike over rugged and hilly terrain. Because of this long trek, I rarely see photographers lugging gear or making the effort. But, the views are certainly worth it.
Location
Lost Palms Oasis is located on the southern edge of Joshua Tree National Park, near Cottonwood Campground.
Know Before You Go
This hike is serious business. I do not recommend it during the summer months. Even in winter, hikers should plan to leave early.
When To Visit
This hike should be taken early in the morning only. This is not a spot that photographers should attempt night photography. The hike back is long and dangerous in the dark. As previously stated, avoid this one during summers and midday.
You May Also Like: A Los Angeles to Joshua Tree Road Trip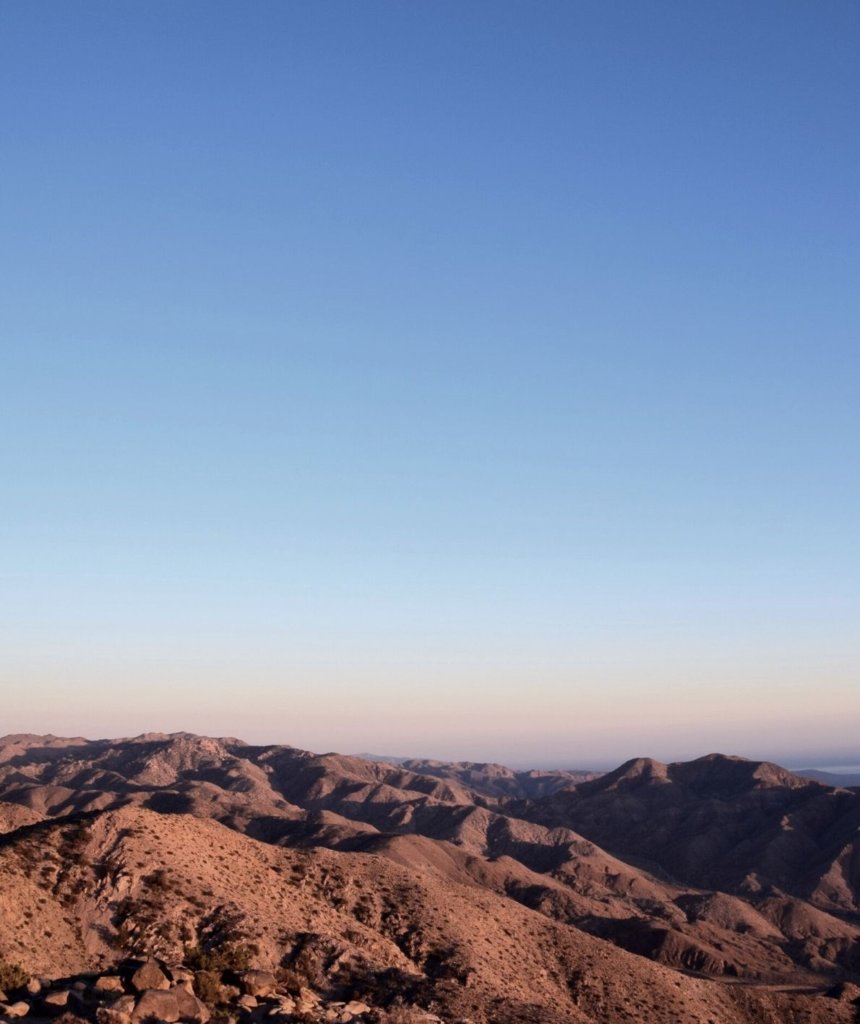 Photography Spot #4: Keys View
Keys View is without a doubt one of the prettiest locations in Joshua Tree. This lookout offers unparalleled views of the valley below, and out into the distance for miles. This view makes it one of the best Joshua Tree photography spots. The west-facing view makes it ideal for sunset photos.
Luckily, Keys View does not require any long or strenuous hike to reach there. It is a drive-up viewpoint so anyone can access this stunning spot.
Location
Keys View is located in the northern Mojave Desert portion of the park. It is one of the westernmost roads leading to the edge of the wilderness. The viewpoint is off of Keys View Road.
Know Before You Go
This is one of the few locations on this list that is wheelchair accessible, as there is paved sidewalk leading to the mountain edge. No hiking required.
When To Visit
Sunset is hands down the most beautiful time. Arrive early though, parking is limited and it is a popular spot.
You May Also Like: 10 Tips for Visiting Joshua Tree National Park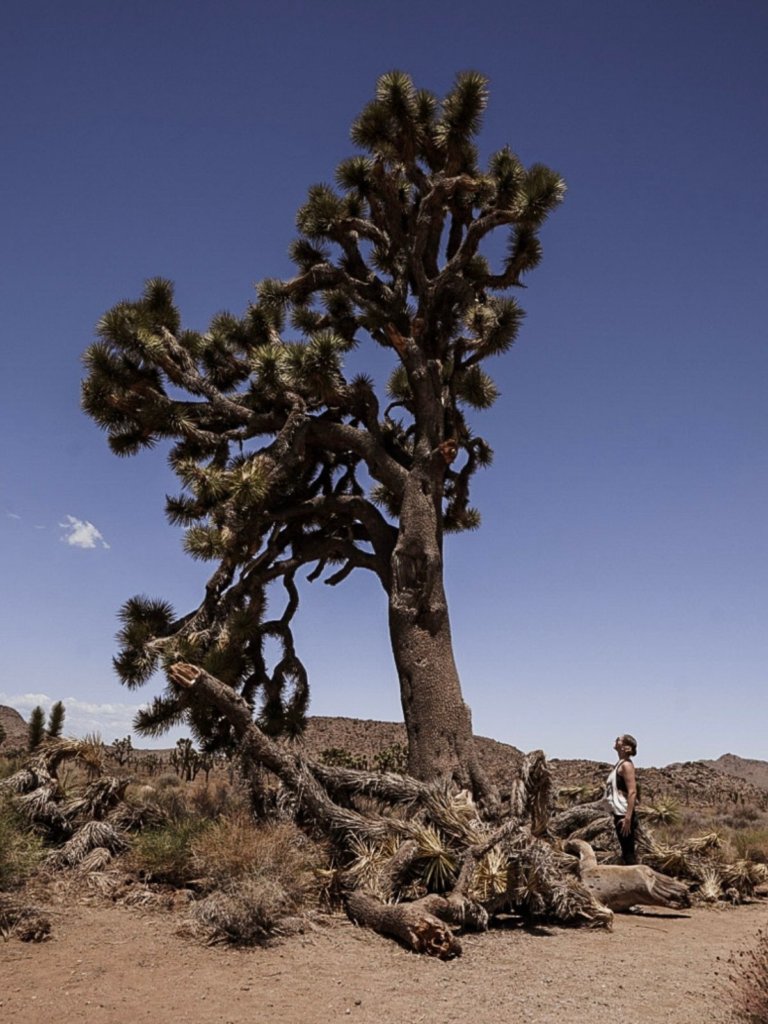 Photography Spot #5: Lost Horse Mine Area
The Lost Horse Mine Road leads to the Lost Horse Mine and a fairly strenuous hike called the Lost Horse Mine Trail. The gold mine is from the 1900's, but that's not what makes this area so photogenic.
This area of the park has an extremely high concentration of Joshua Trees. I've seen some of the most unique trees in the entire park here. From super tall, to loads of arms, to hundreds of years old, this is a phenomenal spot for photographing the Joshua Tree.
Location
Lost Horse Mine Road is an easy left turn-off on the way to Keys View.
Know Before You Go
The hike itself offers less Joshua Trees than the roadway does. I don't recommend taking on the hike unless you also want to see the mine. Know that it is fenced off and a bit underwhelming.
When To Visit
Anytime – this area doesn't get too crowded. Car pull offs are available on the side of the road. If you are heading out on the hike, think early in the morning.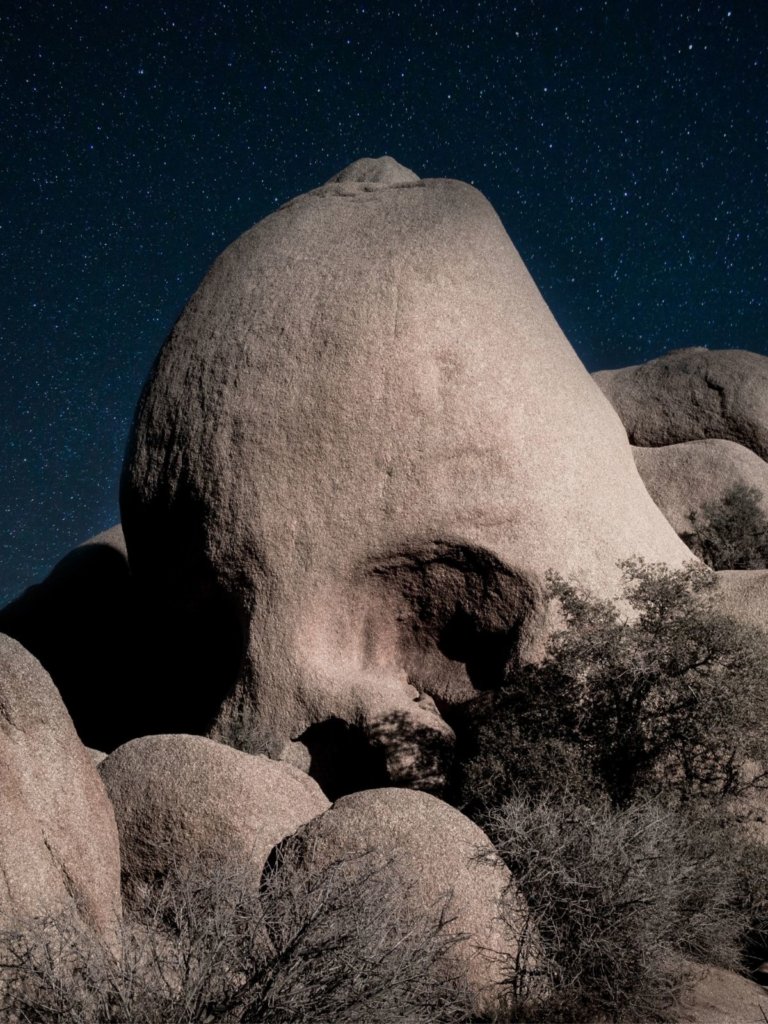 Photography Spot #6: Skull Rock
Skull Rock is possibly the best known of these photo locations in Joshua Tree. It is situated just off of Park Boulevard and can be seen from the roadway if you know what you're looking for.
The lighting conditions at Skull Rock change drastically throughout the day, with large shadows cast from the deep crevices of the rock.
Location
Skull Rock is located off of Park Boulevard in the busiest section of the park, near the Jumbo Rocks Campground.
Know Before You Go
If you want to try for different angles, there is a 1.7-mile nature trail that leads to and from Skull Rock.
When To Visit
At busy times, Skull Rock will be covered with visitors clamoring up to be photographed with the iconic rock. Best to arrive early or during the off season.
You May Also Like: National Parks Near Los Angeles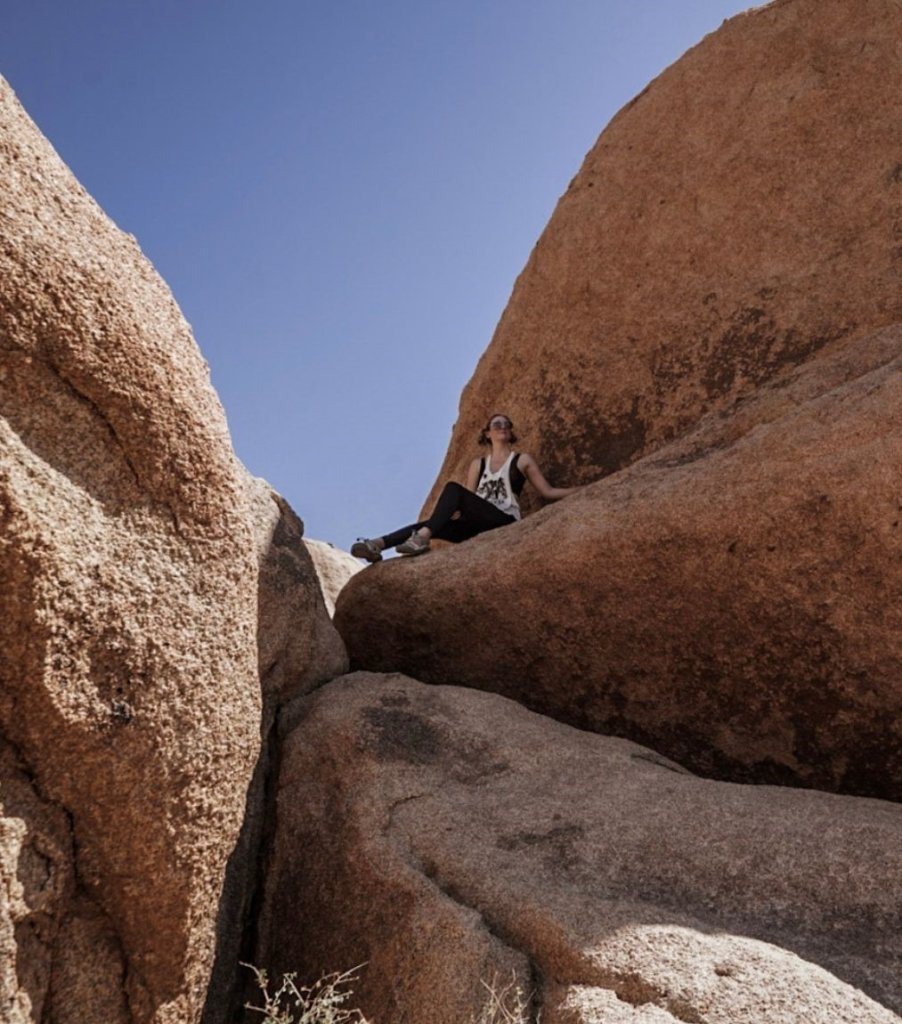 Photography Spot #7: Jumbo Rocks
The giant boulders of Jumbo Rocks are quite mind-blowing for someone who hasn't seen them before. They look so out of place that if you didn't know better, you'd think they were purposely plucked and stacked on top of one another for an otherworldly look. But, that is not the case.
This strange geology is a must for any photographer in Joshua Tree. The boulders are definitely something to see!
Location
Look for signs to Jumbo Rocks Campground, just past Skull Rock. You don't necessarily need to have a campsite. The rocks are located all over this area.
Know Before You Go
Beautiful lighting is cast in early morning across the rocks. As the sun gets higher, the lighting gets harsher and large shadows may interfere with your photography.
When To Visit
I personally prefer early morning, and the cooler months are great if possible.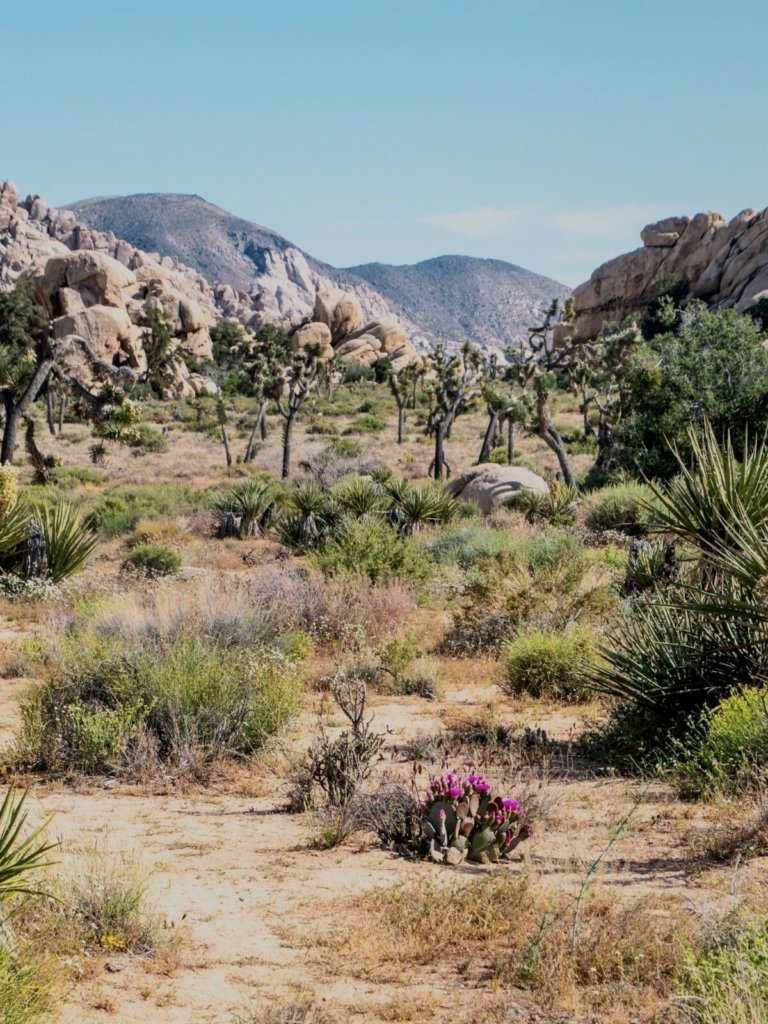 Photography Spot #8: The Barker Dam
Barker Dam is both an amazing place for Joshua Tree photography as well as one of the best spots for sunrise in the park.
As the name suggests, this dam usually holds water (though it can dry up at times), and is a popular spot for the bighorn sheep inside the park. Barker Dam is also home to some Native American petroglyphs and fields of Joshua Trees! It's an excellent spot for landscape photography.
Location
Barker Dam is found in the northwestern portion of Joshua Tree, near Hidden Valley Campground. however, Barker Damn is only a few miles away.
Know Before You Go
The parking lot can fill, so come early in the day.
When To Visit
Springtime! This area is a field of rainbow wildflowers after a nice spring rain.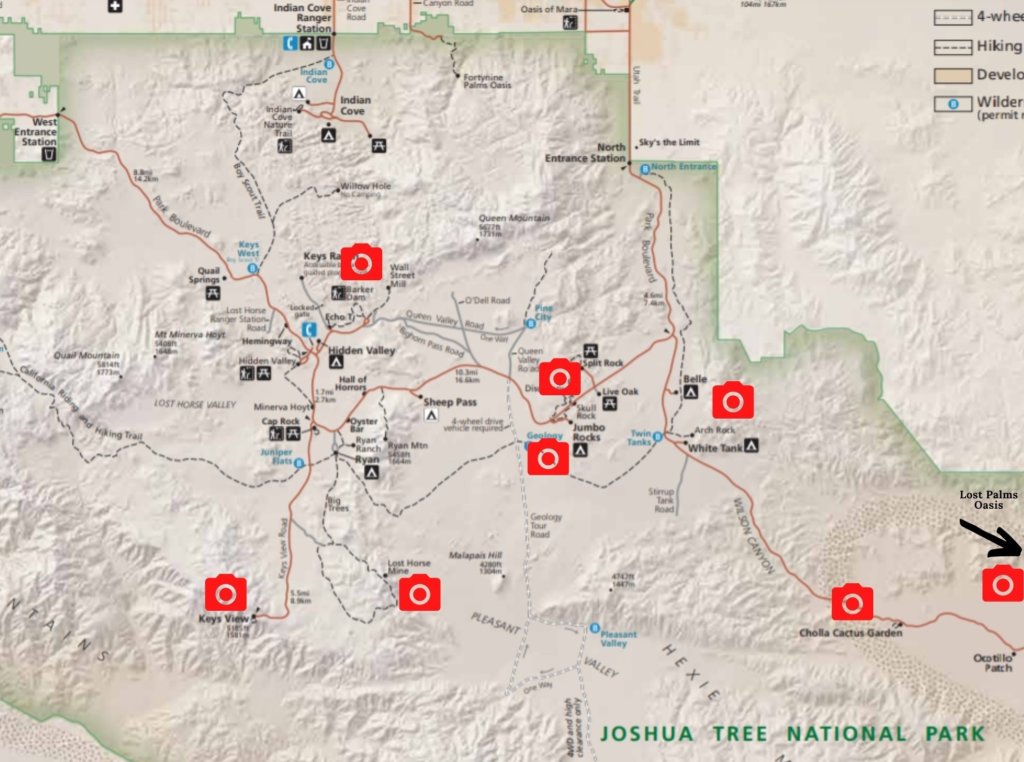 Don't Overlook Unnamed Locations
Be sure not to overlook unnamed and wilderness areas in the park for some of the best photo spots in Joshua Tree. I find that some of my favorite photos often come from random highlights that simply aught my eye, but don't have a fancy title.
Joshua Tree National Park is a wild gem in Southern California. Overshadowed by it's better-known cousin Death Valley National Park, Joshua Tree offers just as many stunning overlooks – just packed into a more bite-sized package.
Planning on visiting more of SoCal? My hiking guide will lead you to all the best trails! Click the image below for more details.
How to Get To the Joshua Tree Photography Spots
There is no public transportation inside of Joshua Tree National Park. Driving your personal car or renting a car is the easiest way to get around the park, by far.
I don't recommend biking simply because the gear can be a bit much to carry on your bike, not to mention your camera can overheat. Additionally, the photo locations inside of Joshua Tree are too far away from one another to walk to.
Consider camping in Joshua Tree National Park and allow yourself several days to really explore.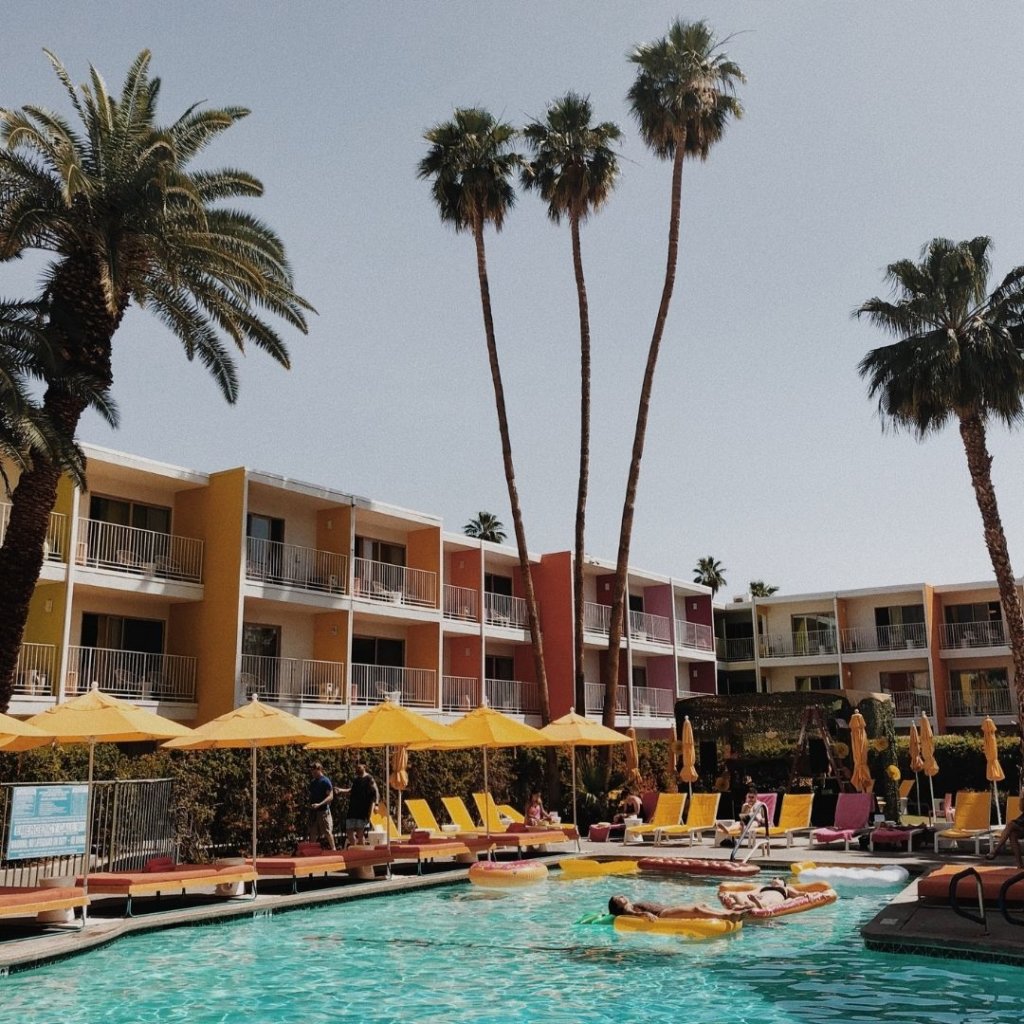 Where To Go Next?
After several days in the rugged desert, a nice trip to neighboring Palm Springs is a great option. You can find both relaxed poolside resorts filled with mineral waters, or more desert hikes like Andreas Canyon that are completely unique and vastly different than Joshua Tree.
You might also consider heading to the Mojave National Preserve for some similar views but with far fewer crowds.
***
I hope this Joshua Tree Photography Guide leads you to all the best photo spots in the park! I have no doubt you'll enjoy photographing this desert wonderland as much as I do.
Pin Me for Later!