The Andreas Canyon Trail hike in Palm Springs has quickly become one of my favorites! Lush greenery, rocky cliffs, and skirted palm trees surround the trail. If you're thinking about hiking Andreas Canyon or need information on the Andreas Canyon hike then you've come to the right place!
Pin Me for Later!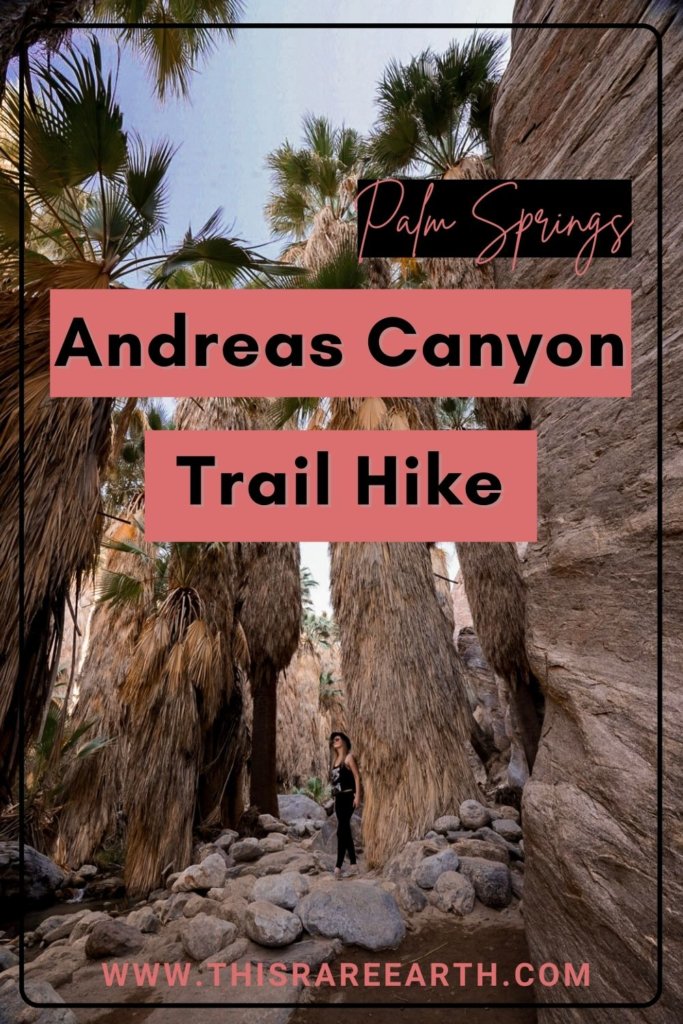 Welcome to the world's largest natural California Fan Palm Oasis!
That's right, this little hike nestled inside Indian Canyons is home to the largest natural California Fan Palm oasis in the world. On top of that, this hike offers up rugged mountains, crystal clear springs, and even a bit of history. This hike is nothing short of incredible.
Over 150 species of plant life is packed into this short hike, and you have the chance to cool of in a literal desert oasis. What could be better?
If you're planning a trip to Palm Springs, you need to include the Andreas Canyon trail on your itinerary! It is one of the best hikes in Southern California, without a doubt.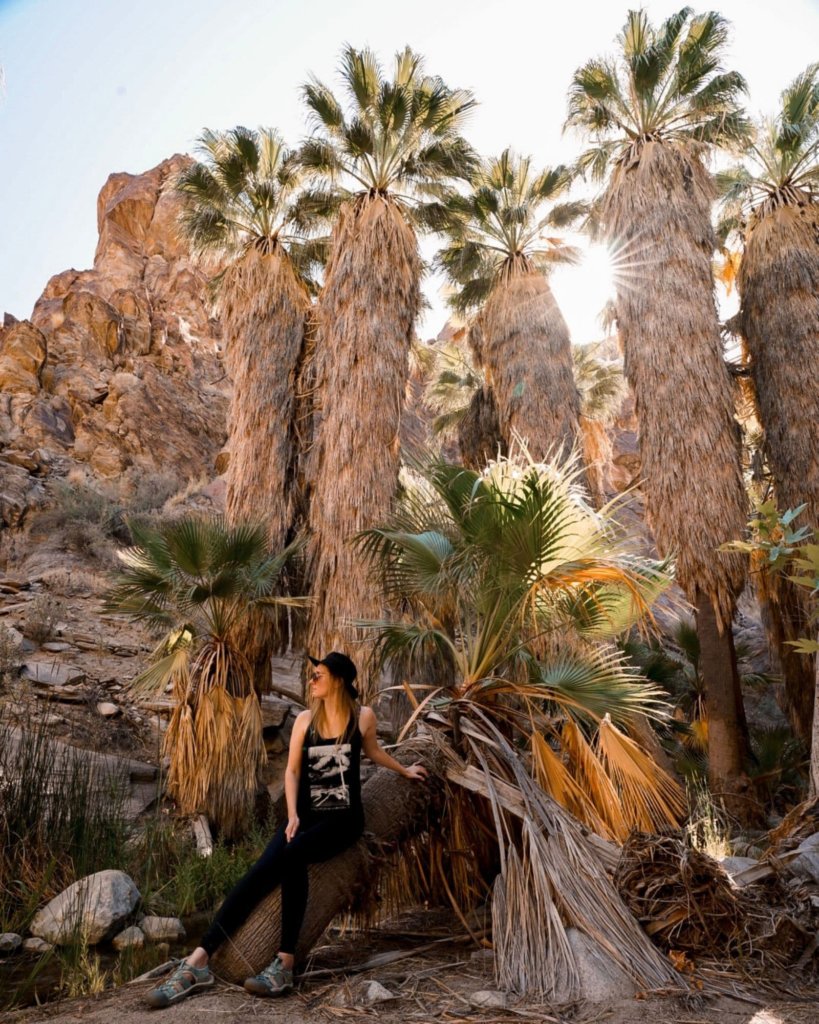 The Andreas Canyon Trail Hike in Palm Springs
It's no secret that I am a die-hard desert gal. All of my trips to Joshua Tree National Park and the Valley of Fire make that obvious.
Palm Springs is a fun and colorful town full of mid-century modern architecture and manicured lawns nestled inside and between the California deserts. It is the place to go for fun in the sun, mineral pools, and sweeping views of the surrounding valleys.
But despite building up central Palm Springs into a chic and fun getaway, natural lands and wide open spaces can still be found here. Enter, Indian Canyons.
Indian Canyons is the ancestral home to the Agua Caliente Band of Cahuilla Indians. For thousands of years the Cahuilla people thrived here, and remnants of those days can still be found here. Indian Canyons is a historic gem and is found on the National Register of Historic Places through NPS.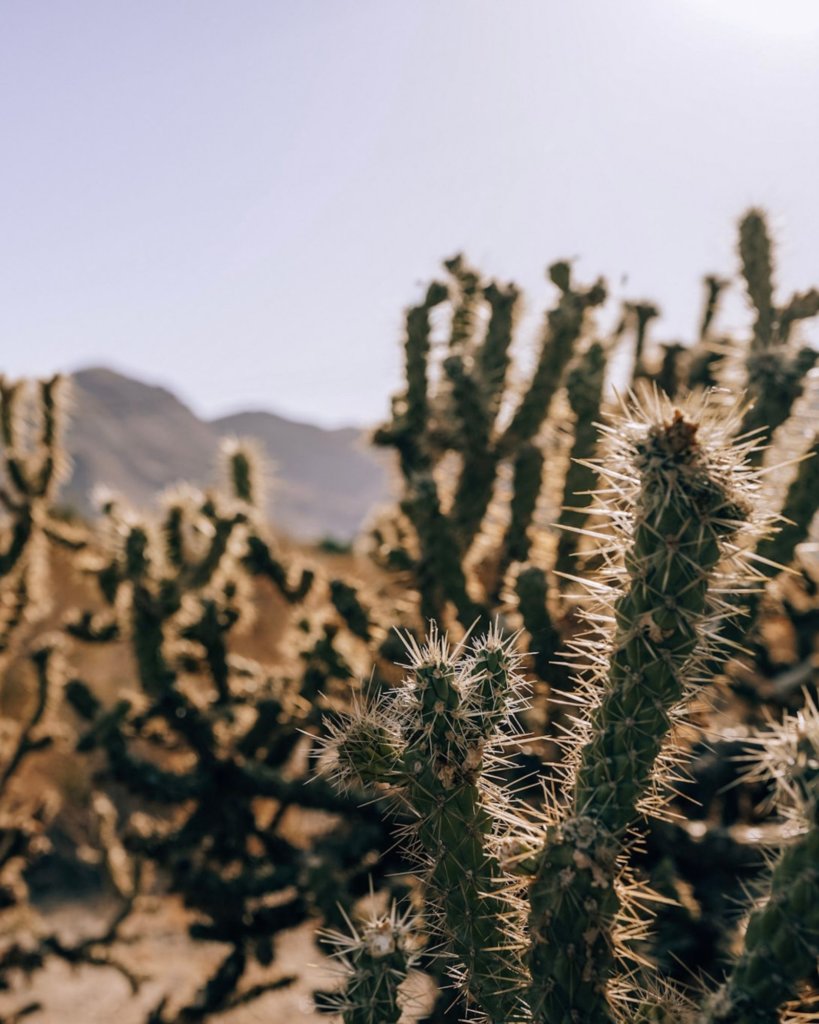 Where Is Andreas Canyon Trail?
Andreas Canyon is located just minutes south of Downtown Palm Springs, inside of Indian Canyons. It's an easy drive no matter where in Palm Springs you are staying.
Indian Canyons' hours vary throughout the year. From October 1 – July 4, the hours are 8am-5pm daily. From July 5 – September 30, the hours are 7:30 am – 5pm on weekends only (Friday – Sunday).
How Much Does Indian Canyons Cost?
The cost to enter Indian Canyons is a $9 entrance fee per adult. Unfortunately, this price is per person, not per car.
However, there are multiple hiking trails inside of Indian Canyons, so the $9 fee to access this sacred land seems more than fair, in my opinion.
Hiking the Andreas Canyon Trail in Palm Springs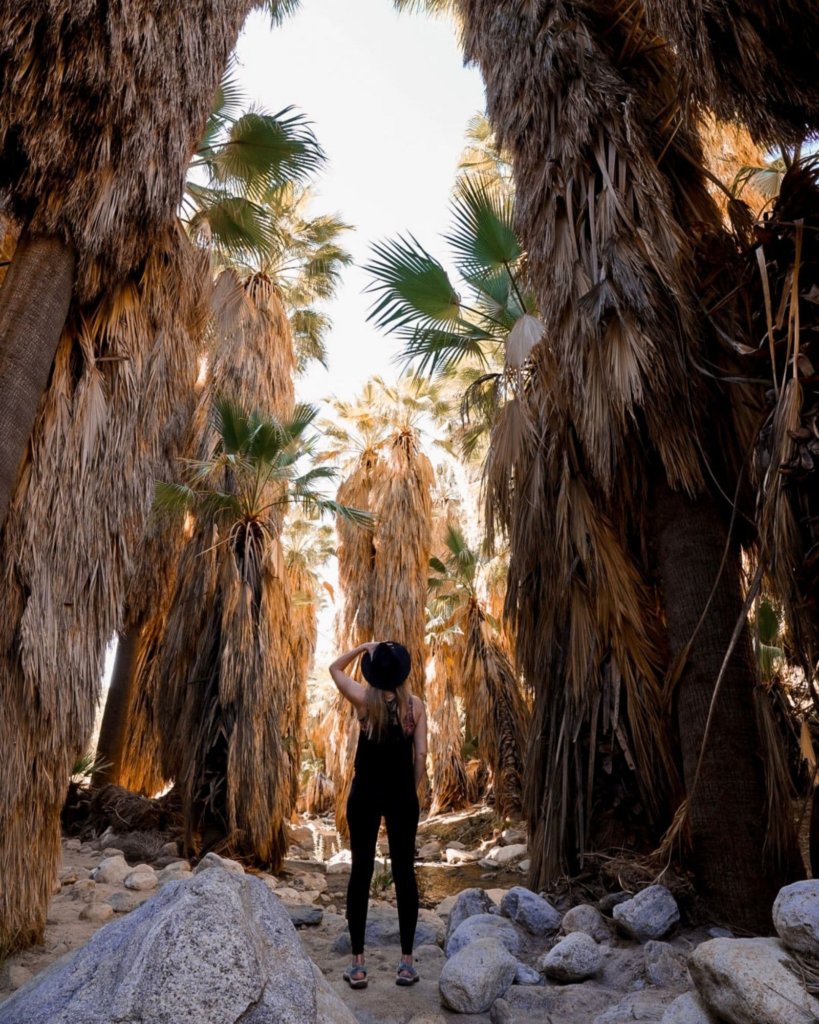 How Long is the Andreas Canyon Hike?
Andreas Canyon trail is a 1 mile loop trail.
Andreas Canyon Hiking Details
I recommend hiking Andreas Canyon as early in the morning as possible. I'm an early hiker, often SUPER early, and unfortunately the entrance doesn't open until 7:30-8am. The sun is beating down by 10am.
Oasis or not, remember that you are hiking in the desert, so come prepared with the proper desert essentials!
Parking is located directly at the trailhead. Look for this sign that marks the entrance.
The Basics:
Trail Length: 1 mile
Difficulty: Easy
Time: ~45 minutes depending on how much time you take for photos and exploring.
Type: Loop
Entry Fee: $9 per person
The hike begins on a dirt path, with a towering cliffside to your right and the lush green oasis to your left.
The bright sun shines even at 8am, and the sounds of nature are music to your ears. Birds chirp, the water trickles, and the wind whooshes through the many many palm fronds.
The trail is fairly flat, with minimal elevation gain. "Easy" trails are great for hot desert summer days; the longer treks should be reserved for cool winter months.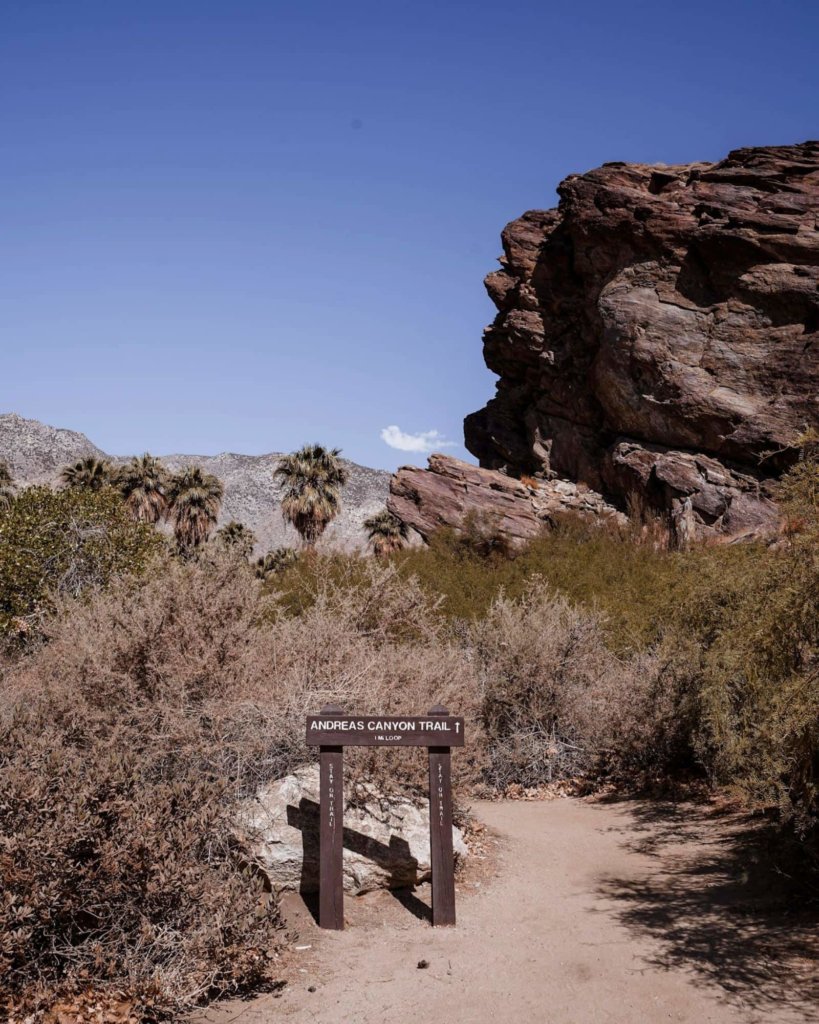 Despite the short hike length, Andreas Canyon Trail is one of the prettiest hikes inside of Indian Canyons. I found myself marveling at the oasis itself.
Dozens of towering fan palms surround Andreas Creek in thick swaths, covered in dry and crackled skirts. Rays of sunlight beam through the shaded oasis.
It looked like it could almost be artificial, built to be so beautiful and perfect – but of course it is completely natural.
FYI, it is allowed to swim or dip your toes in the water. But use caution – on my last trip I saw a 5-foot long rattlesnake!
It truly is an incredible trail; a real must-see if you are in Palm Springs.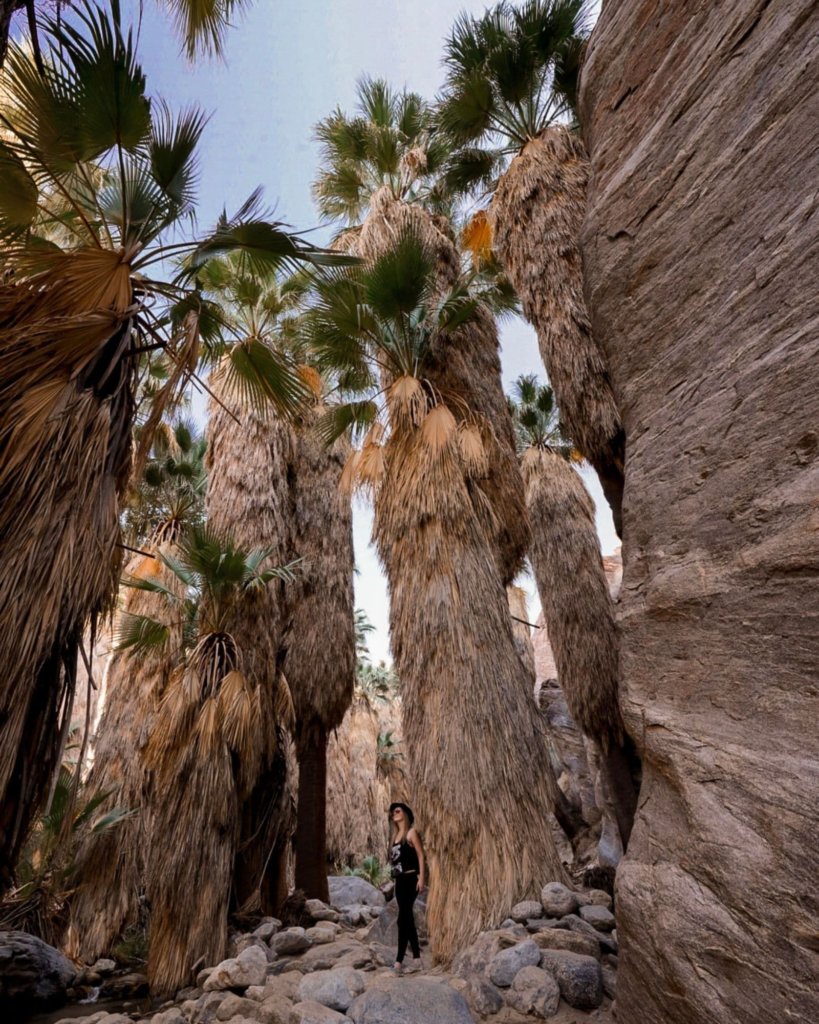 When To Hike Andreas Canyon
As mentioned, this trail gets hot year round. Your best bet is to start as early as possible.
The good news is that the trail is partially shaded by the towering fan palms, so you can find some respite from the heat and sun as needed.
Spring (March – May): The springtime is an excellent time to visit Indian Canyons. The weather usually tops out around 85 – 90 degrees but they daylight hours are getting longer. Wildflowers and cacti are blooming.
Summer (June – September): Prepare wisely! Temperatures routinely hit the triple digits, and midday hikes can be miserable (particularly the longer ones). Hike early and bring lots of water.
Fall (October – November): Cooling down once again into the 85-degree range, fall is a popular time to hike the Andreas Canyon trail. Be aware that the days are shorter and trails may be more crowded.
Winter (December to February): Winter is an excellent time for desert hikes. Temperatures can range anywhere from 40-75 on average. If the desert sees rain, it will be in the winter months so check the weather ahead of time.
Safety in the Desert
Full disclosure, I have an entire post on desert safety that goes into much more depth than I'll cover here. Though this hike isn't very long or strenuous, the others in the park are – and regardless, you should always prepare for the sweltering heat.
Always bring more water than you think you'll need.
Wear appropriate footwear. I had on my  Keen trekking sandals in these photos – and they were perfect for both the trail and the stream.
Sunscreen, hat, and sunglasses will be your best friends.
Dress in layers.
Watch for rattlesnakes!
Other Hikes in Indian Canyons
Andreas Canyon is just one of several hiking options inside Indian Canyons. Others include:
Murray Canyon Trail: An Easy/Moderate 4 mile hike featuring lot of palm trees like Andreas Canyon.  Big Horn Sheep frequent this trail, and you're quite lucky if you see one – they are an endangered species. Murray Canyon is secluded and beautiful.
Palm Canyon Trail: An intense and Difficult hike, this 15 mile trail showcases indigenous flora and fauna. I have seen horses on these trails and frankly, that is a more realistic way to cover the entire distance. There is a Trading Post offering water and snacks.
I recommend doing your longest hike early and saving Andreas Canyon for last, if trying for two in one day. But cut yourself some slack if one hike in the desert is all your body can handle.
Rules to Follow Inside Indian Canyons
No fires allowed.
Please no smoking.
Do not bring alcoholic beverages.
No drones allowed.
Sorry, no dogs allowed.
No rock climbing on the cliffs.
Keep it peaceful! No loud music.
Only hike on the designated trails.
Do not disturb, deface, or remove artifacts.
Where To Visit After Andreas Canyon?
Go for some sunrise hikes in Joshua Tree National Park! It's only 30-ish minutes outside of Palm Springs, and is one of my favorite locations on the planet.
Or, spend a day in Palm Springs to see what this town is all about.
Alternately, head deeper into the secluded desert and visit the Mojave National Preserve, toward the Nevada border, for lava tubes and sand dunes.
Have I convinced you to hike the Andreas Canyon trail? Let me know how it goes!
Pin Me for Later!