Here is your guide on the best Palm Springs activities and things to do in this retro desert paradise. Let's cover all of the top attractions, unique sights, and can't miss things to do in Palm Springs and beyond!
Pin Me for Later!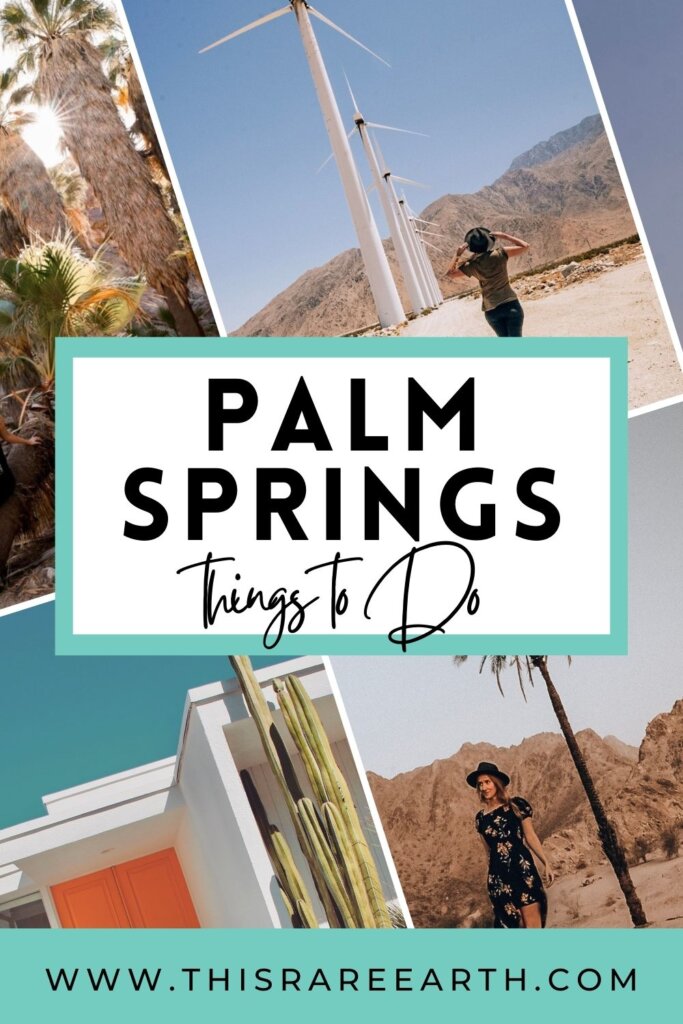 Oh, Palm Springs. There is a reason that I keep coming back to you for more. The rugged purple mountains, those never ending palm trees towering into the heavens, and the perfect blend of adventure and relaxation all within your tiny borders.
I visit the Palm Springs area several times each year. It truly never gets old, and I am not the only Californian to think so! From celebrities to SoCal natives to international travelers and everyone in between – there are so many things to do in Palm Springs, for every type of traveler.
Let's run through some of the top Palm Springs activities and attractions that you need to try out during your vacation. These excursions cover things to do for adventurers, places to see for history buffs, and incredible sights for nature lovers.
Let's dive in!
You May Also Like: One Day in Palm Springs
Activities in Palm Springs You Can't Miss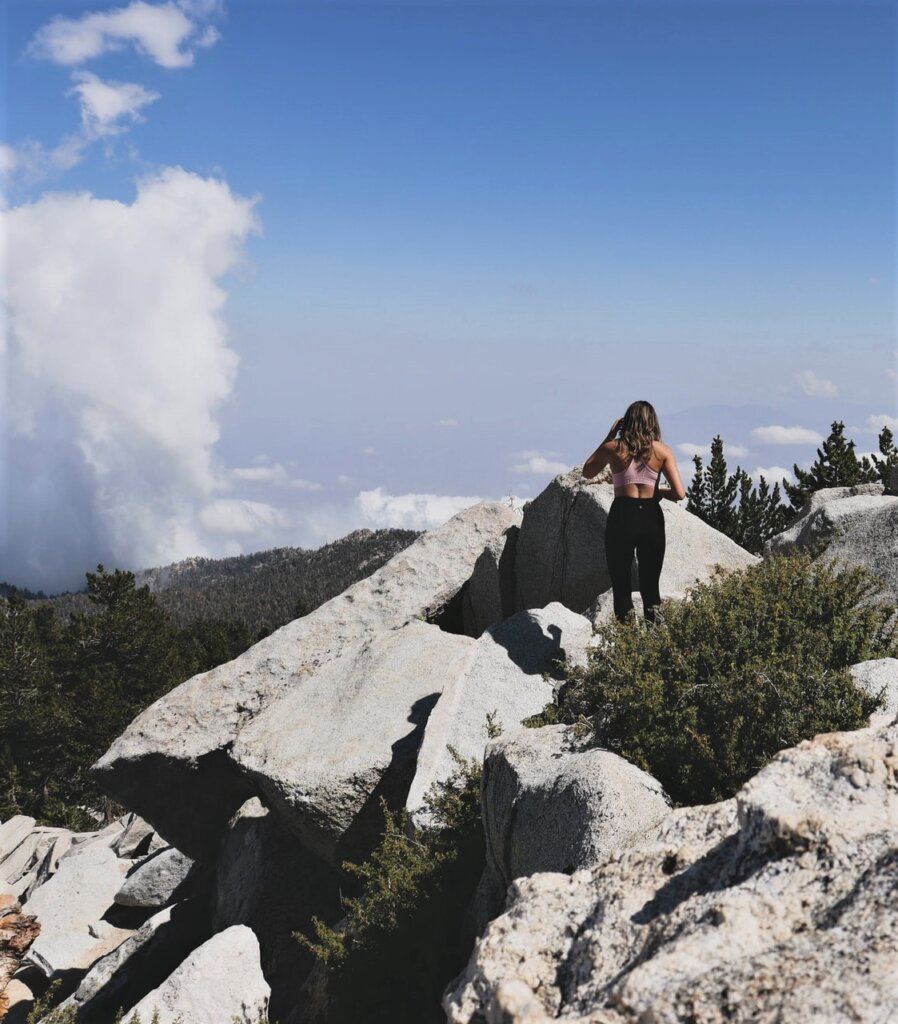 1) The Palm Springs Aerial Tramway
We need to start with one of the most famous attractions – the aerial tramway.
This slow ride takes passengers across 2.5 miles of the San Jacinto Mountains, offering sweeping views of the surrounding mountains and the valley below. If you've only seen Palm Springs from the ground-level, then you absolutely need to see it from a bird's eye view.
At the top, you have the option to hike, dine in the restaurant, or visit the gift shop. But even if you aren't interested in any of those options, this activity is worth it for the views alone. Be sure to book your ticket ahead of time below, to save you time on the day of your visit!
⭐ Book your Palm Springs Aerial Tramway ticket. ⭐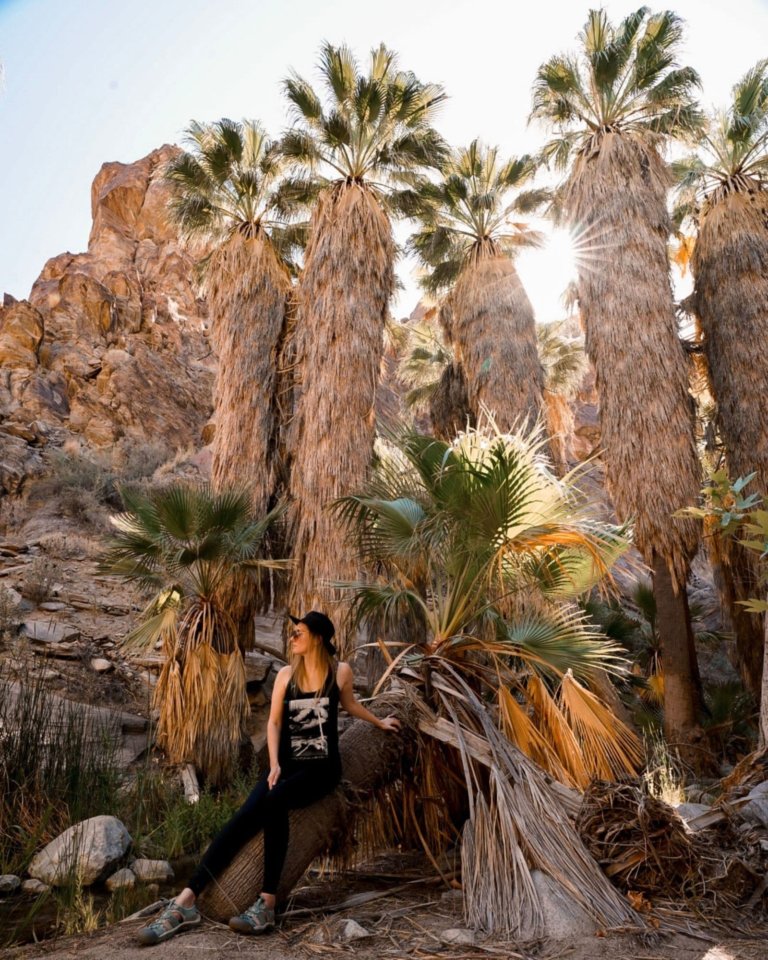 2) Indian Canyons
You all know that I am a big fan of a scenic hike. Well, the hikes don't get any better than within Indian Canyons. In my opinion, this is one of the absolute best activities in Palm Springs.
My favorite hike of all here is probably the Andreas Canyon trail, although Palm Canyon and Murray Canyon are very high up there as well. You can expect groves of California fan palms, natural oases, jagged rocks, and desert views for days.
Definitely head out on these hikes as early as possible. Hiking in the desert is no joke, so plan ahead and pack all the of desert hiking essentials for your own safety.
⭐ Book a Guided Bike and Hike at Indian Canyons. ⭐
3) A San Andreas Fault Jeep Tour
For anyone who wants to explore fascinating geology around the San Andreas Fault, this tour is for you.
Experts have been predicting "The Big One" for years now – the big earthquake, that is. And, it is likely to happen around the San Andreas Fault. Learn more about this from your expert guide.
You'll explore steep-walled canyons and ravines, rock-covered mountains, and the unique plant and animal life of the area. Choose from a morning or afternoon tour below.
⭐ Book the San Andreas Fault Jeep Tour. ⭐
4) Ride an ATV in the Mojave Desert
The Mojave Desert is nothing short of fascinating. I am constantly in awe of the scenery and I absolutely revel in the quiet solitude here.
If you love the desert, and you are in the mood for a bit of an adrenaline rush, then this one is for you. You'll get to race through the desert with a small group through a 28-mile loop across dirt, sand, and rocky terrain.
If you have never rented an ATV, this is an excellent place for your inaugural run! Grab your tickets below.
⭐ Book the Mojave Desert ATV Tour. ⭐
5) The Moorten Botanical Garden
This small, family run business has soared in popularity due to social media posts, but for good reason. It's a picturesque curated desert setting complete with informative plaques that are guaranteed to teach you something you didn't know.
Don't miss the small greenhouse called the Cactarium in the back – it's one of the best parts!
⭐ Read More about the Moorten Botanical Garden Here. ⭐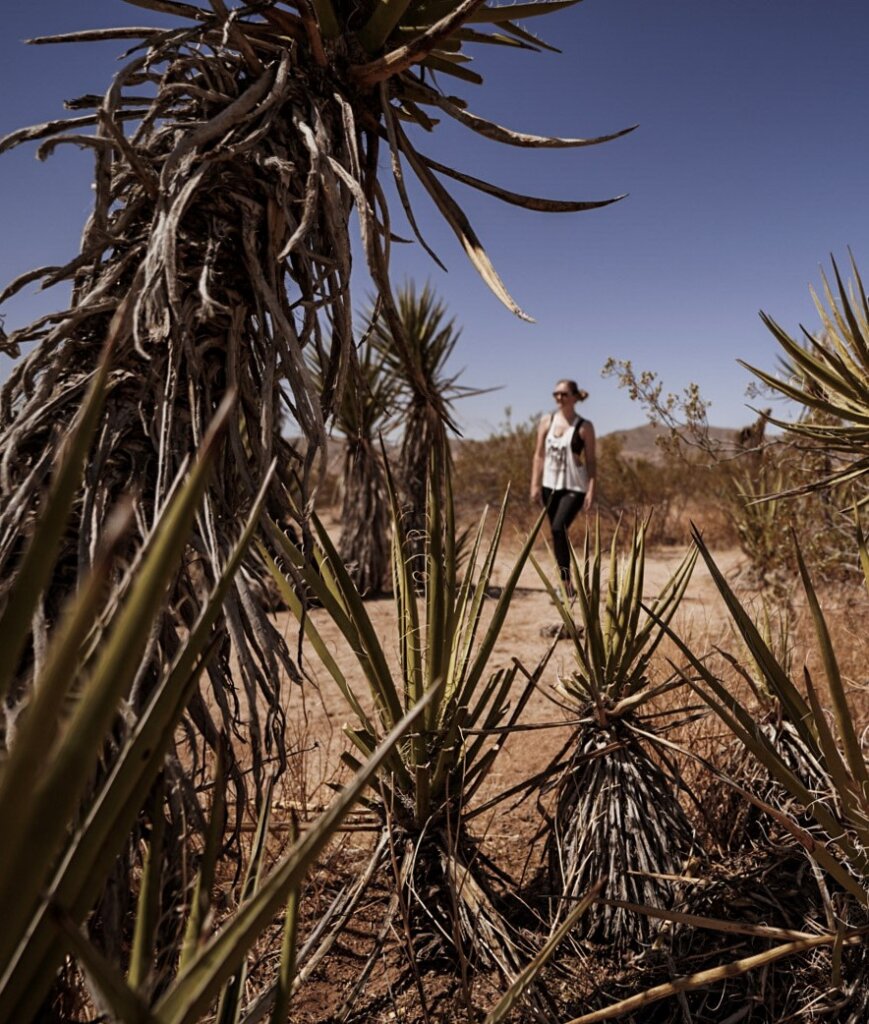 6) Tour Joshua Tree National Park
The entrance to Joshua Tree National Park is about one hour away from downtown Palm Springs. If you have a car, you can always head out yourself for a Joshua Tree day trip.
Joshua Tree is my favorite of all SoCal desert getaways. I just can't say enough about the alien landscapes and the calm, quiet peacefulness that I find here. Joshua Tree is the desert at it's finest!
If you don't have a car – or frankly, even if you do – you might consider taking one of these fun tours instead! Of all of the things to do in Palm Springs, if you only take one day trip – this is the one to do.
⭐ Book a Joshua Tree Half Day Hiking Tour. ⭐
⭐ Book a 4×4 Jeep Tour to Offroad in Joshua Tree. ⭐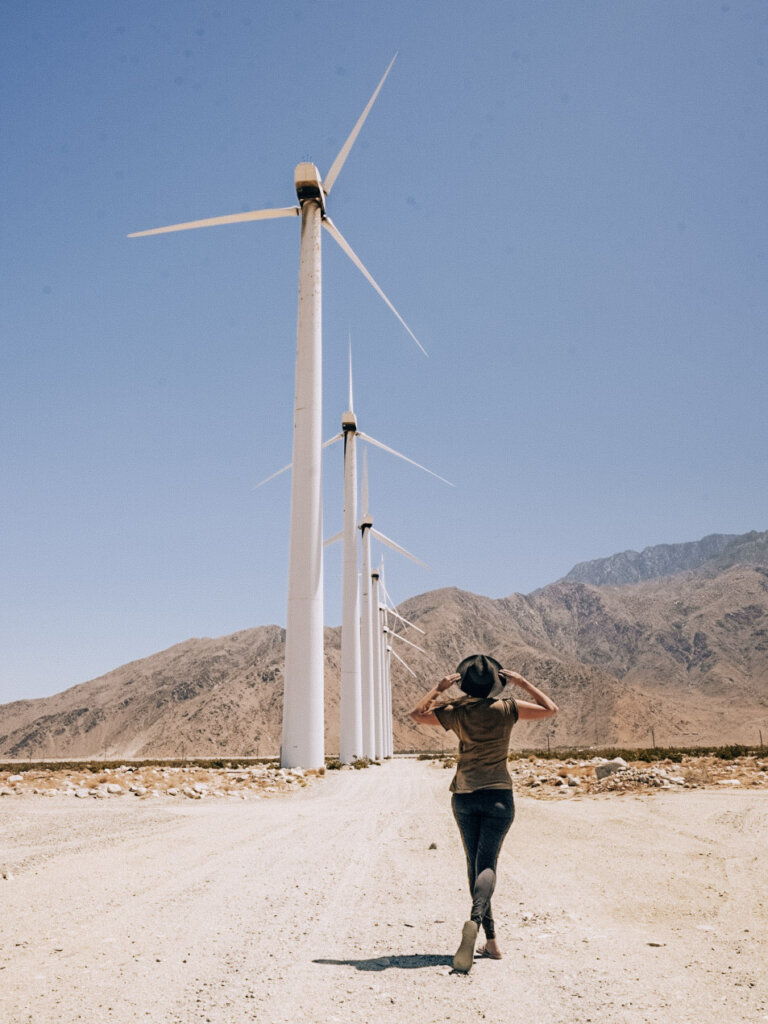 7) Tour the Famous Palm Springs Windmills
Without a doubt, you saw the large white windmill farms on your way into Palm Springs. But did you know that visiting the windmill farms was an optional activity? Yep, you can actually get up close and personal with these guys and learn a bit more about their function.
Note that the tour is self-driving, so you do need to have your own car to do this activity. It is an audio tour that will get you behind-the-fence access to explore these giants on foot.
Be careful, it is really windy here! But it's an awesome experience.
⭐ Book a Self-Drive Windmill Tour. ⭐
8) Hike the Iconic Tahquitz Canyon
This is one of the most popular hikes in Palm Springs, due to the stunning scenery and the 60-foot waterfall!
The natural spring-fed waters flow from high up in the San Jacinto mountains, and they cascade down a tall granite wall into a clear and shallow pool. You'll also see ancient rock art, native wildlife, and signs of daily life from the Agua Caliente Band of Cahuilla Indians that once lived on this land.
This hike is one of many featured in my 52 Hikes in Southern California e-book, and it earned it's place due to the scenery alone. Be prepared, this hike gets busy!
⭐ Get the 52 Hikes in Southern California e-book. ⭐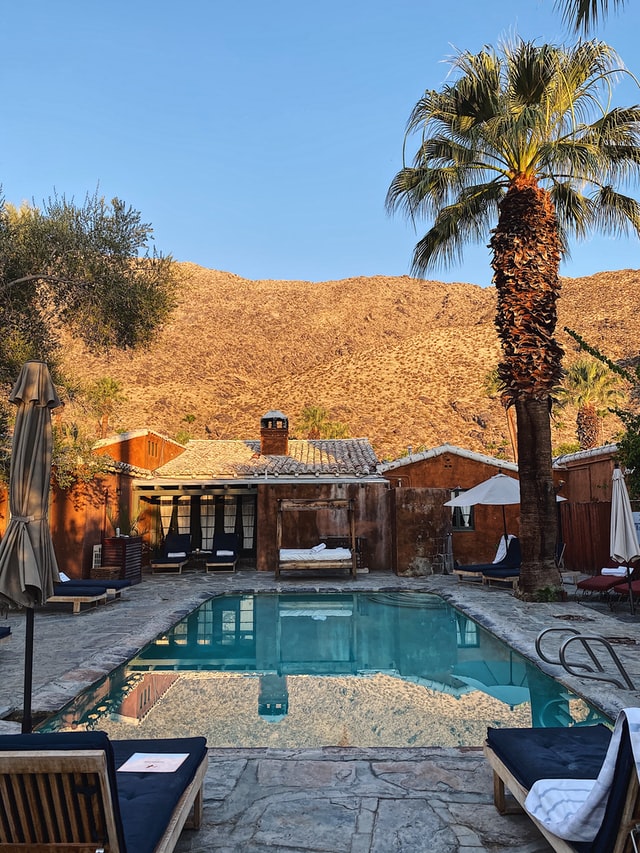 9) Soak in Desert Hot Springs
Though these are not the type of mineral waters found out in nature, these hot springs are still worth a visit.
Resorts and hotels offer mineral pools at varying temperatures for soaking your worries away. These waters are said to have healing properties, too. While I can't speak to that claim, I can tell you that these pools always leave my skin extra smooth and hydrated.
I have loads of information on resorts and hotels with mineral pools in the article linked below.
⭐ Read More about the Hot Springs Here. ⭐
10) Visit the Palm Springs Art Museum
The Palm Springs Art Museum is build in what has to be one of the prettiest settings around for a museum. The building blends almost perfectly into the mountains behind it, and I have to think that this was done on purpose. We are in Palm Springs, after all, where the architecture is always "on purpose!"
This art museum is home to over 12,000 modern and contemporary artworks and offers educational opportunities for the community, too. If you're traveling with a creative friend or are one yourself, you should make this a priority.
⭐ Get More Information Here. ⭐
11) Visit The Palm Springs Air Museum
For those of you who are more into history than art, the Palm Springs Air Museum is for you. This museum's mission is to educate the public on the role the American aircrafts had throughout history – that is, during World War Two, the Korean War, the Vietnam War and more.
Real life airplanes are showcased here, many of them still in good, flyable condition. The exhibits and artefacts are sure to teach you something new.
⭐ Get More Information Here. ⭐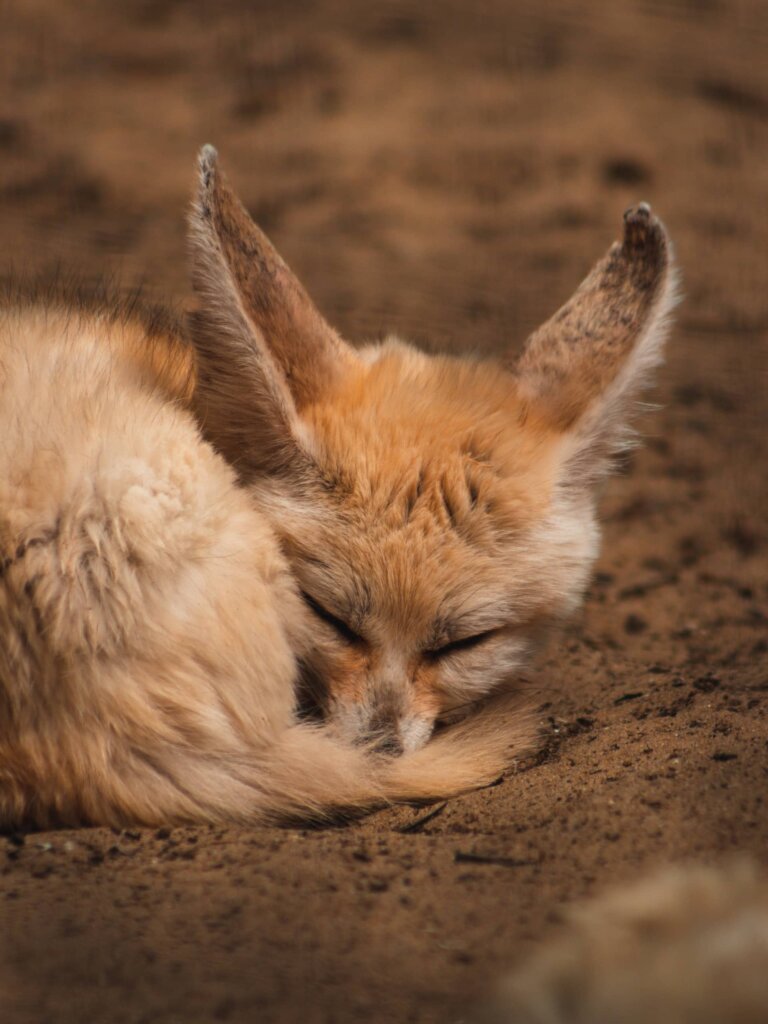 12) The Living Desert Zoo & Gardens
I must admit – I often have mixed feelings when it comes to zoos and animal experiences. However, I was happy to learn that the Living Desert Zoo an Gardens has a firm commitment in conservation both at the zoo and in the field. They even breed small desert animals like the pupfish, to be reintroduced into the wild at the Salton Sea.
This zoo features local desert flora and fauna as well as more exotic animals like camels and giraffes. Bring loads of water and sunscreen – it gets hot here and most areas don;t have much shade!
⭐ Get More Information Here. ⭐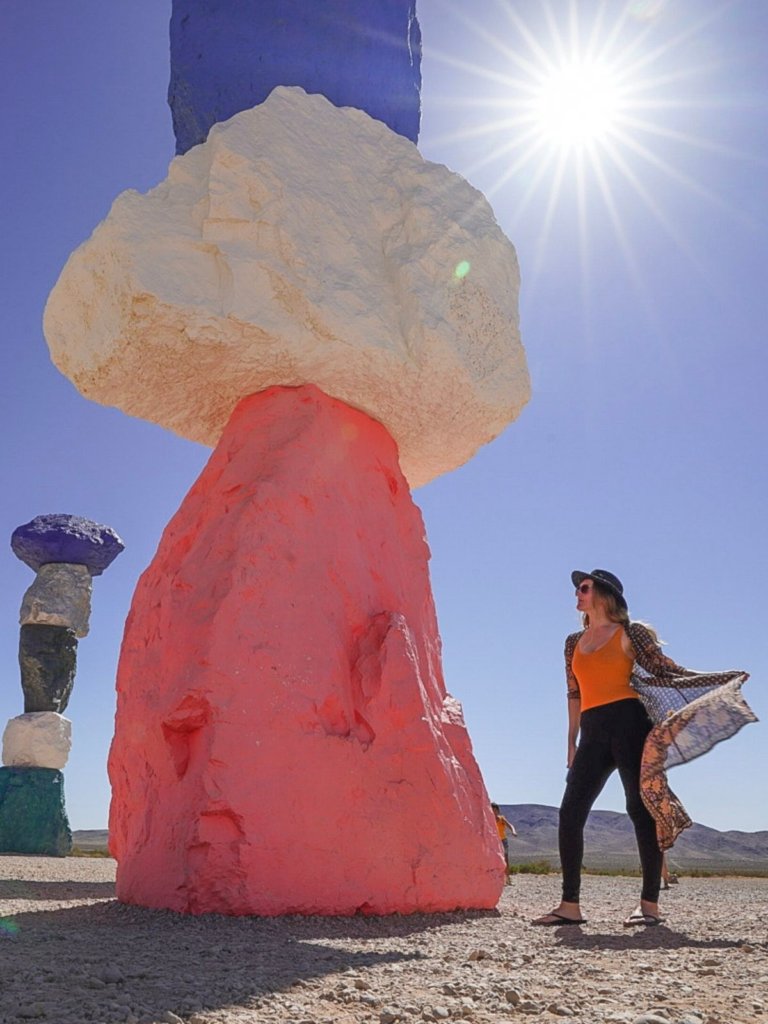 If You're Willing To Travel Farther…
If you are willing to travel a bit farther out to explore things to do outside of Palm Springs, there are a number of great day trips to consider. I have an entire post covering all the best day trips from Palm Springs for you to read, but I will list a few of the highlights here:
Again, check the day trips post linked above for even more!
***
Palm Springs is full of activities and fun things to do. I honestly don't know how anyone could ever tire of this place! It has nature, it has history, and art and hot springs and adventure… Palm Springs has it all.
Let me know below – which of these activities are you going to do first?
Pin Me for Later!