So, you only have one day in Joshua Tree National Park, and you are wondering how to best spend your limited time there? Let me help! I've been to this park countless times and have the must-sees memorized. Below I will help you make the most out of a one day itinerary for Joshua Tree National Park, letting you know exactly what to see and what to skip to make the most of Joshua Tree in one day.
Pin Me for Later!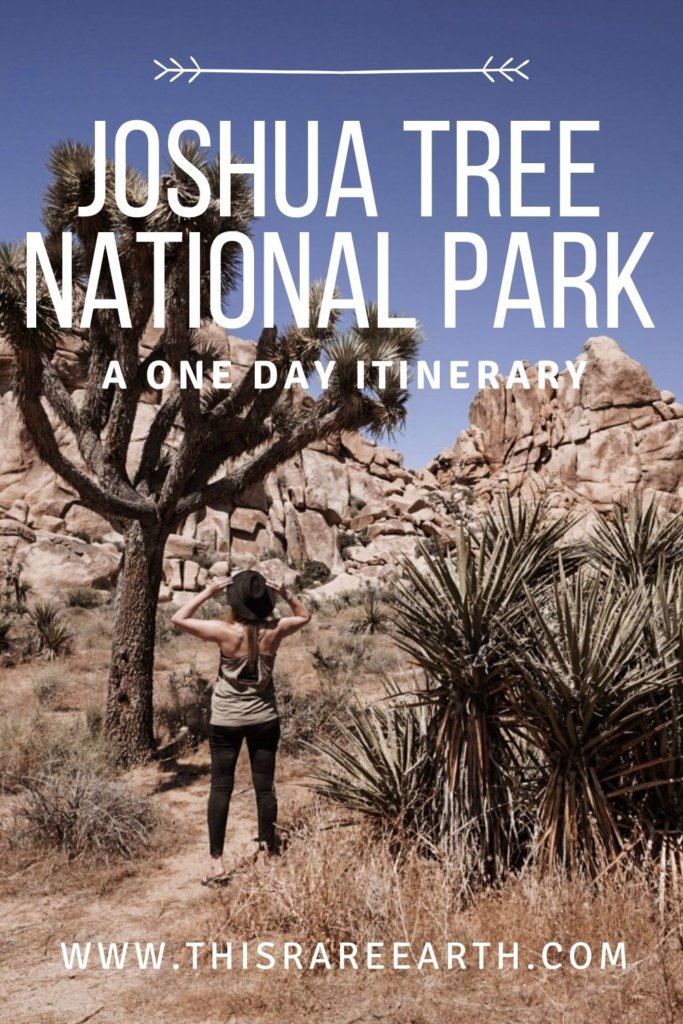 I've said it before, and I'll say it again: Joshua Tree National Park is one of my most favorite landscapes on the planet, anywhere.
The orange-brown earth, the gigantic rock formations, and the twists and turns of the Joshua Tree branches reaching for the sky can almost make you believe that you are on another planet.
It's such a unique pocket of the California desert, truly a special place – so it's easy to see why it was designated a National Park. If this is your first visit to Joshua Tree, and you only have one day to enjoy the park, you will not be disappointed – as long as you plan ahead and use your time wisely.
Below I will share information about the park itself, as well as a detailed one day itinerary to maximize your trip to Joshua Tree.
Not up for all the planning? Check out these popular tours within Joshua Tree:
⫸ Take a Self-Guided audio tour. For a deeper understanding of this desert park, listen to the dramatic tales of the McHaney Gang, gold thieves, and other infamous men and women who used to live here.
⫸ Take a San Andreas Fault tour. This open-air Jeep tour guides you across the desert landscape, where the famous active earthquake zone – the San Andreas fault – is located. This tour is also available from Palm Springs, FYI.
Planning the Best One Day Trip to Joshua Tree National Park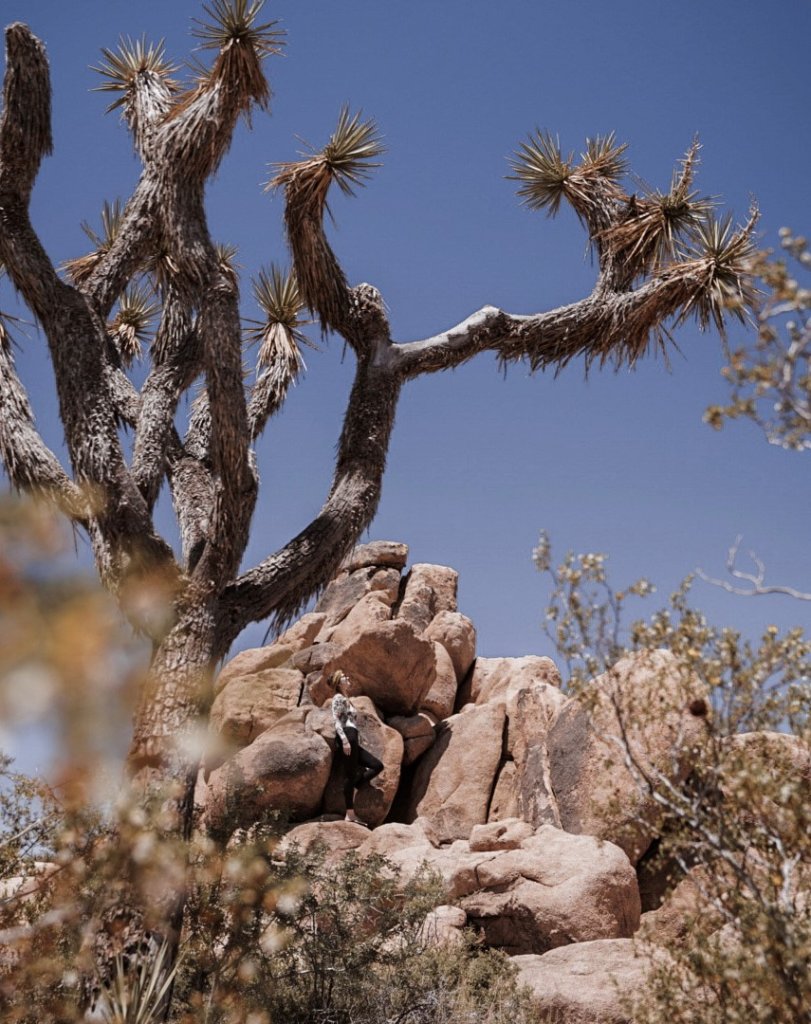 Joshua Tree National Park Basics:
Joshua Tree National Park was established as recently as 1994!
The park is located in Southern California.
It will take roughly 2.5 hours to drive there from both Los Angeles and San Diego, depending on your starting point (and traffic, of course!)
The park covers just over 1235 square miles of land.
Joshua Tree National Park sees roughly 2.5 million visitors every year.
Joshua Tree National Park is open 24 hours a day, and camping inside the park is allowed.
What makes Joshua Tree National Park so special?
As mentioned previously, the landscapes found in Joshua Tree can truly make you feel like you're on another planet. The plant life just seems unreal, and differs quite a bit from one end of the park to the other.
This is because Joshua Tree National Park is actually covering grounds where the Mojave Desert and the Colorado Desert collide. So you are seeing two completely different deserts inside the boundaries of one park.
You May Also Like: The Best Joshua Tree Sunrise Hikes and Locations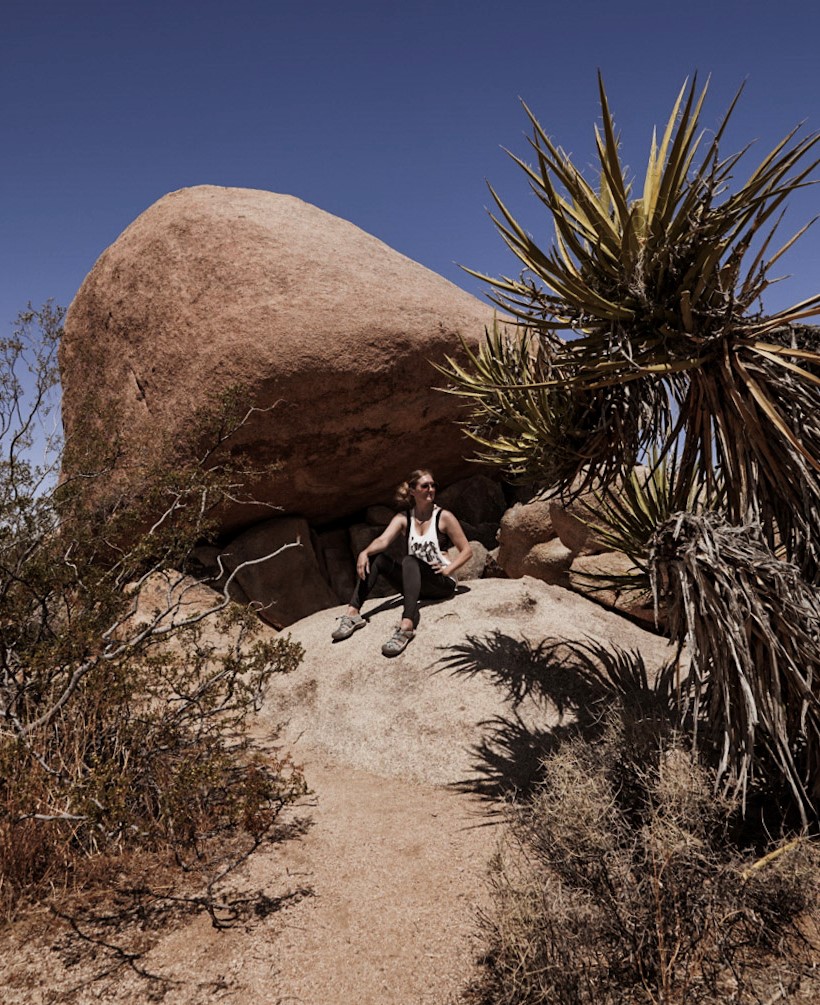 In the north, the Mojave reigns, filled with the iconic massive rocks and the namesake of the park – the Joshua Tree (more on that later). Joshua Trees can only live in the higher elevation, so you will not typically see them outside of Mojave Desert area.
The Colorado Desert covers the southern end of the park, and here you will see various cacti as it is hotter, drier, and more barren. Many people unfortunately skip the southern end of the park – read on for why you should definitely NOT do that!
It's easy to see both deserts, and even possibly hike in both deserts, in just one day in Joshua Tree National Park.
Joshua Tree is also a haven for rock climbers, due to the immense rocks and boulders. There are over 8,000 climbing routes, most of them bouldering and trad climbing.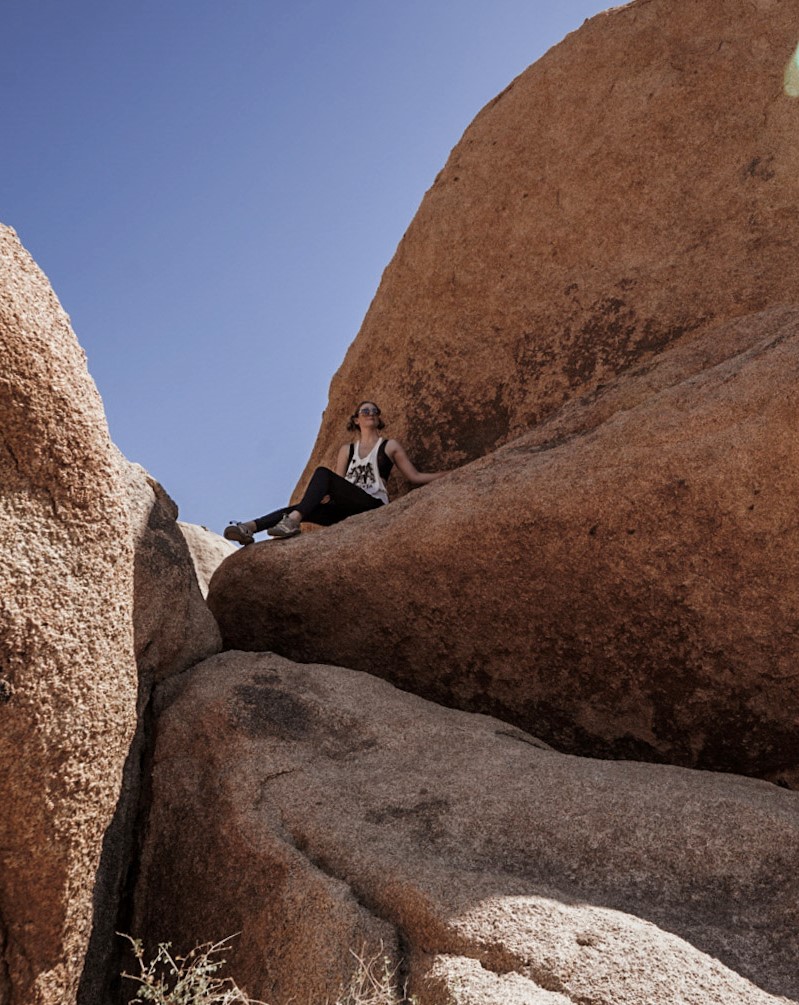 There are a few sport climbing routes, and the views from the top are unbelievable! I have climbed in Joshua Tree before, and my best advice is start early. If you have an interest in rock climbing, check here for info on classes, rules, and programs.
The park also showcases a stunning dark sky without any of the light pollution from the city, which frequently brings in stargazers. If you've never seen the night sky from a dark desert, you should definitely make this a priority!
You May Also Like: A Los Angeles to Joshua Tree Road Trip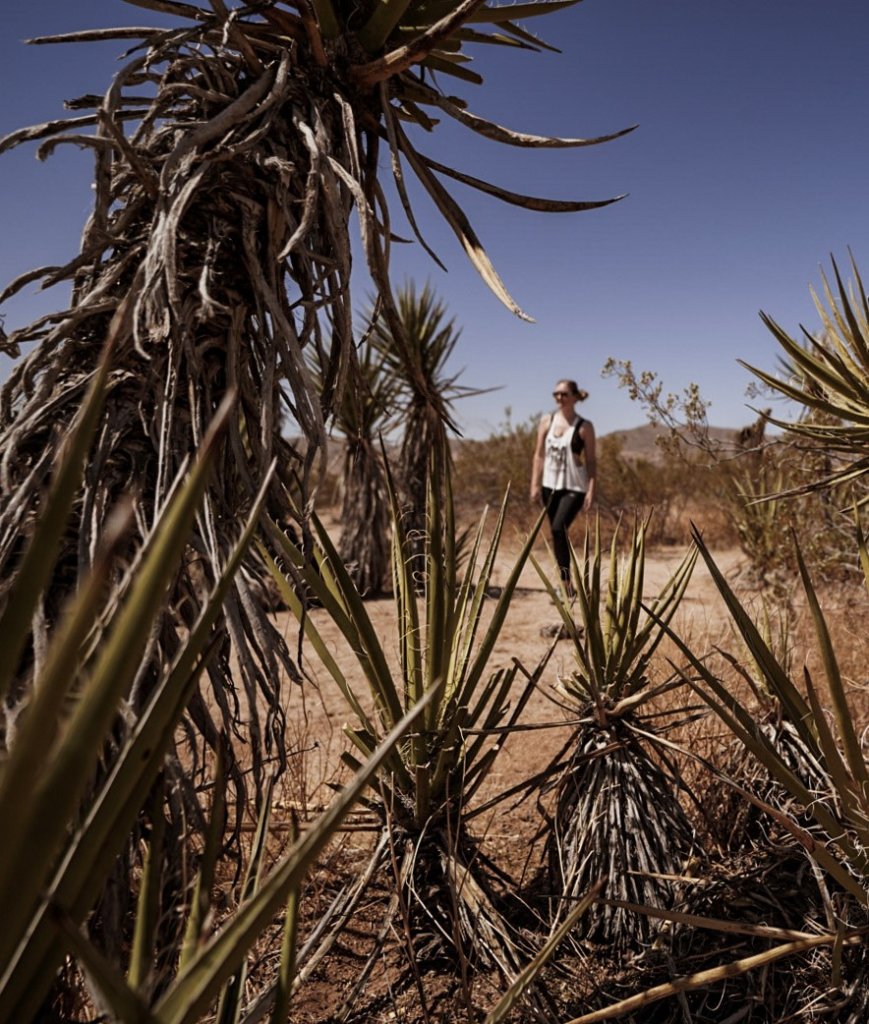 So what exactly is a Joshua Tree?
"Joshua Trees" are not actually trees at all, but rather part of the Yucca plant family. Yucca Brevifolia, to be exact. Inside the park you will see everything from baby one-barrel yuccas to towering Joshua Trees with tons of twisting spindly arms. It's been said that Dr. Seuss derived inspiration from the Joshua Tree, but I have no idea if that is true (though it certainly looks believable).
Occasionally you may see a stray Joshua Tree in Arizona or even Death Valley, if the elevation is just right, but primarily these guys thrive in the Mojave Desert.
Interested in learning more about this incredible plant? I've got an entire article on it here!
What animals live in Joshua Tree National Park?
You are most likely to spot various birds, lizards, and jackrabbits inside the park. Once I got lucky and saw bighorn sheep climbing in the rocks above! Also, snakes, rats, and even coyotes can come out at night.
What is Joshua Tree's temperature and when is the best time to visit?
The temperature in Joshua Tree National Park can vary from one part of the day to the next as well as season to season. I personally enjoy visiting the park year-round, but then, I used to live in Arizona so maybe I'm not as affected by the summer heat as some.
Winter (December – February): The highs hover around 70 degrees Fahrenheit and the lows are in the 30s, near freezing overnight. In 2019, a rare snow dusted Joshua Tree, but it was a rare sight! Winter is a great season for longer more strenuous hikes.
Spring (March – May): The park has great weather at this time of year, with highs in the 80s and lows in the 50s. This is a beautiful time to visit the park and catch all of the colorful blooms from cacti and wildflowers. Hiking is still comfortable, but trails will be more crowded.
Summer (June-September): Summer months are popular simply because school is out and family vacations are in full swing, but most people would prefer to avoid the intense heat of summer if they could. Temperatures are often in the triple digits during these months, though less strenuous hikes are still totally possible in the early hours. The days are longer during summer months.
Fall (October – November): Fall is quite similar to spring, typically with highs in the 70s/80s and lows in the 40s and 50s. Most people I know save their camping until the fall if they can help it, once the temperatures drop. This is the most popular season in the park though, so expect crowds and plan campsites in advance.
What to pack for Joshua Tree National Park:
Remember, even at sunrise, you are in the desert. If you aren't used to exploring or hiking in a desert environment, then check out these must-have items below.
The top priority should be proper footwear. Check out my favorite trekking sandals of all time, which have been to six continents with me and are still going strong.
If you visit Phoenix in the summer, you should really consider a  CamelBak hydration pack. These are handy year round, depending on how often you hike of course!
If you want to get to Hole in the Rock's lookout before sunrise, bring a headlamp. If you go after first light, you should be okay without it.
Pack loose and breathable clothing like sheer kimonos to cover your shoulders and flowy tanks that breathe.
Definitely don't forget a wide brim hat and sunglasses. Eco friendly sunscreen is also a must.
Upon arrival at Joshua Tree National Park
When you arrive, you will no doubt be driving into the park by car. The park is open 24 hours a day, so arrive early if at all possible. This will help to a) get some time in while the day is still cooler and comfortable – very important if you plan to hike, and b) give you maximum time in the park.
I typically arrive on the West and North Entrances, as I like to stay overnight in the Yucca Valley or Desert Hot springs areas when possible, unless I'm camping (more on that later). There is a guard booth at all entrances where vehicles form a line to pay their entrance fees and collect a pass.
Joshua Tree National Park passes: one week to one year.
Passes for Joshua Tree National Park are paid for by vehicle, and a one-day pass is not an option. Instead, the standard park pass is valid for seven days. Below are details of the current options and prices.
7 Day Entrance Fee – $30.00 – valid for a 7-day vehicle permit, admitting all passengers of a single vehicle.
Joshua Tree Annual Pass – $55.00 – valid for 12 months. The Annual Pass covers the entrance fee to Joshua Tree National Park for the pass signee and all passengers entering in a single vehicle.
America the Beautiful Annual Parks Pass – $80.00 – valid for 12 months. This pass covers the entrance fee to ALL National Parks in the USA for the pass signee and all passengers entering in a single vehicle. (Always check with individual sites for details, as some offer even more benefits with this pass).
I personally have the America the Beautiful Annual Park Pass because, even though I'm abroad a lot, I do find that I visit enough National Parks per year that it saves me money overall. Do some quick math and decide which one is best for your plans.
Passes can be purchased using cash or card. You will also typically receive a map of the park and a newspaper-style guide with your receipt and pass, pictured below.
You May Also Like: A Joshua Tree Photography Guide: The Best Photo Spots
PLEASE NOTE: Cell signal throughout the park can be weak or nonexistent. In addition to the paper map, you may want to download this digital version of the Joshua Tree National Park map before arriving.
How to get around Joshua Tree
The park is fairly large and I highly recommend making it a priority to visit both deserts in your one day Joshua Tree itinerary (see above for descriptions on both desert areas).
For a one day trip you will absolutely need a car, no matter the season. In the hot summer months, having a car is a blessing in order to cool off in AC between hiking stops.
Occasionally I see bicyclists in the park, but for obvious reasons it's hard to see everything in the 1235 square mile park from a bike!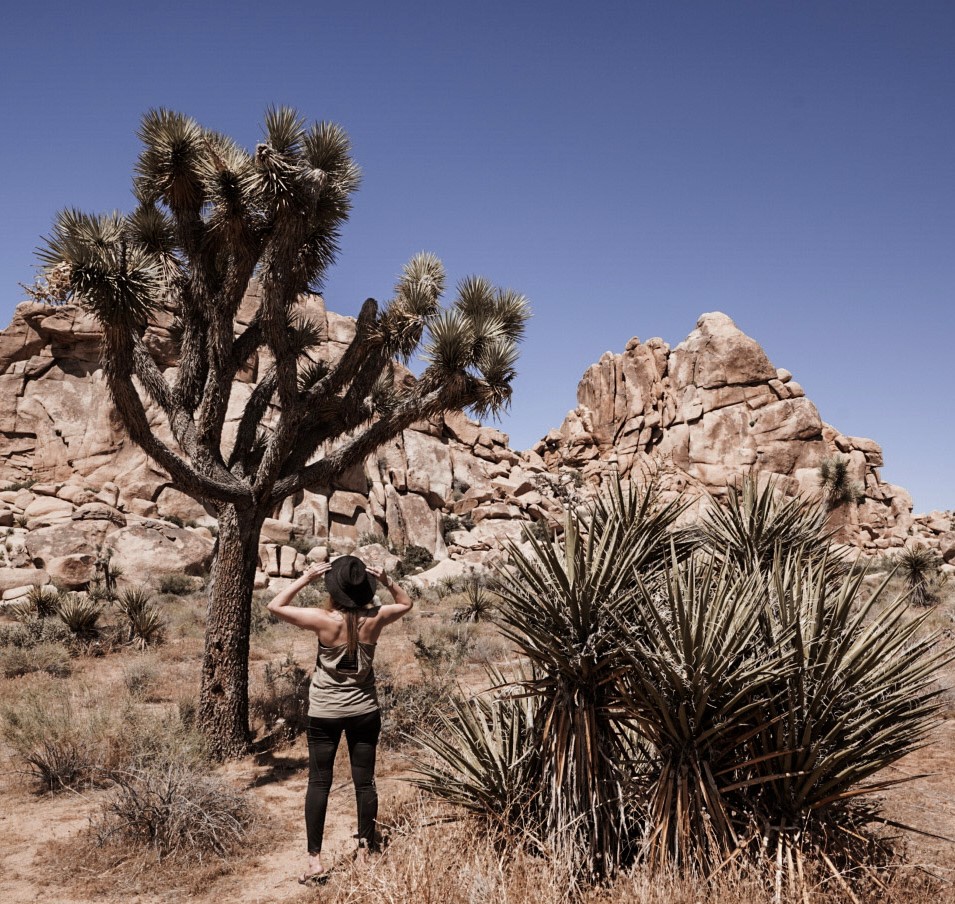 The map you receive upon entry highlights not just the roads in the park but also the hiking trails and camping spots. There are parking lots near many of the trail-heads and parking on the shoulder is fairly common for photo or walking stops (just be sure not to block the road!)
You May Also Like: 5 Drawbacks of Joshua Tree – and How to Beat Them
One Day in Joshua Tree National Park: The Best Itinerary
Whether you are an avid hiker or simply want to see the landscapes from the comfort of your car, I have the perfect itinerary for you. Simply skip the hiking portions from the Joshua Tree itinerary below if you are too hot or if it is too late in the day.
First and foremost, please read my Desert Wear and Hiking Essentials post for the American Southwest so that you are safe and prepared for your trip.
1. Entrance into Joshua Tree National Park
Arrive as early as possible. This is absolutely necessary if you want to do a couple of the hikes, both for timing and to take advantage of the cooler temperatures if you visit during hotter months.
Enter the park through either the North or West entrance. This will place you in the Mojave portion of the park, which is where most of the hiking trail options sit.
This is also arguable the most scenic area of Joshua Tree, where towering rocks and Joshua Trees reign supreme. Hikers, bikers, and climbers will be scattered all throughout this area.
2. Start with a strenuous hike.
Since the desert gets quite hot, I recommend starting with one of the tougher hikes early in the day.
Willow Hole Trail is a wonderful option. The out & back trail is approximately 7 miles total, and features fairly flat terrain. It earns it's moderate rating because of the length of the hike and lack of shade, though there is only a 400 ft. elevation gain.
Park your car near Boy Scout Trail. The hike starts here (you'll see a sign marking "Willow Hole Trail" directing you to the starting point.)
This trail is absolutely beautiful in the springtime. Orange and yellow wildflowers dot the landscape, loads of Joshua Trees and massive rock formations are scattered about. The rocks are so oddly placed that it looks like someone hand-patted large boulders into a mound, like sand. It's gorgeous.
This trail takes between 3-4 hours depending on how often you stop for water or photos.
3. Eat a pre-packed lunch.
There is nowhere to purchase food or water once you're deep in the park. I repeat – nowhere.
Be sure to pack a cooler full of easy foods like sandwiches, fruits, and lots of extra beverages. Leave it in the shade in the back seat or trunk of the car, filled with ice or travel ice packs.
These ice cold beverages and food will be the greatest reward after your first long trek! I personally like to pack sparkling waters, almond-butter-and-jelly sandwiches, apples and granola bars – all super easy to keep fresh.
Restrooms can be found in the "Day Use" areas around the Joshua Tree National Park when needed.
4. Take a post-lunch drive.
I recommend letting your lunch settle while you drive around the Mojave section of the park. One of the wonders of Joshua Tree is simply taking it all in. Spend a solid hour (or two!) driving to some of the highlights near the main road.
The exhibitions are marked on the maps you got upon entry. Make it a point to visit Skull Rock and Jumbo Rocks, as well as unnamed patches of Joshua Trees that you see. There are never-ending opportunities for photos and interesting scenery here.
5. Head South to the Colorado Desert area.
Once you're feeling refreshed, head south on the main park road toward the Pinto Basin on the map. The roads are adequately marked as well.
As I mentioned before, most people skip the southern end of the park, but this is a huge mistake. The southern landscapes are completely different but equally amazing!
I highly recommend embarking on another Joshua Tree hike in the Colorado Desert. However, my recommendation changes depending on the season.
Winter Recommendation: LOST PALMS OASIS TRAIL.
One of my favorite hikes in the park is definitely Lost Palms Oasis Trail. This hike is not recommended for summer months due to high heat.
It's another 7 mile out & back trail rated as moderate, so if you run out of energy you can simply turn back early. However, you would miss the best part! The scenery featured on this hike is rocky hills and barrel cacti, and – you guessed it – a natural desert oasis surrounded by palms (pictured below).
The first time I hiked this trail I had no idea that it actually led to an oasis! I climbed down to enjoy the water and shade. If you do this, tread slowly. It can be steep and slippery.
Summer Recommendation: ARCH ROCK TRAIL.
If the temperature is in the triple digits, or if you just want an easier post-lunch hike, Arch Rock is the best choice. Hold off on driving to the Colorado Desert until after this hike, which is in the Mojave portion of the park.
This 1.2 mile out & back Arch Rock Nature Trail is a beautiful and popular hike to an iconic arch shaped rock that is spectacular for photos. It is an easy hike and is good for all skill levels (and energy levels.)
I highly recommend this easy trek, even if you aren't typically a hiker.
6. Sunset in the Cholla Cactus Garden.
The Cholla Cactus Garden is one of my favorite spots in the entire park,. If you visit for sunset, you will quickly see why those who skip the southern end of the park are missing out.
Park your car and explore at leisure through the winding wooden trail, surrounded by a funny looking cacti patch.
I first became familiar with cholla cacti while living in Arizona. They are often called "jumping cacti" because they truly seem to jump out and catch you with their spikes. If you or your clothing get pricked, the cactus will often shed an "arm" which you will now carry with you… or, on you… appearing to have jumped off it's base.
The spikes do hurt, so if you explore the area further, be sure you are wearing closed toe shoes. I have absolutely been the victim of the cholla spikes, more times than I'd like to admit, and they are harsh!
Danger aside, this is the best spot for sunset. Hanging out here while the sun goes down is the perfect end to your day.
Sign Up Below for the Email List and Receive a PDF Printout of this Perfect Joshua Tree National Park One Day Itinerary!
Where to sleep in Joshua Tree National Park
If you like to camp, then you can't miss this experience within Joshua Tree. As a designated Dark Sky Park, you will see endless stars throughout the dark desert sky, far away from city lights.
Camping is also a great option because it helps to optimize your entire day. Your mornings can start earlier and you can squeeze every ounce of daylight in before nightfall.
Camping reservations are typically accepted 6 months in advance and they often sell out during the cooler months, from October through May.
If you are determined to camp, you should absolutely reserve a space ahead. There are a few small first-come first-serve campsites but there is no guarantee that you will get one. During the summer months, some campsites are subject to closure as it is often too hot.
Campsite costs range from $15 – $50 and can be pre-booked here.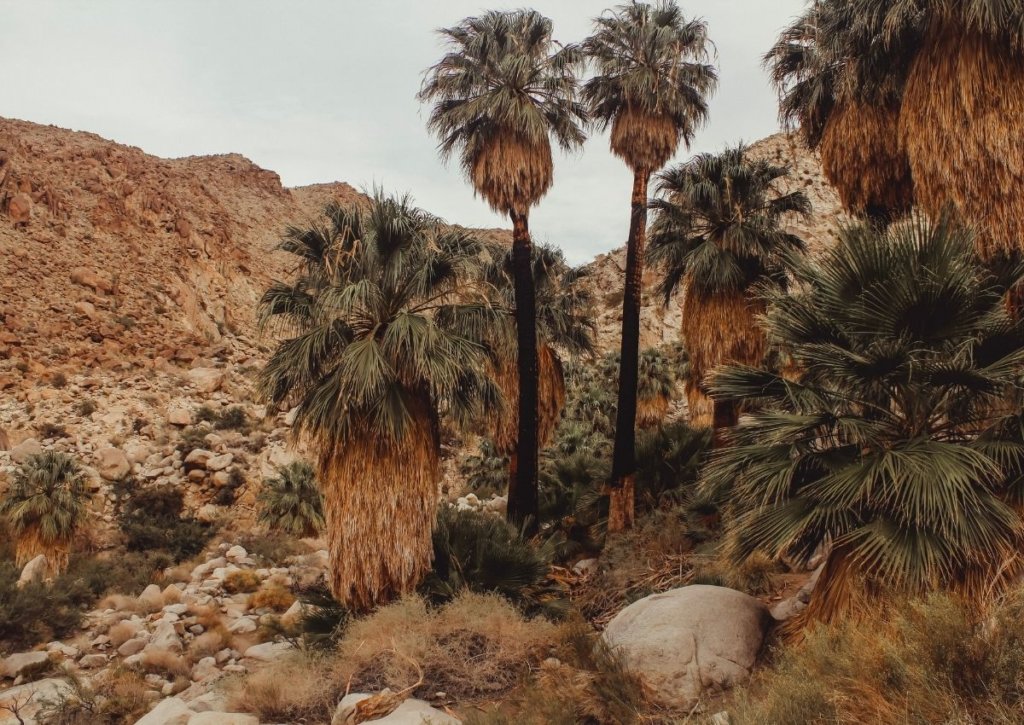 If camping is not your style, here are some great hotel options nearby:
Joshua Tree Hotels
These hotels will be your best bet. All are reasonably close to the park entrance, making them all a good home base:
Palm Springs Hotels
If you prefer more modern amenities, shall we say, than you might like trendy and colorful Palm Springs. Downtown Palm Springs is roughly 55 minutes from the park entrance. Some of the most beautiful and relaxing resorts are:
Looking for more of the best Southern California hikes? My e-book covers hikes within Joshua Tree National Park and beyond! Click the image below for more details.
Where to go after Joshua Tree?
You have simply got to check out Palm Springs. From hot springs to hikes to retro vibes, this is the coolest desert town around!
If you are continuing on a California Road Trip, I would recommend that you check out two underrated desert parks: Red Rock Canyon State Park, which is always nearly empty and will provide a nice contrast to the often-crowded Joshua Tree. And, the Mojave National Preserve, which – believe it or not – has more Joshua Trees than Joshua Tree National Park itself!
Headed north into Nevada? You can't miss the Seven Magic Mountains art installation outside of Las Vegas. It is amazing! Neon colored rock towers set against the desert backdrop. Need I say more?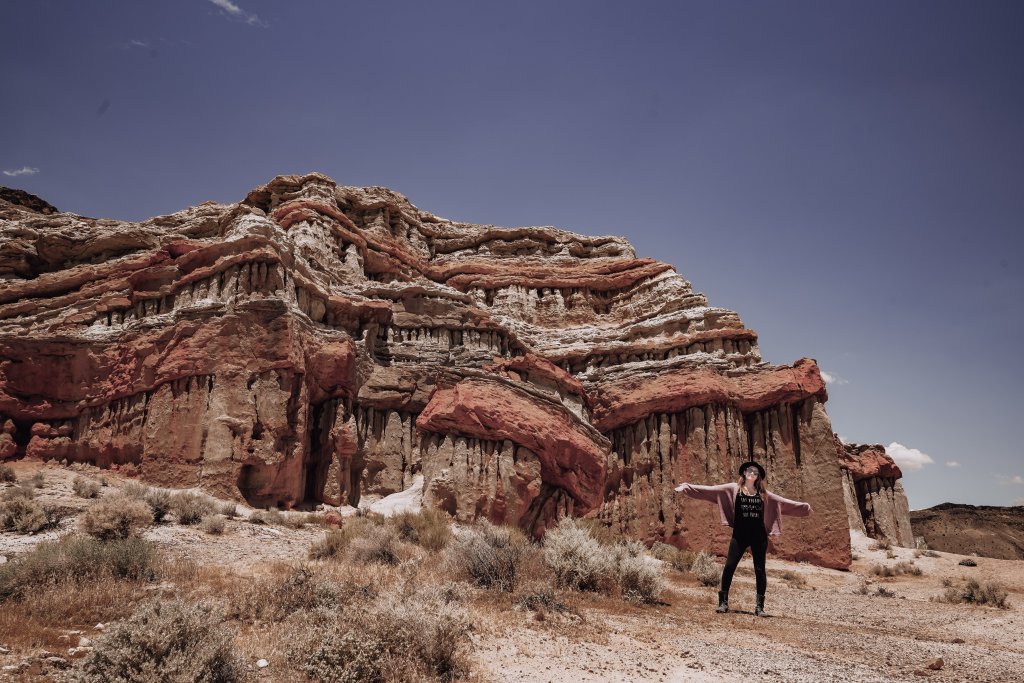 ***
Enjoy your trip! I hope this helps you plan the perfect one day trip to Joshua Tree. Please ask any additional questions below in the comments!
Pin Me For Later!