A road trip from California to Arizona is one of the most epic and beautiful road trip options you could choose. Below is a customizable itinerary that can be enjoyed in 12 days (or longer!). Beginning in Los Angeles, your California and Arizona desert road trip will take you through some of the most beautiful and untouched land that the United States has to offer. However long you choose, your road trip from California to Arizona will be unforgettable!
Pin Me for Later!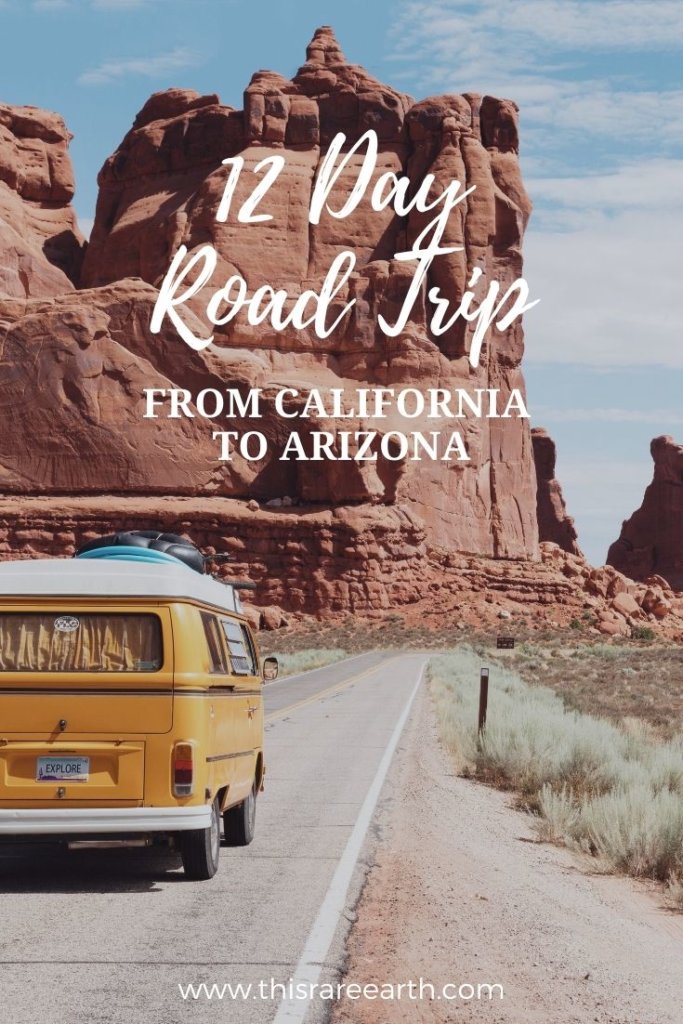 A road trip from California to Arizona is one of the most epic and beautiful drives you could choose. In fact, if you only do on big trip in your entire life, it should be across the American Southwest. Here you will see everything from desert parks filled with cacti and yucca, abandoned ghost towns, towering red rock formations, and even sprawling cities shooting up form the desert floor.
I have lived in both states during my life, so I know a bit about the best California and Arizona road trip attractions that are worth your time. Whether you are interested in nature, hiking, camping, historical sites, or city breaks, there are so many ways to customize this trip – but we'll get to that. 
The California to Arizona road trip itinerary below starts in Los Angeles, CA. Assuming that you don't live in LA, LAX generally offers cheaper flights than Phoenix airport – but you could easily adjust or reverse the order. Rental cars are plentiful from LAX, and this itinerary is a circular drive (meaning you will end at the same place you started – much cheaper for car rentals than dropping the vehicle off at another location!).
When is the Best Time to Road Trip From California and Arizona?
With 284 sunny days per year on average, Southern California is beautiful all year round. However, since this road trip through California and Arizona primarily runs through desert climates, it will surely get HOT. If at all possible, fall and spring will be the best time to choose, and winter is also very nice – though you may have a few rare rainy days.
However, I have done this trip many times during the summer months, and if you are on a summer break and this is the only time you have, worry not. You will survive the desert heat! My biggest tip for anyone interested in outdoor hikes or activities in the summer is to follow the detailed suggestions in my post about desert hiking essentials for the American Southwest. This will set you up for a SAFE and fun time in the summer heat.
Now, onto the Arizona and California road trip!
An Epic Road Trip From California to Arizona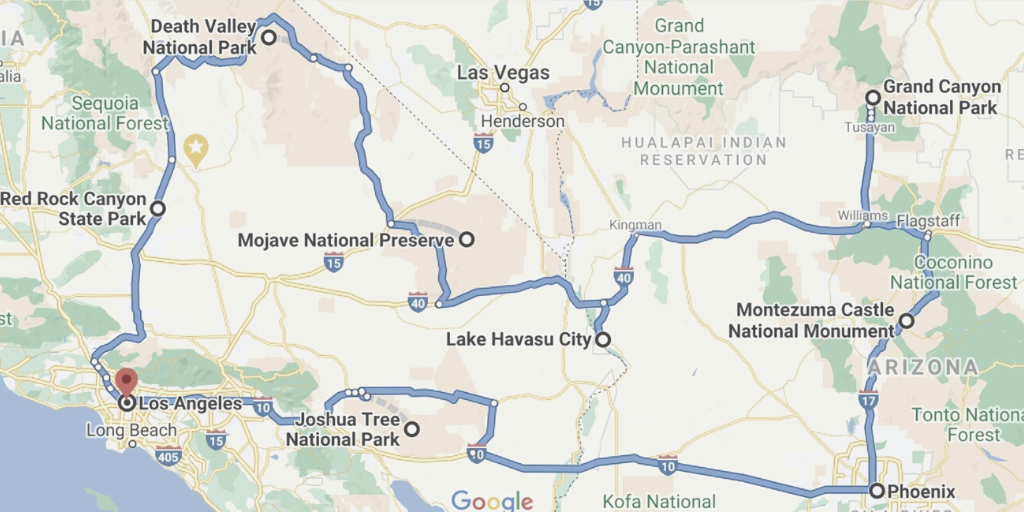 The Overview: Los Angeles –> Joshua Tree National Park –> Phoenix –> Montezuma Castle National Monument –> The Grand Canyon –> Lake Havasu –> Mojave National Preserve –> Death Valley National Park –> Red Rock Canyon State Park –> Los Angeles.
CA to AZ Road Trip Route Total Miles (as listed with no modifications): 1,455
CA to AZ Road Trip Hours Behind the Wheel: 23h 6m
Whew!
So obviously, that's a lot. And believe it or not, these are only a selection of my favorite spots in CA and AZ, so there is still way more to see. I will add in some optional modifications below in case you want to explore any of these further. Let's Begin!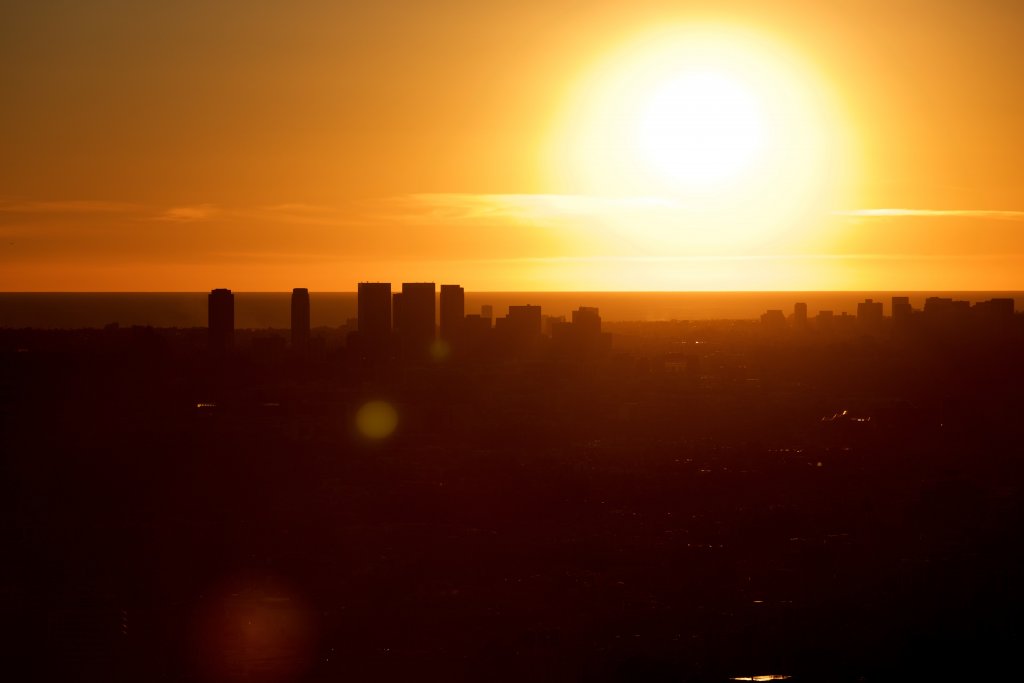 Day 1: Los Angeles, CA
Los Angeles has so much to offer that it's difficult to condense it to a small section.
For the nature lovers, you have a lot of hiking options to choose from. One of my personal favorites is Los Liones trail, but the ever-popular Runyon Canyon is always an option.
For the beach lovers, I would actually recommend spending a full day in Malibu over the other highly touristic beaches. It's much more quiet and calm, and honestly more beautiful.
Click here for a guide to the perfect one day in Malibu, covering where to eat, what beaches to visit, where to hike, and even some art or winery options. This is probably the best all around choice, if you ask me.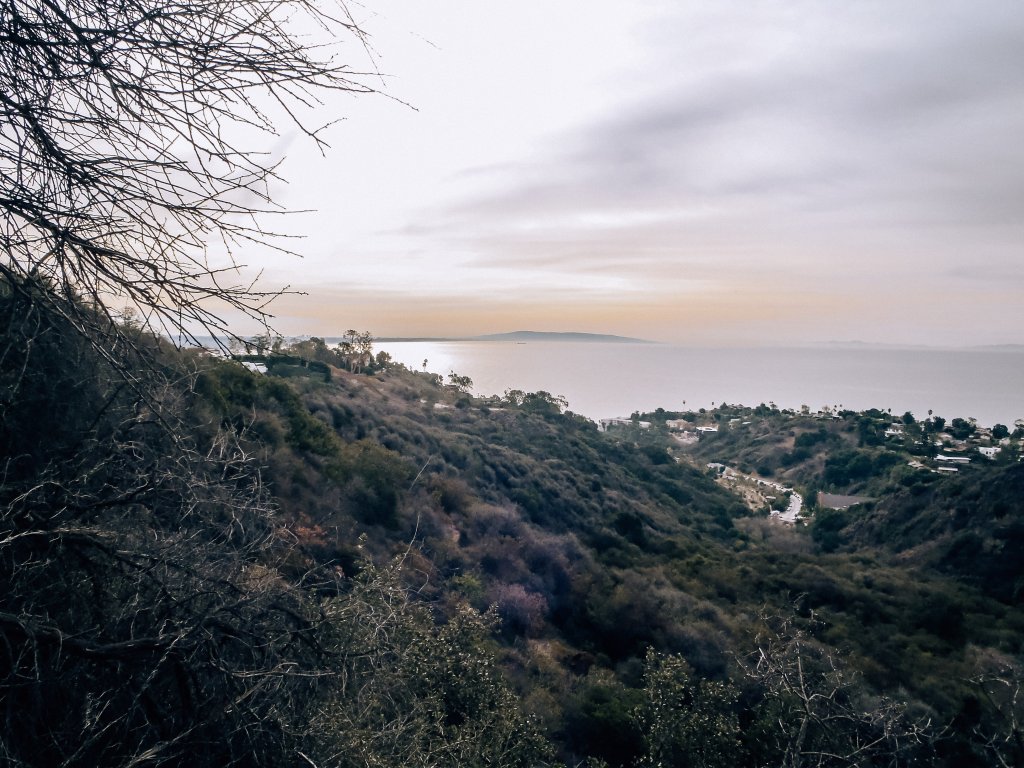 For art lovers, Los Angeles is full of possibilities. Check out The Broad or look into what is currently featured at LACMA (The Los Angeles County Museum of Art).
The great thing about LA is that there are literally endless things to do here. The drawback is that LA is so sprawling, it's hard to fit a lot in unless it is all in the same general area. Be flexible, realize that you will run into traffic, and try to choose options that are within the same general vicinity.
For sleeping, my favorite go-to at the moment are all of the awesome Airbnb options.  Click here for a discount on your first AirBnb rental.
Days 2 & 3: Joshua Tree National Park
In the morning of Day 2, start your drive as early as possible toward Joshua Tree National Park. The drive will take roughly 2.5 to 3 hours, depending on where your exact starting point is.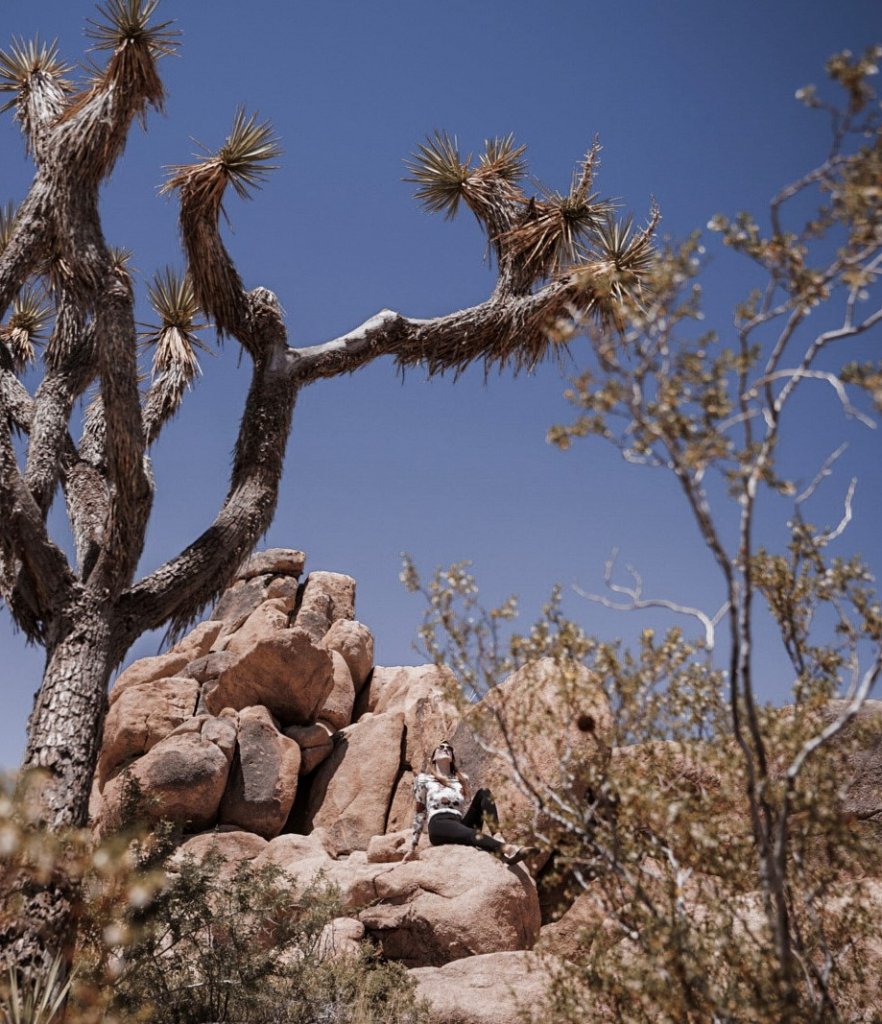 Joshua Tree is one of my favorite places on the planet – not just one of my favorite places in CA or AZ – so this is not a spot to miss during your road trip from California to Arizona.
So what makes it so special?
First of all, the landscape has a truly alien-like feeling; from the crazy spindly Joshua Trees to the bulbous and bloated rock formations, this park is truly special. It also contains not one but two deserts inside of the park boundaries – the Mojave Desert and the Colorado Desert. These two differing elevations make one half of the park completely different from the other. It's fascinating.
Also, this park offers everything from hiking, camping, stargazing, and plenty of strange and unusual photo opportunities that you cannot miss.
Click here for my in-depth guide to visiting Joshua Tree National Park. This guide contains details on details on details about every aspect, from costs to enter, where to hike, how to camp, and what to do with limited time here. I say it again: DO. NOT. SKIP. JOSHUA TREE.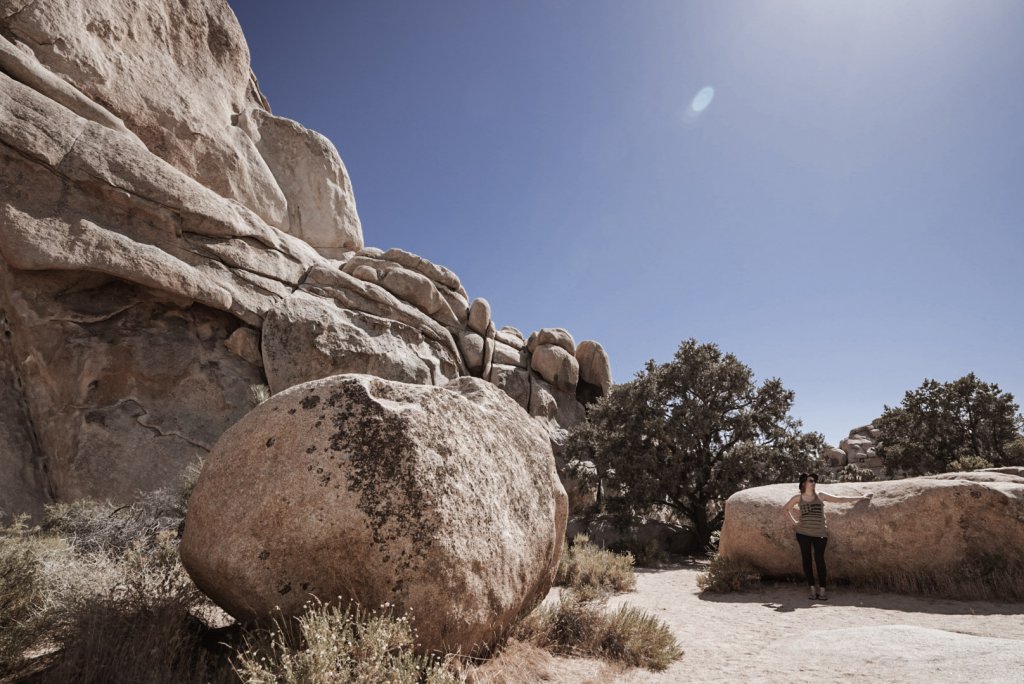 For sleeping, camping under the stars is unbelievable (see the above guide on how to reserve). If camping is not your style, again,  Airbnb  has some really wild and unique offerings in this desert area. Check in Joshua Tree itself as well as in Yucca Valley or Desert Hot Springs.
Side-note; though your pass will allow you more than 2 days inside the park, if you are in the mood for some relaxation or want to extend your trip, Desert Hot Springs resorts offer mineral water baths (think hot tubs of varying temperatures that leave your skin extra soft!) at a number of the hotels. It's a very cool place to spend some time.
Day 4: Phoenix, AZ
On Day 4 you will cross state lines into Arizona and it will take about 3 hours to get into Phoenix. Along the way you will see some pretty awesome landscapes, as barrel cacti and tall saguaros begin to dot the hillsides.
Like LA, Phoenix has a lot to offer in only one day, but let me list some personal highlights.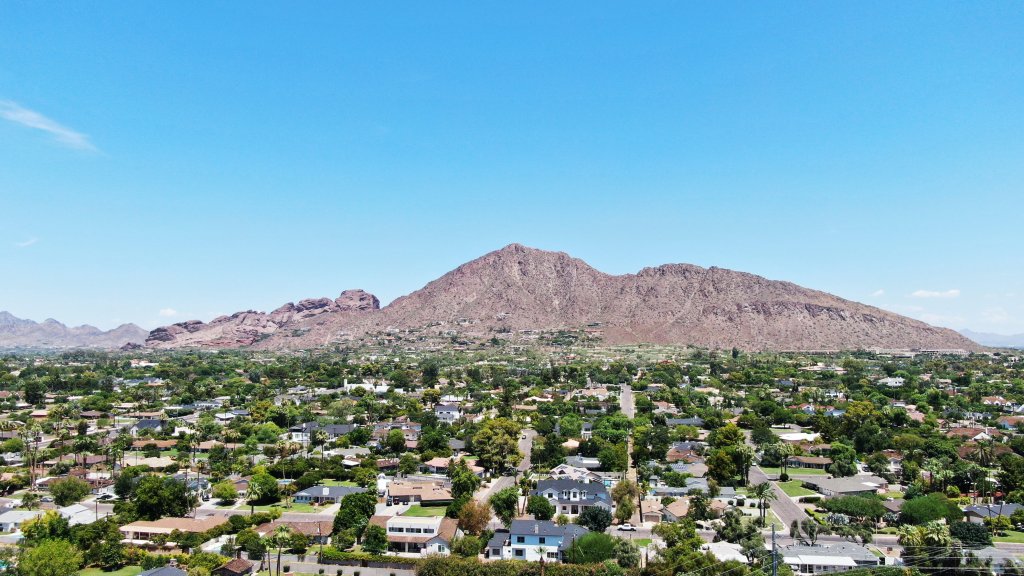 For the nature lovers, an iconic Phoenix hike is the aptly named Camelback Mountain. Located roughly 20 minute outside of downtown Phoenix, this mountain offers two moderately difficult hikes up its rocky trails. Both trails are under 2 miles but are quite the workout. If you visit in summer, a friendly reminder – read the desert hiking essentials post I put together for just such an occasion (linked above the route map).
Another great option outdoors is the Desert Botanical Garden. I love this place! The plant life is fascinating to learn about, and they often feature art installations which are pretty darn cool.
For the art lovers, besides the outdoor arts at the Botanical Garden, Downtown Phoenix hosts an Art Walk on the first Friday of every month from 6pm-11pm. I have seen some really cool artworks on these nights, so if you happen to be there on the right day, keep this in mind.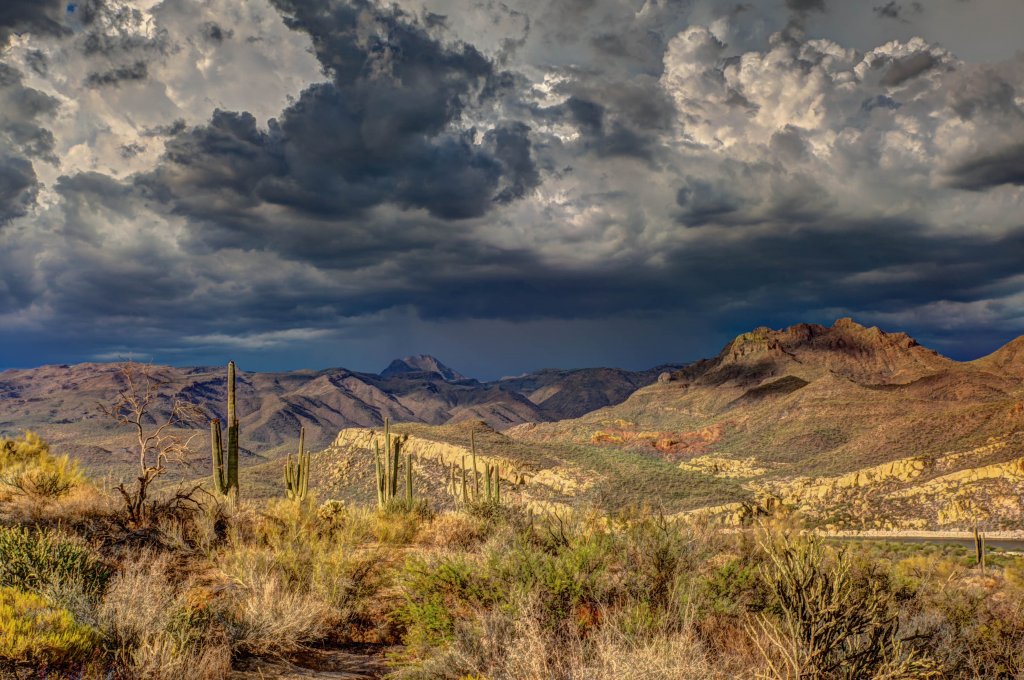 Day 5: On the Road via Montezuma Castle
On Day 5, plan to spend much of the day on the road. Though the drive to the Grand Canyon is only 3.5 hours from Phoenix, there is a lot to see along the way (not to mention tons of great photo stops as you drive).
First, head to Camp Verde, home of Montezuma Castle National Monument. Not a place you would necessarily hear about unless you had lived there (like I did), Montezuma Castle is an incredibly cool cliffside dwelling discovered in the 1860's. Many of the Hopi tribe can trace their ancestry to the very people who lived in this spot.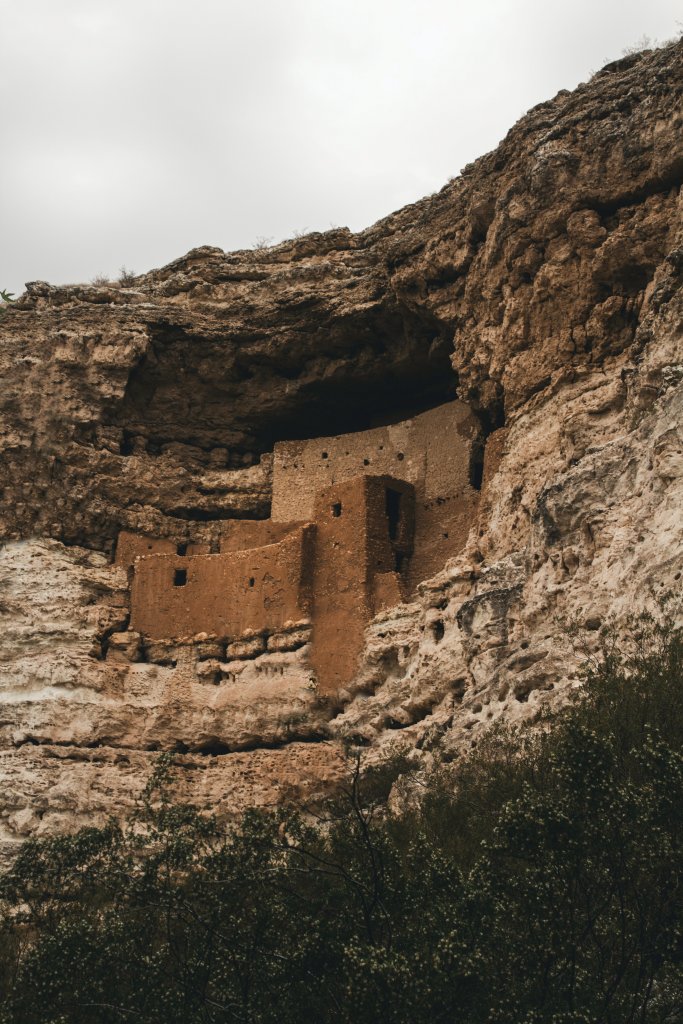 After exploring Montezuma, the next place worth a visit is the Sunset Crater National Monument near Flagstaff. The crunchy lava beds and the black ash hillside are beautiful, created by a volcano that erupted some 900 years ago. On the opposite end of the same park are the Wupatki Ruins, which previously housed members of the Anasazi tribes.
Once you have your fill of pitstops, continue north toward the Grand Canyon. Sleep or camp near the park so you can enter as early as possible.
You may be interested in reading A Phoenix to Sedona Road Trip for additional stops near Montezuma!
Day 6: The Grand Canyon
Sure to be one of the highlights of your road trip from California to Arizona is the world famous Grand Canyon National Park. Enter the park as early as possible, before the crowds, so you can enjoy this natural wonder in silence.
I vividly remember the first time I saw the Grand Canyon; my best friend and I spent New Years Day in the park on a trip where exactly zero things went as planned. Actually, we wouldn't have seen the Grand Canyon on the original itinerary, so we were not sad that everything went haywire.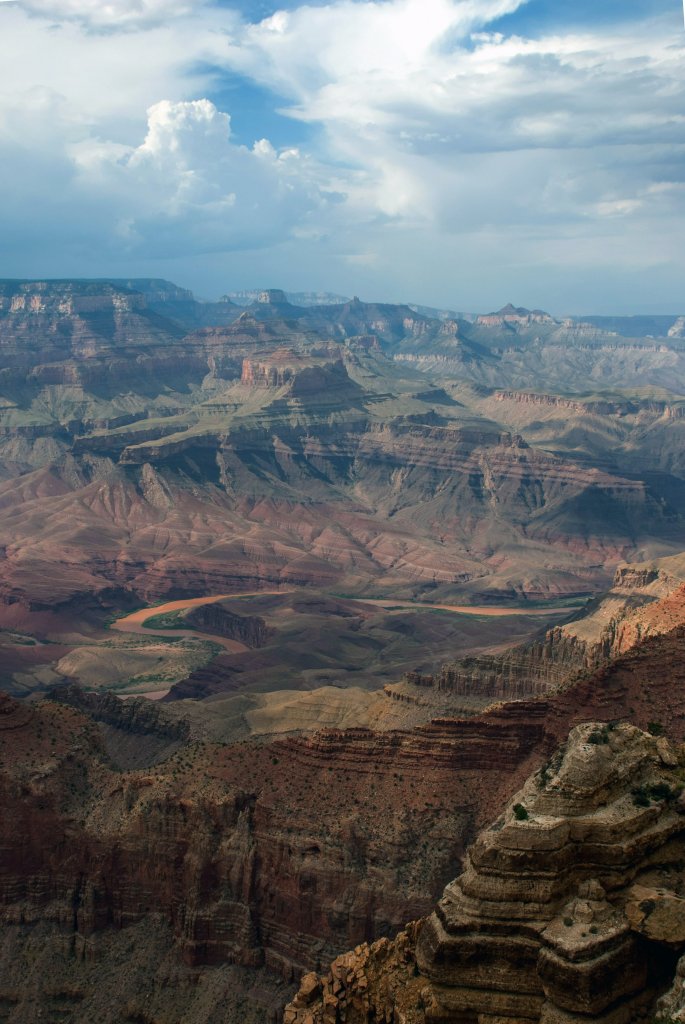 Looking across the deep chasm at the canyon cliffs and folds in the distance is just unreal – I remember commenting that it looked like a movie green screen or a painting; it was just so hard to fathom the vastness. What a memorable New Years Day that was.
Be sure to stop in the Visitor's Center, because they will list the day's programs. These can include history, astronomy, you name it – a ranger will speak on any variety of interesting topics and these can be fascinating.
Walk the Rim Trail, visit the Grand Canyon Village, and just take everything in. It's just so incredible that you need to see it to believe it. This is a good place to spend an extra day if you want to do any of the more strenuous hikes or exploration.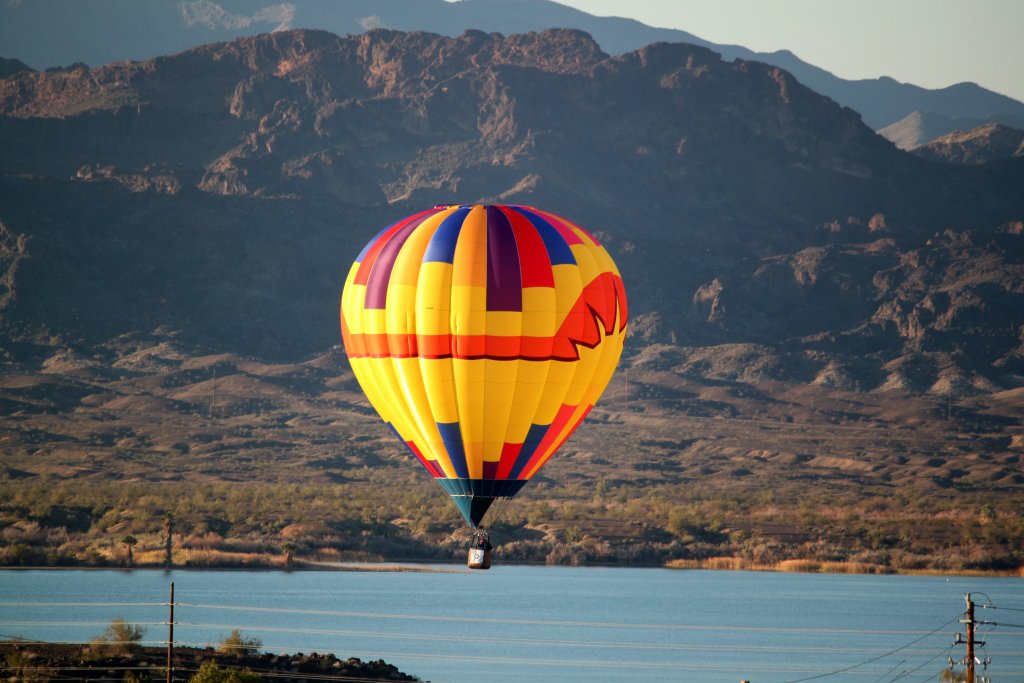 Day 7: Lake Havasu
Lake Havasu will literally be your oasis after all of the desert days. Particularly in summer months, this will be a well appreciated day. Lake Havasu will take approximately 3.5 hours to drive from the Grand Canyon. Once again, start fairly early so you can enjoy all day on the lake.
Fun Fact: the bridge you see over Lake Havasu is actually the rebuilt London Bride. The bricks were bought from London in 1967 when the bridge in England got a facelift, so now this unassuming location holds a piece of history!
London Bridge Beach is a great place to hang out for the day, with grassy fields, sandy shores, playgrounds and canoe rentals. Tons of interesting restaurants and breweries are nearby, so it's a great spot to take a day to relax if you've been hiking and driving for days.
Day 8: Mojave National Preserve
In less than 1.5 hours, you will cross from Arizona to California on your road trip, with your first destination being the Mojave National Preserve. This often overlooked park is a hidden gem.
Once again, you have traded your saguaros for Joshua Trees, with their spindly arms reaching for the sky. But compared to Joshua Tree National Park, Mojave National Preserve is much less sparsely visited. But that doesn't' mean that there is nothing to see.
My favorite spot in the whole park is probably Kelso Dunes. The dunes begin a short hike from the parking area, but once you cross the first peak and lose site of your car, you'll feel like you're in another world. Not quite as majestic as my beloved Arabian Desert, Kelso Dunes is still a great site to see.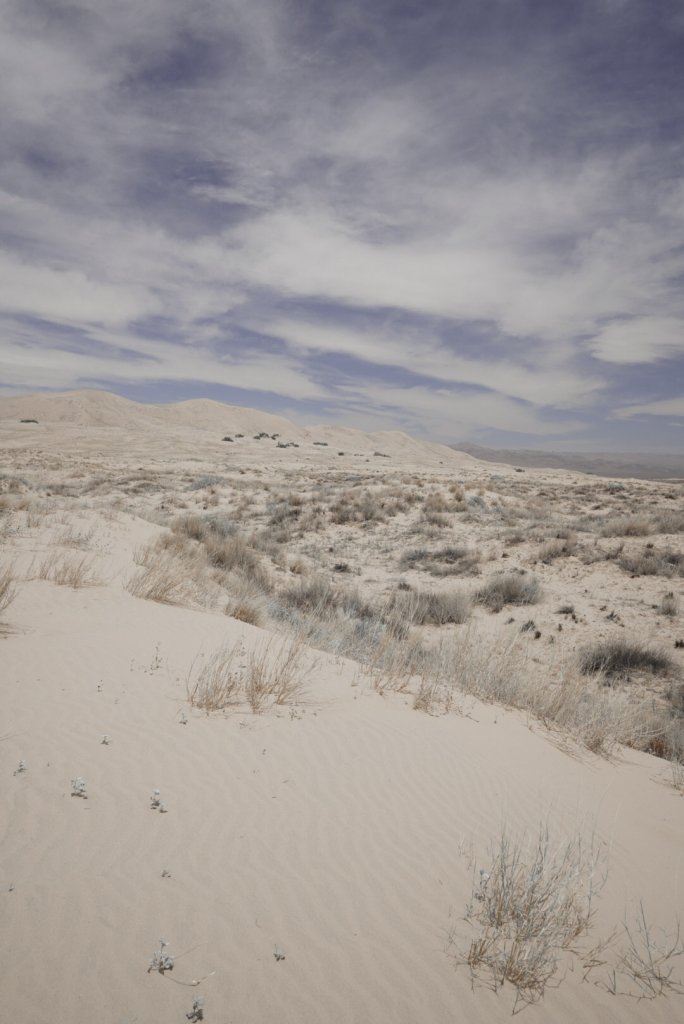 Mojave National Preserve has a ton of hiking options and they do allow camping (click here for a printout on camping information).
Day 9: On the Road to Death Valley (With an Optional Nevada Stop)
If you drive straight from the Mojave National Park to the nearest Death Valley National Park entrance, it will only take around 1.5 hours. If you're up for a quick trip across the Nevada border, you will have an interesting additional stop to explore.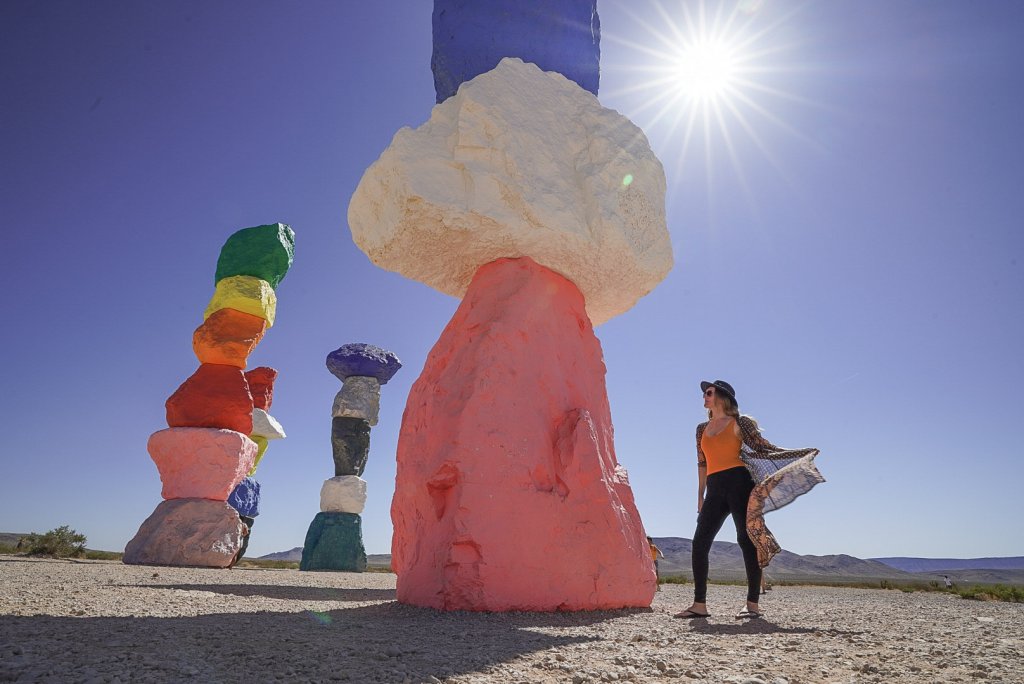 Seven Magic Mountains is a public art installation by artist Ugo Rondinone. It sits in the middle of the Nevada desert and is simply breathtaking to observe, contrasting greatly against the dry desert background.
I've compiled a detailed post about this work of art. Click here to read everything you need to know to visit Seven Magic Mountains if you're interested in adding it to the road trip itinerary.
Visiting this exhibit will add another hour to your driving time, but in my opinion it's worth it. After that stop, continue towards Death Valley National park through Pahrump . Depending on the time of day, you can either begin exploring Death Valley OR you can grab some food and check into your hotel / set your campsite for the evening.
Day 10: Exploring Death Valley National Park
Death Valley is pretty amazing. It is the largest National Park in all of the contiguous United States and the mix of landscapes covering this vast park is stunning.
Some Highlights:
Artist's Palette. A 9 mile road to drive or bike with various pulloffs and photo points. The peaks are various colors due to natural minerals – yep! This formed in nature.
Badwater Basin. The lowest point in North America at a jaw-dropping 282 feet below sea level. Salt deposits make this picturesque location look almost snow-covered, but it's actually one of the hottest spots on the planet.
Mesquite Flat Sand Dunes. If you liked Kelso Dunes, here's another treat for you. These dunes are equally as gorgeous and very fun to climb (though not at midday in the summer months!).
Zabreskie Point. The coolest spot for sunset. Watch the suns rays disappear over the numerous peaks as a reward at the end of your day.
Death Valley National Park has everything from camping to luxury lodges if you want to stay inside of the park boundaries.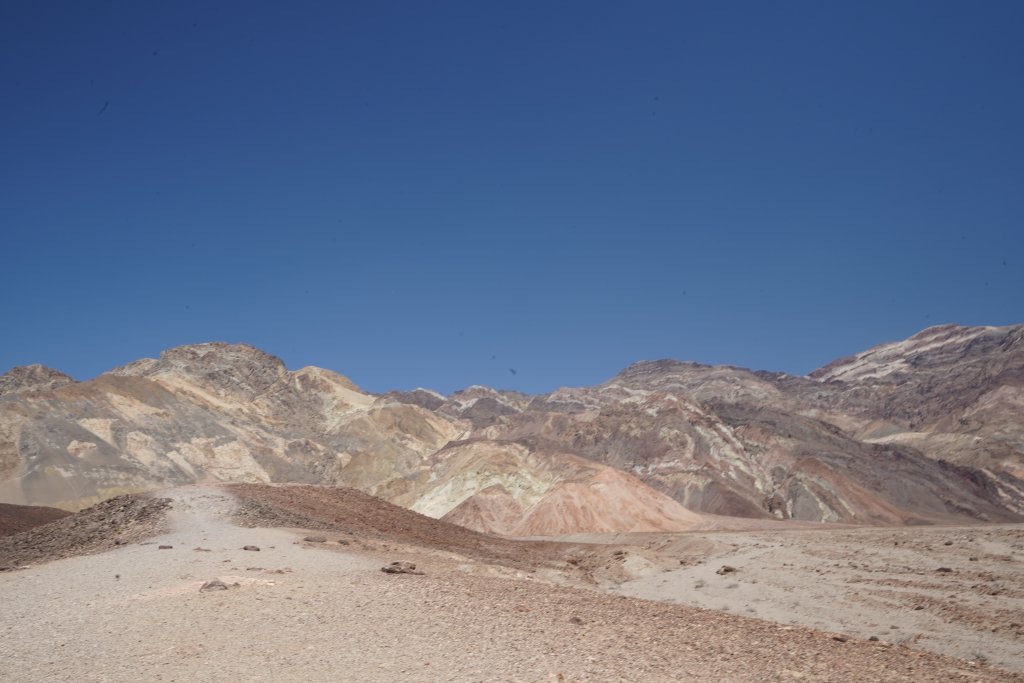 Day 11: Red Rock Canyon State Park
I'm willing to bet that this under-the-radar location is another park you probably never heard about. It will take just under 2 hours to reach if you exit Death Valley at the Panamint Springs exit, and is locate in a quiet area called Cantil, CA.
I was blown away by this park. It's not huge, but it offers some pretty impressive and unexpected towering red cliffs that are quite a sight! I've now been there many times and it's another park that seems to be nearly empty on most days. Click here for all of the details about Red Rock Canyon State Park, including hiking options and camping info.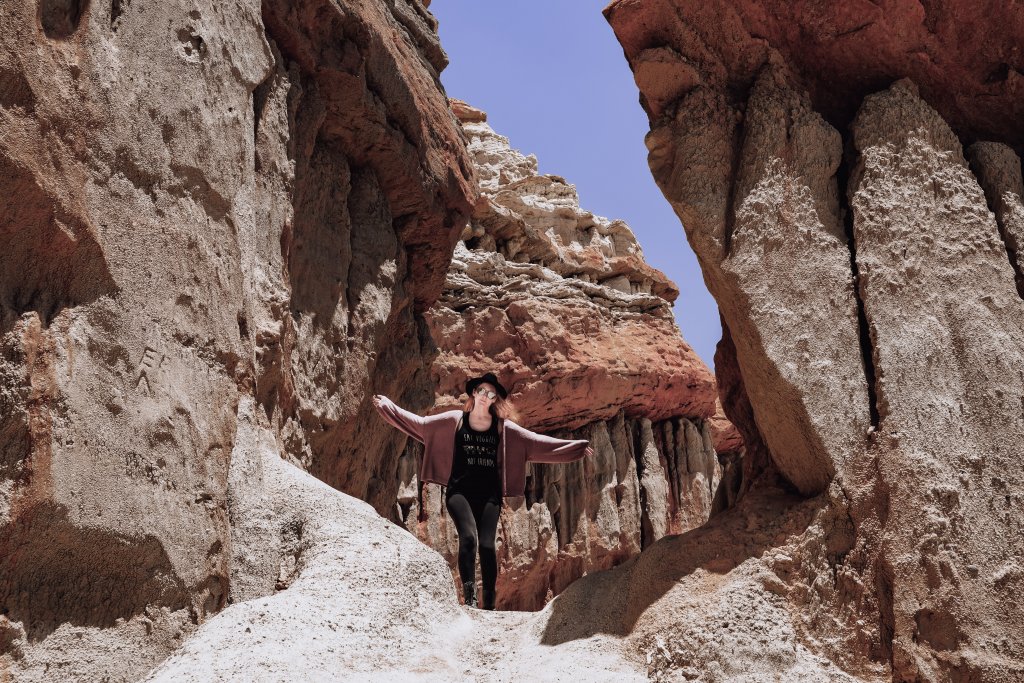 The nearby Jawbone Canyon offers ATV rentals if you are looking for adventure. For sleep, camping is amazing here (get ready to see some stars) or head for California City for a few hotel options.
Day 12: Back to Los Angeles
Just because Day 12 is the official end of your road trip from California to Arizona (and back again) doesn't mean you can't explore along the way. Take a quick stop at Vasquez Rocks Natural Area Park along the way or tack on the Malibu option mentioned on Day 1 if you haven't done it already. Savor your last day.
If you drive straight, it will take under 2 hours to get to Los Angeles. If you have time to spare, explore the famous Hollywood sign lookout or Old Muscle Beach in Santa Monica. Treat yourself to an award-winning vegan meal at Sun Cafe in Studio City.
Pin Me for Easy Road Trip Planning Later!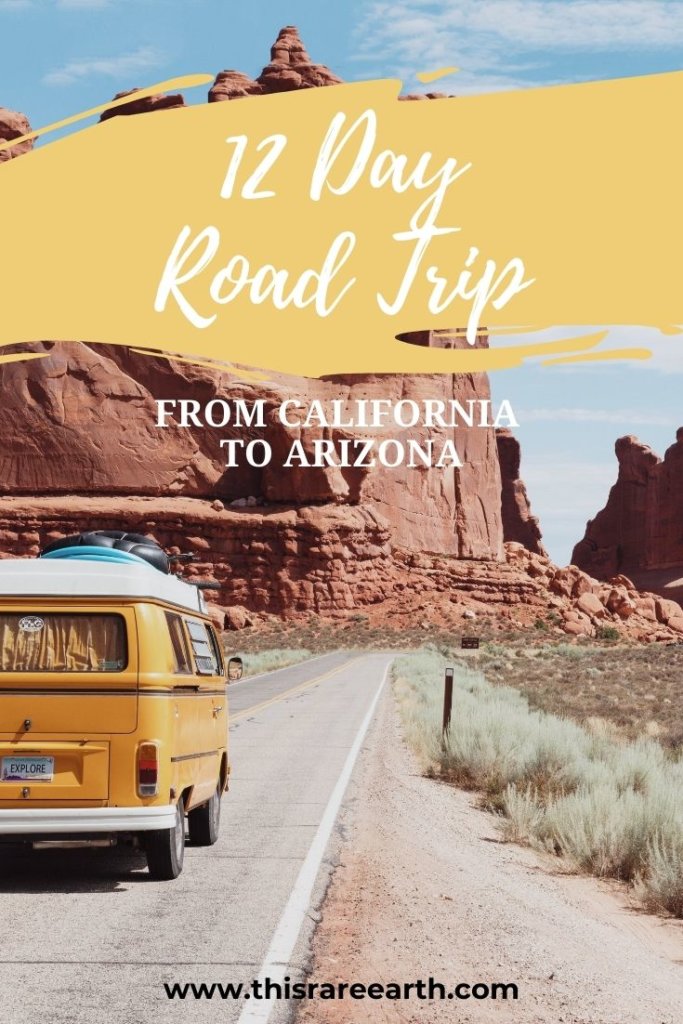 Whatever you choose, I hope that this road trip through California and Arizona is one to remember – in fact I'm sure it will be! And by the end, I believe you will agree with me that the American Southwest is truly breathtaking.
Have you taken this route before? Or are you planning to now? Let me know below!
Sharing is Caring!