Wondering where to see the saguaro cactus in and near Phoenix, AZ? I've got you covered. From natural wilderness to gardens to mountain escapes within the city, I've got loads of tips on where to find the saguaro cactus all around Phoenix. Let's go!
Pin Me for Later!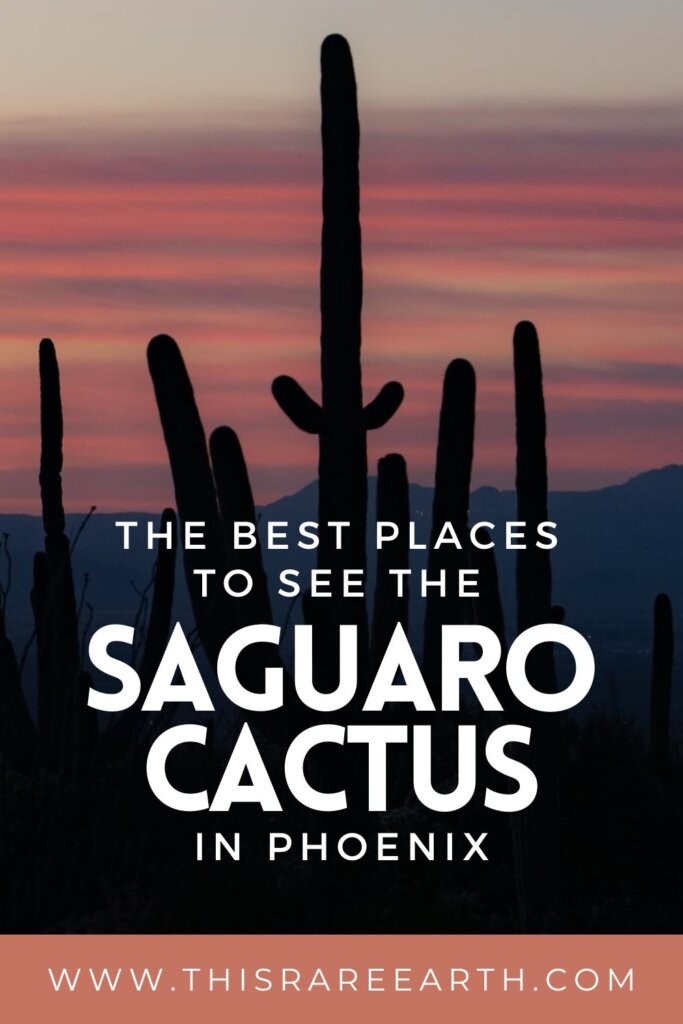 Where to See the Saguaro Cactus in Phoenix
When you picture Phoenix, Arizona, I'm willing to bet that one of the first things you see are tall saguaro cacti. I know I do.
And if you've never been to Phoenix before, well let me assure you – your imagination is correct. Wild-armed saguaros can be seen on just about every corner, in yards and landscaping and even carefully curated highway medians.
But if you want to see larger groupings of saguaros or even saguaros in the wild, fear not. I'm here to help.
I used to live in Arizona and spent a lot of time with these green gods – and I know exactly where to find them. Keep on reading to learn all of the best spots to see the saguaro cactus in Phoenix, AZ!
You May Also Like: A One Day in Phoenix Itinerary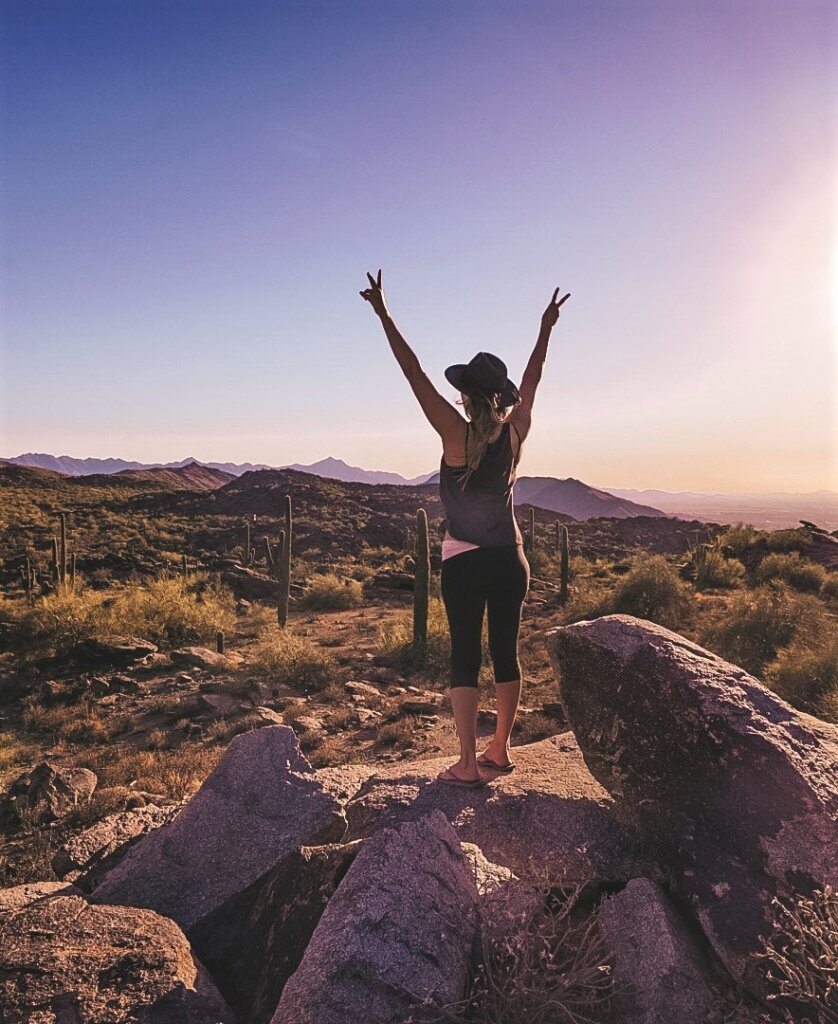 1. South Mountain Park & Preserve
We're going to kick off this list with my number one choice for seeing the saguaro cactus in the Phoenix area. South Mountain Park & Preserve is not only full of these crazy cacti, but it sits just a few short miles from downtown Phoenix.
That's right – a nature park jam-packed with saguaro cacti right next to downtown Phoenix.
South Mountain Park and Preserve spans over 16,000 acres of land and contains over 50 miles of hiking and biking trails. Even if you don't have time for activities, this park has long and winding roads up the mountain where sweeping views of the cacti span far and wide.
Bonus – Dobbins Lookout , at the summit, is one of the best sunset spots in the city. Gates open at 5am and close at 7pm.
You May Also Like: Desert Hiking Essentials for the American Southwest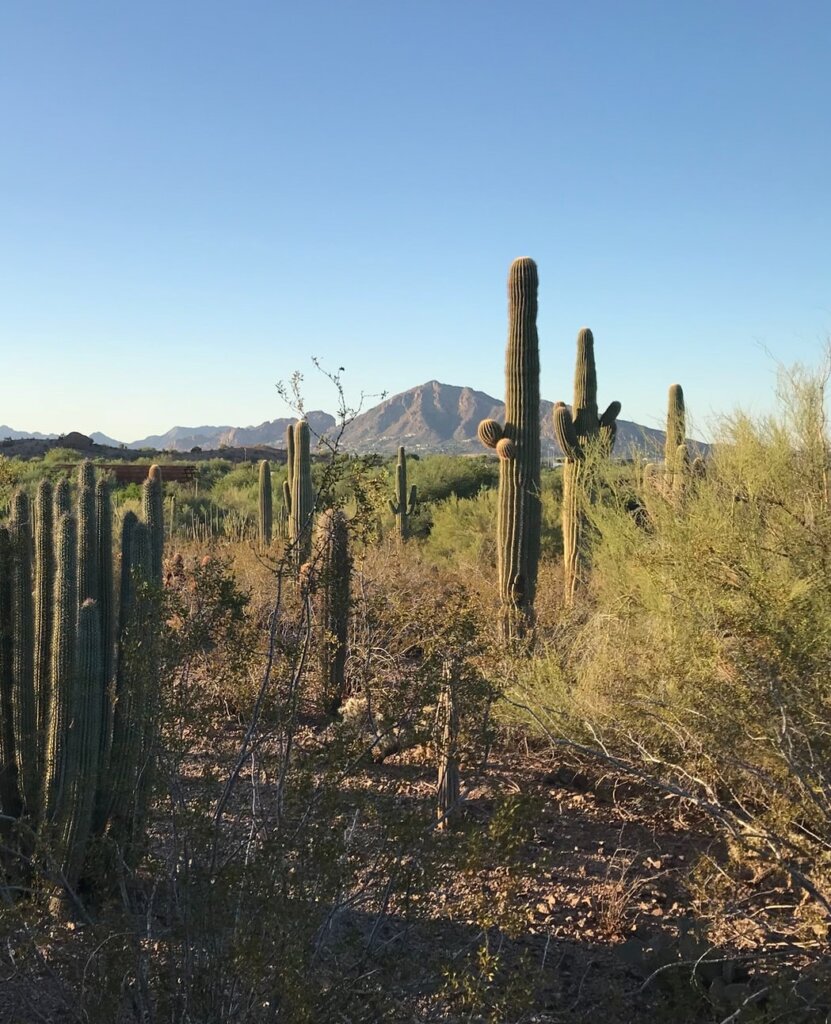 2. Desert Botanical Garden
While the Desert Botanical Garden is partially a curated attraction, it is still one of the top places to see saguaro cacti in Phoenix.
The exhibits feature all manner of plants found in the Sonoran Desert. It also features some desert wilderness, since the Garden is located within Papago Park.
Here you can find many additional attractions like the Hole in the Rock hike and the Phoenix Zoo. Visitors can also explore the colorful Butterfly Pavilion and art installations within the garden trails.
If you're on the hunt for saguaros in Phoenix, then you can't miss the Desert Botanical Garden. Current exhibitions and hours can be found here.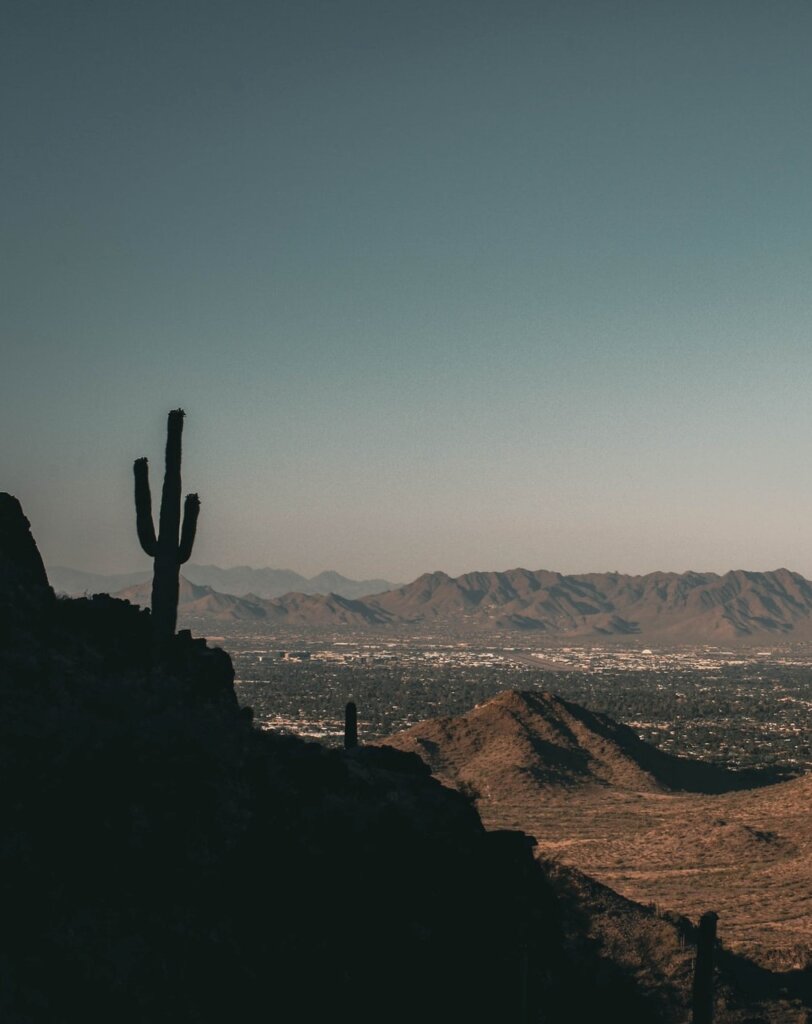 3. Phoenix Mountains Preserve
One thing I've always appreciated about Arizona is that they know how to leave swaths of natural land within the manmade cityscapes. You're never too far from nature.
The Phoenix Mountain Preserve is an easy stop in Central Phoenix where you can see miles of untouched desert land. It is also home to two of Phoenix's most famous mountain hikes – Camelback Mountain and Piestewa Peak.
Phoenix Mountains Preserve opens at 5am and gates close at 7pm. This is the perfect stop n your cactus-trek if you don't want to head to far out of the city.
You May Also Like: The Best Things to Do in Phoenix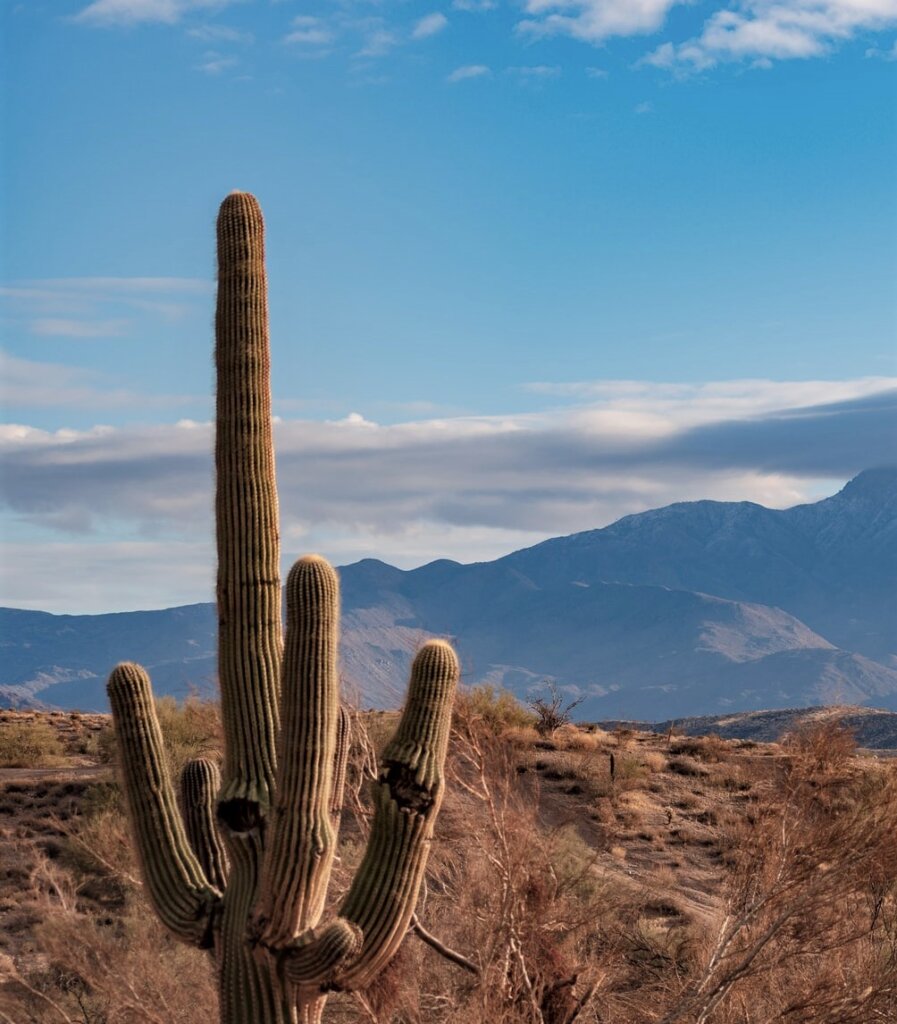 4. Four Peaks Wilderness
If you are willing to drive out a short ways, the Four Peaks Wilderness is an incredible place to see saguaro cacti, as well as impressive mountain peaks. The landscapes alone are almost indescribable – from rolling and sloping hills to purple sawtooth mountains, Four Peaks is stunning.
The less-than-one-hour drive showcases the prettiest stretches of Arizona's land and it only gets better within the park. Saguaro cacti are all around you, and you couldn't feel farther from the city within Four Peaks.
Be aware that the road inside the park is a tightly-packed dirt road. It is safe for compact cars – just take it slow as it is bumpy – and I would suggest 4WD during heavy rains.
The Four Peaks is the only place within Maricopa County that gets a fair amount of snow in the winter. The park is open 24 hours a day.
You May Also Like: Arizona Bucket List Things to Do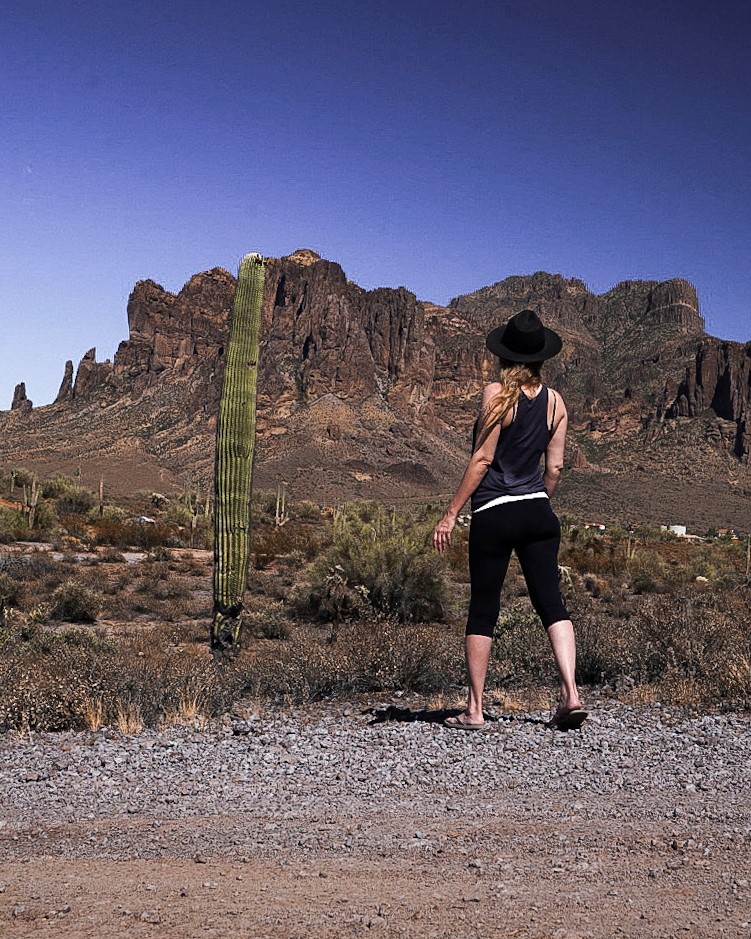 5. Lost Dutchman State Park
45 minutes outside of Phoenix (and 45 minutes south of Four Peaks, by the way) sits Lost Dutchman State Park. This was one of my favorite spots to explore when I lived in Arizona, and it is a must if you are on a quest to see the saguaro cactus near Phoenix.
Another locale where impressive mountains reign supreme, this state park is jam-packed with saguaro cacti. There is nothing quite like seeing tall green cacti in front of the Superstition Mountains backdrop.
You can visit this area between 6am and 8pm daily. Note that there is a $7-$10 entry fee per car depending on the day.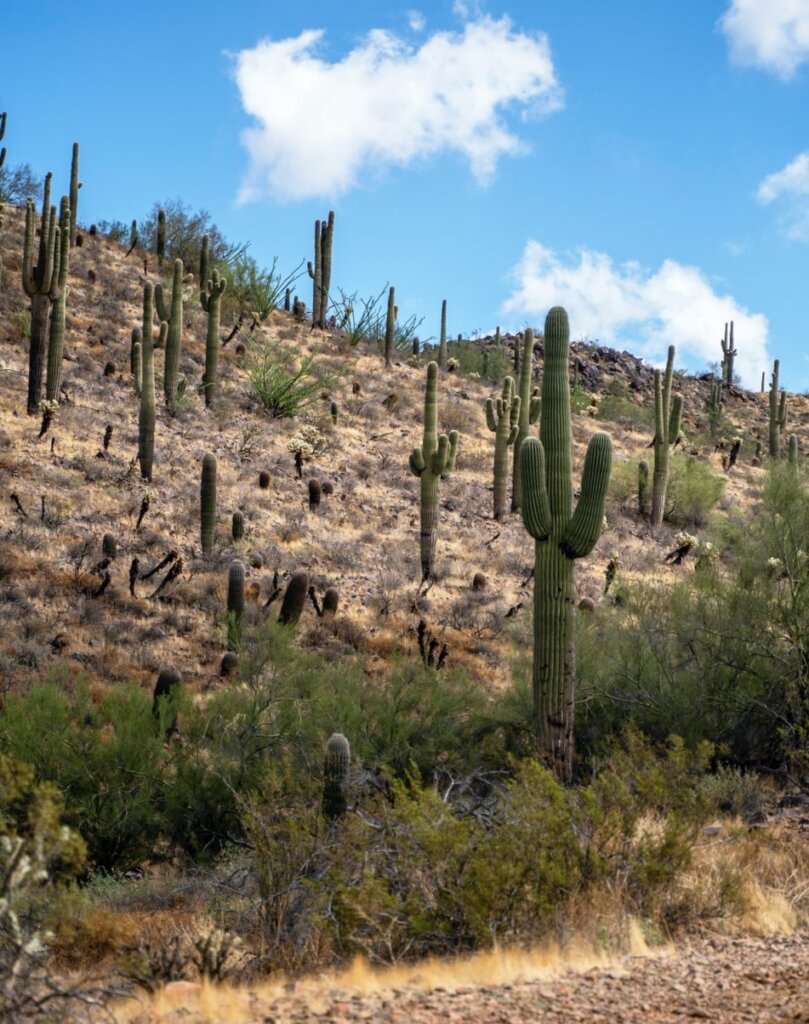 6. McDowell Mountain Regional Park
The Phoenix New Times actually named McDowell Mountain Regional Park as "the best place to see a cactus" in 2015. With such a title, you can't go wrong here!
Endless saguaro cacti are tucked between rolling and mountainous slopes throughout more than 50 miles of desert hiking trails. If you're lucky, you might spot rabbits and deer.
With more than 20,000 acres to explore, you'll see plenty or prickly saguaros. This park is 45 minutes from downtown and is one of the best places to see the saguaro cactus near Phoenix.
Summer hours are 5am-9pm and winter hours are 6am-8pm daily.
You May Also Like: Desert Safety Tips
7. White Tank Mountain Regional Park
One hour northwest of Phoenix, White Tank is a great place to hike, mountain bike, stargaze, and horseback ride. It's also one of the best spots for saguaro sightings.
With 30,000 acres of epic desert landscapes, White Tank is the place to go! The somewhat isolated and unspoiled land is a great escape from the city life.
If you choose to hike here, you may spot petroglyphs left behind from the ancient Hohokam Indian's throughout the park. In addition to saguaros, you'll see other cacti like prickly pears and even small chollas, as can be seen in Southern California's Joshua Tree National Park.
Year round park hours run from 6am-8m. On Fridays and Saturdays they stay open until 10pm.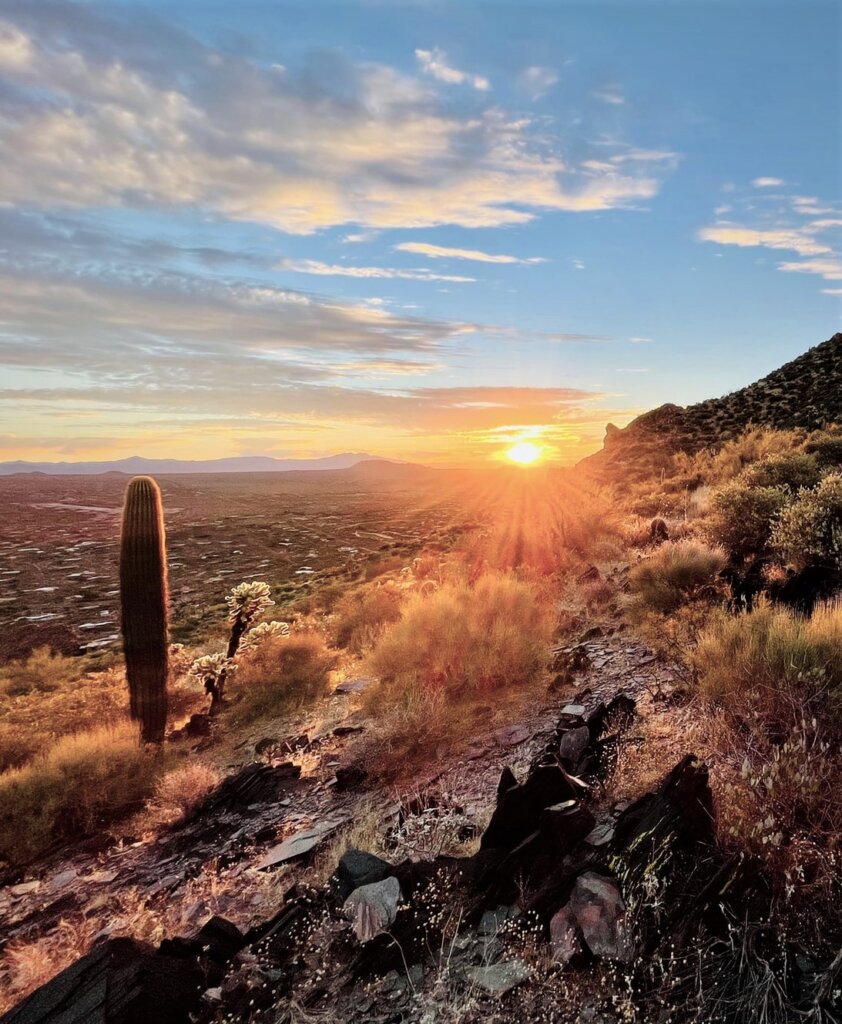 8. Cave Creek Regional Park
Last on our list of the best places to see the saguaro cactus in and near Phoenix is Cave Creek Regional Park.
Cave Creek is just 40 minutes northeast of Phoenix. While it is one of the smaller nature parks at only 2922 acres, this park packs a punch. As in, loads of saguaros.
Tall saguaros line the park, amid a sea of yellow wildflowers in spring. It's a beautiful sight, and a quiet and relaxing location. There are hiking trails here for every level of hiker, and camping and horseback riding are also extremely popular.
Summer hours run from 7am-2pm and winter hours run from 8am-4pm. Note that in the summer, the park is closed on Sunday.
***
The nice thing about Phoenix is, even if you aren't trying to, you will see saguaro cacti all around the city. Everything from homes to businesses seem to display carefully landscaped cacti just about on every street.
But, if you want to see them in the wild, this list contains some of the best places to see the saguaro cactus in and around Phoenix.
Let me know below – which one will you visit first?
Pin Me for Later!