Headed on a road trip from Phoenix to Sedona? Wondering what to see along the way? Here are the top spots to visit on your Phoenix to Sedona drive. Whether you have a one day trip to Sedona or a week for your visit, these stops will make your drive unforgettable.
Pin Me for Later!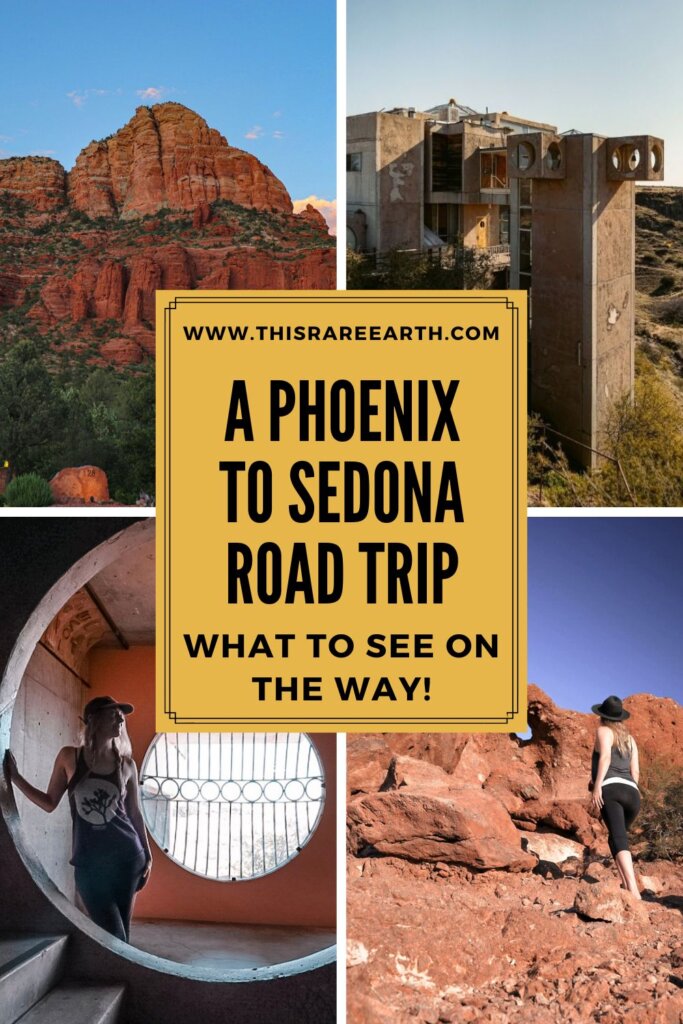 I've mentioned this before on the blog – I used to live in Arizona. I didn't move there for a job or for school or for family. I honestly moved there because I absolutely love the desert landscape.
While living there, I took so many road trips throughout the state, visiting Arizona desert parks, interesting cities, and obscure attractions. I can honestly say I've seen so much of what Arizona has to offer!
If you are making the Phoenix to Sedona drive, it's true; you could easily do this in a short and straight two hour trip. But I'm here to tell you, that is a mistake! There is so much to see along the way.
I recommend taking an entire day to road trip from Phoenix to Sedona, allowing time for attractions, oddities, and photo stops. Some of what you see is likely to surprise you.
You May Also Like: A 12 Day Road Trip from California to Arizona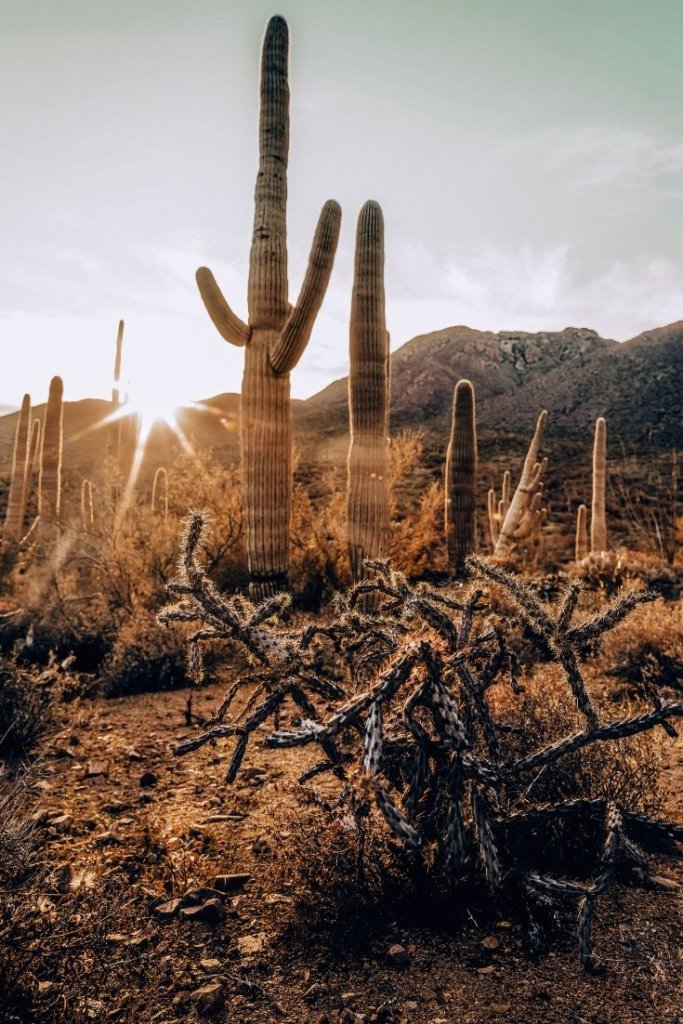 Unique Arizona
Arizona is one of the most picturesque of all 50 states. I know, that's a bold claim. But I promise, it's the truth!
From the tall and cactus-covered cityscapes of Phoenix to the rugged deserts of Tucson to the terra cotta colored rocks in Sedona… Arizona sure is beautiful.
Phoenix and Sedona are not terribly far from one another, but they landscapes could not be more different. And, on he drive, there are so many fascinating and unexpected sights to see.
Here are my favorite stops worth making on the Phoenix to Sedona drive!
You May Also Like: How to Plan a Road Trip Alone.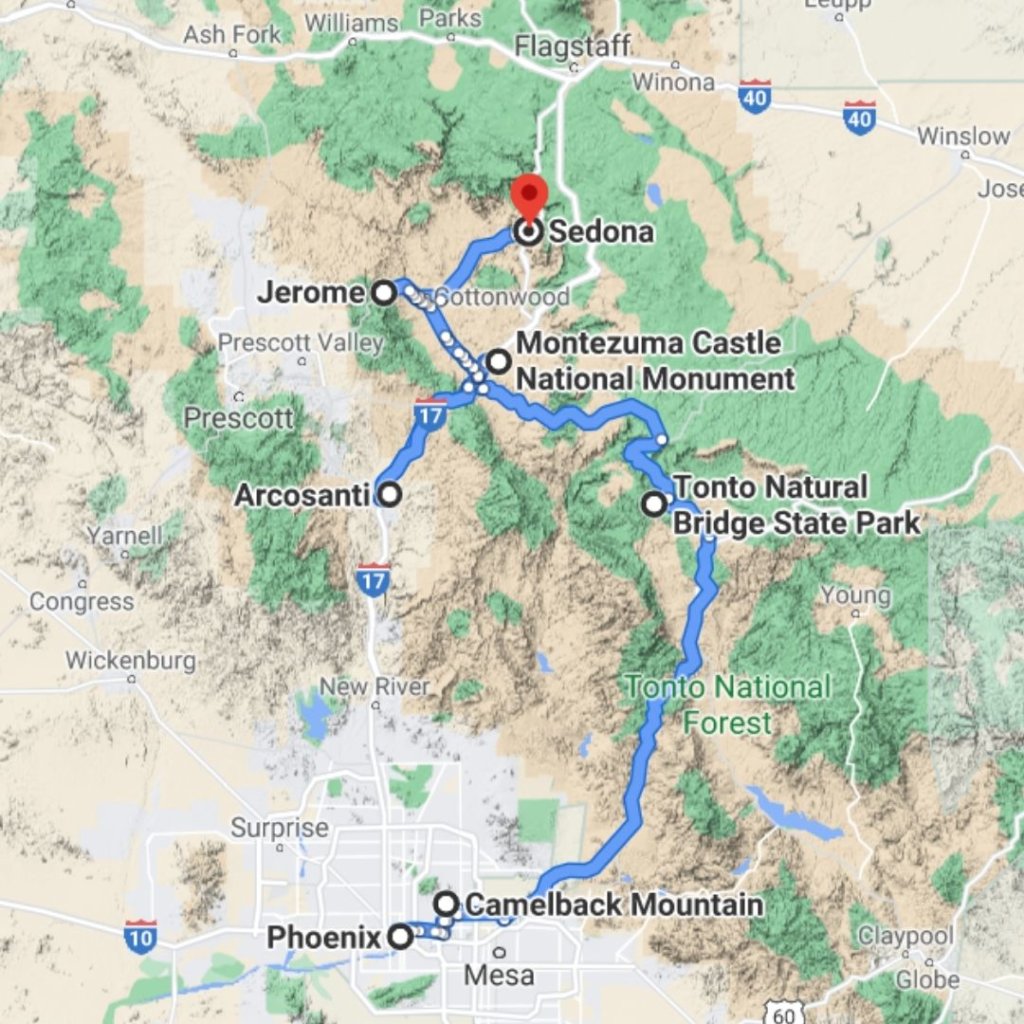 5 Can't-Miss Stops on the Phoenix to Sedona Drive
This Phoenix to Sedona route is for the nature lovers out there.
While you can drive to Sedona in a straight shot up I-17, I prefer the route that I will highlight below. Why? Because of the natural wonders and outdoor oddities.
I have to warn you… if you follow my advice and stop at each of these attractions, the drive will more than double in time, jumping from two hours to over five hours. I recommend allowing a full day (or even more!) for this sightseeing road trip.
You'll want to leave as early as possible, particularly if you like to hike or are into photography. Consider staying overnight along the way if you want to dive in and see it all to the fullest.
There is a lot to see on the drive from Phoenix to Sedona! Let's get to it.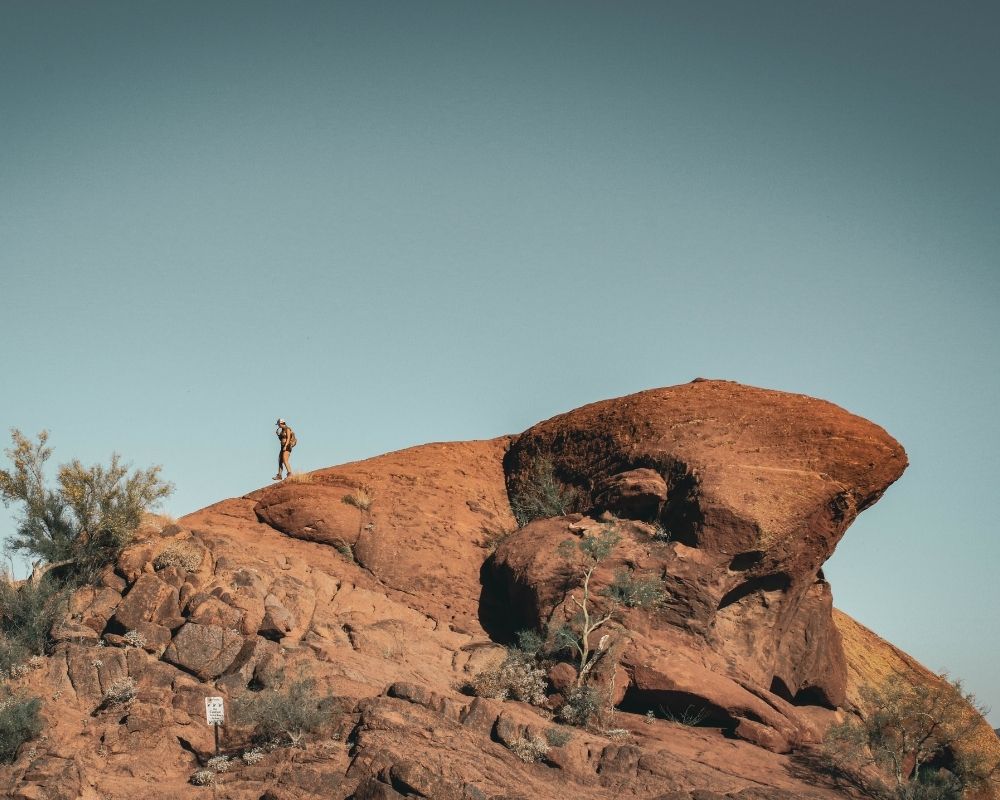 1. Camelback Mountain in Phoenix, Arizona
The first stop, Camelback Mountain, is located just outside of the city of Phoenix. It's a well-known sight for locals – a giant red colored rock rising out from the desert, shaped like a camel's back.
I've included this mountain for two reasons.
One, it's an incredible hiking opportunity, with many different trails that culminate at an over 2,000 foot summit. If you make it to the top, the views are spectacular.
Two, Camelback Mountain has stumped geologists for years. Most of this mountain is composed of the red colored sandstone that dates 30 million years ago. But, sitting on top of the sandstone is a light colored granite that is a whopping 1.5 billion years older than the sandstone. The older rock should theoretically be under the newer sandstone, not on top of it. A true mystery!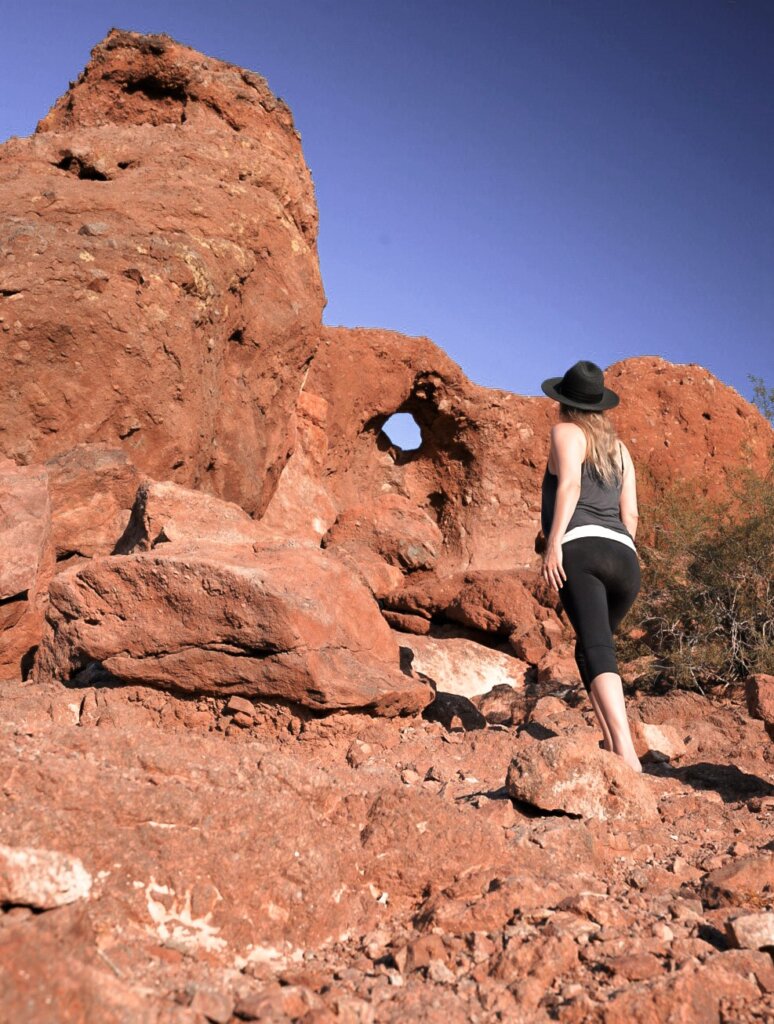 If Camelback Mountain is a tougher hike than you prefer, I can also recommend an alternate: the Hole in the Rock trail in Papago Park. Super short, super simple, but still offering incredible views. I highly recommend tackling that one at sunrise for the best golden glow!
No matter which trail you choose, beware of rattlesnakes, and definitely come prepared. My desert hiking essentials post outlines exactly what you need to hike safely in this climate. Desert hikes are no joke, and you definitely want to stay safe!
In any case, these hikes are beautiful and it's a wonderful way to begin your journey out of Phoenix.
More Phoenix Resources: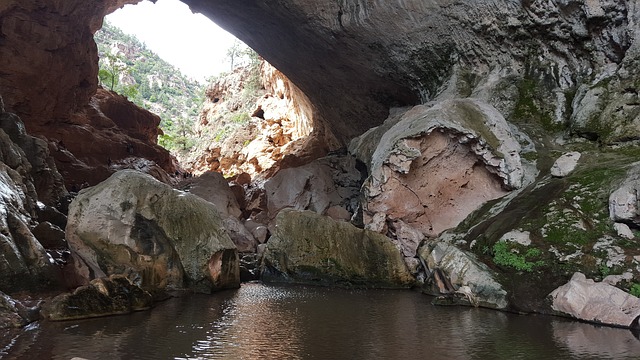 2. Tonto Natural Bridge in Pine, Arizona
The second geological wonder on our tour is Tonto Natural Bridge, which will take under two hours to reach from Camelback Mountain. This naturally formed bridge is believed to be the largest travertine bridge on the entire planet.
Travertine is a type of limestone typically deposited by hot mineral springs. This particular bridge is located in an area that is unusually green in this desert-filled state, adding to the beauty. The white limestone against the lush greenery is a sight to see!
Tonto Natural Bridge stands 183-feet high. There are three hiking trails in the area if you are in the mood, and one that leads you down into a dramatic 400-foot long tunnel.
If you are not up for a hike (or if you're worn out from Camelback), not to worry. There are viewing points from above that are still incredibly worthwhile to experience.
You May Also Like: The Best Day Trips from Phoenix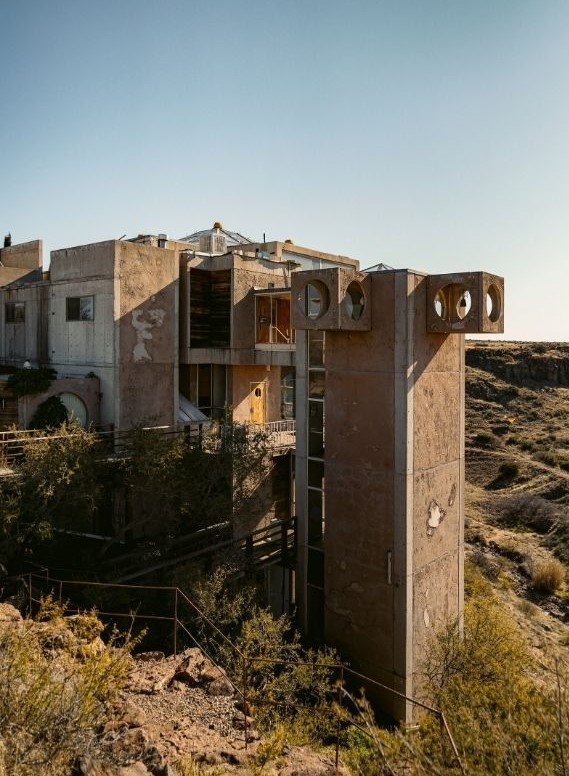 3. Arcosanti in Mayer, Arizona
Another 1.5 hours east, Arcosanti is a must see structure on your Phoenix to Sedona road trip.
This experimental community was built in 1970 by an Italian architect named Paolo Soleri. In my opinion, Soleri was slightly before-his-time, as he was attempting to build eco-friendly dwellings in harmony with nature. It was originally intended to house over 5,000 people, but funding issues stopped the project before it ever really got off the ground.
The construction of Arcosanti has a very sci-fi feel. The buildings are incredibly unique, with perfect geometric design elements.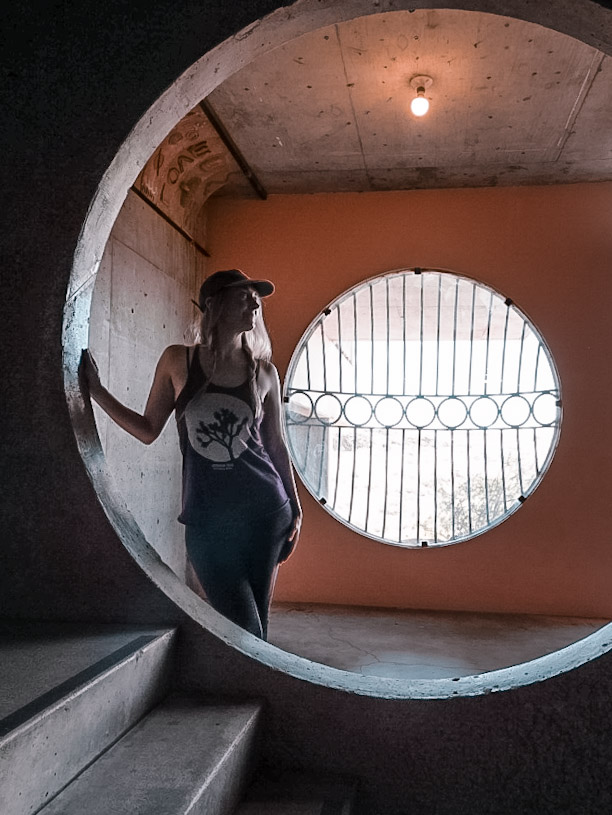 Today, students come from around the world to continue to build and live Soleri's dream, not yet reaching completion even after 50 years. Tours are available almost every day of the year.
Learn more about Arcosanti and plan your visit here.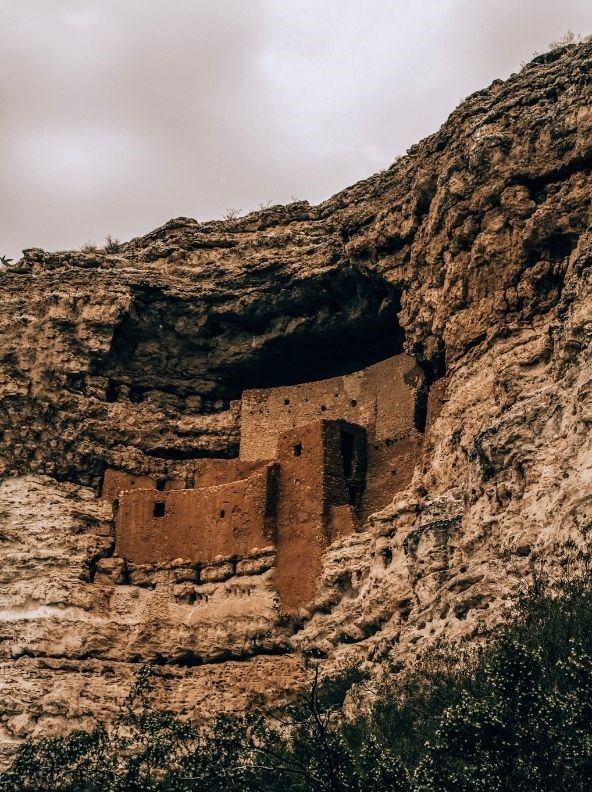 4. Montezuma Castle in Camp Verde, Arizona
Years ago, I was road tripping the entire state of Arizona and I came across this attraction in my research. It was unlike anything I'd seen at the time, and I have a very clear memory of my first visit.
This cliff dwelling is fascinating. It has remained mostly intact, despite being nearly 1,000 years old. Though named for the Aztecs, this secluded dwelling was actually built by the indigenous Sinagua people who lived in the Verde Valley.
The Sinagua built this type of dwelling for safety. Nearly vertical, this limestone cliff face offers maximum protection from anyone wishing to cause harm. The "castle" could only be accessed by ladders, which – once removed – made these structures impossible to scale at 90 feet above.
Montezuma Castle is approximately 30 minutes from Arcosanti, and costs $10 to enter. If you have the America the Beautiful National Parks Pass, you can get in for free.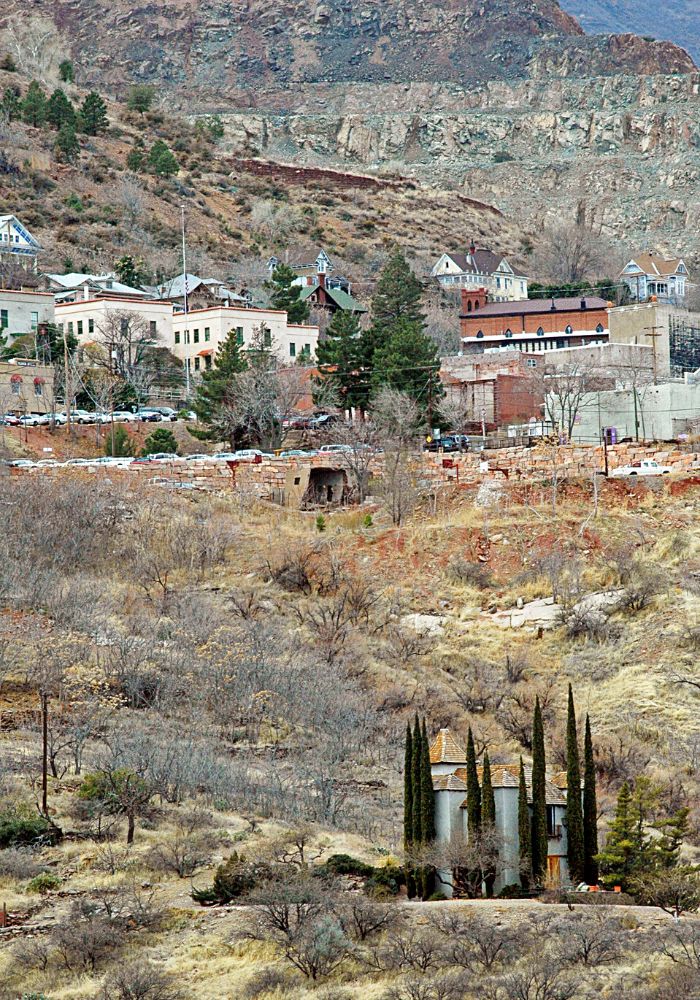 5. The town of Jerome, Arizona
Jerome is a great place to stop for dinner and some unique photo opps. A little over a century ago, more than 15,000 residents lived in Jerome, but today only about 500 people remain. There is a lot to see in this once booming mining town, but it is essentially a tourist stop nowadays.
Many Ghost Town type attractions remain, like the decaying abandoned post office and what's now known as the Sliding Jail. What is a Sliding Jail you ask?
The town of Jerome is located on a steep hill, pictured above. As a former mining town, underground blasts were very common. One of these blasts dislodged the foundation of the jail in 1938 and the rest is history. The jail now sits 200 feet lower than where it was originally built.
Even with all of the decay, the "living" area of Jerome is home to small-town restaurants and shops worth a stroll if you need a bite or want to stretch your legs. I don't personally recommend more than half a day here max, but it is worth the experience for sure!
Jerome is about 45 minutes from Montezuma Castle.
You May Also Like: Where to See Snow in Arizona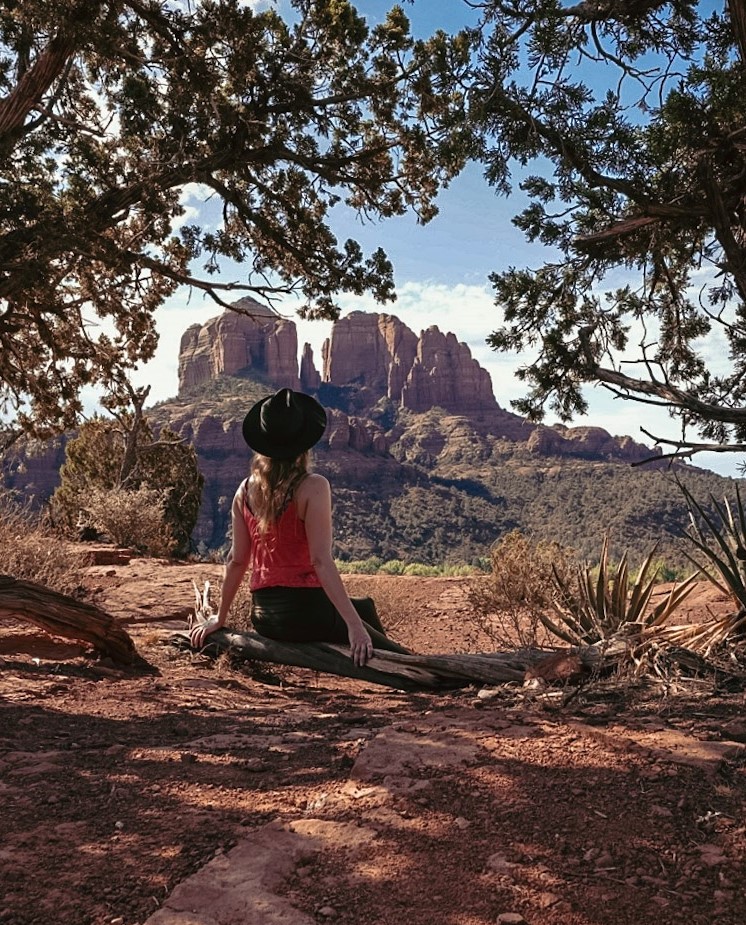 Destination: Sedona
In another 45 minutes, you will reach your final destination: Sedona. As you drive north, the telltale signs will become visible.
Mountains dripping in orange line the horizon, creating a fire-baked backdrop. Visitors can enjoy an array of outdoor activities in nature, including camping, hiking trails with great views, and yoga on the rocks. For those searching for the spiritual side of Sedona, there are nearby vortexes – or, special sites with powerful energy.
There is so much to see in Sedona. Come explore this mystical place — you'll find yourself filled with peace and relaxation by the end of your trip!
More Sedona Resources:
FAQ's for the Phoenix to Sedona Drive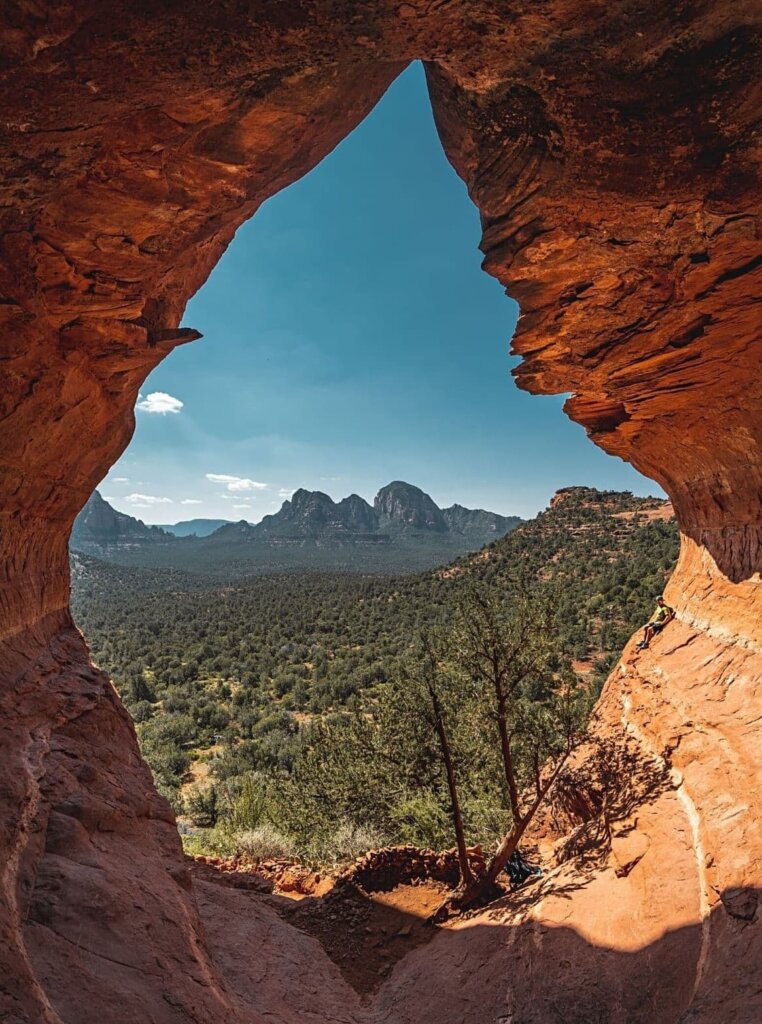 Is it nice to drive from Phoenix to Sedona?
Yes, the drive is very nice between Phoenix and Sedona. There is a lot to see, mentioned above, and the change in scenery is beautiful. It is not too long, so it's an easy drive to do solo or with friends.
How difficult is the drive from Phoenix to Sedona?
It is not difficult at all for the average driver. The roads are smooth and paved, and the roads are all well marked. If you are nervous about the drive, avoid leaving at night. Be sure to get on the road at first light.
Is there anything to see between Phoenix and Sedona?
Yes! The route for the Phoenix to Sedona road trip mentioned above is my all time favorite. It stops at several natural outdoor attractions, historical sights, and epic viewpoints. But you could also opt for Highway 179, called the Red Rock Scenic Byway, if you've already seen the attractions listed above.
How many days is enough for Sedona?
You could get a quick taste of Sedona's vibe in just one day, but to really see it all you will want at least a few days there. I have some resources available to plan any length of trip:
***
If you have the chance to explore Arizona, I highly recommend taking this scenic drive to Sedona from Phoenix. The sights are stunning, the route is safe, and the destination is world class.
Let me know in the comments below which of these stops you can't wait to see! I highly recommend all five on your Phoenix to Sedona drive.
Pin Me for Later!