Heading out on a New Mexico road trip? This itinerary packs in the best of New Mexico – from the incredible nature, wild rock formations, natural hot springs, and rolling white sand dunes. If you are driving through New Mexico, this itinerary will make planning your Southwest adventure a breeze. Here are the best stops to add to your New Mexico road trip!
Pin Me for Later!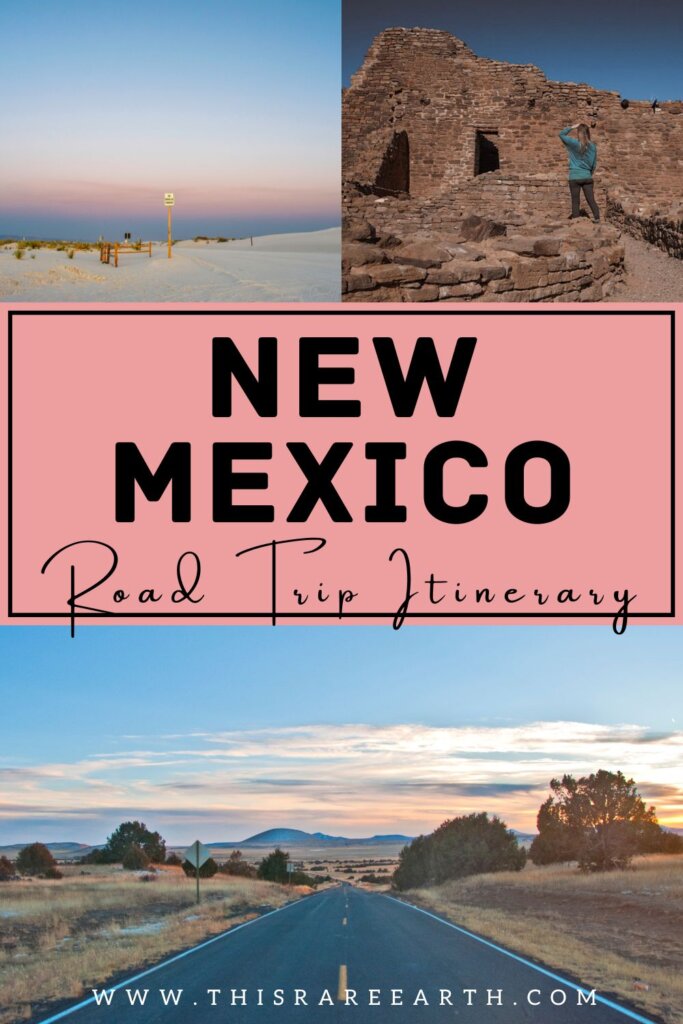 I've been lucky to have visited New Mexico several times now. After nine cross country road trips (you read that right) this state never gets old.
New Mexico is a hidden gem of the American Southwest. Often overshadowed by Arizona and California, New Mexico packs awesome hiking trails, natural wonders, ancient ruins, and a stark white desert. Sprinkle in the alien-themed city of Roswell and you have got a very interesting place!
In this New Mexico road trip itinerary, you will learn the best time to visit, the must see stops, and several under the radar sights that you need to see to believe. Let's dive in!
You May Also Like: The Best National Parks in the Southwestern USA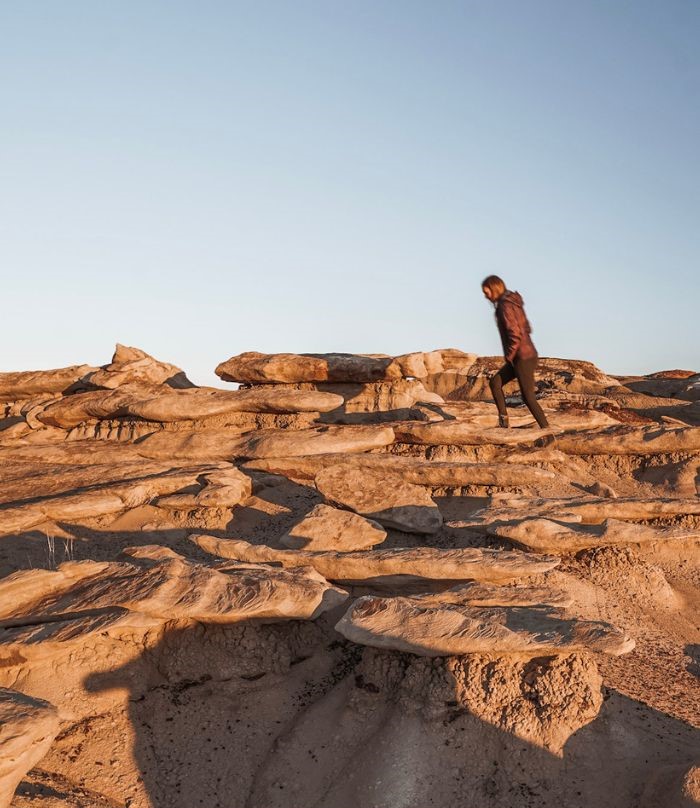 New Mexico is stunning. The vast open landscapes feel very different than my familiar California deserts. They feel free, and wild.
New Mexico is called "the land of enchantment," and I agree – I am enchanted each and every time I visit. I always find a new area to explore and a new sight that leaves me speechless.
I'm certain that you, too, will fall in love with this state on your New Mexico road trip. And I am going to suggest the most awe-inspiring places to see that need to be on your itinerary.
When is the best time to visit New Mexico?
The weather in New Mexico is quite varied. In general, expect chilly snowfall in the winters and a hot dry heat in the summer.
Northern New Mexico experiences warm summers and freezing winters, especially in the higher elevations. The south of New Mexico is much drier, flatter, and hotter, with mild winters.
While you can definitely visit New Mexico any time of the year, for this New Mexico road trip, I would recommend avoiding the hottest summer months if possible. That is because there are several hiking stops on this itinerary, and New Mexico can get hot. Shoulder seasons like fall and spring are ideal in terms of weather and crowds.
Pro Tip: The famous hot air balloon fiesta takes place in October. But, you can book a hot air balloon experience here year round! Don't miss it!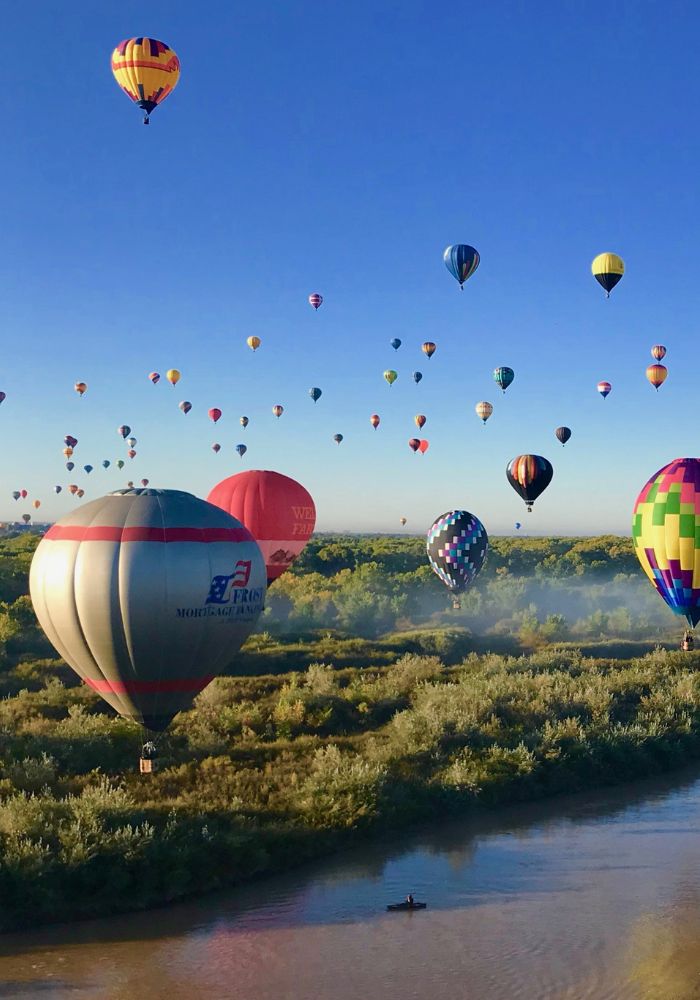 A New Mexico Road Trip Itinerary
Where to start:
If you fly in from out of state, you are likely to land at Albuquerque International Airport (ABQ.) This is the largest airport in New Mexico. In my experience, visitors can get flights into Albuquerque from all acoss the United States for a reasonable price.
On my most recent trip, I flew from California into ABQ and rented a car at the airport (I always find the best car rental prices here.)You will definitely need a rental car to see everything on this list!
If you are driving in from the surrounding states, feel free to shuffle things around as needed. For example, if you drive in from the east, you will likely begin with the Roswell stop and modify from there.
Here are all of the stops you need to make on your New Mexico road trip!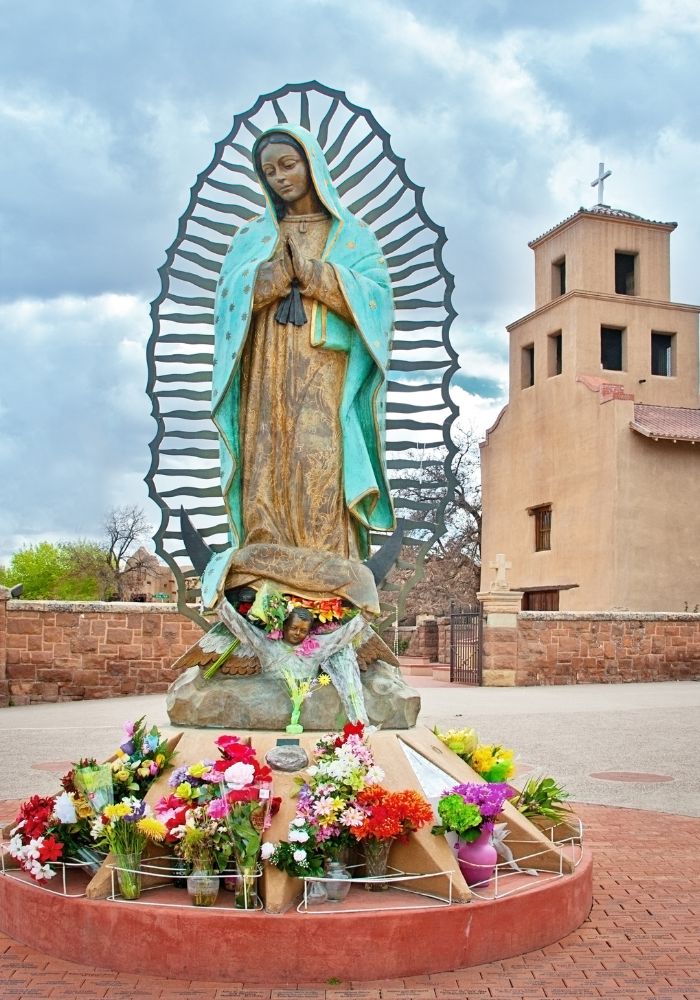 1. Santa Fe
Santa Fe is roughly one hour north of the Albuquerque airport via Interstate 25. It is a straightforward and easy drive.
If you want to take the scenic route, I highly recommend driving the Turquoise Trail. This route is considered to be one of the prettiest drives in New Mexico. You'll encounter everything from old mining towns to panoramic viewpoints. To drive from Albuquerque to Santa Fe on this route, it will take just over 2.5 hours, and is well worth it!
Santa Fe is home to loads of visual arts and quirky galleries. The Georgia O'Keeffe Museum is a must see for anyone interested in art. The Museum of Indian Arts and Culture is perfect for those who want to learn more about the native people of New Mexico. And, Bandelier National Monument is the place for hiking and ancient cave dwellings.
Additionally, I really enjoyed the hot springs in and around Santa Fe! You can choose from the more resort-style retreats or completely natural pools. The hot springs were definitely one of the highlights of my trip.
Where to stay:
If you want to have a comfortable hotel in a convenient location, I recommend Hampton Inn, Santa Fe South. It's a short distance from some of the hot springs, too.
You May Also Like: The Best Hot Springs Near Santa Fe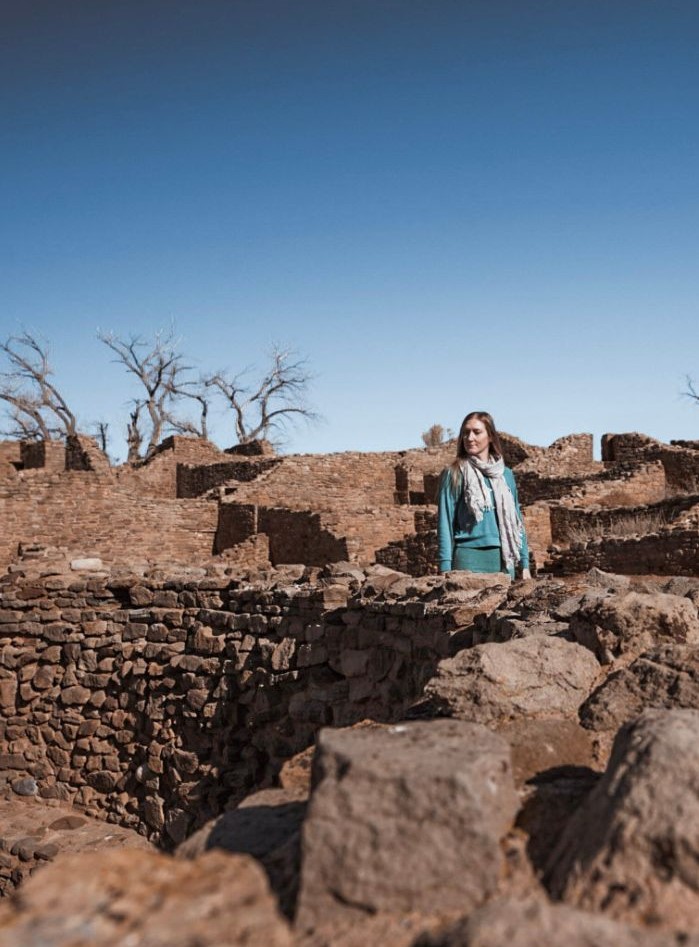 2. Aztec Ruins National Monument
Did you know that you can see ancient Aztec Ruins right in the USA? That's right – you can explore them right here on your New Mexico road trip.
Located in Aztec, New Mexico, this stretch of ancient dwellings is completely free to enter and explore. You will get to see a large expanse of original dwellings built by rock and brick, still mostly standing.
Enjoy ducking between doorways and into large structures. Learn about the grand kivas and catch a glimpse of the past. Read more on how to visit in my guide: Visiting Aztec Ruins National Monument.
Where to stay:
Aztec, New Mexico is a small town. Your best bet is to stay at the Aztec Comfort Inn & Suites. It is clean, comfortable, and has great wifi!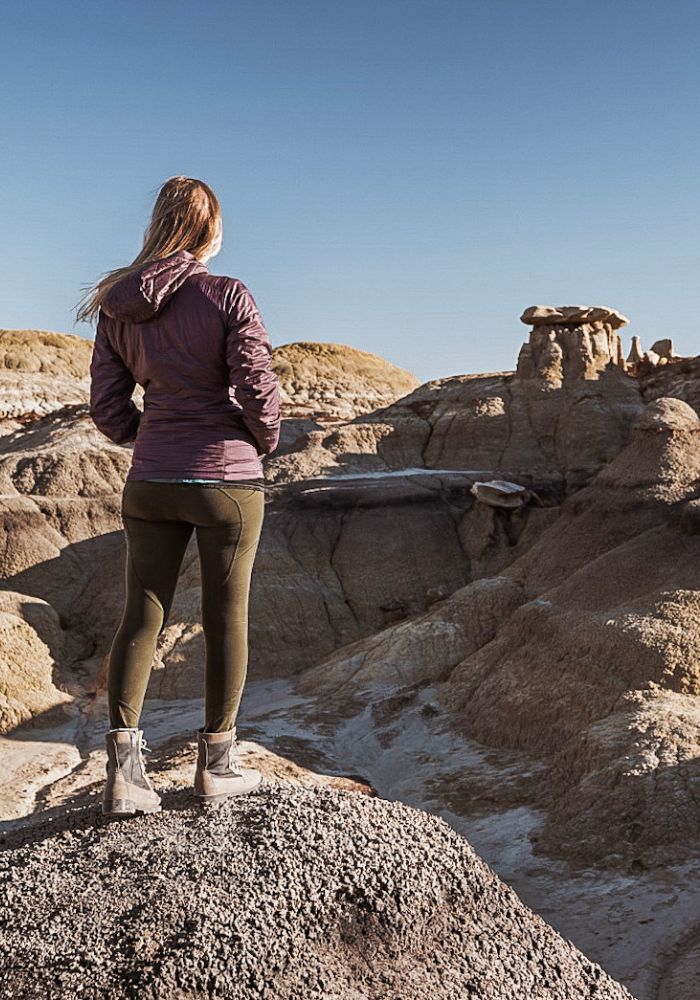 3. The Bisti Badlands / De Na Zin Wilderness
The Bisti Badlands was one of the sight that inspired my most recent road trip in New Mexico. I simply couldn't comprehend the images of these strange rock formations and needed to see them for myself!
This 45,000 acre wilderness area is wild. Picture a rolling landscape of badlands with oddly shaped sandstone rocks protruding from the floor.
The Bisti Badlands holds some of the most unusual scenery found not only in New Mexico, but in the entire United States. It is one of the most otherworldly places on the planet, for sure.
Hike through structures made from tan sandstone, black shale, purple magnesium and orange silt. I was simply amazed by the hoodoos – or, weathered rocks shaped into pinnacles and spires, and other unusual forms.
Be aware that the Bisti De Na Zin Wilderness Area is not for beginner hikers. Google Maps does not accurately portray where many of the sights are, and you can easily get turned around in this wild landscape. I spent several days exploring this wilderness and feel like I barely scratched the surface!
Where to stay:
You could absolutely drive here from the very same Comfort Inn & Suites in Aztec, mentioned above. I chose to do that and spend 2 nights in the same place. Or, if you would rather be based in Farmington, the Silver River Adobe Inn is very conveniently located.
You May Also Like: Desert Wear and Hiking Essentials for the American Southwest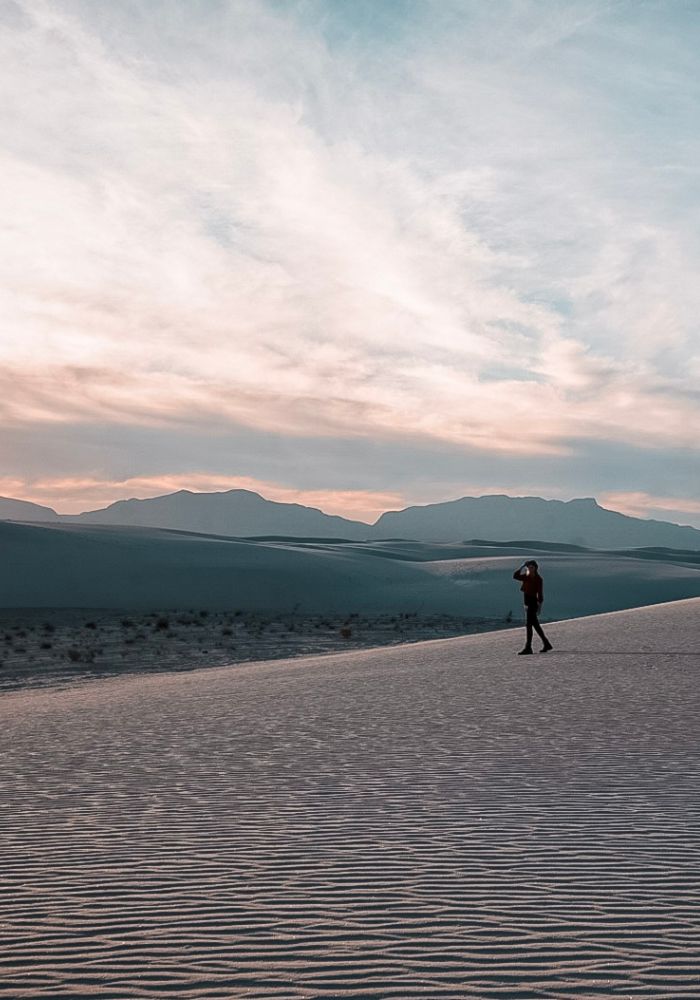 4. White Sands National Park
White Sands National Park is another beautiful natural sight in New Mexico.
Hands down, White Sands National Park is one of the most unique deserts in the American Southwest. The stark white gypsum sand dunes rise up from the brown earth, like a mirage.
Walking out into the sea of sand dunes is like stepping out onto hills of snow – minus the below freezing temperatures. The tall peaks stretch out into the distance, towards the rugged mountainous backdrop.
I've been to many deserts, and this is one of the most visually stunning on earth. To find out more about visiting, check out my White Sands National Park Guide.
Where to stay:
I chose to stay at the Hampton Inn Alamogordo because it is only about 20 minutes from the White Sands National Park entrance. That's about as close as you can get in a comfortable hotel.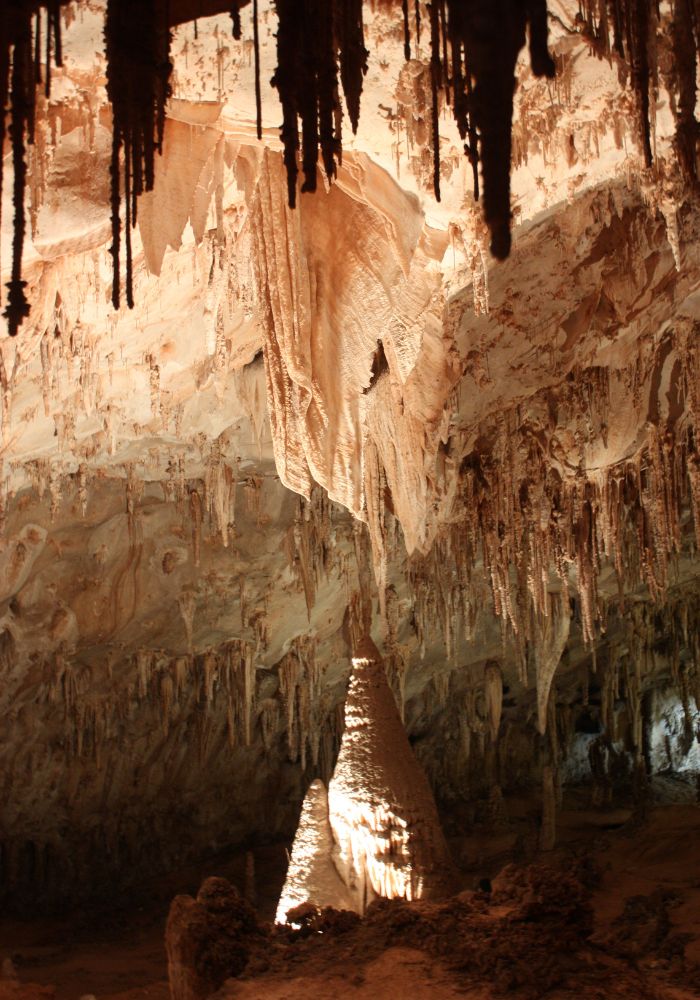 5. Carlsbad Caverns National Park
Costs: $15/person or free for 4 people with the America the Beautiful Pass.
Carlsbad Caverns National Park is a must see stop on your New Mexico road trip. This park is a series of underground caves and caverns that feel like another world. Roughly 400,000 people visit this park a year, and that many people just can't be wrong!
Visitors can hike into the Natural Entrance via an easy 1.25 mile trail. If hiking is not possible, there is also an elevator that can transport visitors inside, as well.
Sights to see underground include the Big Room, the aptly named Bottomless, Pit, and the Painted Grotto. From Devil's Den, check out Devil's Spring, the Boneyard, and Iceberg Rock.
From May to October, visitors have the chance to witness hundreds of bats fly out of the cave mouth in the evenings. This is called the Bat Flight program, and I highly recommend it!
Where to stay:
If you are anything like me and like to have a kitchen handy when you travel, my top choice for accommodations is the Home2 Suites in Carlsbad. You'll be able to save some money and relax in a clean and comfy room.
6. Roswell
You probably know Roswell as the site of the alleged 1947 UFO crash. Well, Roswell has capitalized on that strange history and has become a kitschy town full of alien-themed cafes, museums, and stores.
I've been to Roswell a couple of times now, and here is what I recommend for first timers.
Visit the UFO museum to learn about the history of aliens here. This museum costs just $5 to enter.
Grab a photo near the "Welcome to Roswell" sign posted as you drive into the city.
Find the flying saucer shaped McDonalds!
Explore the Roswell Museum and Art Center for art and history of the Southwest. It costs $10 to enter.
Walk the main boulevard to find some unique alien souvenirs and trinkets.
Despite its popularity, Roswell is still very much a small town. Expect everything to be closed on holidays!
Where to stay:
On my last visit, I stayed at the Comfort Suites Roswell. The hotel is located right on the main strip, but a good ways away from the busiest part of town. It also had a pool and hot tub on site. It made for a great base and I wouldn't hesitate to book again!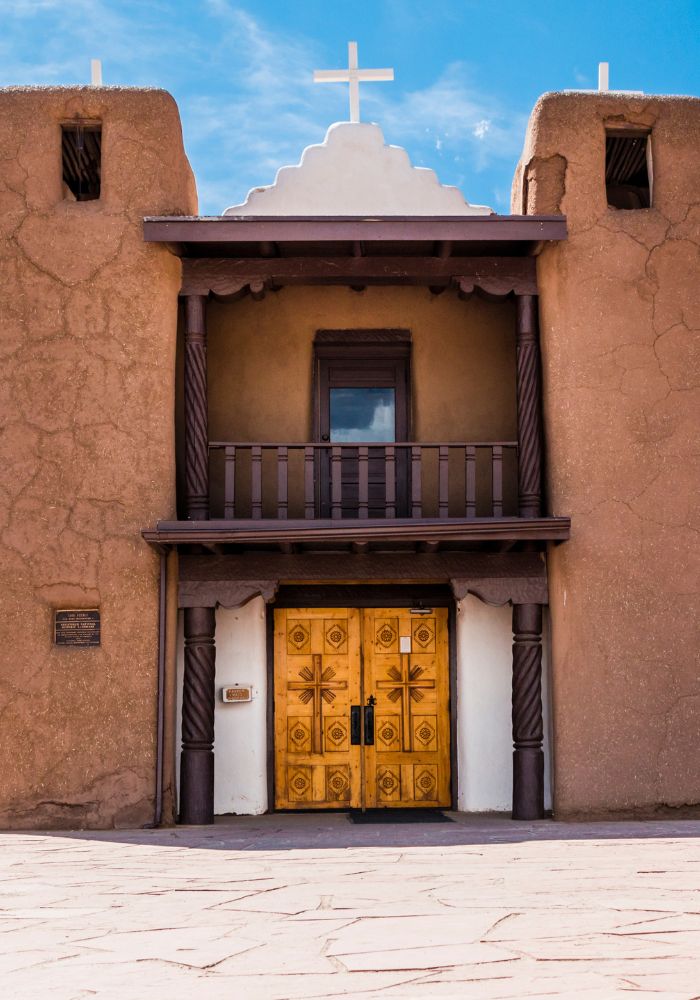 7. Taos
Back up north, I made one more stop on my New Mexico road trip before returning the car back at ABQ and flying back home: the fun town of Taos, New Mexico.
Situated near the Rocky Mountains, Taos offers stunning landscapes and outdoor activities. Taos has plenty of options – from hiking through the beautiful Sangre de Christo mountains to exploring local rivers (and more hot springs.)
The artsy town sells unique handcrafted goods by local artisans like pottery, jewelry and clothing. It's definitely worth visiting their open-air markets!
To top it all off, there are delicious eateries in Taos where you can find delicious Southwestern-inspired creations. From cozy cafes to family owned restaurants serving up traditional new Mexican fare, there's something for every taste bud in Taos.
Where to stay:
The Dreamcatcher B&B is the absolute best! It is decorated in an artsy style, and is just a 10 minute walk from Downtown Historic Taos. It is an excellent home base to explore the city.
Where To Go Next
If you are visiting New Mexico as part of a larger road trip, I highly recommend exploring more of the Southwest. My California to Arizona road trip itinerary stops in both of those states as well as Nevada.
If New Mexico's nature has you as inspired as I am, then I have some other nature-suggestions for you. Explore Joshua Tree National Park if you are into those otherworldly landscapes. Or, Valley of Fire State Park for unbelievable views.
Want to stay in New Mexico? Get my top New Mexico travel guides below.
FAQs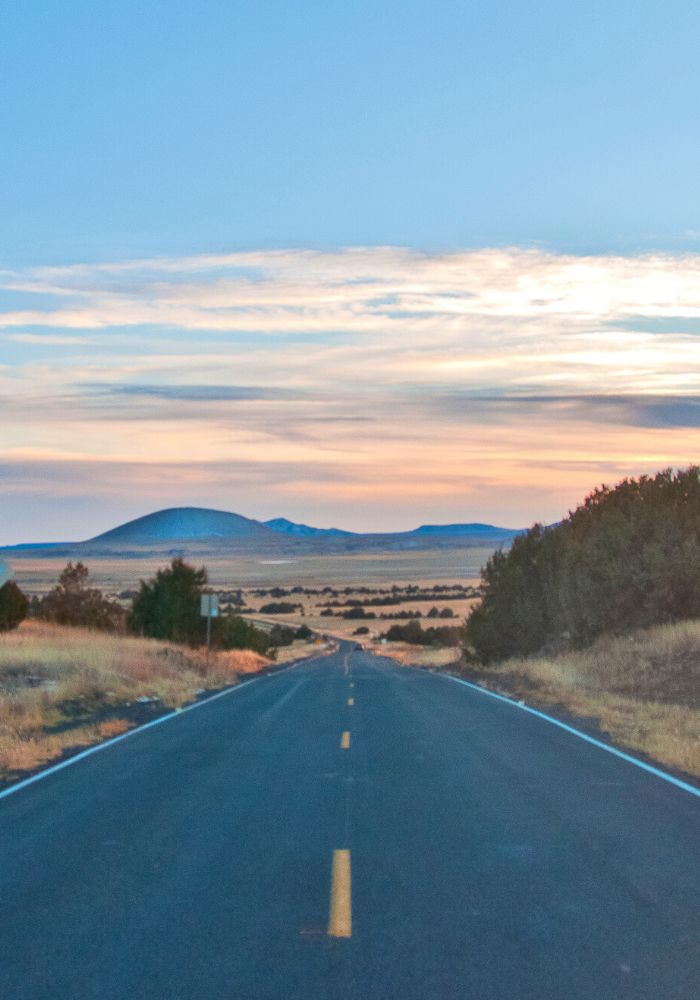 Is New Mexico worth visiting?
Yes! You'll find everything from ancient ancestral dwellings to amazing art installations in the must-visit state. With more cows and sheep than people, New Mexico has one of America's most pristinely diverse landscapes, from white sands and red rocks to soaring mountains and wildflower fields.
How long should I spend in New Mexico?
This New Mexico itinerary can be completed in as little as one week, but I recommend visiting for at least 10 days if you can. That way, you are not constantly in the car and have more than one day to zip from sight to sight.
Also, you are bound to like some sights on this New Mexico itinerary more than others, and more time will allow you to explore those sights fully.
What is New Mexico best known for?
New Mexico is known for its stunning desert landscapes. From the Carlsbad Caverns caves to the rolling white dunes, to the alien themed town of Roswell, there's something here for everyone.
***
And that wraps up my top seven can't miss stops on the best New Mexico road trip itinerary. Here you will explore nature, hot springs, rock formations, go underground, and even see ancient ruins.
Let me know below – which stop are you most excited to see?
Pin Me for Later!