Here is everything you need to know about visiting Aztec Ruins National Monument in New Mexico. From history to prices to location, it's all here.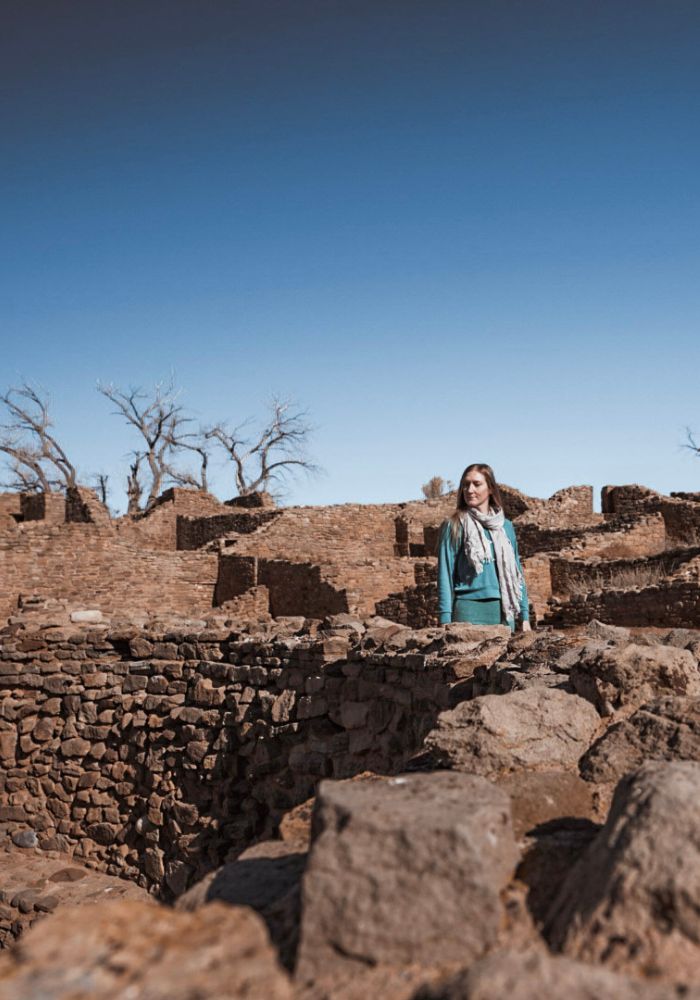 Located in the beautiful city of Aztec, New Mexico, Aztec Ruins National Monument is an archaeological site that offers a glimpse of the past. This under the radar national monument features the 900-year old ruins of an Ancestral Pueblo Great House community.
Visitors can explore the Aztec ruins, enjoy a half-mile walk throughout the grounds, and discover how these ancient people built their homes in the desert. Here we will talk about what to expect on your visit to Aztec Ruins National Monument!
You May Also Like: Things To Do in White Sands National Park
Everything You Need to Know About Visiting Aztec Ruins National Monument
Where is Aztec Ruins National Monument?
This ancient site is located in the small town of Aztec, New Mexico. Aztec sits in the northwest corner of the state, near the Bisti Badlands and Four Corners areas.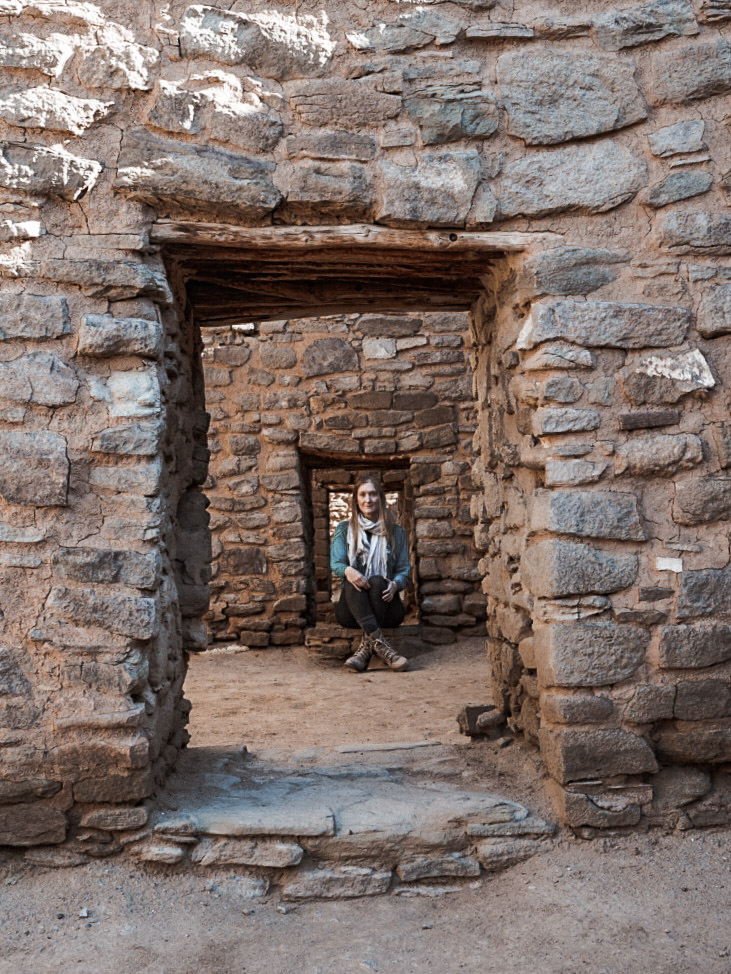 A Brief History of Aztec Ruins National Monument
Built and occupied over 900 years ago, Aztec Ruins National Monument is the largest Ancestral Pueblo community in the Animas River Valley. It remained in use for over 200 years, and was built between 850 and 1150 AD.
This site contains several multi-story stone buildings called "great houses." Each of them has a "great kiva"— or, a circular ceremonial chamber. In fact, one kiva has been fully restored so that visitors can get a sense of what this looked like when fully intact.
Excavation of Aztec Ruins National Monument uncovered thousands of artifacts that give us a glimpse into the life of Ancestral Pueblo people. These were unearthed as recently as the 1990s.
Visitors will discover the fascinating history of the people who lived here centuries ago while viewing their homes in real time. This archaeological wonder has been preserved for generations to explore and appreciate.
You May Also Like: The Best Hot Springs Near Santa Fe, NM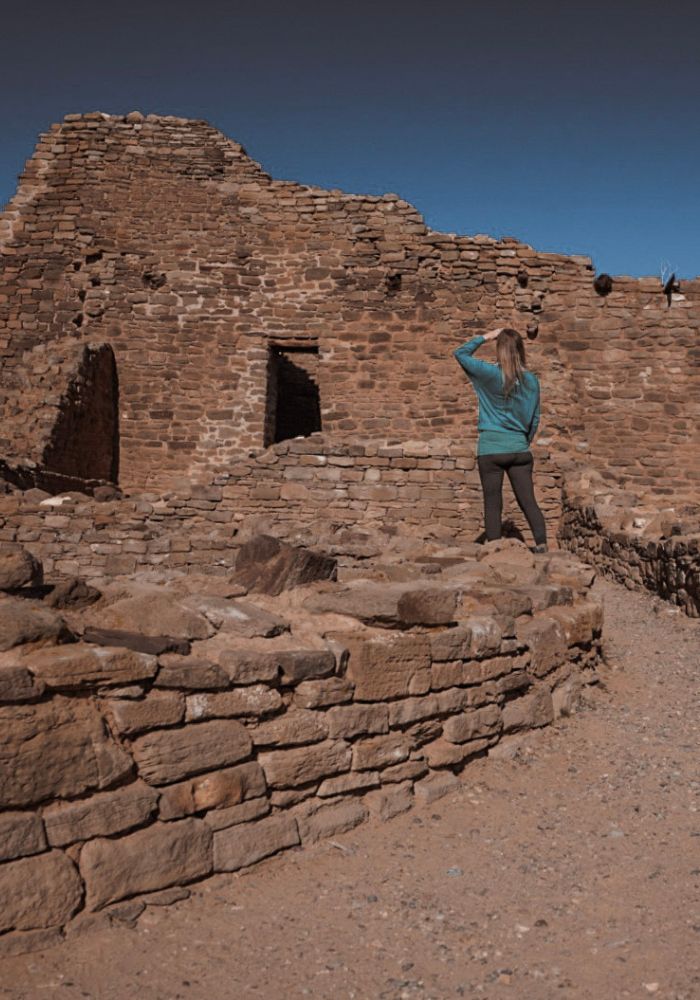 Can I tour the Aztec Ruins?
Visitors can learn more about the ruins from a free self-guided audio tour given via QR code at the Visitors Center (which I highly recommend!) The ruins allow guests to walk through plazas, ceremonial chambers, kivas, and many other structures built by Ancestral Puebloans many years ago.
A short trail winds through this impressive site, meandering between the structures for an up-close experience. View the original stone roofs, walls, corner doors, and more to get a feel for what it was like to live here.
The trail ends at the reconstructed great kiva, mentioned above.
Guests also have the opportunity to learn more about this culture during special exhibits within the visitor center.
You May Also Like: Albuquerque to Santa Fe Road Trip Things to See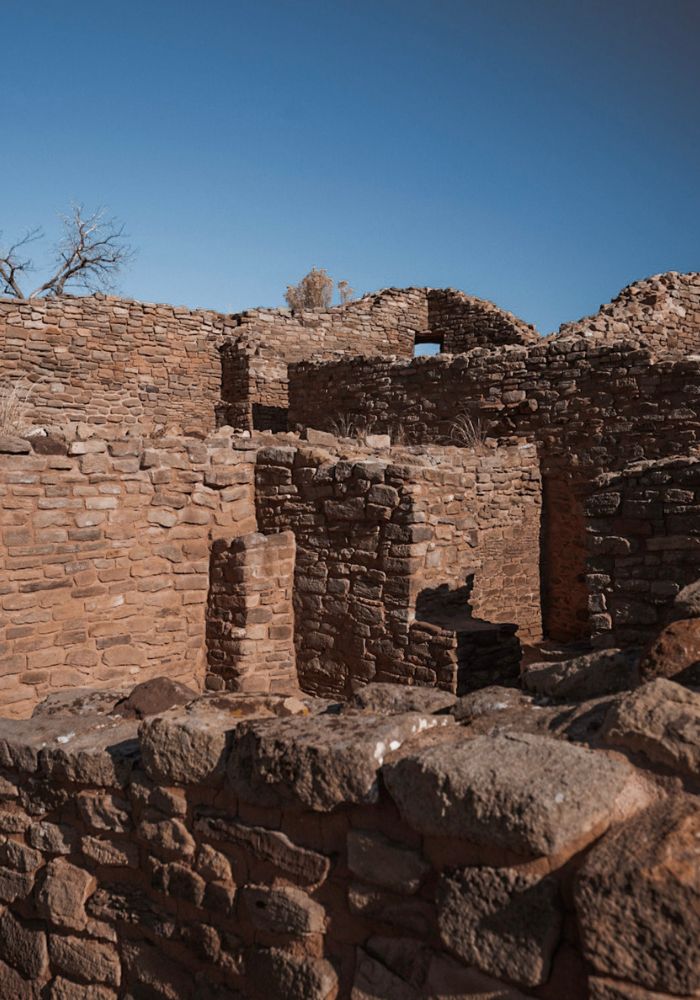 How much does Aztec Ruins National Monument cost to enter?
It is free! There is no fee to visit Aztec Ruins National Monument.
What are the opening hours of Aztec Ruins National Monument?
The hours change seasonally. Check the yearly updates here.
Generally, from October – May the hours are from 9am – 5pm.
From June – September, they are open from 8am – 6pm.
Where To Go Next?
Since you are already in the area, I highly recommend exploring the Bisti Badlands. This is one of the most beautiful and rugged locations n all of New Mexico. I enjoyed hiking and photographing the incredible rock formations here.
Head south to see the beautiful White Sands National Park. The endless white dunes look almost otherworldly!
***
Aztec Ruins is a lesser-known but well-deserved stop on any New Mexico itinerary. Easy to visit in about one hour, it's a great spot to stretch our legs and discover the past.
Have you been here? Would you go? Let me know below!
Pin Me for Later!