Here is a list of the best hot springs near Santa Fe, New Mexico. Whether you want natural springs or a hot springs resort, Santa Fe has it all. Better yet, each of these eight hot springs are less than 100 miles from Santa Fe. Let's dive in!
Pin Me for Later!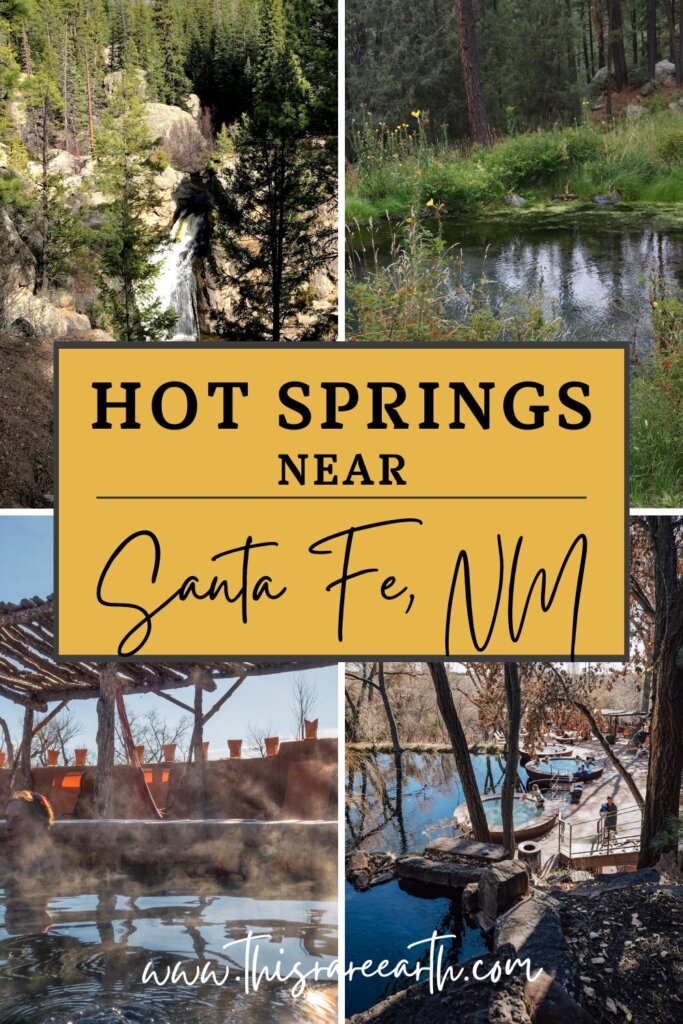 Santa Fe has it all.
Widely known for the arts and its eclectic hippie vibe, Santa Fe also has ornate churches and chapels, delicious food, and loads of scenic hiking trails. On my last visit, I also discovered some of the best hot springs near Santa Fe… and I was blown away.
Some of Santa Fe's hot springs are minutes away and other require a bit of a drive. But, you can easily visit some very pretty soaking spots if you are staying in or passing through Santa Fe.
Hot springs typically contain minerals like sulfur, magnesium, and potassium, and sodium, which are said to have healing properties. If you have aches or muscle pain, try a hot spring soak Want smoother skin Try a hot spring soak. And the best part? The benefits are said to stay with you long afterwards.
If you are on a New Mexico road trip and plan to pass through Santa Fe, a hot spring is never too far. Here are the best hot springs near Santa Fe, from closest to farthest.
The Best Hot Springs Near Santa Fe, New Mexico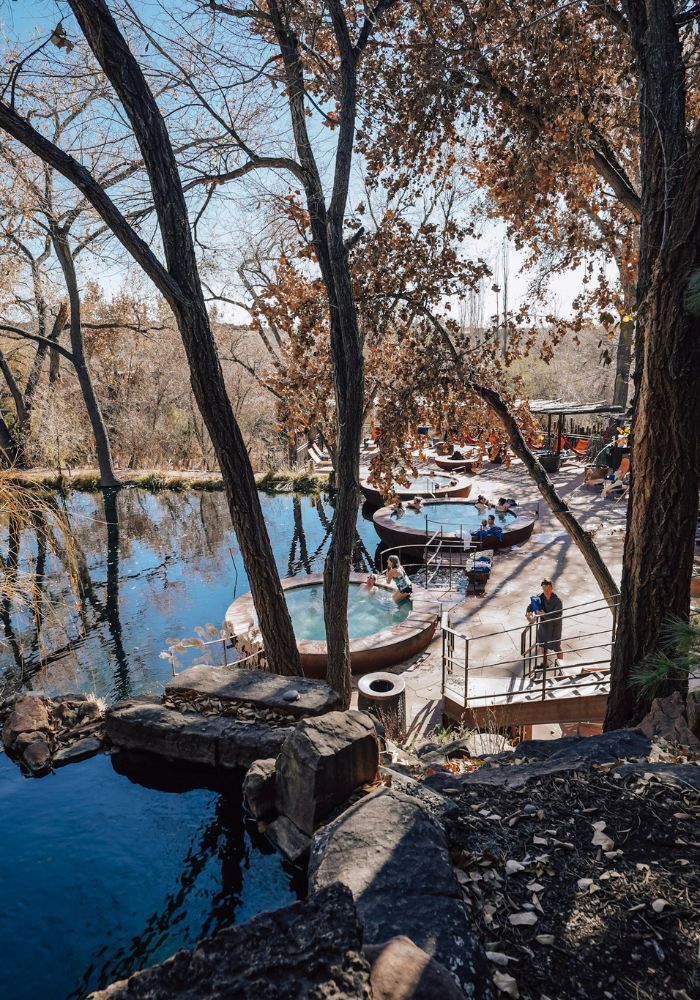 1. Ojo Santa Fe Spa Resort (15 miles)
I spent my birthday soaking in the beautiful springs at Ojo Santa Fe. And – spoiler alert – it was incredible.
As the closest hot spring to Santa Fe, Ojo Santa Fe is a solid choice. It is set somewhat in the "middle of nowhere" and as you soak, you get to enjoy the serenity of wild trees and a picturesque lake. The main area has multiple hot pools to choose from, and nearby is a saltwater pool and an aromatherapy sauna room.
Those who want to soak privately can book one of the private pools. But, I wouldn't recommend it. You don't get the same nature feel there. Services like massages and hot oil treatments can also be booked.
Ojo also has a small coffee shop and café and a full service restaurant called the Blue Heron. The food was delicious.
Anyone who wants to spend more than one day soaking here, you can choose to stay overnight. If you have the time, definitely do it! The cost includes all of the pools outside, as well as Guest Only soaking areas, too.
2. Ojo Caliente Mineral Springs Resort & Spa (50 miles)
Part of the Ojo family as well, Ojo Caliente is your next closest option. Ojo Caliente is a bit different than Ojo Santa Fe.
Here guests have seven different pools to choose from, each having its own theme. The Lithia Pool is said to relieve depression. The Soda Pool helps with indigestion. The Iron Pool is said to improve circulation. And, the Arsenic Pool combines all of the above.
Here, guests can also enjoy a mud pool, for beautiful skin, or a large soaking pool big enough for a swim.
Ojo Caliente offers rooms for overnight guests, and again, I highly recommend this option. Opt for anything from a cliffside suite to a vintage trailer. And again, you will find multiple dining options on site and luxurious spa treatments like hot stone massages.
3. McCauley Warm Springs (63 miles)
Our first completely natural hot spring on the list, the McCauley Warm Springs is a popular primitive hot spring accessible from a 3.5 mile hike (total hike roundtrip.)
The pretty hike offers spectacular views of Battleship Rock in the distance. If you want to plan a day of hiking and soaking, these are the hot springs for you.
Here you will find two extra large natural pools that can hold up to 20 people at a time. It does get crowded here, though, so come early if you want a good spot. Also be aware that while these hot springs are not supposed to be "clothing optional" you may run into that.
Lastly, this spot is correctly called "warm springs" rather than hot springs, as the temperature neve reaches 100 degrees. Instead, it typically sits between 90 and 95°F.
You May Also Like: Things To Do in White Sands National Park
4. Montezuma Hot Springs (71 miles)
A little bit over an hour outside of Santa Fe, the Montezuma Hot Springs are known as "the lobster pot" by locals. As you have probably guessed, that is because they get hot. As in, 120 degrees F hot.
Though a bit underwhelming in comparison to the Ojo Resorts, Montezuma is worth a stop if you are passing through.
This grouping of 20 or so thermal springs are set in the Montezuma unincorporated community of San Miguel County. These hot springs were once used by Native Americans to heal injuries, so the belief that hot springs are beneficial to our bodies dates way back.
The Montezuma Hotel was built in the 1890s and is currently reserved for the Armand Hammer United World College of the American West. Note that the hot springs themselves are free and open to the public.
You May Also Like: Albuquerque to Santa Fe Road Trip Things To See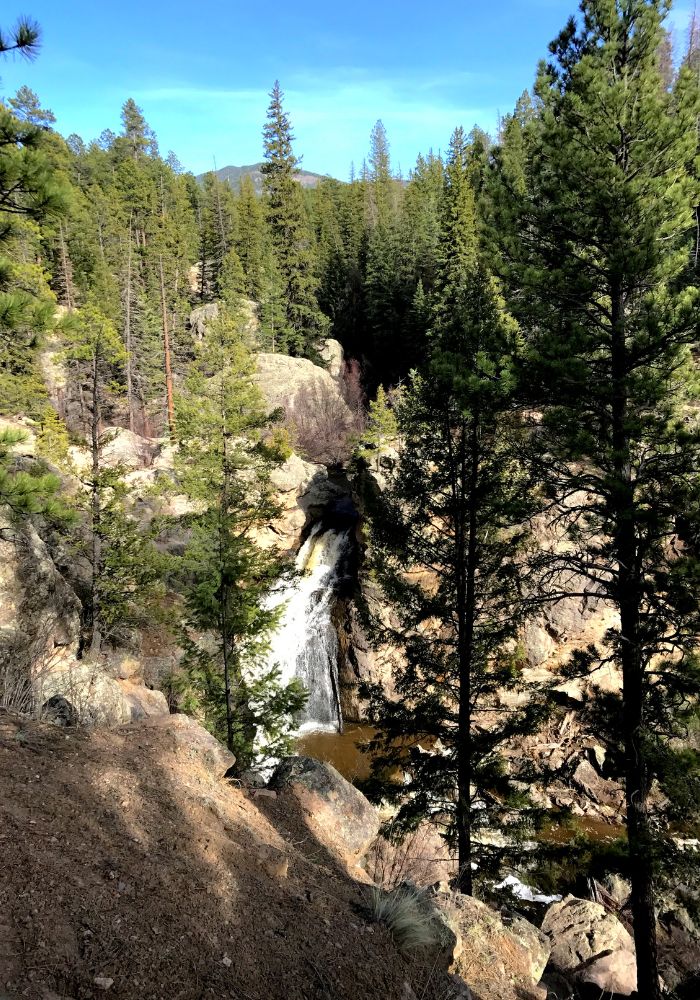 5. Jemez Hot Springs – formerly known as Giggling Hot Springs (71 miles)
The therapeutic waters within the Jemez Hot Springs pools flow from the Valles Caldera National Preserve in the mountains. It is a popular spot for anyone seeking healing spring waters in a gorgeous setting.
Jemez Hot Springs features four different soaking pools: The Reflecting Pool, the Inner Peace Pool, the Meditation Pool, and the Fountain of Youth Pool. Each has a varied temperatures between 98-105 degrees and built-in seating.
Regardless of which pool you decide to enjoy, you will experience steamy temperatures ranging from 98°F to 105°F. The pools are filled with ancient seawater, offering a mineral-rich venture for guests.
This site offers three lodging options as well, which is always the best choice after soaking and relaxing. Book the Turquoise Trail Cottage, Red Mesa Cabin, and Adobe Cabin to slip into a deep sleep after your day.
6. Jemez Springs Bath House (71 miles)
Not to be confused with the Jemez Hot Springs above, the Jemez Spring Bath House has quite the history.
It was one of the first structures to be built in the area, between 1870 and 1878. The Bath House was operated by several different families before being given to Catholic priests. Later, they sold the site to the Village of Jemez Springs as recently as 1961.
This non-profit bathhouse gives all proceeds back to the Village. There are eight cement oversized tubs filled with 100% mineral water which can be as hot or cold as you prefer. I'll give you one guess which temperature I choose.
Jemez Springs Bath House has masseuses on site, so you can book spa treatments and massages too. Love the products they use? Fee free to purchase some in the gift shop. Reservations are not required, but consider booking ahead on weekends and holidays.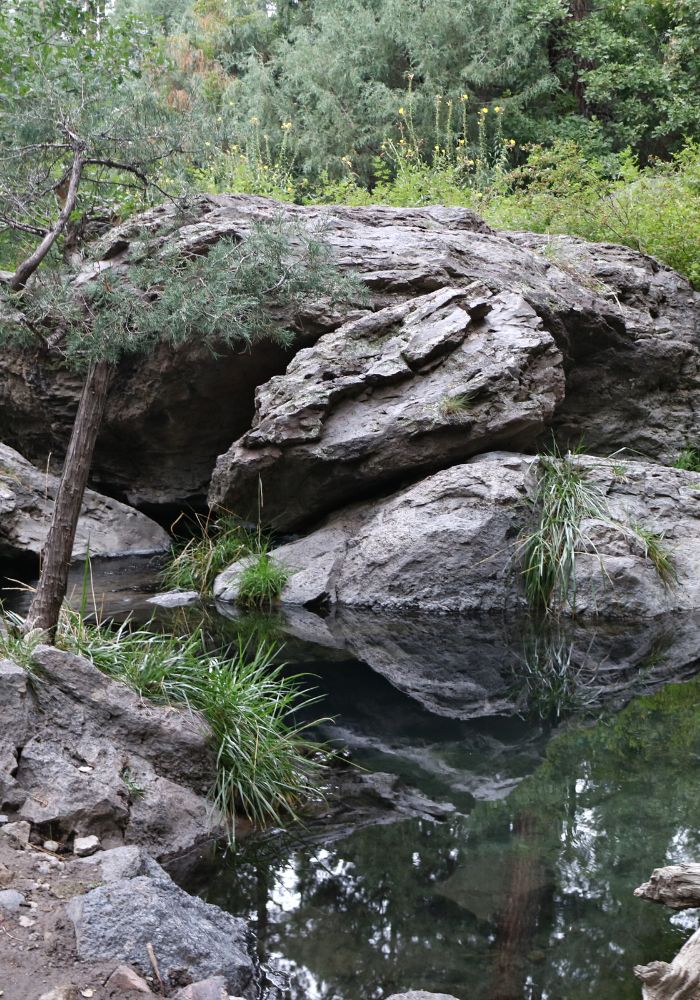 7. San Antonio Hot Springs (71 miles)
The San Antonio Hot Springs sit at the end of an easy half-mile hike in the mountains of New Mexico. Upon arriving, you will have multiple pool options with varying temperatures to choose from!
These picturesque springs are some of my favorite, especially if you get them all to yourself. It is super peaceful to be surrounded by the greenery and sounds of wildlife while you soak.
If you want to stay overnight, the San Antonio Campground is just a few miles away.
8. Black Rock Hot Springs (83 miles)
Our last completely natural set of hot springs near Santa Fe is known as Black Rock Hot Springs. They are located at the end of a short 0.3 mile hike in Arroyo Hondo, NM – roughly 30 minutes outside of Taos.
These primitive rocky pools sit along the Rio Grande River and the drive to get here can be quite pretty.
Black Rock Hot Springs consists of two pools of varying temperatures, somewhere in the realm of 97°F to 102°F. Be sure to bring snacks, water, and towels as there are no facilities here. I also recommend a good pair of trekking sandals to reach the pools safely.
Where To Go Next
Anytime you are in New Mexico, you need to visit White Sands National Park. It is hands down one of the most picturesque spots in the state.
Heading north? Don't miss the wild and rugged Bisti Badlands. This area blew me away!
Or, check out the Aztec Ruins National Monument to learn a bit about Native American history in this area.
***
There are so many beautiful hot springs near Santa Fe that can all be reached in less than 100 miles. Whether you're looking for a completely natural setting outdoors or prefer a more curated hot springs resort, you can find it here.
Let me know which one you'll be visiting first!
Pin Me for Later!