Here are the best things to do in White Sands National Park in New Mexico. From hiking to sandboarding to photography, this White Sands travel guide will take you to all the best spots! Read on for the best places to see in this White Sands National Park travel guide.
Pin Me for Later!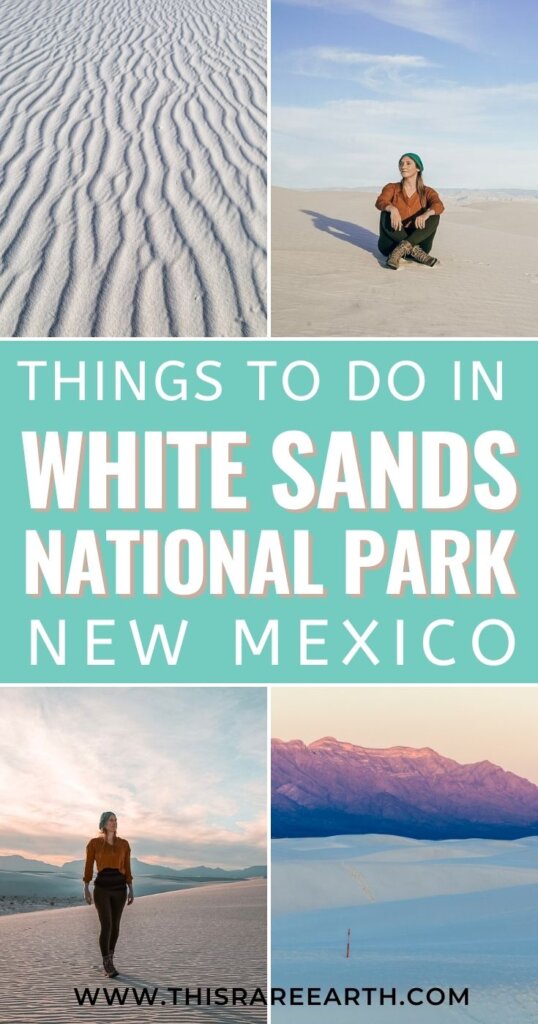 White Sands National Park is one of the most unique deserts in the American Southwest. The stark white gypsum sand dunes rise up from the brown earth, like a mirage.
Walking out into the sea of sand dunes is like stepping out onto hills of snow – minus the below freezing temperatures. The peaks stretch out into the distance, stretching towards the purple mountainous backdrop.
I've been to many deserts, and this is one of the most visually stunning on earth.
Here is what to expect on your first visit to White Sands National Park. These are the best trails to hike and things to see at White Sands.
Visiting White Sands National Park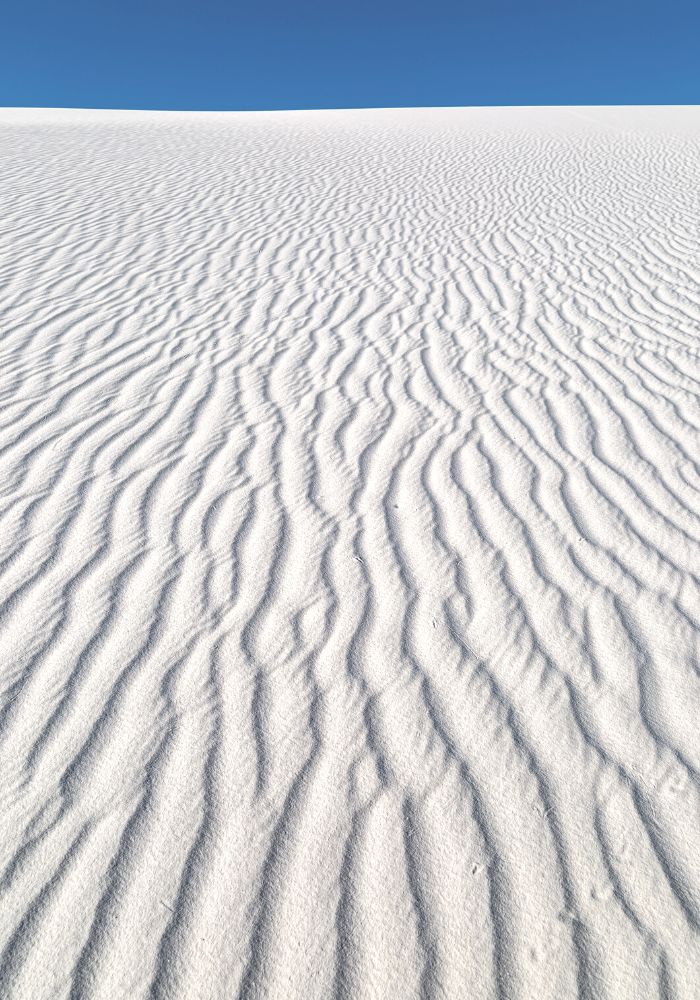 Is White Sands actually sand?
Millions of years ago, this area of southern New Mexico was once covered by ocean. When the sea dried up, it left behind layers of gypsum crystals, a soft white and clear mineral.
Over time, wind and water have slowly eroded the gypsum deposits in the area, creating the awe-inspiring white sands dunes that we see today. The park is located in the Chihuahuan Desert of New Mexico, and it encompasses the largest gypsum dune-field in the world.
The gypsum sand dunes span over 275 square miles of the Chihuahuan desert, and White Sands National Park protects over half of these dunes.
White Sands was originally named a National Monument in 1933. It was then re-designated a National Park in 2019, making it one of the newest national parks in the USA.
Is White Sands National Park worth visiting?
To that I give a whole-hearted YES.
White Sands is not the kind of place that you need several days to explore, like I would recommend for Joshua Tree or Sequoia National Park. In fact, you can see a lot in just one day at White Sands National Park.
The best way to experience the dunes is to go hiking or take a scenic drive through the park. However, there are also plenty of other things to do in White Sands National Park, such as visiting the on-site museum or sandboarding down the steep slopes.
Keep reading for the complete list of White Sands things to do. No matter how you choose to spend your time at White Sands National Park, it will be unforgettable.
You May Also Like: The Best National Parks in the Southwestern USA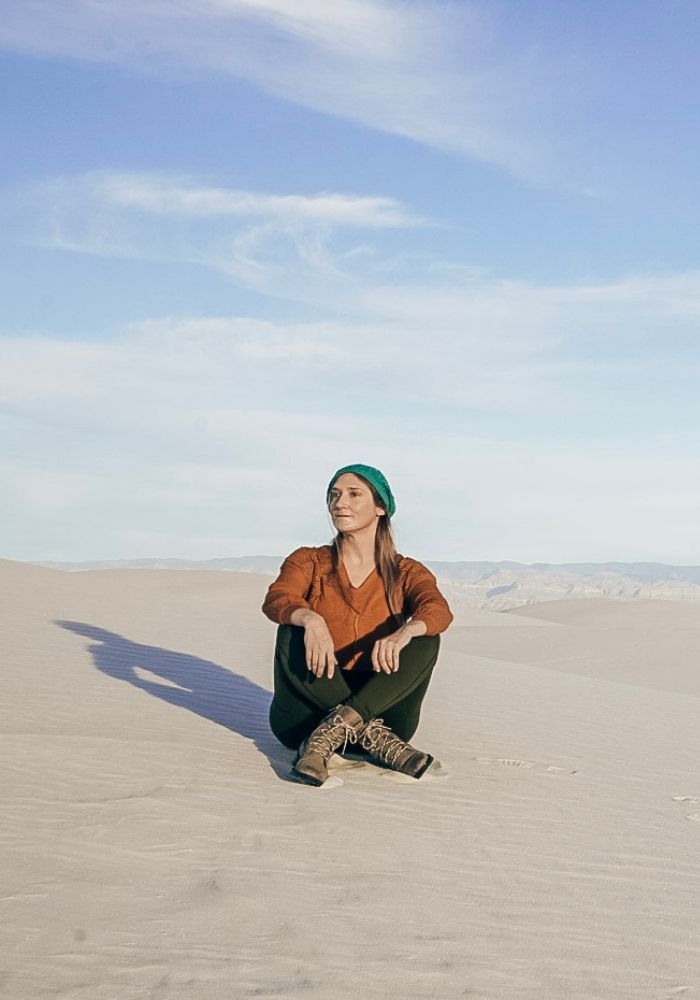 Where Is White Sands National Park?
White Sands National Park is located in southern New Mexico and stretches across 227.8 square miles of land.
Albuquerque and Santa Fe are roughly 3.5 hours and 4.5 hours north of White Sands, respectively. If you are on a New Mexico road trip from Albuquerque or Santa Fe, be sure to add White Sands to your itinerary!
How to get to White Sands National Park
The national park is not close to any of New Mexico's major cities, so you will need to rent a car to visit White Sands National Park.
The closest major airports are located in Albuquerque, Tucson, or Phoenix. Let's dive into these options and their distance from the park.
Albuquerque, New Mexico – 3.5 hours / 225 miles. Airport: Albuquerque International Sunport (ABQ).
Tucson, Arizona – 4.5 hours / 327 miles. Airport: Tucson International Airport (TUS).
Phoenix, Arizona – 6.5 hours / 440 miles. Airport: Phoenix Sky Harbor International Airport (PHX).
I have visited White Sands on both a week-long New Mexico road trip as well as a cross-country USA road trip.
Get the best car rental rates here!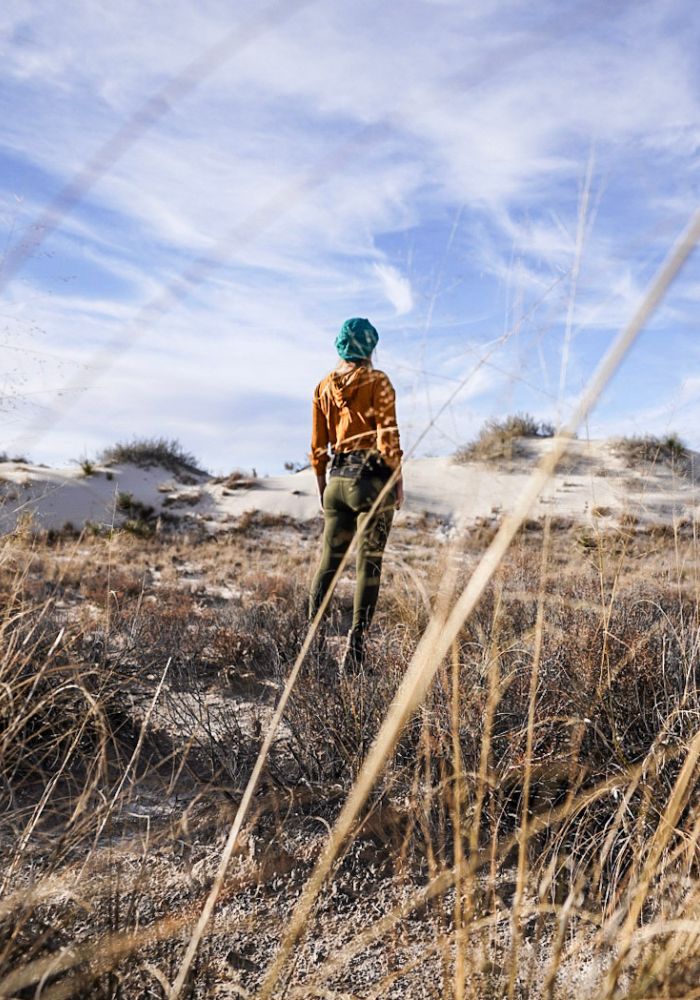 How much is the White Sands National Park entrance fee?
The White Sands national Park entrance fee is $25 per vehicle with up to 4 people. The entrance fee for motorcycles is $20. This will allow you to enter the park as many times as you wish for 7 days from your purchase.
But, if you typically visit a few national parks per year, I highly recommend purchasing the America the Beautiful Pass for $80. Within just a few visits, the pass has paid for itself.
This pass grants entry to over 2,000 federal recreation parks in the United States, and includes all national parks that charge an entrance fee!
(I personally purchase this pass each and every year, and that is what I used for entry into White Sands.)
The Best Things To Do In White Sands National Park
White Sands National Park is one of the most unique and beautiful places in the USA. The glistening white dunes are a sight to behold, and there are plenty of things to do in the park to keep visitors entertained.
Here are the top 10 best things to do in White Sands National Park: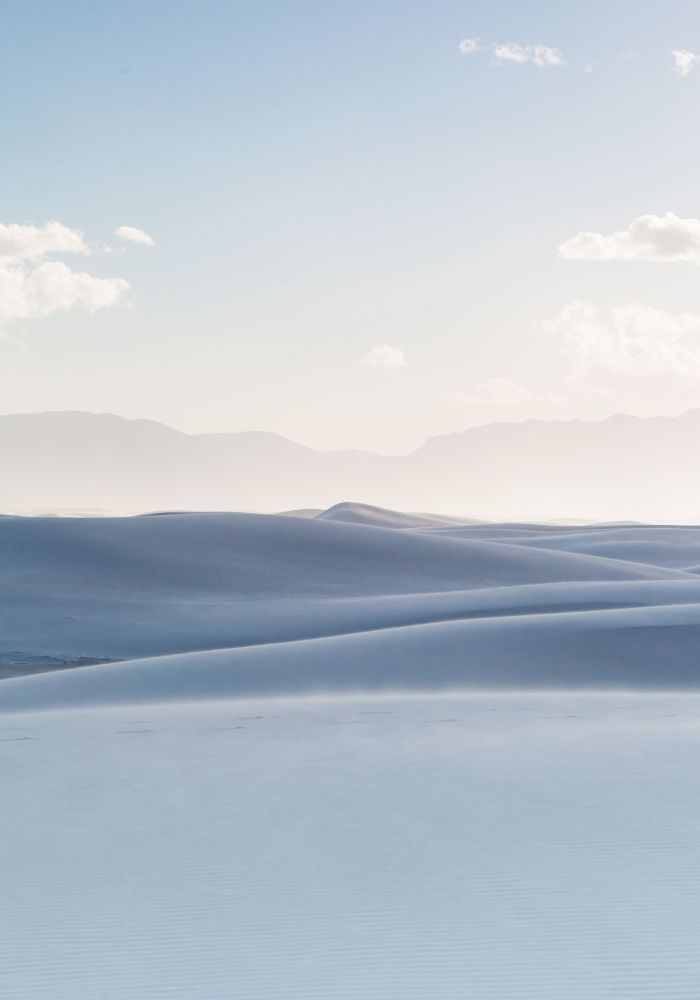 1. Drive the scenic loop.
When you first arrive to the park, I highly recommend taking a drive around the scenic loop. You'll not only get a feel for how few routes there are in the park, but you'll get to scope out all of the pristine white dunes and the parking spots before you commit.
You'll get to see the dunes from the comfort of your car and take a leisurely drive to enjoy the views.
2. Stop at the White Sands National Park Visitor's Center.
Before the kiosk where you pay your entrance fee, you'll notice a large sand-colored building off to the right. This is the White Sands National Park Visitors' Center.
Inside, you can see small exhibits on the park and the famous gypsum fields. You can purchase souvenirs of all kinds, for kids and adults alike.
Note that this is also your only stop to purchase water or snacks within the park. So stock up if you need to – there won't be any other options!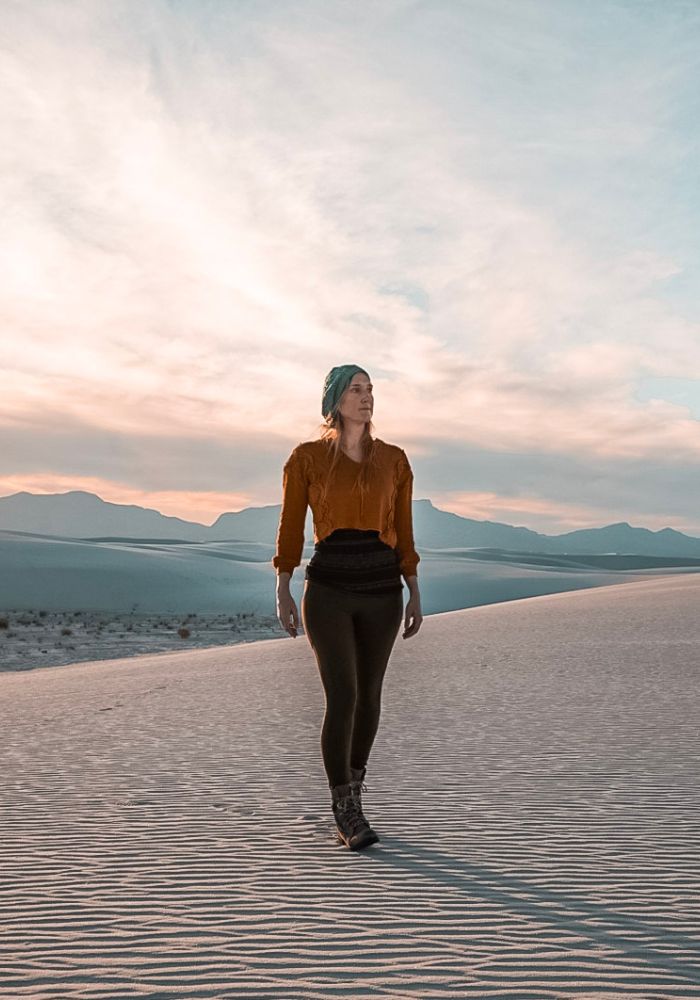 3. Go on a hike.
White Sands National Park is best known for its sparkling white sand dunes. However, the park is home to four hiking trails that wind through the dunes and offer stunning views.
If you have never hiked in the desert – and particularly if you visit White Sands in the summer – you absolutely need to check out my Desert Wear and Hiking Essentials post. Hiking the desert is no joke.
The most popular trail in White sands is easily the Alkali Flat Trail. It is a five-mile loop that takes hikers to the top of the tallest dune in the park. This is also the longest hike in the park.
For and educational experience, walk the short Interdune Boardwalk. Here you will get to read about the plant and animal life within White Sands, as well as learn more about the desert itself.
The Dune Life Nature Trail walks hiker across one mile of land, between dunes that have a bit more vegetation on them than the tallest ones. This is the closest hike to the entrance of the park.
Lastly, the Playa Trail is a short and sweet 1200 foot stretch of desert that is best on hot summer days when you can't venture to far due to the heat.
Regardless of which trail you choose, be sure to bring a hydration backpack (obsessed with mine) and a wide brim hat, as the sun can be quite intense in the desert.
4. Go camping.
Camping in White Sands National Park is an experience that you will never forget. The park offers ample opportunities for stargazing in the pitch dark wilderness, as there is very little light pollution this far into the desert.
White Sands National Park allows backcountry camping between the dunes. No car camping or RV camping is allowed. There are 10 official backcountry campsites in the park that require a 1 mile hike in to get to them.
The campsites are administered on a first-come-first-serve-basis, meaning you cannot book sites ahead of time. Campers must obtain a permit at the visitor center. on their way into the park.
Groups are limited to a maximum of 6 people per campsite and permit. After sunset, it is very easy to get lost in the dark between the dunes. Get more info on backcountry camping here.
5. Sandboard down the dunes.
Without a doubt, you will notice kids and adults alike sandboarding down the tall dunes on the side of the road. Sandboarding is allowed on all dunes, but you'll likely want to find some close to a parking lot.
At the end of Dunes Drive, there are huge parking areas right next to the dunes. These are the most popular sites to go sledding, since you don't have to walk far into the dunes.
If you want to get away from the crowds, head farther into the dune-field. Also, be sure to bring your own sleds to avoid an extra cost.
You May Also Like: Visiting the Bisti Badlands De Na Zin Wilderness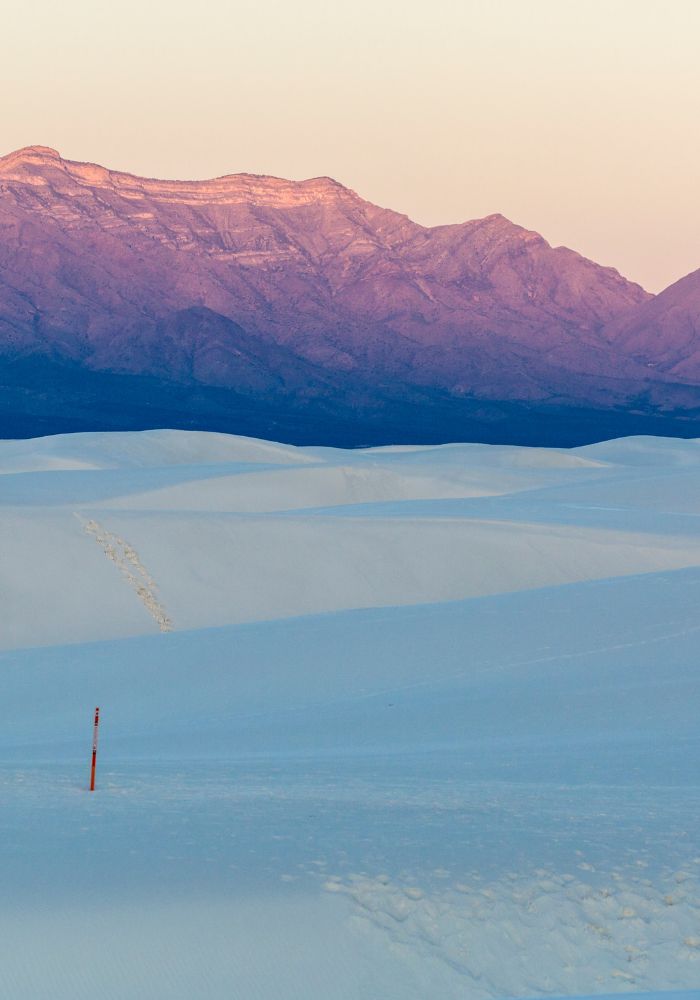 6. Take a ranger-led sunset tour.
If you are visiting White Sands on a Friday, Saturday, or Sunday, you have the opportunity to join a ranger-led Sunset Stroll hike in the park.
On this short one hour stroll, hikers will learn about the geology of the park and the plants and animals that live here. The stroll is timed to end at sunset, so the start time changes following the sunset times throughout the year. Check the tour times here. 
7. Go on a full moon hike.
Luckier still, if you happen to be visiting the park on the night of a full moon, don't miss this hike!
This is your chance to enjoy the peaceful desert environment illuminated by the bright moon. Full moon hikes are offered once a month, April through December, on the night before the full moon. Check the hike times here.
8. Take some photos.
Even if you haven't been here before, I'm sure you can tell that photography is one of my passions. White Sands is hands-down one of the most unique landscapes to photograph in the USA – maybe in the world.
Bring your best camera gear (check my recommendations here) and come ready to shoot!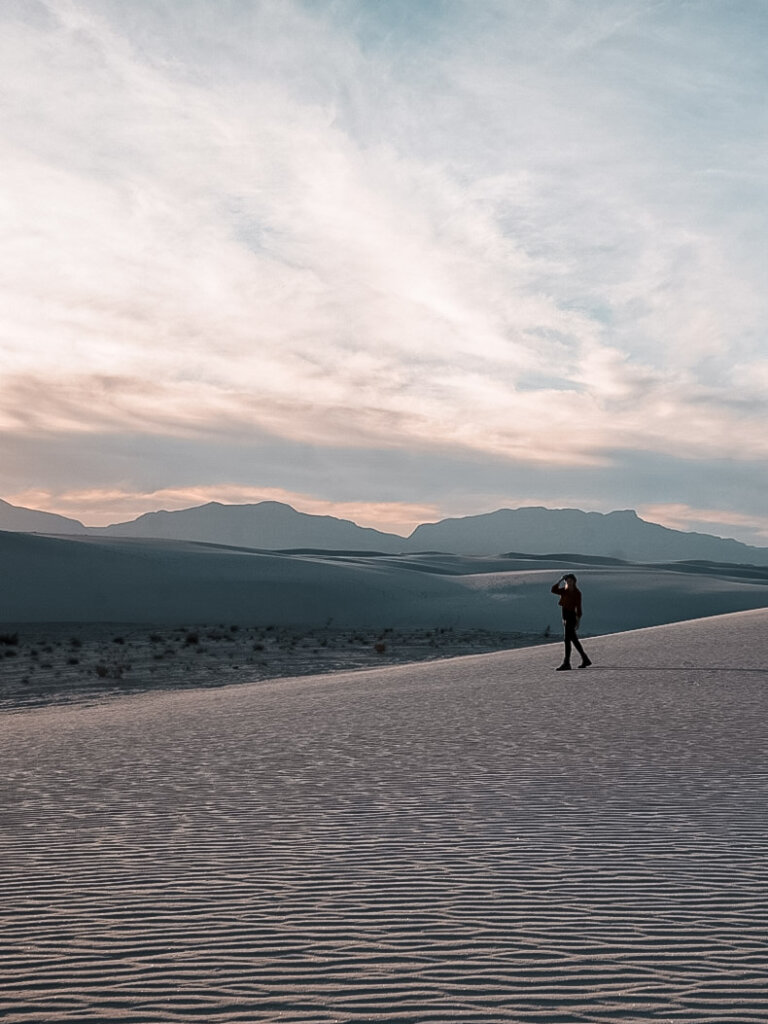 9. Watch a sunset.
In my opinion, the prettiest time in the park is right at sunset. The skies begin to glow a cotton candy pink hue, and the sun burns bright orange and yellow. The reflection on the white dunes and the backdrop of the purple mountains is downright otherworldly.
I saw several couples who planned ahead and brought foldable camping chairs for sunset. They took them out of their cars, set up shop, and watched the beautiful sunset in White Sands. I think next time I might just plan ahead and do the same!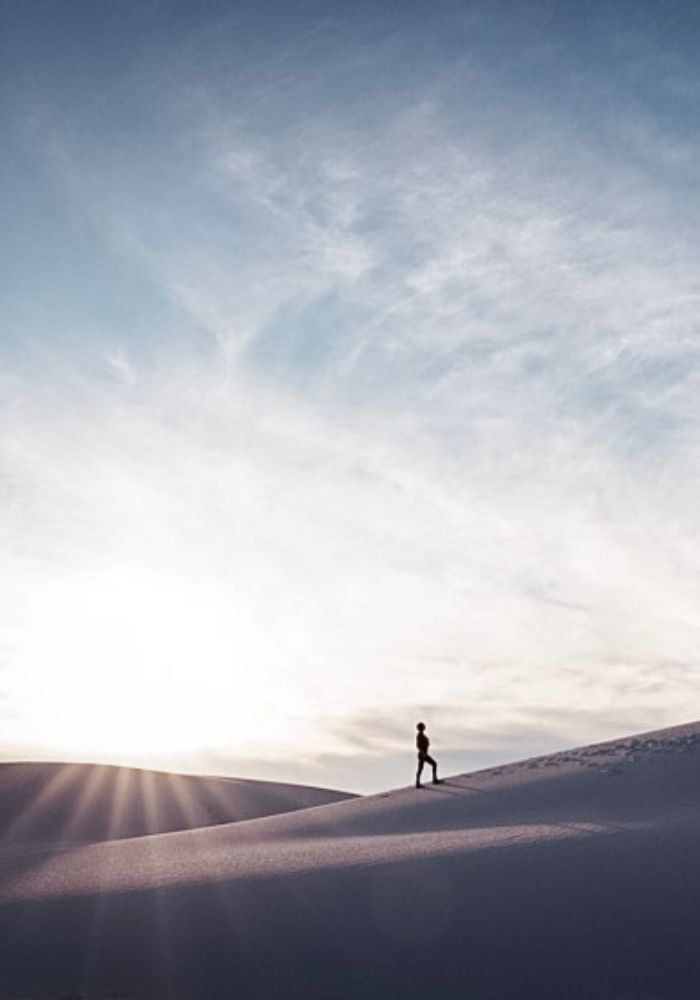 10. Forge our own path.
One of the best things about Whit Sands is that it is never difficult to find some alone time here.
All of the dunes are open for walking – meaning, you do not need to stay on a designated path to explore. It's relatively easy to get out farther than any other humans and have some dunes all to yourself if you are willing to hike a bit.
If you are here near sunset, I highly recommend that you keep track of how long it took you to get to your "spot" because you need to allow enough time to hike back out before darkness falls.
You May Also Like: Albuquerque to Santa Fe Road Trip Things to See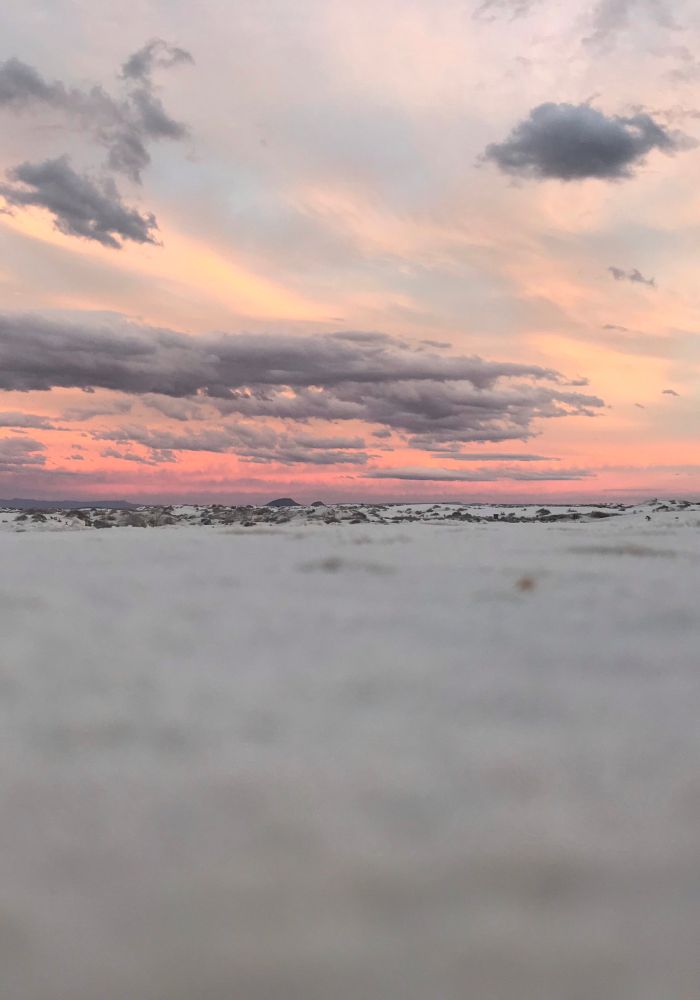 When Is The Best Time To Visit White Sands National Park?
As with any desert, the temperature varies between extreme highs and lows depending on the season.
The best months to visit White Sands are in the fall, winter, and spring months, but if you do come in the summer that's okay, too. You just need to plan ahead with the right desert gear. The summer months (June, July, and August) typically average about 97 degrees.
Note that afternoon thunderstorms are somewhat common from July to September, and the spring months are known for high winds. Feel free to check the current weather conditions before your visit.
What are White Sands National Park's Open Hours?
White Sands National Park is open every day except Christmas.
This is not one of those national parks that is open 24/7. Rather, it opens each day at 7:00am. The closing hours change depending on the sunset, so be sure to check the hours before you head out.
Note that the park also closes occasionally due to missile tests on the military base next door.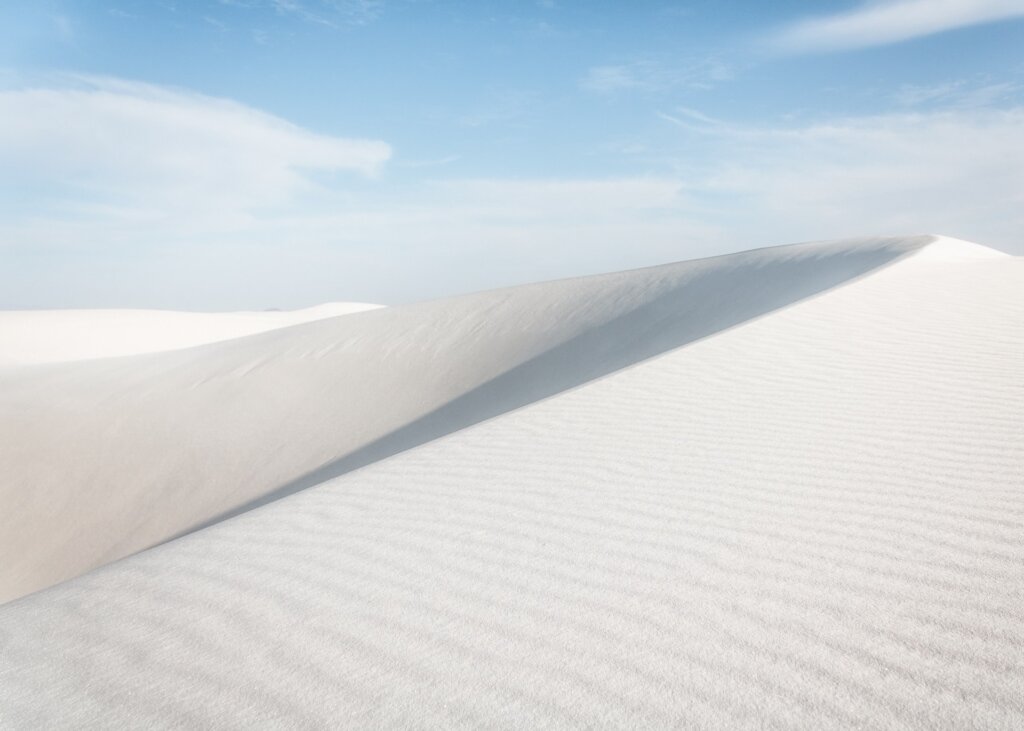 Where To Stay to Visit White Sands
Other than backcountry camping, White Sands National Park offers no lodging on-site. Most visitors stay in one of to towns listed below.
Alamogordo
I chose to stay in Alamogordo because it is only 20 minutes to the White Sands National Park entrance. Here are three reasonable options for easy park access and comfort:
Fairfield Inn & Suites Alamogordo
Holiday Inn Express & Suites Alamogordo
Las Cruces
Las Cruces is situated further south and about 50 minutes away. Here are three reasonable options in Las Cruces:
Courtyard by Marriott Las Cruces
Additional Tips For Visiting White Sands National Park
Remember that occasionally the park is closed due to missile tests at the nearby military base. These can last for several hours. If you only have a short time here, be sure to check the missile schedule.
Bring plenty of sunscreen, a wide-brim hat, and a hydration backpack to stay comfortable.
The only place to purchase water or food inside the park is at the Visitor's Center.
Pack a small camera to get some epic photos of White Sands. I recommend sunrise or sunset for the best lighting on the dunes.
Get ready for your trip and purchase an America The Beautiful Pass to pay for your entrance fee and lasts 1 year to all 2,000 federal recreation sites!
Dogs are allowed in the park but must be on a leash at all times.
Don't leave any trash behind. Practice Leave No Trace.
---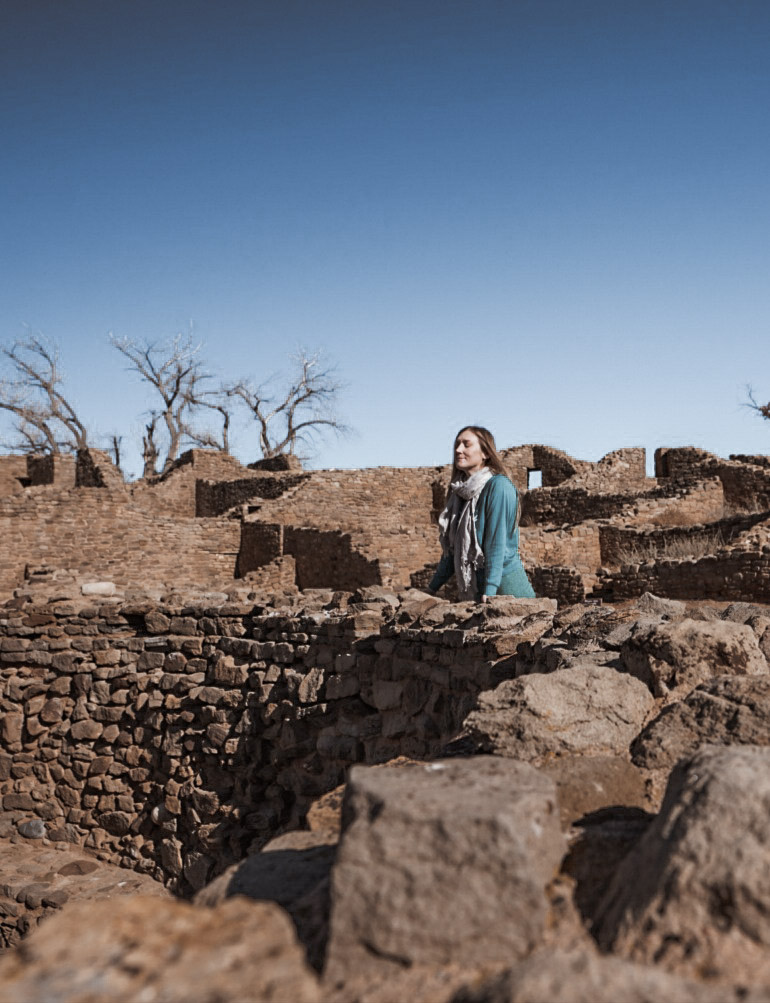 Where to Visit Next
Consider driving up to Santa Fe and check out the Ojo Santa Fe Hot Springs. This is how I spent one of my birthdays and it as simply magical!
What I love about the Santa Fe branch of Ojo is that you are surrounded by forest. It's simply gorgour!
Or, head up to the Aztec Ruins National Monument. This is a quick stop, typically taking under two hours, but it's a cool place to learn about the original constructions still on site here.
Head to Roswell for some alien-themed activities, like the UFO Museum or even an alien tour.
Thanks for reading and let me know what you think of White Sands below!
Pin Me for Later!