Heading out to Sequoia National Park, but not sure what to do? I have got you covered! This complete travel guide to Sequoia National Park will cover when to go, what to see, and everything else you need to know. Let's go!
Pin Me for Later!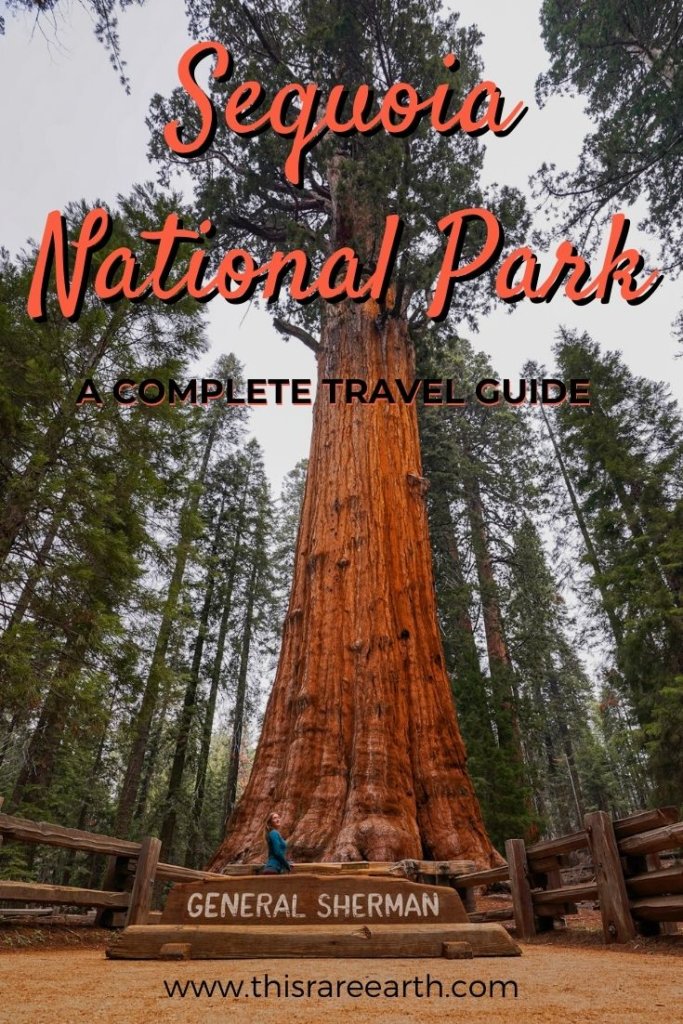 Did you know that Sequoia National Park was the first National Park formed
to protect a living organism?
Yep! The mighty Sequoias were so impressive that in 1890 they received protection from the logging industry. And boy, am I glad they did!
I had been to Sequoia National Park in the past, but recently road-tripped back with my good friend Dana to explore the park a bit deeper. I'm happy to report, Sequoia was just as amazing as I remembered.
Dramatic mountain landscapes lined with the red giants, mysterious foggy mornings, and fiery sunsets are just some of the things you'll see here. Sequoia National Park is a humbling place to visit.
We had an awesome weekend driving, hiking, eating and exploring. Being surrounded by some of the tallest trees in the world just never gets old!
Here is a complete travel guide to Sequoia National Park in case YOU are planning a trip to this mighty forest. (Hint, you totally should! So worth it!)
You May Also Like: Southern California Bucket List Things to Do
A Complete Travel Guide to Sequoia National Park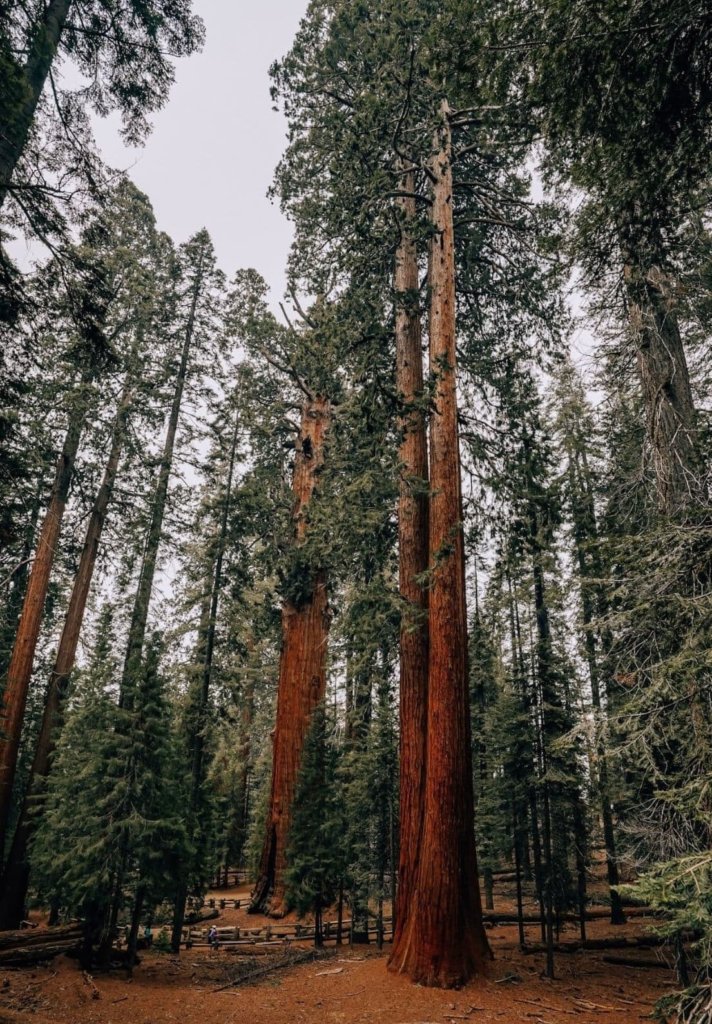 Where is Sequoia National Park?
Sequoia National Park is located in Central California's Sierra Nevada mountain range. The park is east of Visalia, California and is tucked on the outskirts of several small farming towns. You'll see lots of citrus trees and happy roaming cows (and yes, I wanted to pet them all!)
Sequoia National Park is often referenced in conjunction with Kings Canyon National Park. This is because they are next door neighbors – if you follow the main highway north through Sequoia, it leads you directly into Kings Canyon.
For reference, Sequoia National Park is located south of Yosemite National Park and west of Death Valley National Park. It is one of five National Parks close to Los Angeles and can be reached in just three short hours by car.
When is the Best Time of Year to Visit Sequoia National Park?
summer
The best months, hands down, are going to be June through August. This is because, even in these hot months, the higher elevation keeps temperatures bearable and during these months you won't see rain or snow.
Plan for daytime temperatures from roughly 50 degrees to 75 degrees, never really getting hot but certainly enough to work up a sweat hiking in Sequoia.
But, let's chat about the weather year-round.
winter
In the winter, be aware that many of the roads become inaccessible at times. These mountains can receive excessive snowfall between the months of December and March. Expect daytime temperatures to be around 30 degrees or below and dress super warm.
The King's Highway (Hwy 198) that spans the entire park may face closures, as well as the smaller roads within the park. Many of the exhibits close and the roads are blocked off. Snow chains may be required.
However, winter is a visually beautiful time to visit. The contrast of white and orange is awe-inspiring. If you do plan to visit in winter, use this website to check for current road closures and conditions.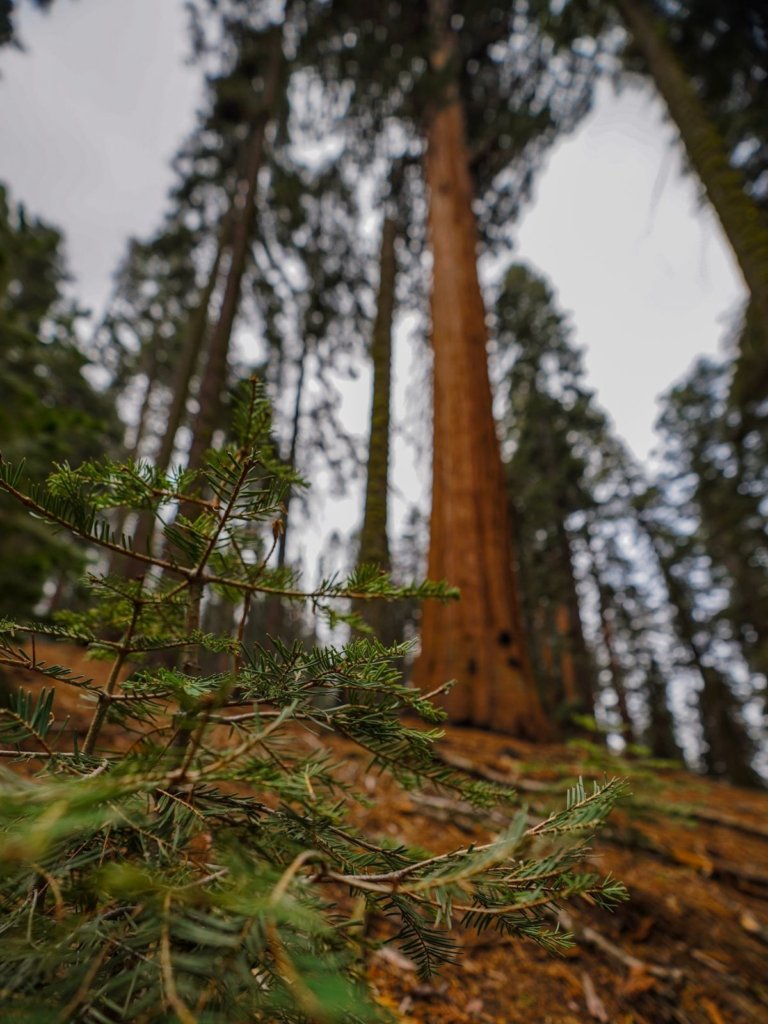 spring
Spring is a beautiful time to visit Sequoia National Park! The wildflowers are in bloom, accenting the newly-green landscape with bright orange, purple, and yellow dots.
Be aware that some attractions and side roads remain closed. We visited in April and found several sites closed off.
Also be aware that spring is still cold in the mornings and evenings, and in the highest elevations. Definitely bring a compact but warm winter jacket! My absolute favorite one worked wonders. Expect daytime temperatures in the upper 30's to 50's, and know that it gets colder the higher up you go.
Fall
Fall is a great time to see Sequoia National Park, with daytime temperatures running from 30 degrees up to about 65 degrees. Be aware that in September, some facility hours are reduced.
Sequoia National Park Basics
Here are some important things to know before you go:
Get a paper map at the park entrance. Cell service inside the park is spotty at best, and oftentimes nonexistent. Your cell phone and/or GPS will likely not work. Consider downloading offline maps (check my post on the best travel apps for more tips.)
Check the weather first. Due to the extreme elevation range in Sequoia, the weather conditions vary greatly and in quick succession. No matter which month you are here, you'll feel a big difference in temperature between stops. Always check the road conditions through the link mentioned above.
Fill your tank first. No gas stations exist within the park, so make sure you have a full tank before entering.
24/7/365. Sequoia National Park is open 24 hours a day, 7 days per week, and 365 days per year. You can visit anytime your heart desires! Just be aware of the road closures mentioned above.
How Many Days So You Need to See Sequoia National Park?
It depends what you'd like to do.
If you plan to simply drive to the park's highlights, hike a short trail or two, and snap some photos, then you could do that in one full day. Just wake up early and stay until dark.
But, if you want to hit more challenging trails or make your way into Kings Canyon, then that's another story. To take your time and really appreciate all that the park has to offer, you will definitely want to plan a two day itinerary to Sequoia National Park.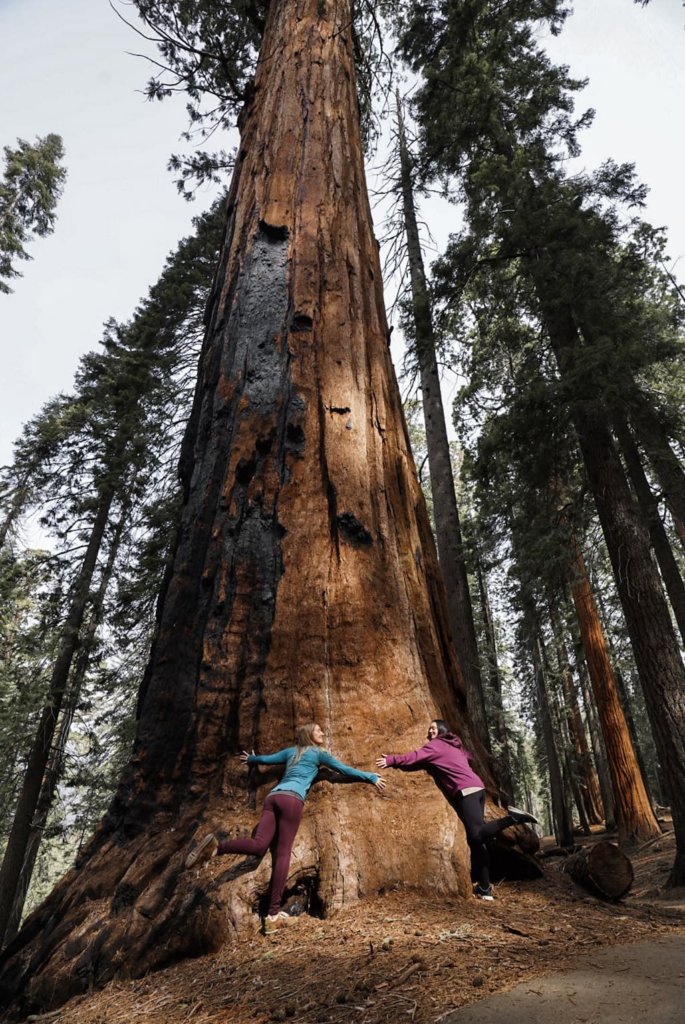 How Much Does it Cost to Visit Sequoia National Park?
Sequoia National Park will cost you $35 per vehicle to enter. This fee gives access to both Sequoia and Kings Canyon for seven days. It will cost $20 per person for pedestrians or cyclists and $30 for a motorcycle.
If you live nearby, a Sequoia + Kings Canyon annual pass is available for $60, and is valid for one calendar year.
Or, if you're like me, you have the America the Beautiful park pass, which gets you in all US National Parks for one year and costs $80
What Should You See in Sequoia National Park?
No Sequoia National Park travel guide would be complete if we didn't talk about what to see.
Here, we will cover a quick overview on some of the park highlights. But, for more in-depth reading, head on over to my post covering things to do in Sequoia National Park.
Things to See:
General Sherman – possibly the park's claim to fame! The giant red tree that is the largest in the world by volume. Wow!
Moro Rock – a short hike to a great lookout on top of a rock. I've been here in summer but access can be closed in winter and spring, FYI!
Beetle Rock – near the Giant Forest Museum, this is the best spot for sunset in the park.
The Giants Forest – A large sequoia grove containing more than 8,000 sequoias. It is located between the Marble and Middle Forks of the Kaweah River.
Congress Trail – an easy hike between loads of behemoth trees. You'll see things like small waterfalls and tunnels dug out of trees.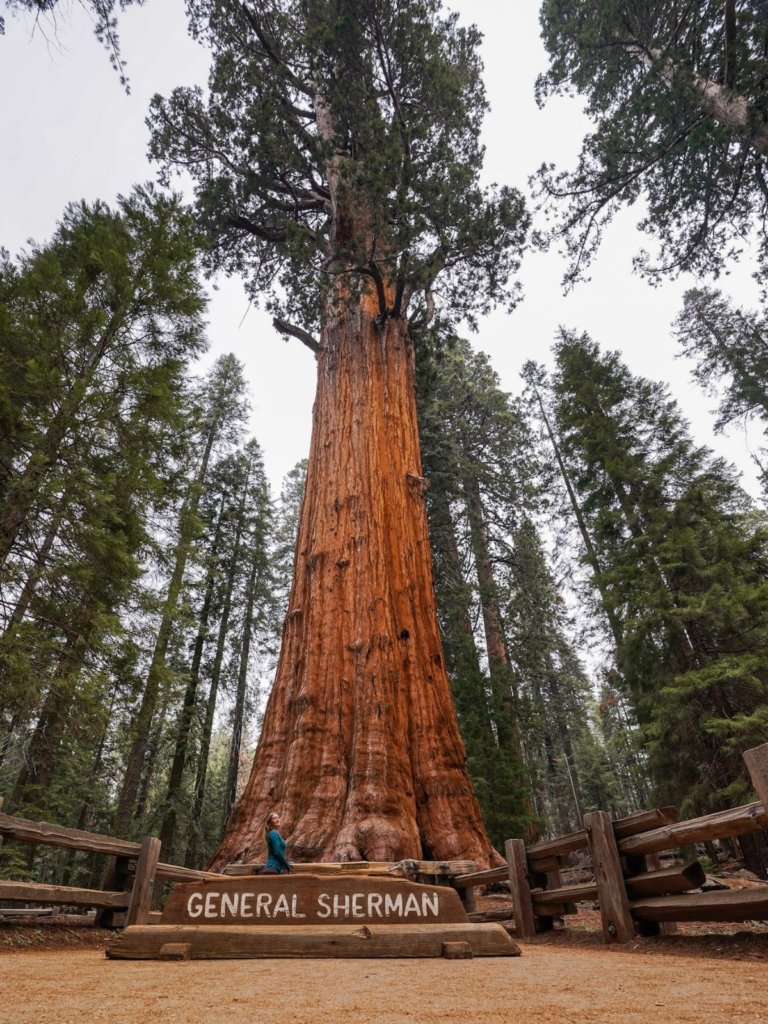 How to Get Around
The best way to get around Sequoia National Park is definitely by car. When you drive yourself, you have control of the itinerary and how much time you spend at each spot. You get to decide how long or short your day is. I personally love this freedom.
However, another option is the Sequoia Shuttle. From late May through mid-September, the Sequoia Shuttle offers paid transportation from nearby towns (Visalia, Lemon Cove and Three Rivers) to popular attractions within the park.
Inside the park, during summer months, a free shuttle offers rides to visitors. It runs between the Giant Forest Museum and Wuksachi Lodge and Restaurant.
Get more info on the Sequoia Shuttle here.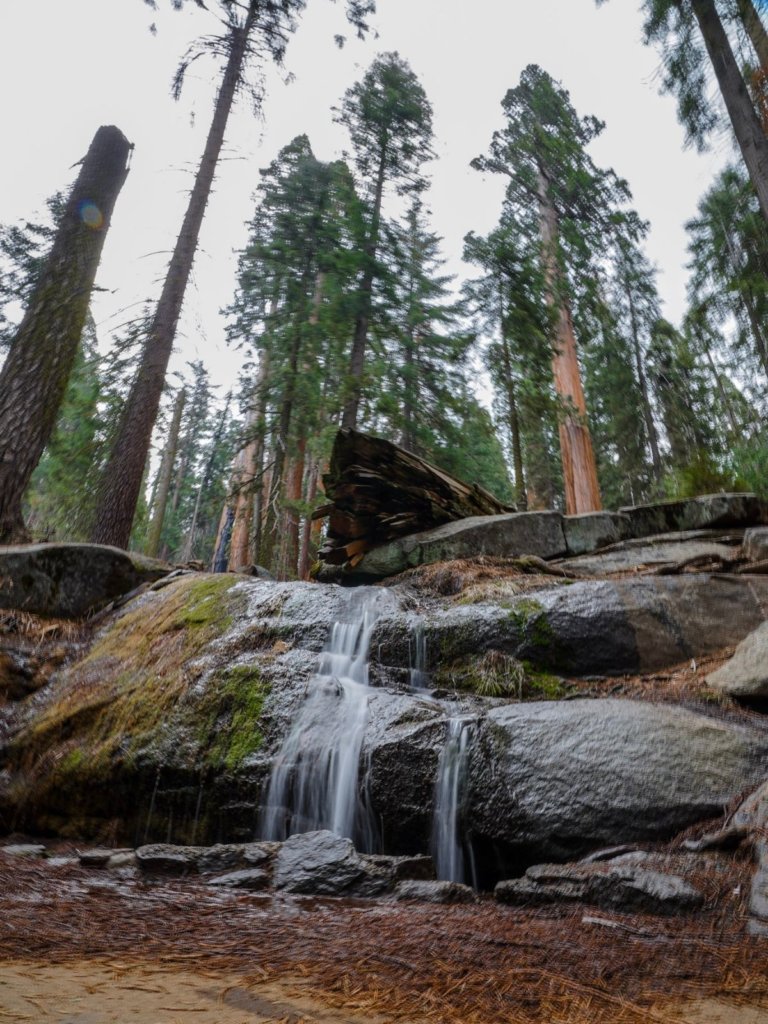 Sequoia National Park Visitors' Centers
Here is a list of each visitors' center in the park. Here you can find maps, souvenirs, and restrooms.
•Foothills Visitor Center – open daily from 8am to 4:30pm (9am – 4pm in October-March).
•Giant Forest Museum – generally open from 10am to 3pm each day.
•Lodgepole Visitor Center – generally open from the 2nd Friday in May to the 1st Friday in October, from 7am – 5pm. Be aware that it may be closed for renovations.
Where to Stay?
We stayed at this exact Comfort Inn and found it to be an excellent gateway into the park!
It was clean, comfy, and had a filling free breakfast, which was perfect for fueling up before our drives and hikes! The staff was friendly and helpful. I would totally stay here again and highly recommend.
Tip: Book early to get the best deal!
You May Also Like: The Best National Parks in the Southwest
Where Should You Visit Next?
Well, Kings Canyon is the obvious choice! Is you have enough time, definitely drive into the neighboring park and visit General Grant, another famous Sequoia. I learned a lot here about the formation of the park, and how troops used to live within the park.
If you want to hit some fresh fruit stands, drive to Lemon Grove. Loads of citrus, berries, and fruit stands were visible driving through.
Or, for more National Parks and lands, drive over to Death Valley or the Mojave National Preserve.
***
I hope this travel guide for Sequoia National Park helps you plan a fun and successful trip! You're going to be in awe every second of the day, I just know it.
Let me know below what was your favorite sight!
Pin Me for Later!