Wondering what to put on your Southern California Bucket List? There are so many things to do in Southern California and can't miss attractions! After living in this region for years, I'm here to help YOU check off your Southern California Bucket List with only the best things to do in the lower half of the state.
Pin Me for Later!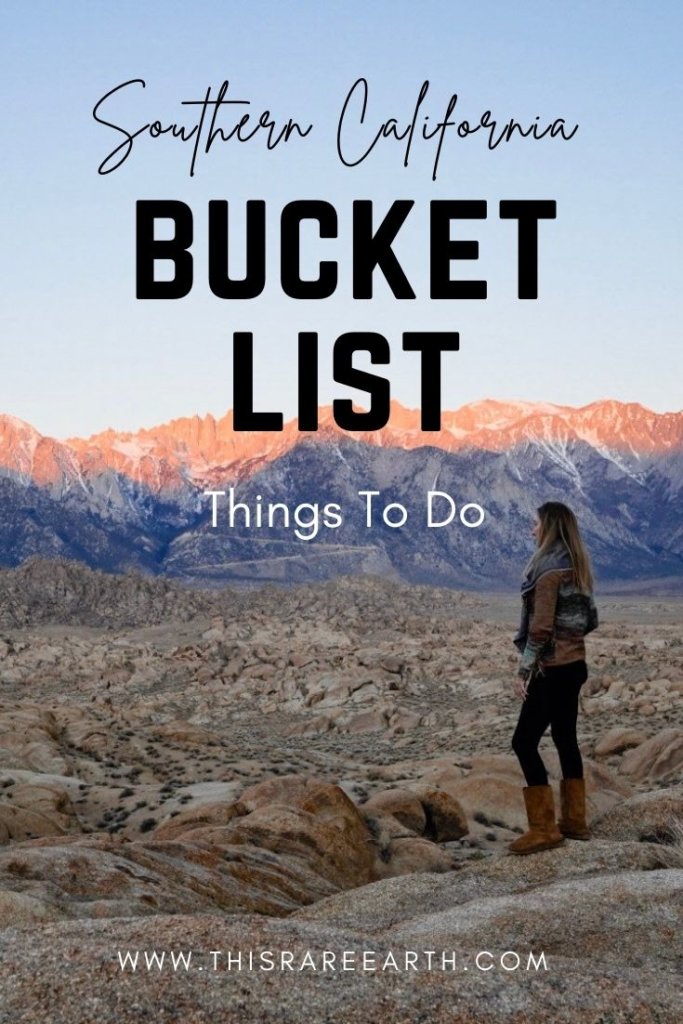 This is probably not a surprise to hear, but Southern California is an amazing place.
From dazzling beaches to rugged deserts to snow-capped mountains – Southern California has it all. In fact, it is one of the few places on earth were so many micro-climates exist in such close proximity – meaning that you can easily go from surfing to snowboarding all in a single day.
So where to start your Southern California Bucket List? The list of things to do is seemingly endless!
Well, I've been based on the west coast for a long time now, and I'm going to share with you my favorite locations, attractions, and places to see in Southern California – the perfect locations to round out anyone's Bucket List! Let's go!
You May Also Like: California Themed Gift Ideas
Southern California Bucket List Things To Do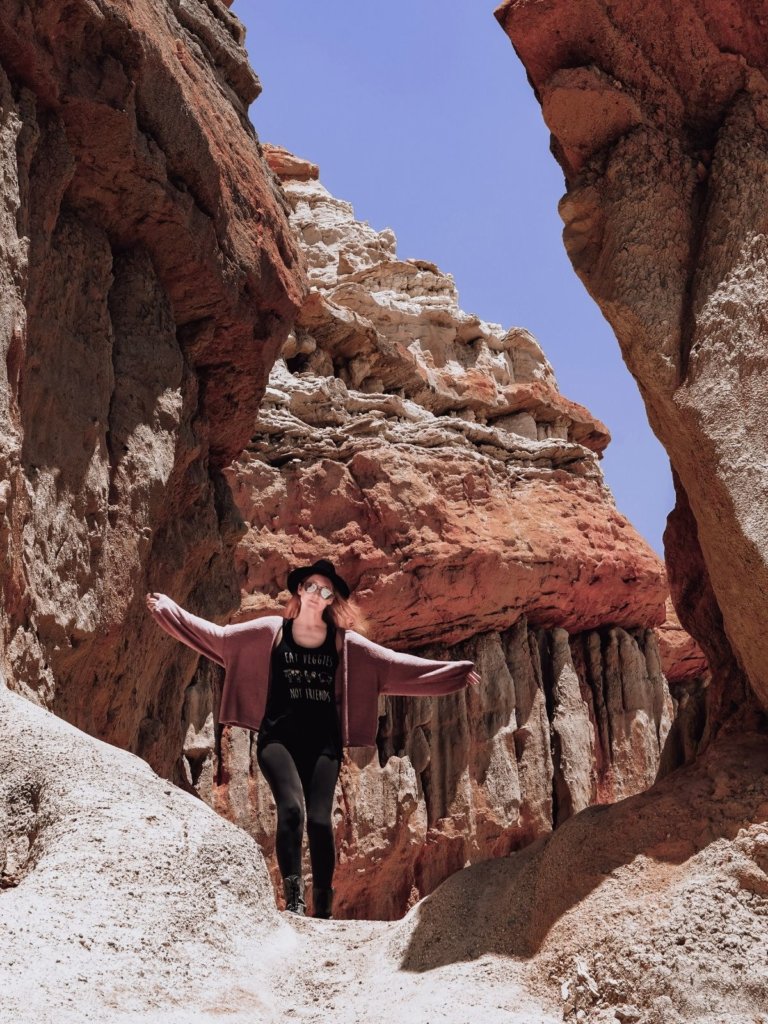 1. Hit the Lesser Known State Parks
One of the biggest surprises for me in Southern California was Red Rock Canyon State Park. It's extremely under-the-radar and frankly, I don't understand why!
The towering red rock formations are reminiscent of Utah and Arizona. As you drive up the highway, they just out suddenly from the barren desert floor, and quickly envelop the road in fiery scenery. The hiking and camping options offer both solitude and scenery, at an affordable cost.
Saddleback Butte State Park is another little-known park just 1.5 hours outside of LA, and this one offers long expanses of desert dotted with yuccas and rocky mountains. The hiking here is scenic, especially in the spring after heavy rains – yellow wildflowers blanket the ground if you get here at the right time.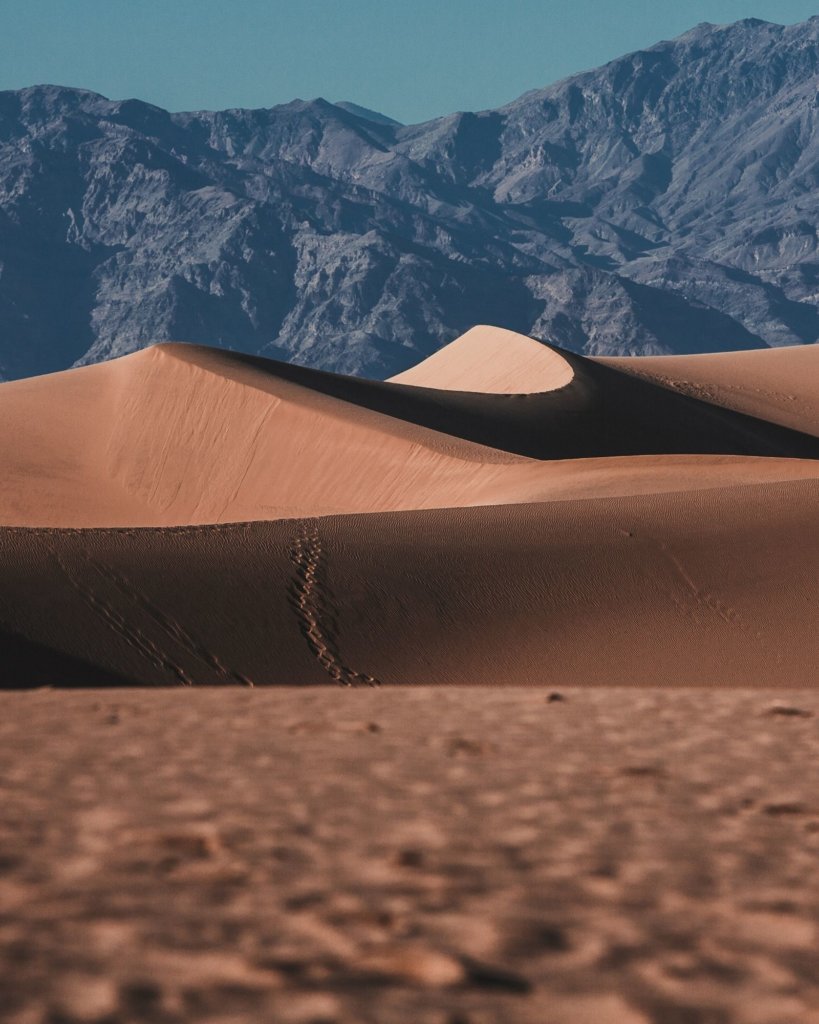 2. Visit the Hottest Place on Earth – Death Valley
Death Valley resides in the southeastern side of California, on the northern edge of the Mojave Desert. Death Valley borders the Great Basin Desert and is one of the hottest places on Earth. Similar heat can be experienced in the Arabian Desert and the Sahara!
Triple digits become a near-daily occurrence between June and September. Intense heat and sun beats down, unrelenting, from the sky. Hike and explore with caution during summer; I have regularly experienced 120 degree temperatures in July and August.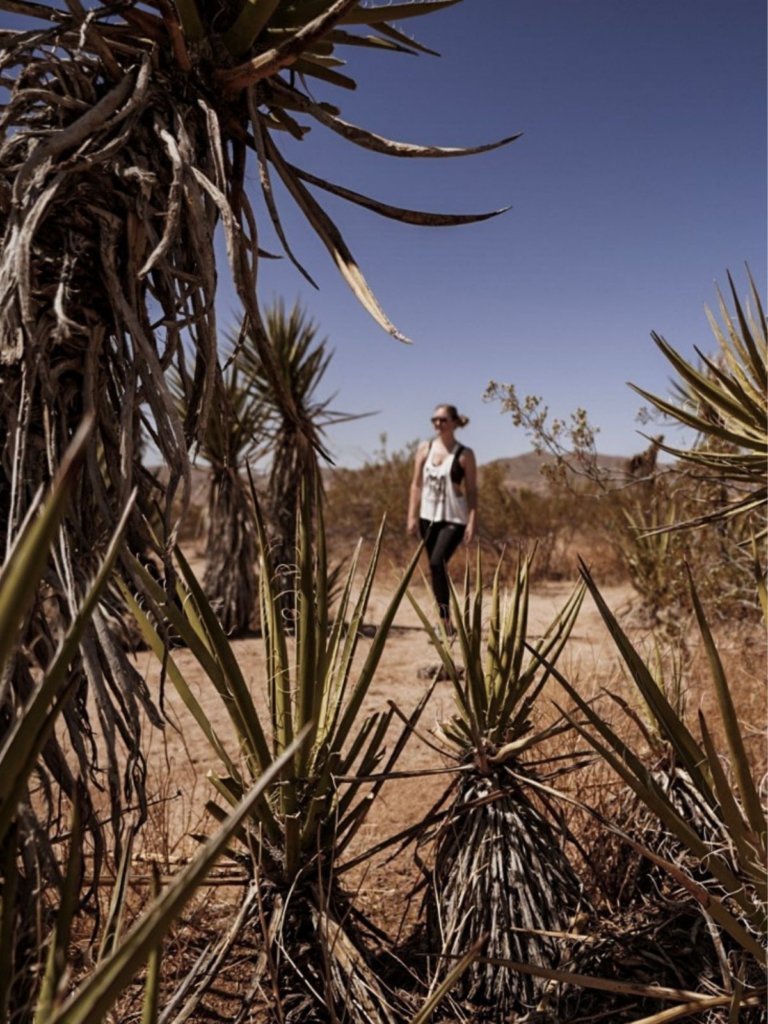 3. Hike Two Deserts in One Day
Joshua Tree National Park is one of my all time favorite places to visit in Southern California. Absolutely put this one at the very top of your list. I have an extremely detailed one day itinerary laid out for those short on time, as well as important desert hiking essentials and loads of photography stops.
Both the Mojave Desert and the Colorado Desert spill into the borders of Joshua Tree National Park. This means that when you hike the trails in both the northern and southern sections of the park, you can see two entirely different deserts in one day.
Joshua Tree sits 2.5 hours from LA, so you can either hit the park as a day trip of consider camping overnight. Just plan ahead if possible – campsites sell out quickly!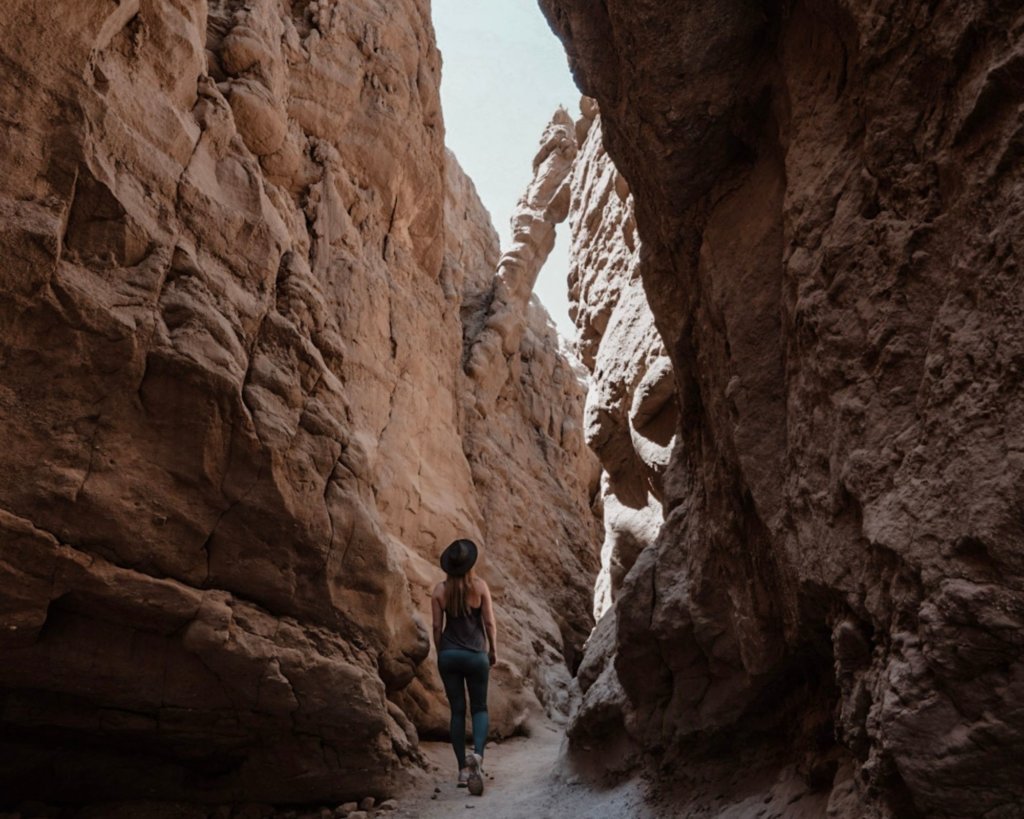 4. Squeeze Through a Slot Canyon
Tucked away inside of Anza Borrego Desert State Park is one of SoCal's very own slot canyons. Who knew?
The hike is known locally as The Slot, and it is arguably one of the best hiking trails in Anza Borrego, hands down. If you didn't know where to find it, you would likely look out across the rugged desert and not know what was just below you. (The exact location and parking details can be found in the linked post above).
A slot canyon is defined as a canyon where the walls are steeper than the trail is wide – and you will get that in spades here. Some areas are so narrow that you have to squeeze through very tightly, and where a normal sized backpack is impossible to fit through.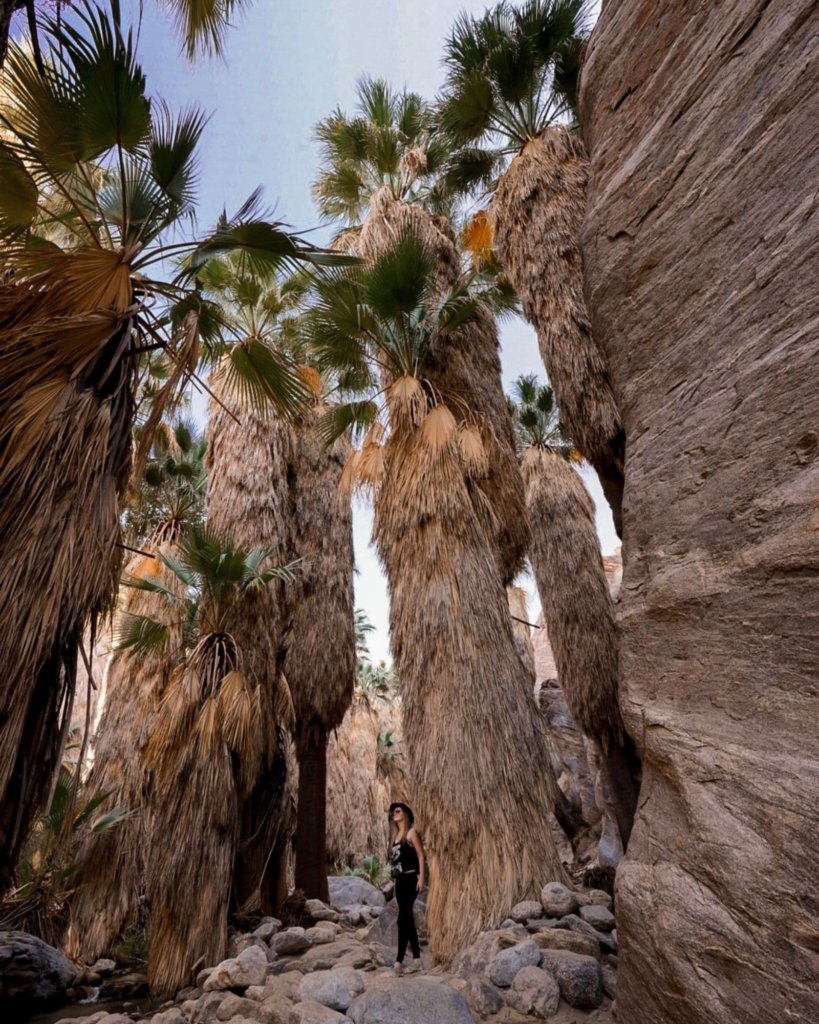 5. Discover the Largest Natural California Fan Palm Oasis
Andreas Canyon and Murray Canyon – both found inside of Indian Canyons in Palm Springs – are stunningly beautiful hikes of varying difficulties.
Indian Canyons is home to the largest natural California Fan Palm oasis in the world. Over 150 species of plant life can be found on these grounds, and hikers will have the chance to cool of in a literal "desert oasis" at Andreas Canyon! What could be better?
On top of that, you can view rugged mountains, crystal clear springs, and even a bit of history. This land was the ancestral home to the Agua Caliente Band of Cahuilla Indians for thousands of years.
If you're planning a trip to Palm Springs, you need to include the Andreas Canyon trail on your itinerary! It is one of the best hikes in the area and deserves a spot on your Southern California Bucket List, without a doubt.
6. Soak in Natural Mineral Waters
Speaking of Palm Springs, you can go ahead and add the healing mineral waters of Palm Springs and Desert Hot Springs straight onto your list.
The mineral pools in this area are not out in nature. I'm not sure if that's good or bad, but just be aware. Many resorts in the area offer very affordable prices for a short visit to their pools – or, you can stay overnight if you are craving a truly relaxing experience!
Places like Miracle Springs, with eight large hot pools to choose from, or the vintage Sagewater Spa are great options. I can tell you from experience that soaking in these waters does in fact leave your skin smooth and silky!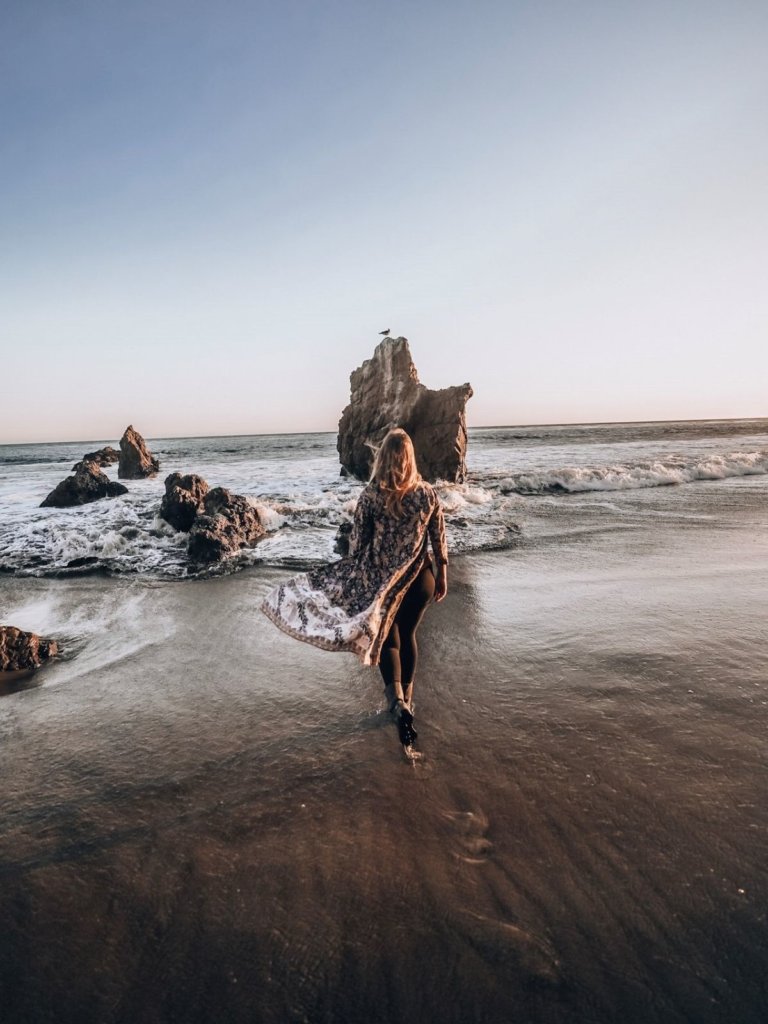 7. Take in Epic Views from Beachside Cliffs
If you have never spent time in Southern California before, Malibu will pleasantly surprise you. Most people picture a very ritzy Beverly Hills-type of area, but Malibu is actually filled with lots of family homes, mom and pop shops, and laid-back beaches.
One of the best beaches in SoCal is called El Matador State Beach, and it's claim to fame is the unbeatable placement of rocky cliffs, caves, and tidepools on and above the sand. From the loud white surf to the crying seagulls to the caves and caverns – it is all very beautiful.
El Matador has become a popular spot for locals and visitors alike. Try to catch a sunrise or sunset here – it's not one you'll soon forget.
8. Stargaze Like a Pro
Even though California houses some of the brightest and largest cities in the USA, it also houses long stretches of dark, vast desert. These areas are unbeatable for stargazers and astrophotographers – not to mention just for campers and hikers who want to enjoy that true feeling of solitude.
Two such notable locations are the aforementioned Joshua Tree National Park and Anza Borrego Desert State Park. By keeping the light pollution down to a minimum, these two spots have gained notoriety in the stargazing realm. In fact, both are designated International Dark Sky Parks.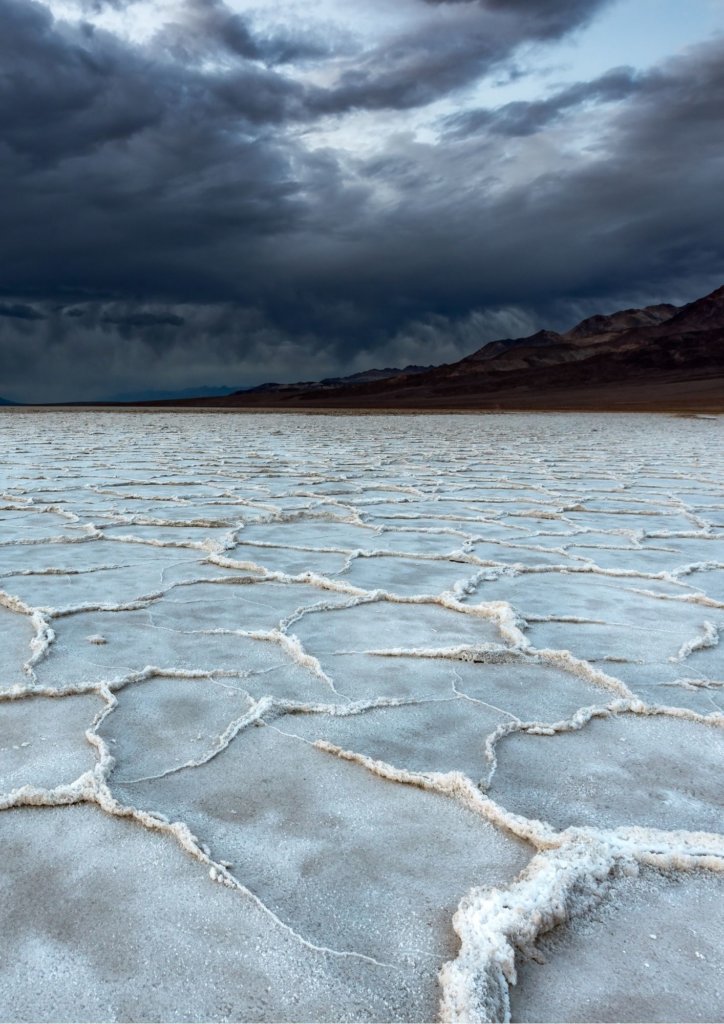 9. Stand on the Lowest Point in North America
Another of Death Valley's claims to fame is that it is home to the lowest point in all of North America, Badwater Basin. This area sits at a shockingly low 282 feet (86 m) below sea level.
Visually, it's a surreal treat for the eyes. Layers of salt form a snow-white floor, pockmarked and riddled with cracks and textured earth. Purple mountains provide a backdrop in all directions, making the spot secluded and isolated. Definitely one of the biggest bucket list things to do in Southern California!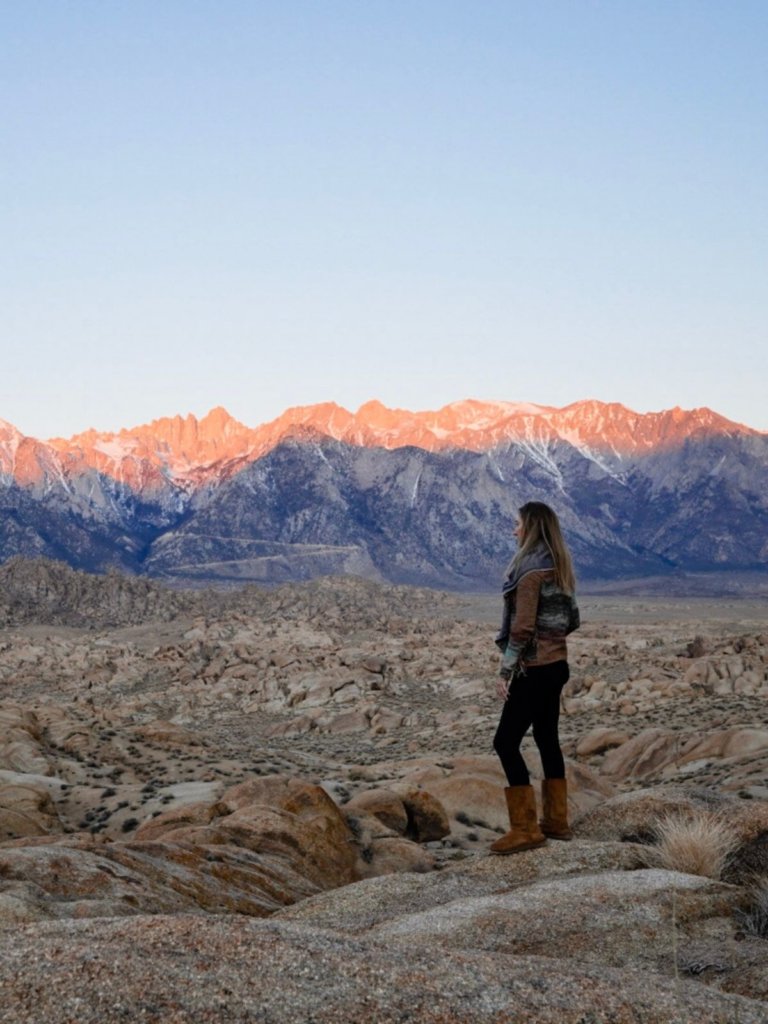 10. See an Unforgettable Sunrise
You may expect me to tell you that a sunrise at the beach is a must-see. Well, yes, that can certainly be beautiful (though since the Pacific is on the west coast, sunsets are where it's at!).
Actually, one of the most epic sunrises I have seen in the entire state was in the mountains.
Alabama Hills is a community in Inyo County, California, and sits approximately 3.5 hours north of Los Angeles. With an elevation of 4534 feet, you will certainly find a very different climate from the beaches and deserts below!
The very famous Movie Road is located here, made famous from many, ahem, movies. It provides such an epic viewpoint as the sun rises and turns the mountains pink. Check out a super quick video to see the lay of the land – and to connect with me on Instagram!
11. Walk Through the Mighty Sequoias
You would think that Sequoia National Park would be much more heavily visited than it actually is. Perhaps it's because there are so many national parks near Los Angeles to choose from?
Regardless of why, Sequoia remains fairly quiet and peaceful in my experience. While the park is actually not littered with the giant red trees, there are specific areas where the sequoia trees reign the skies, and those are very impressive.
This park can get quite cold in the winter, and occasionally can even be blanketed in snow! Check for road closures in the winter (and unfortunately, wildfires in the fall) before you make the trek.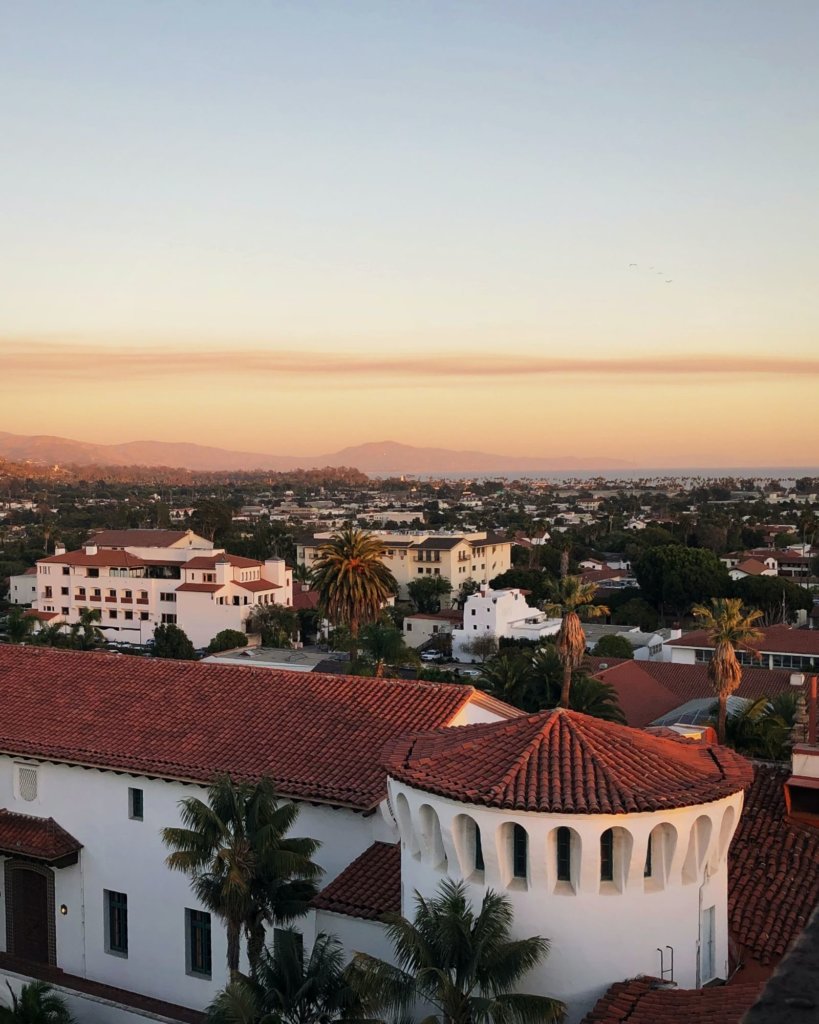 12. Take a Day Trip to Charming Santa Barbara
Mediterranean-style buildings with red-tiled roofs are the quintessential architecture seen all around Santa Barbara. The Spanish colonial inspiration, the upscale boutique shops, and the trendy breweries linin State Street really define "Santa Barbara", don't they?
But there's more to Santa Barbara than just that. It also has a wild side. An artsy side. A beachy-chill laid-back side.
It's completely possible to get a feel for Santa Barbara in just one day. As is the case with anywhere, spending more time here will allow you to truly experience all facets of the city's personality. But if you're willing to start early, you can check quite a few things off of your bucket list in a short trip.
I recommend a quick hike at the Gaviota Wind Caves. Check out the art museum or the Funk Zone galleries. Eat delicious food from a variety of restaurant options. And, hit the beach or a winery to round out the day.
13. Kayak, Bike or Hike Catalina Island
Roughly 20 miles off the coast of Southern California, Catalina Island has been a long-time favorite getaway for those living within the state. In an easy one hour ferry ride, guests will find themselves a world away from busy Los Angeles, which is the county that Catalina Island technically resides in.
Roughly 90 percent of this island is protected wilderness, and thanks to the Catalina Island Conservancy, will not be developed. The island's interior can only be accessed by permit, limiting the number of bikers, hikers and tours that trek through the wilderness.
Which reminds me – one of the coolest aspects of island life on Catalina is that there is a very limited number of cars on the island. Visitors are not allowed to drive cars whtsoever, so don't plan on renting one. Instead, most visitors and residents alike drive golf carts on the island.
This creates a peaceful, laid back, and small town feel that I absolutely love. The ocean kayaking can't be beat here, and its just as easy to rent a bike as it is a golf cart – so pedal around to your heart's content.
Catalina Island is a must for your SoCal Bucket List!
14. Explore Natural History at the La Brea Tar Pits
One of my absolute favorite museums on the planet, the La Brea Tar Pits sits right in the heart of urban Los Angeles.
Dark black tar has been seeping up through the earth for thousands of years. Throughout these centuries, animals have fallen victims to the dark tar, getting trapped and pulled under. As heartbreaking as that sounds, it has also provided us with unique animal specimens like bones from mammoths, dire wolves, and saber-toothed cats, to name a few.
All of these and more sit on display in indoor exhibits. These can be viewed before or after seeing the incredible black tar pits outdoors.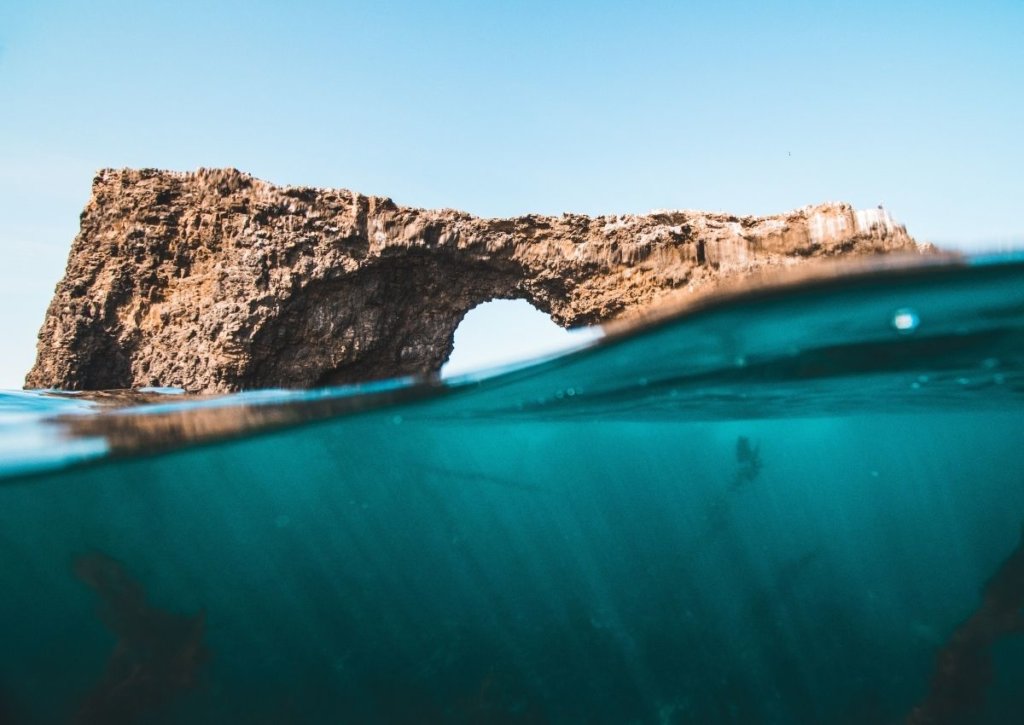 15. Set Sail to the Channel Islands
Channel Islands National Park is and often-overlooked park consisting of five islands off of the the Ventura coast. Much like Catalina, a ferry service is needed to reach the islands of Anacapa, Santa Cruz, Santa Barbara, San Miguel, and Santa Rosa.
Visiting the Channel Islands is like stepping into another time – a time when the land was pristine and untouched; wild and free. These islands are sometimes referred to as the Galapagos of North America, as they are home to several endemic plant and animal species. Miniature Island Foxes, spotted skunks, and the bright bold blue Island Scrub Jay are some of such species.
These islands are a must-see! The beauty, the solitude, and the wide open natural spaces will leave you awe-struck.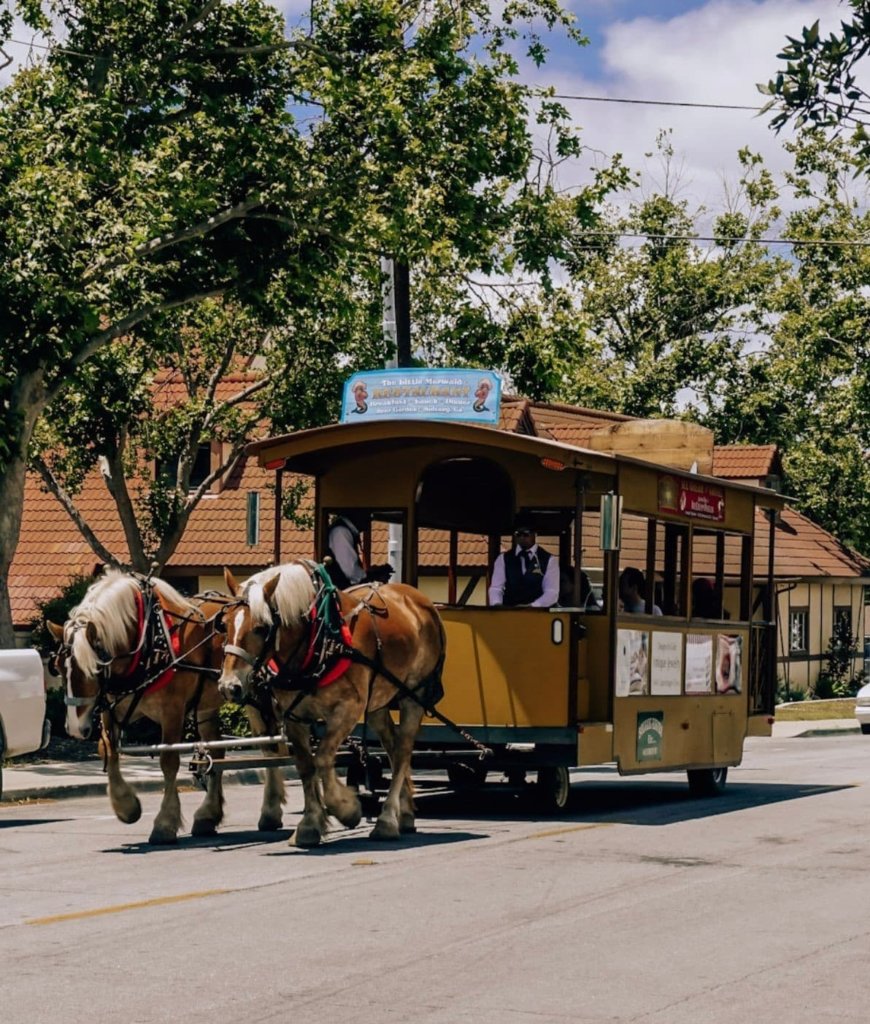 16. Experiene the Sights and Tastes of Solvang
Solvang is located roughly 2.5 hours north of Los Angeles, but it couldn't be more different than the crowded city!
Founded by Danish immigrants in 1911, Solvang displays authentic Scandinavian architecture, billowing red flags of Denmark, and traditional windmills. Horses' hooves are heard clomping along the concrete roads as wagons are pulled for scenic rides. And, traditional Danish fare can easily be found throughout the streets.
Visit the The Elverhøj Museum of History & Art to explore the city's Danish heritage through personal artifacts, photographs, and displays. Then, grab some authentic Aebleskiver – a sweet pancake-like ball of dough covered in fruit jam and powdered sugar. Hit the Hans Christian Andersen museum or visit the mermaid statue replica in the middle of town.
Though Solvang has become a rather touristy town, it has all the makings of a great day trip or weekend getaway.
17. Visit Some of the Leading Art Museums
One simply can't visit Southern California or Los Angeles without acknowledging the incredible art scene here. Many of the country's leading art museums reside within LA County, and it could take months to truly explore all of them. I'd recommend choosing one or two of the most interesting sounding exhibitions at the time of your visit, and begin there.
Los Angeles County Museum of Art, The Getty, and the newer Broad Museum are excellent places to start. But, plenty of smaller institutions often show incredible artworks as well.
Pro Tip: Some of these museums offer student discounts, free days, or other such deals. Definitely check the websites before locking in your tickets!
18. Take a Pacific Coast Highway Road Trip
Locals and tourists alike have this in common – they all dream of a road trip along the famous Pacific Coast Highway. That is because California's coast is like nowhere else on earth. Beautiful, rugged, and sandy, the landscape changes the farther you drive.
Some of the best views are located in Malibu, in Big Sur, and in Mendocino if you ask me. Somehow each county has it's own unique view of the same blue Pacific ocean. Check out my post linked in the previous paragraph for a complete itinerary!
***
I hope this list has helped you round out your Southern California Bucket list by providing interesting things to do and places to explore! Southern California has incredible and never-ending sights. There truly is something here for everyone.
So let me know below, which item are you most excited to check off of your list?!
Pin Me for Later!