The Gaviota Wind Caves Trail in Santa Barbara is a short and pretty hike that offers something for everyone. Rocky caverns and tunnels, sweeping views of the Pacific Ocean, and a bit of an incline to get the heart pumping. One of the best trails near Santa Barbara, the Gaviota Wind Caves are a great stop if you are headed out near Gaviota State Park!
Pin Me for Later!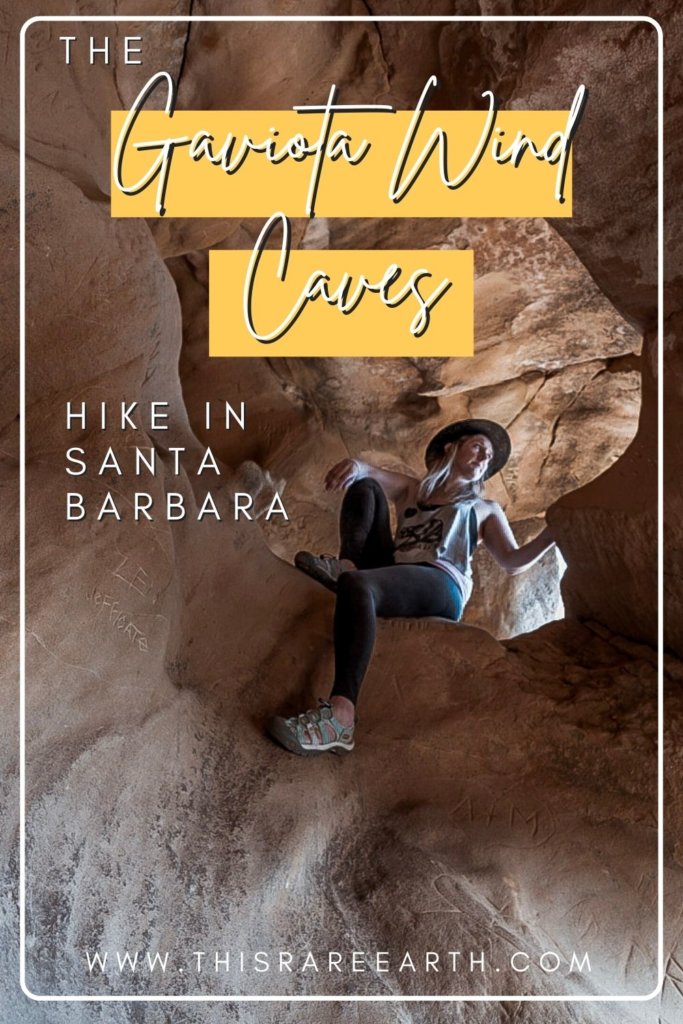 The Gaviota Wind Caves Trail is a 2.5 mile scenic hike located roughly 20 minutes northwest of Downtown Santa Barbara. The trail is an easy drive from Los Angeles as well as one of my favorite things to do on a day trip to Santa Barbara.
I've been loving unique rock formations lately, like the slot canyon in Anza Borrego and the red cliffs at Red Rock Canyon State Park. It seemed only natural that I should check out the Gaviota Wind Caves trail and explore these sandstone tunnels in the Santa Ynez Mountains!
Where Is Gaviota Wind Caves Trail?
Driving from Santa Barbara, travel 30 miles northwest on the 101 Freeway. Use the Gaviota State Beach exit and follow along Gaviota Beach Road until you see the pay station for Gaviota State Park.
The Gaviota Wind Caves hiking trail is found near Gaviota State Park – but not inside of Gaviota State Park! Before the pay station, the road will split off to the right, heading uphill. Take the righthand, uphill road called Hollister Ranch Road.
One very important note; it sounds like most map apps take hikers into the Hollister Ranch. If you see the entrance, you've driven too far.
The hiking entrance appears quite quickly after taking that initial uphill right onto Hollister Ranch Road. You will see a green metal gate on the right hand side and there is a small gravel parking lot to the side.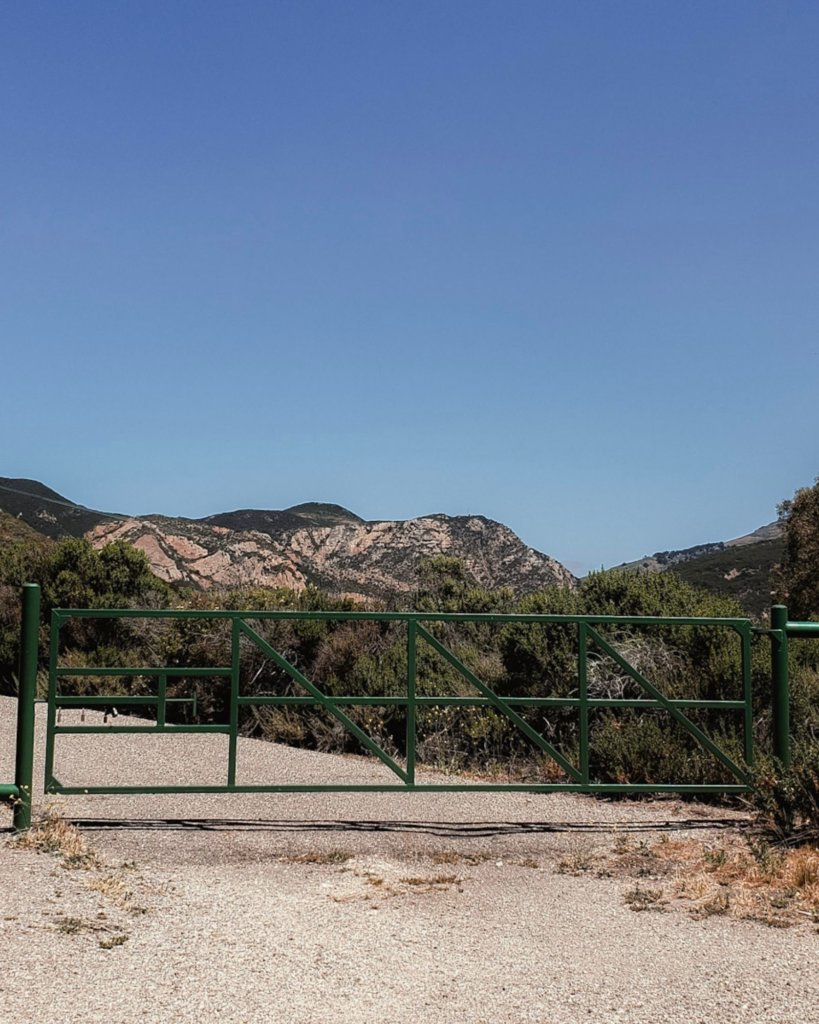 Beware – there is a warning sign for mountain lions! While I haven't personally seen any here, the brush is very tall and thick. I've heard suspicious sounds rustling here and even though I've not seen a mountain lion, I have no doubt that one has seen me!
What Are The Gaviota Wind Caves?
The Gaviota Wind Caves are a collection of wind sculpted sandstone caves and caverns. They jut out of the Santa Ynez mountains, overlooking the Pacific Ocean from roughly 600 feet uphill.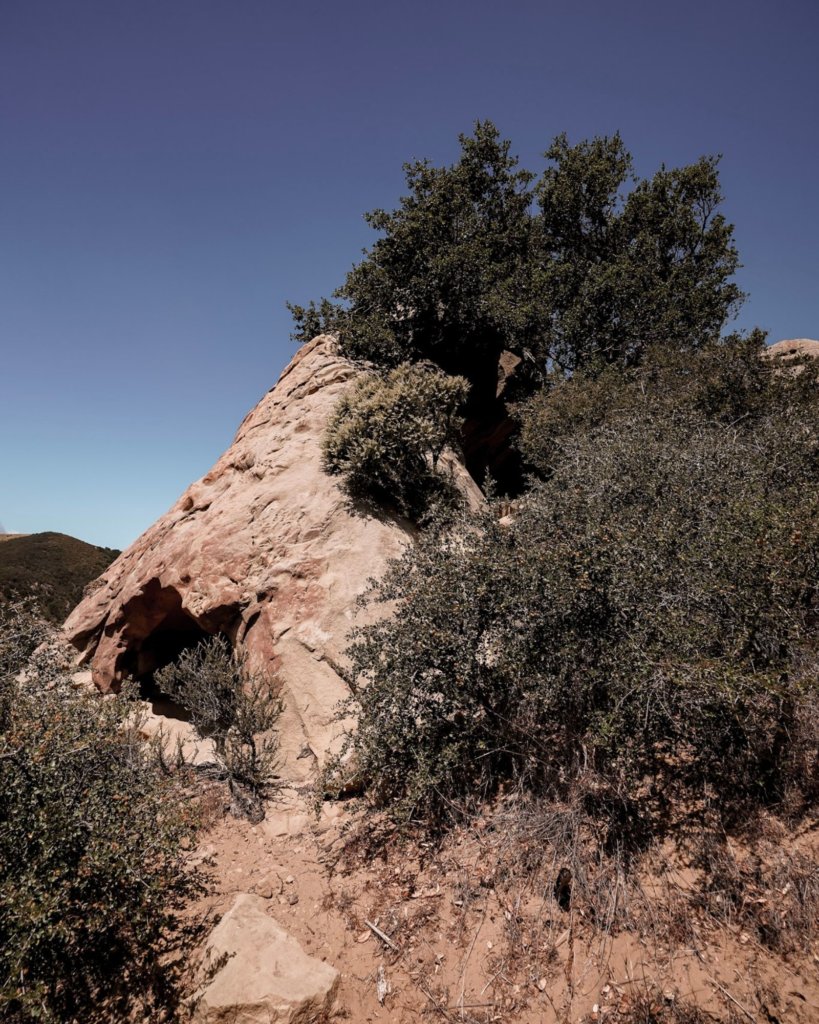 Hiking Gaviota Wind Caves Trail
Sweeping fields of green grass and tiny yellow wildflowers invite hikers toward the mountains. The hike begins on paved ground; the greenery and brush will lead you toward the "real" trail, marked by a large sign indicating the wildlife found here.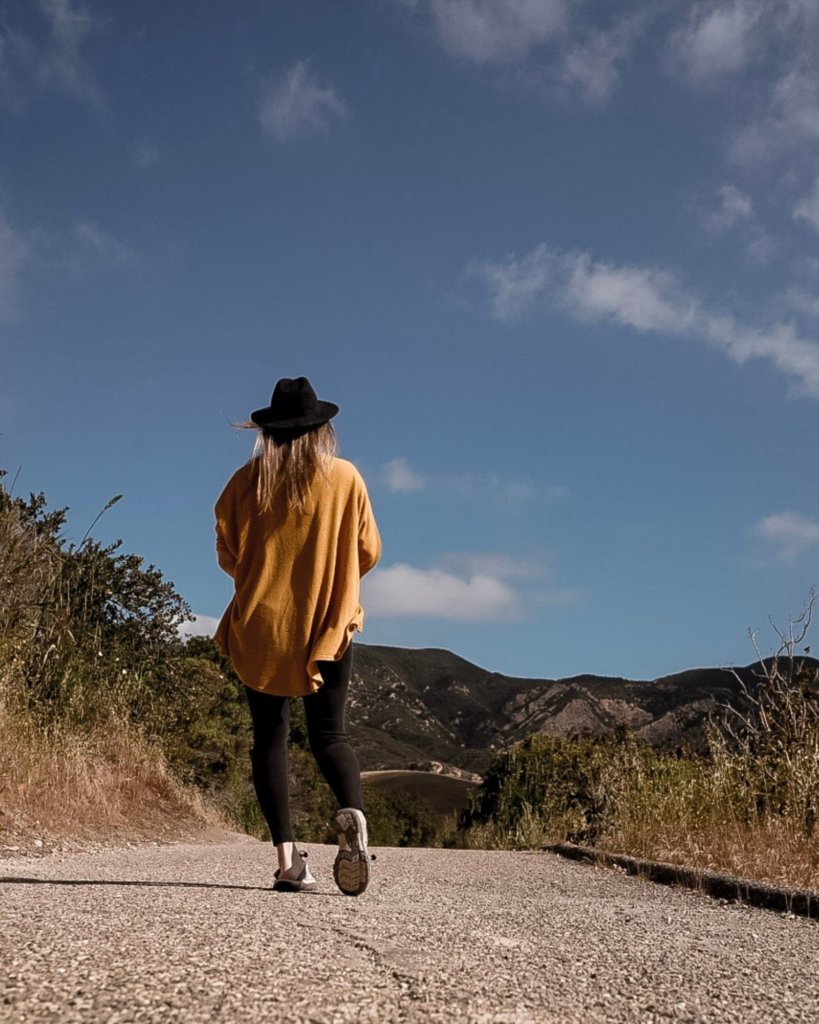 Gaviota Wind Caves trail becomes a narrow dirt path, that I much prefer to the paved route. Hikers will make their way through the tall grass, and soon the hike turns uphill.
Some areas are quite steep, and soon you'll discover why the trail is marked as Moderate. While there is nothing overtly difficult on this hike, small scrambles over boulders and tight squeezes between sharp bushes may be a challenge.
As I climbed, I saw large black birds circling above and diving into the grass over and over, presumably looking for lunch.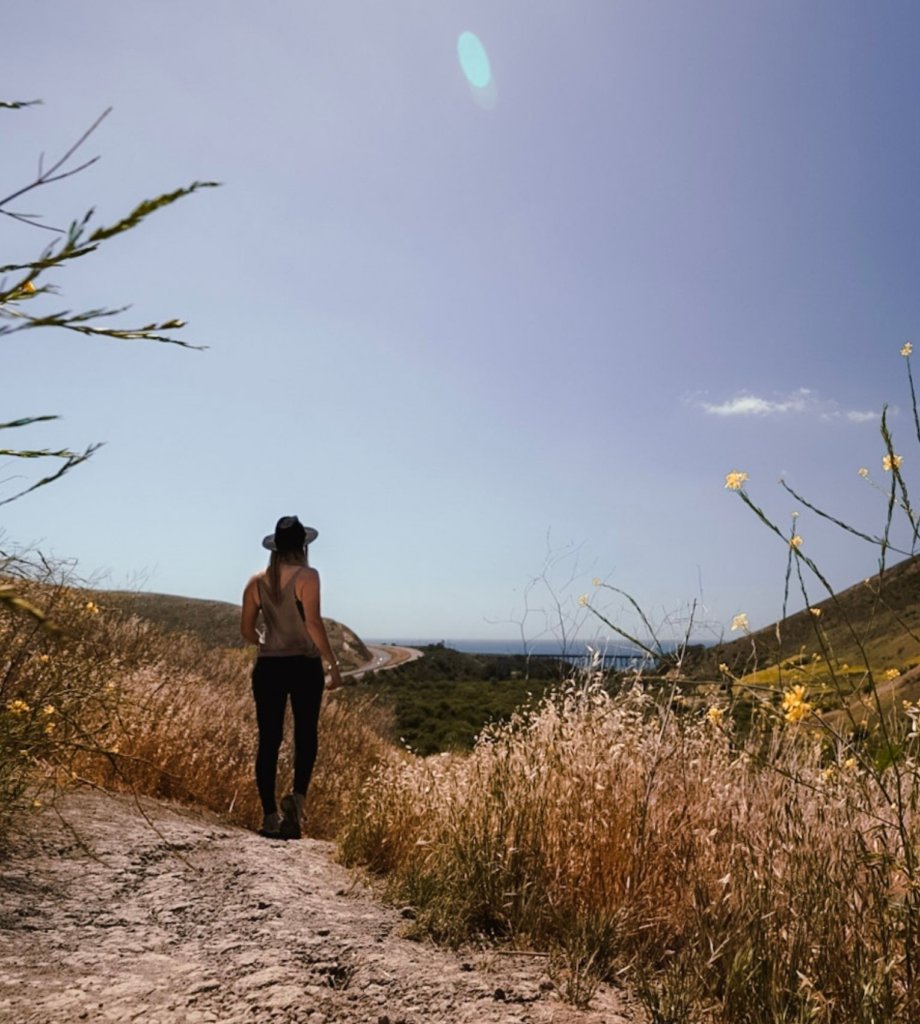 There is a sheer edge dropping down into a gorge, pretty but steep. One thing to note, the trail is not a clearly demarked path but rather a series of various offshoots. Know that as long as you keep on in the same general direction, any one of these tangents can get you to the caves.
The Gaviota Wind Caves are a welcome shady stop, even in the early morning. On one side of the caves, a deep tunnel allows you to explore. It's remarkable, actually, that the wind formed such smooth and strange surfaces!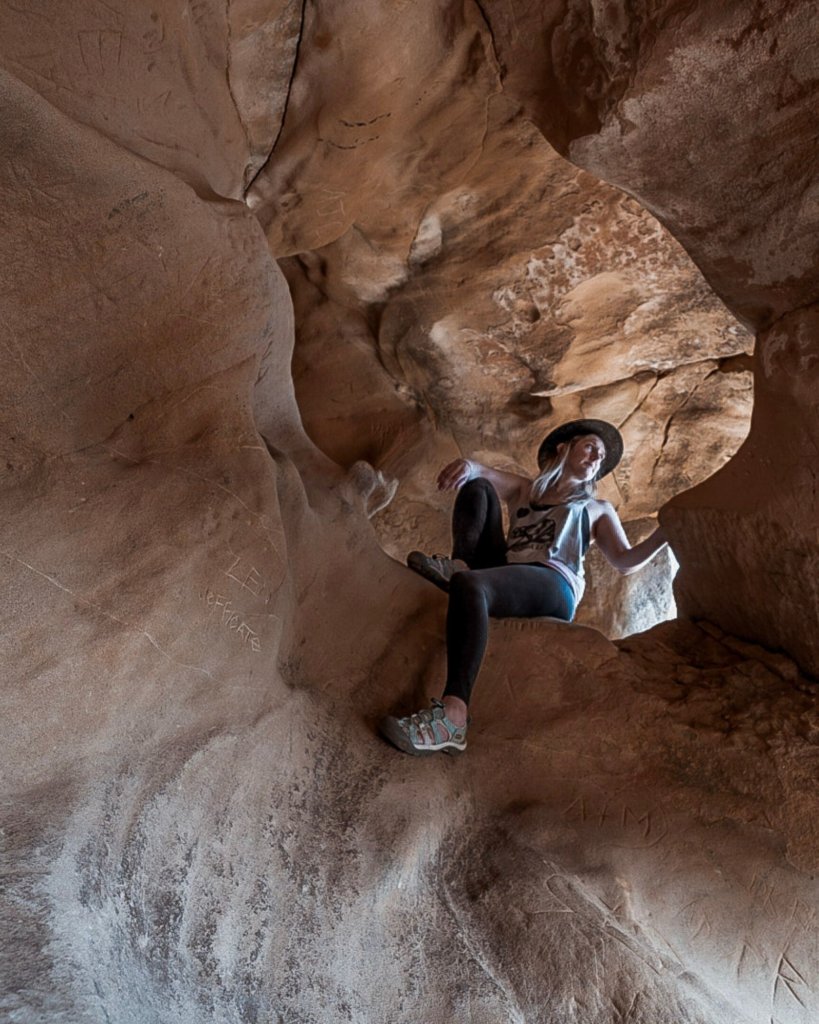 You can also climb around to the front of the Wind Caves. The reward is a panoramic view of the Pacific Ocean, the Santa Ynez mountains, and the tall bridge within Gaviota State Park. It's a beautiful sight! I was there quite early, so even the highway off to the left was not much of an eyesore (or earsore).
After the first set of wind caves, continue along the winding trail until you come to the bottom of the second set of caves. If you have energy to climb to the top, you'll have some beautiful views all to yourself!
Both the Lower and Upper Wind Caves are worth the effort and the view is a wonderful reward. The trail was fairly worn, which tells me it must be heavily trafficked, but I only saw a handful of people all morning!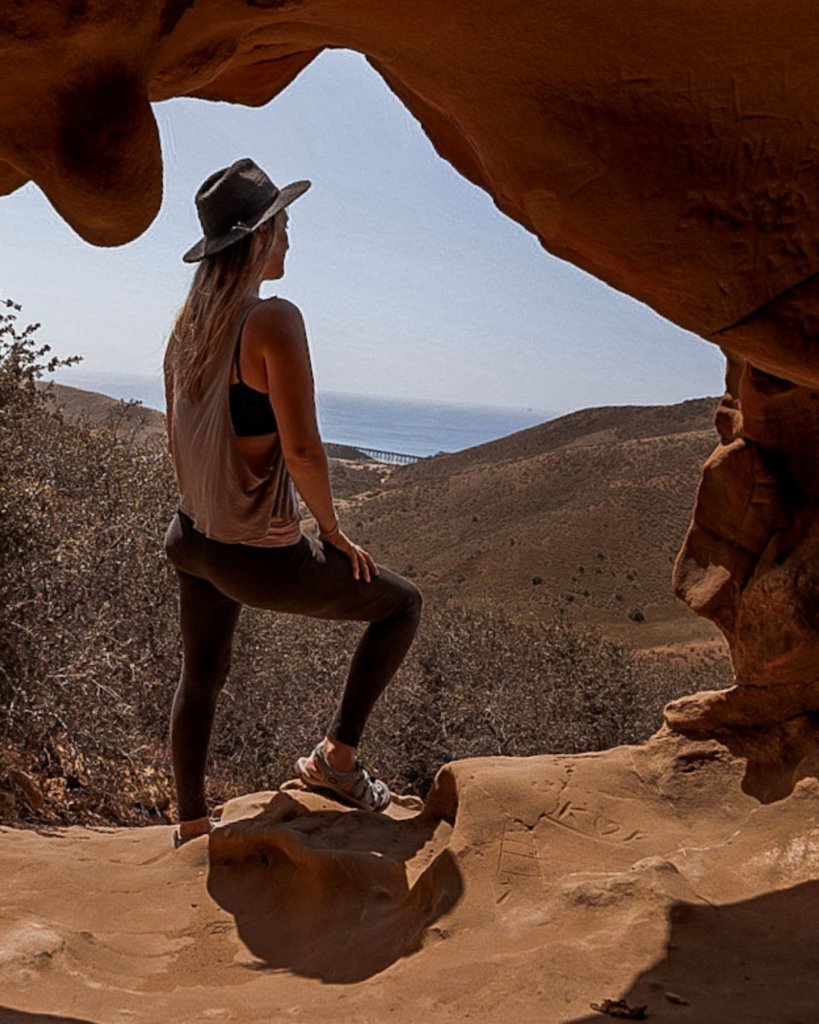 The entire hike is 2.5 miles roundtrip, though this does depends on which offshoots you choose on your climb up. It's a wonderful way to get your heart pumping and earn a good brunch in town!
The Gaviota Wind Caves Trail Basics:
Distance: 2.5 miles
Type: Out & Back
Time: ~1-1.5 hours, depending on how long you spend in the caves.
Elevation change: 600 feet
Dogs Allowed: No
Fees: FREE!
All in all, this is a great little hike with scenic views, a bit of scrambling, and interesting rock formations to explore. Wear solid shoes and bring tons of water.
The Gaviota Wind Caves are one of my current favorite hikes in Southern California. I highly recommend experiencing it for yourself!
Pin Me for Later!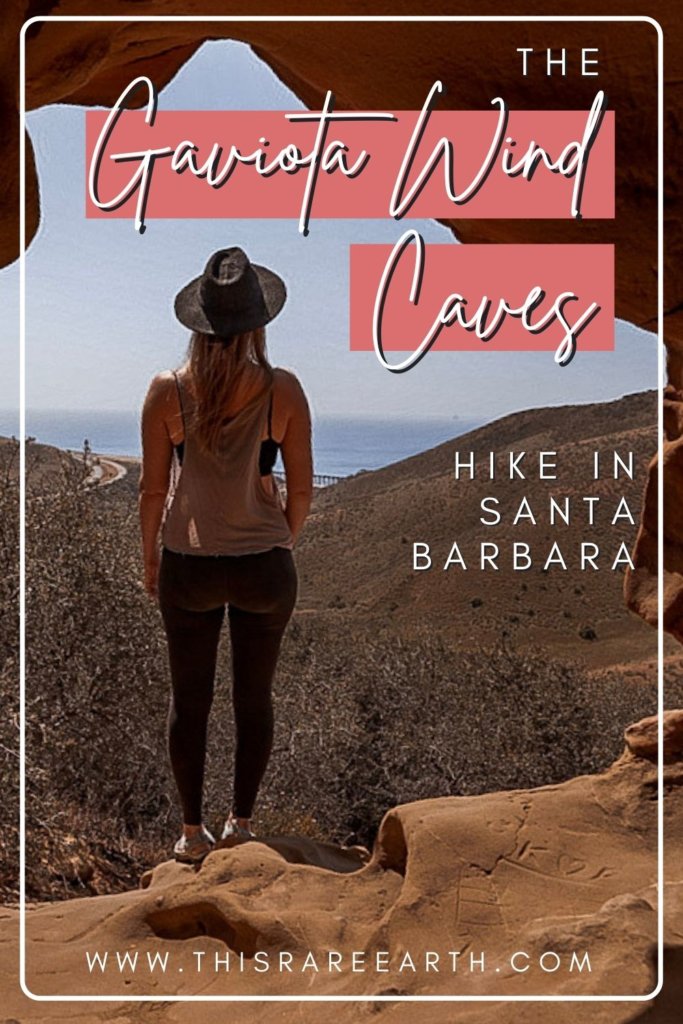 Have you hiked here? Let me know what you think below!