Looking for the best hiking trails in Southern California? Look no further! From desert canyons to lush forest to sand dunes and mountains, Southern California has it all. Here are ten of the best hikes in Southern California!
Pin Me for Later!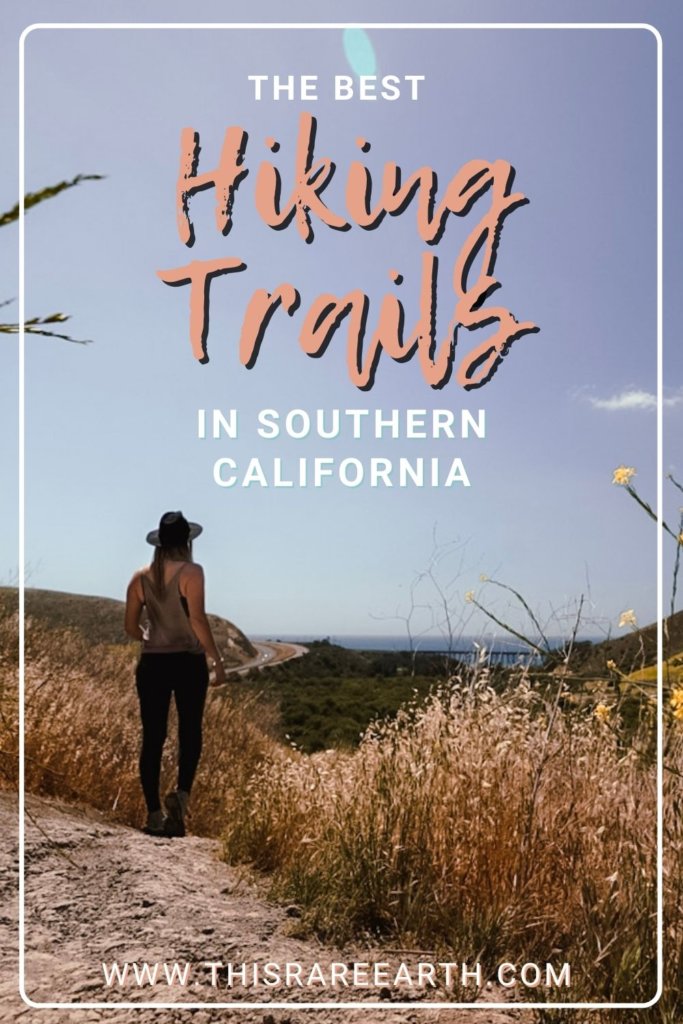 One fact that can't be argued about Southern California: It has some of the best hiking trails in the entire United States. Period.
Southern California hosts such a range of climates and offers hikers much more than ocean views (though it's got those, too!). From bright, dry deserts to lush green oases to the comfortable Mediterranean climates, California has it all.
It's taken years, but nowadays I can say I've hiked many of the trails in SoCal, and I have a list of favorites. Below are some of the most breathtaking hikes, some of the most scenic hikes, and some of the most interesting hikes I've found.
Here are the ten best hiking trails in Southern California that every local and visitor needs to experience!
The 10 Best Hiking Trails in Southern California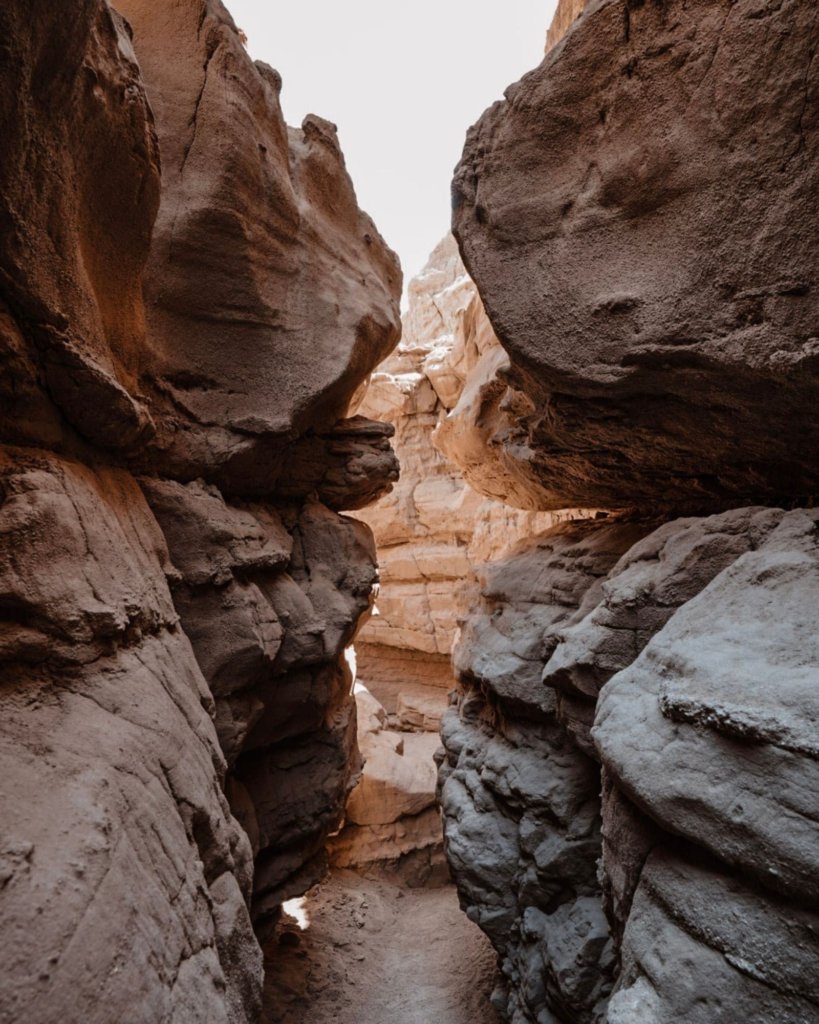 The Slot – Anza Borrego State Park
This may come as a shock – I prefer deserts to beaches. There, I said it.
One of the best desert parks in California is Anza Borrego, and hands down the best hike in Anza Borrego is The Slot.
Many people don't realize that we have a narrow slot hike right here in Southern California! A slot canyon is a cavern that is deeper than it is wide.
This 2.3 mile Loop hike is a unique trail rated as Moderate. Though it can get busy later in the day, I've managed to avoid crowds (and heat!) by starting early.
The trail gets very narrow in some spots – so narrow that a large backpack won't even fit – so definitely pack light. You'll be having too much fun anyway, squeezing through narrow caverns and scrambling over small rocks now and then to need much more than water. Easily one of the best hikes in Southern California.
Check out the full details on accessing and hiking this trail here.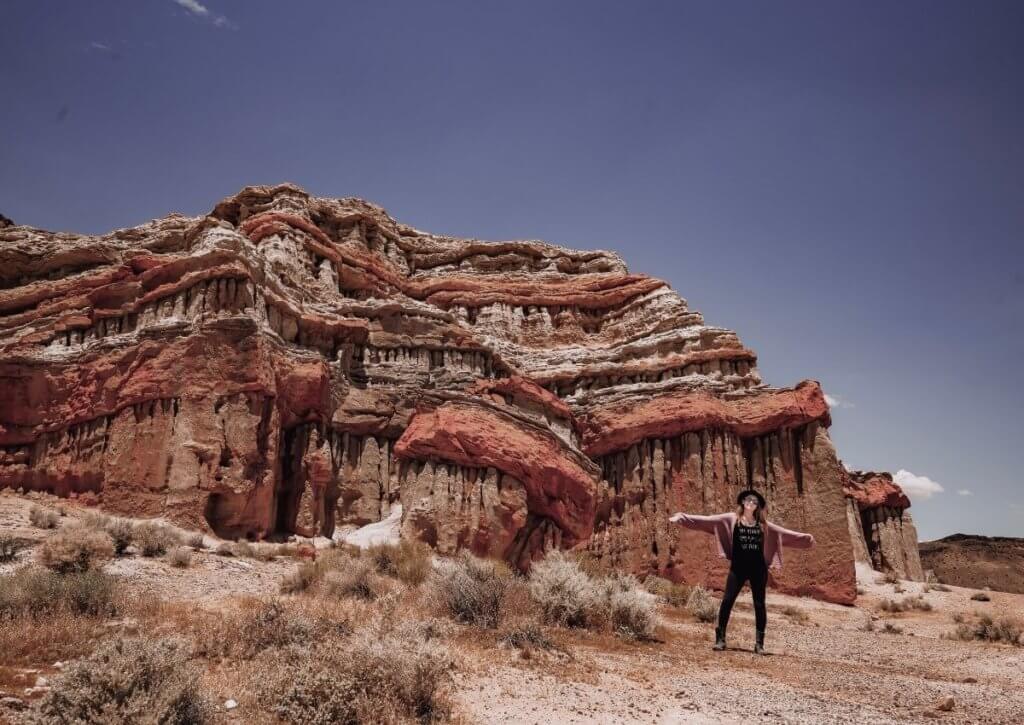 Red Cliffs Trail – Red Rock Canyon State Park
Red Cliffs Trail is an Easy 1 mile Loop located within Red Rock Canyon State Park. This hike features a small cave and is an excellent choice for any skill level. Dogs are permitted on this trail.
Another desert trail, this hike is best taken early, or in winter months. If you've never embarked on a desert hike, make sure you know what to wear in the desert and brush up on your desert hiking safety tips.
The scenery in Red Rock Canyon is what really makes this one of the best hiking options. The tall red rocks streaked in white stripes are reminiscent of what I see in Arizona and Utah!
Check out the full details on accessing and hiking this trail here.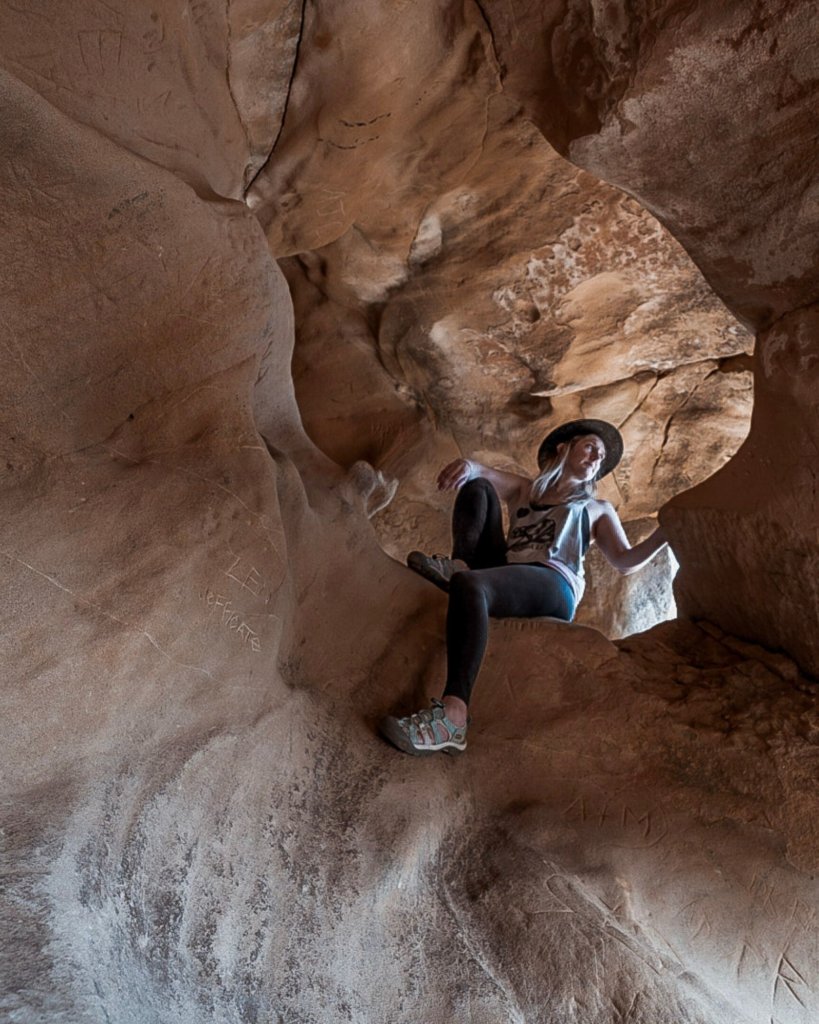 Gaviota Wind Caves – Santa Barbara County
Trading in the desert for the more comfortable Mediterranean climate, this next hike will take place in Santa Barbara County, on the coast.
If you're spending the day in Santa Barbara, I highly recommend driving the 20 minutes or so north to experience this hike.
Beginning on flat earth at the base of the mountains, hikers will be surrounded by brush and wildflowers (depending on the season). Not too far in, the trail will turn sharply up the hillside.
This hike is a 2 mile Out and Back Moderate hike, leading over small rock scrambles, stepp inclines, and culmiating in the Gaviota Wind Caves.
It's hard to believe that these sandstone caves were formed by strong winds! Some of the passageways are quite deep and twisting.
The reward for tackling this hike is the panoramic view of the blue Pacific Ocean and the mountain peaks below. It is worth spending a morning tackling this trail.
Check out the full details on accessing and hiking this trail here.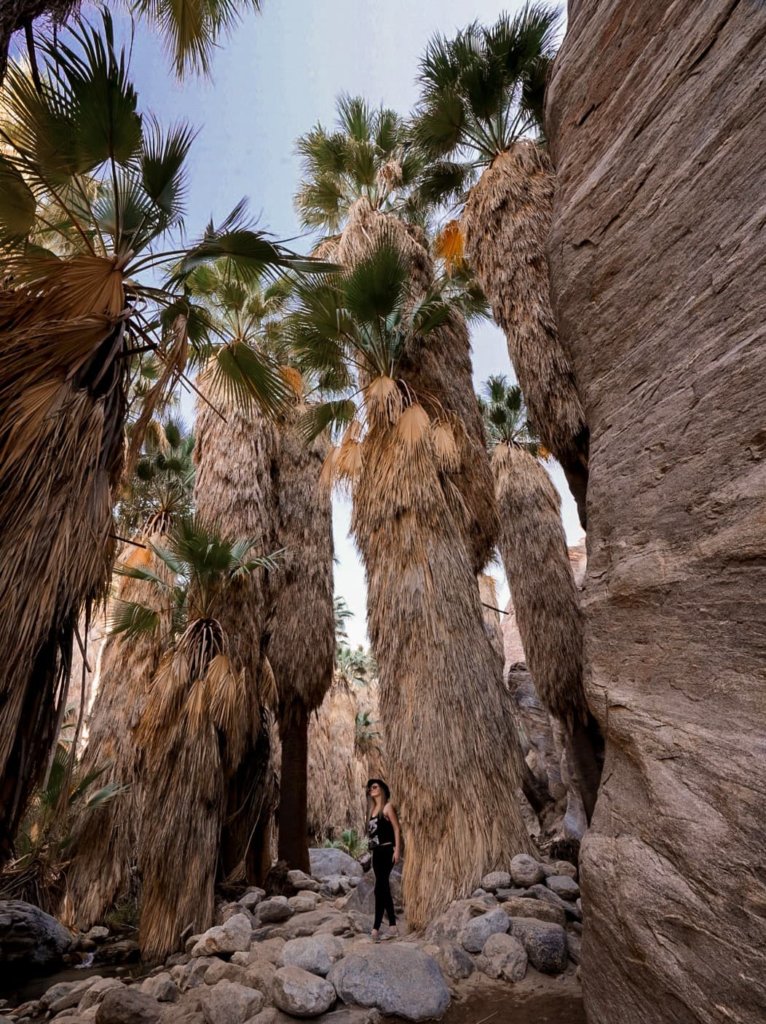 Andreas Canyon – Palm Springs
One of my current favorites, this hike features a lush green oasis. While I'm often a fan of more strenuous trails, this Easy 1 mile loop is just so stunning that it easily made this list.
A small stream is surrounded by several clusters of tall green palm trees, and the trail runs up a rocky cliffside next to the stream. To the left sits the tranquil greenery and to the right sits the rugged dry mountains.
Last time I was here I saw a 5-foot long rattlesnake, so keep your wits about you and watch where you are walking.
Andreas Canyon is one of several hiking options located within Indian Canyon, which does require a $9 per person entry fee. The fee is far worth the price, though! The trails are in Palm Springs so it's a great weekend getaway hike.
Check out the full details on accessing and hiking this trail here.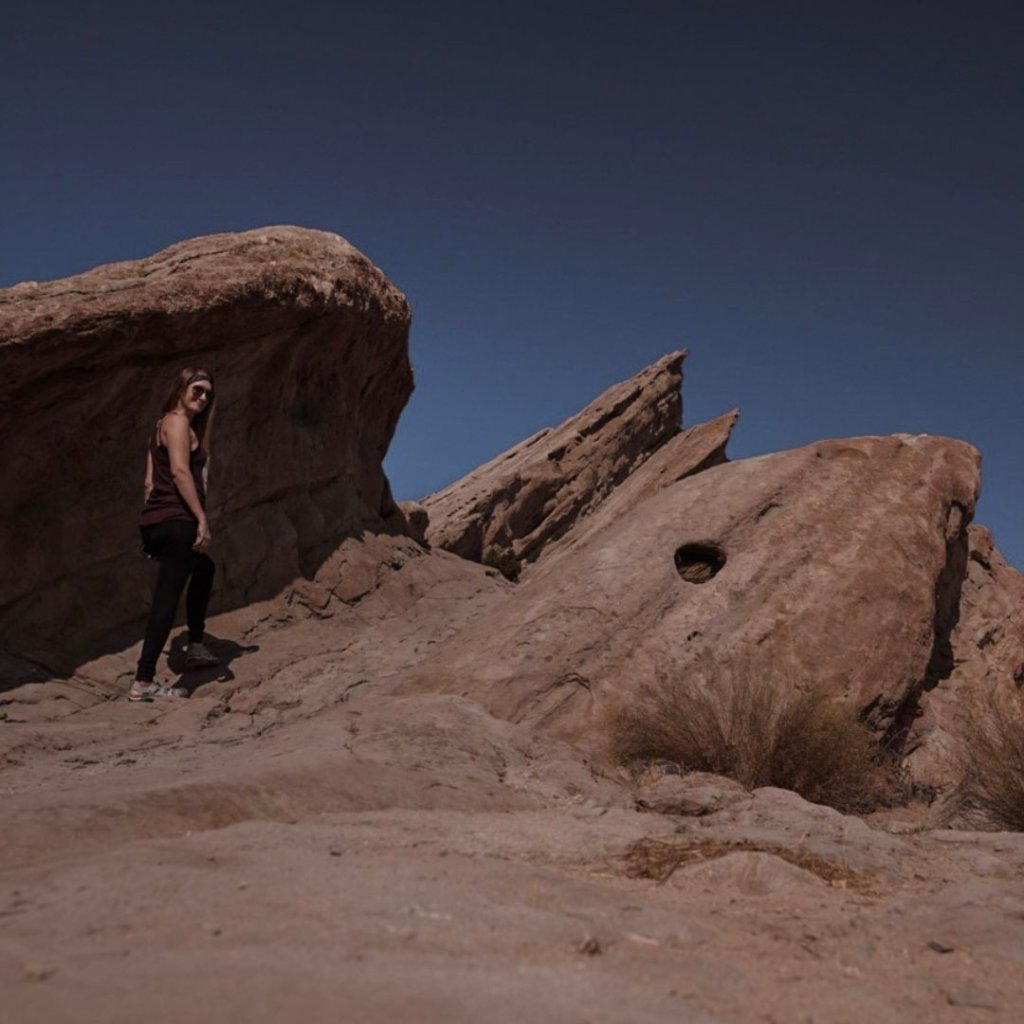 Vasquez Rocks – Pacific Crest Trail
Okay, full disclosure – one thing I've never done is hike the full Pacific Crest Trail. BUT. Did you know that you can hike sections of it and experience a small taste of what I imagine to be an immensely fulfilling experience?
The Vasquez Rocks are located in quiet Agua Dulce, next to farmland and simple, pretty homes. The Pacific Crest Trail runs straight through here.
Hikers can not only hike however much of the PCT as their day allows, but there are also smaller trails here like Geology Trail that are worth a peek. The highlight though is definitely traversing up and across the wild and crooked rock structures.
Check out the full details on accessing and hiking this trail here.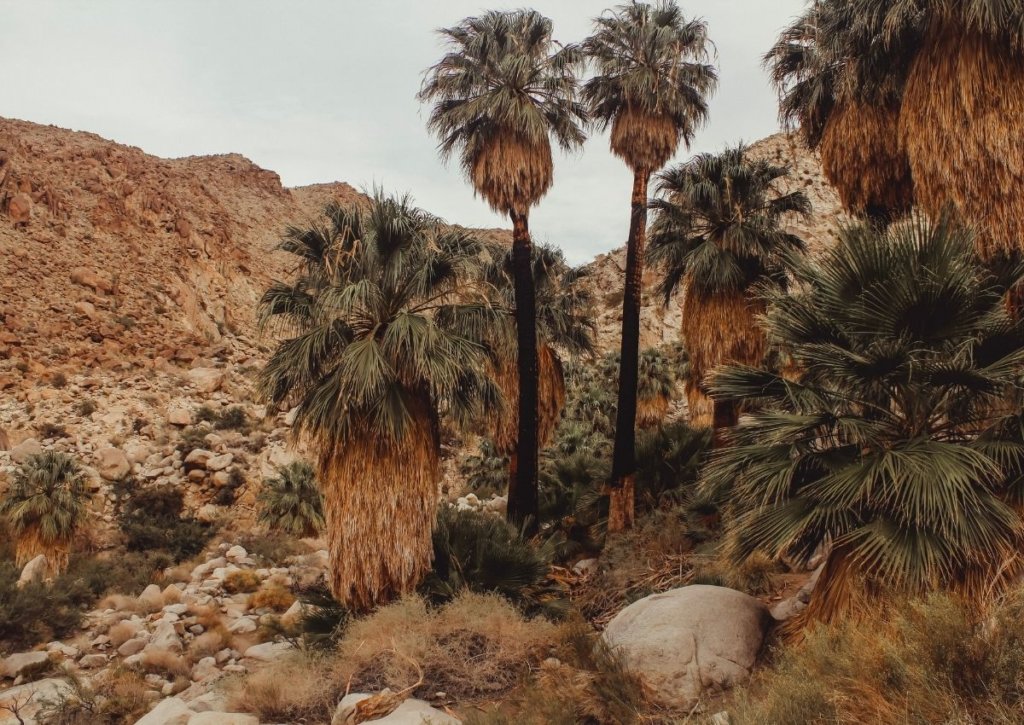 49 Palms Oasis Trail – Joshua Tree National Park
I've spent A LOT of time in Joshua Tree National Park over the years and honestly, it was difficult to narrow down which of the Joshua Tree trails deserved to be named one of the best hiking trails in Southern California.
In the end I had to go with 49 Palms Oasis, not just because of the scenic reward at the end of the hike, but also my very vivid memory of the first time I hiked this trail.
It was dead hot summer, and my good friend and I headed out despite the heat, not fully understanding that we were headed out to find a real life oasis in the desert. It was incredible! And I still include this on many a day trip to Joshua Tree.
It's a 3.1 Out and Back trail rated as Difficult, due to the steep inclines on the mountains. It is well worth the effort!
Check out the full details on accessing and hiking this trail here.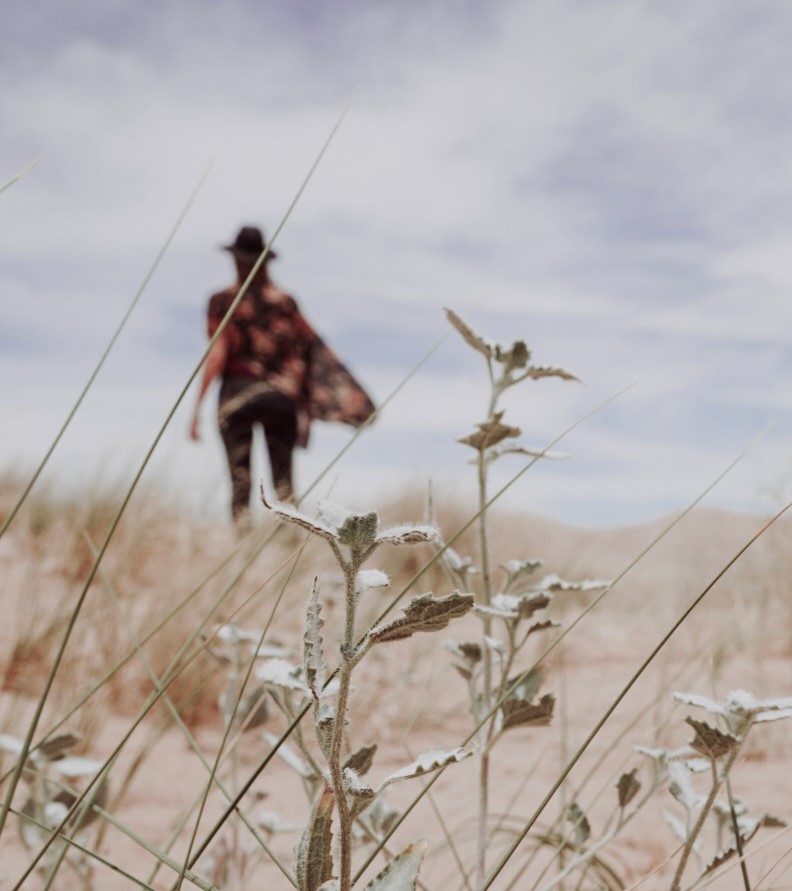 Kelso Dunes – Mojave National Preserve
Located in an underrated patch of land called the Mojave National Land Preserve, the Kelso Dunes are spectacular. This is part of the Mojave Desert, so again – come prepared for desert hiking.
The beginning of this 2.7 mile Moderate Out and Back trail features desert scrub and desert sage, peeking out of the sand folds. The colors are stunning, turning more golden as the sun gets higher in the sky.
Once hikers get farther into the dunes, the scrub thins out and you find yourself slipping and sliding on sand.
If you've ever hiked or ran on sand before, you know that it can be difficult terrain to cross. Bring loads of water and start your hike early.
Check out the full details on accessing and hiking this trail here.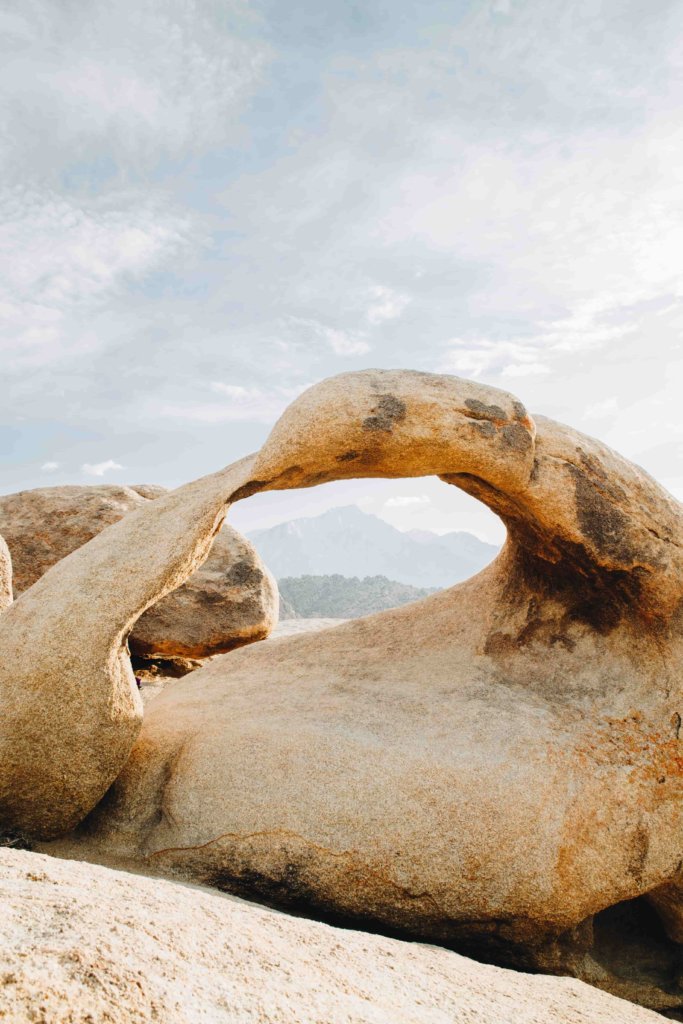 Arch Loop Trail – Alabama Hills
We are switching gears and entering a mountainous region now, for the seventh on our list of the best hiking trails in Southern California. This is our northernmost option, located in the Alabama Hills Recreation Area.
Super short at less than a mile, this Easy Loop is heavily trafficked in this popular camping area near the base of Mount Whitney.
Much cooler in temperatures than my desert hikes, you'll want to layer up for this hike. I do recommend to start this hike early, both because it can get crowded and also because sunrise (or sunset) is a fun experience at The Arch.
This trail is great for all skill levels.
Check out the full details on accessing and hiking this trail here.
M*A*S*H Hike – Malibu
Malibu Creek State Park is a rugged and mountainous area that sits on the border of Malibu and Calabasas.  The MASH hike is hidden in these well-trodden hills and is certainly worth the trip (even if you've never seen the show!).
Just under 5 miles, this Easy trail takes you across rolling hills, shaded pathways, and rocky trails. Midway through this Out and Back trail, you will reach the filming location for MASH – complete with paraphernalia from the set that has been left behind since the 1980's. 
A placard points out several locations of significance and rusted old trucks remain on site.  There are several picnic tables here, making it a great location for a packed lunch before turning back.
Parking is free from Mulholland Highway and the start of the trail is inconspicuous – look for a break in the wooden fence to mark the path. 
Check out the full details on accessing and hiking this trail here.
Los Liones Trail – Pacific Palisades
If you are looking for a strenuous workout with breathtaking views of the Pacific Ocean, then this is your hike! 
Los Liones is a popular hike, so weekends sometimes draw a bit of a crowd.  Luckily the hike is 8 miles Out and Back, and the number of people thins out the farther you hike.
The hike begins under the cover of shade, immediately climbing uphill. One mile into the hike sits a bench that is great for a rest, a drink of water, and a great view of the Pacific. 
Continuing uphill, the shade thins out and the trail is drenched in sunlight. There are several additional scenic viewpoints as you gain elevation, showcasing Malibu and the blue water below.
Check out the full details on accessing and hiking this trail here.
Out of all of the incredible hikes available, these are the ten best hiking trails in Southern California. There is something here for everyone – desert hikes, mountain hikes, ocean hikes. Easy, Moderate, and Difficult hikes.
Try them out and let me know what you think!
Pin Me for Later!