Anza Borrego Desert State Park is one of those places that is largely unknown outside of California. Which is a shame, because hiking The Slot Canyon in Anza Borrego (a.k.a. "The Slot") is one of the coolest experiences in Southern California! This semi-secret Anza Borrego slot canyon is a must-see if you are in the region. Here's how to hike it (and find it!), below.
Pin Me for Later!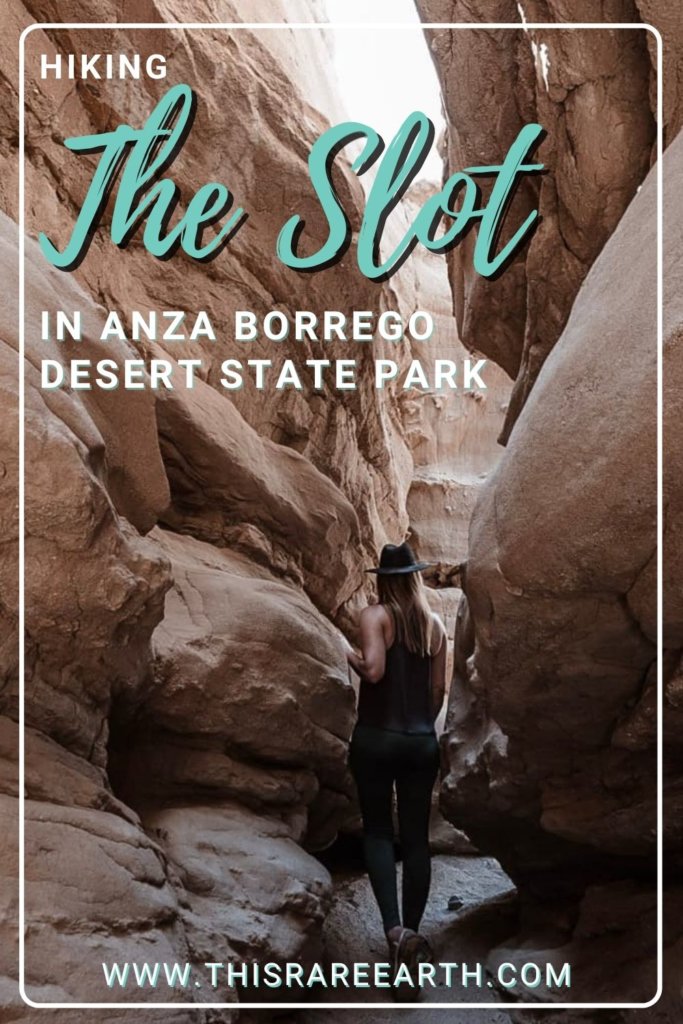 Hiking the Slot Canyon in Anza Borrego Desert State Park, CA
Southern California is absolutely beautiful – there is no doubt about that. And while I love gorgeous beaches like El Matador in Malibu, 99% of the time you'll find me in the desert environment rather than at the shore.
Anza Borrego Desert State Park is a very vast stretch of desert. So much of it is a mystery – limited roads and trails exist in this wild, dry land. Anza Borrego covers more than 935 square miles of the Colorado Desert, making it the largest state park in the contiguous United States.
(Fun Fact – California is also home to the largest National Park in the contiguous United States – Death Valley National Park.)
While there are many cool sights and unique desert hikes in Anza Borrego, almost none are more surprising than "The Slot". This is hands down one of the best hikes in Southern California.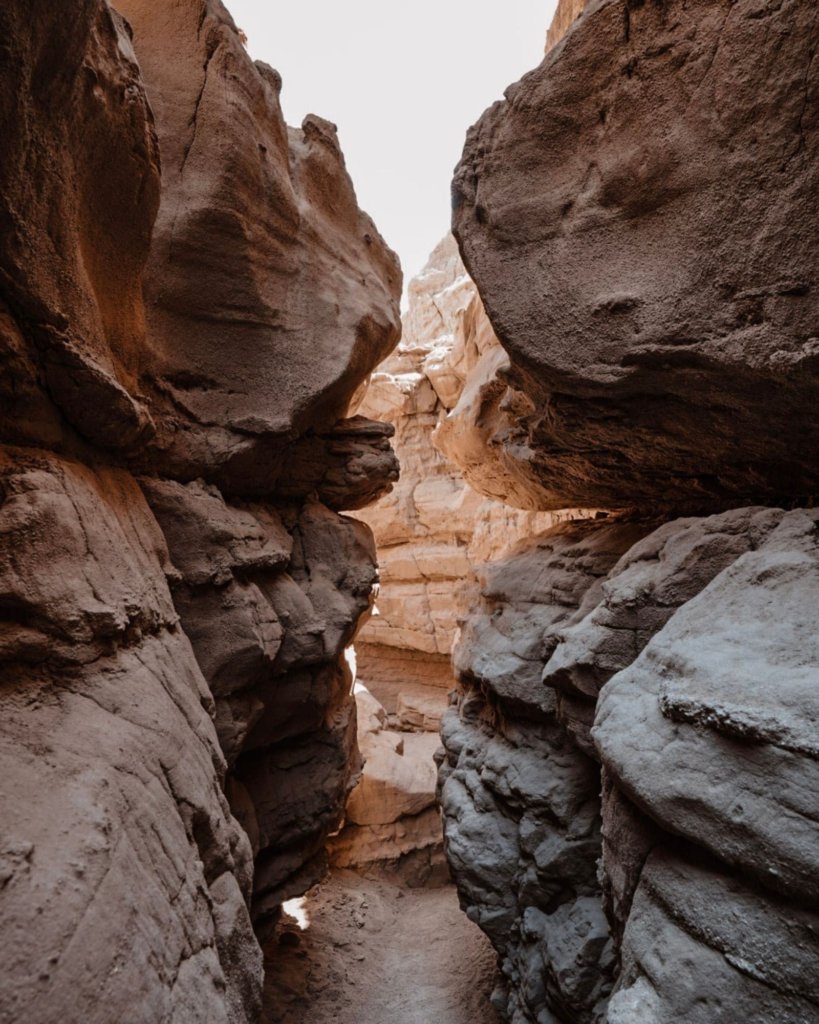 What is the Anza Borrego Slot Canyon?
A slot canyon is a narrow, deep gorge that is taller than it is wide.
Slot canyons such as The Slot in Anza Borrego were formed through millions of years of erosion, typically on softer rock types. It takes a certain combination of both water and rock for a slot canyon to form, making them somewhat rare overall.
The Slot Canyon in Anza Borrego has walls that reach higher than 40 feet in some places, towering high above hikers' heads (and thankfully, sometimes shielding the sun – more on that later).
You May Also Like: A Complete Guide to Anza Borrego Desert State Park
Anza Borrego Slot Canyon Basics:
Location: It can be quite tricky to find in such a vast park. Use these coordinates: 33°10'55.0″N 116°12'51.2″W
Parking: There is a dirt parking lot located directly in front of the Anza Borrego slot canyon hike trailhead. Look downward into the vast stretch of flat but jagged-looking earth – The Slot hike is right below you!
Fee: On weekends, this hike can get crowded. Regular incidents of rangers collecting $10 fees to park and hike are reported, particularly on weekends. I have note personally run into this, but then I've primarily visited on weekdays when the lot is clear.
Distance: Hikers regularly enter from various points, and admittedly it can be tricky to see the trail entrance. If you hike to the slot out and back, you will have hiked about 1 mile. If you complete the full loop, it's closer to 2 miles.
Level: Easy to Moderate depending on your route. Some light scrambling over rocks in the pathway and squeezing through narrow sections will be required. Some places are tight – don't bring a large backpack!
When To Go: Early morning is best to avoid the desert heat. If it's your first time in the desert, check out my desert hiking safety tips.
Dogs: Not permitted.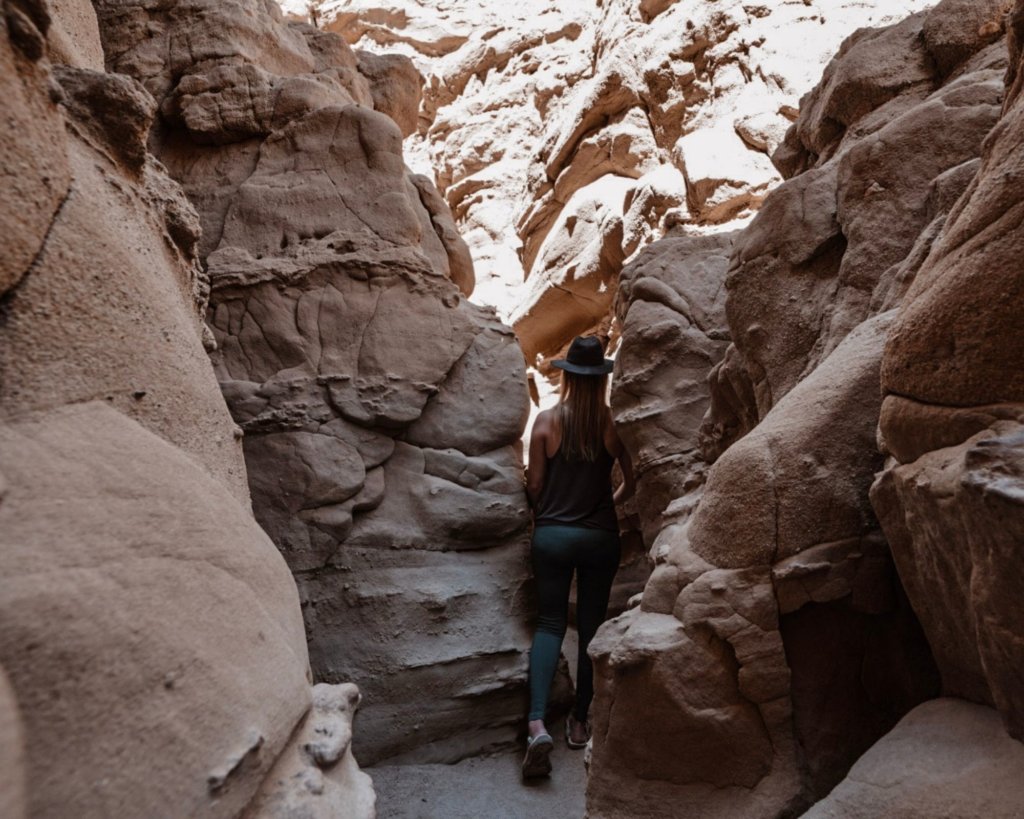 How To Reach The Slot Canyon, Anza Borrego
Google Maps has a pretty accurate mark for The Slot trailhead. When in doubt, use the coordinates listed above!
The route to The Slot can be very tricky to find. It is a dirt and sand road with a teeny tiny sign, and does not obviously lead to anything other than more flat desert.
Check the weather before you attempt this drive – if there is rain, you will need a 4WD vehicle. My most recent trip to Anza Borrego was on a dry and incredibly hot day, so I had no trouble reaching the parking lot in a Prius. Drive carefully, avoid larger patches of sand, and you'll be alright.
You'll know you've reached The Slot when the road opens up into a parking lot and you see a small restroom structure to the right. If you pull directly forward and park, you will actually see the canyon in front of you – look down over the steep edge and voila!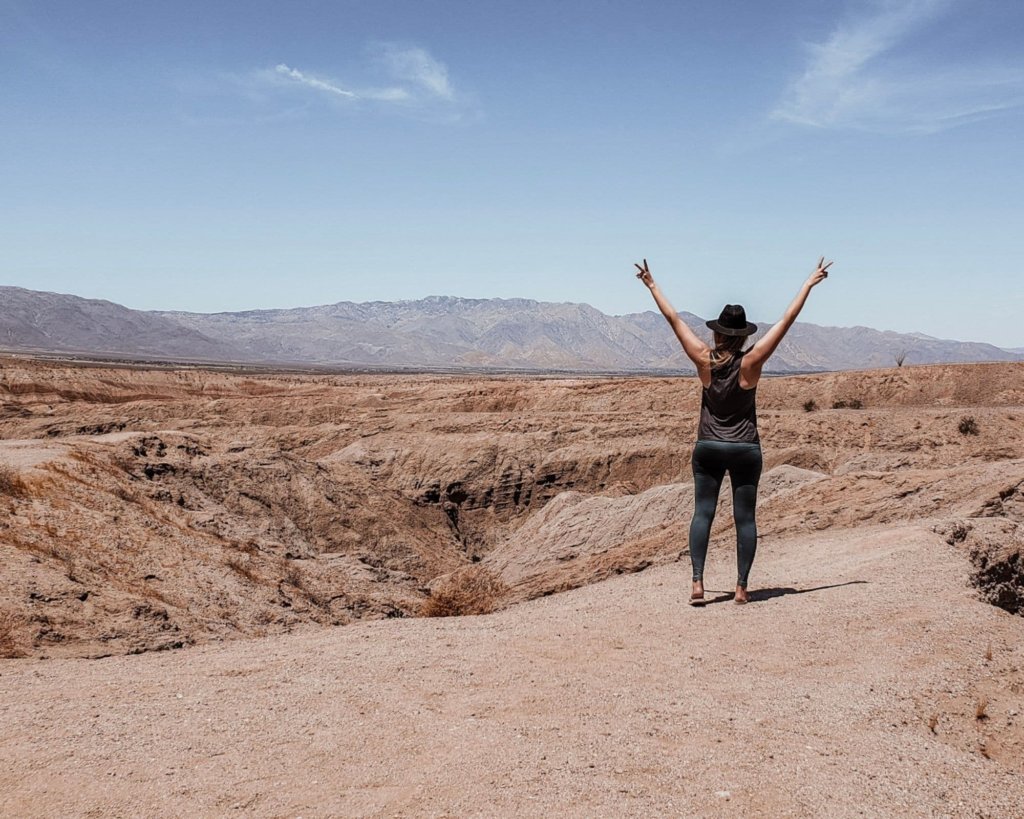 Hiking "The Slot"
I have seen people enter the slot canyon from every which way over the years. Know that it is not advised to climb directly down into the canyon if you can help it – there are signs asking visitors to preserve the structure and use the trails. (If you are familiar with the Seven Leave No Trace Principles, this is probably not new to you).
To the right is the trailhead leading directly down to the slot canyon. This takes you to the Slot more quickly, FYI. To the left, there is a 4WD dirt road that winds around and down to the canyon floor, eventually. Before you take either route, take a careful walk toward the rim of the canyon – it's a pretty incredible view down and across the vast distance of rock!
Whichever route you choose, you really can't "get lost". Just follow the path to make the complete loop, or, once you've seen enough of Anza Borrego's slot canyon, you can always just march back out the way you came.
The trail winds hikers through wider areas with steep canyon walls before leading into the narrow slot canyon. Hikers will need to weave through tight corridors made of rock, snaking their way through the trail. Large backpacks would be difficult to maneuver in some spots.
About halfway through the hike, be sure to look up! A natural "bridge" is anchored high above your head, made from rock. It's pretty cool to see, though I don't think you can actually access it from above.
Complete your loop or your out & back and wind up back near that parking lot, where you've definitely earned some A/C!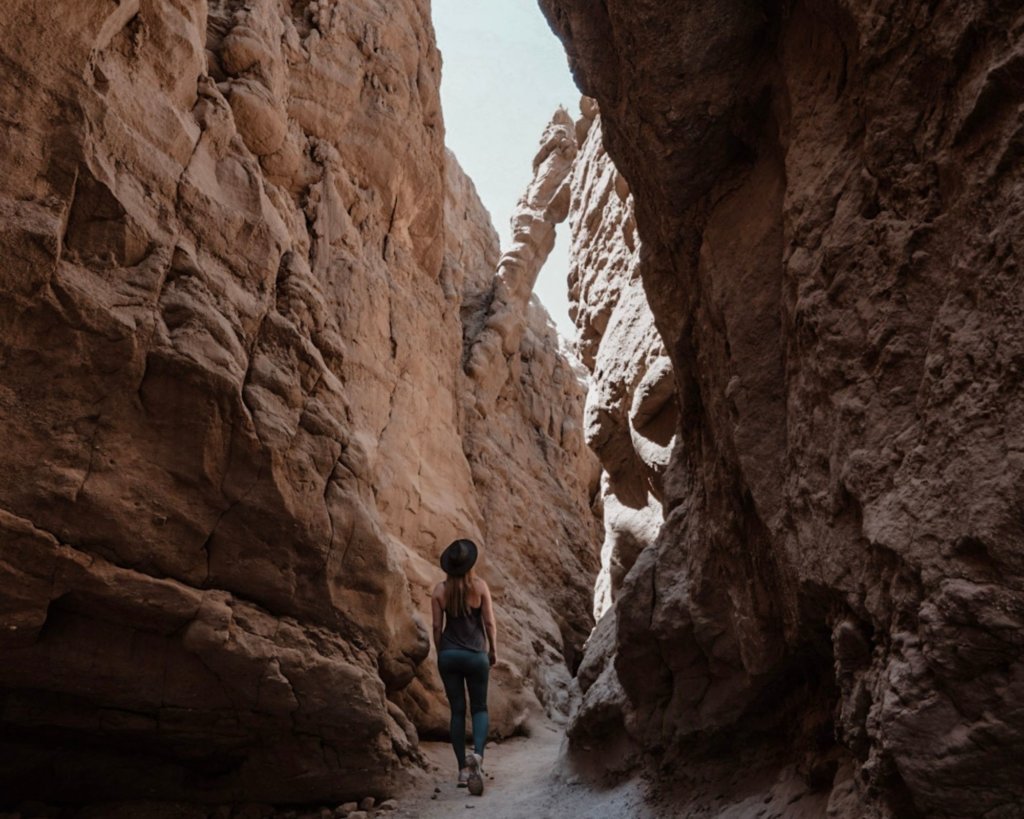 A Few More Notes…
➳ Bring way more water than you think you need. A good rule of thumb is to pack what you think you need, then double it.
➳ For ALL THE DETAILS on what to wear for desert hikes, click here. I go over clothing and gear, in-depth.
➳ I've read a lot of guides that say "there is no shade on this hike". I'd like to respectfully disagree. Yes, there are areas where the sun shines straight down into the canyon. But, depending on when you leave and what angle the sun is in the sky, I always find patches of shade for short water breaks.
If you're enjoying this post, consider sharing it or signing up for the This Rare Earth newsletter below! No spam ever – only the best hikes, destinations, and adventures.
Where To Go After Hiking The Slot in Anza Borrego?
You have a lot of fun options, my friend!
For more hiking options inside of Anza Borrego, Click Here! I'd recommend checking out the short Wind Caves hike, personally.
Alternately, huge metal dinosaur and dragon sculptures dot the desert landscape in Galleta Meadows nearby.
Or, if you're ready to move on, drive out to Joshua Tree National Park or Palm Springs for some more desert-style adventures.
Pin Me for Later!