Anza Borrego Desert State Park is a diverse and vast area. Though many think of the desert as dry and lifeless, there are actually a lot of things to do in Anza Borrego and Borrego Springs! Here are five Anza Borrego hikes that you cannot miss on your next visit to this beautiful state park.
Pin Me for Later!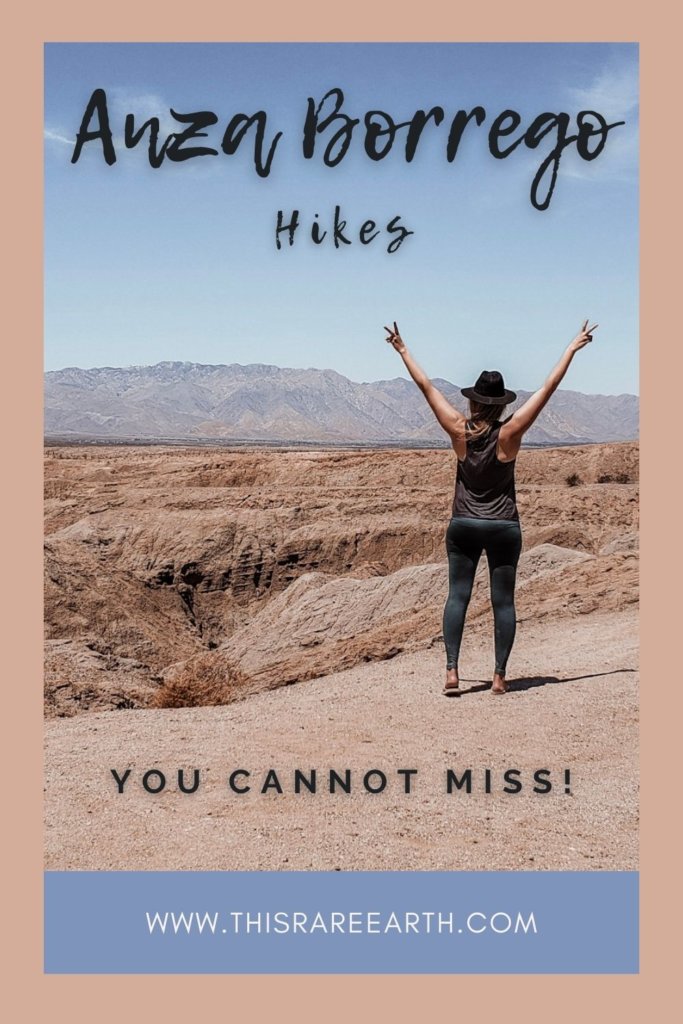 Anza Borrego Hikes You Cannot Miss!
Anza Borrego Desert State Park is still a somewhat obscure location in Southern California. It sits just under two hours outside of San Diego and about 2.5 hours away from Los Angeles.
Though most people in the USA will still scratch their head if you mention "Anza Borrego", this state park is just beginning to gain notoriety.
In 2017, Anza-Borrego Desert State Park experienced a major superbloom (the same kind that Death Valley is known for now and then). Social media went crazy, posting photos of vibrant fields of neverending wildflowers, and the rest is history. The park saw an uptick in visitors immediately.
Then, Anza Borrego was designated an International Dark Sky Park in 2018. As a result, stargazers now flock here for dreamy astrophotography shots in the dark desert sky.
But, you don't need to be in the midst of a super bloom or stay here overnight to enjoy the park (though I do thoroughly recommend both experiences!) Visiting and hiking in Anza Borrego Desert State Park on any day of the year can be truly we-inspiring.
Here are my top recommendations of Anza Borrego hikes that you cannot miss.
You May Also Like: A Complete Anza Borrego Guide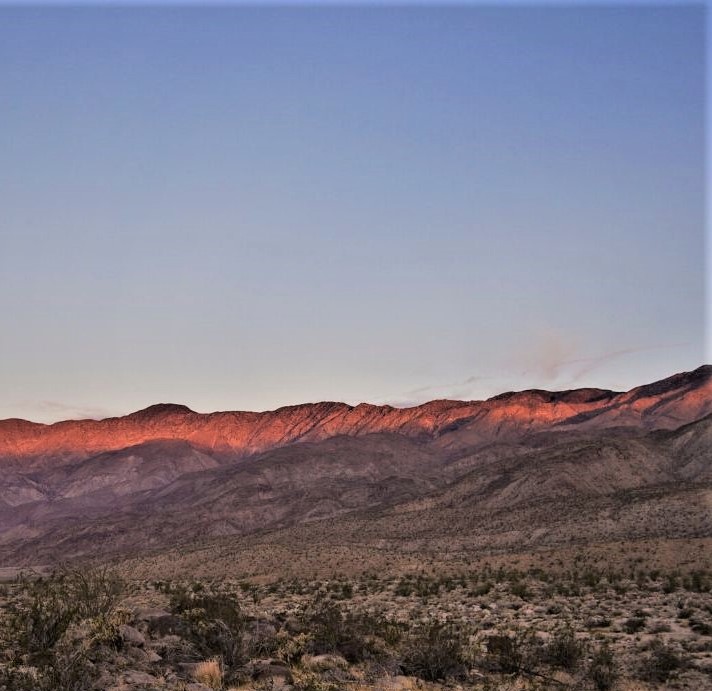 Desert Hiking Tips and Safety
First things first. Hiking in the desert is no joke. The weather can get sweltering hot no matter the season (though of course summer is the most uncomfortable). The winter, on the other hand, can produce an unexpected chill or even flash floods.
If this is your first time hiking in this environment, I highly suggest you check out these desert hiking essentials . In that post, I cover all of the gear and clothing that you need to prepare for a safe and enjoyable time in the desert.
There is no shortage of breathtaking desert scenery across Anza Borrego's 600,000 acres. Anza Borrego is the largest state park in the contiguous states, so no matter how many times i visit, I always discover new hidden corners of land.
The following hikes illustrate the vastness and the diversity of the Mojave Desert (yes, this is the same Mojave Desert that covers half of my beloved Joshua Tree National Park!).
Keep on scrolling for the most epic Anza Borrego hikes in this beautiful desert park!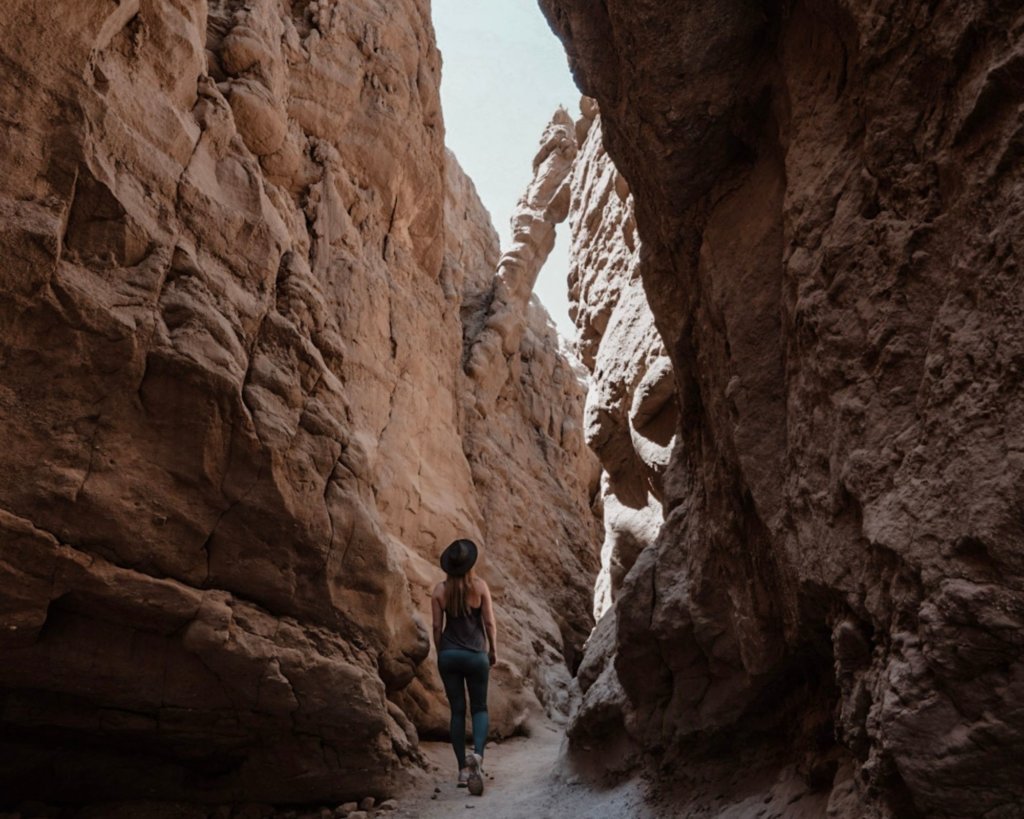 Hike #1: Anza Borrego Slot Canyon (aka "The Slot" Trail)
Distance: 2.3 miles
Difficulty: Moderate
Type: Loop
Slot Canyons make for some super fun hikes, and this one is no exception!
A slot canyon is a narrow skinny canyon that is taller than it is wide. Anza Borrego's Slot reaches 40 feet tall but only 1 foot wide in some areas, for reference. Slot canyons can be found in other Southwestern states, too, like Arizona and New Mexico.
The Slot hike itself offers fun scenery, like boulders and cliffs, wildflowers (when in season) and of course the towering slot canyon itself. The trail is fairly heavily trafficked, especially on weekends. Simple boulder scrambling may be required.
The Slot trailhead is located on Buttes Pass Road. The road is dirt and in the rainy season there can be flash flooding. Check the road conditions at the Anza-Borrego Desert State Park Visitor Center to be safe.
If you think you might like to explore my favorite hike in the park, check out my in-depth guide to hiking The Slot in Anza Borrego!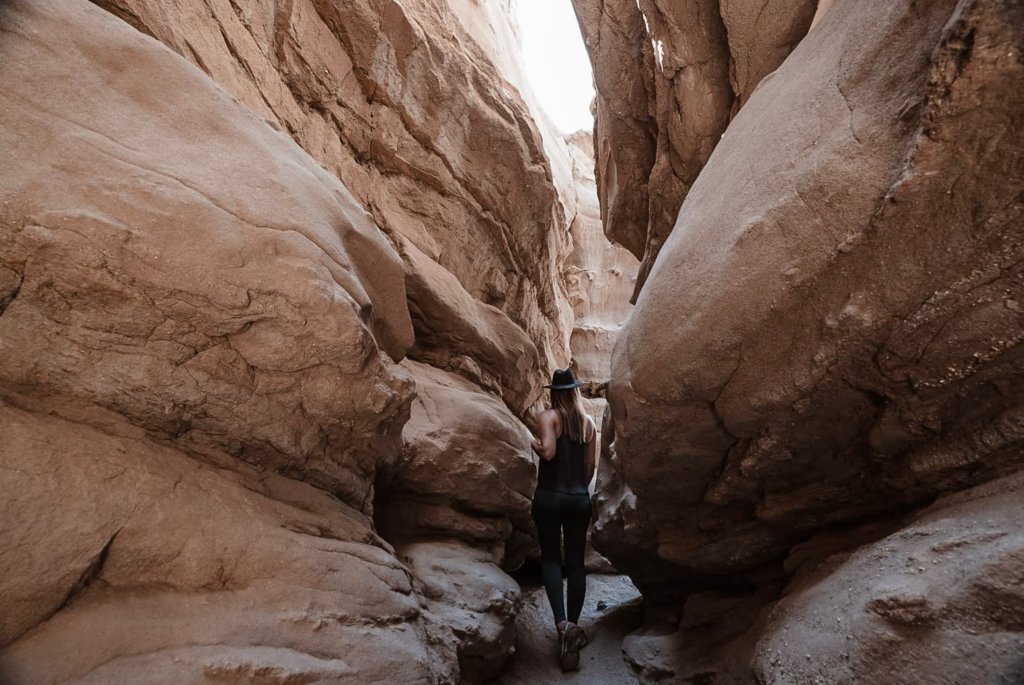 Hike #2: Borrego Palm Canyon Trail
Distance: 2.9 miles
Difficulty: Moderate
Type: Out & Back
The Borrego Palm Canyon Trail had been on my list for a while, and when I finally got to tackle this hike it did not disappoint!
The trail meanders along the base of the mountains then leads up between the rocks. You'll find yourself surrounded by reddish earth and prickly cacti, which of course are my fave. Finally, as you get deeper into the canyon, you will start to hear the trickle of water and spy the shaggy top leaves of the palm trees.
This trail culminates at a large shady palm grove, not so dissimilar from Andreas Canyon in Palm Springs, I might add. If you're lucky, you may even run into the family of big horn sheep that call Anza Borrego home. I've unfortunately never had the pleasure but I hope to next time!
For detailed information on hiking this trail, check out my in-depth guide to Borrego Palm Canyon.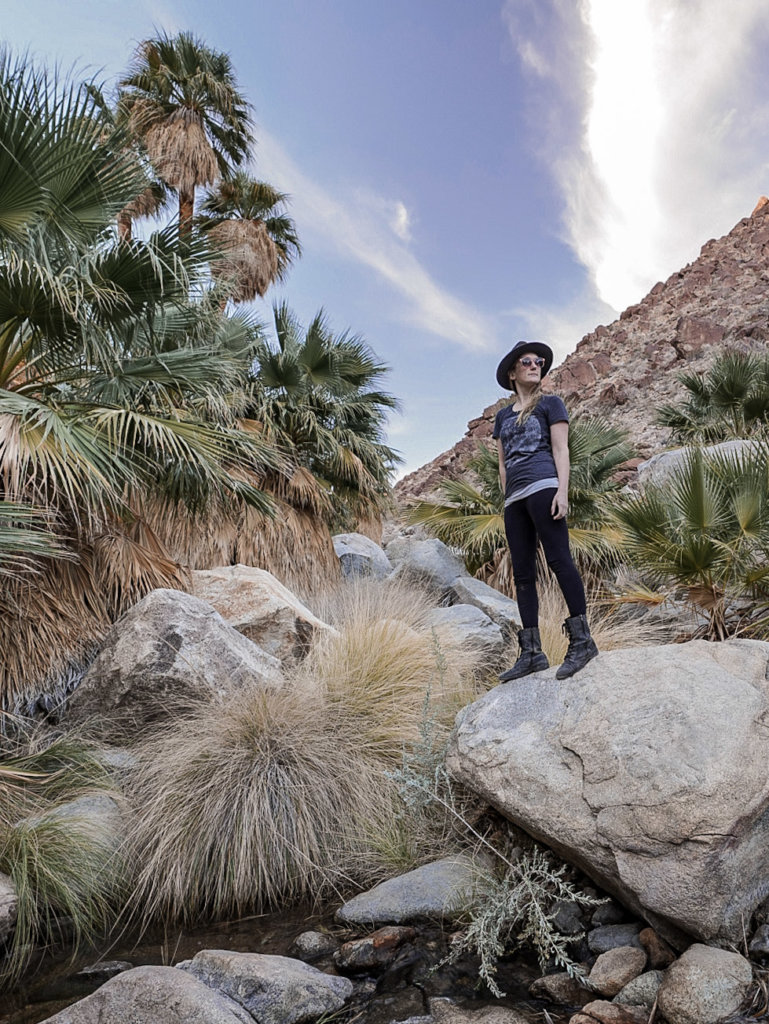 Hike #3: Ghost Mountain Trail
Distance: 1.1 miles
Difficulty: Moderate
Type: Out & Back
Ghost Mountain Trail is a great hike for those who like to explore abandoned ruins!
At a moderate but short 1.1 miles, this fun trail leads up the rocky hillside to the remnants of the Marshall South Home, where a family of writers lived back in the 1930s.
There are not a ton of artifacts leftover but the hillside holds old structural elements from his home. It was slightly reminiscent of thing I would find on Arizona hikes and it's definitely fun to explore and daydream about life in this desolate location. Plan on a short but steep excursion.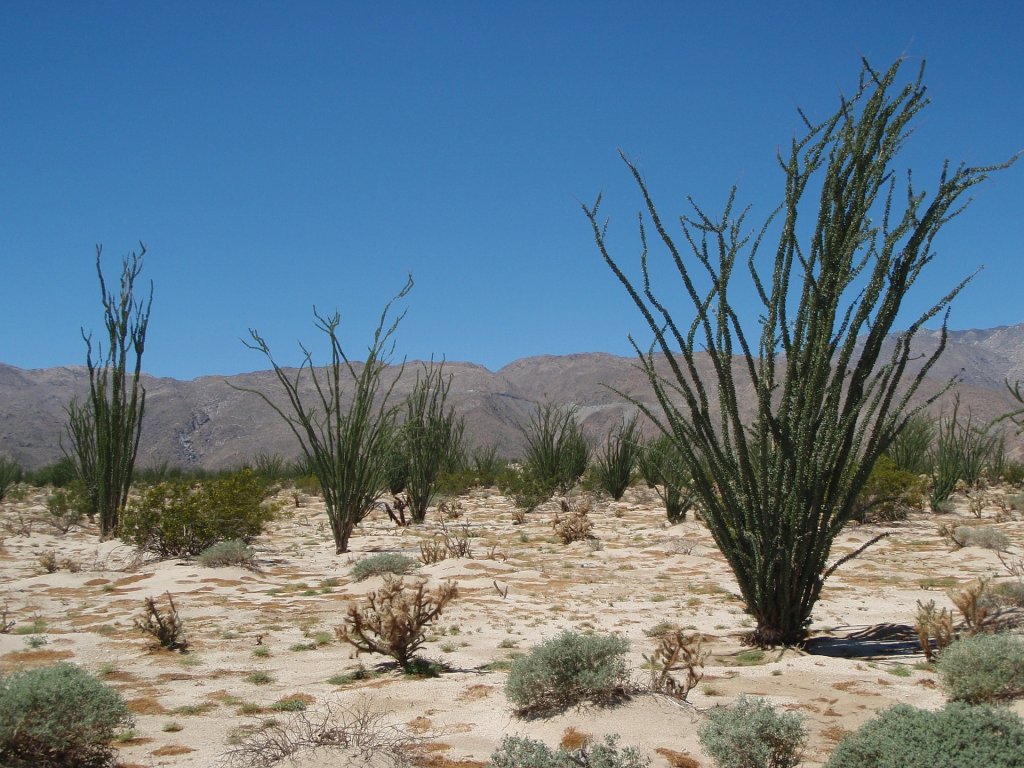 Hike #4: The Wind Caves at Anza Borrego
Distance: 1 mile
Difficulty: Moderate
Though short, this amazing hike is steep and will give definitely raise your heartrate!
Though the desert scenery is beautiful, the highlight is of course the rocky wind caves themselves. The caves are numerous, and make for great photo ops as the wind comes barreling through the openings. If the wind is blowing just right, you may even be able to hear the caves natural melody play you a tune.
The view from the top is amazing. rewarding your efforts on this hike. Stop and stay a while and enjoy the scenery.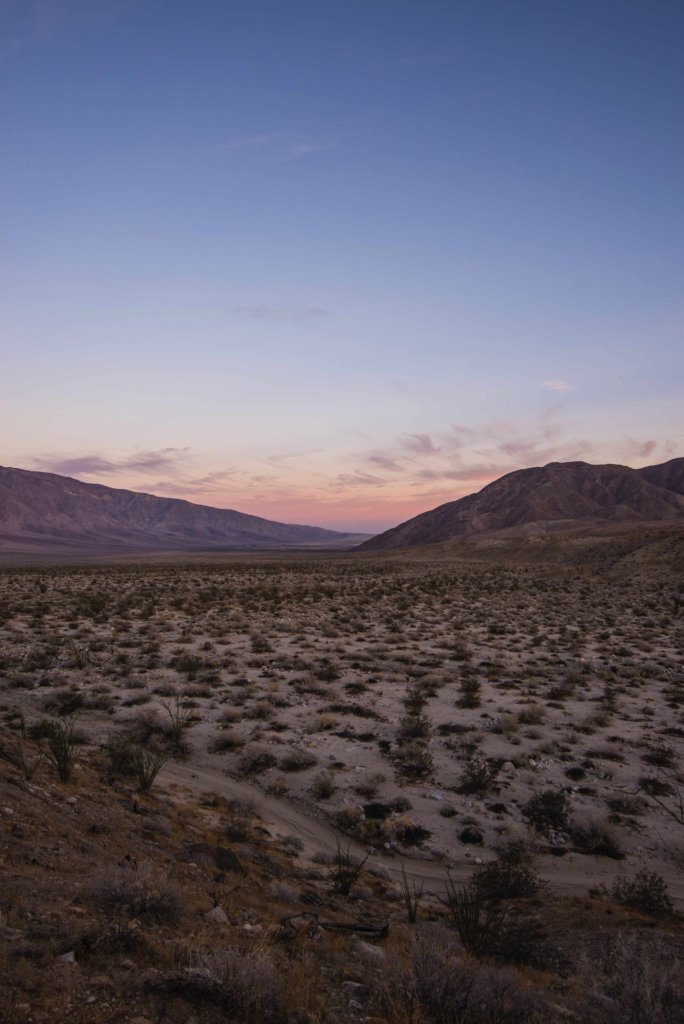 Hike #5: Pictograph Trail
Distance: 2.6 miles
Difficulty: Easy
Type: Out & Back
Pictograph Trail provides an easy hike for all levels. It is a flat, mostly straight out and back trail, but there is a lot to see along the way!
Besides the beautiful landscape of Anza Borrego, you will come across a gigantic boulder that the Kumeyaay Indian painted pictographs on. These lined drawings are over 2,000 years old and deserve some attention while you grab a drink and take in the view.
Be careful on the road leading toward Pictograph Trail. It can get washed out in the winter and rainy months.
Hike #6: Old Overland Stage Route
Distance: 2.8 miles
Difficulty: Easy
Type: Out & Back
This out and back trail is an easy (and mostly flat) 2.8 mile hike with beautiful desert scenery and panoramic views all around you.
Parts of the hike bring you between two rocky peaks, surrounded by cholla cacti (be careful not to get too close to these guys. They are known as "jumping cacti" for a reason!)
This hike showcases the classic Anza Borrego Desert landscape and is great for hot days as it is not too strenuous. Note, bird watchers frequent this trail. You may just get lucky and spot some feathered friends yourself!
If you appreciate the desert hikes that Anza Borrego has to offer, be sure to check out the other four desert parks of Southern California! They are just filled with opportunities for hiking, camping, and photography.
Pin Me for Later!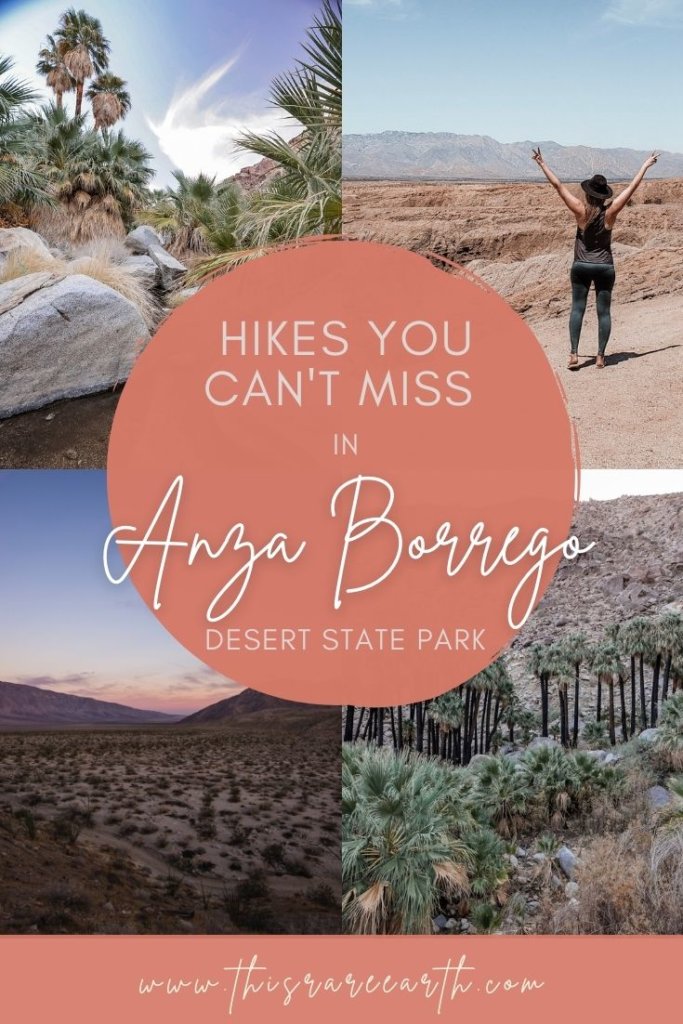 Have you been to Anza Borrego? What did you think?!