Death Valley National Park is an incredible and vast mountainous land containing so many notable sights! If you have just one day in Death Valley, it can be hard to know how to make the most of it. Not to worry, I've got you covered! If you are visiting Death Valley in one day, these are all of the can't-miss sights! Read on for the perfect 24 hours in Death Valley.
Pin Me for Later!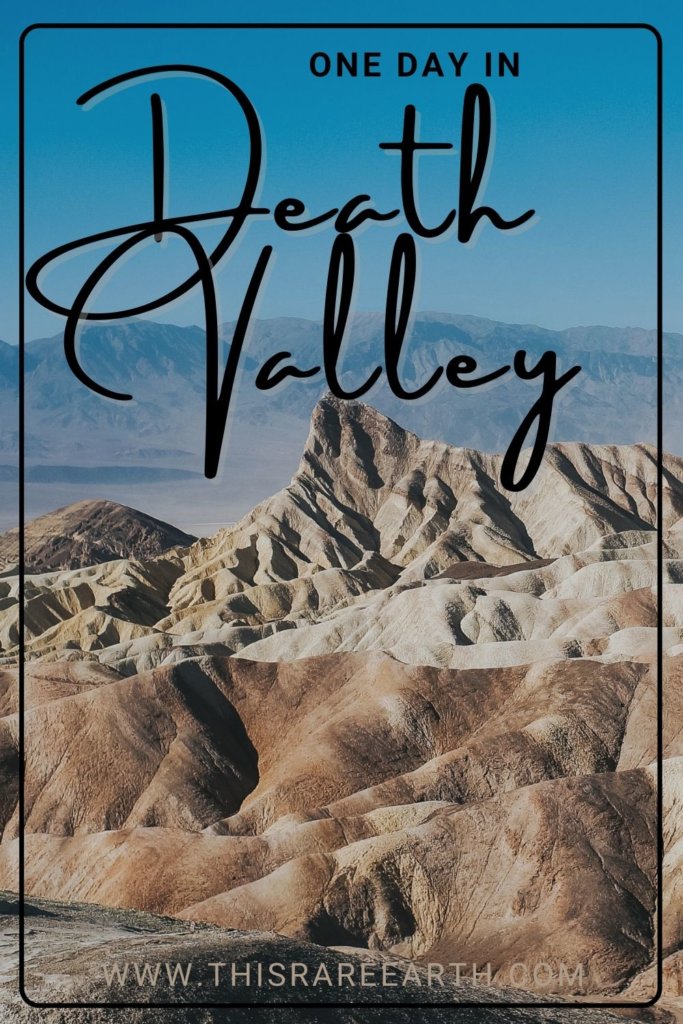 Death Valley National Park is like nowhere else on earth.
This massive stretch of land holds everything from towering sand dunes, cracked salt flats, rugged badlands, and mountains that look as if they've been dipped in a paint palette. It's a stunning but unforgiving desert land – one of the five desert region parks in California.
The mass of land this park covers spans over 3 million acres and is the largest National Park in the entire contiguous United States. North to South, the park runs roughly 140 miles long.
So how on earth could just one day in Death Valley National Park be enough?
It's true that only 24 hours in Death Valley will not be long enough to see everything. But, if you plan ahead, you can see quite a lot of Death Valley in one day! Here I will cover all the best scenic points, hikes and drives that you need to squeeze into your Death Valley one day itinerary.
One Day in Death Valley: What Not To Miss!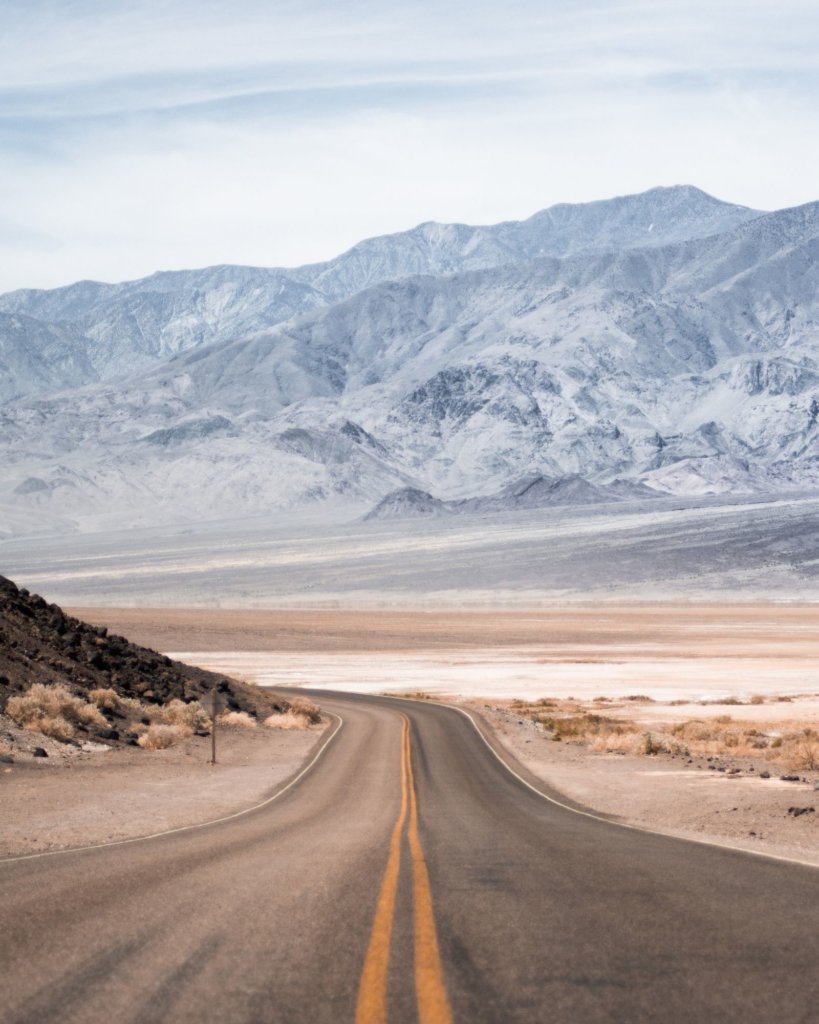 Where is Death Valley National Park?
Death Valley resides in Eastern California, on the northern edge of the Mojave Desert. Death Valley borders the Great Basin Desert and is one of the hottest places on Earth. Similar heat can be experienced in the Arabian Desert and the Sahara.
Death Valley is great as a day trip from Los Angeles or Las Vegas, or even as a stopover when driving between the two.
Prepare for Your Death Valley Trip
Be warned – this 24 hour Death Valley itinerary is jam-packed. You will want to start super early. Plan to wake up well before sunrise if you have a long drive, or plan to spend a night just outside the park to make the most of the morning.
Additionally, an early start will help you avoid the worst of the heat. Vigorous activities during the summe rmonths are just plain brutal. So if you are able to visit during the cooler months, that would be ideal.
When To Visit
Spring (March – May):  Easily the best time to visit, Spring temperatures are mild – typically between 45-85 degrees.  Colorful wildflowers blanket the desert floor, exploding with a pop of color. A few times per decade, Death Valley experiences a Superbloom, which is worth a trip! This is the best season for hiking.
Summer (June – September): Triple digits become a near-daily occurrence in the heart of summer. Intense heat and sunshine beats down from the sky. Hike or explore with caution; I have experienced 120 degree temperatures in July and August.
Fall (October – November): The heat begins to subside into the 45-85 degree range once again.  The nights begin to get cooler, and visitors are more sparse. Hiking and activities become more bearable. This is a great time for camping.
Winter (December – February): Winter in the desert is another great time for long or strenuous hikes. The occasional snowfall may dust the higher elevation areas. The air is cool but the sun is warm, and rainfalls are possible. Flash floods may occur.
What To Bring
First and foremost, water. Loads of water. More water than you'd every think you need.
I highly recommend wearing a CamelBak if you plan to do any hiking. I have a full post on helpful desert hiking gear and essentials that will help you during your Death Valley trip. Please check it out!
Pack your own road trip food into an iced cooler. There are not many places to purchase food or drink within the park – just a couple of small convenience stores or expensive resort restaurants. Best to bring some fruit, sandwiches, and beverages for the entire day trip to Death Valley National Park.
There are a couple of gas stations within the large park, thankfully, but they can be quite expensive. Make sure you fill up your tank before entering the park. If necessary, the two gas stations within Death Valley are found Stovepipe Wells coming from the West, or in Furnace Creek coming from the East.
There are so many hikes and scenic stops to explore that you don't want to waste time worrying about gas! And prepare yourself – there will be a lot of driving involved in your day trip to Death Valley.
The good news is that most of the scenery is spectacular! So you will not likely be bored. Fill that tank, grab some snacks, and enjoy the ride.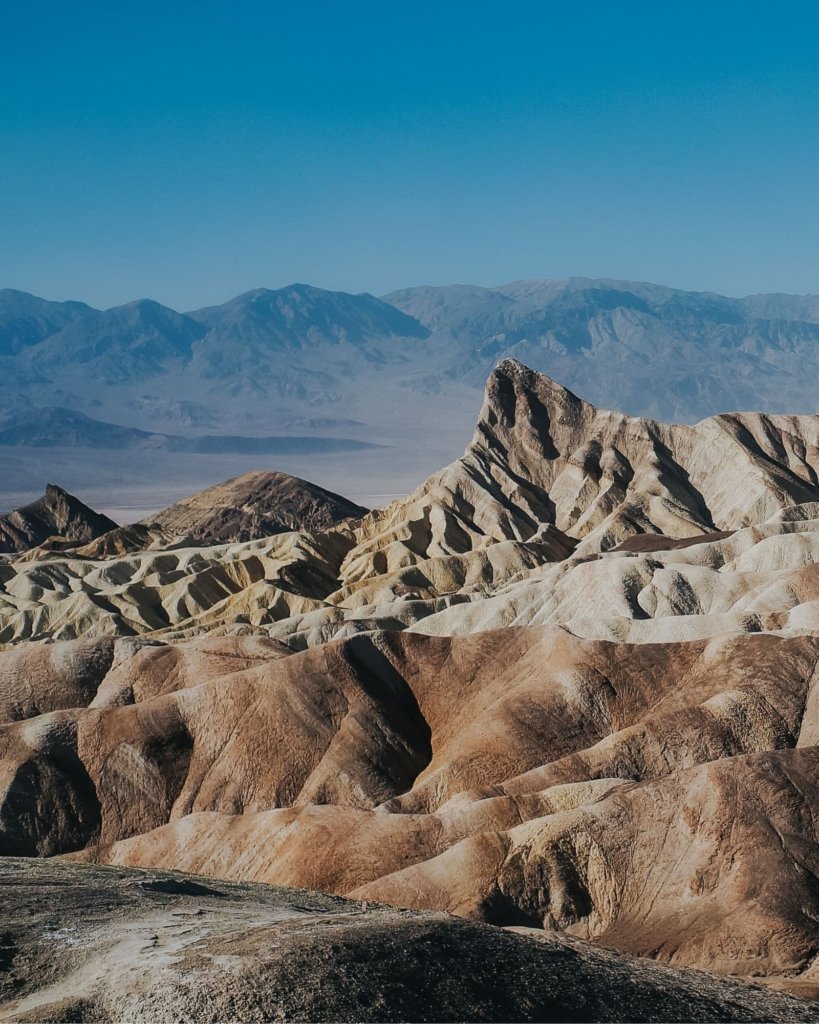 One Day in Death Valley Itinerary
Here is my ultimate Death Valley one day itinerary, covering all of the spots that you just can't miss.
99% of the time, I enter the park from the California side, called Panamint Springs. The road leads to the heart of the park and provides wide, sweeping views of both mountains and desert as you trek along.
Early Morning
If you've only got one day in Death Valley, you will need to start super early to make the most of it! I have two options for early morning in Death Valley.
For a slow or lazy morning, I recommend sunrise at Zabriskie Point. Prepare for spectacular views – mountainous peaks stacked on top of one another, bathed in golden light. Zabriskie Point is also a beautiful sunset option, but it can get crowded. In the early morning, you just might have the view all to yourself.
For a bit more adventure, I recommend an early hike, at (or before) sunrise. This is my personal favorite way to start the day in Death Valley.
Multiple hiking paths stretch out from Zabriskie Point, so I still recommend this as your early morning starting point! Golden Canyon and Gower Gulch Loop from Zabriskie Point will not disappoint.
This is a Moderate 5.8 mile loop trail that will get your heart pumping. This hike has it all. Sweeping views, ridges and canyons, and the chance to see what Death Valley is made of. You'll get that same golden sunrise, too.
The full 5.8 mile hike will take between 3-4 hours for most hikers.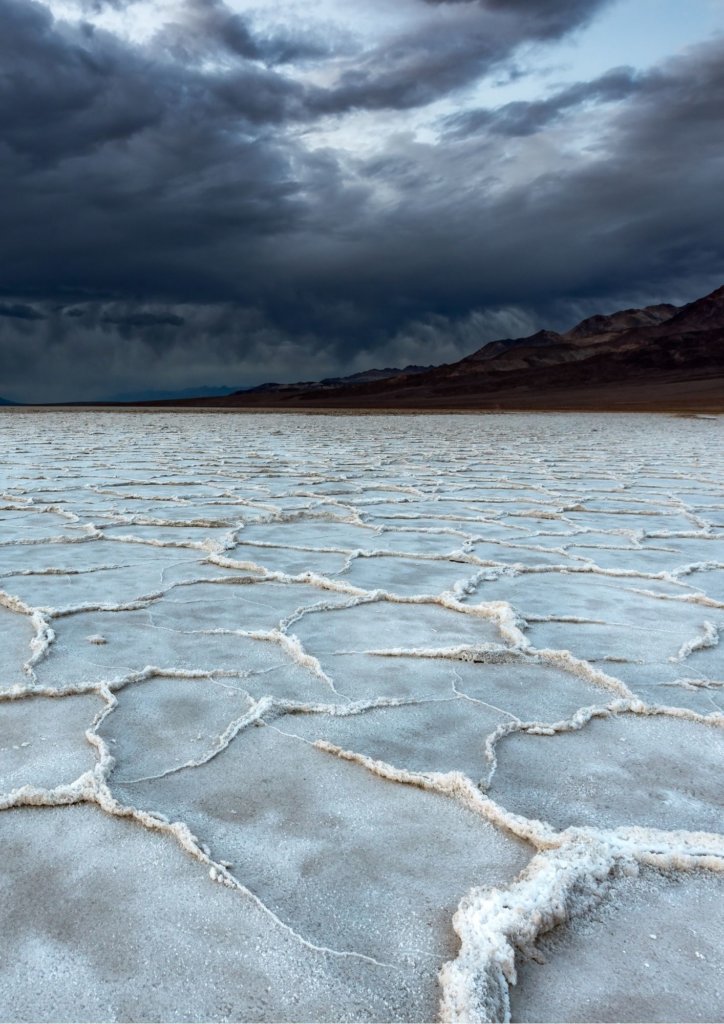 Late Morning
Depending on the season, things will start to heat up before noon. Drive toward Badwater Basin directly after your hike to avoid the worst of it.
Badwater Basin is the lowest point in all of North America, at 282 feet below sea level. The scenery is breathtaking.
A white and cracked salt flat stretches endlessly out toward purple mountains on all sides. After parking your car, venture out onto the white floor. Though it looks something like snow, this is one of the hottest areas in the entire park.
If the weather isn't too sweltering yet, walk the 20 minutes in unshaded sunlight to the pristine white salt area. The salt nearest to the parking lot in interesting, but it isn't pure white. It's more gray and yellow – sort of like roadside slush in the snow.
I recommend diving into those car snacks and make some sort of a lunch before you leave or on the road. And be sure you're keeping hydrated!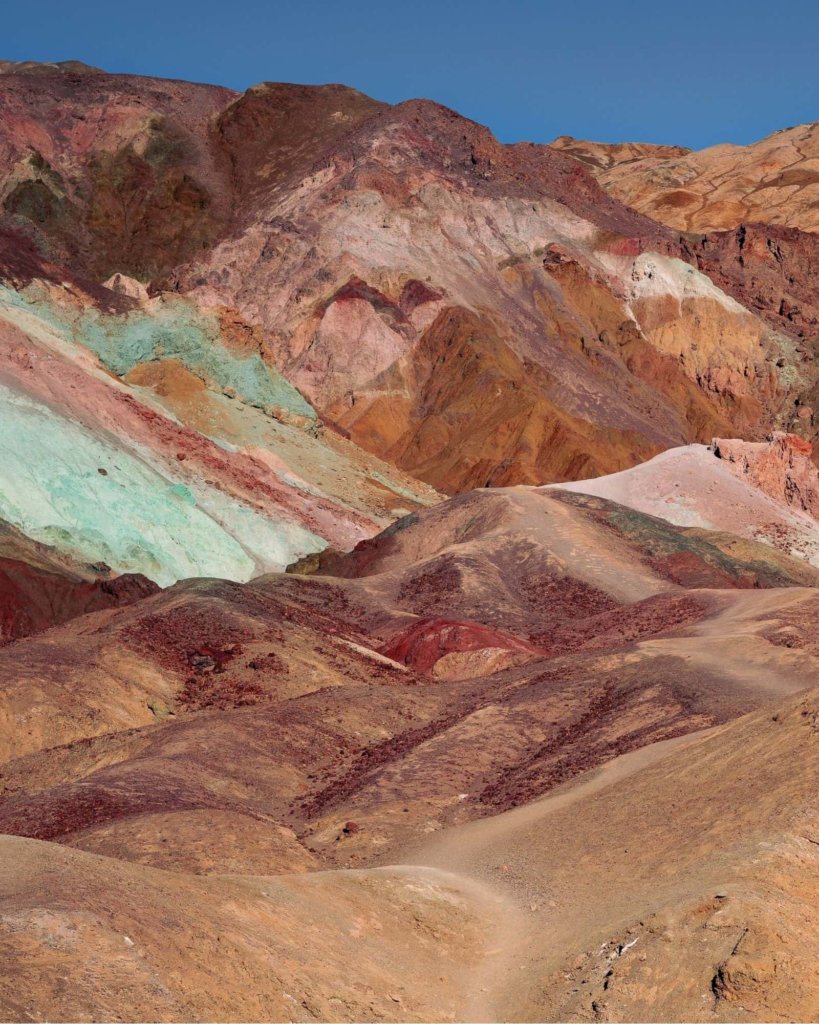 Afternoon
After lunch the sun will be high and hot, so the next few stops will be drive-by scenery and short stops.
As you backtrack out of Badwater Basin, keep your eyes on the right-hand side of the road. Watch for signs pointing out the Artist's Palette Scenic Drive – a short but colorful road through jagged peaks.
It's incredible to me that so many varying sights sit so close to one another. The stacked peaks of Zabriskie, the salt at Badwater Basin, and the paint-dipped landscape through the Artist's Palette.
Bright, multi-colored rocks formed naturally from iron oxides and chlorite surround the car. The road is one way, and will take you through high hills and dips by car. There are a few turnoffs and even a .3 mile walk up to a good photo spot. Just don't stop on the road – cars go fast here and it's hard to see much of the street from within the valleys.
Next, drive toward Dante's View for one of the best scenic overlooks of the park. Beware, the drive is steep. But it's well worth it at the top, as the reward is a panoramic viewpoint stretching miles across Death Valley.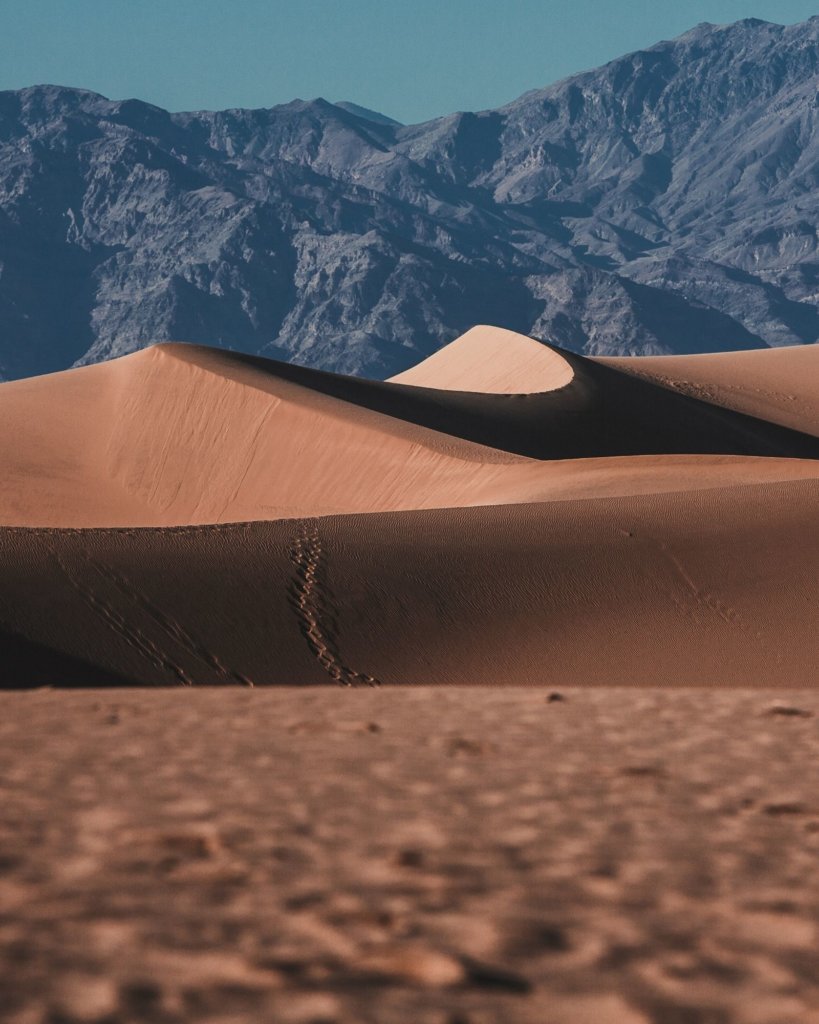 Early Evening to Sunset
Another undisputable highlight of Death Valley is the Mesquite Flat Sand Dunes.
Towering sand dunes appear out of nowhere between the mountains, golden orange and spanning for miles.
Arrive here at least one hour before sunset – and even earlier if you enjoy photography, or just want extra time to bask in the desert.
The best spots on the sand dunes are, in my opinion, at least half a mile from the parking lot. Few people venture out here, because hiking on sand is hard. Walk slow, take breaks, and carry water.
The tops of these dunes offer more panoramic views of this stunning national park – a fitting way to end your one day in Death Valley.
Basic Information on Visiting Death Valley in One Day
Entrance Fee for Death Valley
Death Valley passes can be bought at Stovepipe Wells, Furnace Creek or along the Daylight Pass Road to Beatty.
One Day Vehicle Entry Fee: $30
Annual Death Valley Pass: $55
America the Beautiful National Park Pass: $80
Where to Stay in Death Valley if One Day is Not Enough
If one day in Death Valley is not enough, consider spending at least one night here.
Camping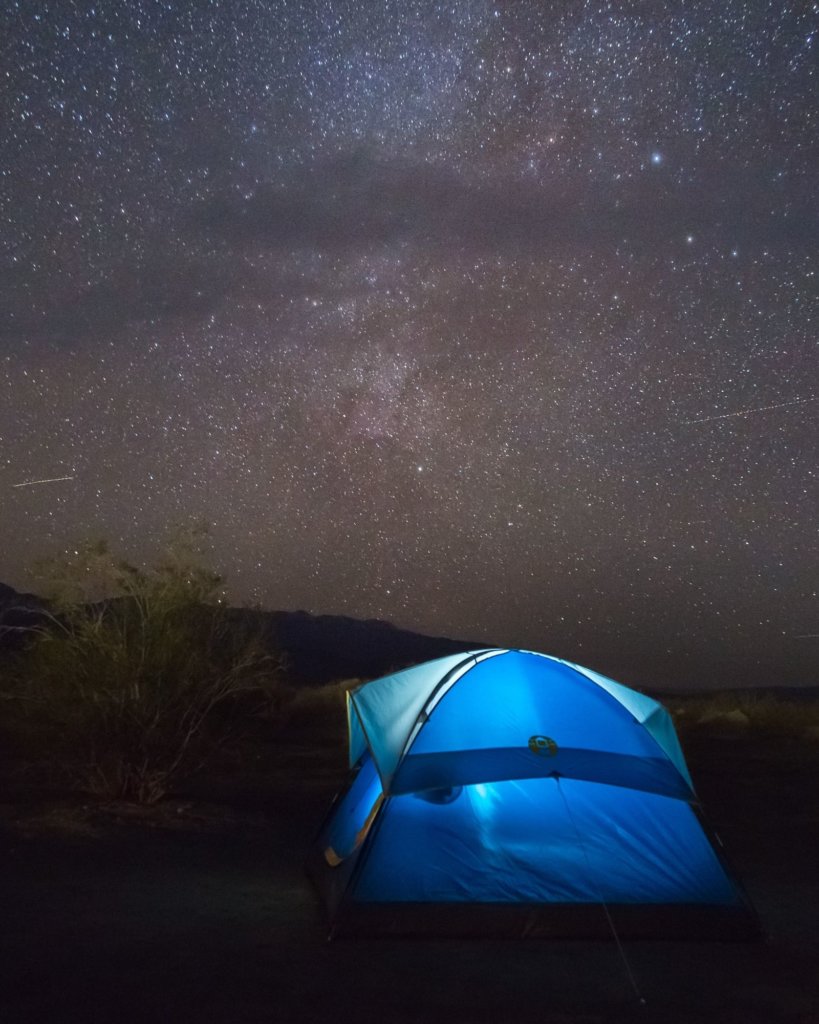 There are nine designated campgrounds within Death Valley National Park. Prices range from $0-$22, and some require reservations while others do not. Note that not all campgrounds are open all year.
Current camping information can be found here.
*There is little to no cell reception in some areas of the park. To receive a downloadable PDF synopsis of this itinerary, consider signing up below!
Death Valley Lodges and Cabins
There are four lodging options within Death Valley for those not interested in camping. Know that none of these are necessarily "cheap" though!
The Inn at Death Valley – Furnace Creek is the most central of all lodging options. You can reach almost every point of interest listed here with only a relatively short drive. This location offers an incredible landscape to wake up to in a premium location.
The Ranch at Death Valley – also at Furnace Creek, this is a private motel that is typically cheaper than the above option.
Stovepipe Wells – The Stovepipe Wells Village offers resort accommodations as well as limited RV hookup options.
Panamint Springs Resort – this is the closest option to the California entrance of the park. It offers resort accommodations as well as camping.
This one day in Death Valley guide will get you to all of the various and impressive scenery in the park without wasting time planning as you go!
My bet is once you have a taste of how incredible it is, you will want to stay for much, much longer!
Pin Me for Later!