If you are driving from Joshua Tree National Park to Death Valley National Park, it's true – you can do this in one straight shot. But, between Joshua Tree to Death Valley, there are so many desert gems to see on your road trip! Here are the best stops to create a 7 day Joshua Tree to Death Valley itinerary.
Pin Me for Later!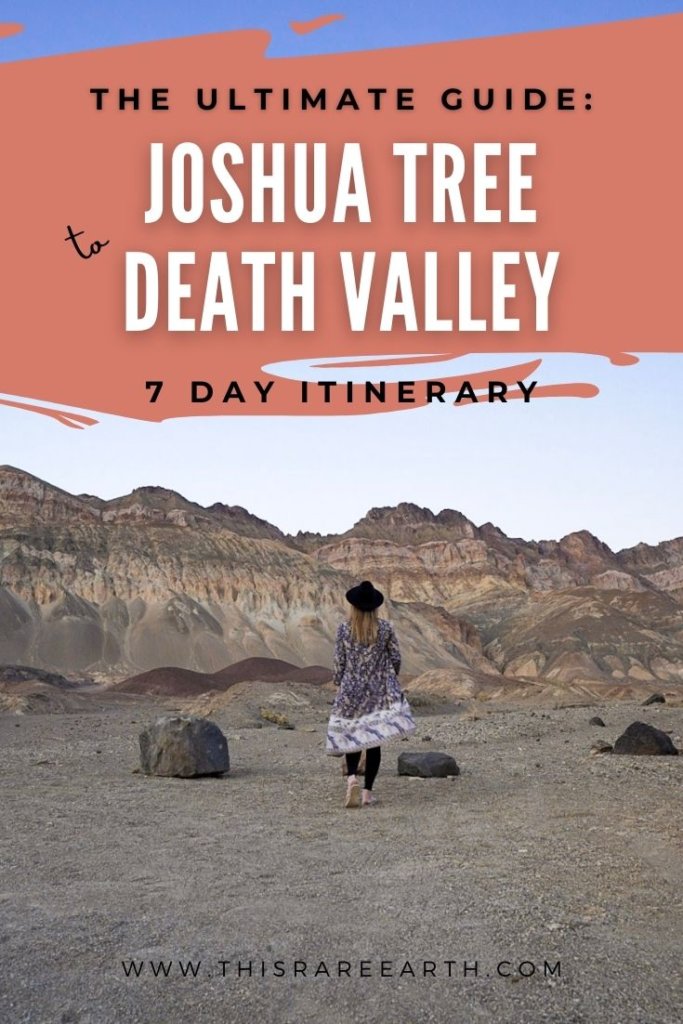 It's true – it is completely possible to drive straight from Joshua Tree to Death Valley in a quick 3.5 hour road trip. Short and sweet, right?
But I'm here to tell you, you would be missing so many hidden gems along the way! Under-explored lands stretch for miles between Joshua Tree National Park and Death Valley National Park. I've taken this road trip solo many a time, and it is well worth the effort.
Hidden oases, tall canyons, volcanic rocks and sweeping panoramic views are some of the wonders that you will be met with.
From one impressive desert park to another, and everything in between, here is your 7 Day Joshua Tree to Death Valley Itinerary.
Joshua Tree to Death Valley 7 Day Itinerary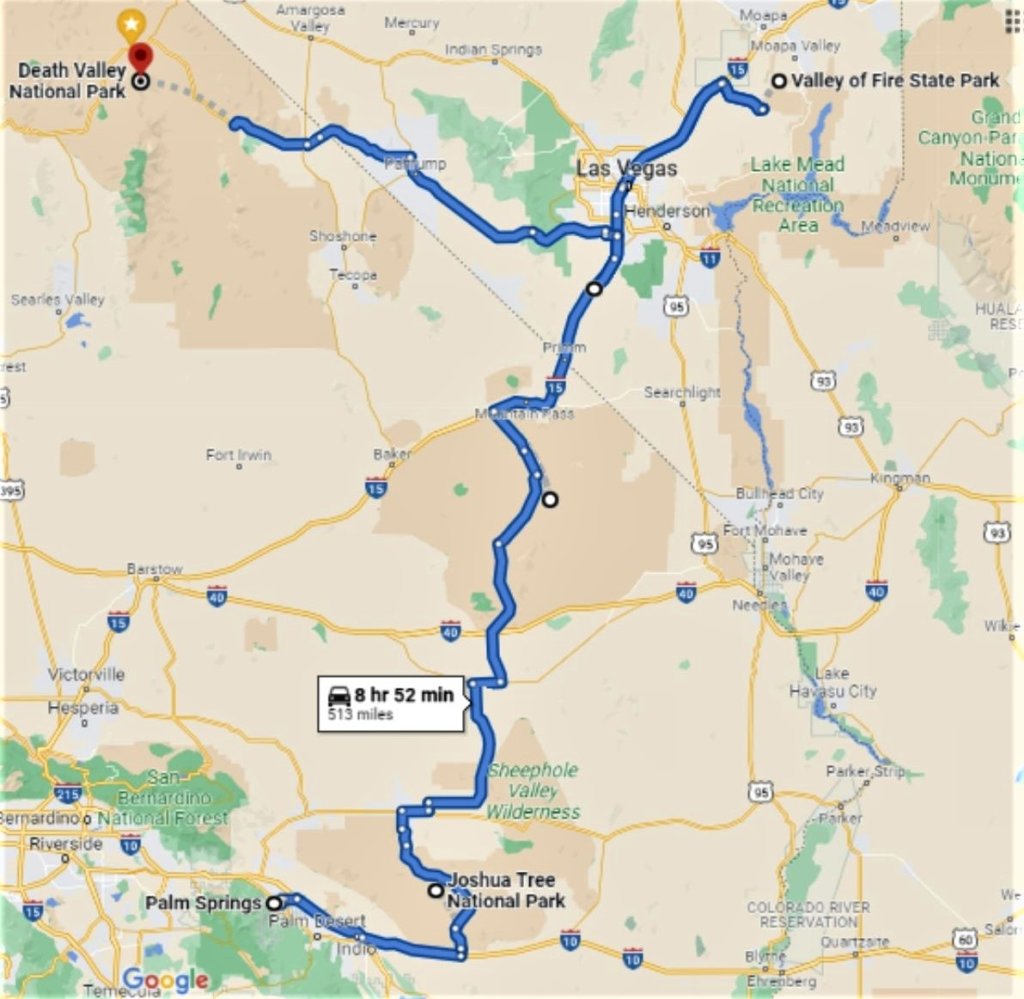 Unlike anywhere else in the state, the California desert offers a wild and rugged escape. The views are endless, the sky vast, and the earth stretches out to infinity in every direction.
Both Death Valley and Joshua Tree National Park lure millions of visitors per year to explore their mysterious landscapes. If you are planning a road trip to visit both Joshua Tree and Death Valley in one itinerary, then look no further. I've got you covered.
Spanning 7 days, I will take you through California and Nevada to see not just the sights within the parks, but also the more forgotten landscapes in between. That's right – to truly experience these desert parks, you should get a taste of what lies in between.
The desert can be extremely hot in the summertime. Therefore, this one week itinerary is best experienced from October through April.
A word of advice – no matter the season, be sure to plan ahead with all of the necessary essentials for hiking the desert. Then you can rest assured that you are safe and prepared. So let's get to it!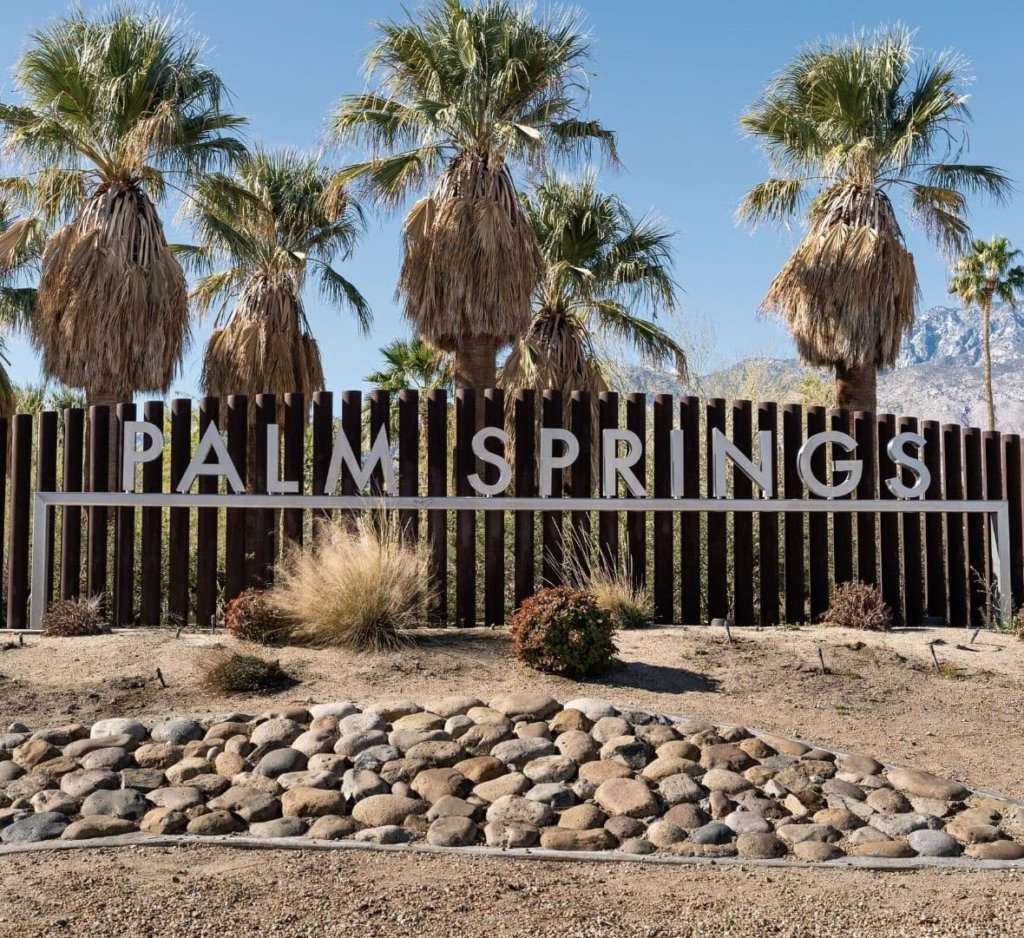 Day 1: Begin at Palm Springs, CA
I highly recommend beginning your trip in Palm Springs.
For one, this retro-feeling town may be your last slice of civilization for the week if you choose to camp along the way. And two, there is a lot to see and do here!
First, the town is very lively, with a downtown area full of shops and restaurants (and usually packed with people). Just a few blocks out, things start to quiet down, but vibrant murals keep things colorful.
I have an entire one day itinerary mapped out for Palm Springs, but let me touch on a few of the highlights.
The Palm Springs Aerial Tramway will provide you with sweeping birds-eye views!
The Moorten Botanical Garden is a curated desert treat, full of cacti and succulent displays.
The Andreas Canyon hike is a must-see if you're wanting a short but gorgeous trek to a palm tree oasis. Yes, your first true oasis in the desert.
Consider soaking in the mineral pools that the area is famous for. FYI, they are said to have natural healing properties!
Details on ALL of these experiences can be found in the post linked above! Choose the ones you want to try and then turn in early(ish) for bed.
Day 2-3: Explore Joshua Tree National Park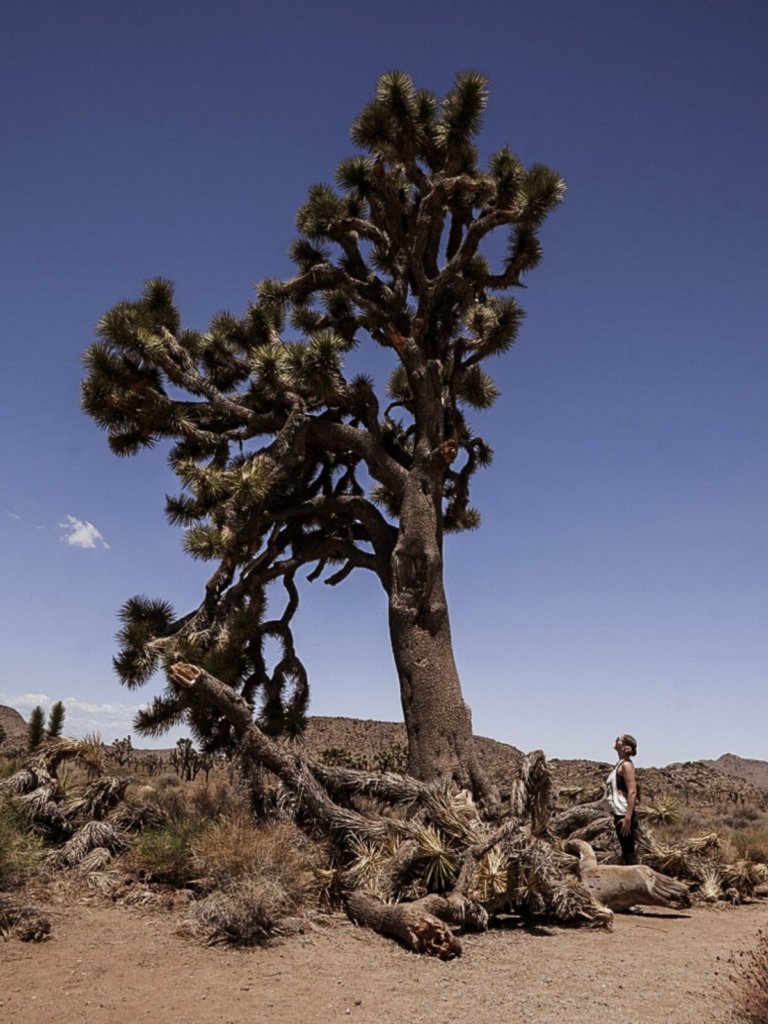 Day 2
Begin your second day as early as possible. Stock up a cooler with food, snacks, and drinks because there are no shops or vending machines in the park. It will just be you and miles of unspoiled beauty!
It will take roughly one hour to drive from Palm Springs to Joshua Tree. At the entrance, each car will receive 7-day access to the park for just $30USD. That is, unless you have the America the Beautiful Pass.
I've written in the past about how to best experience Joshua Tree in one single day, but as with anywhere, the more time you spend here the more you will get to understand the place.
I would recommend starting with your most strenuous hike early in the day. You'll avoid the heat and the intense sun, and it will get your heart pumping. There are loads of Joshua Tree hikes to choose from, but here are a few that I love:
Willow Hole Trail – 7 Mile Out & Back
Arch Rock Nature Trail – 1.2 Mile Out & Back
Lost Palms Oasis – 7 Mile Out & Back
Next, eat your lunch while you take a drive through the park. There are numerous stops and pull offs for scenic viewpoints along the way, not to mention random and interesting finds along the road. This is one of the best ways to explore the park and escape the sun.
If you are camping within the park, now is the time to find your campsite and setup your tent. This is not something you want to leave until after dark! Trust me!
In the evening, you will be treated to some of the best stargazing on the entire continent. Enjoy, and have a good sleep out in nature.
Campsite costs range from $15 – $50 and can be pre-booked here.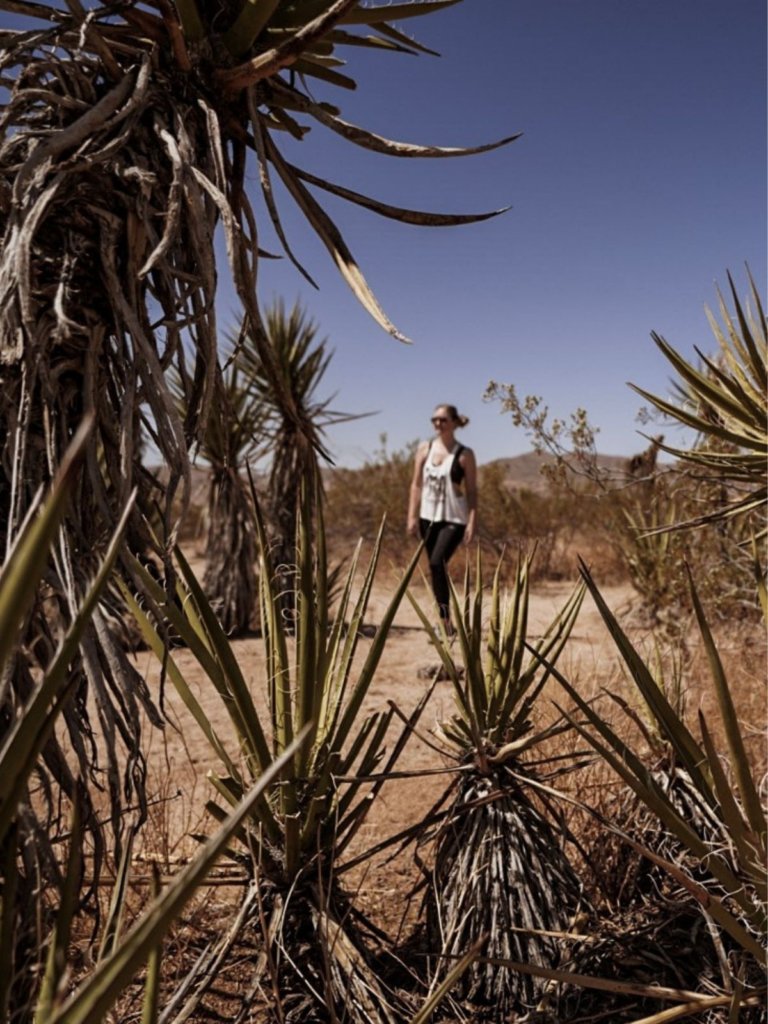 Day 3
Wake up early once again. Your exact timing will depend on what time of year it is, due to the changing sunrise times, so be sure to check on that beforehand. Leave your tent for now, choose your favorite sunrise hike, and pack some tea or a snack to go.
Today is an excellent day for an adventure activity. Interested in trying your hand at rock climbing? Details can be found here. Joshua Tree's unique geology makes this an extra-special place to climb.
Then, to round out your day, feel free to drive to any sights you may have missed the day prior, such as Skull Rock or the Hall of Horrors.
We want our last Joshua Tree sunset to be memorable, and there is no better place for this than in the Cholla Cactus Garden. This is such a cool spot – in my opinion a must-see and is located in the southern section of the park.
Lastly, call it a night with some more excellent stargazing.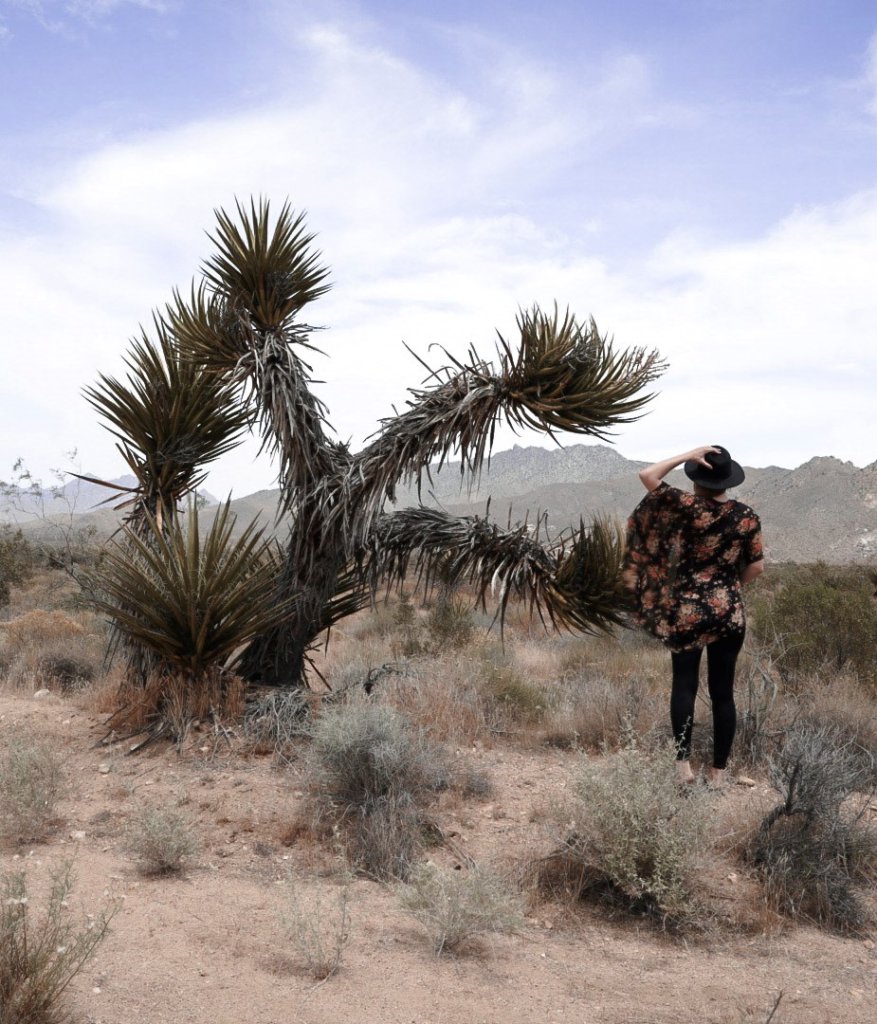 Day 4: A Quick Jaunt Through Mojave National Preserve
Today, wake up with the sun and prepare to leave camp early. Break down your tent and clean the area, remembering to leave it just as you found it.
Enjoy the scenery and maybe a podcast or two on your four hour drive, leaving the National Park behind. I suggest finding a nice hot breakfast and/or lunch along the way.
In roughly one hour, you will enter the Mojave National Preserve – a truly hidden gem that most Californians don't even know about. This protected stretch of land is surprisingly large. Believe it or not, it is said to contain more Joshua Trees than the park you just exited.
You will quickly notice that other visitors – and cell reception – is few and far between, so drive carefully and download maps beforehand.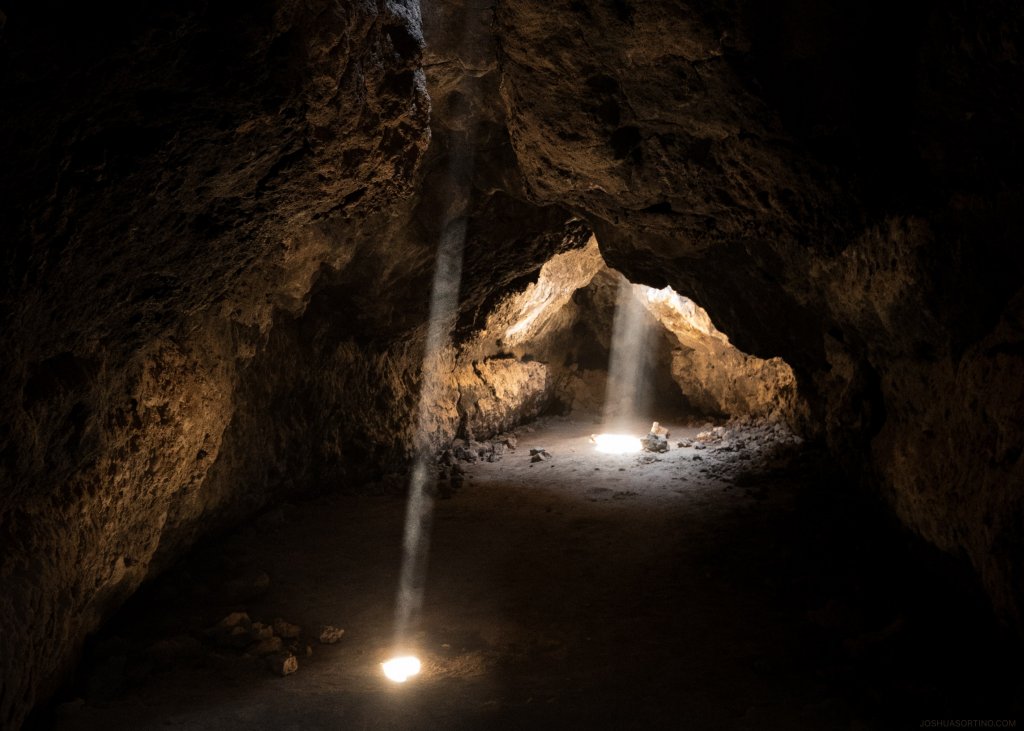 If you only make two stops in the park, definitely choose the Kelso Sand Dunes and the Lava Tube.
The Lava Tube is unlike anything else you will see on this road trip, and the Kelso Dunes are a nice introduction to what you will see in Death Valley. Full details are linked above.
Then, continue your road trip, following the signage toward Las Vegas.
One can't-miss stop as you approach Sin City is called Seven Magic Mountains. It is an art installation in the middle of the desert, and it is a sight to see! After this stop, just another hour until you reach the red-drenched Valley of Fire.
Afternoon and evening activities can be planned at your discretion on Day 4. It all depends on what time you reach the area and what time of year it is / how much daylight you have remaining.
Basically, you can either enter the park today to explore and camp, or, check into a hotel in Overton and save the park for the following day. The park is only open from sunrise to sunset for those not camping.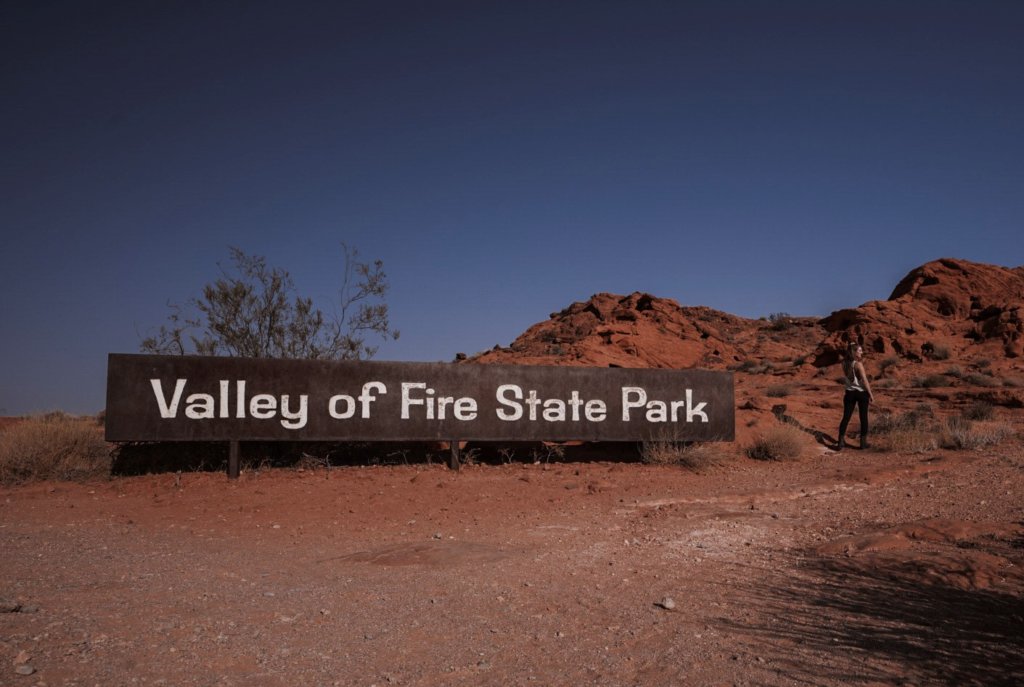 5: Go Back in Time in the Valley of Fire
First and foremost, if you are not interested in crossing into Nevada for any reason, don't worry. These stops are completely optional. Alternately, you could spend one of these days in Joshua Tree and one of these days in Death Valley, thereby extending your time in the California parks.
However, Valley of Fire is SUCH. A. MUST. SEE. If you have the time, I wholeheartedly vote that you go and check it out.
Regardless of what you choose the night before, you will have all of Day 5 to check out the Valley of Fire. Entry will cost 10$ USD per vehicle.
This park may feel small compared to Joshua Tree and Death Valley, but let me tell you that it packs a punch. I know I already made a big deal about Joshua Tree's unique geology, but this park showers you in a different kind of "unique".
Craggy and rugged and all shades of red, these formations are about as different as can be.
A few stops that you will be thankful to experience are the Fire Wave, which requires a short hike to reach; the Beehives, accessed via an easy turn-off; and the spectacular Rainbow Vista, formed during the Jurassic Period.
Tonight would be a great night to camp in this underrated state park. The bold rocks surround the well-established campsites and nestle you in while you sleep. A truly picturesque place to wake up!
Campsites are located on the west side of the park.  They cannot be reserved in advance. Check my full Valley of Fire post linked above for all the details!
Day 6-7: Get Lost in Death Valley National Park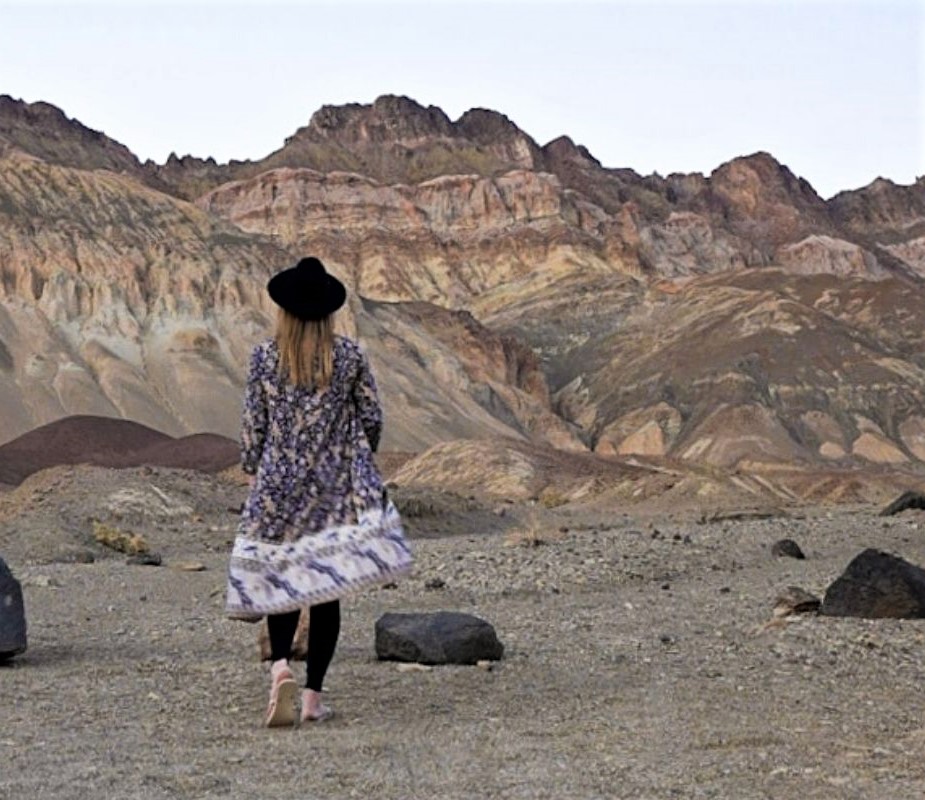 Day 6
Today, your only job is to get to Death Valley. After some breakfast and packing up your campsite or hotel, feel free to hit the road at your leisure. It will only take around 2.5 hours to get to the massive park.
I recommend heading back through Las Vegas and toward Pahrump in order to get a glance of the Red Rock Canyon National Conservation Area. If you like, you can make a quick detour here, as it is a pretty scenic area with loads to explore.
Then, continue to the Death Valley Junction entrance. This will set you up to directly hit some of the park's best attractions, like Zabriskie Point, Artist's Palette, and Badwater Basin.
You have a few options on Day 6; if you want to get a cheaper hotel outside of the park, Death Valley Junction may be the place. Otherwise, there are quaint albeit expensive resorts and cabins inside of the park, or, campsites as well.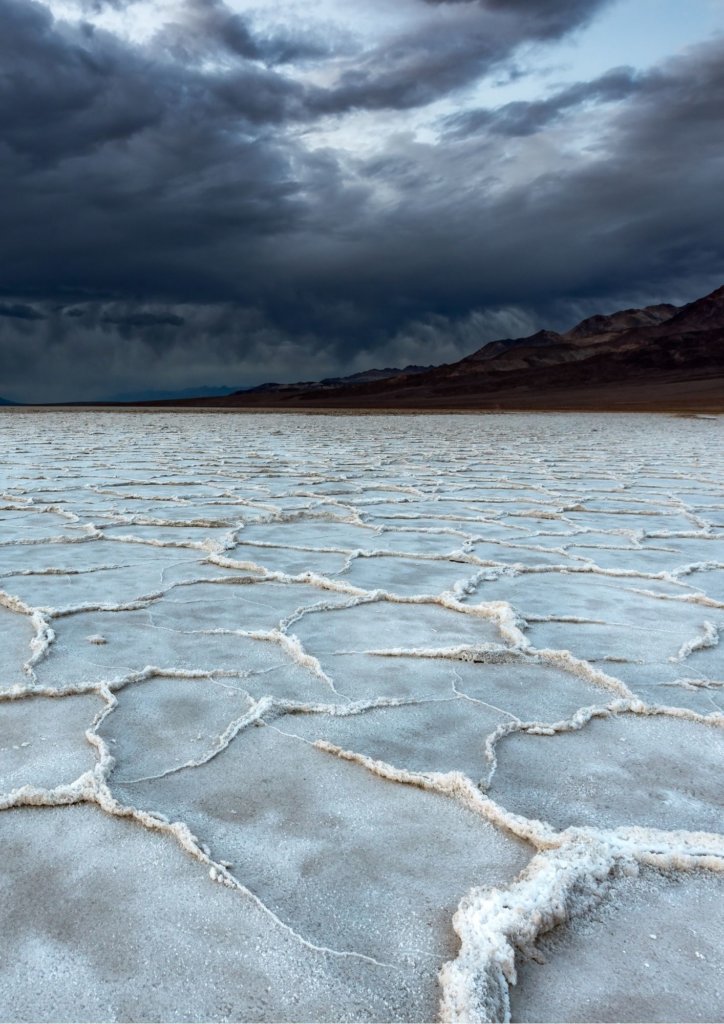 Day 7
Some of these can be split between Days 6 & 7, but here are the Death Valley highlights that you should prioritize:
Zabriskie Point for sunrise or sunset. Consider hiking Gower Gulch Loop or Golden Canyon for some breaktaking views.
Badwater Basin is the lowest point in all of North America. Vast white salt fields stretch to the mountains and it is a sight to see!
Artist's Palette for a colorful drive. Don't skip the short hikes and turn-offs – this is often where you find the most colorful peaks!
The Mesquite Flat Sand Dunes are one of my favorite stops, hands down. The farther you trek out into the sand, the thinner the crowd gets, and you will be able to snap some epic photos in the desert.
For those who may want to take it easy, Salt Creek Interpretive Trail is a half mile easy loop on a wooden boardwalk. If you're lucky, you may spot the rare pupfish.
Dante's View offers one of the best scenic overlooks of the park, stretching miles across Death Valley.
In-depth details can be found here.
***
And there you have it! You have completed your Joshua Tree to Death Valley 7 Day Itinerary!
As breathtaking as both of these parks are, it really is some of the hidden desert gems along the way that truly make the trip unique, in my opinion.
Let me know below what your favorite stop was, and if there is anything you added into the itinerary! Drop a comment below.
Pin Me for Later!