Red rocky cliffs. Petrified logs. Pink slot canyons. 2,000 year old petroglyphs. Valley of Fire State Park in Nevada really does have it all. This complete guide to Valley of Fire State Park in Nevada will provide you with everything you need to know to make your visit memorable!
Pin Me for Later!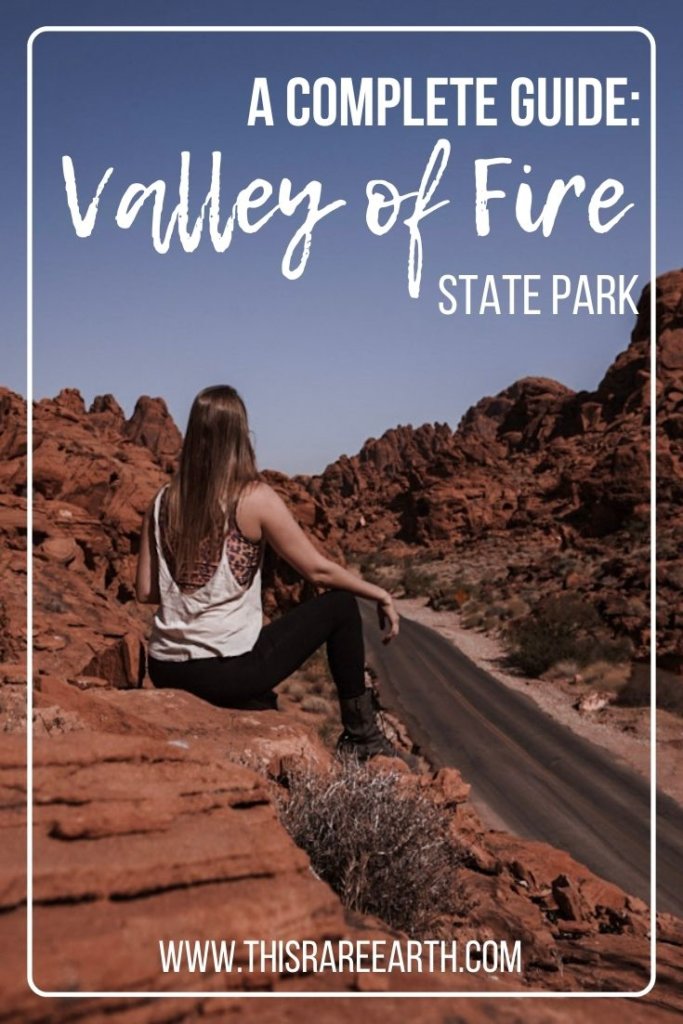 Valley Of Fire State Park – A Complete Guide
Picture wild lands as they were in the time of the dinosaurs. Rugged. Raw. And in this case, red.
Valley of Fire State Park has easily become my favorite State Park of the year. And that is saying a lot – if you had asked me one month ago, I would have said that California's Red Rock Canyon State Park was going to take that award. Sorry Red Rock; though I still love you, Valley of Fire State Park has won this round!
Every which-way you turn your head, there is an amazing rock formation that blows your mind. Everywhere. One after another. I just never knew that this State Park in Nevada would pack such a punch!
You May Also Like: National Parks Near Las Vegas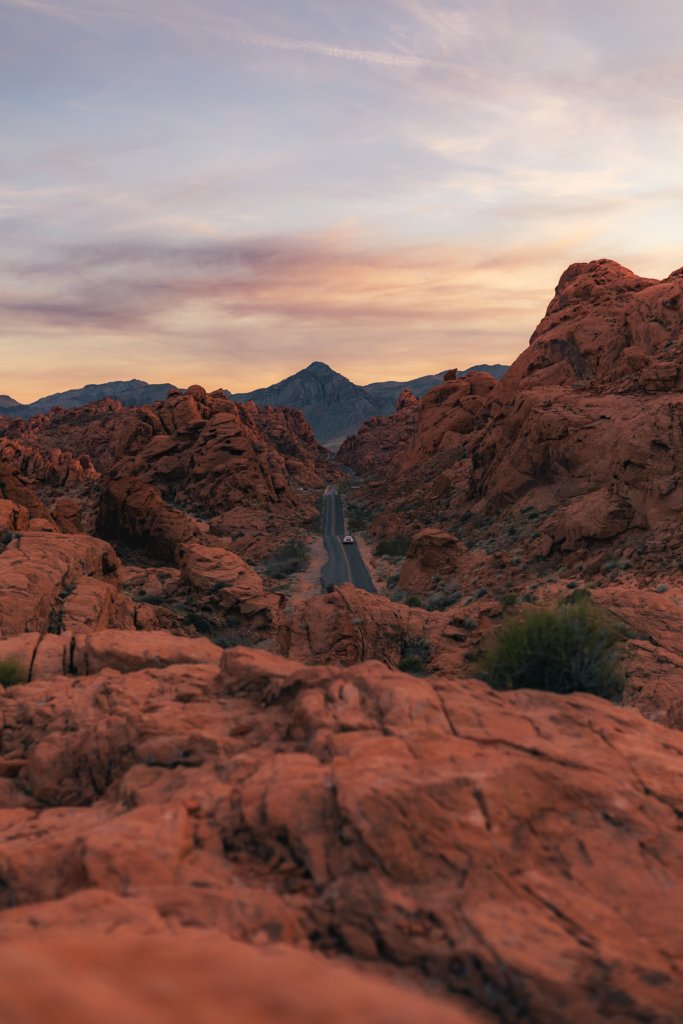 Tall rocky cliffs – everything from jagged mountains to low rounded rock formations – all drenched in a fiery burnt red. I guess the name says it all. And the fact that Valley of Fire State Park sits in my often-visited Mojave Desert is an added bonus. I've fallen in love with all things Mojave Desert these days.
Attractions include slot canyons, wildly shaped rocks, petrified logs, ancient petroglyphs carved more than 4,000 years ago, rocks that dinosaurs tread on, and an unbelievable stone vista leading to the aptly named Fire Wave. I'm already considering when I can get back here (and I haven't even left Nevada yet).
I honestly can't say enough about this park. Go. Visit. Now. And let me help to get you there!
Valley Of Fire State Park Basics:
Entrance Fee: $10 per vehicle park entrance fee.
Park Hours: Sunrise to Sunset.
Best Time To Visit: Between October and April, the temperature is much more bearable.
Be prepared: In the hotter months (May through September), hiking is possible, but plan to start early. Read my Desert Hiking Essentials post in order to prepare.
Dogs: Valley of Fire is dog-friendly. All dogs must be on leash.
Maps: Click here to download the park's hiking trail map before you go.
About Valley Of Fire State Park
Valley of Fire State Park is the oldest state park in the state of Nevada, established in 1935. It sits on the eastern side of the state, not far from the Arizona border and about an hour outside of Las Vegas. If you're coming from the Las Vegas area, I highly recommend a stop at the Seven Magic Mountains art installation on your way.
From 300BC to 1150 AD, the Anasazi (or Ancestral Puebloans) lived on this land. They are responsible for the petroglyphs you will read about below. I first learned about the Anasazi while I lived in Arizona – an area where they also dwelled long ago, and built impressive structures into cliffs.
Sandstone, limestone, and shale cover the park, creating breathtaking and vastly different scenery throughout the park. All 40,000 acres of this park is stunning.
The Visitor Center offers exhibits on various aspects of the park, such as the geology, history, and more.
Things To See At Valley Of Fire State Park
There is plenty to see from the roadway, but Valley of Fire holds a lot of hidden gems that you won't know to look for unless you plan ahead (so good thing you're here!). Keep reading for some of my favorite must-sees inside the park.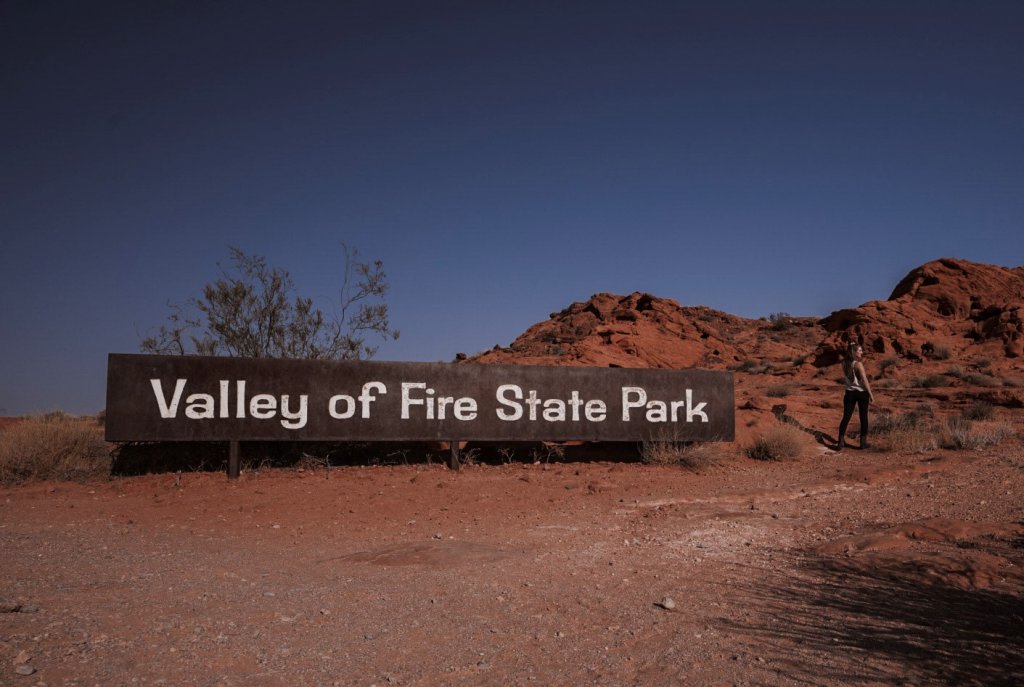 Valley Of Fire Elephant Rock
In the Valley of Fire, "Elephant Rock" is a famous rock formation that is shaped like – well, you guessed it – an elephant. This rock is not far from the East entrance of the park.
As you enter and pay your fee, you will notice a driveway and parking area immediately on the right hand side (you can see it from the fee booth). This is where you can park for a very short walk to Elephant Rock.
Continue on the right hand side of the road for less than two minutes on foot. Elephant Rock is just above you, on the orange-red cliffs. (It can also be viewed perfectly from the car as it is right along the roadway).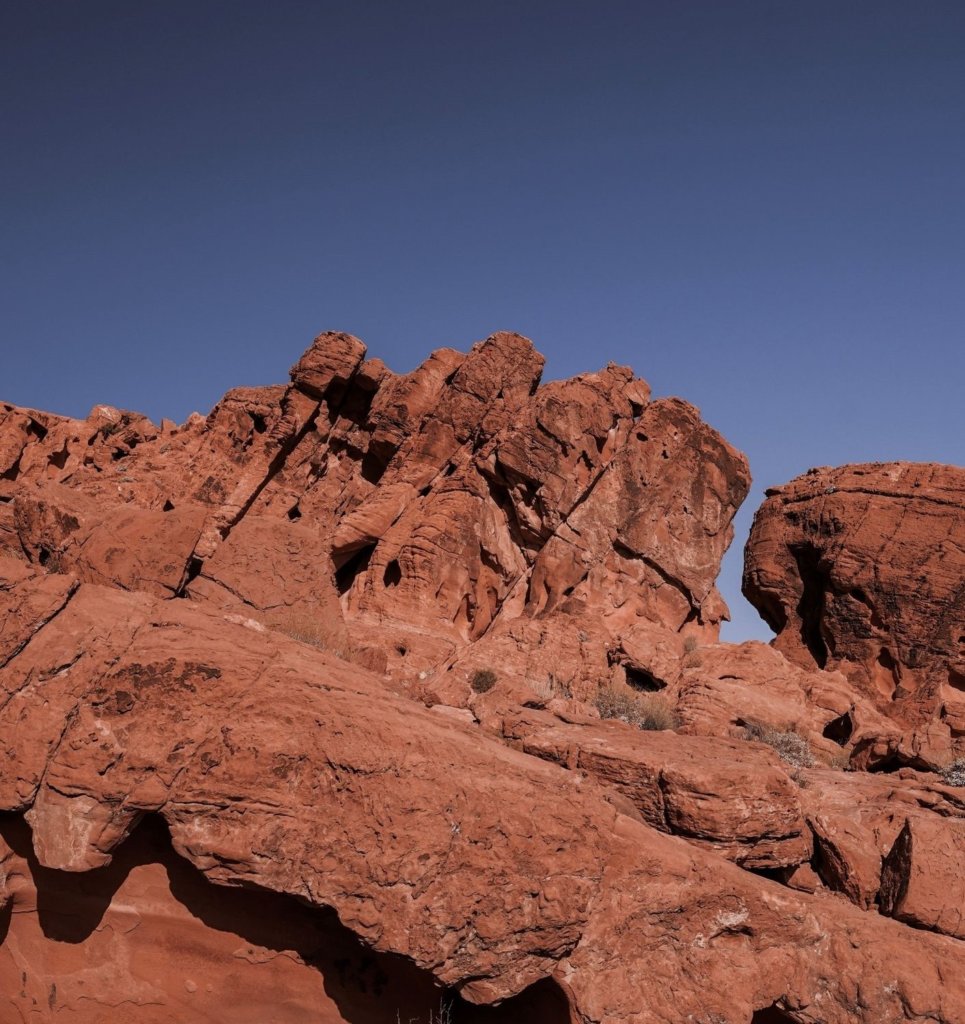 Valley Of Fire State Park Visitors Center
As mentioned above, the Visitors Center is worth a stop because they offer information on and host exhibits about the geology of the park. With rocks dating back to the Jurassic Period, this information is very interesting.
It's also worth mentioning that the Visitors Center is the best place to park if you want to see Balanced Rock, a small attraction that is several minutes by foot from the parking lot.
The Visitors Center is also the only place to purchase water inside of the park, so make sure you are prepared (particularly in hotter months) before driving further. You can get here by taking a right onto Mouse Tank Road; you can't miss it.
Valley Of Fire Petroglyphs
Next on the list are the Valley of Fire petroglyphs, which date back over 2,000 years. Find the marked Petroglyph Canyon Parking Lot, which leads to both the incredibly preserved rock carvings as well as Mouse's Tank (the roads namesake).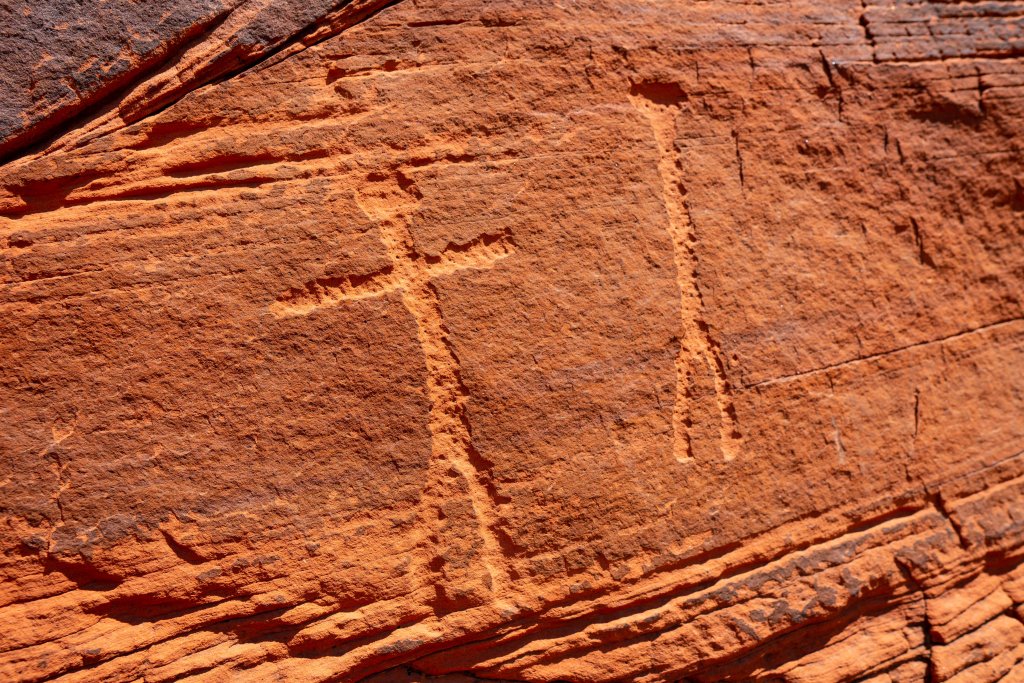 Valley Of Fire Rainbow Vista & Fire Canyon
Rainbow Vista blew my mind because most of these rocks were formed during the Jurassic Period. Yep – all of the domes and canyons of Rainbow Vista were formed by sand deposits during the time of the dinosaurs. I can almost picture them walking here.
Fire Canyon offers a scenic overlook of white, red, and dark colored jagged formations. They are stacked off into the distance, and the effect if breathtaking.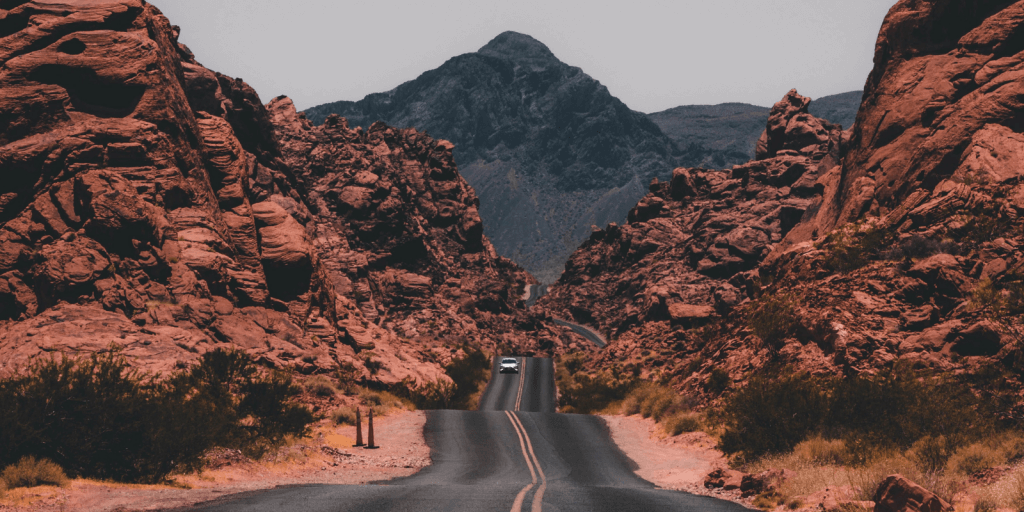 Valley Of Fire Arch Rock
Valley of Fire Arch Rock is a fun formation to photograph when the sun is high in the sky. You can get some cool light effects through the arch and I bet it would be beautiful at sunset, too.
Arch Rock is located right off of the scenic roadside, near the Western Entrance and Arch Rock Campgrounds.
Don't climb up to the arch; the area is fragile and is expected to one day collapse.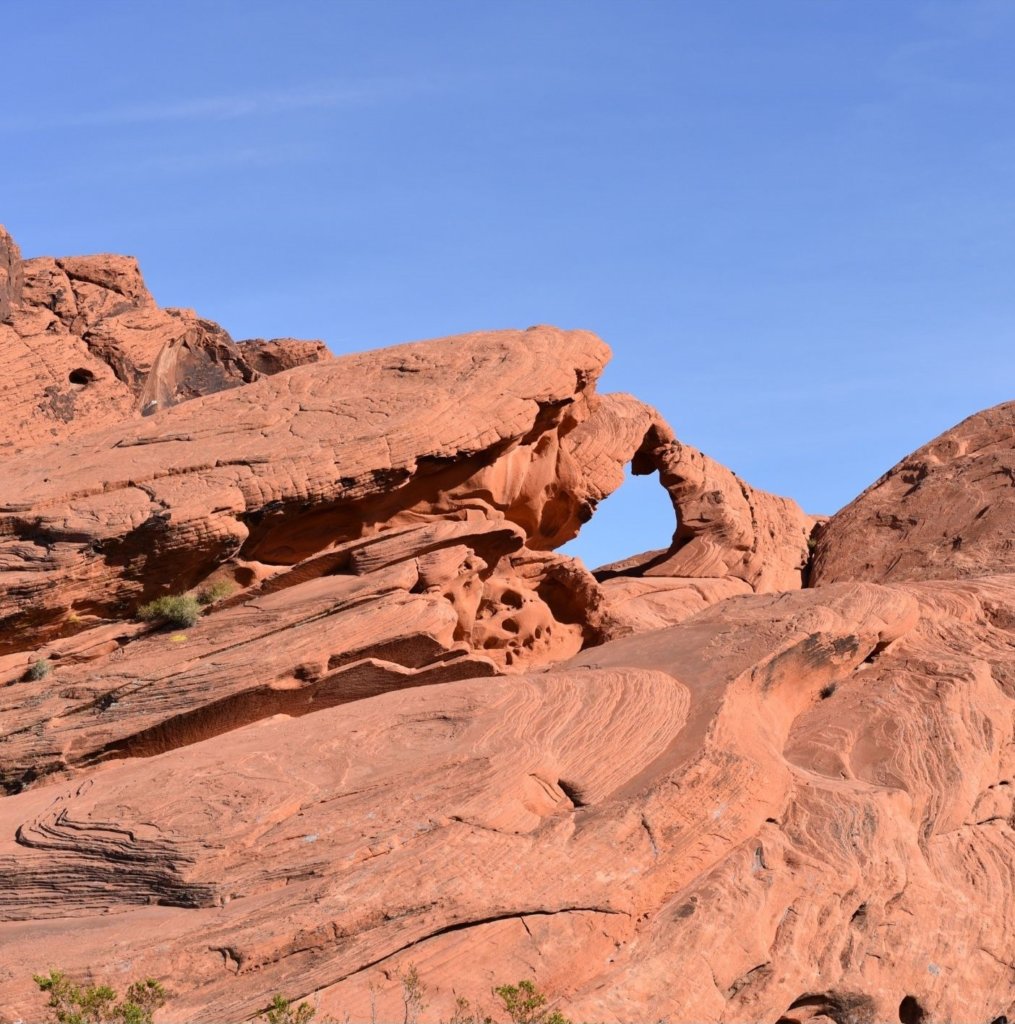 Valley Of Fire – The Fire Wave
The Fire Wave at Valley of Fire State Park is one of the best stops. If you have an old park map, it won't show up, so be sure to put it on your list!
Many people compare this to Arizona's "The Wave" and I can understand why. However, the entire surrounding area is just as interesting as the rock feature itself, which is surprisingly not that big!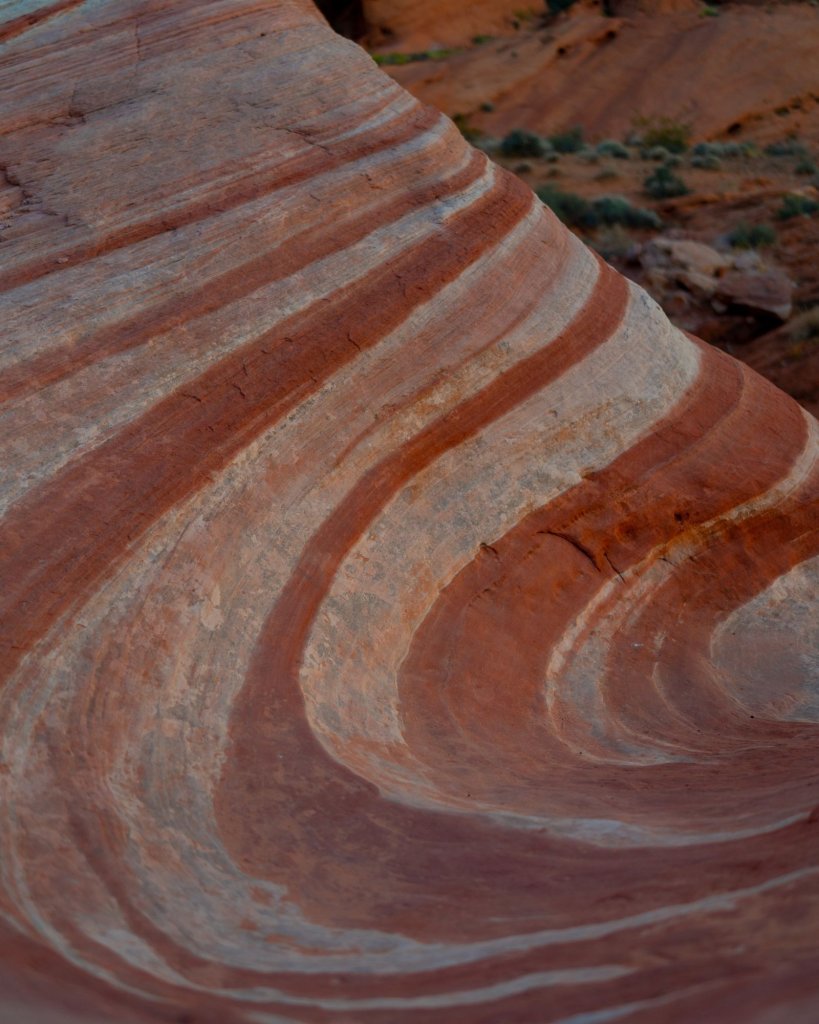 The hike is short – trail maps estimate an hour but it's an easy 30 minutes if you aren't stopping for photos along the way (which I highly recommend doing).
You will pass through sand, dirt, brush, and rocky ground on your way to the main feature, all of which is beautiful in and of itself. I recommend reading my complete guide to hiking the Fire Wave before your visit.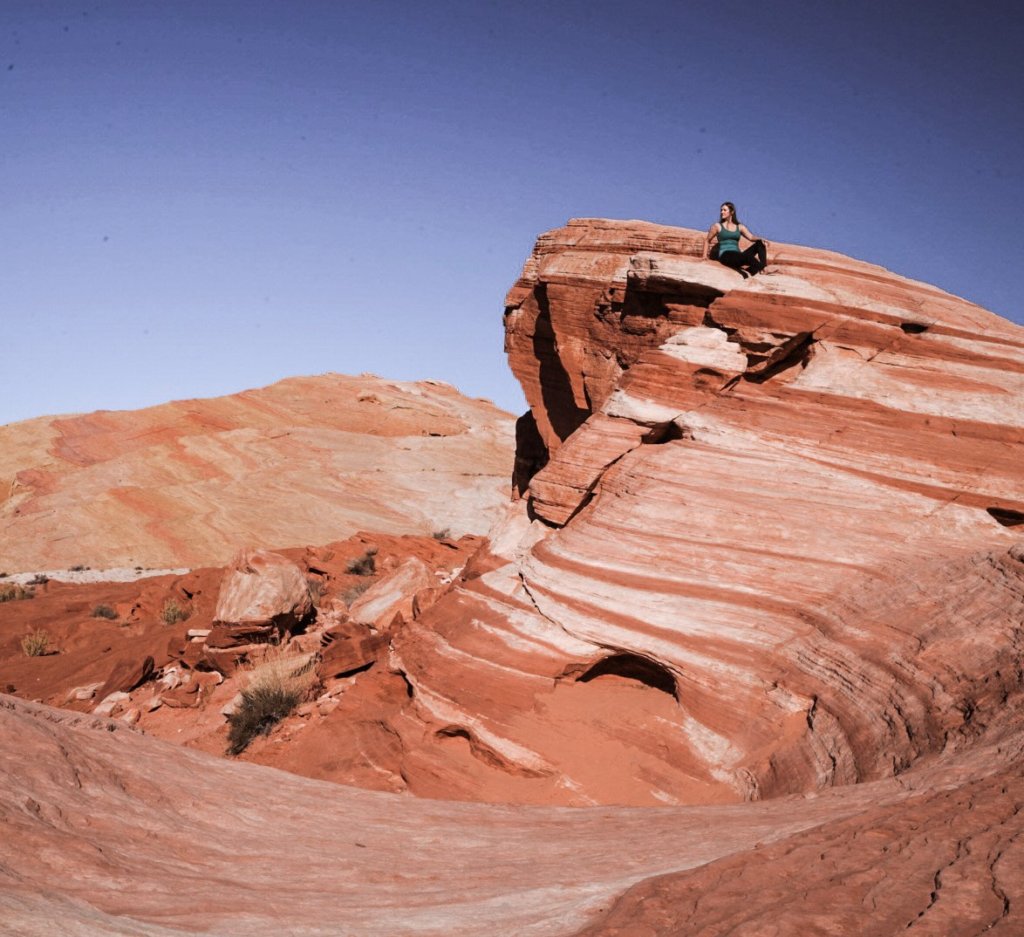 One day that I was visiting, I left very early so that I could have the place to myself before the heat. A man in the distance was playing the pan flute, and it made everything so darn peaceful. I can't wait to go back.
You May Also Like: The Ten Best Road Trips from Las Vegas
Valley Of Fire Cabins
The cabins at the Valley of Fire are interesting to look at, as they blend perfectly into the surrounding area. History buffs will appreciate these, as they were built in 1935 to house travelers and tourists.
Nowadays, the cabins are simply an attraction to view, with picnic tables nearby for a rest stop. Sdenote, there were lots of bees here when I visited, so it's worth the stop but be aware.
Follow the Valley of Fire Highway past Elephant Rock and the right-hand turnoff is marked on the road.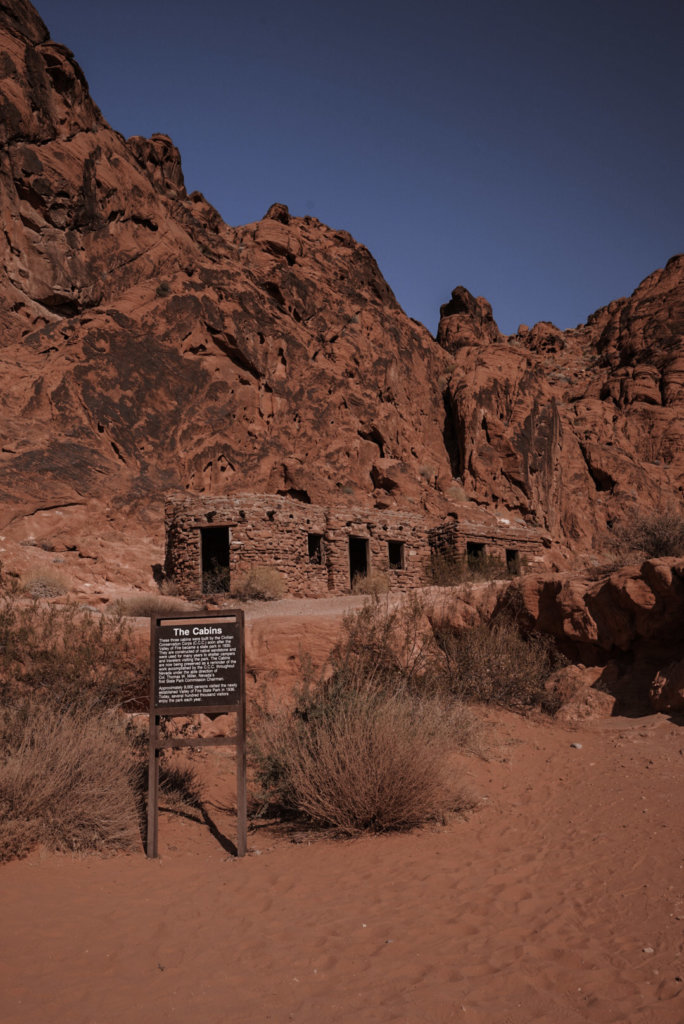 Valley of Fire State Park Hiking
Most of the hikes found in Valley of Fire State Park are quite short. We are talking under 2 or even under 1 mile for some. And, in the desert heat and hot months, this is great. If you do take one of the longer trails, definitely brush up on your desert safety knowledge before you head out!
Trails are open from dawn until dusk. Trailheads are marked by signage, but not all trails are maintained, so be careful. Not to mention, rattle snakes and other creatures can be hiding nearby, so pay attention on the trails.
The trail map as well as my desert hiking essentials are linked above in the red box. The Visitor's Center will also be able to help you out if you are turned around. I recommend bookmarking (or pinning) this post so you have easy access to all items linked above!
You May Also Like: How to Plan a Hiking Trip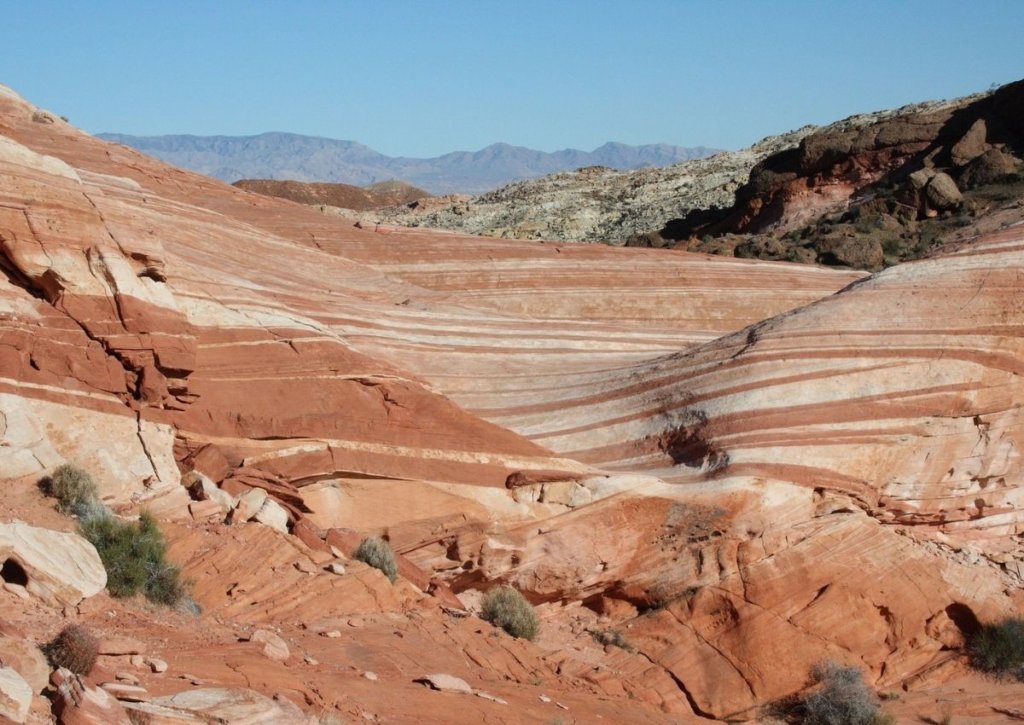 Valley Of Fire State Park Camping
Valley of Fire has two fairly large campgrounds with amenities such as restrooms, picnic tables, and grills. All of the campsites are first-come, first-served and have a fee of $20 for Nevada residents and $25 for out of state and foreign visitors.
Each month, a limit of 14 days of camping is enforced per person (just in case you're tempted to move in, like I am). RV sites are also available.
***
If you are planning a visit to the American Southwest and it's desert regions, this is one park that you cannot miss. I am absolutely in love with Valley of Fire State Park, and know I will come back soon!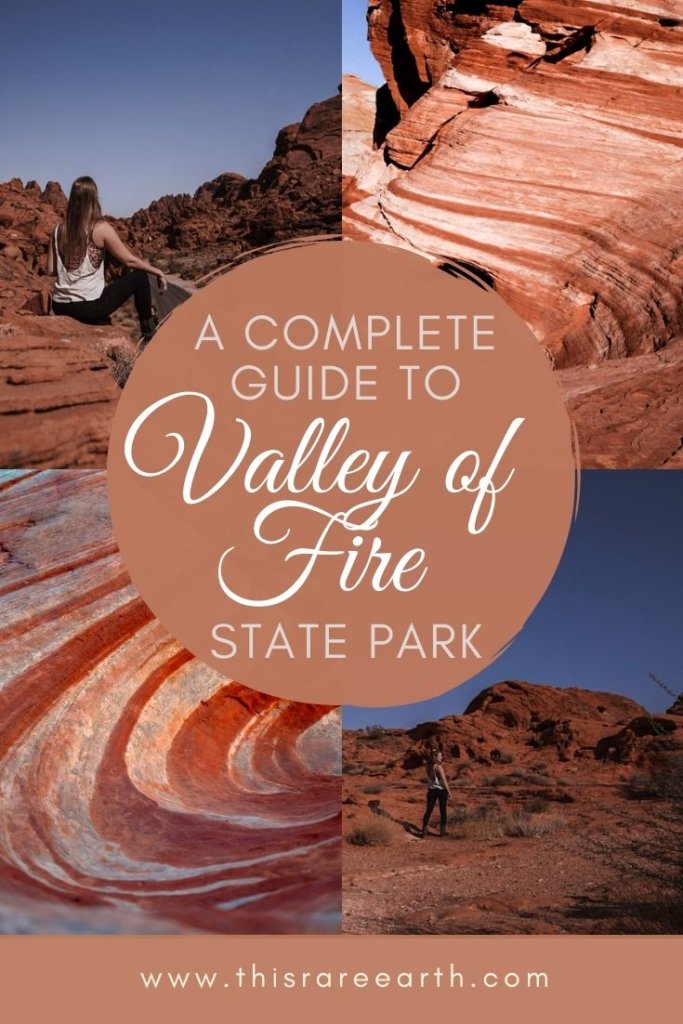 Have you visited Valley of Fire State Park? If not, I hope I've inspired your first visit!