This is the ultimate guide to visiting Anza Borrego Desert State Park! From camping to hiking to driving and stargazing, I've got it all covered. Whether you have one day in Anza Borrego or you visit several times per year, here are the highlights of Anza Borrego Desert State Park.
Pin Me for Later!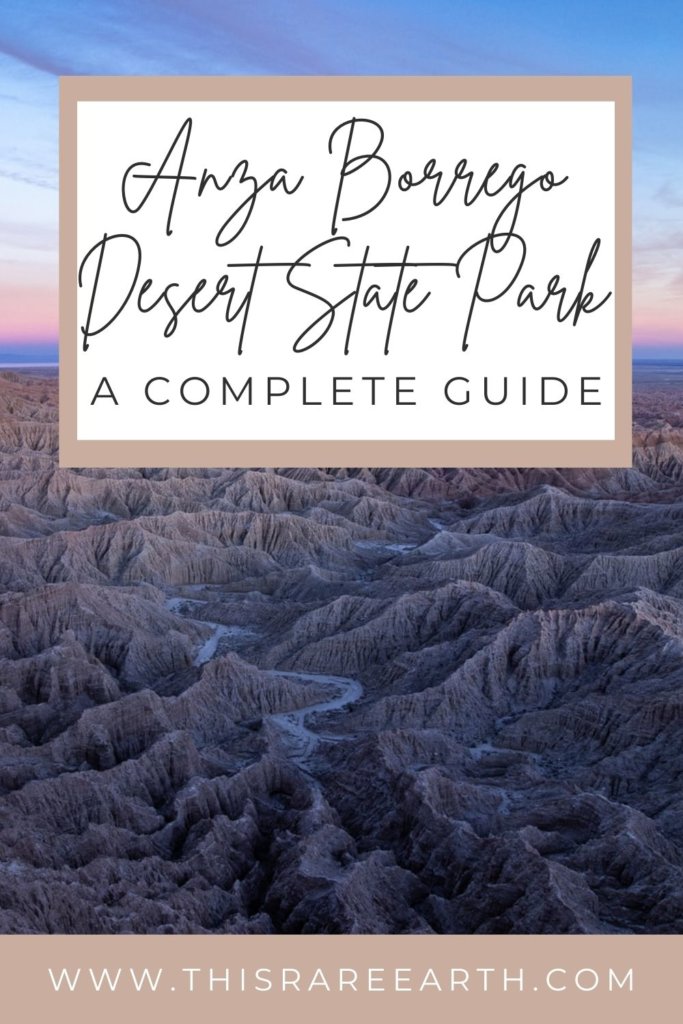 Did you know that California has the most state parks of any state in the entire USA? And, Anza Borrego is the largest of all of them, sprawling over 600,000 acres of desert wilderness.
Roughly 80 miles northwest of San Diego, Anza-Borrego Desert State Park is not extremely well know to those outside of California (and, frankly, there are plenty of people within California who don't know about it, either!)
But that's a shame! This park is filled with unique natural wonders like natural California fan palm oases, odd rock formations, slot canyons, and desert wildlife. Here is everything you need to know to visit Anza-Borrego Desert State Park!
A Complete Guide to Visiting Anza Borrego Desert State Park
This unique pocket of the California desert is located within easy driving distance of San Diego, Los Angeles, and basically any area in Southern California.
Anza Borrego Desert State Park Basics:
Anza Borrego Desert State Park was established in 1933.
The park is located in Southern California.
It will take roughly 2.75 hours to drive here from Los Angeles and 1.5 hours from San Diego.
Two-thirds of the park's area is designated wilderness.
Anza Borrego Desert state Park is open 24 hours a day, seven days per week.
Entry into Anza Borrego Desert state Park is free, but some areas require a day use or camping fee.
Anza Borrego Desert state Park is an international dark sky park, meaning stargazing is unmatched.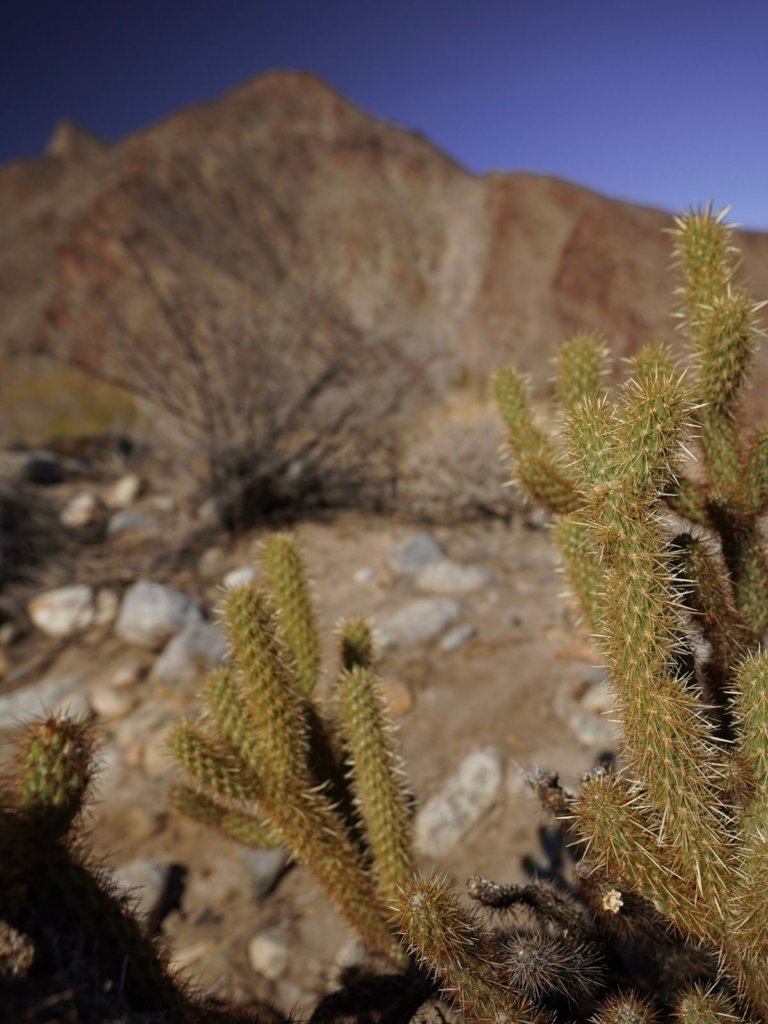 When is the Best Time to Visit Anza Borrego Desert State Park?
The temperature here can vary from one part of the day to the next as well as season to season. This is pretty typical for the desert! I personally enjoy visiting Anza Borrego at any time of year, but yes – the temperatures will vary greatly in different months.
Winter (December – February): Temperatures hover around 70 degrees Fahrenheit at the high point and drop to the 30s overnight. Winter is a great season for hiking and exploring, and is an ideal time for the longer, more strenuous hikes in the park.
Spring (March – May): The park has great weather at this time of year, with highs typically in the 80s and lows in the 50s. This is a beautiful time to visit Anza Borrego and catch all of the vibrant blooms from cacti and wildflowers. Bonus – when the conditions are just right, Anza Borrego may showcase colorful super-blooms!
Summer (June-September): Summer months can be busy simply because school is out and family vacations are in full swing. However, most people would prefer to avoid the intense heat of summer if they could. Temperatures are regularly in the triple digits. Less strenuous hikes are possible in the early hours, but not recommended mid-day.
Fall (October – November): Fall's weather is fairly similar to spring, with highs in the 70s and 80s and lows in the 40s and 50s. Most people I know plan their camping adventures for the fall, once the temperatures drop. This is the most popular season in the park though, so expect crowds and plan campsites in advance.
Is Anza Borrego Desert State Park Worth Visiting?
Hands down, yes! There is a lot to see and do here, from hiking to camping to driving and stargazing. Detailed suggestions are found below.
Is There an Entrance Fee for Anza Borrego Desert State Park?
Most of the park's 600,000-plus acres are completely free for visitors. How cool is that?!
Just a few of the more popular spots, like the Borrego Palm Canyon Trail, Tamarisk Grove, Bow Willow, Vern Whitaker Horse Camp and the Visitor Center cost between $5 to $10 to enter. Day use fees or campsite fees may apply.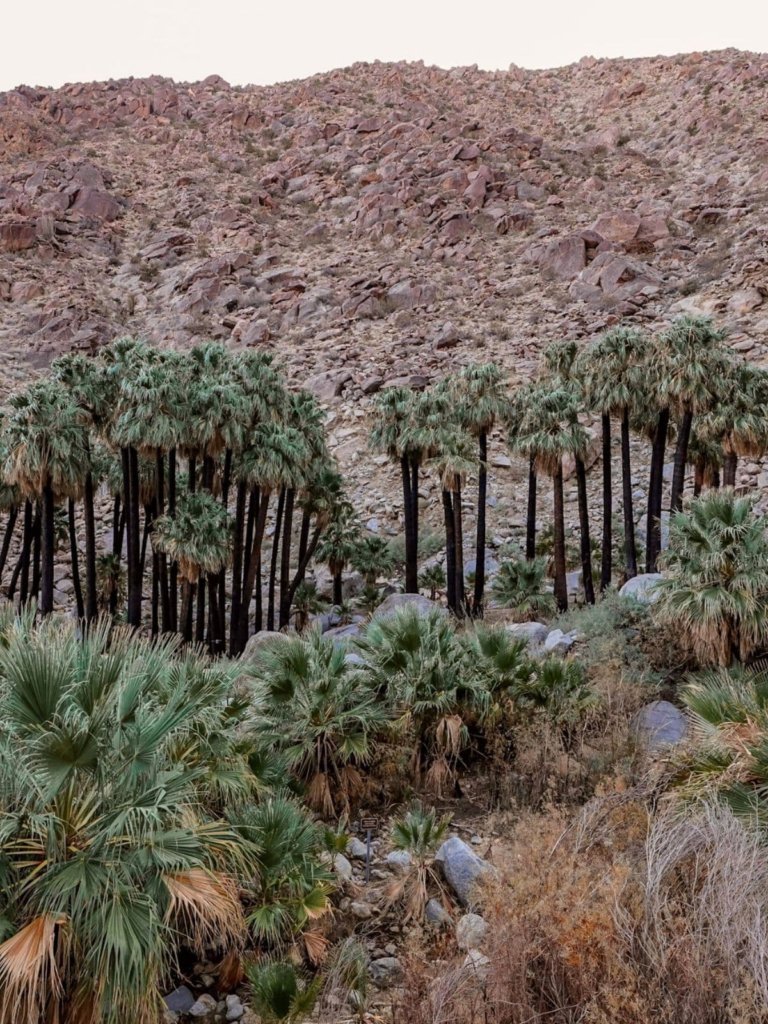 Are There Snakes / Scorpions / Coyotes in Anza Borrego?
Yes, there are. Anza Borrego Desert State Park is home to the typical desert wildlife – from rattlesnakes to small scorpions to coyotes. But, it's also home to bighorn sheep and cottontail rabbits.
Oftentimes you won't even see the animals, but if you're quiet and watchful you might get lucky.
You May Also Like: Solo Female Travel in California – Where To Go Alone
Things to Do in Anza Borrego Desert State Park
Hiking
It's probably no surprise – this expansive desert park has a lot of hiking trail options. If hiking is your thing, I highly recommend checking out my best hikes in Anza Borrego post. There you'll find detailed information on several hikes that I mention below.
A note on safety. If you have never hiked in the desert before, or don't do it often, please check out my Desert Hiking Essentials list. That way, even in the most remote hiking areas of Anza Borrego, you'll be safe and prepared.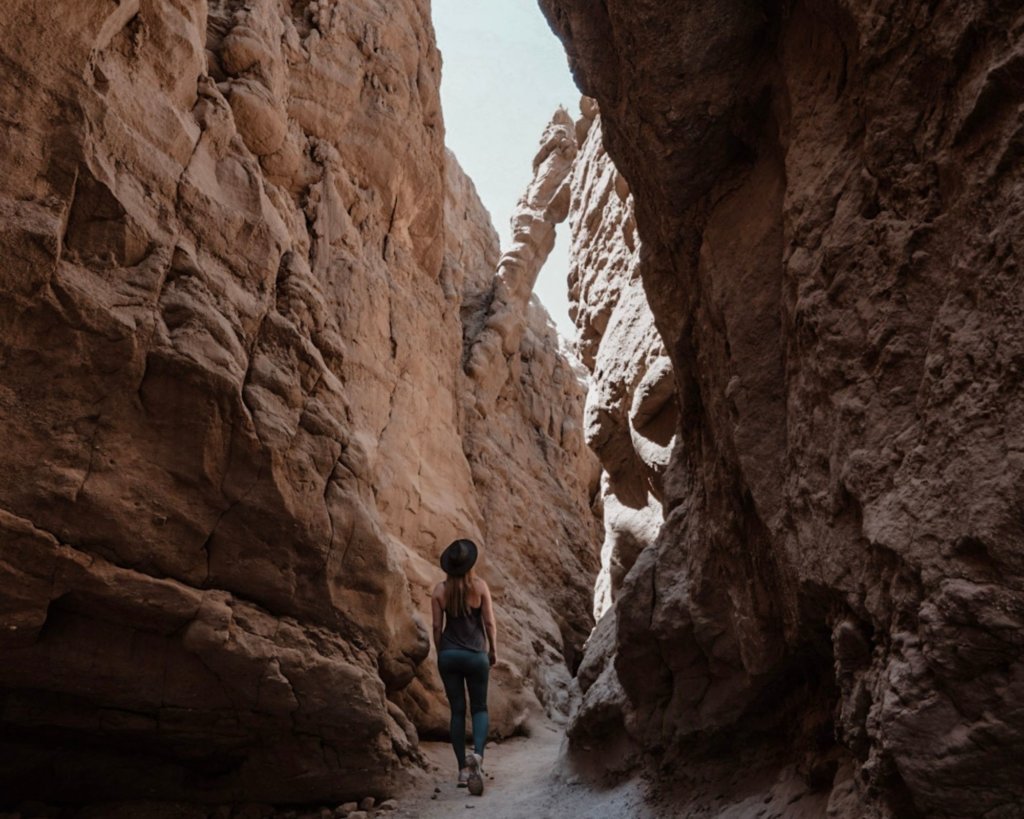 The Slot Hike
Yep, California has slot canyons. And Anza Borrego's The Slot is one of my favorite hikes in Southern California!
This short trail is partially shaded depending on what time of day you visit. Don't bring a large backpack or much to carry; the narrow passageways are pretty tight in some spots! canyon walls towering high above.
Check out directions, fees, and details here.
Borrego Palm Canyon Trail
Probably my second-favorite hike in Anza Borrego, the Borrego Palm Canyon Trail is a moderately strenuous trek through several scenic spots. The palm oasis at the end is the highlight, but you might be lucky along the way and spot the bighorn sheep that the park is named after.
Check out directions, fees, and details here.
Wind Caves Trail
This hike is approximately one-mile roundtrip – so, short and sweet but with a fun reward! It leads to wind-eroded sandstone caves and passageways to explore. Though the trail is short, be prepared for some steep spots.
Last reminder: for more Anza Borrego hikes and detailed information, check out my Anza Borrego hiking post.
Do you love hiking in Southern California? Check out my 52 Hikes in Southern California E-Book! Click the image below for the full details.
Stargazing
Stepping deep into the heart of Anza Borrego creates an unbeatable environment for stargazing. While you will see an impressive expanse no matter where you are in the park, some of the best spots for stargazing are:
Culp Valley area and Culp Valley Primitive Campground (accessible with 2WD)
Blair Valley/Little Blair Valley/Blair Valley Primitive Campground (accessible with 2WD)
Fish Creek Primitive Campground (high clearance and 4WD vehicles recommended)
Mountain Palm Springs Primitive Campground (high clearance and 4WD vehicles recommended)
Pro Tip: Avoid the full moon or cloudy nights for the best star-visibility.
How To Get Around
Anza Borrego is remote enough that you simply can't rely on public transportation here. You will definitely need a car, whether it's your own or a rental car.
Furthermore, this park has multiple areas that are completely inaccessible without 4WD. Please use caution when driving, particularly after rain as some areas might be washed out or experience flash flooding.
In the hot summer months, having a car is a must to cool off in AC between stops.
The park hands out a map that highlights not just the roads in the park but also the hiking trails and camping spots. Be sure to grab one at the Visitor's Center.
You May Be Interested In: Easy Weekend Getaways from San Diego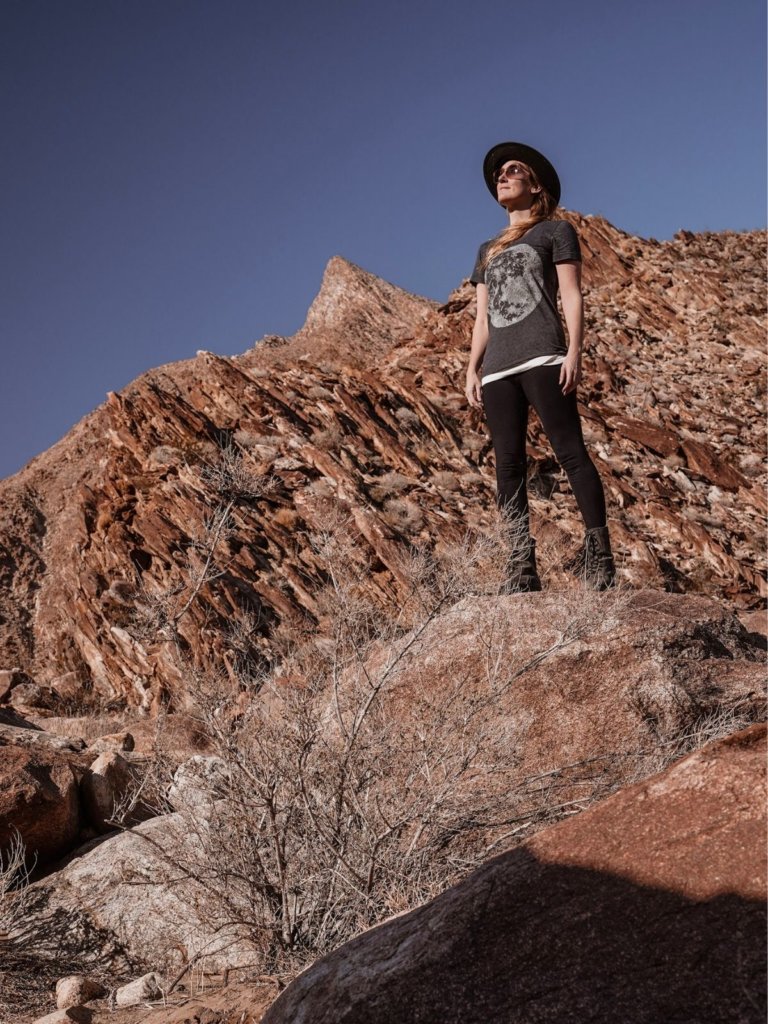 Camping in Anza Borrego Desert State Park
This park is incredible for camping. From traditional campsites to rugged dispersed camping, here you can do it all.
If you want to camp at a campsite with basic amenities like toilets and designated sites, reserve a spot in Borrego Palm Canyon or Tamarisk Grove Campground here. Reservations can be made up to six months in advance. These campsites do fill up in the spring and fall, so plan ahead when possible.
On the other hand, you could go for free dispersed camping if you don't mind a more rustic experience. This means you can camp anywhere within Anza-Borrego State Park as long as you follow these rules:
Your car is parked no more than one car length off the road (fyi, you may walk further to set up your campsite.)
You are at least 100 yards away from any water source.
You may not have any ground fires.
Depending on your preference, there are pros and cons to either choice. But, they are both an awesome experience.
You could also consider car camping at Rockhouse, Pegleg, and Clark Dry Lake. Bring in everything you need, from food to snacks to water. Especially water.
Points of Interest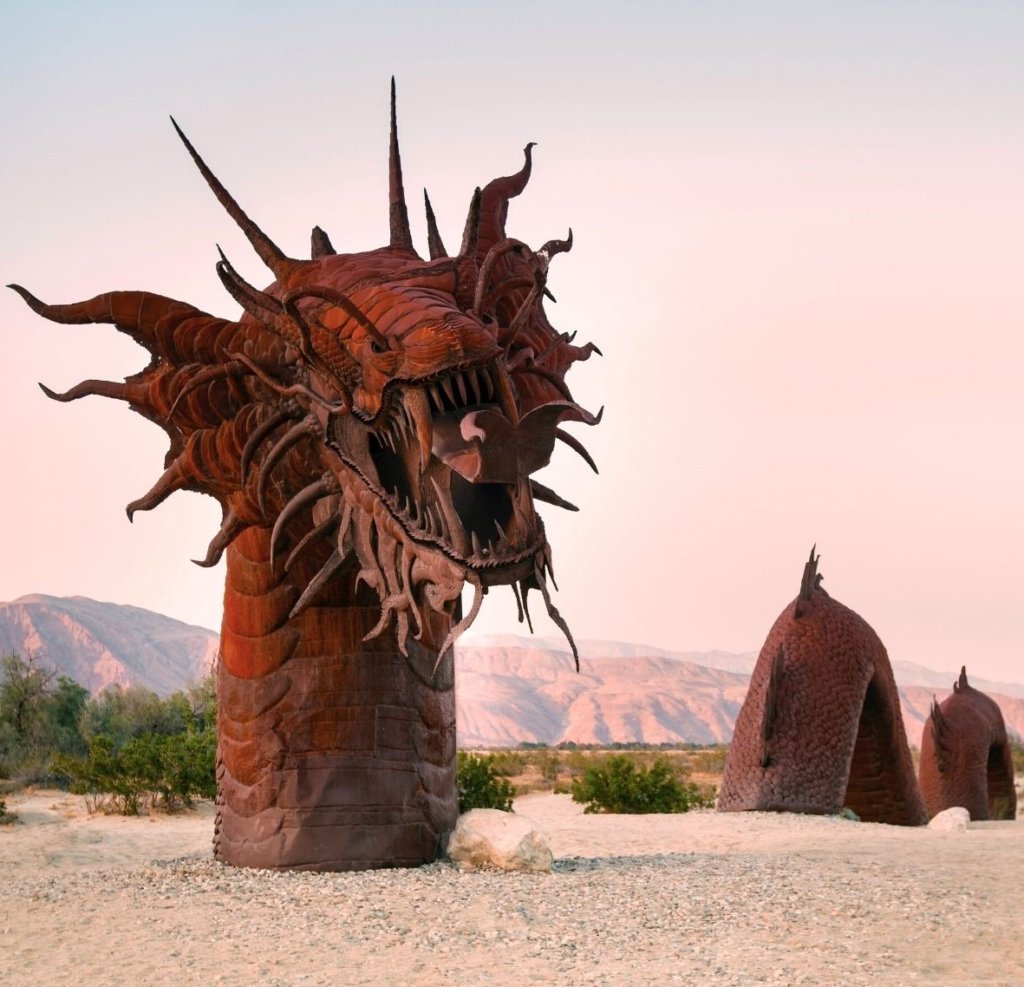 Font's Point
This scenic lookout over the badlands of Anza-Borrego is similar to what you might see at Death Valley National Park. It's often referred to as the Grand Canyon of California.
A word of caution; the sandy trail off S-22 can get quite sandy. When the conditions are right, you might make it without 4-wheel drive, but I don't recommend chancing it unless you are familiar with driving in the desert.
If you do visit, sunrise bathes the jagged peaks in golden yellow. It's a sight to see.
Galleta Meadow Statues
The Galleta Meadow Statues are a collection of massive, larger-than-life sculptures of dinosaurs, serpents, and other creatures stomping across the sandy brush.
This permanent art installation by Ricardo Breceda features thirty metal sculptures visible from the road. They are definitely worth a stop and make for some fun pictures!
The Pumpkin Patch
I became obsessed with this strange area called The Pumpkin Patch within Anza Borrego roughly a decade ago, and honestly I still find it fascinating!
This geological oddity features pumpkin-sized boulders strewn all across the desert floor, seemingly dropped from the sky. These formations are called concretions, and are formed when tiny wet specks of sandstone dry and cement around a small fragment, like a shell or leaf.
While most sandstone I've come across seems to erode over time, these "pumpkins" grew in size. Note that you cannot access this spot without 4WD.
Clark Dry Lake
Clark Dry Lake features that quintessential dry desert ground; cracked and patterned from the hot, heavy sun. You can walk around the dry lake bed and get some awesome photos here.
Directions: The Clark Dry Lake bed is about 10 miles from the center of Borrego Springs, off the S-22 and down Rockhouse Trail.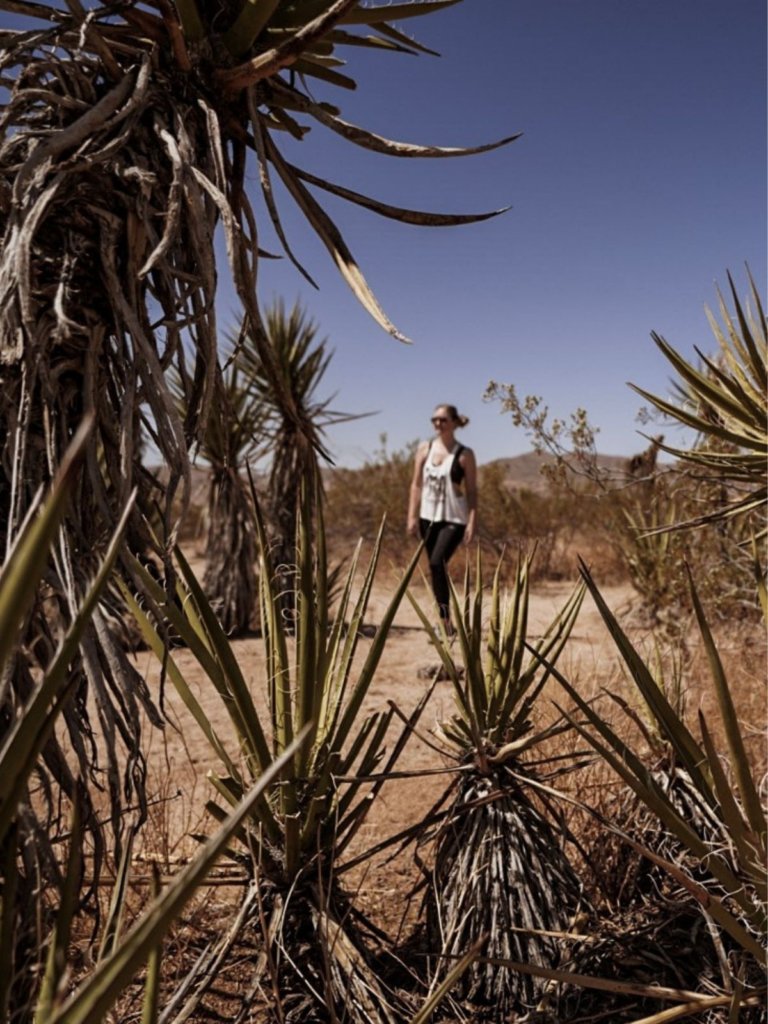 Where To Go Next?
If you haven't had your fill of the desert, I highly recommend exploring Joshua Tree National Park for a completely different experience! The landscapes here are unlike anywhere else.
If you'd rather try out some coastal hiking, head over to Torrey Pines State Park for epic views. Or, drive even farther north and spend a day in Malibu.
Lastly, if you're a regular hiker (or aspire to be), grab a copy of my 52 Hikes in Southern California e-book. It will give you a new hike to tackle every single week of the year!
***
I hope your trip to Anza Borrego Desert State Park is everything you expect and more! I fully believe you will love this small pocket of California just as much as I do. Let me know how it goes below.
Pin Me for Later!