If you're looking for the best California flower fields, you've come to the right place! Here we'll cover where to see flower fields in California, such as massive wildflower fields and colorful gardens. We'll also cover when to see flowers in California. Let's get into it!
Pin Me for Later!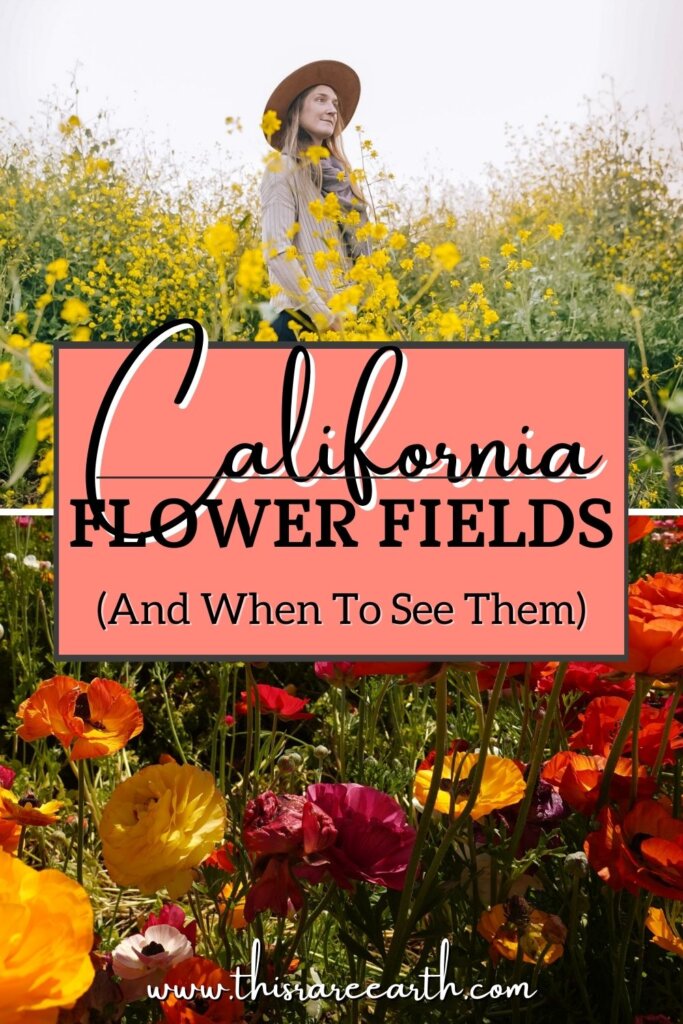 The often-scorched hillsides are alive with color. Bold orange poppies, vibrant yellow mustard, and deep purple lantana are just some of what you can see this spring.
Once again, I find myself feeling thankful to live in such a beautiful state!
Each and every year, the California flower fields burst with color. Some bloom as early as February and others bloom in the fall. Here, you'll discover exactly where and when to find these incredible blooms.
From bright wildflowers on the hiking trails to manicured gardens full of color, here is where to see the best flower fields in California this year.
You May Also Like: Southern California Bucket List Things To Do
13 Types of California Flower Fields to See This Year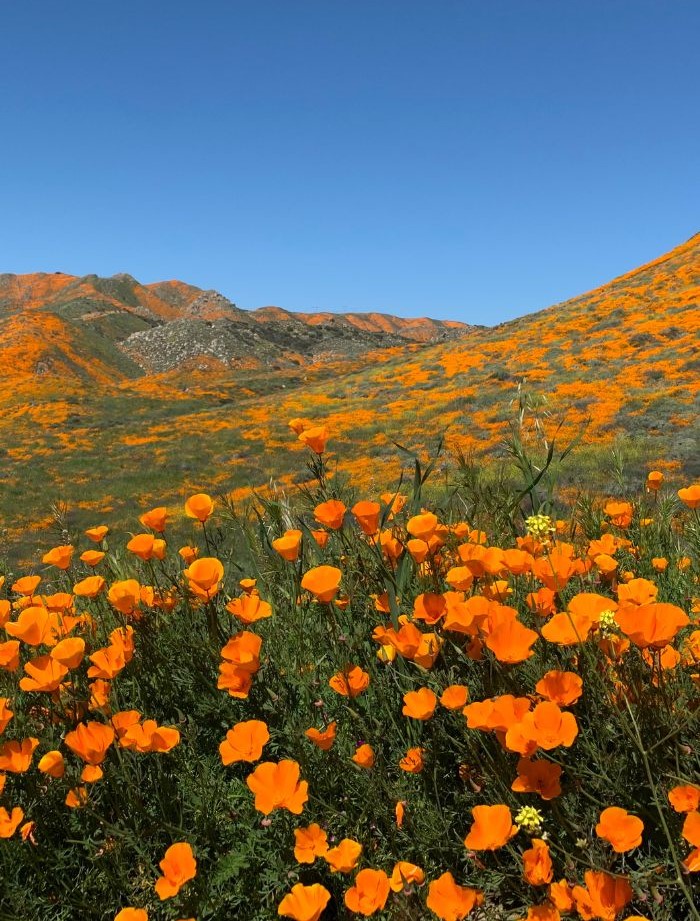 California Poppies Flower Fields
When: mid-March to early May
Where: Antelope Valley Poppy Reserve, Carrizo Plain National Monument, Chino Hills State Park, Walker Canyon, Pacheco State Park, Briones Regional Park
What better way to start this list of the best California flower fields than with the California state flower itself?
The bright orange California Poppy is a real showstopper. Every spring, you'll see the telltale orange pop of color blooming in between fields of green grass.
They typically bloom in California from mid-March to early May, but it can vary based on the rainfall and sun. While there are many places to see the California Poppy, none is quite as spectacular as the Antelope Valley Poppy Reserve.
This state-run park is open from sunrise to sunset. But, don't go too early or too late in the day. California Poppies close at night, so the best time to see them open to the world is late morning into the early afternoon.
Pro Tip: Seeing a California Poppy superbloom is incredible. I highly recommend making a weekend trip out of this destination if you live too far for a day trip!
If the Antelope Valley Poppy Reserve is too far or you want to see them for free, they can also be spotted in Malibu, Chino Hills State Park, and Briones Regional Park.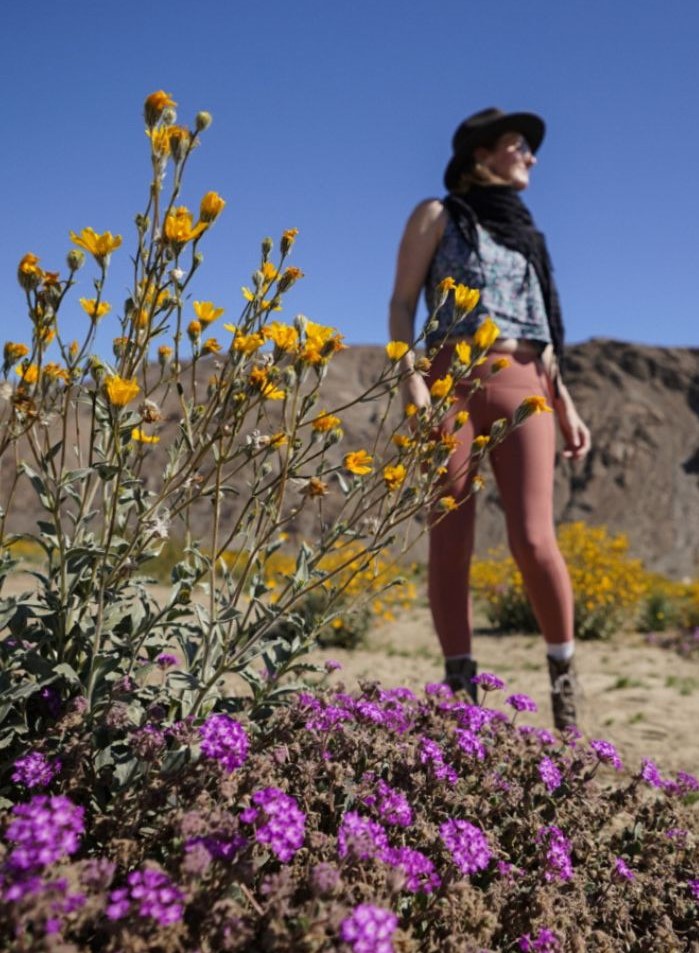 Desert Wildflower Fields in California
When: February to end of April
Where: Anza Borrego State Park, Joshua Tree National Park, Death Valley National Park, Carrizo Plain National Monument.
It may come as no surprise, the desert wildflower fields in California are the ones that stole my heart.
Anza Borrego Desert State Park and Joshua Tree National Park are easily my two favorite parks in the entire state. And when they are covered with bright purple lantanas and wild desert lilies, it is nothing short of magical.
There are a wide variety of desert wildflowers that bloom in California, so you will see a nice range of colors and types depending on what area you visit. And after a good rainy season, they will stretch all the way out to the horizon.
The flowers you will see range from the Desert Lily, Sand Verbena, Lantana, Parish's Poppy, Hairy Desert-Sunflower, Indigo Bush, and many, many more.
Currently, the best wildflower blooms are in and around Anza Borrego State Park. They are visible both by car or from the hiking trails. Stop into the Visitor Center if you can't find them.
You May Also Like: Desert Wear and Hiking Essentials for the American Southwest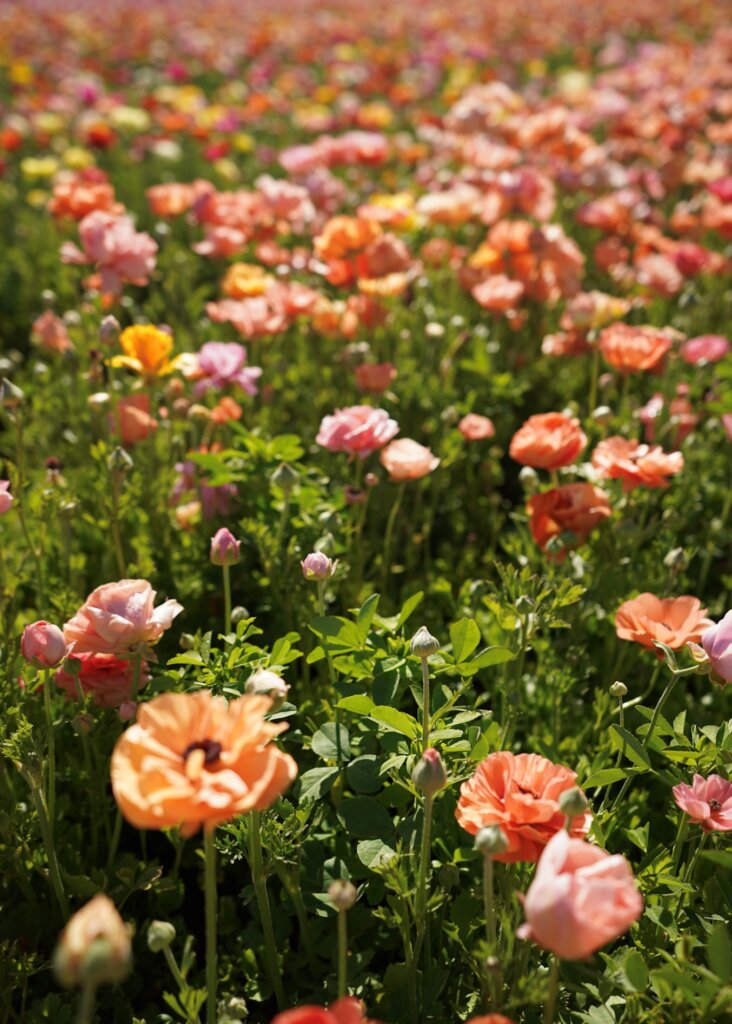 Giant Tecolote Ranunculas Flower Fields
When: March 1 to May 14
Where: The Flower Fields at Carlsbad Ranch
Pro Tip: The Giant Tecolote Ranunculas Flower Fields in Carlsbad, California have a very specific viewing window, because they are on private land. Here is all of the information you need the see The Carlsbad Flower Fields.
If you're in the San Diego area you can see Giant Tecolote Ranunculas at The Flower Fields at Carlsbad Ranch from March 1 – May 14, 2023.
If you are driving from afar, be sure to check the bloom status before you go. They seem to stagger the planting of the flowers so different fields will bloom at different times.
You'll want to book tickets online in advance. Note that weekends can get busy! This is hands down one of the best flower fields in Southern California to see, so you don't want to miss it. Find all relevant information on visiting the Flower Fields here.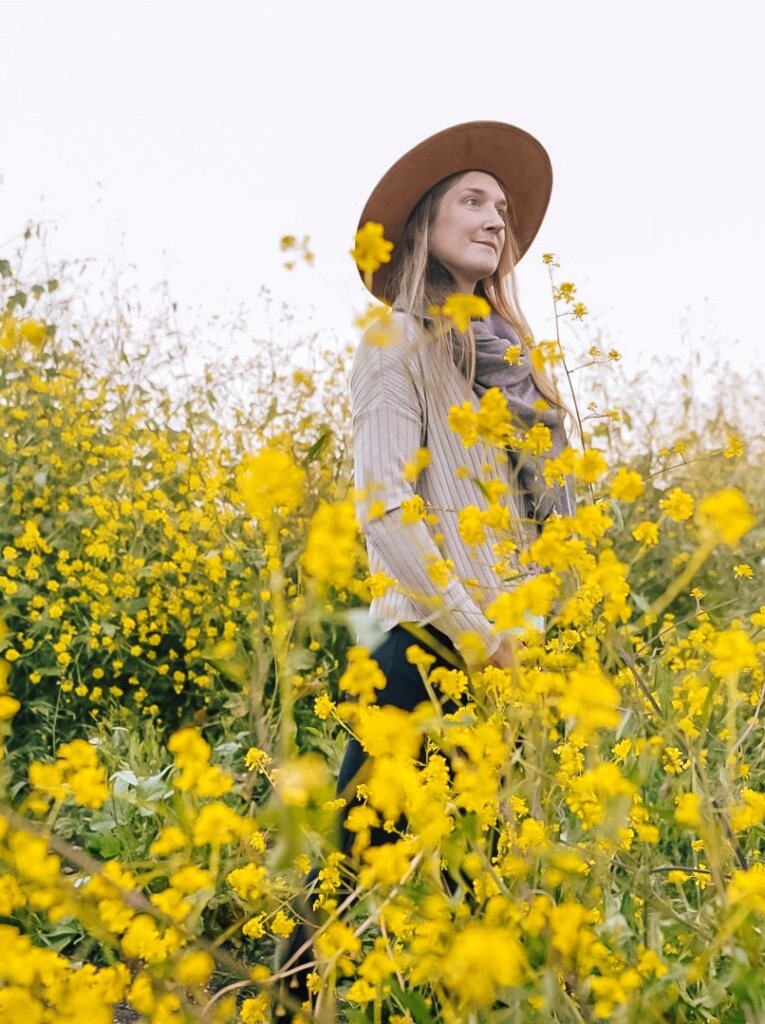 Wild Mustard Flower Fields in California
When: March to May
Where: Santa Monica Mountains, Malibu, Malibu Creek State Park, Crystal Cove State Park, Chino Hills State Park, Turnbull Canyon, San Elijo Lagoon Ecological Reserve and Nature Center, Half Moon Bay
I have a great appreciation for the vibrant yellow wild mustard blossoms seen strewn across California's hillsides in the spring.
The color is almost unbelievable, and the beauty against the rare lush greens is simply breathtaking. The best places to see California flower fields full of Wild Mustard flowers is at Malibu Creek State Park in Malibu and at Chino Hills State Park.
Weirdly enough, these pretty wildflowers are actually an invasive species from Spain that grows like crazy in the springtime, particularly during a superbloom.
In the photos above, taken in Malibu, California, the flower fields were so dense that I could absolutely not walk between them even if I wanted to. (Which I don't recommend anyway, so as not to trample the wildflowers.)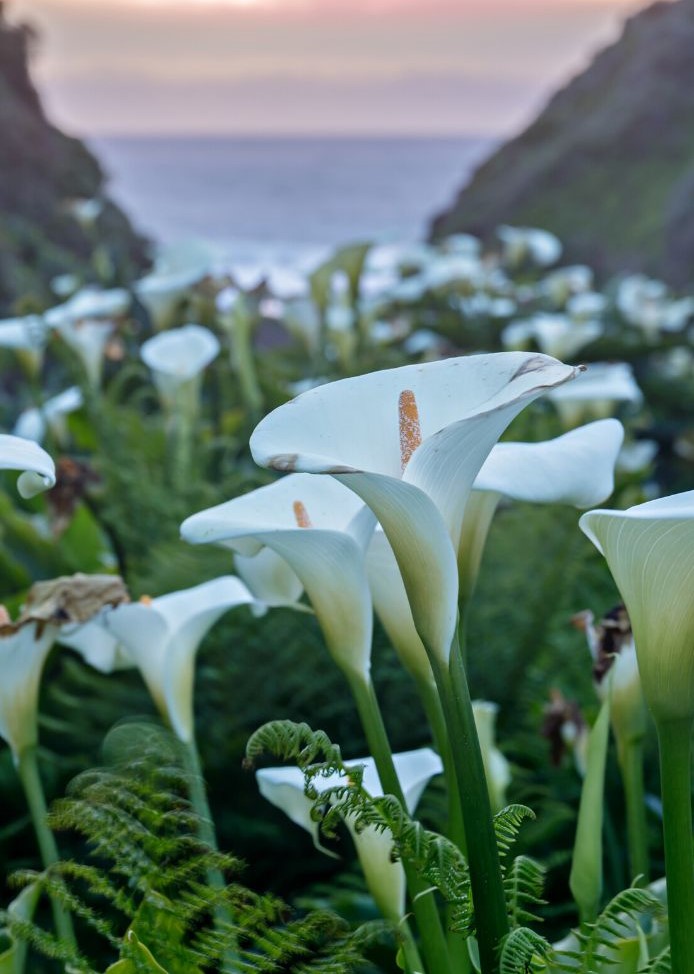 California Flower Fields of Wild Calla Lilies
When: mid-January to April
Where: Calla Lily Valley
Perhaps the most unique of all are the wild Calla Lily flower fields in Northern California. This is not a flower that I am typically used to seeing grow wild, so when this area is in bloom it is immaculate and white!
The Calla Lilies grow near Big Sur at a place aptly named Calla Lily Valley. The blooms begin in mid-January and can last into April. The best time to visit is typically from mid-February to March.
Calla Lily Valley is found on a short trail in Garrapata State Park and is worthy of a day trip, at least. If you are ever in the area in spring time, don't miss it! The deep blue ocean serves as a backdrop and it feels straight out of a fairy tale.
You May Also Like: A Pacific Coast Highway Road Trip Itinerary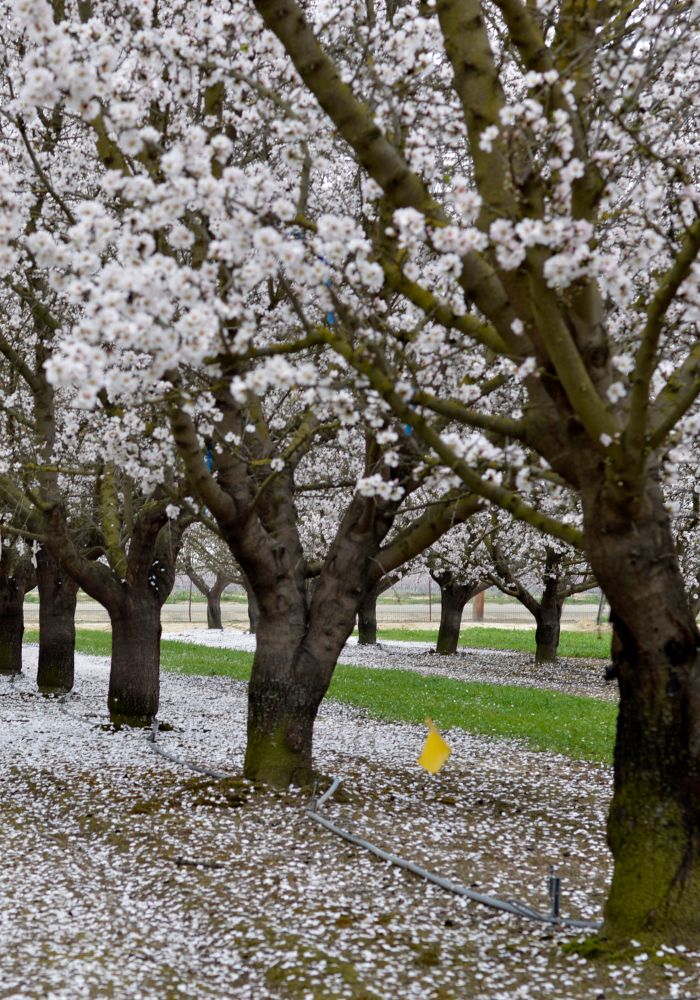 Almond Blossom Flowers in California
When: late February to early March
Where: Bakersfield, Modesto, Woodland, Dixon, and Visalia
The almond blossoms in California are frankly the hardest to see because you have such a short window. They usually bloom from late February to early March, but the exact timing depends on the rainfall.
While they are one of my favorites, I have to admit I often miss them due to their short two-week window! But if you can time it just right, head to Bakersfield, Modesto, Woodland, and Dixon for the best blossoms.
You'll likely see them off of the 99 or the 5 Freeway. Note that they primarily grow on private farms, so don't traipse through without permission. You can take pictures from the roadside or gain access at some farms that allow it.
You May Also Like: How To Plan A Road Trip Alone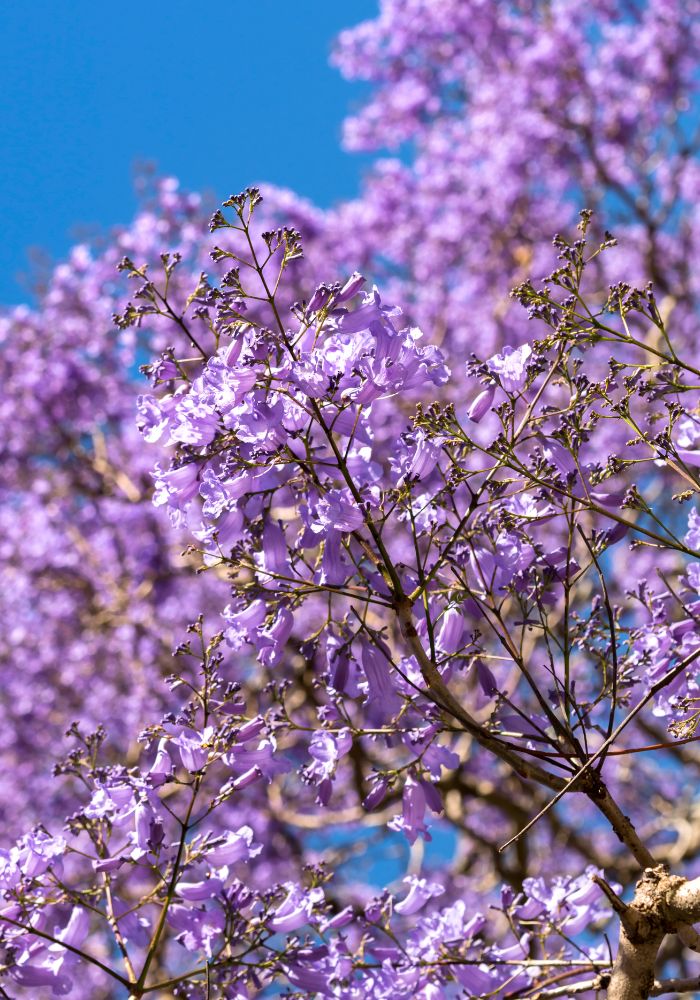 Jacarandas Flowers in California
When: late April to early June
Where: Los Angeles, Santa Monica, Long Beach, San Francisco
Have you ever seen those lavender-purple flowers on the trees in springtime, all over the Los Angeles neighborhoods? Those are likely Jacarandas that you're seeing!
Typically seen along the sidewalks or in private homeowners' yards, you can see these pretty trees all throughout Los Angeles and San Francisco. The pinkish-purple blooms are beyond pretty, painting the sky lavender.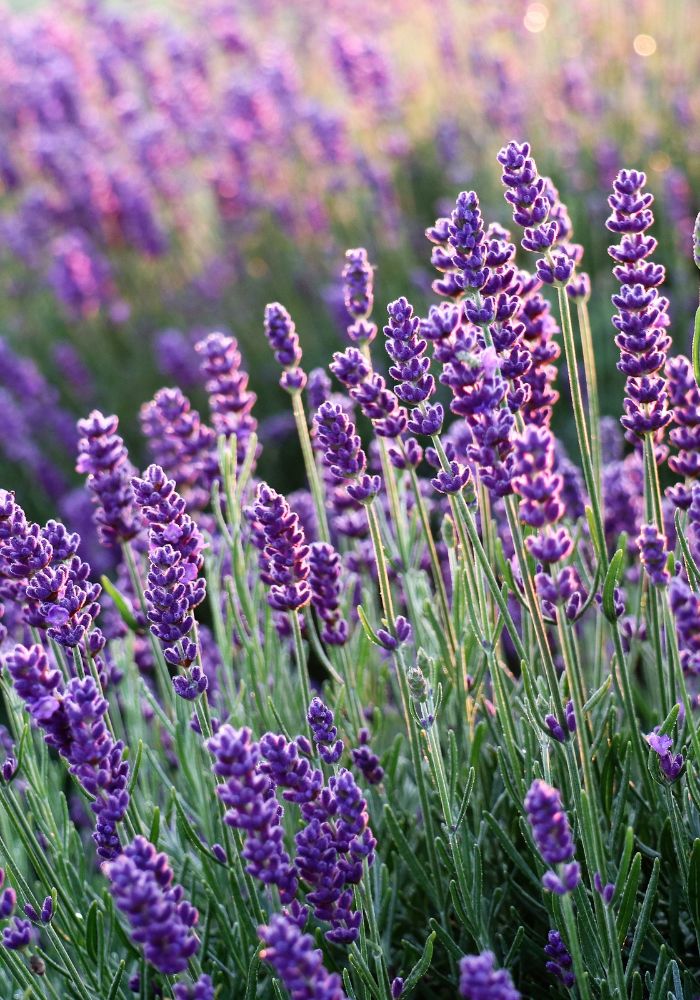 Lavender Fields in California
When: mid-May through July
Where: Clairmont Farms, Fork & Plow Lavender, 123 farm, Araceli Farms, Monte-Bellaria, and Pageo Farms
If you miss the spring wildflowers, not to worry. Lavender blooms a bit later in California, so these flower fields will be ready for viewing by the summer months. Lavender season in Southern California usually starts in mid-June to mid-July.
There are plenty of lavender fields to choose from, but note that they are at private farms. So while you can't just drive out and see them for free typically, you can visit during one of the farms' live music and local food events. Which are very worth the experience anyway!
Pro Tip: 123 Farm in Cherry Valley is a great choice. They have lavender season parties filled with live bands, a gift shop, local food and drinks, and more.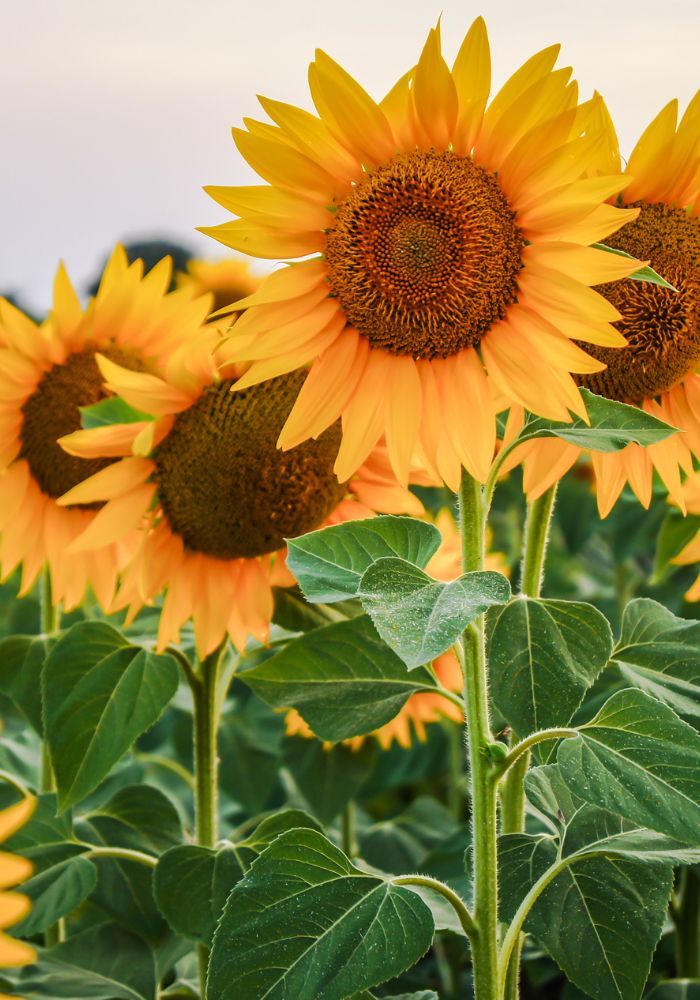 Sunflower Flower Fields in California
When: typically begins in June but it varies
Where: Hana Field in Costa Mesa, Carlsbad Strawberry Company, Pumpkin Station, Murray Family Farms in Bakersfield, The Cloverleaf Farm in Davis, Swank Farms in Hollister, Sunflower Fields in Dixon
Sunflowers hold a special place in my heart. I love these big happy blooms!
They usually start to bloom in the summer and you can typically find sunflower fields all over California into October. It once again depends on the rain.
These are private farms once again, so they offer much more than just sunflower fields viewing. Some offer u-pick sunflowers and some offer pumpkin patches and sunflower mazes.
There are a lot of options in California with sunflower fields!
Pro Tip: Want to get the best pics? Check out my most-used and recommended camera gear on my Travel Essentials page!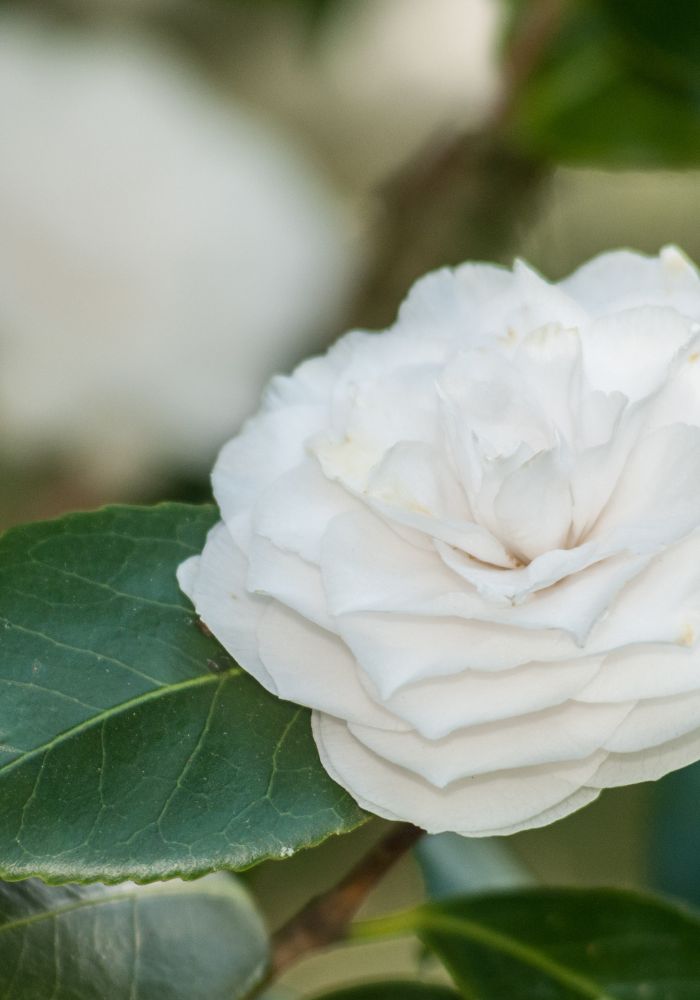 Camellia Flower Fields in California
When: November to February
Where: Descanso Gardens
While there are plenty of different flowers to see at Descanso Gardens, the camellia garden is an absolute showstopper. As one of the biggest collections of camellias in the entire United States, it is the proud winner of the International Camellia Garden of Excellence award.
Winter is surprisingly the best season to see the greatest variety of camellias blooming. And along with the camellias, you can also see a 5-acre rose garden, a live oak forest, and acres of land showcasing California's native flora.
Located just outside of Los Angeles, Descanso Gardens is a beautifully curated garden that you need to see for yourself.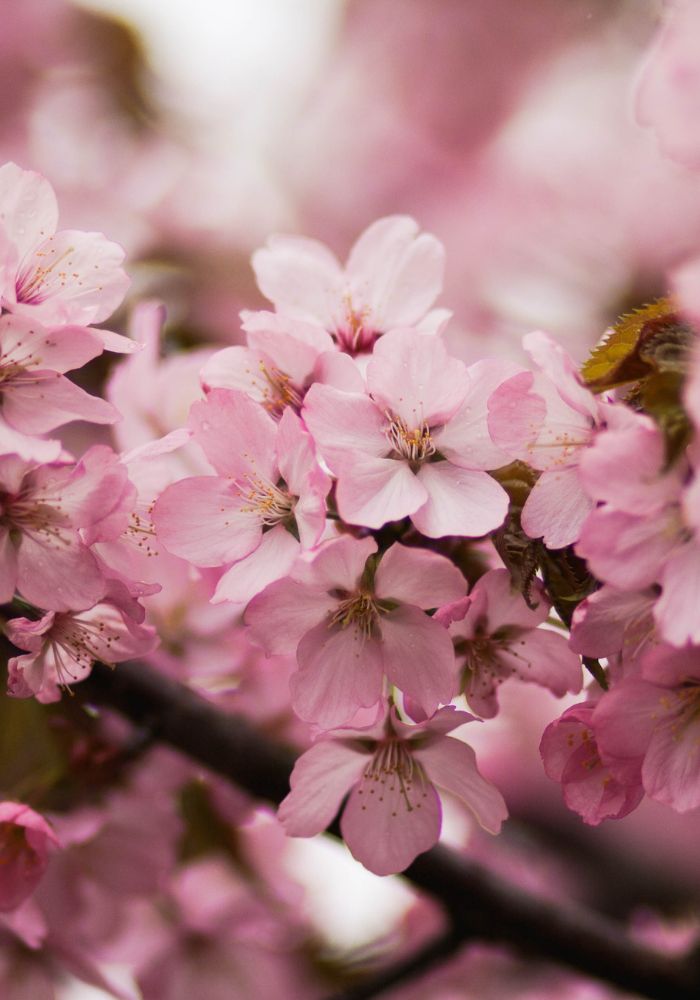 Cherry Blossoms in California
When: March to April
Where: Japanese Friendship Garden at Balboa Park, Descanso Gardens, Huntington Library, Japanese Tea Garden San Francisco
Cherry blossoms make many of us travelers think of Japan, so it is no surprise that they are found within some of the Japanese gardens around California.
Epect the cherry blossoms to bloom sometime from the end of February until mid to late April. As usual, this can vary due to the rains.
Some of the best places to see Cherry Blossoms in California are Japanese gardens or botanic gardens, since they are not typically seen "around town."
You May Also Like: The Best Hiking Gear for Women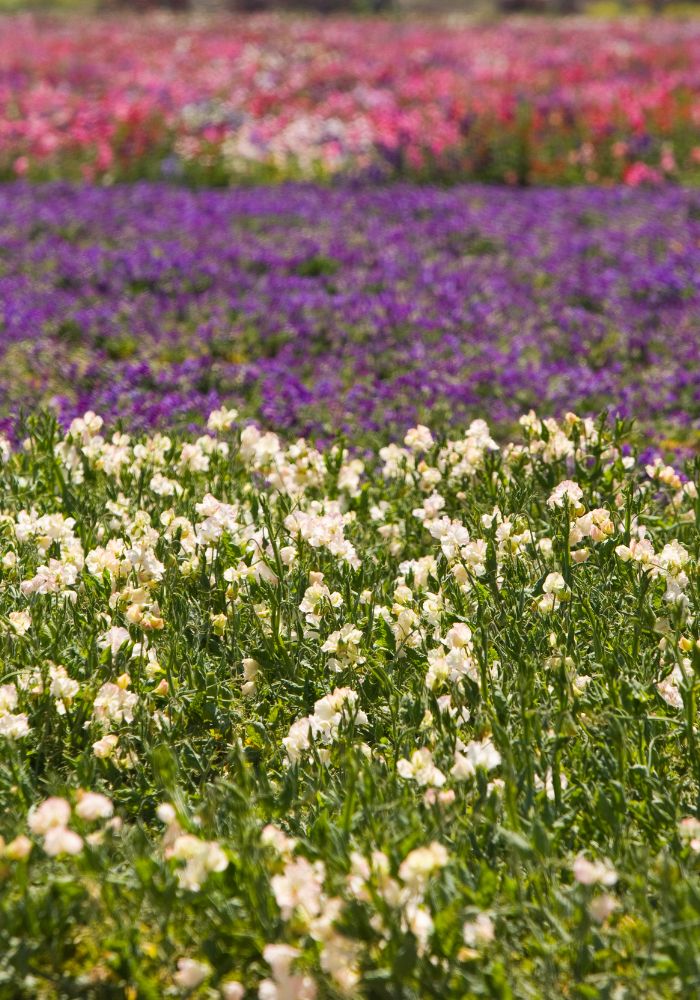 Lupine, Filigree, Hummingbird Sage, Baby Blue Eyes, Blue Bells, and Morning Glory
When: April through September
Where: Lompoc Flower Fields
Despite how many flowers I listed above, this is not an exhaustive list of what you can see in the small town of Lompoc.
Lompoc is well-known to have some of the best flower fields in California, hands down. You'll find fields of Larkspur, Lupine, Filigree, Hummingbird Sage, Baby Blue Eyes, Blue Bells, Morning Glory and more.
The Lompoc, California flower fields are all privately owned. Do not enter the properties without permission. It is the perfect place for a scenic flower fields drive, though!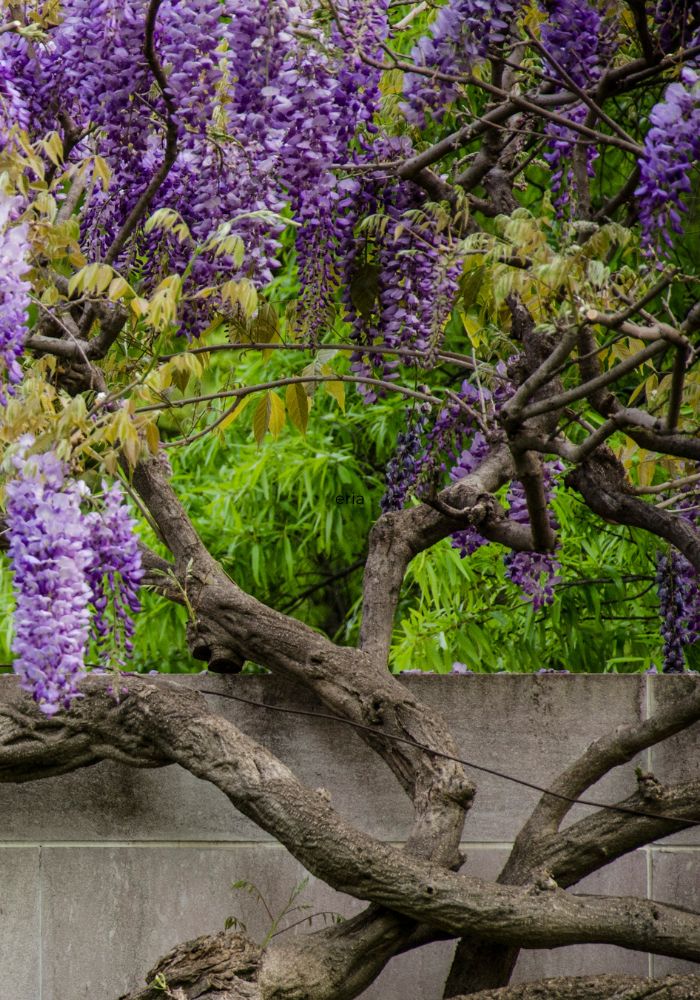 Wisteria Flower Fields in California
When: mid-April to May
Where: Descanso Gardens, LA Arboretum, Arlington Gardens, Lake Balboa Park, Potrero Hill
Different Wisteria varieties bloom at different times of year, so depending on where you go and when, you will likely spot some of these.
Wisteria planted from a seed can take up to ten years to bloom, so seeing these in full spectacular bloom is quite a treat!
***
I hope that this list of the best California flower fields helps you to see more blooms this year! Which one are you most excited to see?
Here are some more helpful resources related to the flower fields:
Pin Me for Later!