Wondering where to see the California superbloom this year? I've got you covered! Here you will find all of the best places to see the super bloom in California – from Southern California to Northern California, and everywhere in between.
Pin Me for Later!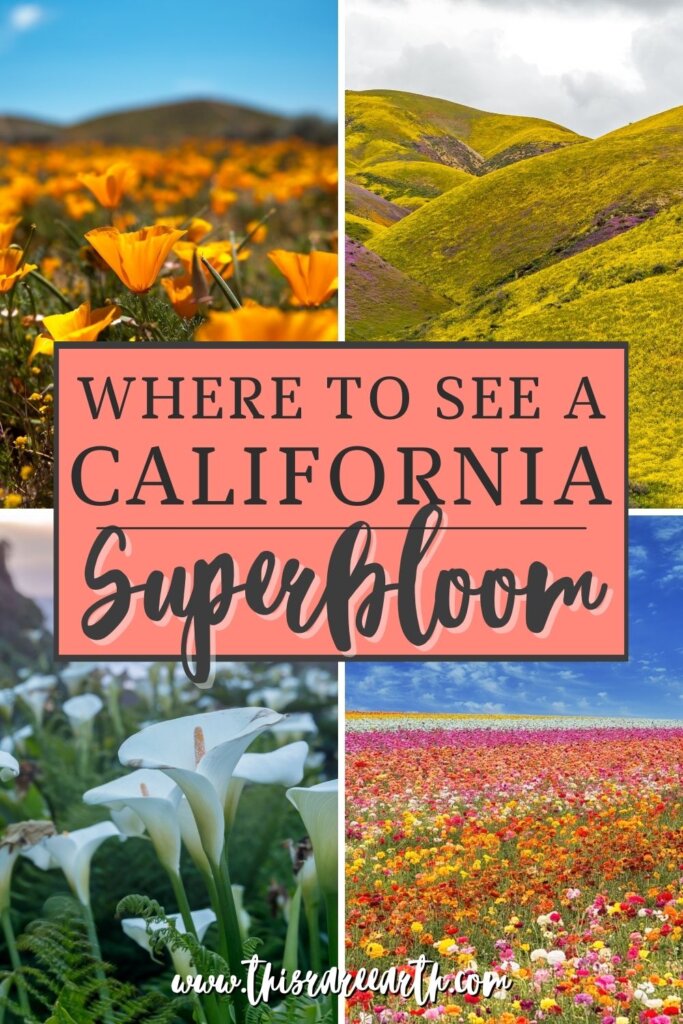 There is nothing quite like a California superbloom. The vibrant petals, the bright green grass, and the fragrant smells are so rare that all Californians truly appreciate when we get one.
I've lived in California long enough to experience multiple superblooms at this point. Over the years, I've been able to pinpoint the absolute best locations to see the wildflowers in California, year after year.
Here are the top 13 best California supebloom locations in both Southern California and Northern California. I highly recommend seeing as many as you can if you're in California during a superbloom!
And, even if there is not a superbloom, these are the best places to see wildflowers in California, too.
You May Also Like: Southern California Bucket List Things To Do
What Causes a Superbloom in California?
Wildflower superblooms occur when there has been an abundance of rainfall during the fall and winter months, followed by warm temperatures in springtime.
For a California superbloom to occur, the rain must have soaked deep into the ground over a long period of time, prepping the soil for new life. Then, when the sun shines in the spring months, the weather warms.
The combination leads to a blanket of colorful wildflowers that transform the often dry landscape of California.
How long does a superbloom last?
The earliest time to see a California superbloom is in February. Though a superbloom can stay around into the summer, March and April will be the best months to view them, typically.
Southern California Superbloom Locations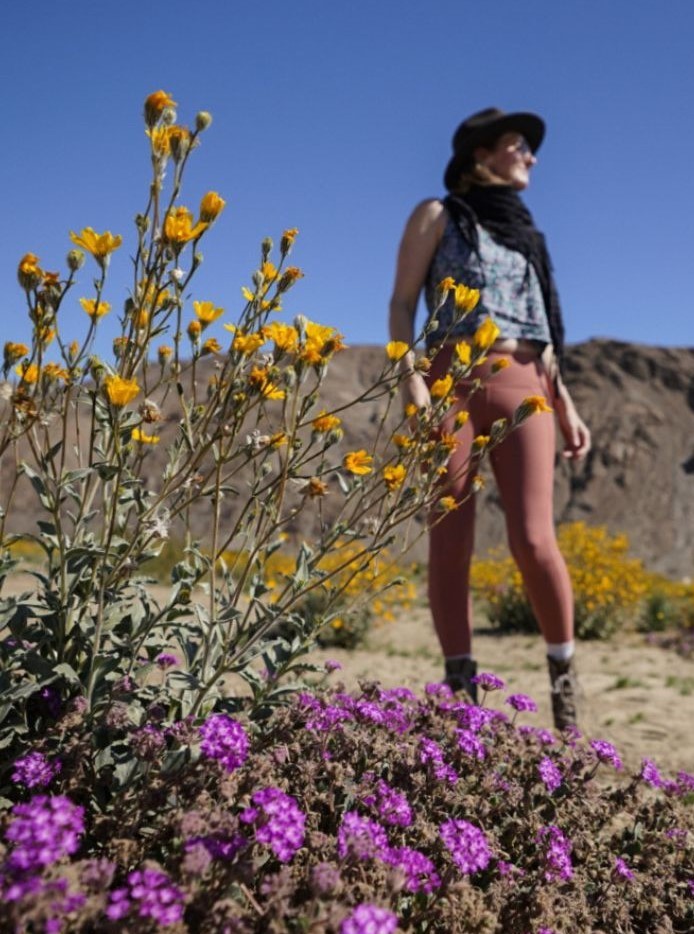 1. Anza Borrego Desert State Park Superbloom
Anza Borrego Desert State Park becomes a wildflower paradise when the conditions are just right. And, as the largest state park in the continental United States, there is plenty of ground to see the blooms.
With its rugged canyons, purple mountains, and wide-open desert, the park provides a perfect backdrop for adventure.
One of the most spectacular things to do at Anza Borrego is to visit when the wildflower superbloom is taking place. Wildflower blooms typically occur between March and May here each year, although when the conditions are just right, the landscape explodes with color.
The wildflowers at Anza Borrego are some of the most stunning in all of California, with vibrant shades ranging from fiery reds and oranges to delicate pinks and purples. Some common species found here include Desert Sunflowers, Sand Verbena, African Daisies and Primroses.
In addition to these floral delights, visitors can hike miles of rugged trails winding through palm oases or slot canyons, or take part in activities such as camping or rock climbing.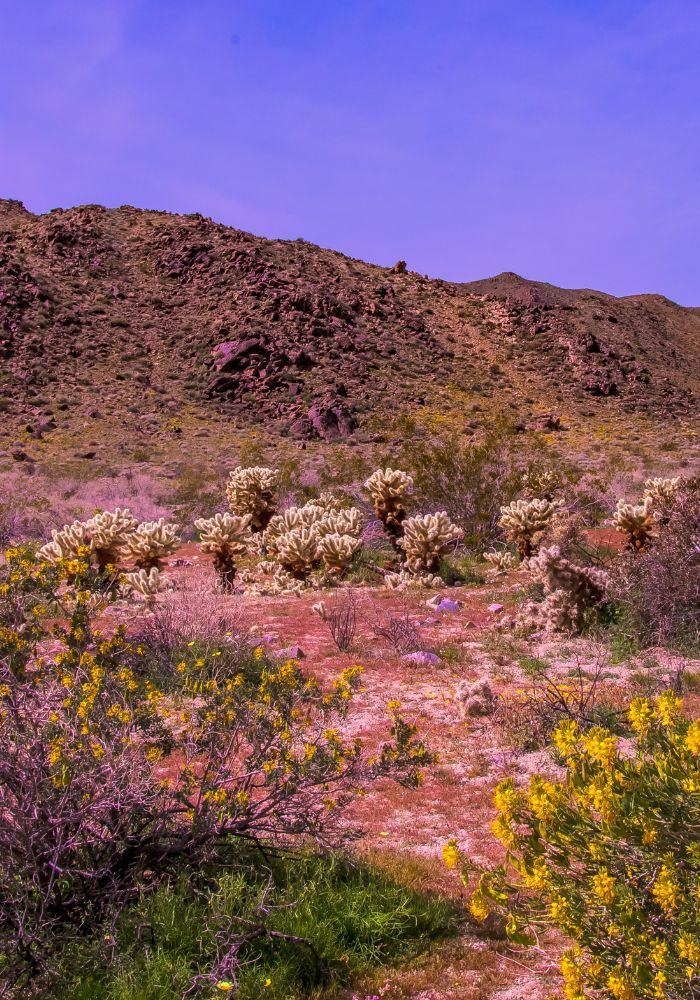 2. Joshua Tree National Park Superbloom
One of my personal favorite places to see the California superbloom is at Joshua Tree National Park. The warm climate in Joshua Tree National Park helps create conditions that are ideal for wildflower blooms after abundant precipitation in fall and winter.
The most famous species of wildflowers you will see in the park include desert sunflowers, California poppies, Indian paintbrush, and desert lilies. These flowers transform the rocky landscape into a bright tapestry of color.
While not as showy as the vibrant wildflowers, one of the most unique sights to behold in Joshua Tree National Park is the white flowers that adorn its namesake tree – the Joshua Tree – or, Yucca Brevifolia. This species blooms between March and May, and the bell-shaped white flowers look practically alien-like!
Enjoy Joshua Tree's wildflowers on the many hiking trails and viewpoints found all around this stunning desert park.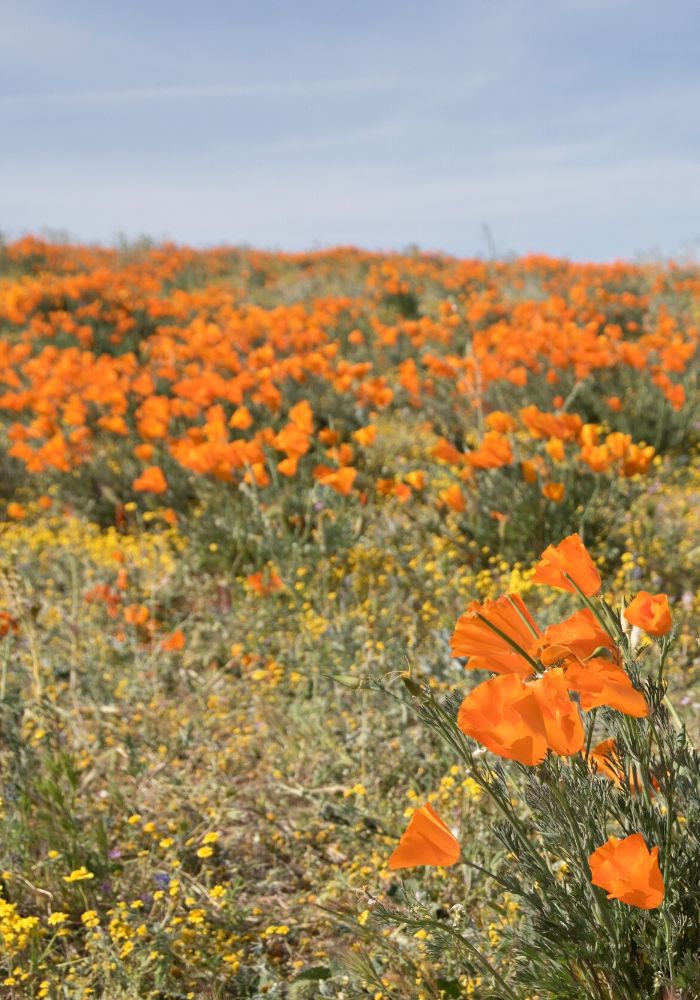 3. Antelope Valley California Poppy Reserve Superbloom
Every spring, Southern California's Antelope Valley Poppy Reserve bursts into a bright orange blanket of the California Poppy – the California state flower, of course!
The sight of the vibrant orange poppies and golden mustard flower are awe-inspiring, particularly in California's superbloom years.
The Antelope Valley Poppy Preserve is located in the western Mojave Desert region of Southern California. It's home to sweeping vistas of wildflower-covered hillsides across more than 1700 acres.
Visitors come from all over to experience the majestic beauty of the preserve each year during the spring months when it blooms with wildflowers. The area also features stunning displays of goldfields, lupine, and more throughout springtime.
This is one of the most popular places to see the super bloom in California, so visit early or on weekdays if possible.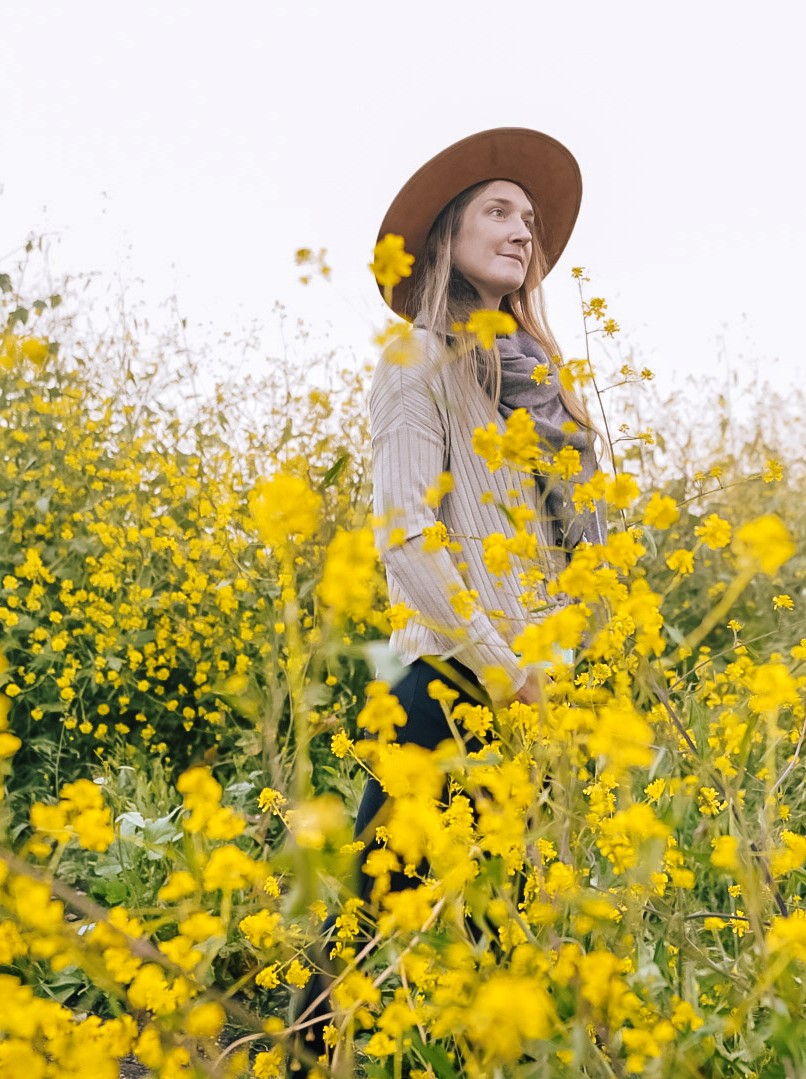 4. Malibu Creek State Park Superbloom
I've been lucky to spend many many days exploring Malibu, and it is one of the prettiest towns in all of SoCal. Even if you have just one day in Malibu this year, try and make it during the bright superbloom months!
Malibu Creek State Park is located within the Santa Monica Mountains of California, and it is a nature lover's paradise. With incredible hiking trails and epic activities like rock-climbing, this park is a blast.
Visiting Malibu Creek State Park during its wildflower superbloom will give you a chance to witness the California landscape at its finest. During rainy years, the mountains become uncharacteristically green and bright yellow flowers blanket the hillsides.
Malibu Creek State Park offers spectacular views of the mountains and coastline, but it's also home to some incredible plant life – especially during a wildflower superbloom.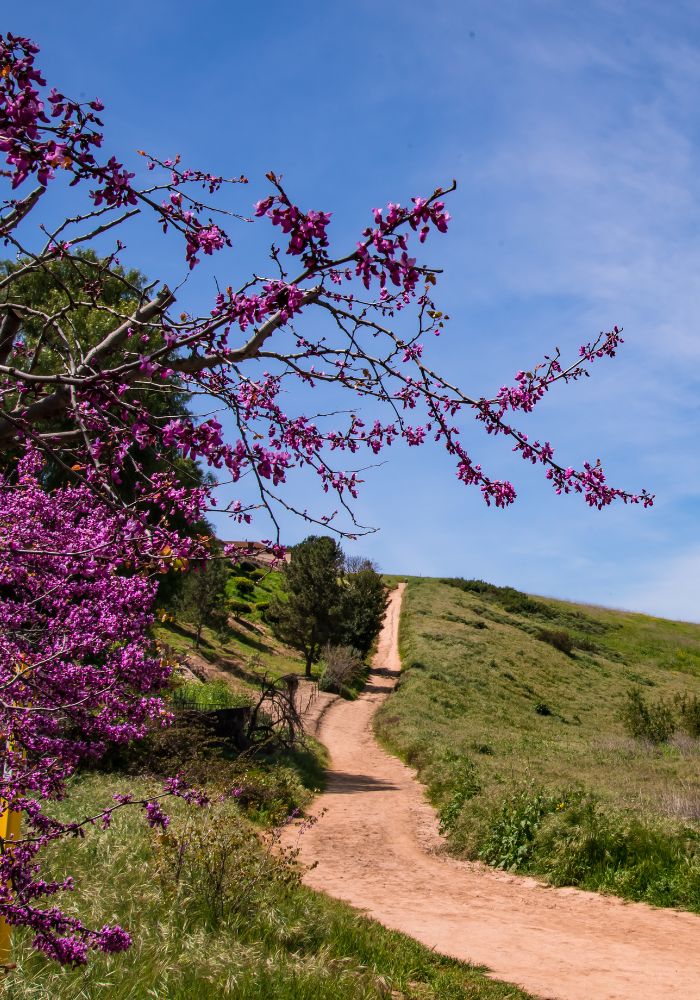 5. Chino Hills State Park Superbloom
Nestled in the hills of Southern California, Chino Hills State Park was a recent find for me. With its rolling hills, open valleys, and lush meadows, this state park is a great choice for hikers, mountain bikers, and nature lovers.
Every springtime brings in a stunning display of wildflowers blooming all over Chino Hills State Park. Thousands of orange poppies, purple lupines, and plenty of other colorful flowers carpet the landscape and create truly breathtaking views.
The peak bloom time varies each year due to weather conditions, but typically visitors can expect to see these amazing wildflower displays from late February through early April.
Additionally, Chino Hills State Park is home to an array of wildlife species including coyotes, bobcats, mule deer, hawks, quail and many more. The park also contains numerous threatened or endangered species such as the San Diego horned lizard and the Behren's silverspot butterfly.
Pro Tip: Visitors should be aware that rattlesnakes are common in the area—so keep your eyes peeled and wear sturdy hiking shoes! Better yet, check out all of the best women's hiking gear here.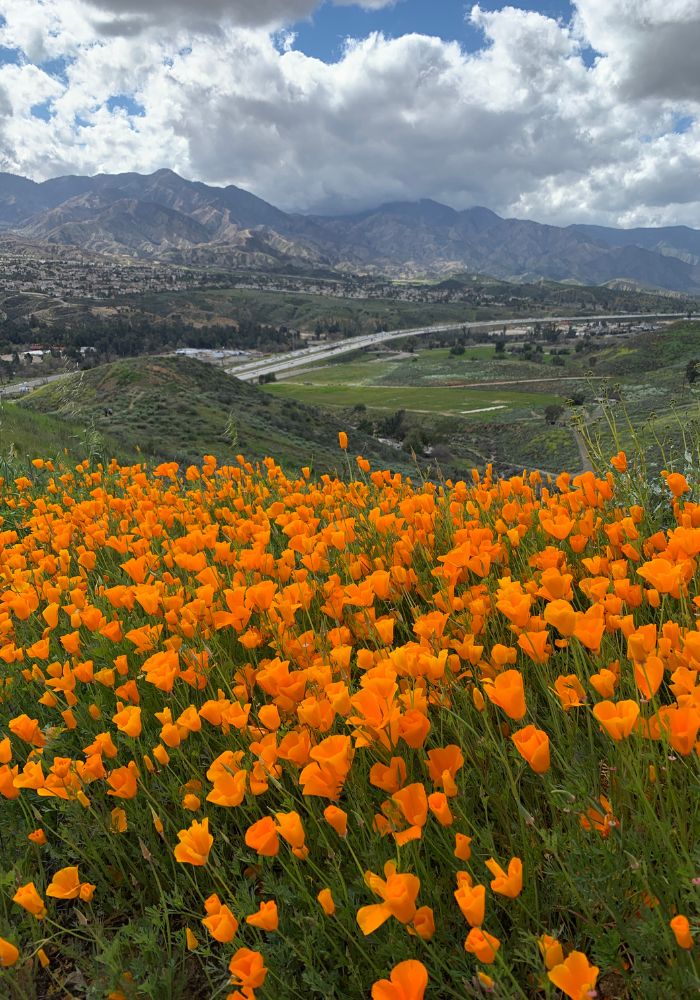 6. Walker Canyon, Lake Elsinore Superbloom
Every spring, Walker Canyon in Lake Elsinore blooms with one of the most spectacular wildflower displays in the state of California. This natural phenomenon draws thousands of people who come to witness Mother Nature at her best.
When Walker Canyon sees a superbloom, it typically starts in late March or early April and lasts until early May. During this time you can expect to see a variety of beautiful wildflowers – particularly bright orange poppies.
Walker Canyon is located in Lake Elsinore, roughly 60 miles southeast of Los Angeles. It's easily accessible by car and is a popular destination for hikers, photographers and nature lovers alike.
If you're looking for a colorful day trip, Walker Canyon is a great choice!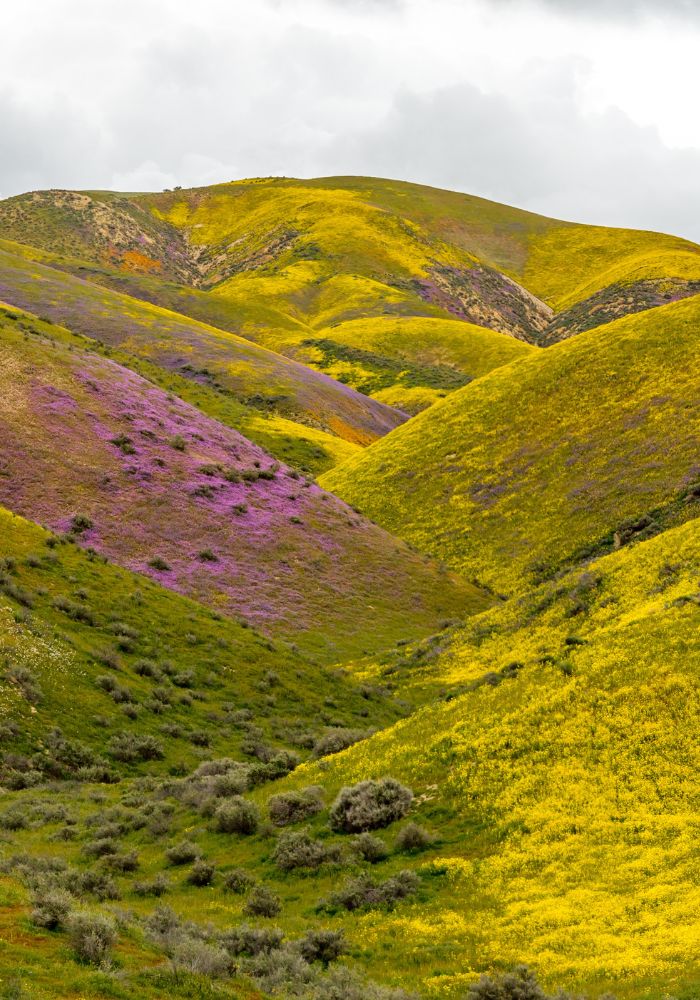 7. Carrizo Plains National Monument
This stunning gold and purple landscape is located in the southeastern corner of San Luis Obispo County. These rolling hills are home to some of the most spectacular displays of wildflowers, particularly during superbloom years!
Visitors will see everything from the California poppy, to goldfields, to coreopsis, to lupines during peak bloom periods. There are also several rare species that can only be found in this area such as slender phacelia and rosy owl clover.
Carrizo Plains makes for an unforgettable view, whether you're just passing through or planning on staying for a while. Next time you have an opportunity, make sure you put this one-of-a-kind destination on your list.
Pro Tip: any areas within Carrizo Plains are closed off during certain times due to conservation efforts, so be sure to check those restrictions as well.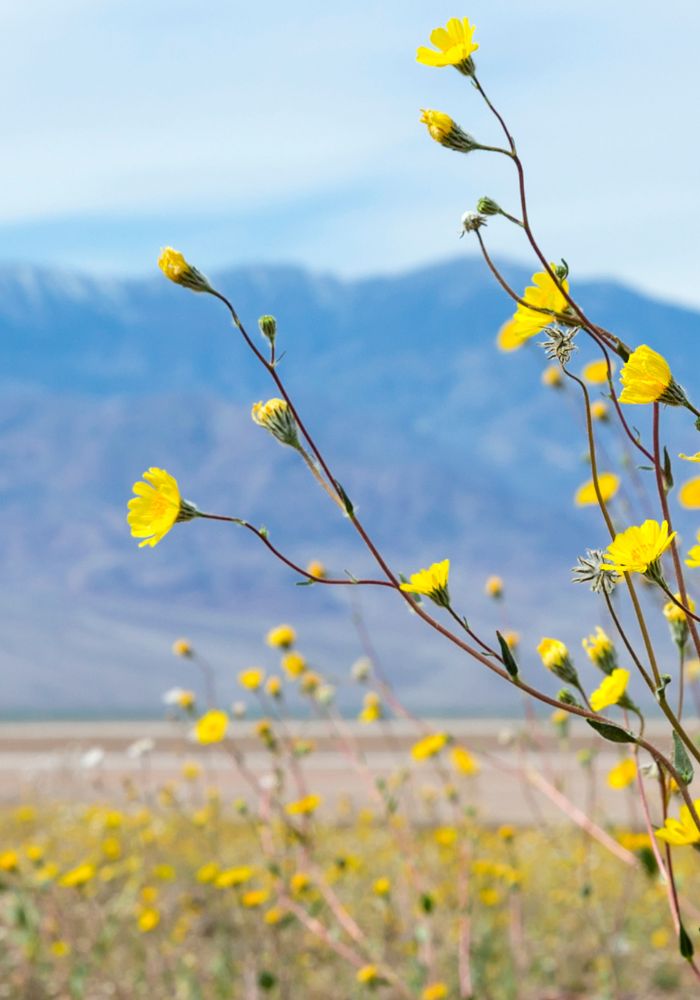 8. Death Valley National Park Superbloom
The first place I ever saw a wildflower superbloom in California was within Death Valley National Park. In fact, I drove there specifically to see it!
Death Valley is one of my favorite desert parks in California, and it is even more stunning during a superbloom. Endless yellow flowers lined the sides of the road and climbed up toward the rugged mountains.
And, when you visit in spring, you are also in Death Valley at the best time for hiking, exploring, and hitting the best viewpoints. Temperatures will not yet be in the triple digits and any strenuous activities will be safer.
Though Death Valley is bordering into Central California, it absolutely deserves a spot on this list. Don't miss it! I can't wait to see another one here!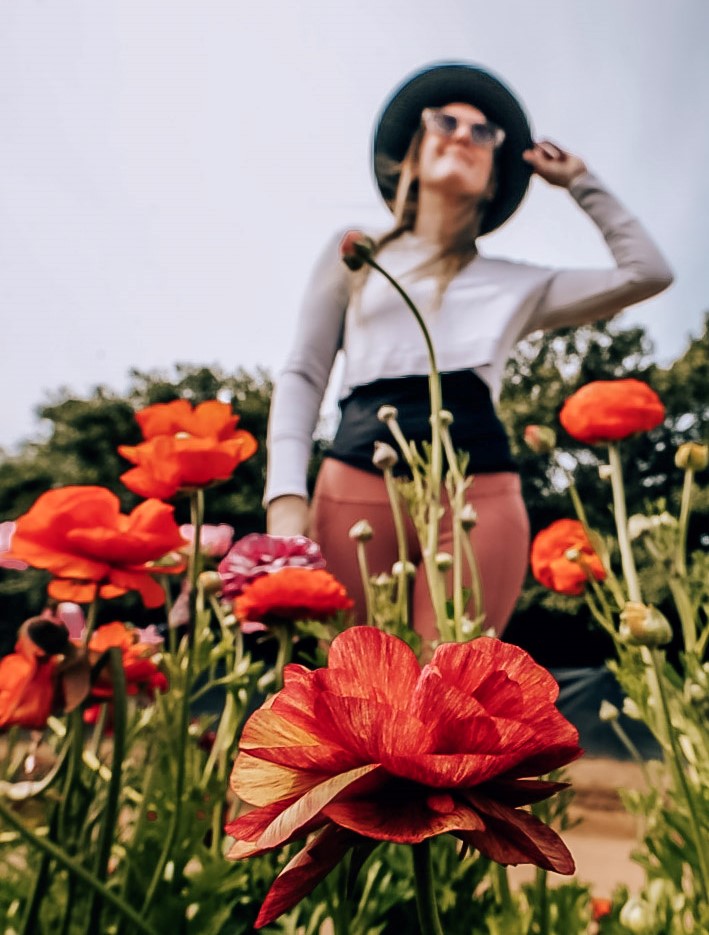 9. Honorable Mention: Carlsbad Flower Fields Superbloom
The Flower Fields at Carlsbad Ranch are not exactly wild, but it gets an honorable mention for its beauty and popularity.
Each year from March to May, this vibrant display in San Diego draws many hundreds of visitors from around the state.
The Flower Fields at Carlsbad typically have a superbloom every few years, but the exact timing can vary depending on weather conditions. Expect to see colorful blooms including Giant Tecolote Ranunculus as well as Daisy-like Margaritas and Lupines.
In addition to these larger varieties, there are also many smaller, more delicate flowers such as Baby Blue Eyes and Pincushion Flowers sprinkled among the fields. All together, it's truly an amazing sight.
In addition to simply walking through the fields and admiring their beauty, you can also purchase fresh produce or your very own plant to take home and raise. Learn more here.
Northern California Superbloom Locations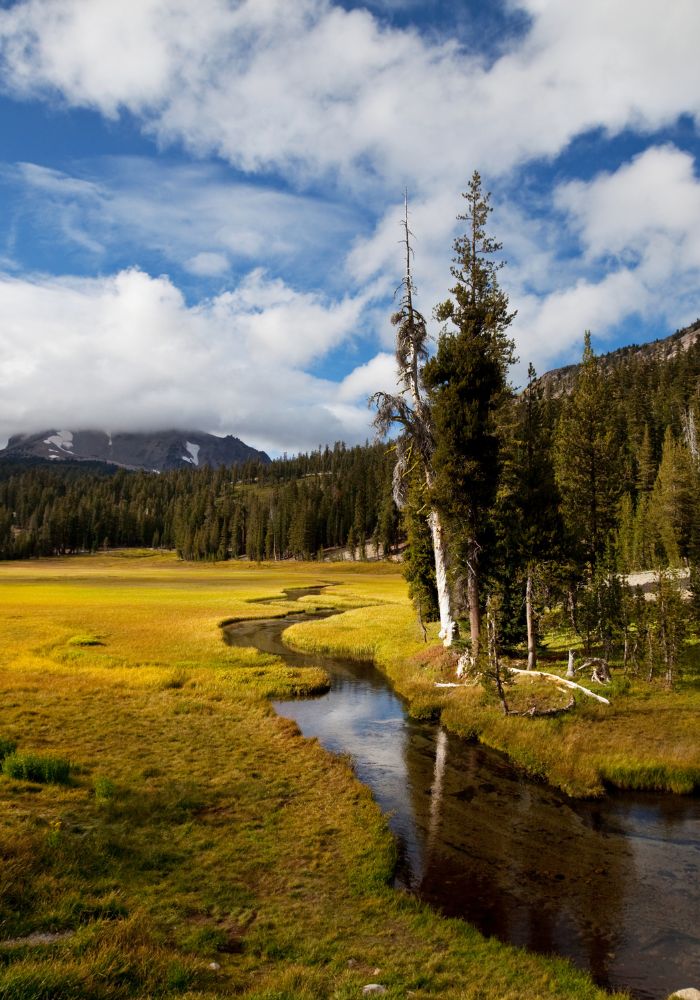 10. Lassen Volcanic National Park
Lassen Volcanic National Park is one of those parks that gets overshadowed by the more popular ones. But, that doesn't meant hat there is nothing to see here. And that is especially true during California's superbloom.
Lassen Volcanic National Park is a paradise for outdoor adventurers. Not only does the park have an array of geothermal features and pristine mountains to explore, but it also offers visitors a chance to experience beautiful wildflower superblooms.
This year, due to especially wet weather conditions, the park is experiencing a particularly impressive display of color from its resident wildflowers. From early spring up until summer months, you can find various species of wildflowers covering the hillsides and meadows at Lassen Volcanic National Park
With its diverse mix of terrain and plant life, be sure you don't miss out on this incredible opportunity.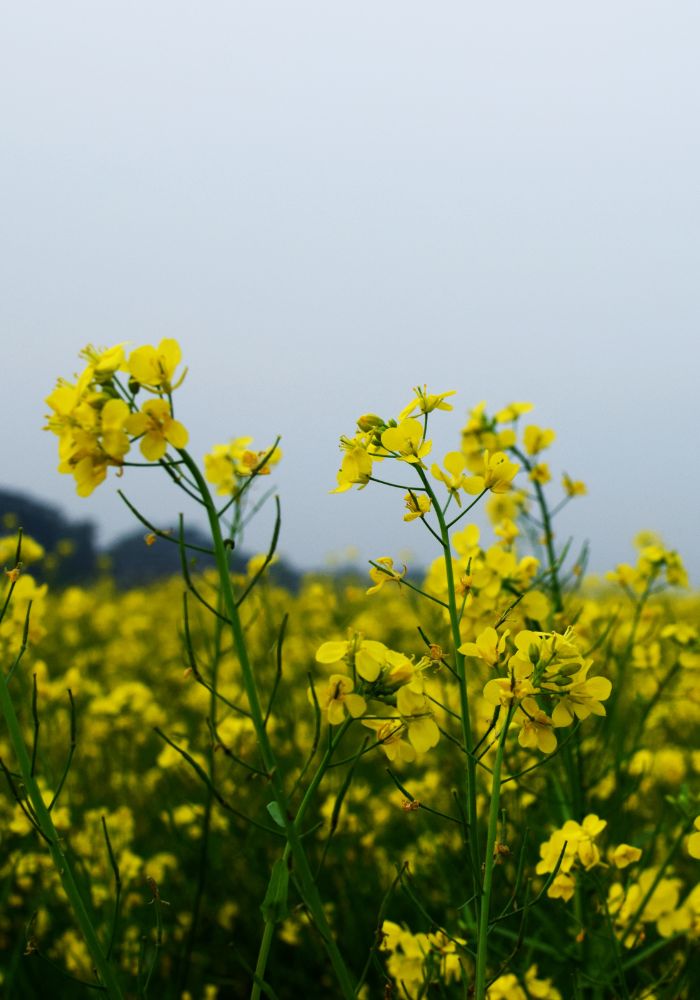 11. Briones Regional Park Superbloom
Nestled within Contra Costa County lies a hidden gem called Briones Regional Park. Its lush meadows and winding trails are perfect for hikers, bikers, and outdoor lovers.
But what truly makes this park spectacular is when it is covered by a wildflower superbloom. In Briones Regional Park, when the perfect conditions arise, the fields and meadows become blanketed in a breathtaking array of vibrant colors and fragrances.
The best way to experience the magic of the wildflowers here is to plan a hike on one of Briones' many trails. Make sure to bring your hiking essentials and plenty of snacks and water.
Whether you're looking for a peaceful nature walk or a photographic adventure, this park has it.
12. Mount Diablo State Park Superbloom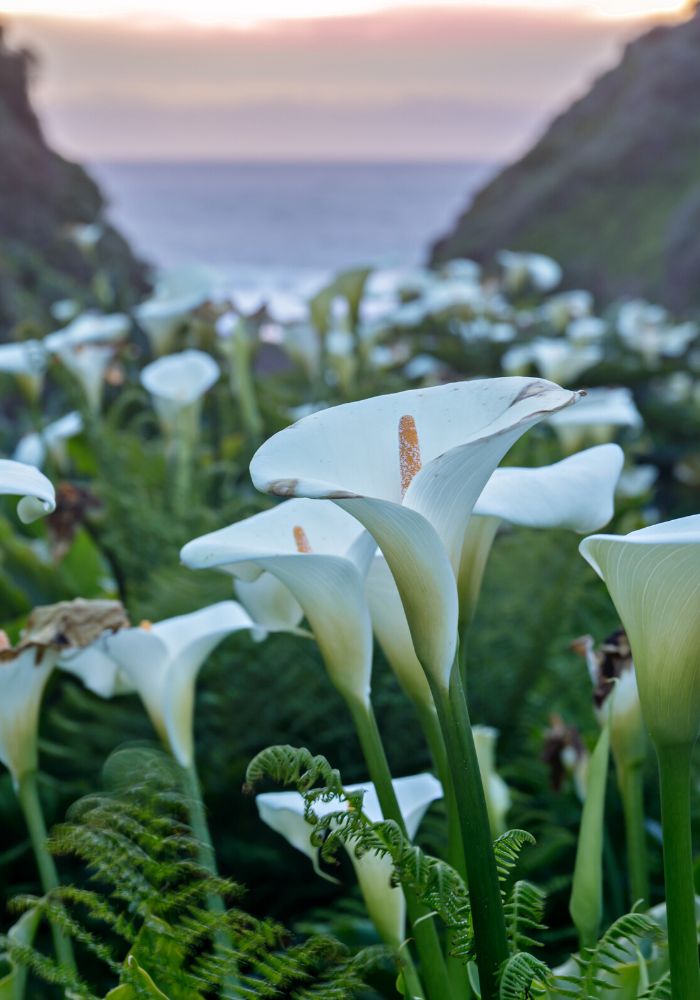 13. Calla Lily Valley Superbloom
California is home to some of the most beautiful and diverse scenery in the world. From the pristine coastline along the Pacific Coast Highway to the towering redwoods and sequoias, there are a lot of incredible sights.
One of the most spectacular sights in California can be found in Calla Lily Valley. This area is known for its beautiful white-washed superblooms. It is hands down one of the best flower fields in California!
Calla Lily Valley stretches across a low valley between mountainous terrain. The valley is completely covered in white calla lilies, which I have rarely seen elsewhere in the wild.
This unforgettable experience is a must-do when its wildflower superbloom arrives.
FAQs on the California Superbloom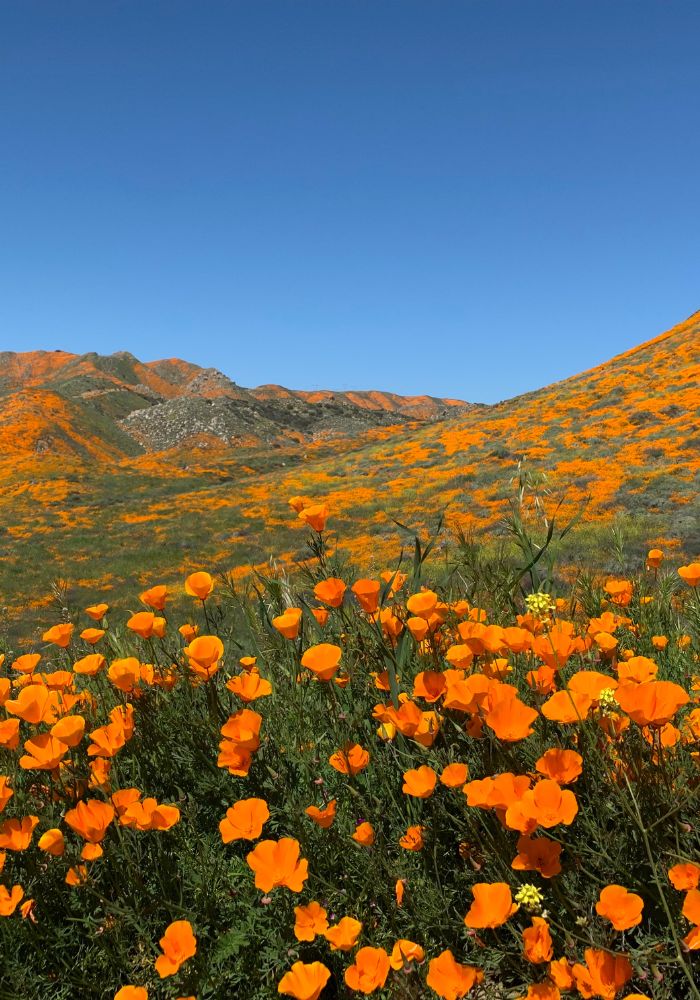 When was the last superbloom in California?
The last superbloom occured in 2019 in California. We are on track to expereince another in 2023.
How rare are California poppies?
The brightly hued California poppy is fairly rare in California. It blooms for a short period in spring around the state, but even then only in certain areas.
Will California poppies grow back?
If the poppies were happy with their location and environment, there is a good chance they will come back. They seed the ground and have the potential to bloom year after year.
***
If you have always wanted to see a California superbloom, this might be the year for you! Save this list and bookmark the locations so that you are ready to go and see them all.
Want more California content? Find all of my California posts here!
Have you seen a super bloom in California? If so let me know where below!
Pin Me for Later!