California is best known for endless sunny days and hot sandy beaches. But what about the winter? Does it snow in California? And if California does get snow in the winter months, where does it snow in California? Here we will discover the best wintery wonderlands that California has to offer!
Pin Me for Later!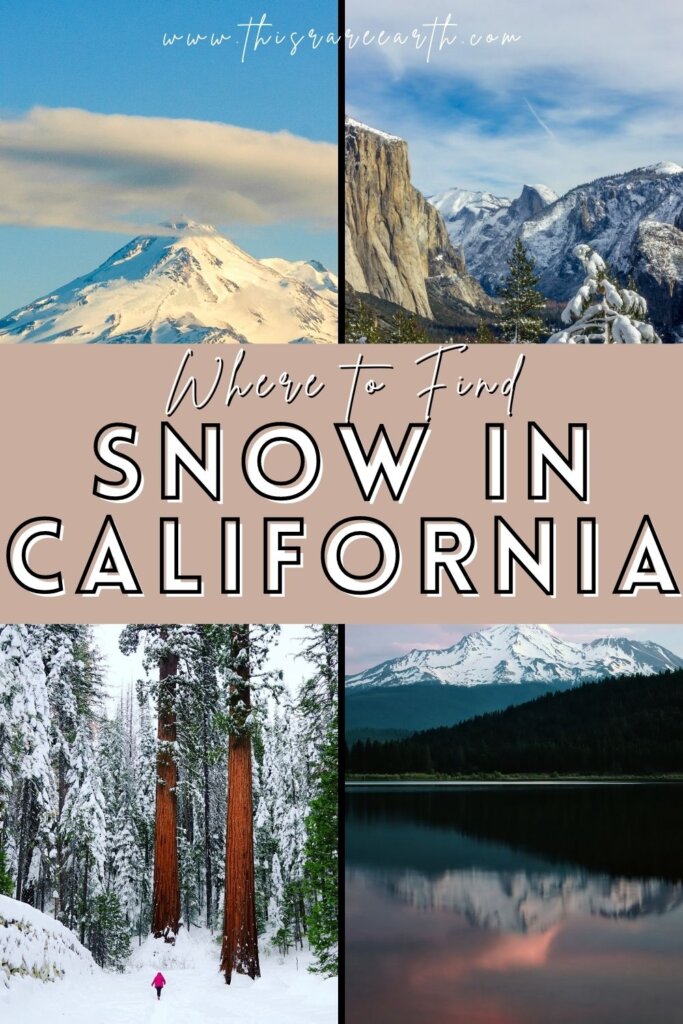 California is a land of many transplanted people. From the east coast and from abroad, you can just as easily find an out-of-stater as you can a local.
So when wintertime hits, those of us who are used to white, snowy winters can sometimes feel a bit… off. Is it even Christmas without a blanket of fluffy snow?
Let's dive into the following questions: Does California get snow? And if so, where does it snow in California?
You May Also Like: Southern California Bucket List Things to Do
Does It Snow in California?
In short, yes!
California does experience snow, particularly in its mountainous regions and during the winter months. While lower elevations may get little to no measurable snowfall, those living near the Sierra Nevada mountain range can receive anywhere from several inches to several feet of snow each year.
Many enjoy skiing and other snow-related activities in California's snowy areas during the winter months of each year. While Californians don't experience heavy snow like some other parts of the United States, there are definitely opportunities to find a winter wonderland in California if you know where to look.
Let's talk about where!
Where Does It Snow in California?
From the mountains near Palm Springs all the way up to the forests of Tahoe, there are a multitude of places to enjoy winter activities with plenty of snow. Here are 10 places where you can find snow in California.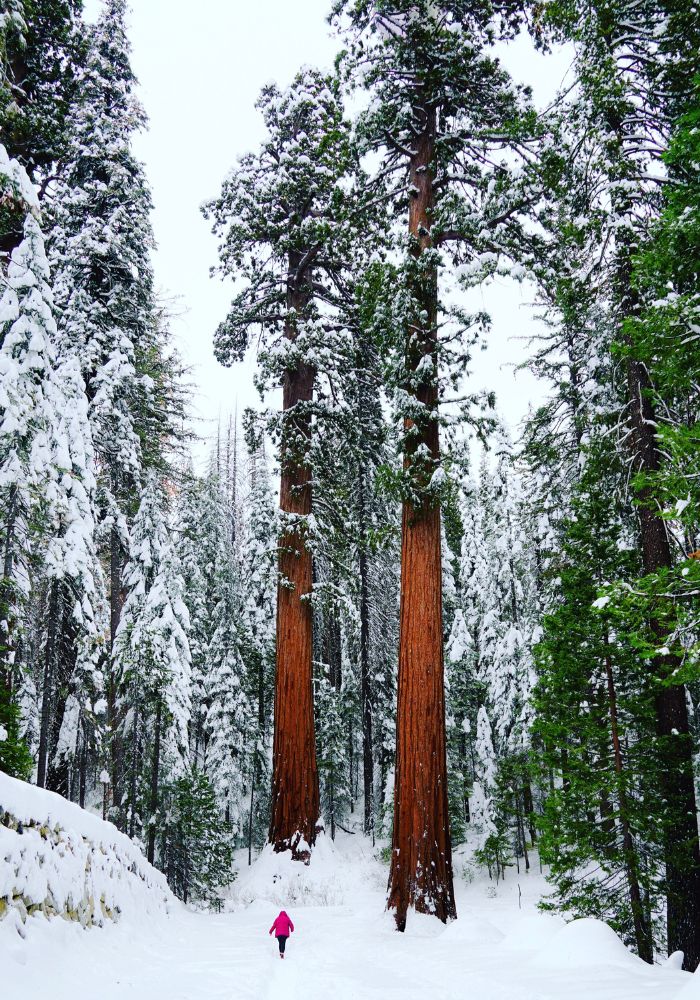 1. Sequoia National Park
Winter is one of the prettiest seasons to visit Sequoia National Park. Travelers can expect snowfall between late October and April at elevations of 5,000 feet and higher. Snow usually melts heading into spring as the temperatures start to rise. However, some years it can linger until May!
With its towering trees, vast expanse of open spaces, and a glistening layer of snow coating the ground, Sequoia National Park will provide an unforgettable winter experience, and plenty of things to do.
If you plan to take advantage of these rare conditions, do check the road conditions before heading out! Sometimes there are necessary closures within the park.
Sequoia National Park is found here.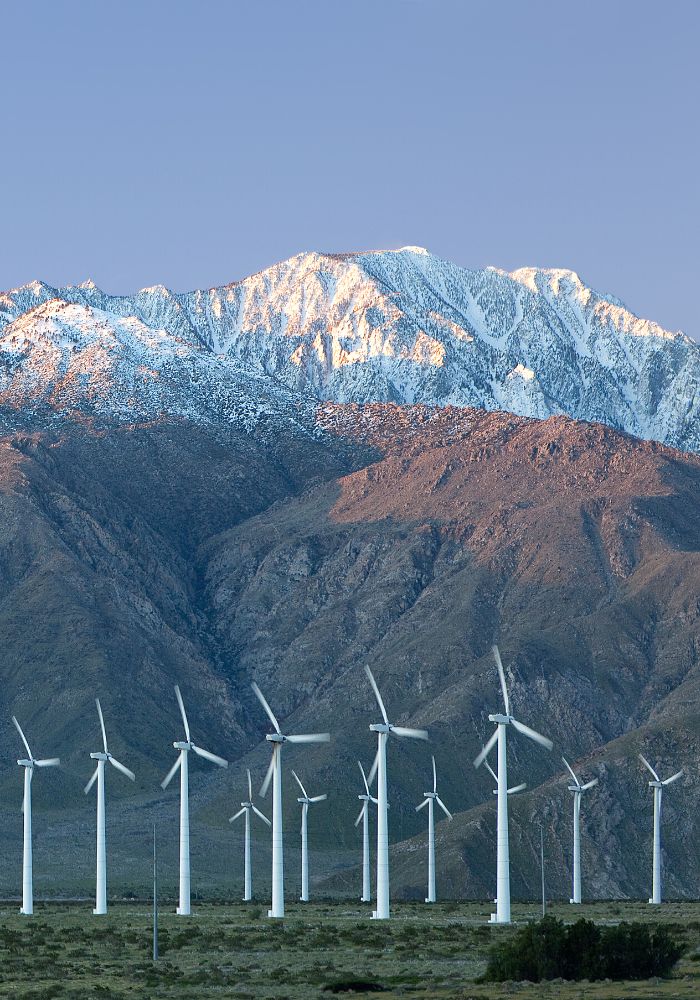 2. Mount San Jacinto
Mount San Jacinto is one of the highest points near the retro-cool Palm Springs. Located at the southernmost edge of California's San Bernardino National Forest, winter travelers can experience some of the most beautiful snow in the state right next to the desert.
Offering breathtaking views and a range of activities, from tubing to sledding and more, this idyllic mountain is not to be missed during winter months. Take the Palm Springs Aerial Tramway up to the top for breathtaking winter views.
With an elevation of over 10,000 feet, Mount San Jacinto is one of few places where snow is consistent in California and can be seen on the trails for many weeks during winter. Despite snowfall being somewhat rare throughout California, those looking for things to do in Palm Springs will discover plenty of powder-white snow for endless outdoor fun.
Mount San Jacinto can be found right here.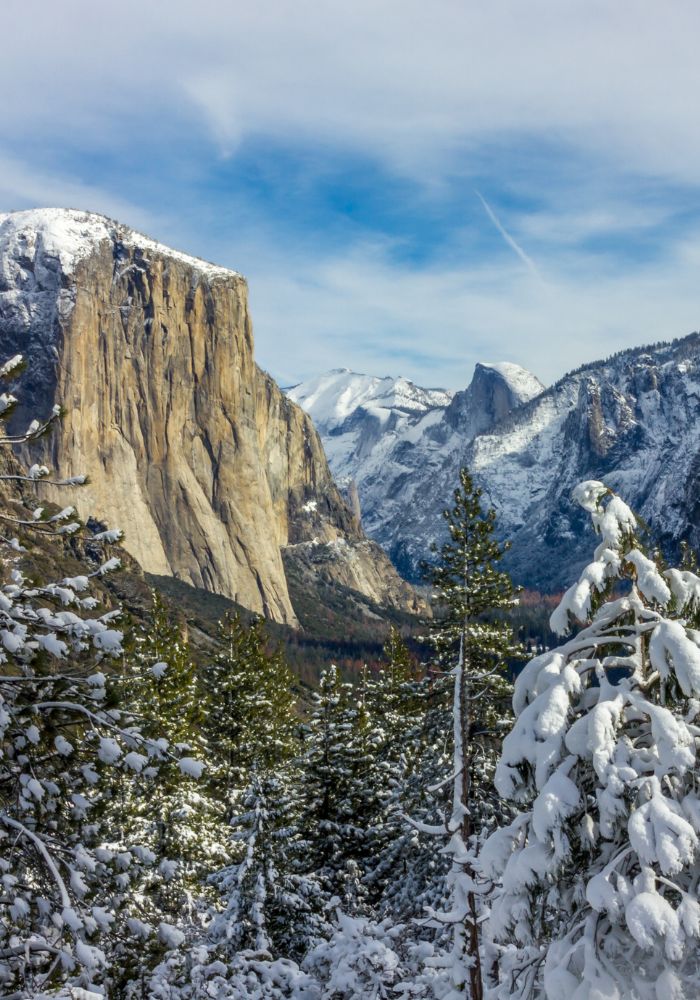 3. Yosemite National Park
Yosemite National Park is located in central California and is home to some of the most iconic scenery in the United States. The park is known for its stunning mountain views, impressive waterfalls and various trails. But during the winter months, it also offers visitors an additional source of natural beauty – snowfall!
Yosemite can be a great place to experience winter snow in California. From December through April, visitors can expect to see snow on the park's many trails and higher elevation points. Yosemite National Park is one of the best national parks in Southern California and is a true winter wonderland for those willing to brave the elements.
Yosemite National Park can be found here.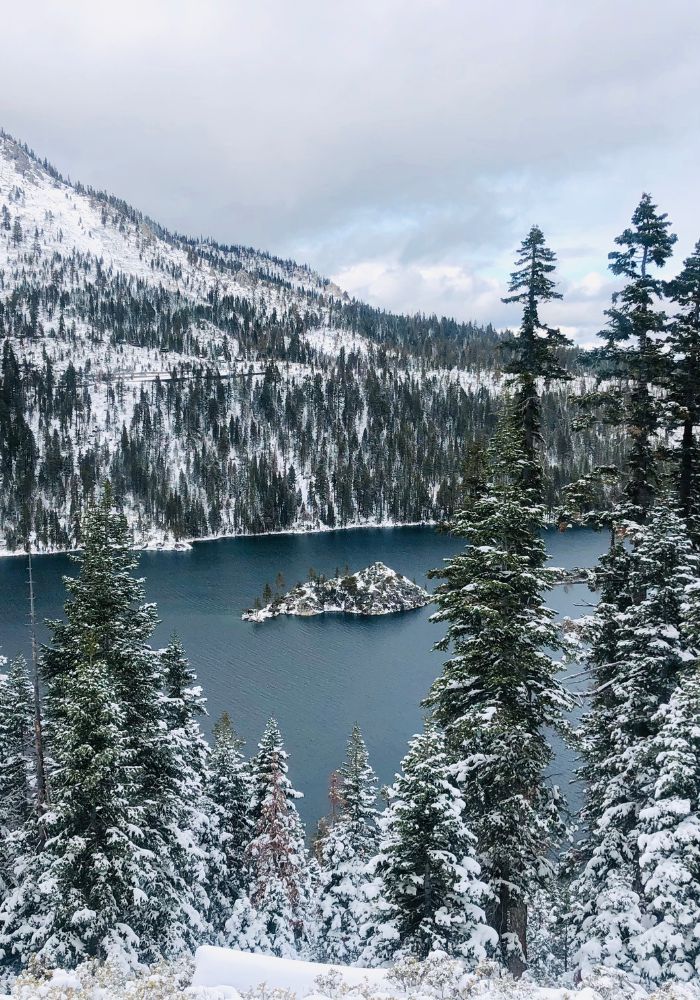 4. Lake Tahoe
Straddling the border of California and Nevada, Lake Tahoe is a popular getaway from both Los Angeles and Las Vegas alike. It is one of the largest alpine lakes in North America, and is well-known for its beautiful scenery.
Lake Tahoe in California is a snow-covered paradise in winter, where the conditions are perfect for some of the best skiing and snowboarding in the U.S. Ski resorts like Squaw Valley, Heavenly Ski Resort, and Northstar California routinely receive over 500 inches of snow each year, providing a thick blanket of powdery white stuff for both skiers and snowboarders to enjoy.
Snowfall begins early in November at higher elevations and quickly spreads across the mountain by mid-December when the ski season officially begins. For anyone wondering where does it snow in California – you haven't seen a California winter until you see one at Lake Tahoe.
Lake Tahoe can be found here.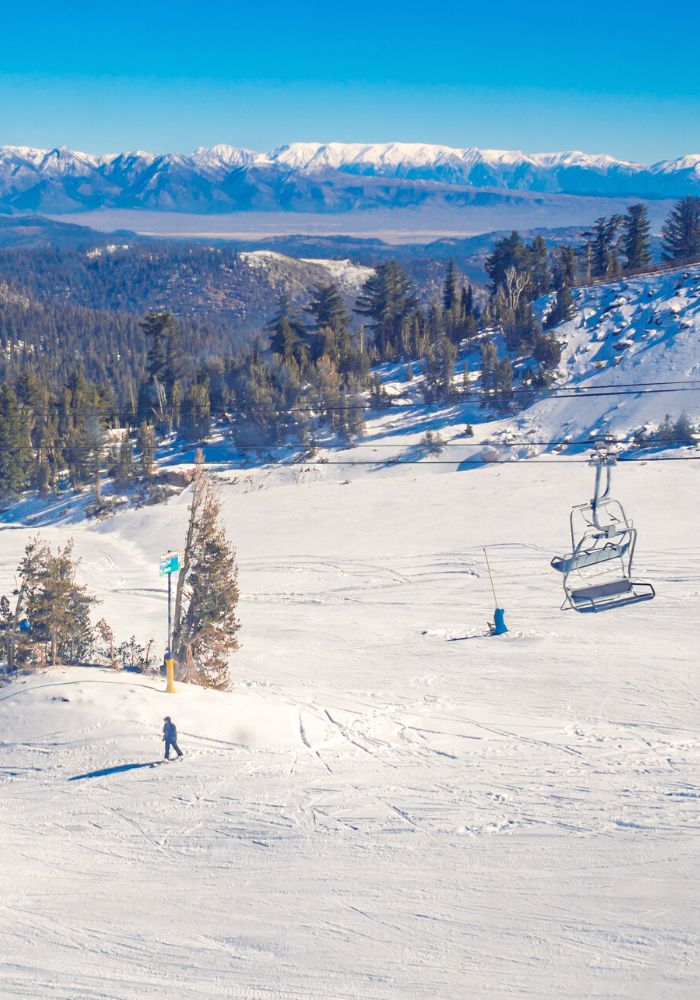 5. Mammoth Mountain
Mammoth Mountain is a large ski resort town located in the Sierra Nevada mountains of California. The resort receives an average of 400 inches of snow each year, making it one of the snowiest places in the state. Mammoth Mountain is a popular destination for skiers and snowboarders from all over the world.
Mammoth's high elevation means that it remains cold long past when snow starts to melt away at lower elevations. Those who don't ski or snowboard can enjoy snowshoeing, ice skating, and snowmobiling in Mammoth Mountain's white snowy winter.
Mammoth Mountain can be found right here.
You May Also Like: A Joshua Tree to Death Valley Road Trip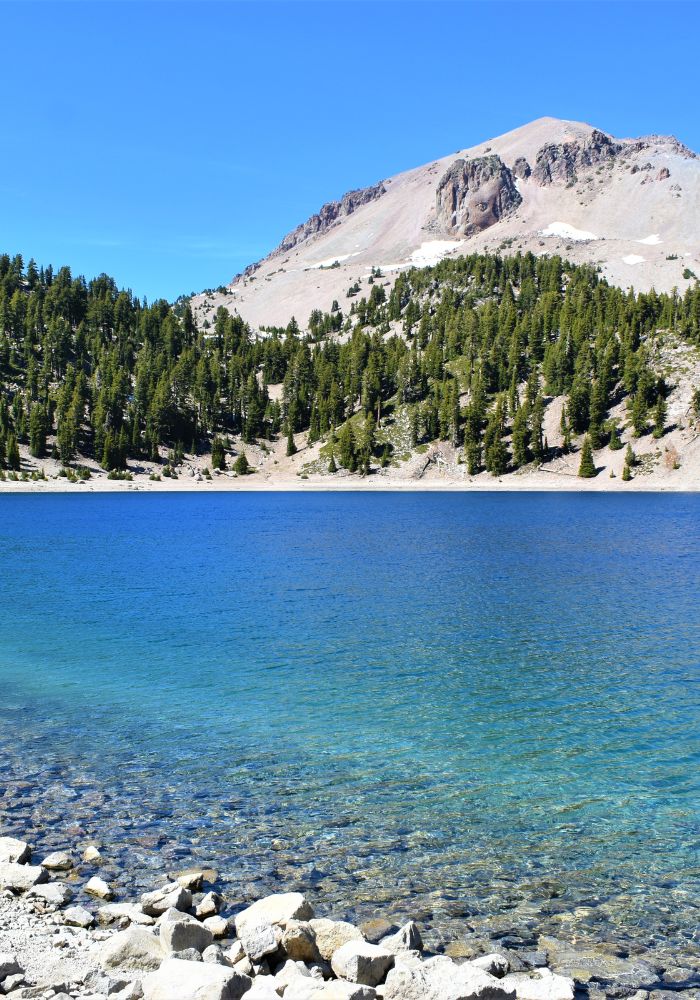 6. Lassen Volcanic National Park
Lassen Volcanic National Park in California is an incredible winter getaway where visitors can witness the immense beauty of snow-covered landscapes. The snow covered park entices outdoor enthusiasts with ample snowshoeing, skiing, and sledding opportunities in the winter months.
With many different trails and peaks, this national park offers a unique experience where guests can view the area's volcanoes and lakes. They are exceptionally beautiful when blanketed in snow during the colder months.
Perfect for those who want to get away from city life, Lassen Volcanic National Park will surely become your favorite winter destination in California.
Lassen Volcanic National Park is located here.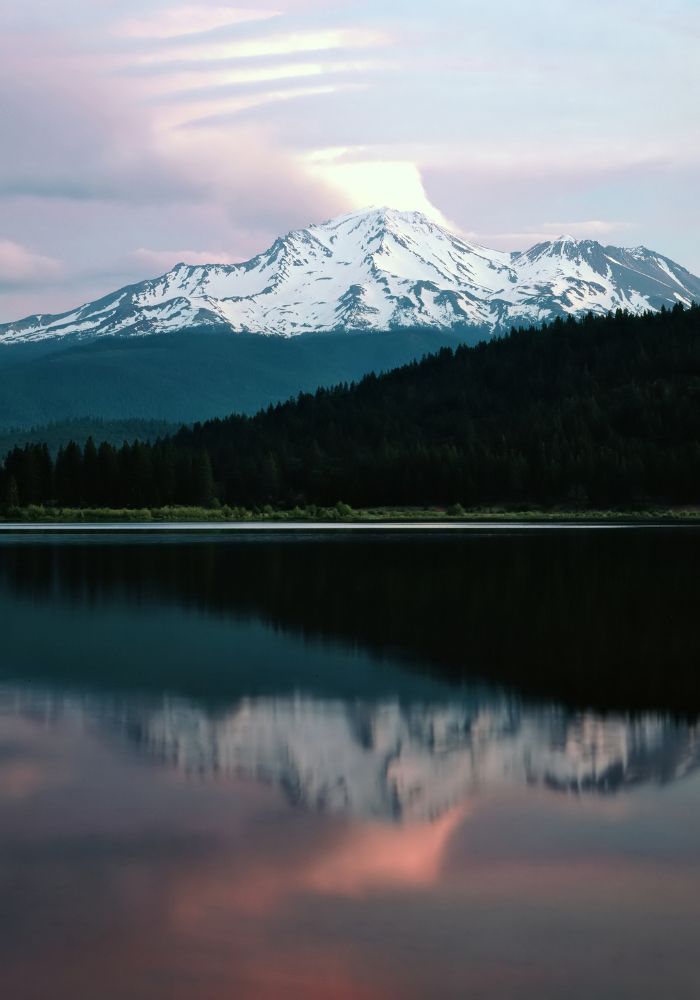 7. Mount Shasta
Located in northern California, Mount Shasta's winter snow conditions are unique and distinct. While temperatures can vary in different elevations at the mountain in the summer, winter temperatures stay consistently cold across almost all of the mountain. This makes it an ideal spot for anyone looking to experience snowfall.
Normally, peak snow season lasts from November until April with an average depth of 49 inches. Snow-covered trails provide an avenue for everyone from novice cross-country skiers to advanced downhillers to enjoy the winter magic of snow in California.
Mount Shasta can be found here.
You May Also Like: 52 Hikes in Southern California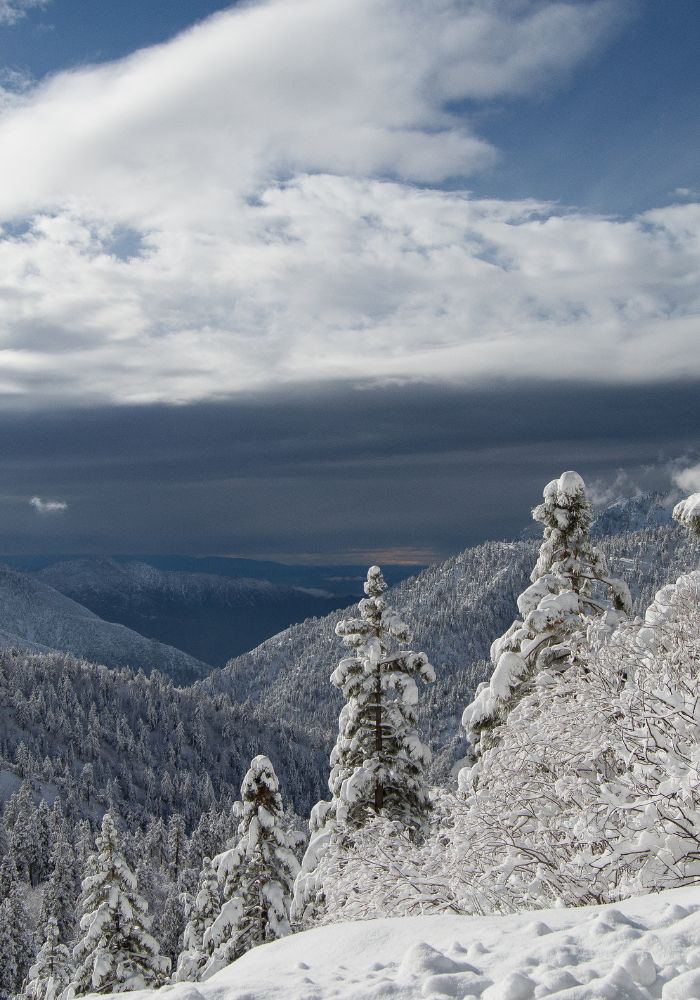 8. Big Bear Lake
Big Bear is a wildly popular California destination for snowboarding and skiing. Often referred to as the "Winter Playground of Southern California", ski resorts such as Snow Summit and Bear Mountain are perfect for adventuring (or for enjoying the winter season with family and friends.)
After playing outside all day, head back to cozy lodges where you can warm yourself up or have a unique dining experience surrounded by the gorgeous winter vibe.
The Big Bear Lake region is one of the few places where you can find quality snow in California. It has colder temperatures and higher elevations than other parts of the state, making it an ideal location for outdoor recreation and fun winter sports activities.
Big Bear can be found here.
9. Mount Whitney
Where does it snow in California? Look no further than Mount Whitney.
Mount Whitney is the highest peak in California. It is a beautiful destination that offers stunning wintery views year-round.
In the winter months, the snow conditions on the mountain can vary greatly from other parts where snow falls in California. Mount Whitney sees significantly more snow in the winter months than what lower altitudes experience during the same time.
The best time for snow lovers to visit Mount Whitney is towards the end of December and through January. The temperatures tend to be lower and clearer skies are more common.
Whether you are hiking to the summit or simply admiring the beauty of a white blanketed landscape, Mount Whitney is a magical place to enjoy winter snow in California.
Mount Whitney can be found here.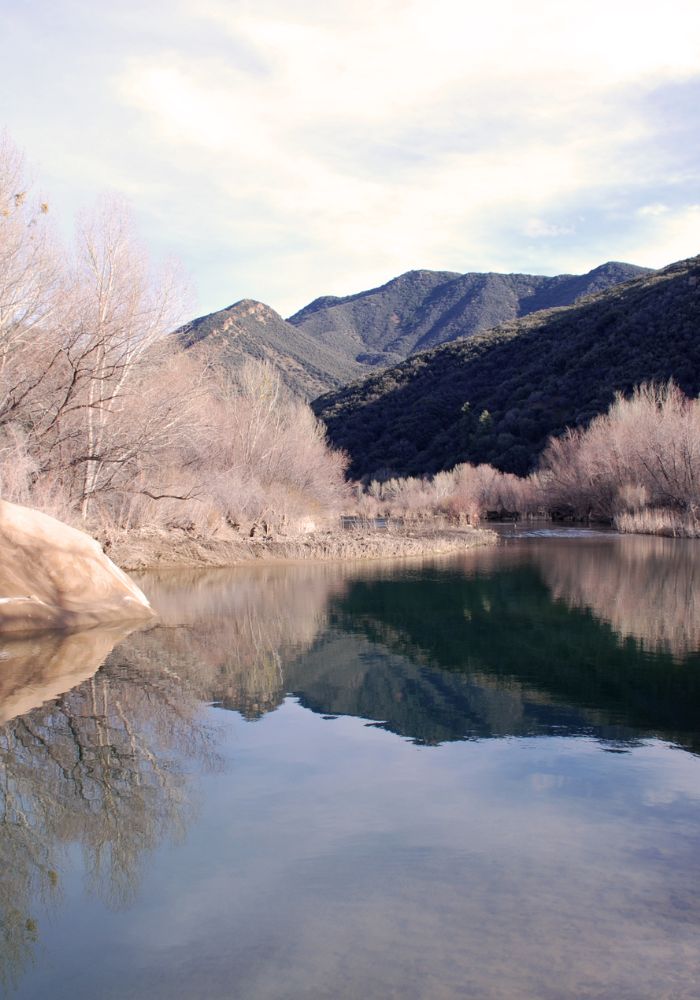 10. Los Padres National Forest
Last on my list to discover where does it snow in California is Los Padres National Forest. Located a short distance from Santa Barbara and my beloved Gaviota Wind Caves, it's a great place for a day trip out in nature – and is an absolute winter wonderland.
This beautiful forest is packed with loads of hiking trails and incredible viewpoints, particularly when blanketed in the snow.
Los Padres National Forest can be found right here.
***
I hope this clears things up for anyone who was wondering, does California get snow? It most certainly does! And now you know exactly where to find snow in California in the wintertime.
So tell me below – which of these locations will you be headed to first?!
Pin Me for Later!