Palm Springs is an extremely popular desert destination in Southern California, and it's easy to see why. There is so much to see in one day in Palm Springs! From sunny blue skies and purple mountains to healing mineral waters to interesting museums, greater Palm Springs doesn't disappoint. Keep on reading for the best way to spend a Palm Springs day trip (though you will likely want to stay for longer!).
Pin Me for Later!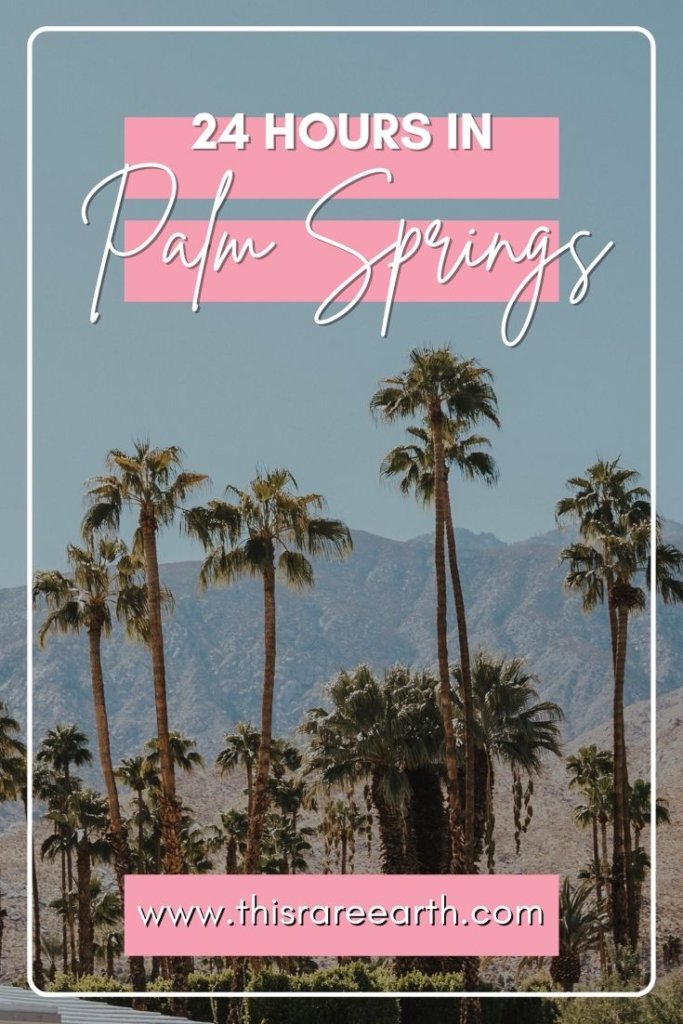 A Palm Springs Day Trip: What To Do in 24 Hours
Picture clear blue skies, purple mountains, and tall green palm trees everywhere you look. Palm Springs is a beautiful oasis built in the middle of the California desert, less than two hours from the bustling city of Los Angeles.
Once known as the "Playground of the Stars", today everyone from celebrities to tourists to every-day people venture out to Palm Springs. And, with such a beautiful place holding countless things to do, it's easy to understand why.
Below are some fun suggestions for spending one day in Palm Springs… though I can guarantee you, you'll probably wish you had more than 24 hours in Palm Springs!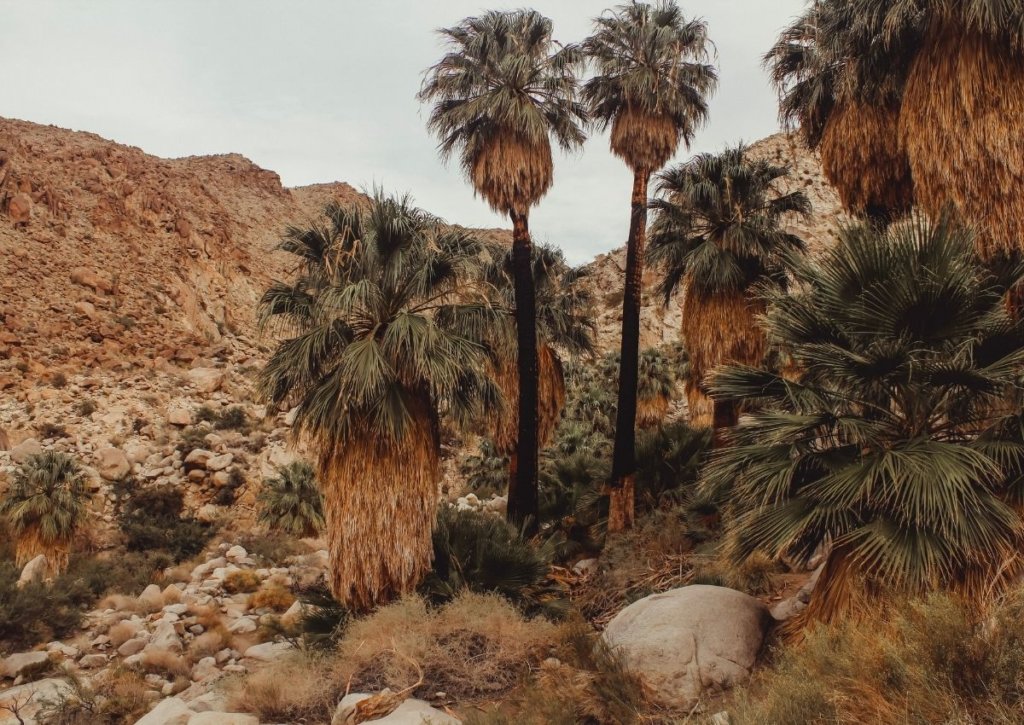 Morning in Palm Springs
Palm Springs is situated on the border of both the Colorado and Mojave Desert, so mornings will be the best time for any outdoor strenuous activities. In order to beat the heat, I recommend planning a sunrise hike, first thing in the morning.
The best two options are either Tahquitz Canyon, which is within Palm Springs, or to hike in the famous Joshua Tree National Park, which is roughly 30 minutes away.
The Tahquitz Canyon hike takes you through palm tree groves and leads to a beautiful 60 foot waterfall. The hike is less than two miles in length but can be a bit strenuous in parts. Wear solid footwear!
Pro Tip: A free 2.5-hour ranger-led hike is offered to visitors between July and September. These don't begin until 8am though, so on the downside, you miss the sunrise. On the bright side, the hike is short enough that you still avoid the midday sun.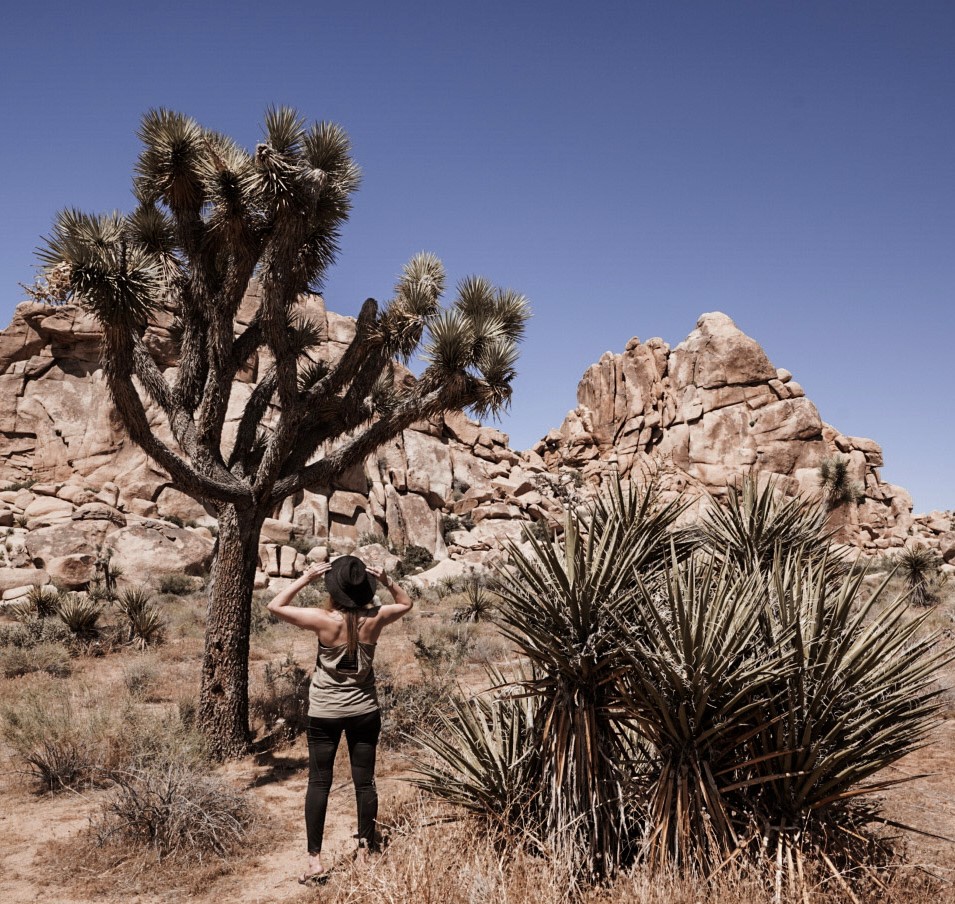 A Post Hike Breakfast
After your hike, you'll definitely be ready for a hearty breakfast. If you chose Tahquitz Canyon, then head back into the heart of Palm Springs and enjoy a delicious breakfast at the Ace Hotel. If you went to Joshua Tree, definitely try the Natural Sisters Cafe.
Ace Hotel & Swim Club: 701 E Palm Canyon Dr, Palm Springs, CA 92264
Natural Sisters Cafe: 61695 Twentynine Palms Highway, Joshua Tree, CA 92252
Get A Bird's Eye View of Palm Springs
After your hike and breakfast, I recommend giving both your legs and your belly a rest. Head to the Palm Springs Aerial Tramway to reward yourself with sweeping views of Coachella Valley and Mount San Jacinto State Park.
This is the world's largest rotating tramway, believe it or not, and the ride covers 2.5 miles and lasts roughly ten minutes. At the end of your ride, you will see observation decks, which are worth a stop, as well as restaurants and gift shops if anyone is interested.
Tickets can be purchased both online or on-site.
Mid-day Activities in Palm Springs
Though Palm Springs is a small place compared to LA, it actually has some pretty cool attractions that are worth checking out. Depending on the time of year and the temperatures present during your visit, here are two different options you can consider.
Indoor Activities in Palm Springs
The Palm Springs Art Museum is a cool way to spend an afternoon. Their art collection is impressive, and offers multiple galleries to explore. The artists and themes are always changing, so be sure to check the current exhibitions here before going.
Alternately, the Palm Springs Air Museum has been named one of the world's best aviation museums. It covers air power during World War II era and beyond, and is quite fascinating. More information can be found here.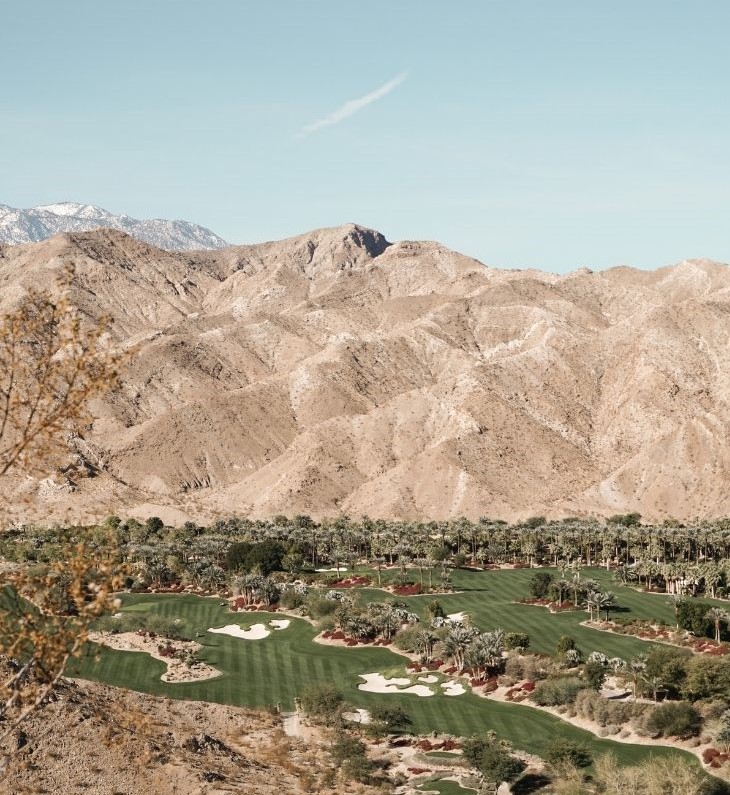 Outdoor Activities in Palm Springs
If the weather allows, the Moorten Botanical Garden is an awesome way to spend an afternoon. Check out various desert plant life, from cacti to succulents to yuccas. With only a $5 entrance fee, this one is an easy choice.
If you didn't visit Joshua Tree in the morning, and the weather is mild, an afternoon driving through this park is a great idea. Even if you're not much of a hiker, the landscapes and views alone are incredible, and worth the price of admission.
For avid golfers out there, you have come to the correct spot. There are plenty of golf courses in Palm Spring s, and here are a few options: The Indian Springs Golf and Country Club; the La Quinta Resort & Club; the Marriott's Shadow Ridge. While I am not personally a golfer, I can't help but notice the large courses here.
It is worth it to consider grabbing some lunch at one of the museum cafes or any of the many restaurants you pass on the road before or during your activity.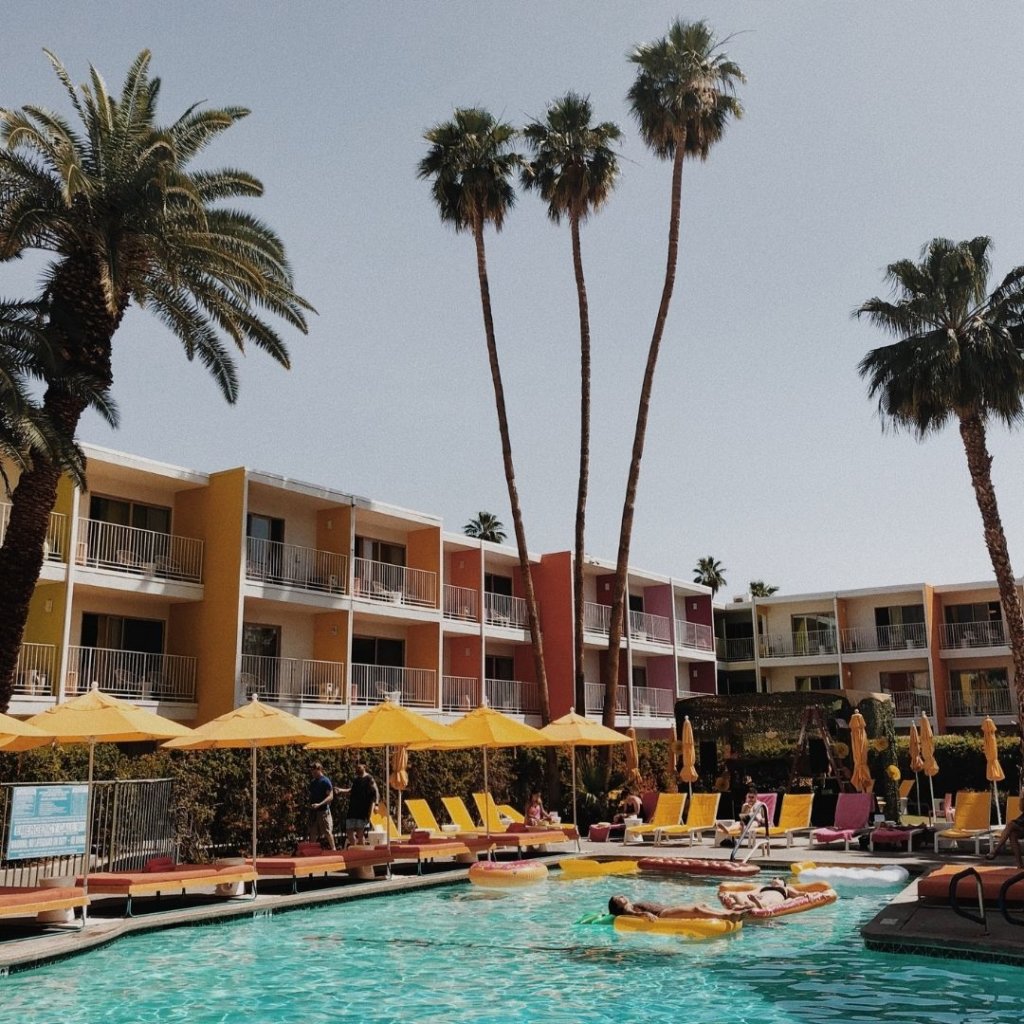 Soak Away the Evening in Mineral Pools
As the sun begins it's descent – and after an eventful Palm Springs day trip – you've certainly earned yourself a bit of relaxation. Feel free to indulge in the healing mineral pools of the desert.
Check out some of the resorts and relax before you continue on your drive. In Palm Springs and in the nearby Desert Hot Springs area, you have a lot of options.
A day pass for Miracle Springs Resort and Spa can be purchased for under $15. With eight large hot pools to choose from, the cost is worth it.
Two Bunch Palms is another awesome option. Most notably, they have a complete sustainability program and pride themselves on being carbon neutral.
The vintage Sagewater Spa has natural healing waters as well as a full retreat on-site. This is also one of the oldest hotels in the area, so you are stepping into a piece of Palm Springs history; it was originally opened in the 1950s.
Soak for as long as your body can handle. After you melt away the day, be sure to shower up and get ready for an amazing evening dinner.
Dinner In Palm Springs
The Greater Palm Springs area certainly has no shortage of eateries . You're likely to find a few gems while driving through ton, but just in case, I will list a few options below.
Chef Tanya's Kitchen is a cool, casual spot serving an all-vegetarian menu that features salads, hearty bowls, and delicious sandwiches that I believe both vegetarians and meat-eaters will appreciate.
Workshop Kitchen + Bar is an award-winning restaurant housed within a former movie theater. This farm-to-table eatery serves up healthy meals and unique cocktails for guests who won't soon forget the vibe.
Farm is a Provencal-style restaurant serving French dishes created with locally sourced ingredients. Special touches like loose-leaf tea and homemade jam make this place tasty. Vegan options available.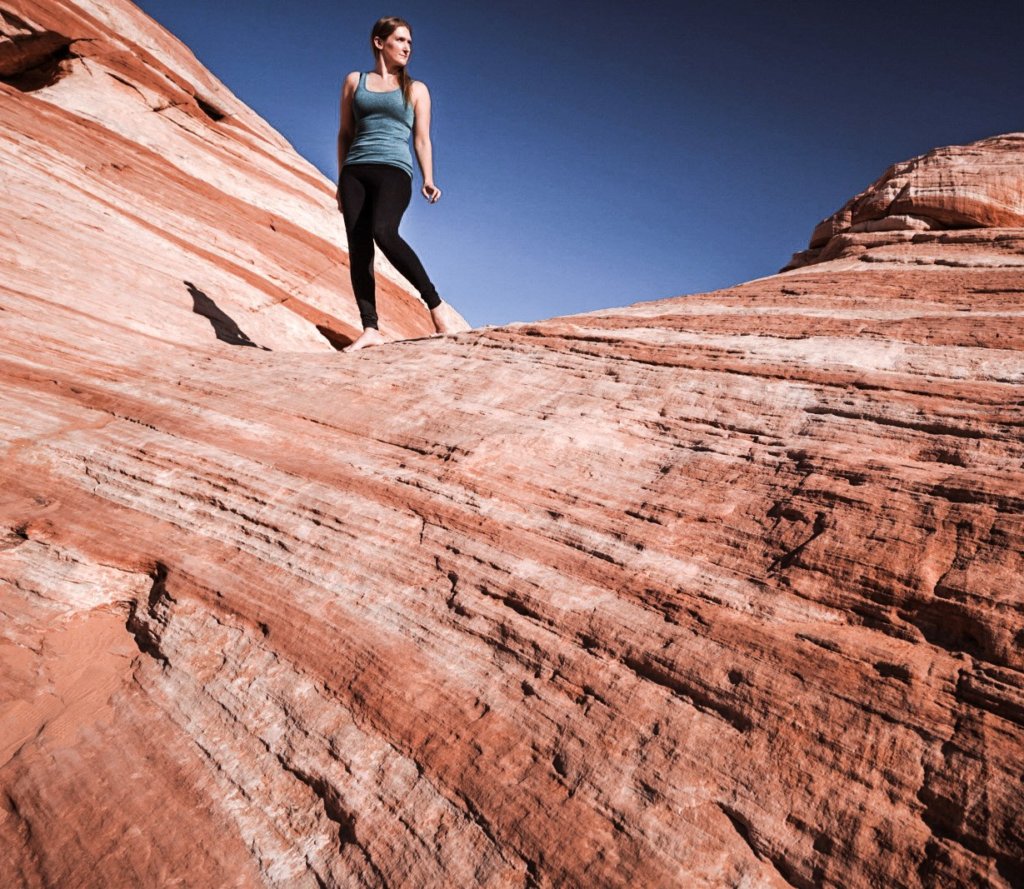 Where To Go After Your 24 Hours in Palm Springs?
One day in Palm Springs is enough to get a taste of the desert, but if you find that you want to stay longer, consider booking overnight in one of the many hotels and AirBnbs.
Alternately, if you're heading north towards Vegas, I highly recommend the Valley of Fire for outdoor lovers. If you are headed east toward Arizona, there are plenty of stops along the way.
Palm Springs is such a special place that I equate with desert relaxation at it's finest. I hope you enjoy your day trip to Palm Springs and consider coming back for longer in the future!
Pin Me for Later!