A weekend in Palm Springs is an extremely popular getaway for Southern Californians. With interesting architecture, sparkling pools and a sunny desert climate, Palm Springs is a welcome escape from beach or city life. Find out why two days in Palm Springs is the ultimate weekend getaway from SoCal! Here is your perfect weekend in Palm Springs itinerary.
Pin Me for Later!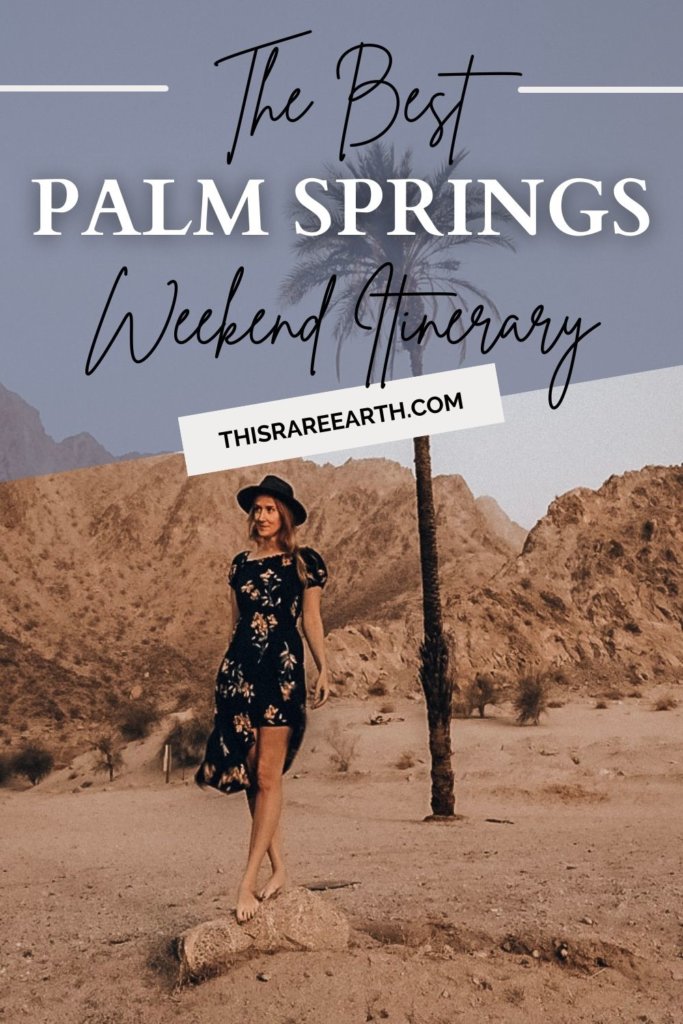 If a sparkling desert oasis within driving distance of Los Angeles sounds like exactly what you need to recharge, well – you're not alone. Palm Springs is one of my all-time favorite weekend getaways.
The retro architecture, the incredible desert hikes, and the fun attractions are enough to keep anyone entertained. I make it out for a weekend getaway in Palm Springs several times each year – and it never gets old.
This area was made famous years ago by the Hollywood celebrities who used to vacation here. Nowadays, Palm Springs retains some of that glamorous old-movie charm, but is a popular escape for all Southern Californians alike.
If you're looking for the best itinerary for your weekend in Palm Springs, then you have come to the right place! I will highlight everything from scenic hikes to the best in relaxation to Palm Springs attractions that you simply must experience. Let's dive in!
The Perfect Weekend in Palm Springs Itinerary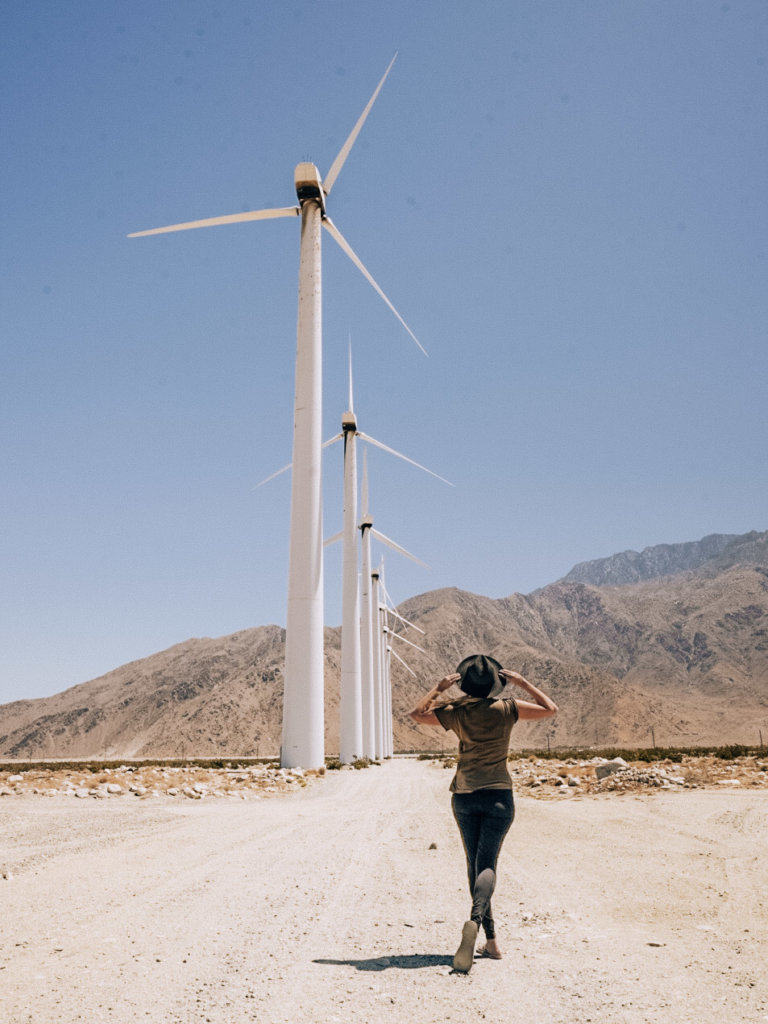 Oh, Palm Springs. You are such a beautiful, relaxing, desert locale worthy of a weekend escape!
One of the best things about spending a weekend in Palm Springs is how easily you can get out and explore. The city limits are easily drivable, the downtown is small and walkable, and the people are friendly and personable.
As you drive in from Interstate 10, the tell-tale Windmill Farms stacked on the San Gorgonio Mountain Pass announce your arrival to Palm Springs. These iconic structures just scream "Palm Springs!"
These windmills are the first sign that your perfect weekend in Palm Springs is about to begin. Below, I will share with you my recommended highlights for a well-rounded Palm Springs itinerary. I'll include time to relax, time to work up a sweat, and time to explore jam-packed into 2 perfect days.
Day One Itinerary for Your Weekend in Palm Springs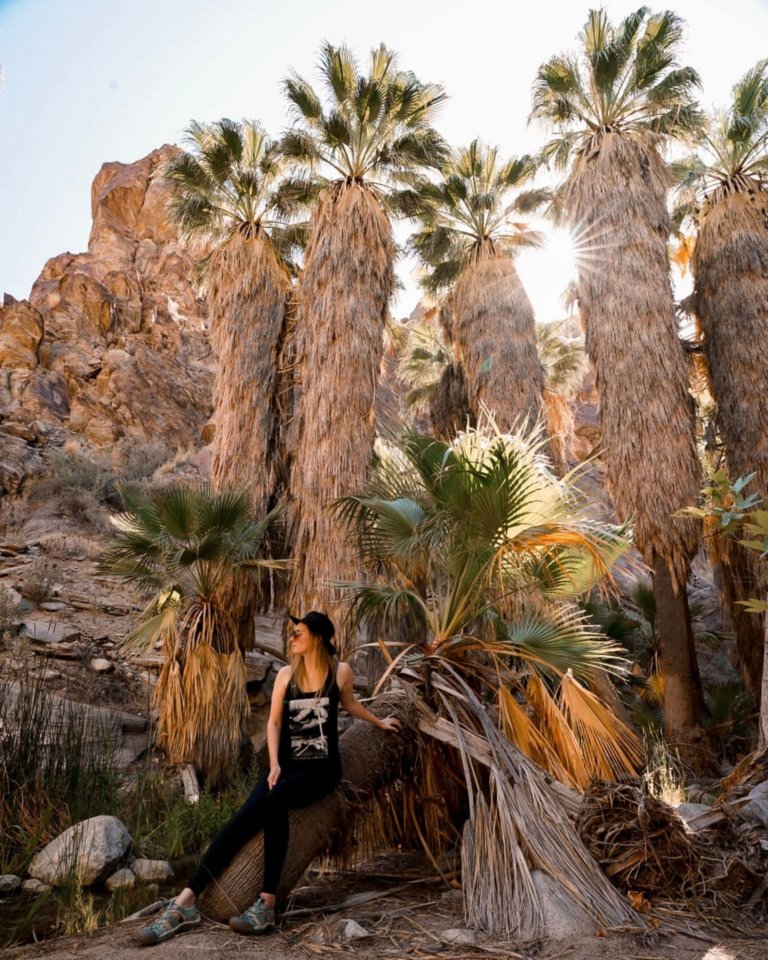 1. Take an early morning hike at Indian Canyons.
Early morning in the desert is breathtaking. Typically, no one else is around , and the sounds of the rustling leaves, scuttling critters, and cawing birds are all that you hear.
Even if you don't consider yourself a hiker, you should start Day One on the trails. Hands down, the most picturesque hiking spot in Palm Springs is within Indian Canyons.
Just minutes from downtown, Indian Canyons has hiking trails for all levels. I love the easy but beautiful Andreas Canyon, which leads to a palm tree oasis in the desert. Or try, Murray Canyon for a more strenuous trail that leads to a rare desert waterfall.
Leave as early as possible, especially in the summer months. And, if you are not too knowledgeable about hiking in the desert, check out my desert hiking essentials list. It will set you up for a comfortable and successful day on the trails.
Want to explore more of Southern California? Get my e-book 52 Hikes in Southern California today, and hit a new trail every single week of the year!
2. Enjoy brunch at a retro eatery.
After working up an appetite, it's time for brunch! I recommend going to the King's Highway Restaurant nestled inside of the iconic Ace Hotel.
Formerly a run-of-the-mill Denny's, this diner was converted into a "redefined roadside diner" that that offer breakfast bagels, eggs of all kind, and features Stumptown coffee for the coffee drinkers out there.
3. Admire the curated cacti at Moorten Botanical Garden.
It's no secret: I love the desert. I love cacti, I love succulents, I love weird and wild creatures.
The Moorten Botanical Garden showcases desert plants at their finest. visitors can stroll through the outdoor gardens and learn fun facts about various cacti.
The "World's First Cactarium," is filled to the brim with potted plants, placed along rows of greenhouse tables as well as hanging from the ceiling. You can even purchase desert-plant-babies of your own to enjoy year round!
Note that this small business is family run and does tend to close on holidays (as they should!) so plan your visit accordingly.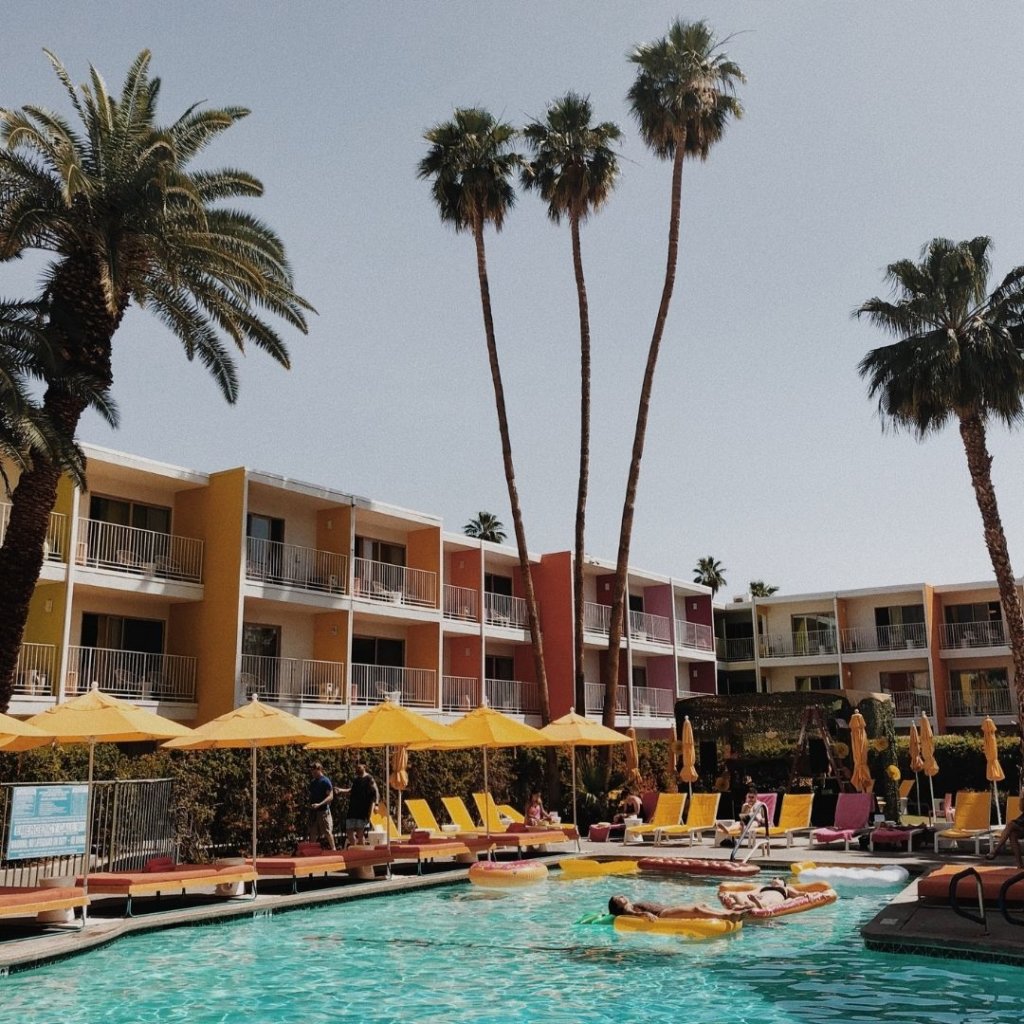 4. Indulge in a Pool Day at your hotel or at resort.
No matter where you stay in Palm Springs, one thing is certain: a pool is never far away.
Most hotels in Palm Springs have their own sparkling blue swimming pool on site. If you haven't booked your stay just yet, here are a few suggestions:
However, most of the resorts listed above will let you visit and soak for a few hours even if you are not staying there (for a fee, of course!)
5. Dinner and window shopping on Palm Canyon Drive.
To end your first day, take a stroll down Palm Canyon Drive and explore all of the unique shops and restaurants that line the street.
This popular shopping zone is filled with everything from familiar chains like Sephora to cool vintage shops, home décor stores, and one-of-a-kind Palm Springs souvenirs.
Duck into the unique shops and indulge in an enticing dinner here, enjoying the vibe. Grab a famous Palm Springs Date Shake to enjoy on your way back to your hotel.
After a long day outdoors, you are likely ready to relax and tuck in for the night, only to wake up and continue your perfect weekend in Palm Springs tomorrow.
You May Also Like: Day Trips from Palm Springs
Day Two of Your Weekend in Palm Springs Itinerary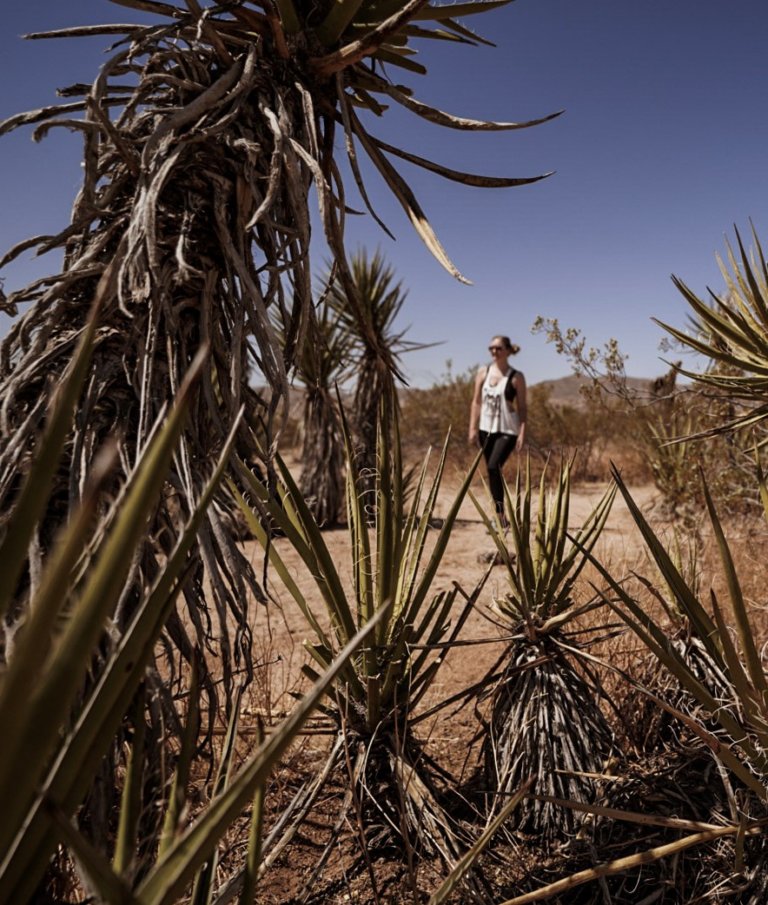 1. Head to Joshua Tree at sunrise.
I know, I know. I said sunrise. Hear me out.
I do realize that waking up at sunrise is not everybody's dream morning on vacation. But, trust me on this one. Sunrise is best.
Number one, you will avoid the long car rides leading into the park. This can sometimes save you close to an hour on those busy peak times on holidays and weekends! Plus, it will take around 50 minutes to drive to the entrance, so better to get at it early.
I have a perfectly curated one day itinerary for Joshua Tree National Park all ready for you. If you want to spend most of the day here, that is the article to read.
If you just want to experience a pink, gold and orange sunrise in the desert, check out the top Joshua Tree sunrise spots instead. I'm probably biased, but there is nothing on earth – nothing – like an early morning in the empty, beautiful desert terrain.
Spend as much time as you like here and explore all of the exhibitions and sights, from boulders to Joshua Tree forests to abandoned mines. Oh, and pro tip – pack a cooler of drinks and snacks to enjoy while you drive and explore. There are no facilities or stores within the park.
You May Also Like: Desert Safety Tips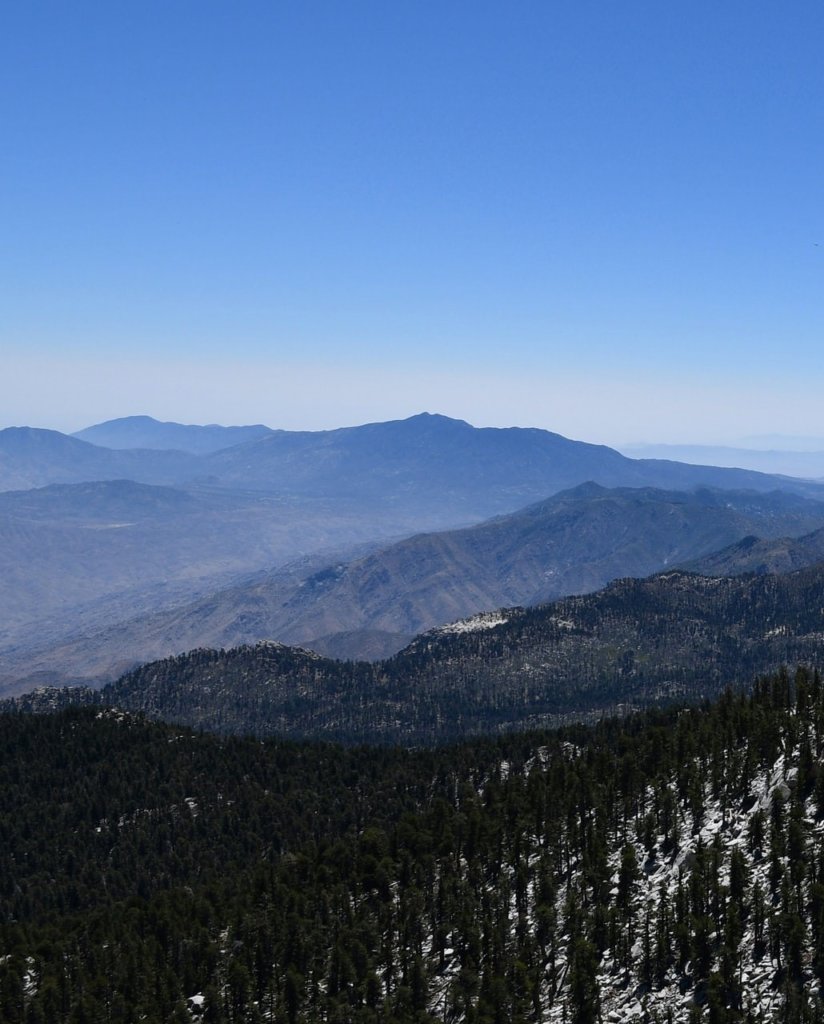 2. Take in the views from the Palm Springs Aerial Tramway.
No weekend itinerary in Palm Springs is complete without riding the aerial Tramway. This is the largest rotating aerial tramway in the world, and the views are impressive.
Take in the pristine wilderness sprawling across the cliffs and mountains surrounding Palm Springs. It will take around 10 minutes to ride to the top of the tramway. Enjoy the birds eye view!
Once you reach the 8,516-foot-high mountain peak, you can enjoy several observation decks with sweeping views, a natural history museum, hiking trails, two restaurants, and a gift shop. You can easily spend hours here.
Note: If for any reason the Aerial Tramway is not for you, consider the Palm Springs Art Museum or the Palm Springs Air Museum instead.
3. Enjoy dinner and a Hot Tub night under the stars.
If your trip to Joshua Tree lasted as long as mine usually do, you will likely be ready for dinner and relaxation after the Aerial Tramway. Consider getting burritos or salad bowls to go and enjoying your hotel's hot tub under the stars.
If your accommodation does not have a hot tub or if you want to enjoy your last night out, you could consider going stargazing at the Rancho Mirage Library & Observatory. Their state-of-the-art telescopes display the natural beauty of the glowing stars in the dark, desert night sky.
You May Also Like: Solo Female Travel in California
Bonus: Palm Springs Weekend Itinerary Travel Tips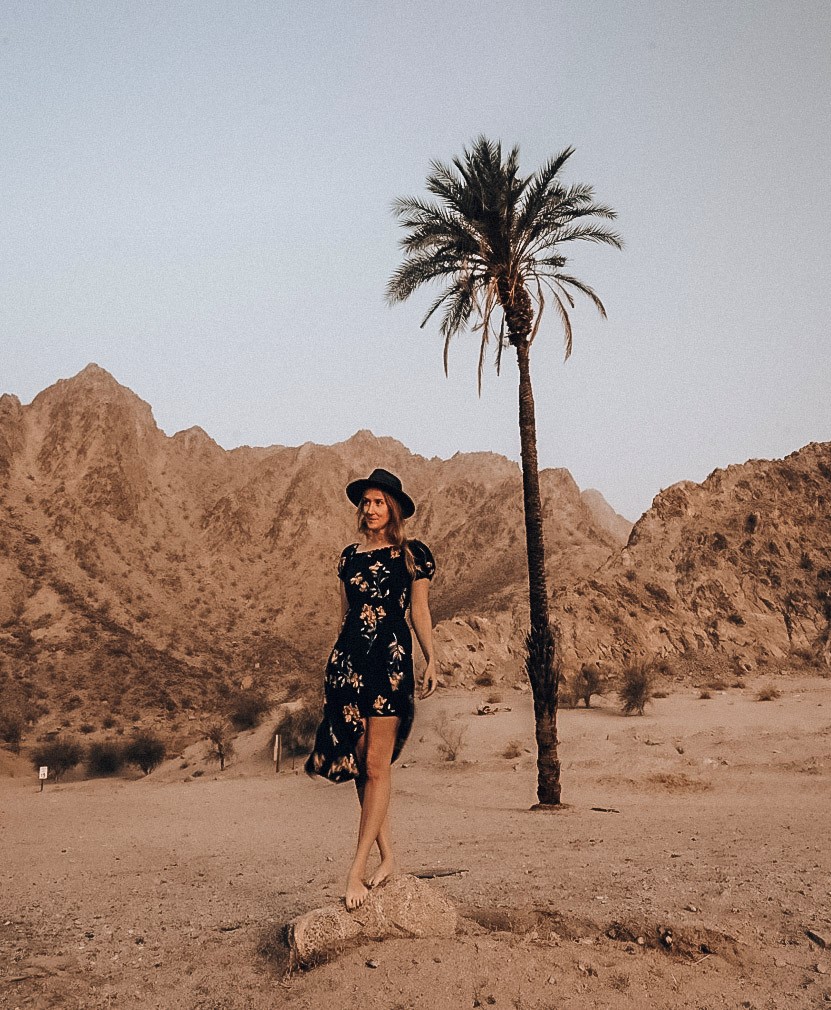 Budget Tips
Travel during the off season to get the best hotel prices. June through September tend to be a little bit slower (and cheaper!) in the area, as the temperatures average in the triple digits. As long as you're not opposed to early morning activities, this is a great time to save.
I also tend to book my hotels through this website, who consistently has the best prices in the biz.
LGBTQ+ Travelers
Palm Spring is well-known for being LGBTQ+ friendly!
Palm Springs Events
You've got a lot to choose from! Palm Springs hosts various events and celebrations throughout the year. Some of the recurring ones include Modernism Week, the Christmas Parade, and the Coachella Music & Art Festival.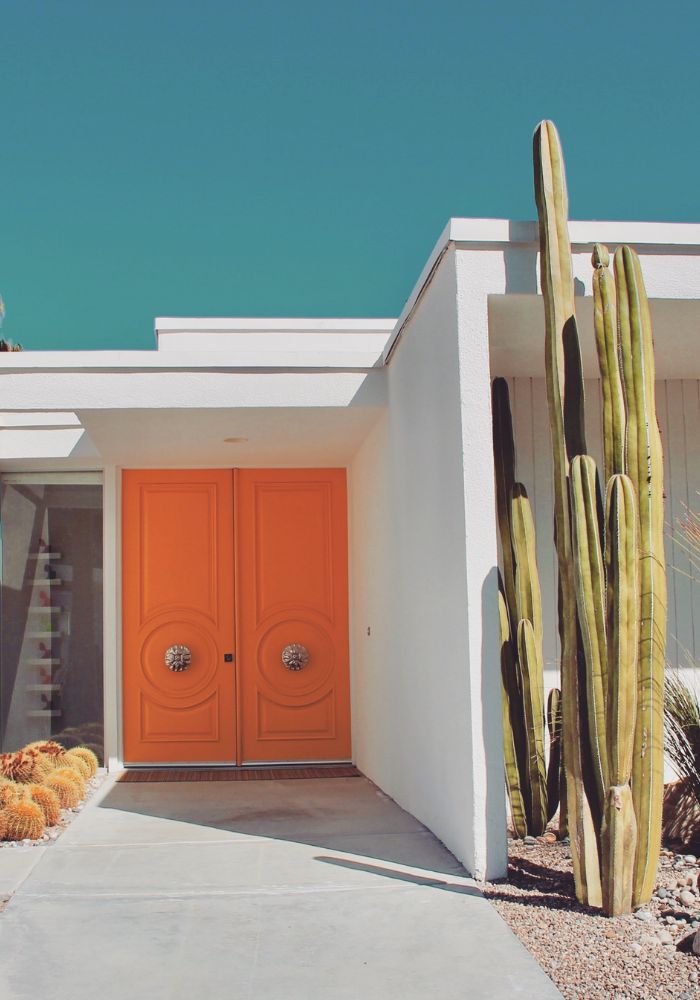 What to Pack
We are in the desert after all, so expect scorching temperatures (depending on the time of year.)
Be sure to bring: sunscreen and a wide-brimmed hat to keep the sun's rays off your face for the pool and the trails. If you do plan on a lot of hiking, check out my desert hiking essentials post.
Where To Go Next
Obviously I am a huge fan of Joshua Tree, but a more off-the-radar park to visit is the Mojave National Preserve. You'll et somewhat similar desert landscapes but without the crowds.
Or, drive down to Anza Borrego for a distinctly different desert experience.
Alternately, head north toward Las Vegas and explore Seven Magic Mountains and the Valley of Fire.
***
No matter where you head next, your weekend in Palm Springs is bound to be a hit using this itinerary! For me, this is the perfect blend of nature, culture, and touristy thins to see.
What are you most excited to see on this Palm Springs Weekend Itinerary? Let me know in the comments below!
Pin Me for Later!