El Matador Beach in Malibu, California is stunning. It's likely that you've seen these gorgeous Malibu cliffs in photos – rocky towers marching into the sea. The salty tidepools, jagged caves, and ocean wildlife make it a stunning spot for sightseeing, photography, or even sunbathing. Here is everything you need to know to have a memorable trip to El Matador State Beach in Malibu!
Pin Me for Later!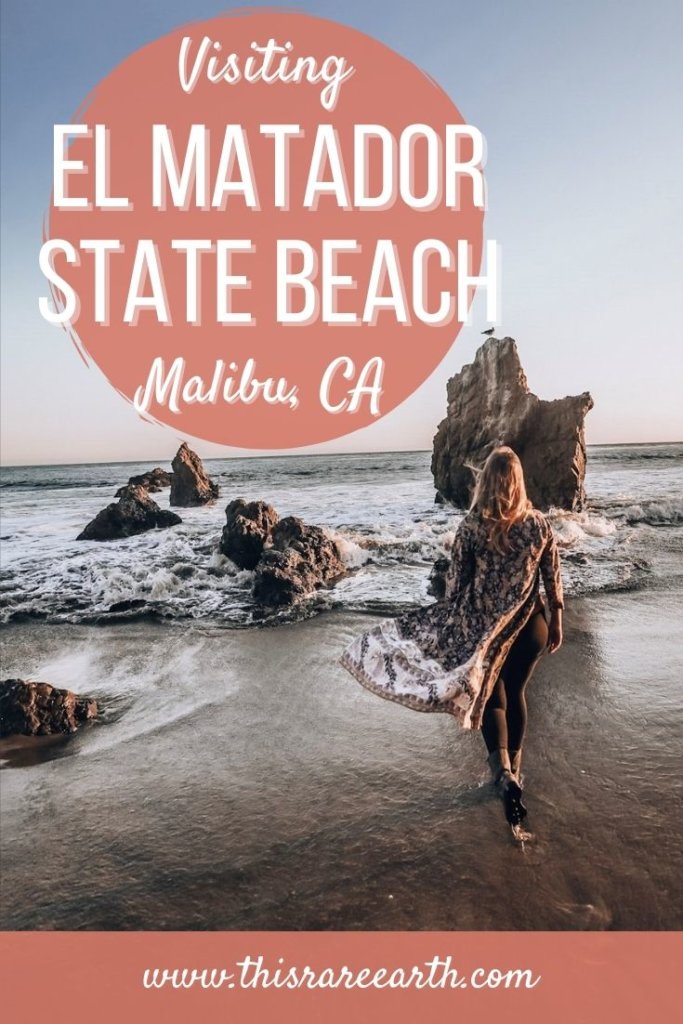 Malibu. The name alone conjures exotic images of blue, sunny skies and tall skinny palm trees. And, spoiler alert, that's not wrong.
The name "Malibu" comes from the Chumash settlement that was situated next to Malibu Lagoon. It translates to "Noisy Surf", and couldn't be more accurate. Waves crashing against the rocks and cliffs creates a loud and powerful noise, reminding you just how strong the sea is, even in sleepy Malibu.
El Matador Beach is an important and can't-miss stop if you're spending the day in Malibu. Here is everything you need to know to make your visit to El Matador State Beach stress-free!
Where Is El Matador Beach in Malibu?
El Matador Beach is a part of the Robert H. Meyer Memorial State Beach system – a collection of secluded coves along the west end of Malibu, California. As you drive on the PCH (Pacific Coast Highway), you will see signs for the three most-visited beaches in this stretch –  El Pescador, La Piedra and El Matador.
Located between Leo Carrillo and Point Dume State Beaches, El Matador is a not exactly what you'd call "hidden", but a gem nonetheless. Below is the exact location of El Matador State Beach.
Address of El Matador State Beach: 32350 El Matador Beach Road, Malibu, CA 90265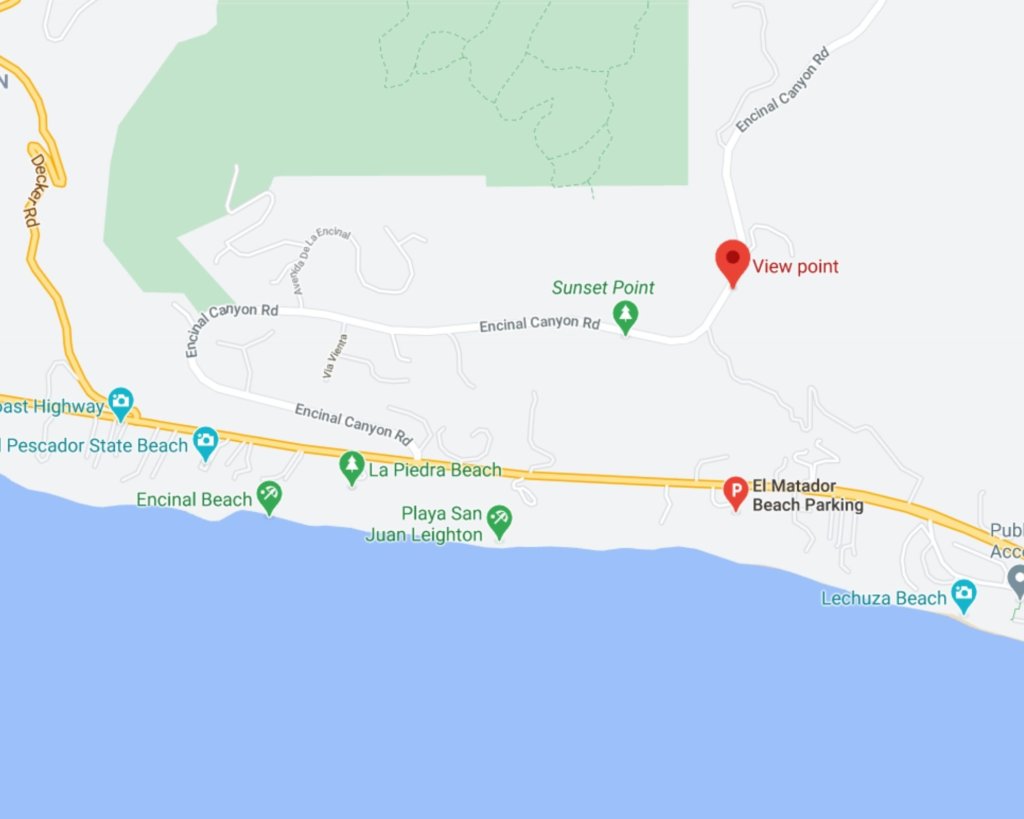 El Matador Beach Parking & Fees
El Matador Beach has a limited paid parking lot directly off of PCH that holds maybe 20 cars at best. The cost to park here is currently $8, but this is subject to change on holidays.
Full disclosure, I have never in 12 years paid to park in this lot. Why? Because street parking is free!
If you are willing to walk a bit, parking along PCH is, in my opinion, the best option. And, I have always seemed to luck out and find a spot relatively close to the entrance. So if you wish to save a few dollars, this is the way to go. (Just stay well on the shoulder as there is no guard rail barrier to the street and cars move FAST!)
Additionally, the beach itself is free to access publicly.
You May Also Like: A Pacific Coast Highway Itinerary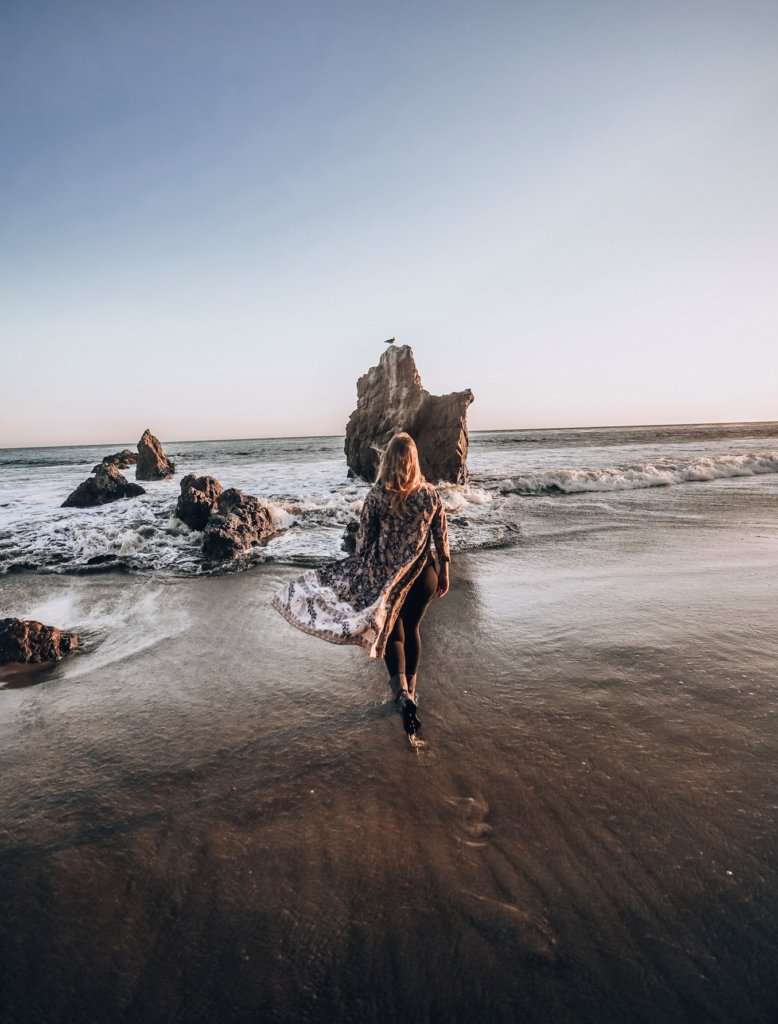 What Makes El Matador State Beach So Special?
Upon parking, the view down to the cove is priceless. The sheer 100 foot drop down to the sandy coastline is a stunning visual (no shame if you need to get your bearings before appreciating this! Haha.)
Once you walk down either the dirt paths or the steep staircase, you are greeted by golden sand, caves and caverns, white surf, flying seagulls… It is all very beautiful. And yes, this compliment comes from me, a total California desert gal!
You can also access different parts of the cove by crawling through or climbing over some of the cliffs. This all depends on the tides, though, which are something to contend with.
Why? Because if you crawl through multiple caves during low tide, you better know when to crawl back – or risk getting stuck in one of these coves in high tide. The caves completely fill with water.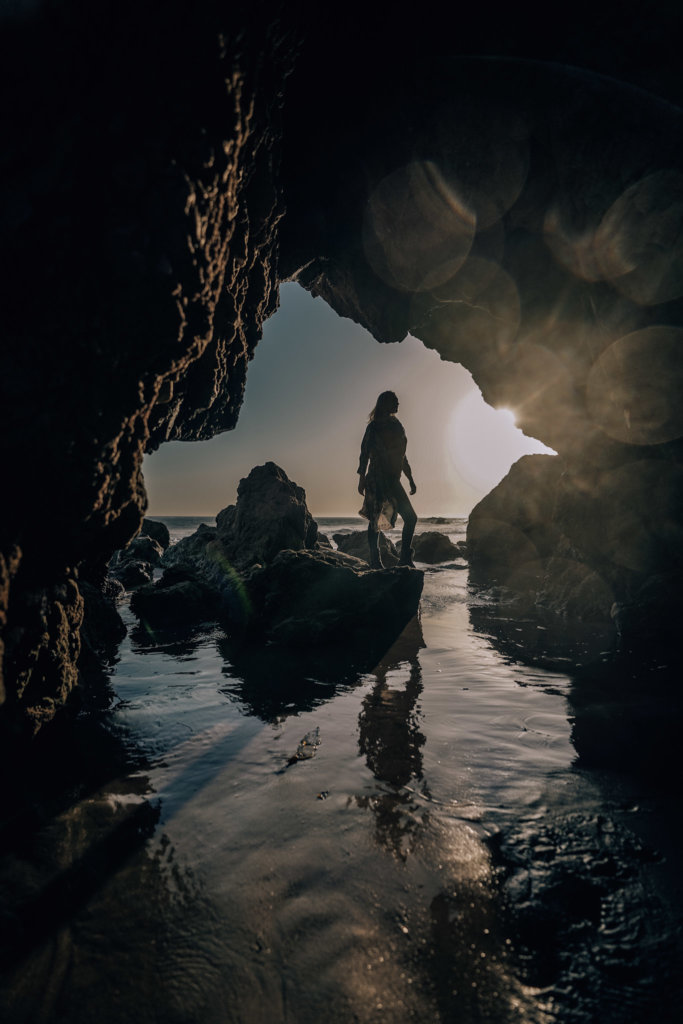 Best to follow the tide report for Malibu and plan ahead to avoid this obstacle. I may or may not speak from personal experience, ha! The website above is one of the most in-depth and accurate one that I've found regarding tides.
Tides aside, the rocks and cliffs are what make this place so visually stunning. It creates a magical landscape for photographers. A very secluded feel for sunbathers. And, a very natural feel for tidepool explorers.
It's an excellent place to spend a day.
I can't say enough about experiencing a sunset here. Watching the sky and light change from sunny blue to fiery red and orange against the giant rocks is magic. As an artist, you can have an absolute field day here, photographing while the sun is setting.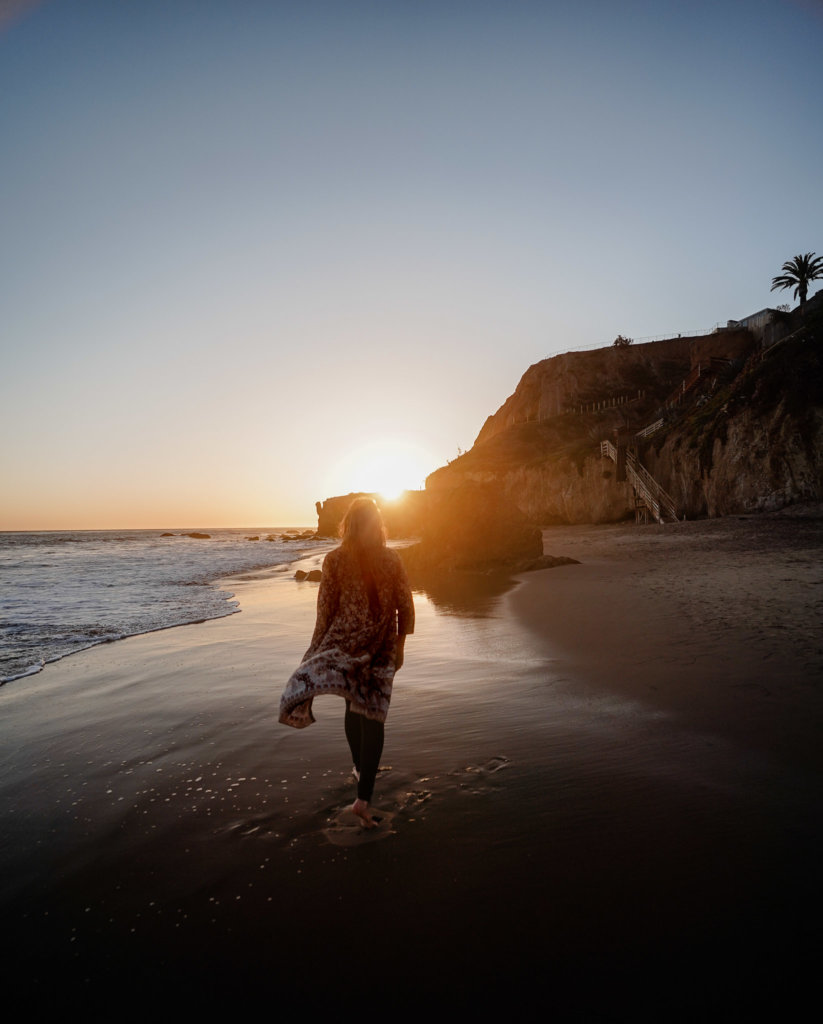 What to Know Before You Go to El Matador Beach in Malibu
While El Matador certainly isn't what I would call a "secret beach", I highly recommend visiting nonetheless.
Sunset is the most popular time to visit, and with good reason. The fiery-sky backdrop offers a spectacular view. But, if you want to avoid crowds, try sunrise instead. Or, head to the beach on weekday mornings.
The huge cliffs and steep staircases, while beautiful, make this beach inaccessible for anyone who is facing physical challenges or in a wheelchair.
Remember that tons of beach wildlife live here! Be mindful not to leave your trash on the beach. Garbage cans are available in the small parking lot mentioned above. Check out my "Leave No Trace" article for clarification!
El Matador Beach Malibu Review:
Address of El Matador State Beach: 32350 El Matador Beach Road, Malibu, CA 90265
Parking: Yes, $8 standard.
Beach Fee: Free / None.
Safety: Check the tide report before visiting.
Accessibility: Not great. Steep cliffs, stairways, and dirt paths.
Are Dogs Allowed: No.
Worth a Visit: 100% YES!
Where To Go Next?
After visiting this amazing beach, I highly recommend one or more of the following:
Camping and hiking at Leo Carrillo State Park. It's only a few miles up the road and is my other favorite Malibu spot.
Head inland for some hikes in the Santa Monica Mountains.
Switch gears to explore some of the best deserts in California, like Joshua Tree National Park to the east or Anza Borrego to the south.
Regardless of what comes next, El Matador Beach in Malibu, California is a must see on any Southern California itinerary. Definitely add it to your list, stat! And let me know what you thought, below.
Pin Me for Later!