This tropical vacation packing list is perfect for anyone wondering what to pack for your trip! If you're headed somewhere hot and humid across the globe, I'm here to help. This complete Tropical Packing List is perfect for every tropical vacation across the globe.
Pin Me for Later!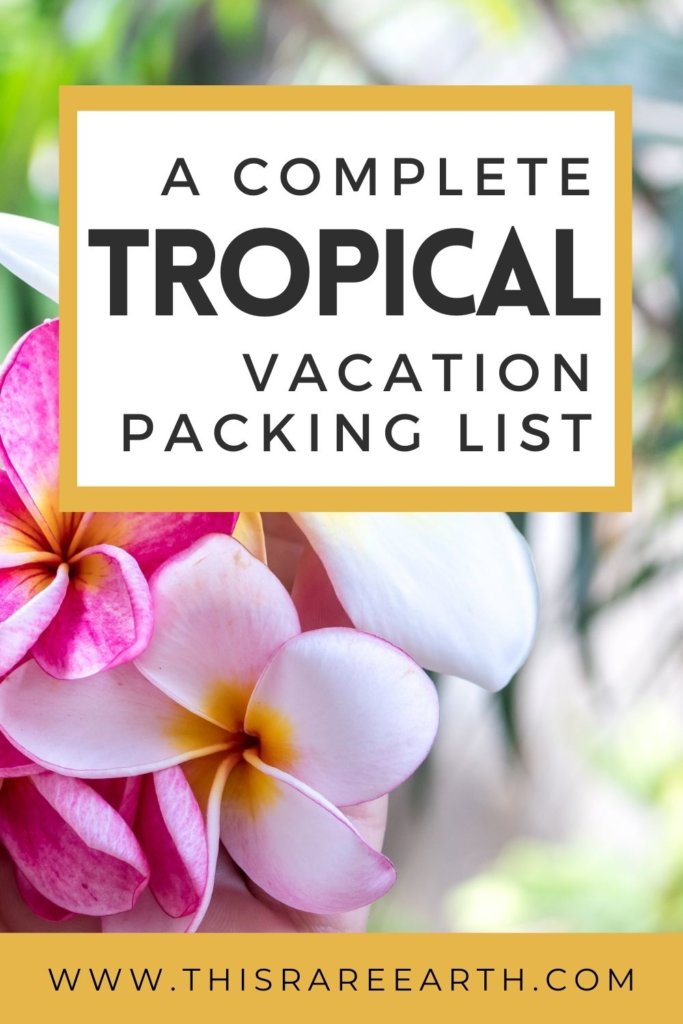 Is there anything better than a tropical vacation?
The crystal-clear turquoise waters, the lush green pam trees, and the soft warm sand between your toes… It's the type of vacation that can cater to everyone from families to solo travelers to couples and friends.
If you want adventure, you can find it. If you want to do nothing but relax, you can have that. A tropical vacation is the ultimate customizable escape.
One thing that can make or break your trip is how you pack. I absolutely hate it when I pack and carry items that I end up not using, as well as not pack an item that I really needed and end up spending money to replace it.
Well, this complete tropical vacation packing list will help you to avoid that! Let's dive into everything you need on your next beach vacay.
A Complete Tropical Vacation Packing List For Women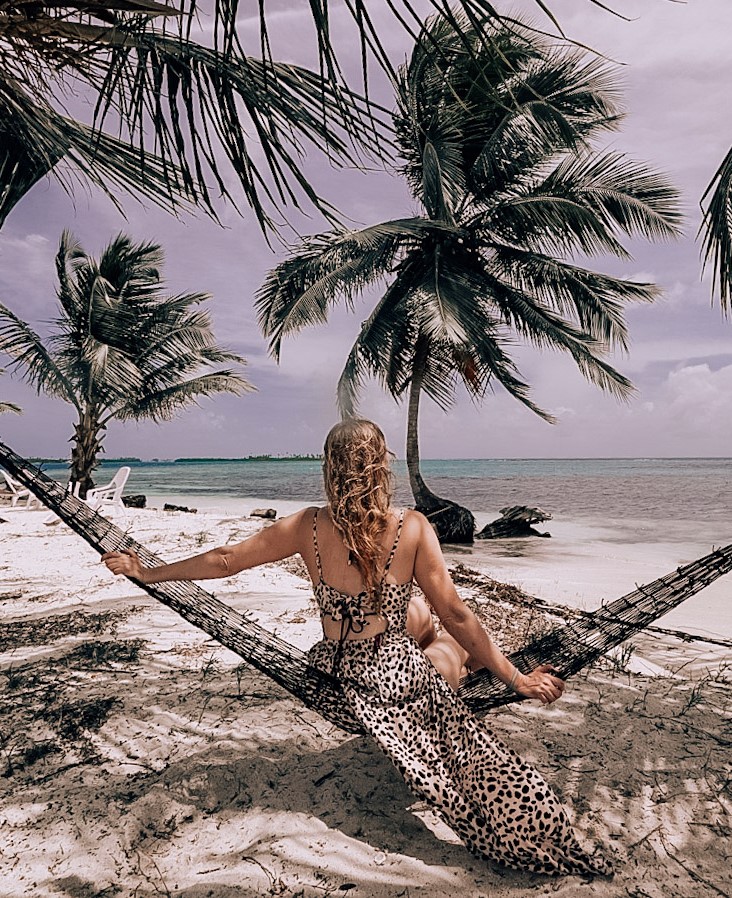 Clothing & Accessories:
Though the tropics span a large region of earth, we know fairly well what to expect. The tropics surround the Equator so temperatures will largely be hot, humid, and experience both heavy rain and golden sunshine.
No matter what time of year you visit, the weather will hover between mid-70s to mid-80s, relatively. Your tropical vacation packing list should be built with light and breezy clothing, and also contain pieces suitable for layering and adventuring, as needed.
Here is what I recommend:
Two casual tank tops – two tank tops that you can use for both the beach or workouts. Two perfect choices are this beachy graphic tank and this light and flowy tank.
Two "nicer" tank tops – Bring a couple of options to wear when you're walking around town or just want to feel slightly more put together. These could range from a flashy top like this one to a more simple option like this one.
Two T-shirts – It's a good idea to pack a couple of shirts that cover your shoulders, even for a tropical vacation. If you get too much sun or want to protect your shoulders in advance, these come in handy. Try a cute option rather than a basic tee if you like.
One lightweight hoodie – Definitely pack one very lightweight hooded sweatshirt or sweater. This is not only great for the flight, but it is always useful to cover up in air-conditioned restaurants and hotel rooms.
One pair of shorts for the beach – Pack a pair of shorts that can be double-duty – both for beachwear and for working out. A non-denim comfy pair is ideal.
One pair of shorts for exploring – This could be your denim pair of shorts, or any type that you would prefer to wear off the beach.
Long flowy palazzo style pants There is nothing better than  long, loose flowy palazzo pants. If you follow me on Instagram, you have probably seen that I wear these types of pants all the time – but they are particularly excellent for tropical destinations.
Two bathing suits – If you plan to spend multiple days at the beach, I highly recommend bringing two swimsuits. That way you can alternate every other day, letting the wet pair have a full day to dry out.
Two pairs of leggings – You probably already own some leggings, but if not, these basic leggings are great – form fitting, not see-through, and a high-quality brand. These can also double as workout wear.
One romper or playsuit – These are so easy to throw on over bathing suits for beach days! One romper is A MUST.
Sleepwear – don't forget to pack your PJs.
Underwear – This will depend on the length of your trip, but I typically pack around seven or eight pairs for any trip one week or longer. Then I do laundry if needed. I also recommend a mix of "normal" bras, bandeau, and sports bras.
Flip Flops – one basic pair of flip flops. Non-negotiable.
Trekking sandals – I talk a lot about my favorite Keen trekking sandals, and even still, these have never let me down! They've trekked across six continents and are so useful for jungle hikes and rocky beaches. You wouldn't catch me without them.
Hat – I have two hat recommendations. First, this black panama hat that is a #1 best seller (and is foldable and crushable, which makes packing a breeze. You're welcome.) FYI, you can adjust the sizing with a small string or Velcro, and even though it's tough to get perfect, once you have the right it you are golden. And this cute hat is a new purchase of mine, and I love it already.
Sunglasses
A thin rain shell jacket – a must-have jacket for the rainy season, or during boat rides.
One Kimono – for covering up on the beach or in the city. Need a rec? Try this one if you like sheer or this one if you want coverage.
Scarf / Sarong – If you know you will be in air-conditioned restaurants or get cold on the plane, bring one. I have this dark green one, and I love it. It can also be used as a beach cover up in a pinch.
Jewelry – optional.
Small cross-body bag – I love this bag from Pacsafe.  Even in typically-safe destinations, this bag will give you peace of mind. It has a theft-proof strap, locking zippers, and RFID protection.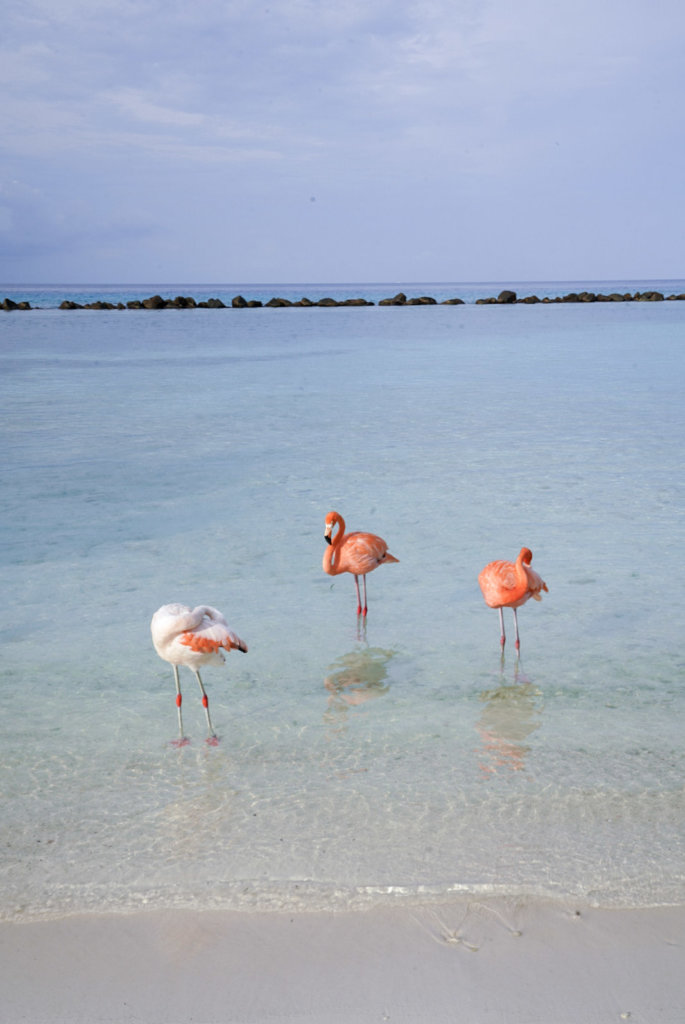 Toilettries:
If you're traveling carry-on only, you probably know that TSA will limit your liquids to 3.4 oz. (100ml) bottles. Factor in what items might be provided on site, like soap or shampoo, and then don't pack them for your tropical vacation.
Toothpaste & Toothbrush
Shampoo & Conditioner
Sunscreen – A word to the wise. Many tropical locations have banned sunscreens with harmful chemicals. And, even if they haven't, it's a great idea to choose to protect the beautiful ocean wildlife. Bring an all-natural or reef-friendly sunscreen to do your part.
Soap
Deodorant
Brush or Comb
Face wash
Hand Sanitizer
Shaving supplies
Tissues
Moisturizer
Feminine hygiene items
Lip Balm (with SPF)
Face Wipes or Makeup Remover – These are my all time fave!
Travel First Aid Kit – Delightfully tiny and packable, these will barely take up any space in your luggage. But, it could really come in handy. Just remove any sharp item that may be confiscated by the TSA. I also recommend this for hiking.
Medications & Prescriptions – Don't forget these as they can be tough to find abroad!
Hair Styling Tools if needed
Want this article as a printable checklist? Sign up now and get it straight to your inbox!
Gear for your Tropical Packing List:
This section is definitely dependent on the person, but worth a mention nonetheless. Modify the items below as you need, but this is a good place to start.
Dry Bag – For me, this is a must. It is super useful for the beach, on a boat, and in the rain. I have this exact bag in two different sizes and I am beyond happy with it. It may not be the cheapest option, but it is oh-so-sturdy.
One packable towel – I often pack my thin, quick-drying towel for tropical vacations. It recently came with me to the San Blas Islands and I was so thankful to have it.
Cameras & Chargers
Books or e-books
Phone & Charger
Earbuds or headphones (great for the flight)
Credit Cards / Wallet / Cash – see my post on keeping money safe while you travel for tons of helpful suggestions that I swear by!
Laptop & Charger if needed
Any other beach items that will make your trip better. Example: Bluetooth speakers, small cooler, travel games, etc.
***
This list identifies everything I pack for any tropical beach vacation, as well as what I would recommend for you to pack for your own trip.
I hope that this complete tropical vacation packing list sets you up for a fun and successful trip. Have a great time!
Pin Me for Later!