Headed to Aruba, but not sure what to pack? I can help! Here is my ultimate Aruba Packing List for women, highlighting exactly what to wear in Aruba.
Pin Me For Later!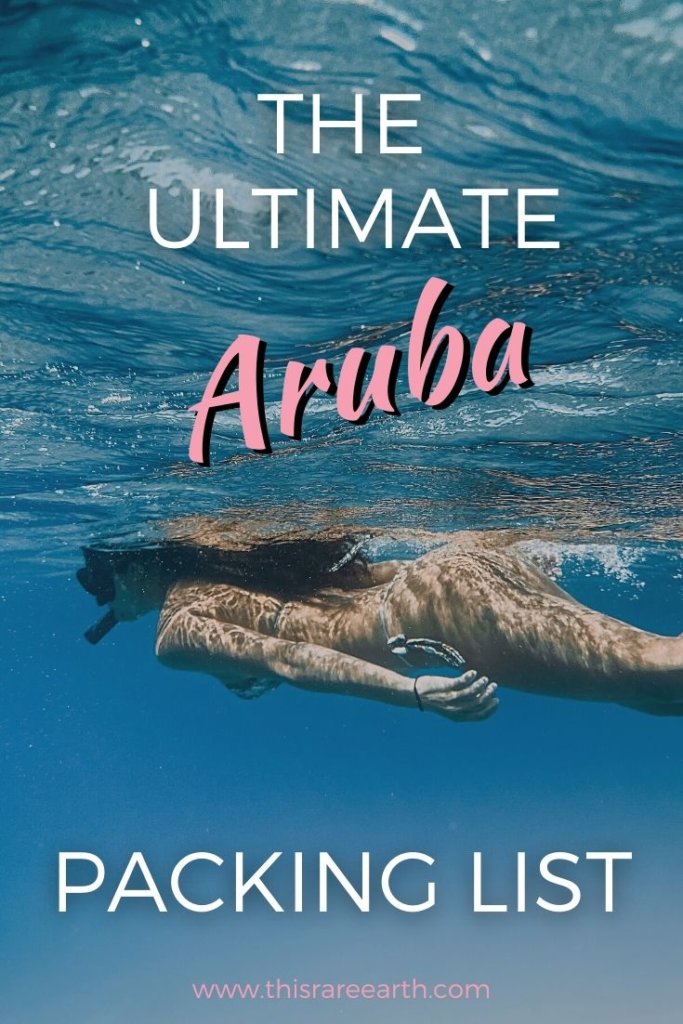 Aruba, you were more than I expected.
From transparent turquoise waters to cactus-studded hilltops, Aruba packs a lot of wonder within it's small borders. It's a destination that can cater to adventure travelers and leisure travelers alike – and I made sure to do a bit of both when I traveled Aruba as a solo female.
No matter if you want to lounge on the beaches of Aruba or hike the deserts of Arikok National Park, this Aruba packing list is for you. It includes what to wear in Aruba, from the beach to the desert and beyond.
First, for those who want to travel light, I highly recommend packing enough clothing for one week only. If you stay longer, you can do laundry. If your stay is on the shorter side, you may want a few "extras" in case anything gets dirty from hiking or exploring.
Packing one weeks worth of items is a good general rule for ALL travels, actually, as I like to travel carry-on only a good 99% of the time.
So where to start? Here is everything I recommend for your Aruba packing list.
You May Also Enjoy: A Complete Aruba Travel Guide
The Ultimate Aruba Packing List for Women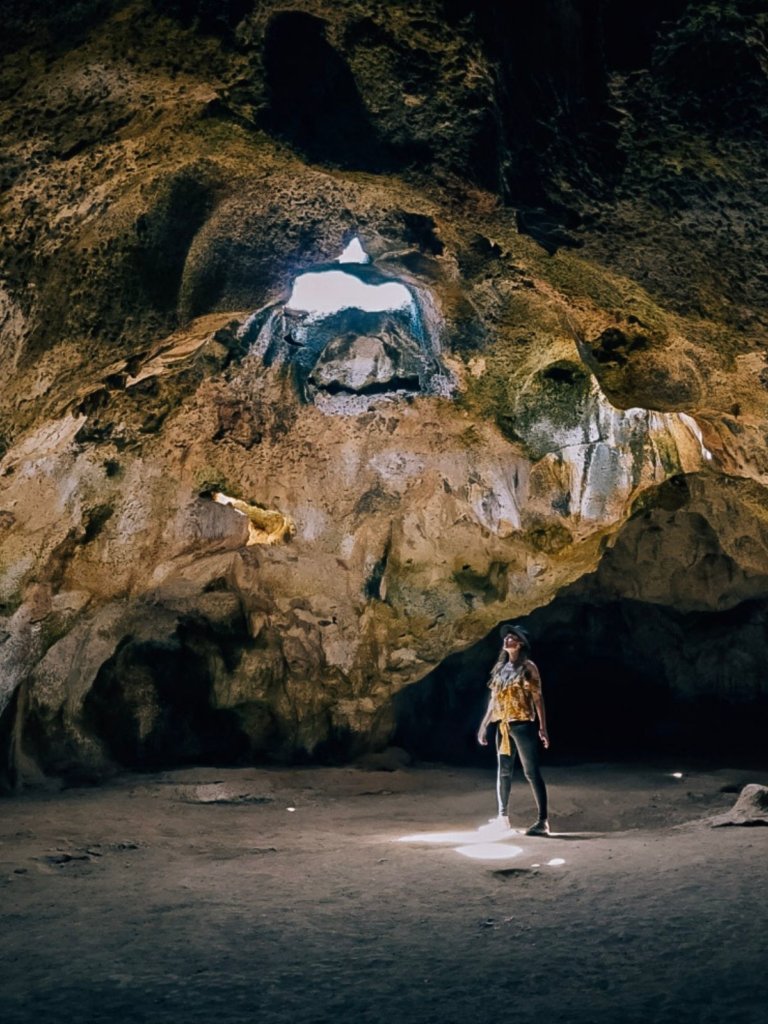 Clothing & Accessories:
The nice thing about Aruba is, there really isn't a strict dress code. Things are pretty laid back here in terms of dress.
And, the weather is pretty predictable year round. No matter what time of year you visit Aruba, the weather will hover in the 80's and 90's, though in October through January you may have rain.
Your packing list should focus on light and breezy pieces, but also contain articles suitable for both beach-going and adventuring. Here is what to pack for Aruba in terms of clothing and accessories.
Two casual tank tops – two tank tops for beach use or vacation workouts. Two great examples are this beachy graphic tank or this light and flowy tank.
Two "nicer" tank tops – Go as casual or as dressy as you like. These are for walking around Oranjestad or quick lunch stops. Also good for going out for dinners, etc. This could be anything from a flashy top like this one or a more versatile black option like this one.
Two T-shirts – You should always pack shirts that cover your shoulders, even for a hot beach destination like Aruba. These provide good sun protection midday. I recommend a cute knotted option that is more interesting than a basic tee.
One lightweight hoodie – Pack one very lightweight hooded sweatshirt or sweater. This is great to cover up if you are in air-conditioned restaurants or hotel rooms.
One pair of shorts for the beach – Try to make this pair of shorts be double-duty. Pack a pair that is both appropriate for the beach and for working out. This non-denim comfy pair is ideal.
One pair of shorts for exploring – This could be a denim pair of shorts, or a pair that you would prefer to wear off the beach.
Long flowy palazzo style pants – I highly recommend this style of  long, loose flowy palazzo pants. If you follow me on Instagram, you have probably seen that I wear these types of pants all the time – but they are particularly excellent for beachy and hot, humid destinations.
Two bathing suits – If you plan to spend multiple days at the beach, I highly recommend bringing two swimsuits. That way you can alternate every other day, letting the wet pair have a full day to dry out.
Two pairs of leggings – The most comfortable, versatile bottom for any destination! You probably already own these, but if not, these basic leggings are great. These can also double as workout wear.
One romper or playsuit – so easy to throw on over bathing suits for beach days. One romper is A MUST for the beach.
Sleepwear – don't forget to pack whatever your preferred sleepwear might be.
Underwear – This will depend on the length of your trip, but I typically would recommend packing around seven or eight pairs. I also recommend a mix of "normal" bras, bandeau, and sports bras.
Flip Flops – one basic pair of flip flops for the beach and/or showers
Trekking sandals – I talk a lot about my favorite Keen trekking sandals, but I swear these have never let me down! They've traveled across six continents with me over the years and they were very useful on the jagged lava rocks in Aruba. I wore them around Arikok National Park, as well.
Hat – I've recently had to replace my long-time favorite hat, and I have to admit – my bar was set high. I ended up going with this black panama hat that is a #1 best seller, and I will let you know exactly why I like it. One, it has adjustable Velcro hidden inside the brim for a good fit (even on a windy boat). As a bonus, it is foldable and crushable, which makes packing a breeze. You're welcome.
Sunglasses
One Kimono – for covering up on the beach or in the city.
Scarf / Sarong – Bring this if you know you will be in air-conditioned environments. I have this one in a few colors, and I love it. It is breezy and lightweight, so perfect for non-snowy conditions. It can also be used on the flight or as a beach cover up.
Jewelry – optional.
Small cross-body bag – As you may already know, I absolutely love this bag from Pacsafe. Though Aruba is generally safe, petty theft from cars and beaches does happen fairly regularly. This bag gives me peace of mind with a theft-proof strap, locking zippers, and RFID protection. I have had great luck with this brand and consider it to be an excellent investment.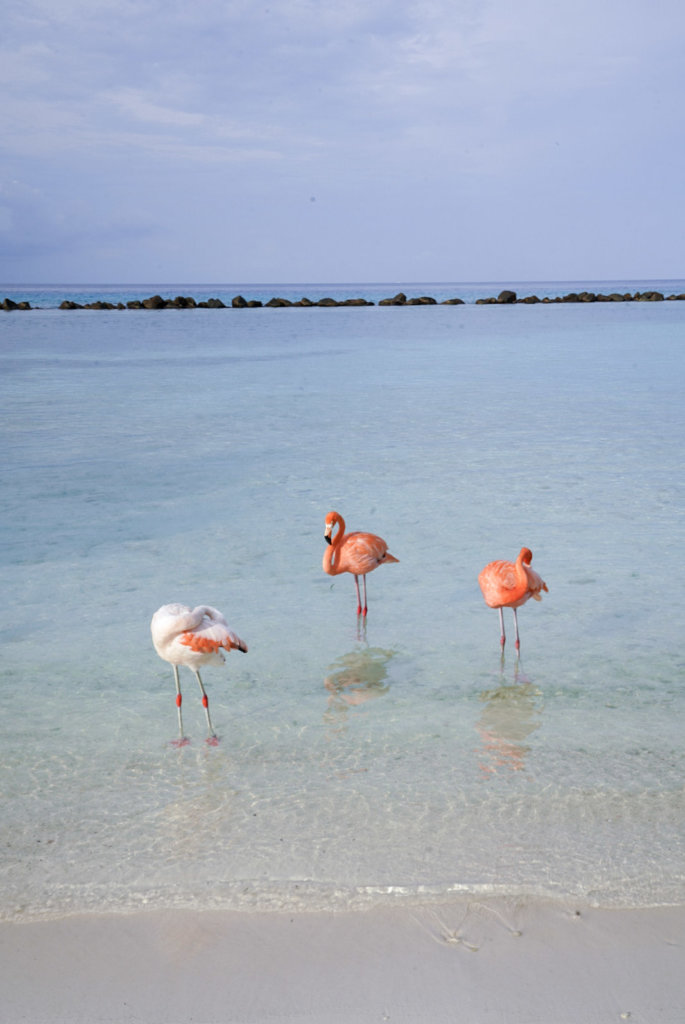 Toilettries:
TSA at the airport will limit your allowed liquids to 3.4 oz (100ml) bottles, which is the maximum amount acceptable. Think hard about what items you actually need and what might be provided on site (soap, shampoo, etc).
Toothpaste & Toothbrush
Shampoo & Conditioner
Sunscreen – Listen up! Aruba has banned sunscreens with chemicals that can harm ocean life. You will need to bring an all-natural or reef-friendly sunscreen to protect the beautiful Caribbean wildlife.
Soap
Deodorant
Brush or Comb
Face wash
Hand Sanitizer
Shaving supplies
Tissues
Moisturizer
Feminine hygiene items
Lip Balm (with SPF)
Face Wipes or Makeup Remover – These cucumber wipes will leave you refreshed after a long day of sweating on the beach.
Travel First Aid Kit – These are so tiny and packable, they barely take up any space in your luggage. If you plan on any hiking or adventure activities, you don't want to skip this item. I also recommend using this at home if you hike!
Medications & Prescriptions – Don't forget these as they can be tough to find abroad.
Hair Styling Tools if needed
Want this article as a printable checklist? Sign up now and get it straight to your inbox!
Gear for your Aruba Packing List:
What gear you need to bring is dependent on the person.
If you plan to work while you travel, you will probably need your laptop. If not, don't weigh yourself down. Plus, if you're alone, you may need more reading materials whereas if you're in a group, maybe some beach games instead.
So again, modify the items below as you like, but this is a good place to start.
Dry Bag – super useful on the beach, on the boat, and in the rain. I highly recommend this dry bag. It has a strap to wear over your shoulder and a phone dry bag, too.
One travel beach towel – I always pack this exact one for beaches, camping, and more. It barely takes up any room in your suitcase but is super absorbent. In fact, I like it so much that I gifted one to several family members.
Cameras & Chargers – For beach destinations, waterproof action cameras can't be beat!
Books or e-books
Phone & Charger
Earbuds or headphones (great for the flight)
Credit Cards / Wallet / Cash – see my in depth post on keeping money safe while you travel for tons of helpful suggestions that I swear by!
Laptop & Charger if needed
Any other beach items that will make your trip better. Example: bluetooth speakers, small cooler, etc.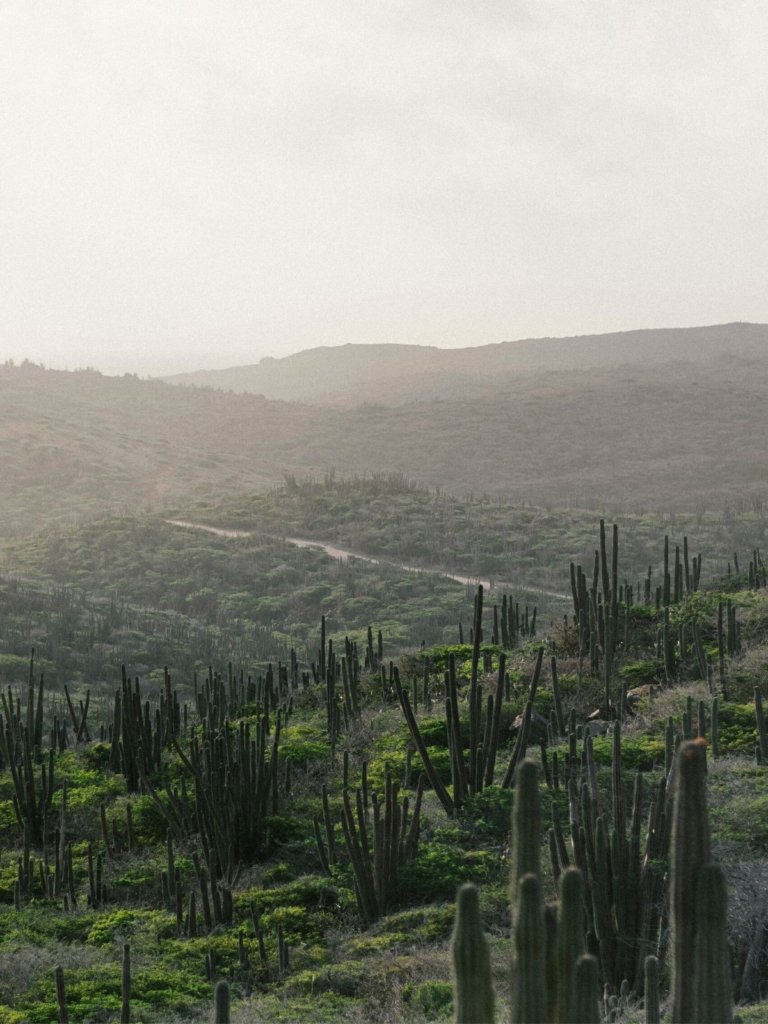 ***
As you can probably tell from my photos, my trip to Aruba was unforgettable. I had everything I needed, and didn't waste precious luggage-space with items I didn't end up using. This list identifies everything I packed for my own trip, as well as what I would pack for a future trip.
I hope that this Aruba packing list sets you up for a fun and successful trip. Have a great time!
Pin Me for Later!