Here is everything you'll ever need to know about travel in Aruba, all in one place. This complete Aruba Travel Guide covers what to see in Aruba, currency and costs in Aruba, can't miss attractions in Aruba, and what to pack for Aruba.
Pin Me for Later!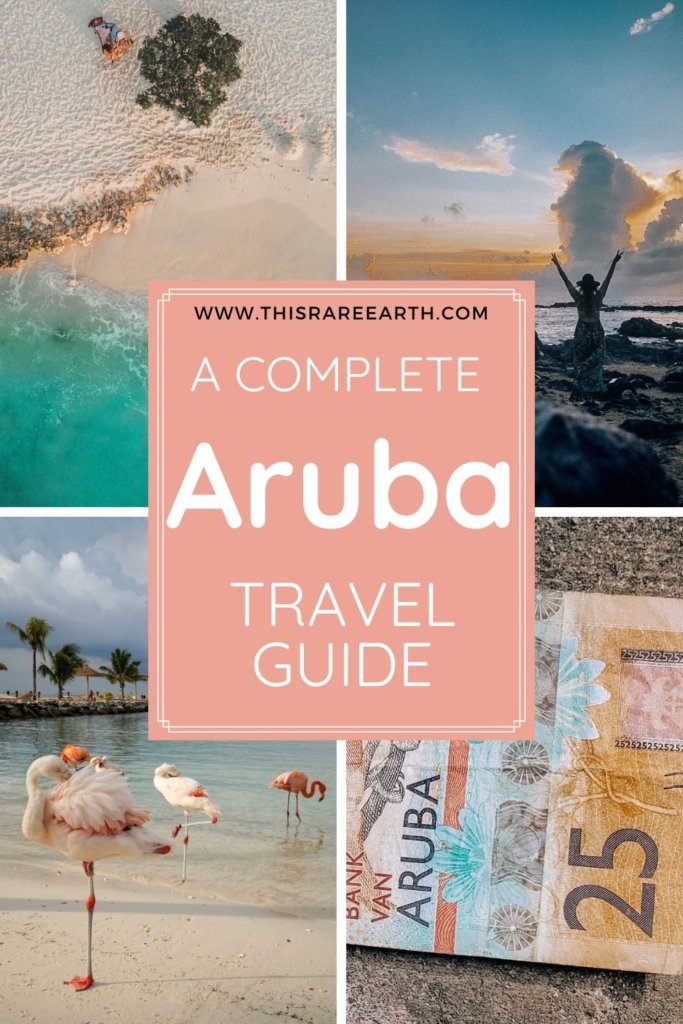 I'm tiptoeing past the milky blue tidepools, tucked haphazardly in between black lava rocks. Beyond me is the cotton candy sunrise, casting crimson and pink across the sea, which seems to be just waking up. I'm standing on the rocky eastern shore of Aruba, taking in a stunning view that I never expected to see.
After visiting the Dominican Republic, and the Bahamas, and Puerto Rico – I knew that this Caribbean country would be pretty. I knew the waters would be blue and the sun would glow golden. But I just wasn't prepared for this.
Buckle up, your complete Aruba Travel Guide begins now!
A Complete Aruba Travel Guide
I recently flew to Aruba on an impromptu but much-anticipated trip to the Lesser Antilles. It had been in my head for some time – I need to check out Aruba.
I'm not even sure where that compusion came from all of a sudden. But boy, am I glad it did. There is a lot to see and do within this small country's borders.
Here is everything you need to know before you go!
Where is Aruba?
Located in the southern part of the Caribbean, Aruba sits just 48 miles to the west of Curaçao and a mere 18 miles north of Venezuela.
Along with its neighbors Bonaire and Curaçao, this trio of islands are referred to as the "ABC islands". In 1986, this nation acquired the formal name of "Aruba" and became a constituent country within the Kingdom of the Netherlands.
When is the best time to visit Aruba?
Aruba sits just north of the equator, and farther south than the general hurricane paths in the Caribbean. This means that Aruba (and the rest of the ABC's) are pretty lucky in avoiding much of the hurricane destruction that some of their island neighbors have endured!
Aruba experiences an uptick in rain beginning in September and lasting through December. The best months to visit Aruba are from January through August, weather-wise. The weather is tropical year round, but not extreme, with a fairly constant temperature of 82-90 degrees Fahrenheit year round.
The busy tourist season spans from January to March, making hotel room prices soar. My personal recommendation is to travel to Aruba in September. During this shoulder season, the heavier rains will typically not yet be present, and you are more likely to catch discounts on hotels and activities as the busy season is subsiding.
What Language is spoken in Aruba?
Dutch, English, and Papiamento are all spoken in Aruba.
Is Aruba Safe?
Yes, I felt safe the entire time I was here! I traveled solo and didn't spend even one night in a resort. I was out and about among the locals, driving a rental car the entire time.
Check out my post on solo female travel in Aruba for more information.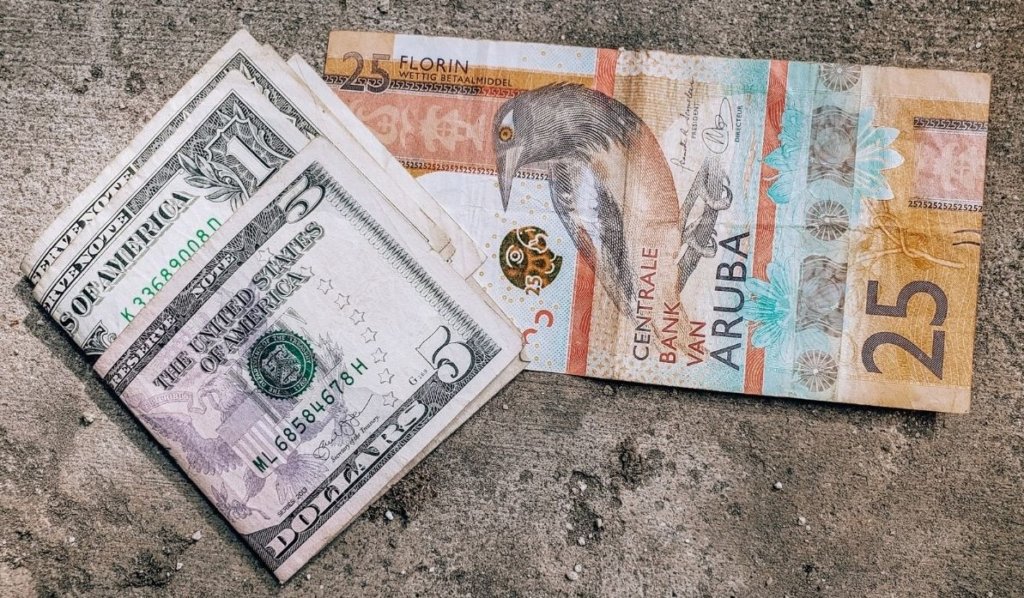 Is Aruba expensive? Currency and Costs in Aruba.
Currency in Aruba: Aruban Florin
Current Exchange Rate: $1 USD = $1.80 AWG
Are US Dollars Accepted? Yes, almost everywhere. However, sometimes you will be charged more to pay in USD.
Aruba, like most islands in the Caribbean, can be quite expensive. There is no shortage of fancy resort hotels and beachfront accomodations. However, it is possible to visit Aruba without breaking the bank! It just depends what your priorities are.
I was planning on renting a car in Aruba regardless of where I stayed. I wanted to be able to get out and explore the hidden corners of the island. So, staying beachfront was not a priority for me, since I could drive to the various beaches of Aruba every day.
Accomodations in Aruba
I was able to get a small studio apartment equipped with a kitchen and full sized bed for only $40 USD per night in Oranjestad. This worked as a perfect base for me. Aruba is such a small island – roughly 20 miles long and 6 miles across – that I could drive anywhere in less than an hour.
Again, depending on your tastes and priorities, you can book hotels for anything from around $25 USD per night for a dorm bed in a hostel up to $700 USD and beyond. It is possible to be budget-minded in Aruba, though you will not find the same bang for your buck as you would in, say, Bali.
Food in Aruba
Much like lodging, food prices can vary depending on your tastes and budget.
Local Food Spots ($10 – $25): While I did cook many of my meals, I do like to venture out (especially on days that I am on-the-go all day.) I got a great $10 USD vegan burrito at Happy Bowl inside of the Renaissance Marketplace, and on another day had very filling $12 USD breakfast at a small roadside stop. Most offered food types I saw included Dutch fare like pancakes, healthy and/or vegan meals and smoothies, and Caribbean-influenced dishes.
Restaurants & Seafood ($25 and up): Depending on what you order, the larger restaurants can cost anywhere from $25-$50 USD for a large meal. I've seen Zeerovers recommended over and over for freshly caught seafood, though I cannot vouch for it myself. Other seafood and resort type restaurants are plentiful around the island.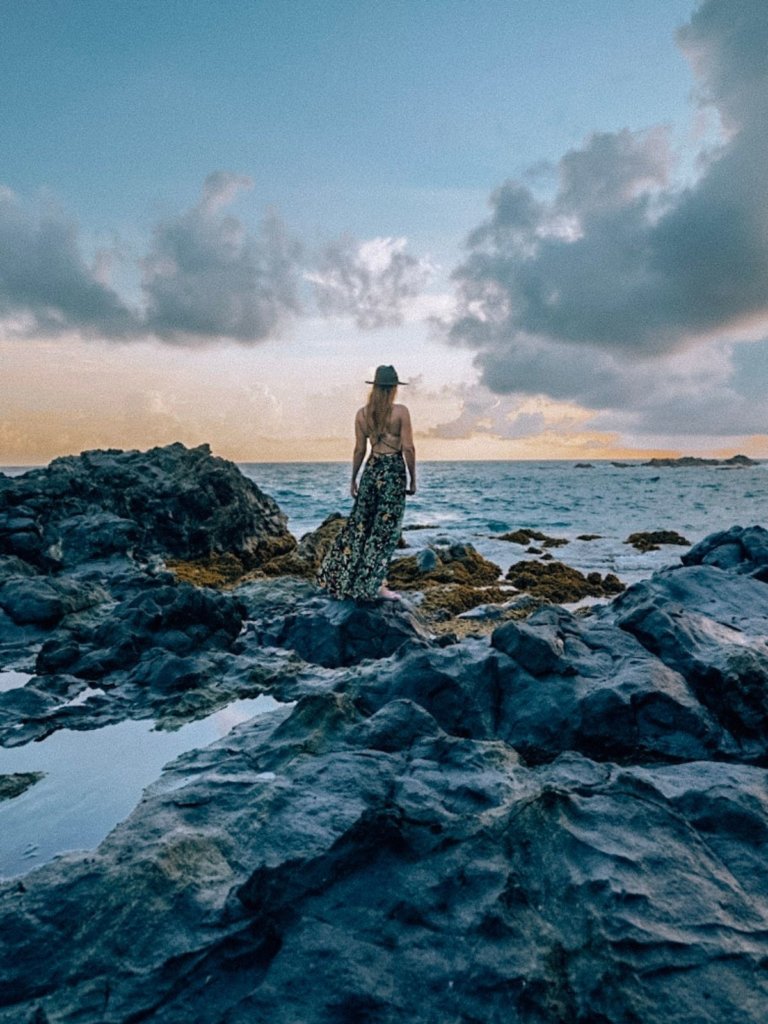 What to see in Aruba
Aruba is well-known for its white sandy beaches and clear turquoise waters. On the western and southern coasts of the island, these beautiful beaches are relatively sheltered from aggressive currents and instead present fairly calm and relaxing coasts.
On the northern and eastern coasts, the rocky shores have rough waters and waves that batter the lava and coral covered shores. As a result, these areas have been left largely untouched and feature a violent but natural beauty I was not fully expecting.
Oranjestad and Noord – the two most popular areas on the island for tourists – are home to famous beaches like Eagle Beach and Palm Beach. While these spots are pretty, they were not the most visually stunning options by any means.
Check out my in-depth list of the most stunning beaches in Aruba if you're looking to get outside of the tourist center. I highly recommend Baby Beach to the south and Malmok Beach to the north, not to mention the rough Dos Playas to the east (not for swimming.)
Also, no trip to Aruba is complete without a visit to the famous Flamingo Beach.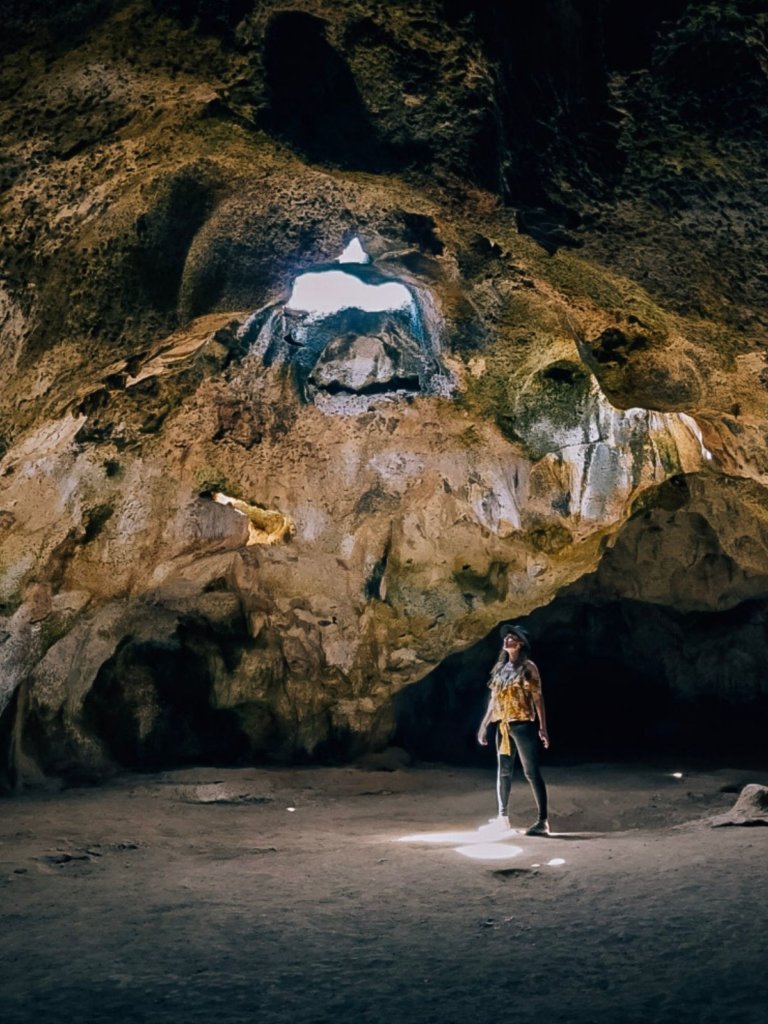 If you are looking to explore more than just the beaches, you might be interested in reading about the most unique things to do in Aruba. Typically, I find myself drawn to more adventurous attractions like the Quadirikiri Cave and hiking the Aruban desert rather than relaxing at beaches all week.
But, this is your vacation and I urge you to do whatever sounds most interesting to you personally!
How to get around Aruba
As I previously mentioned, my plan was to rent a car in Aruba, and I am so glad that I did. The amount of driving and exploring I did in that rental ended up to be much cheaper than either hiring a guide or taking taxis.
That said, if you plan to take only a couple of excursions, maybe taking a taxi now and then or hiring a tour guide would make more sense for you. On the bright side, taxi prices are regulated by the government and you will not need to haggle over pricing or worry about being price-gouged for your trip.
Another option, depending on where you're going, is public transportation via the public bus. The Arubus service offers daily rides all along the hotel strip. Buses run every 15 minutes from 5:45 am through 6pm. After 6pm, buses run every 40 minutes until 11:30 pm. Current routes, schedules and prices can be found here.
One last option would be to rent bicycles and bike around the island. I think this is reasonable n the main tourist areas, but not so reasonable if you need to go very far. Another thing to consider, the Aruba sun is no joke. All bike rides should be planned avoiding midday.
You May Also Like: Solo Female Taxi Safety Tips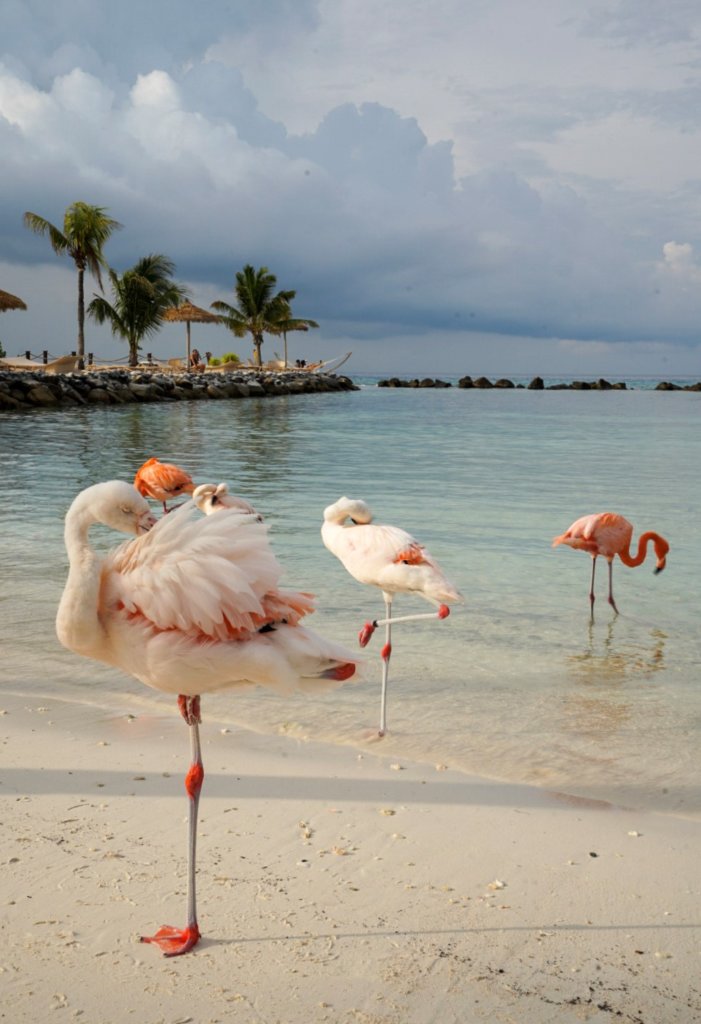 How long should I spend in Aruba?
This question is of course subjective, but I would recommend around 7 days in Aruba.
For those looking for a relaxing beach or resort vacay, one week in a beachfront hotel with a couple of excursions thrown in should be fabulous for you.
For those looking to explore the various sights around the island, I would still say one week is ideal. My trip was just under one week, and if I hadn't needed to return on a set date, I would have done the full week. I feel like I could have used one more day to revisit some key spots or hit anything that I missed or skipped due to bad weather.
What to pack for Aruba
No Aruba travel guide would be complete without discussing what to pack. Aruba is hot and fairly humid, so I suggest packing loose clothing that breathes and allows air flow.
While I do have a complete Aruba packing list available, here are some of the basics.
On beach days I opted for the following:
a swimsuit, of course
a light fabric kimono cover-up
reef-safe sunscreen ("normal" SPF containing Oxybenzone is banned in Aruba.)
sunglasses and a wide-brim hat (this adjustable-size hat is the exact one I brought)
On hiking or exploring days I recommend the following:
I would also recommend bringing a reusable water bottle for Aruba, as the tap water is safe to drink! I highly recommend the Hydro Flask because it is pretty lightweight and will keep your beverage cold for hours!
***
And there you have it! All of the background and basics you need to plan for the perfect Aruba vacation. I hope that this complete Aruba travel guide helps you prepare for a great time on the island.
Have you been to Aruba? What was your favorite part?! Let me know below!
Pin Me for Later!