Looking for unique things to do in Aruba? On the search for the best Aruba attractions? It's no secret – Aruba offers tons of things to do during your vacation. Below are some off the beaten track sites across the island and most unique things to do in Aruba.
Pin Me for Later!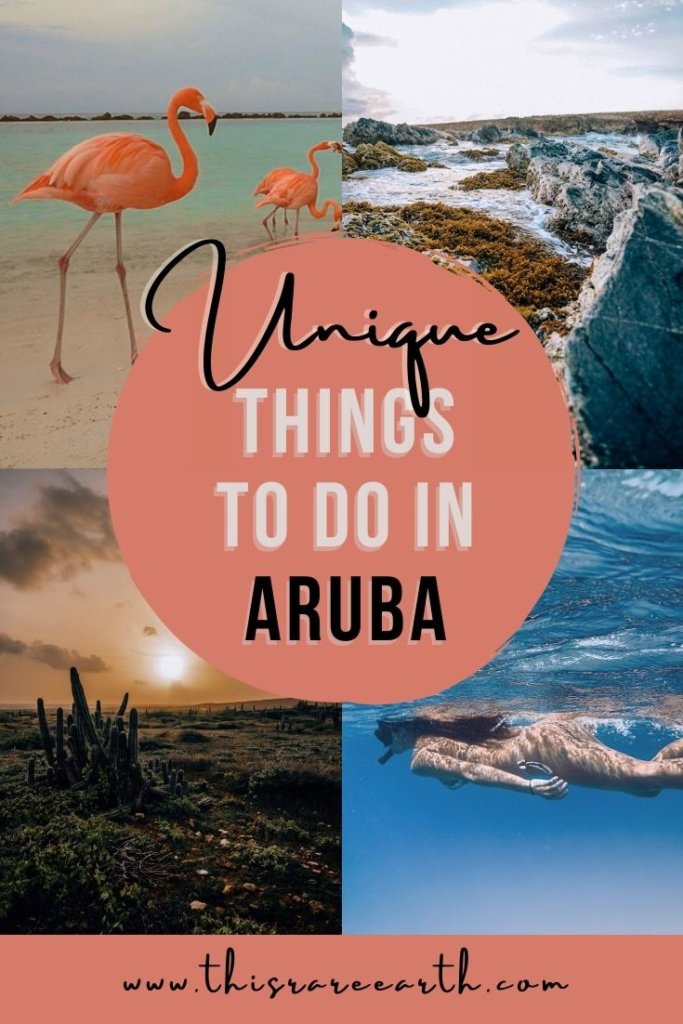 When most travelers picture Aruba, what may come to mind may be long sunny days lounging on beach chairs at a pristine resort beach.
While I can't disagree that that would be a relaxing and peaceful time, I have to admit – I'd get really bored after one day of lounging!
Luckily, Aruba can be what you make it. Aruba offers activities for adventurers, secret-spots for beach-goers, and loads of surprises within it's tiny borders. Here are some of the most unique things to do in Aruba that I discovered on my recent trip!
You May Also Like: A Complete Aruba Travel Guide
Unique Things To Do in Aruba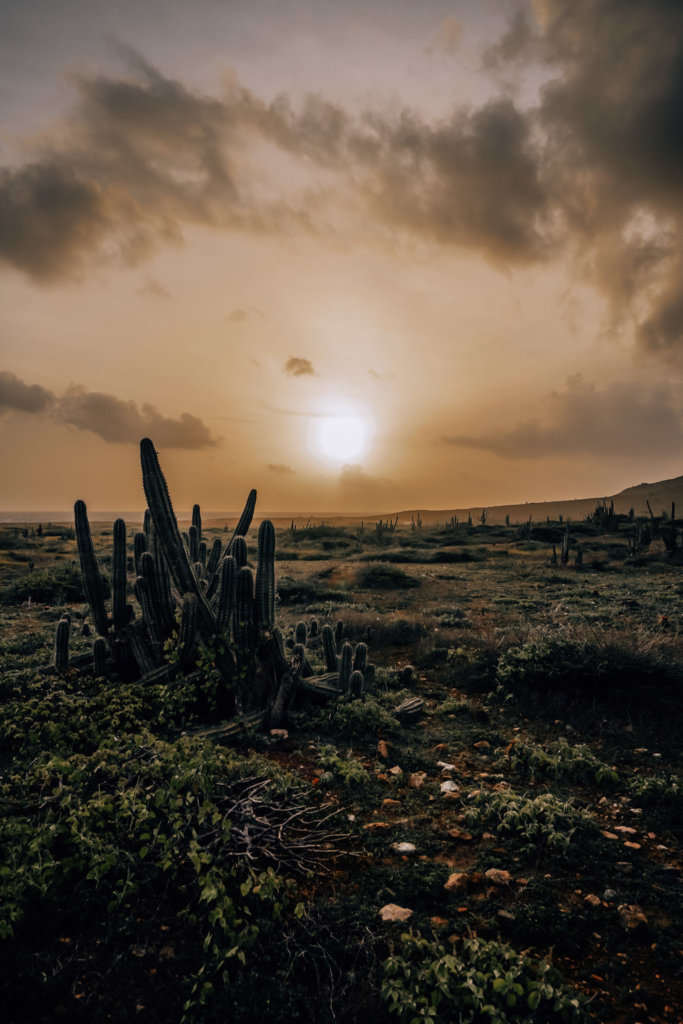 1) Hike Among the Cacti
While Aruba is famed for it's incredible beaches, you might be surprised to learn that the island is also covered in cacti. No area more so than inside of Arikok National Park.
Arikok's protected land covers nearly 20% of the island. Frankly, it's easy to see why – with everything from cactus-studded hikes to powerful and jagged shorelines, this is a sight to see. It's just so far out of left-field from what you would picture on a Caribbean island – and that's exactly why I loved it.
If you have never hiked in the desert before, please take a look at these desert hiking essentials. They will set you up for a safe and enjoyable trek.
2) Discover Dark and Mysterious Caves
Aruba is home to three dark and mysterious caves just waiting to be discovered; the Huliba Cave, the Fontein Cave, and the Quadirikiri Cave.
Huliba Cave is often referred to as the "Tunnel of Love" due to it's heart-shaped entrance. Fontein Cave is the best choice if you want to see original cave drawings created by Arawak Indians 2000-3500 years years ago. And, Quadirikiri Cave is best-known for it's bright natural skylights shining down into the darkness of the tunnel.
These caves are some of the most unexpected and unique things to do in Aruba.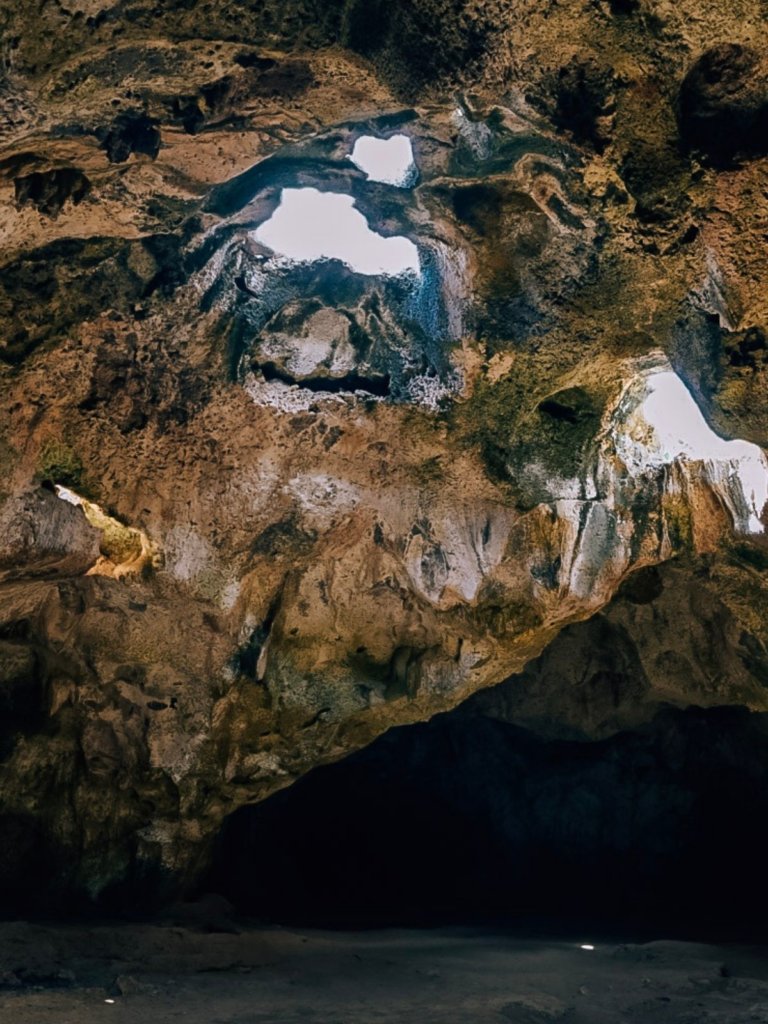 3) Hang Out with Flamingos on the Beach
While this activity may not exactly be unknown, it is certainly something that cannot be experienced on any old beach in the Caribbean!
Flamingo Beach is located on the private Renaissance Island. As of my visit, 12 flamingos called Flamingo Beach "home".As an artist, the palette of bright pinks and cool turquoise are beautiful. As an animal lover, the chance to observe and even interact with the gorgeous birds was unforgettable.
It is necessary to plan your trip in advance as passes to the island sell out quickly. If this is on your Aruba bucket-list, definitely read my post on visiting Flamingo Beach so that you don't miss out!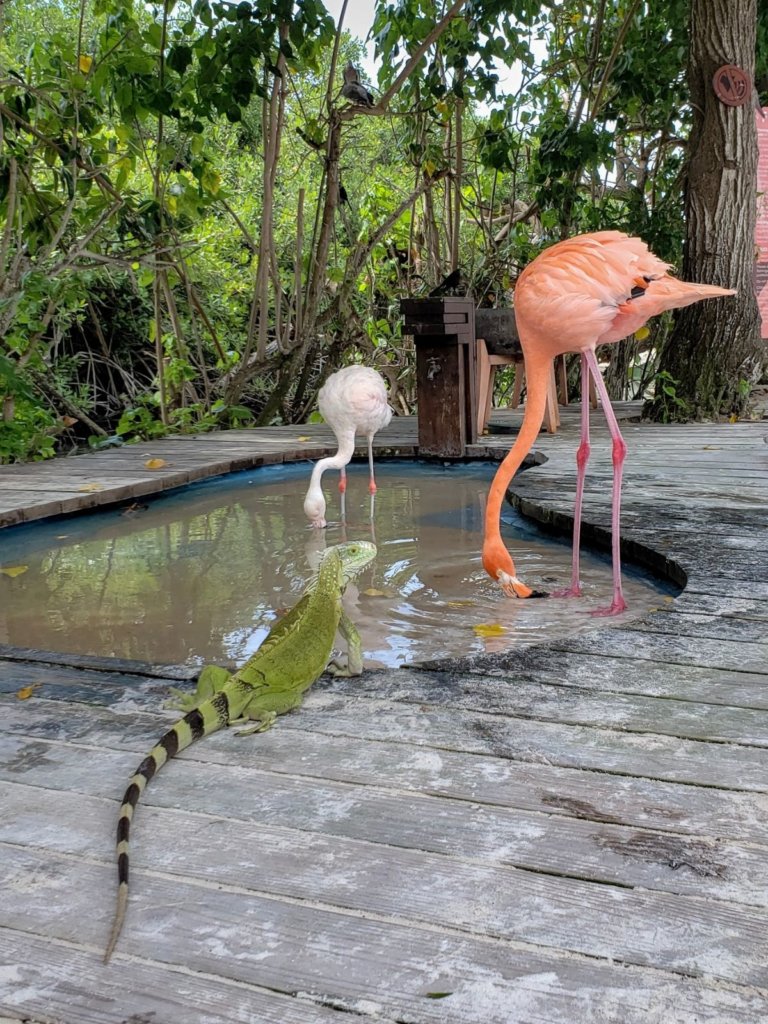 4) Go Beach-Hopping Around the Island
Aruba is so small that it is actually possible to visit several beaches all in the same day. At 20 miles long and 6 miles wide, a beach is never far from wherever you are!
Some of the best beaches in Aruba are located well off the tourist track. From calm spots like Baby Beach to snorkeling spots like Mangel Halto to aggressively beautiful spots like Dos Playas, I swear they all have their own personality.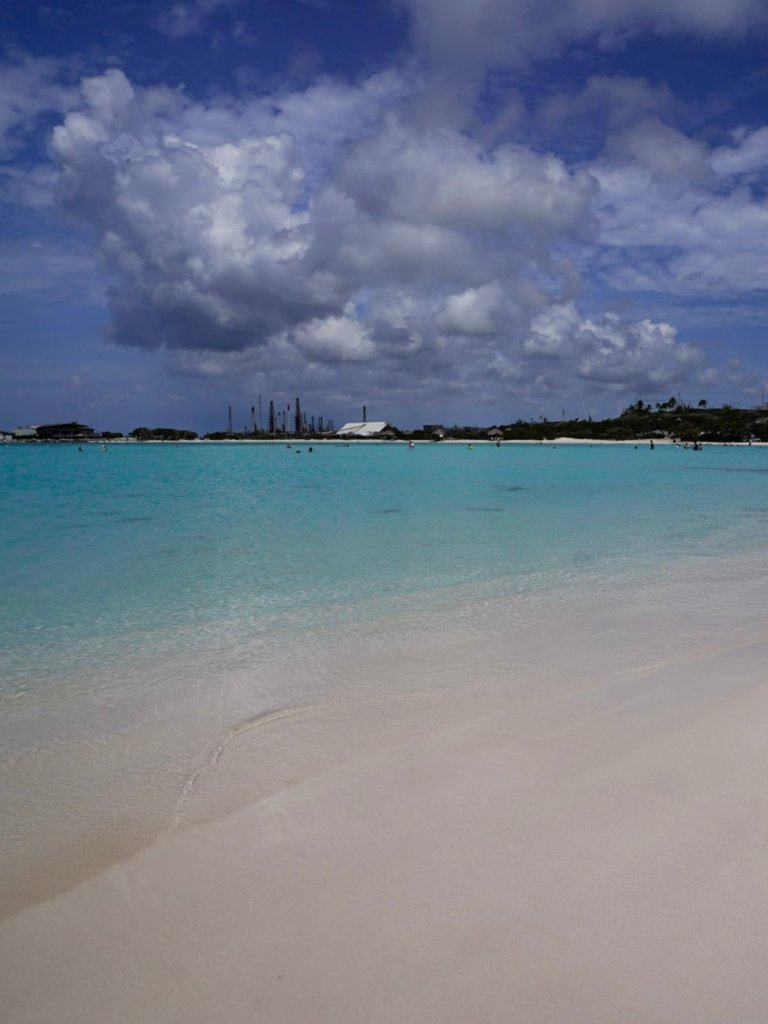 5) Explore Some Ruins
Bushiribana Gold Mill was a thriving enterprise in the 1900's. Oddly enough, it was built as an oceanfront structure, and can be accessed by foot on a violently-windy seaside cliff. It is one of several gold-related sites on the island.
Miralamar in Arikok houses the ruins of a gold mine, and is accessible via a short hike on the Miralamar Trail near the Visitor's Center.
The third site is located near the Spanish Lagoon and is called the Balashi Gold Mill. The views are picturesque here and at the other two sites. It's almost hard to picture the bustling days of gold-prospecting in a place like Aruba!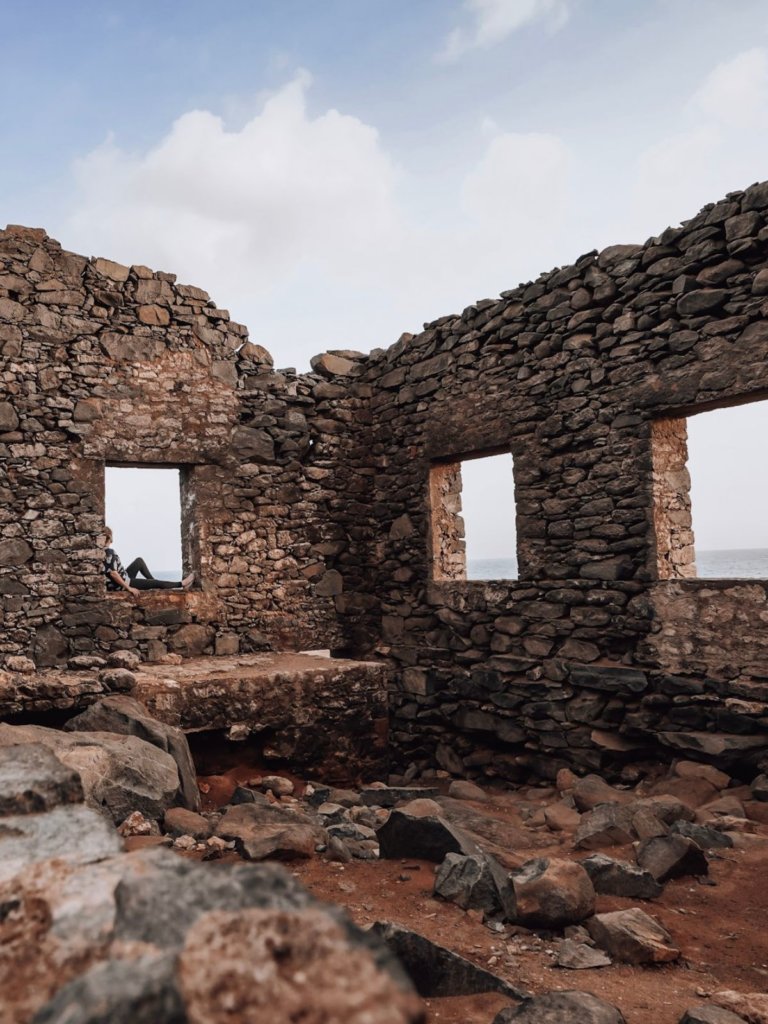 You May Also Like: The Ultimate Aruba Packing List for Women
6) Snorkel to a Shipwreck
The Antilla Shipwreck is located off the western coast of Aruba, roughly three miles out from Malmok Beach. It sits just 66 feet underwater, making it easily accessible for snorkelers.
It is necessary to take a boat or a tour to reach the wreck – the choppy waters would challenge even the strongest of swimmers.
The Antilla was launched in 1939 and operated for less than a year before the crew set it on fire to avoid capture by the Dutch. Today the wreck houses the colorful sea life of the Caribbean, such as lobsters, sea turtles, and manta rays.
7) Walk Around Colorful San Nicolas
San Nicolaas is Aruba's second largest city, just southeast of Oranjestad. and is Aruba's. Most of it's more than 15,000 residents originate from the British Caribbean or the Caribbean in general.
The promenade of Zeppenfeldstraat features colorful art murals, local shops, and restaurants and bars. If you're looking for authentic Caribbean flair, San Nicolas is the place for you.
8) ATV To Lesser Visited Sites
Much of the wild and rugged terrain of Aruba cannot be visited in any old rental car. Trust me, I tried.
To get to the most tucked-away corners, visitors will need to hire an ATV or UTV vehicle or tour. It is really worth it to get to those hard-to-find locations deep within Arikok or the eastern shores.
9) Capture Sunrise and Sunset on the Same Day
Even if you are a heavy sleeper, I would urge you to drag yourself out of bed for at least one Aruban sunrise. One of the most unique things to do in Aruba hands down is to explore the rugged eastern coast and find secluded spots for sunrise – and then, for sunset, station yourself on the western side of the island.
Again, since it is roughly 6 miles wide, the island is easy to cross at any time of day.
On the east you will see fiery orange skies brightening over the sheer cliffs and rough seas. On the west you will see calm and serene cotton candy skies dipping down below the calm shores. It's incredible that each side has such a vastly different feel.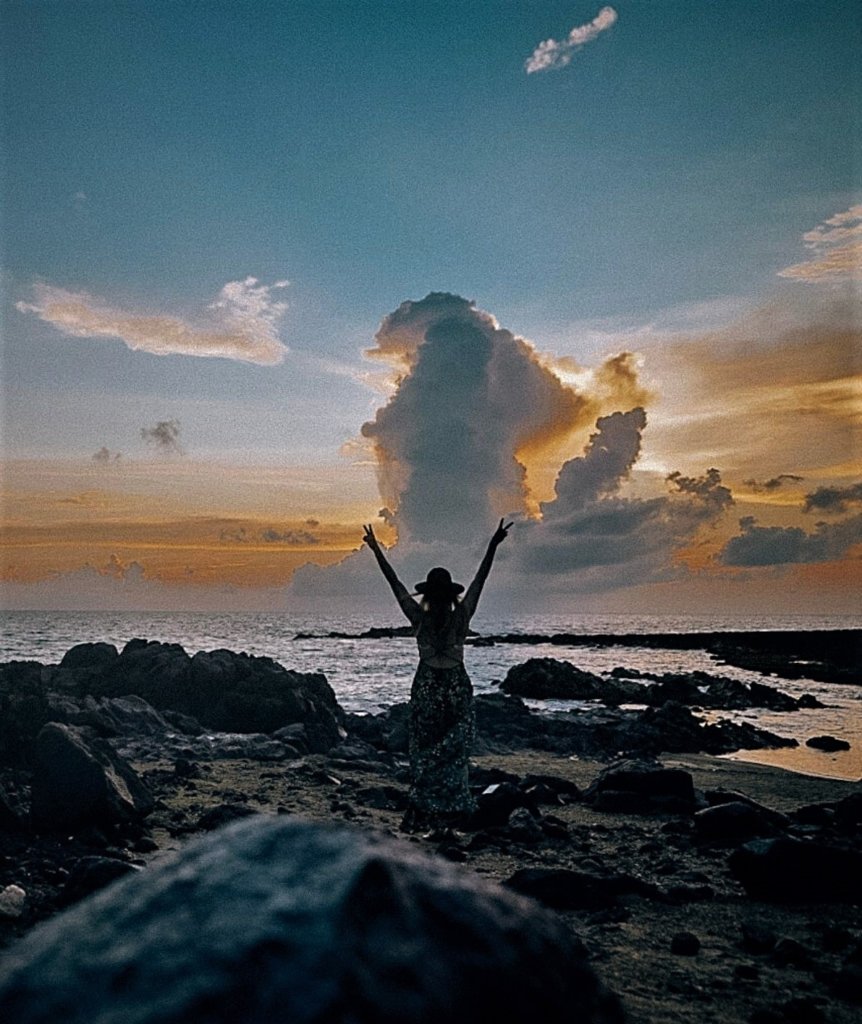 10) Plunge Into the Depths in a Submarine
Yep, you read that right. Atlantis Submarines in Aruba offers daily excursions into the depths of the ocean to 130 feet. If you are unable to snorkel or scuba-dive, this is a great way to see Aruba's underwater world without stress.
You will see colorful fish, abundant coral, and the crystal-clear waters of the Caribbean.
***
So which one of these unique Aruba attractions will you visit first? Let me know in the comments below!
Pin Me for Later!