Arikok National Park is a must-see when visiting Aruba. This sprawl of desert terrain covers nearly 20% of the island – which should tell you just how special it is! If you're wondering how to visit Arikok National Park, here is everything you need to know.
Pin Me for Later!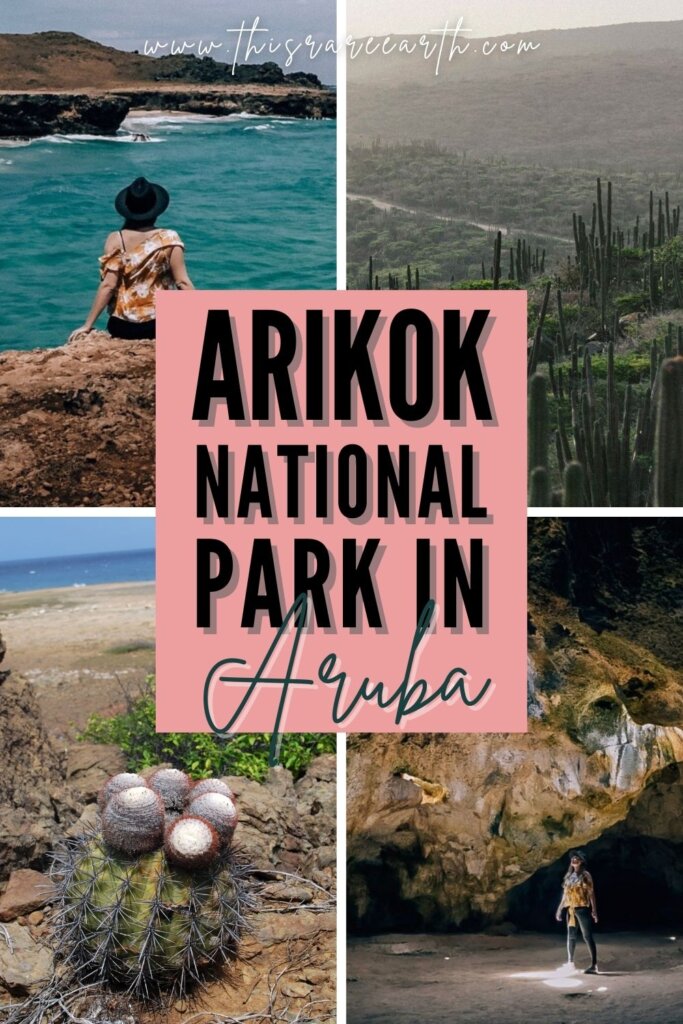 I went to Aruba, and it wasn't for the beaches.
No lie, I specifically booked my trip to Aruba to visit the Caribbean desert. That may be a first for the island, but it's true nonetheless.
If you've been around here for a while, you already know that the desert holds the key to my heart. Whether I'm camping, hiking, or just driving in the desert, this is one of the most fascinating environments on earth.
It might surprise you to learn that Aruba has a national park covering about 20% of the entire island – and that this park is blanketed in cacti. If you are headed to the island, this is one of those can't-miss unique Aruba experiences. And, I'm here to help you prepare for it.
You May Also Like: Desert Wear and Hiking Essentials
Everything You Need to Know About Arikok National Park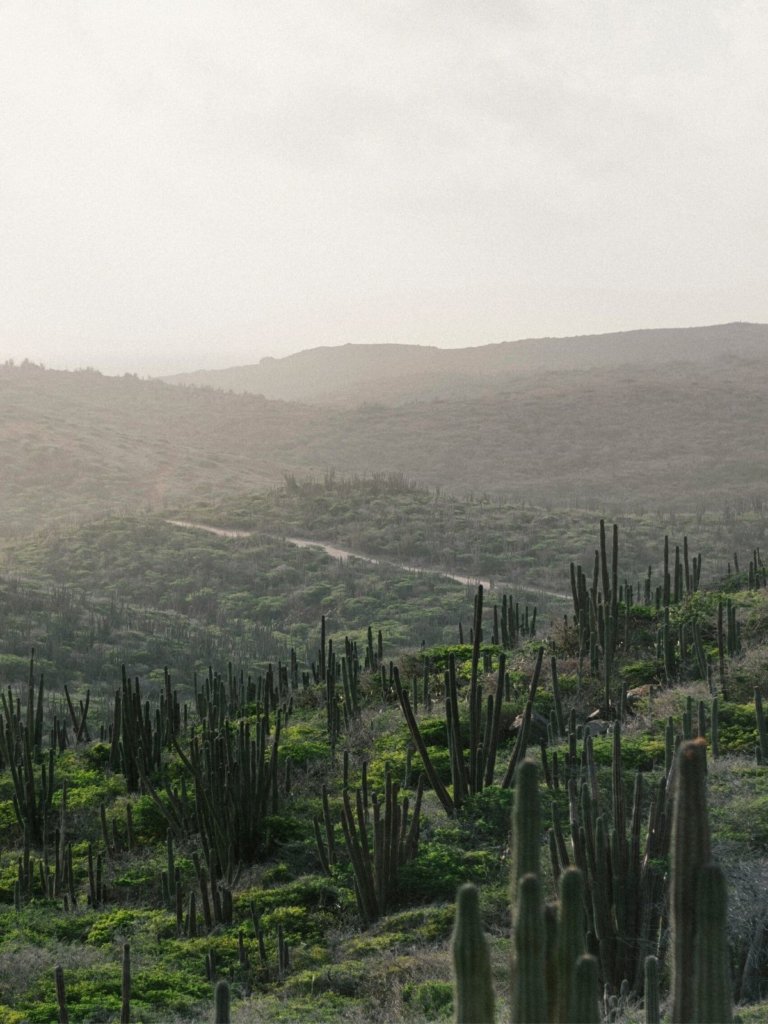 About Arikok National Park
This cactus-studded desert preserve contains rocky outcrops, crystalline seas, secret pools, and sweeping views. It's easy to see why this area of land is protected by the Aruban government. The park was established as recently as 2000.
The entire park covers an area of just over 13 square miles. However, this is roughly 20% of the island's land mass, as Aruba's total footprint spans only 20 miles long and 6 miles wide.
This park is home to flora and fauna that are indigenous to Aruba, such as the Aruban parakeet, Aruban rattlesnake, Aruban whiptail lizard, and the Aruban burrowing owl. Goats, donkeys, and lizards also call Arikok home.
Arikok National Park has everything from hiking trails, indigenous art, lave beds and mysterious caves (more on all of those below). It is a must-see when in Aruba.
You May Also Enjoy: A Complete Aruba Travel Guide
How much does it cost to visit Arikok National Park?
Admission into Arikok National Park costs $11 USD. Tickets can be purchased in the Visitor's Center at the San Fuego entrance, where you can also get a free park map and wristband.
The entrance fee that you pay directly funds preservation of the park and educational programs.
Where is Arikok National Park in Aruba?
Arikok National Park sits slightly southeast of the center of Aruba. It is close to Fontein and runs all the way to the rocky eastern shore.
The park is open daily from 8 a.m. to 4 p.m.
How do I explore Arikok?
Most of the park is accessible with any type of car. However, if you are planning on renting a car in Aruba (I always get the best prices here), it's not a bad idea to opt for a 4WD.
Some of the roads in Arikok are simple dirt roads, and actually these are not so bad, barring a recent rainstorm.
However, the main paved road has MANY deep deep pathways carved into them for water runoff. These are the deepest grooves I've ever intentionally driven across. If you have a compact car you will be scraping the bottom of the vehicle with almost every one you pass over.
Some areas that are restricted to 4 wheel drive vehicles, such as the natural pool or eastern beaches. You can also explore the hiking trails and lookout points by foot, though you will need a car of some sort to get around.
Things To See in Arikok National Park
This small park packs a punch! Here are some of the highlights.
1) Miralamar
Just moments uphill from the Visitor's Center, the Miralamar trail leads hikers uphill through vegetation and cacti. The ruins of the old Miralamar Gold Mine Complex, abandoned in 1916, sit at the top of the hill, where viewers will see a panoramic view of wild and rugged desert land.
You May Also Like: The Ultimate Aruba Packing List for Women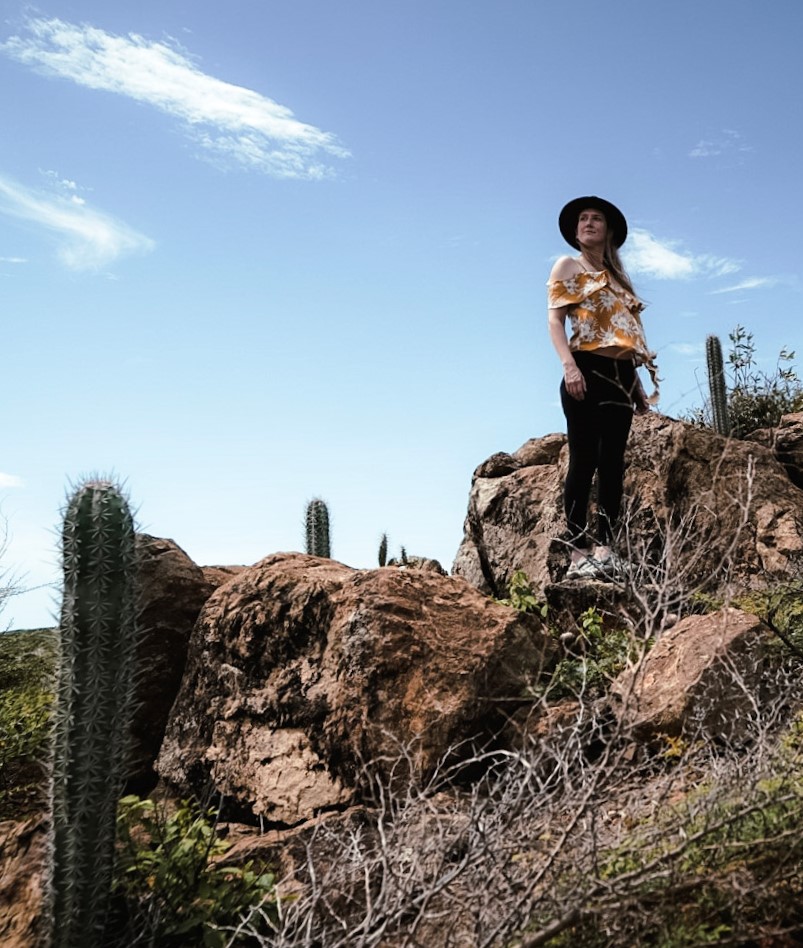 2) Hofi Shon Shoko
This fenced garden-like patch of land is accessible from outside of the park, across the street from the Visitor's Center. Hofi Shon Shoko is an excellent introduction to some of the plant life you can expect to see inside the park boundaries.
3) Quadirikiri Cave
The Quadirikiri Cave is a limestone formation with two caverns and natural skylights in the ceiling.
Stalactites and stalagmites surround you as you explore, and the flap of fruit bat wings is quite common. Flashlights are not allowed inside the cave so as not to disturb the bats.
Don't skip the cave! It's a short stop but a fascinating and mysterious environment.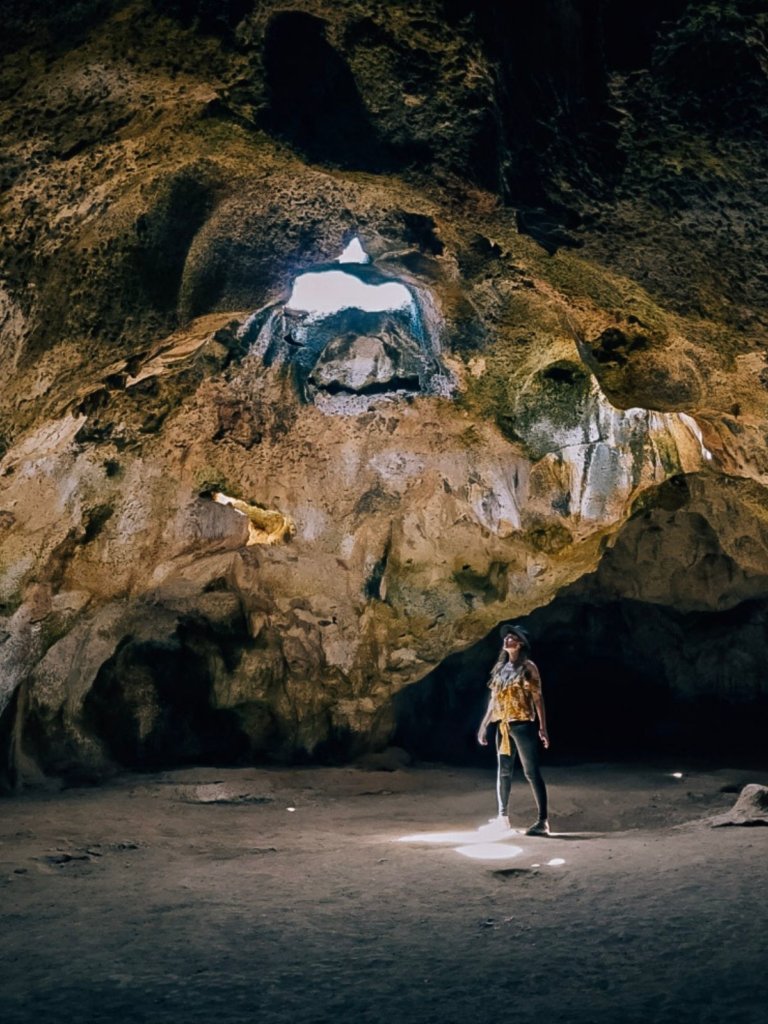 4) Moro Beach
Moro is often referred to as "Little Aruba" because of a large rock at the edge of the water that is shaped like the island of Aruba. The stunning blue waters here feed into two bays on either side of the rock; Boca Keto and Boca Fluit.
5) Conchi (The Natural Pool)
This is one of the most popular places to visit in Aruba, and with good reason. Jagged limestone formations create an enclosed natural pool jut next to the open ocean. Conchi reaches depths of 15 feet in the middle.
This attraction can only be reached by 4WD. Swimming will be discouraged if the seas are rough.
You May Also Like: Visiting Flamingo Beach, Aruba on Renaissance Island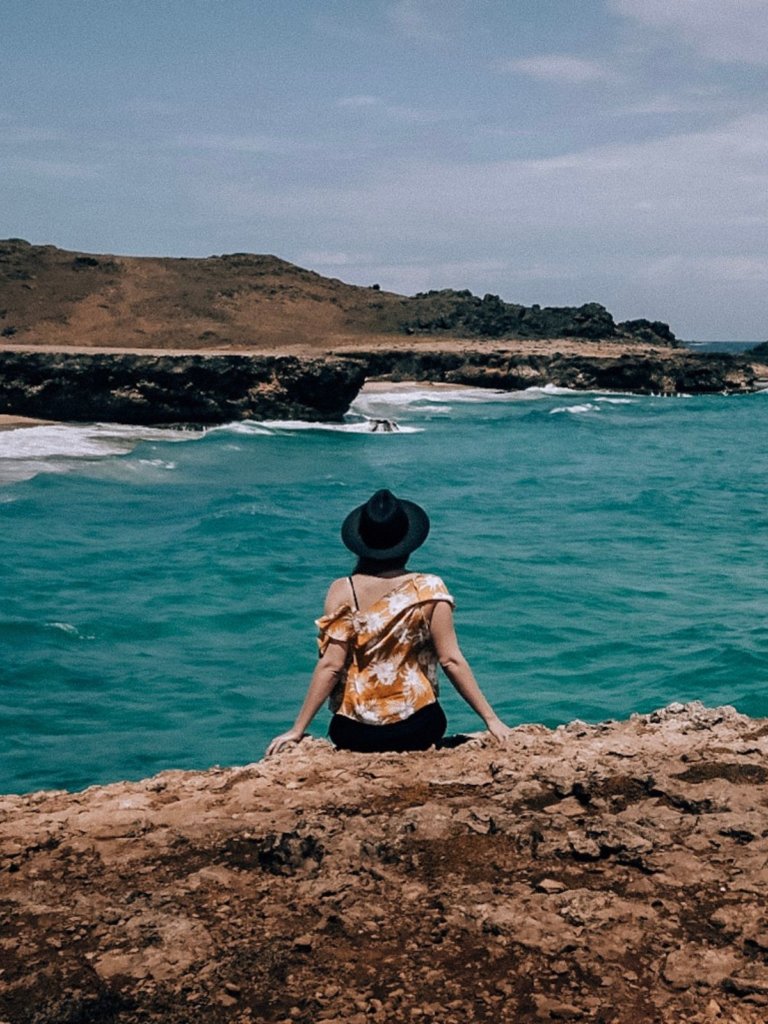 6) Dos Playas
Dos Playas or "Two Beaches" is one of the most stunning viewpoints out to the Caribbean Sea from inside Arikok. A popular body boarding and surfing spot with locals, this is also where the Leatherback Turtles in Aruba come to lay their eggs.
A sheer rock cliff separates two beaches . Parking is on the top of the cliff and their is a staircase down to the sand. I was traveling Aruba solo, and I thought this was a wonderful place to stop and spend some time reflecting.
***
Arikok National Park is a worthy spot to spend at least one full day exploring, especially if you take some time to swim in Conchi. Consider hiking some trails, exploring the caves, and visiting Dos Playas.
I found my time at Arikok National Park to be one of the highlights of my entire trip. In fact, I returned back here multiple times during my trip.
No matter how long you spend here, this is one spot that you can not miss on your next trip to Aruba! Have a great time and definitely add this desert park to your itinerary.
Let me know how it goes below!
Pin Me for Later!