The beaches in Aruba are some of the best on the planet. Sparkling blue and unbelievably clear, you almost can't go wrong! But the beaches all have their own personality, pros, and cons. Whether you're looking for the best snorkeling beaches in Aruba or the best beaches to visit with kids, here are best beaches in Aruba to visit!
Pin Me for Later!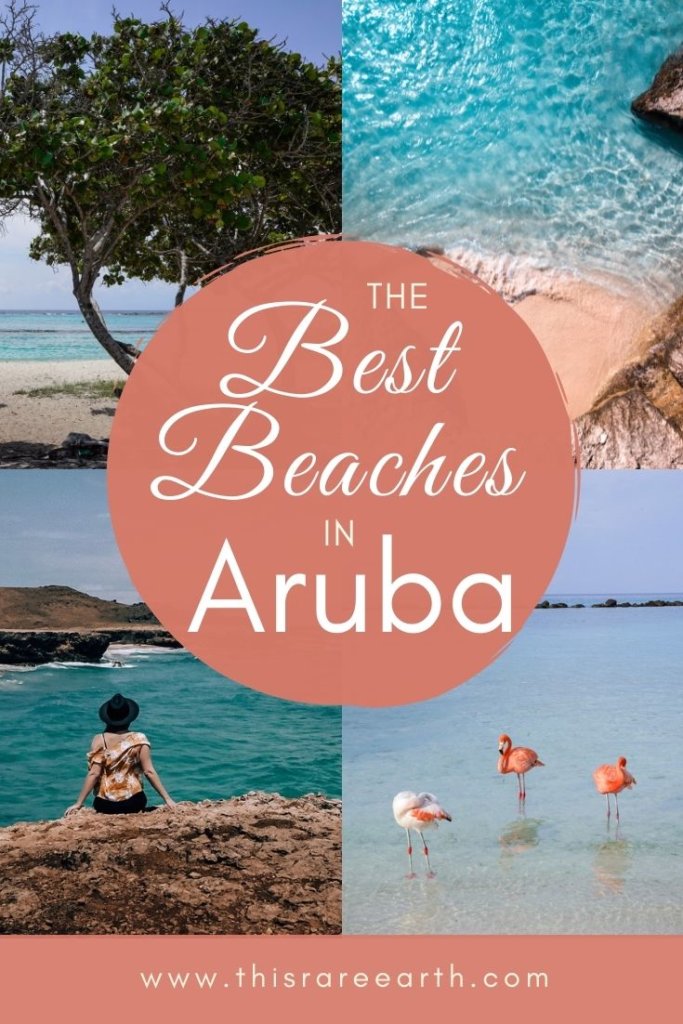 I had forgotten about this shade of blue.
The Caribbean has a very specific color palette – different from that of the Pacific, like you'll find in the Cook Islands or Fiji. It's a very specific blue that seems to only exist in the Atlantic; in these Caribbean waters nestled between the USA and South America.
I had forgotten this Caribbean blue. While I'll never stop loving those deserts that I call home, I'm instantly sure that I needed this trip to Aruba. My eyes needed to see a new landscape. To trace the outline of new rock formations. To remember the color palette of this region of the world.
I chose to visit Aruba because it seemed to be the perfect blend of Caribbean desert in Arikok National Park and an ocean playground across the vastly different beaches. I could hike, lounge, and explore to my heart's content.
And because visiting the beaches are at the top of most peoples' must-do activities in Aruba, I thought I'd try and explore as many as possible. So here we go – let's take a look at the best beaches in Aruba that you should consider visiting!
You Might Be Interested In: A Complete Aruba Travel Guide
The Best Beaches in Aruba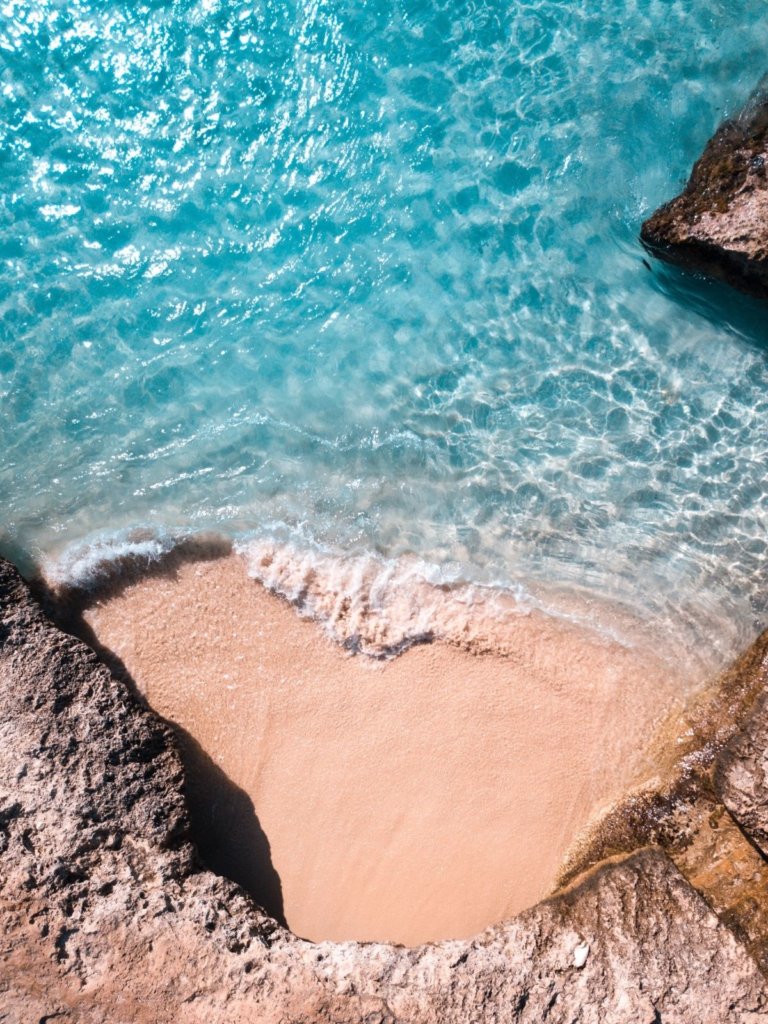 First things first – I did rent a car in Aruba so that I would have unfettered access to the entire island. If at all possible, I highly recommend going this route so that you are not stuck by default to the beaches closest to the tourist zone. There is oh-so-much to see beyond that!
And while both Palm Beach and Eagle Beach are nice, those are the two main beaches where the tourists will flock, due to their proximity to Oranjestad. So, let's talk about where else you could (and should) explore.
Baby Beach
Location: san nicolas
Baby Beach is located at the southernmost point of Aruba. This beach is a popular spot for locals and I found it to be a great place to get away from crowds. Because it is a bit of a trek to get ehre from Oranjestad or Noord, less people are likely to do so. But in my opinion, it's definitely worth it!
Long stretches of smooth flat sand lead to a rounded blue cove. The water is calm enough for swimmers of all abilities, and though I previously read reviews of trash littered here, I found it to be pristine and clean.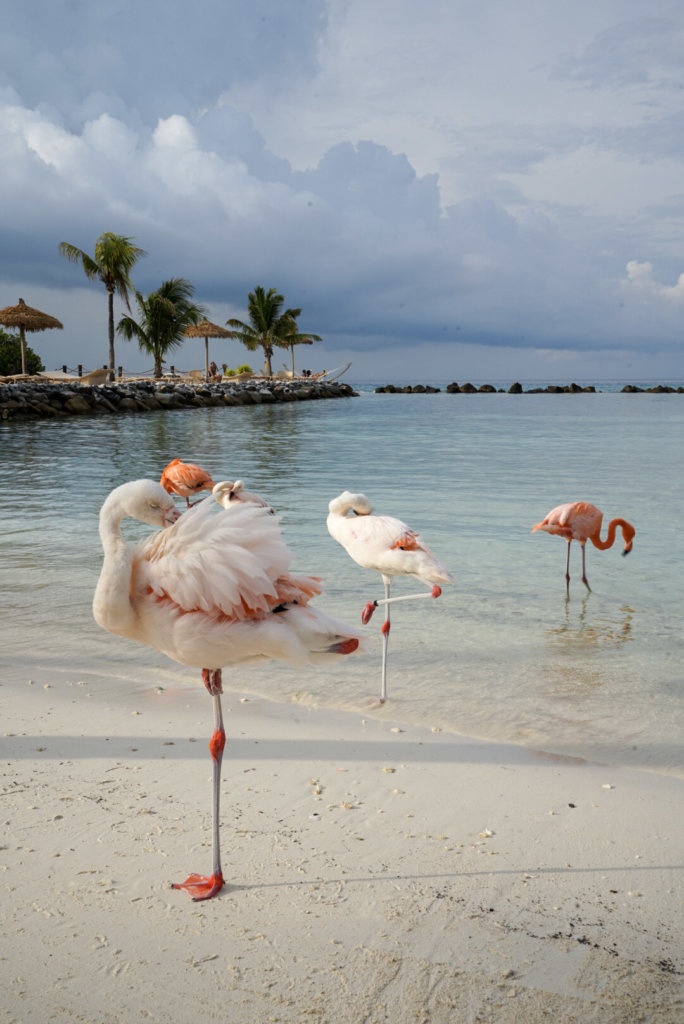 Flamingo Beach
Location: RENAISSANCE Island
No "Best Beaches in Aruba" list would be complete without a mention of the famous Flamingo Beach on Renaissance Island. Since I have written a VERY in depth guide on Visiting Flamingo Beach, here I will just list the basics.
Flamingo Beach is one of Aruba's few private beaches, and is located on a small island 15 minutes off of the Aruban Coast. The draw is of course the unique experience of having a beach day with pink flamingos – not an experience you can get just anywhere!
Iguana Beach
LOCATION: RENAISSANCE ISLAND
Just opposite from Flamingo Beach is another beach worth mentioning; Iguana Beach. This is the place to go if you want to take part in beach activities. Kayaks, SUP's and rafts are all available for rent here, and the sand beach has a lot more space for chairs (not to mention shade). You can learn more about reaching this beach on the post linked above.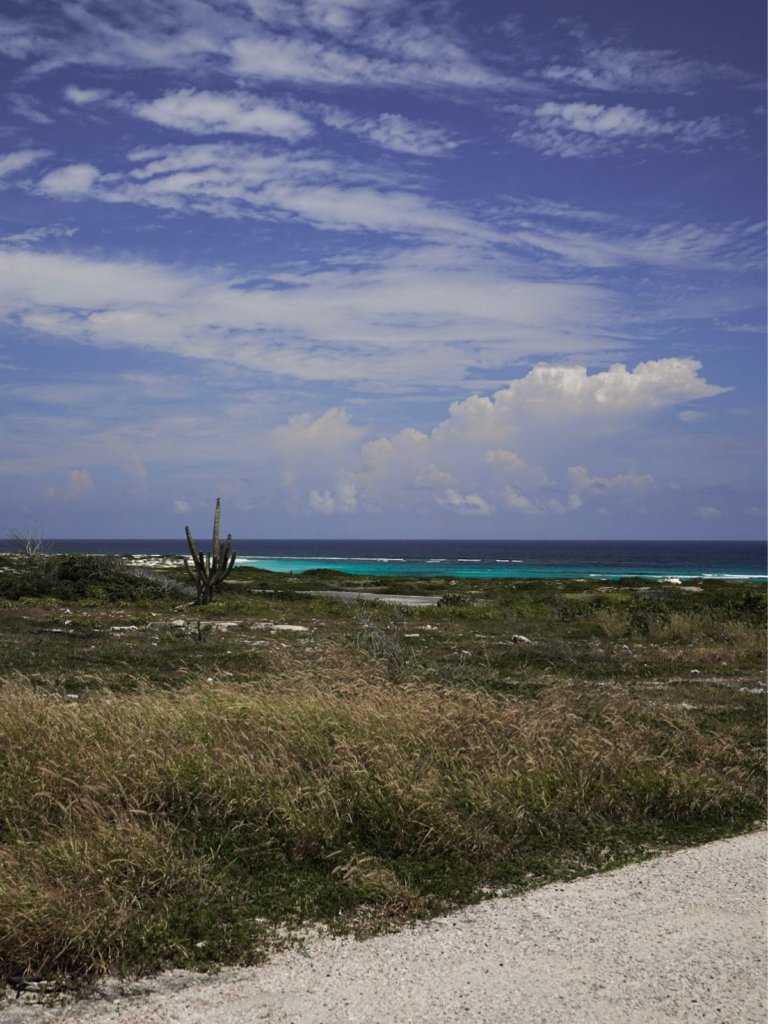 Bachelor Beach
LOCATION: san nicolas
Bachelor's Beach is found on the southeast end of the island, and I found this beach to be really unique. It had a much more "rugged" feel, having just come from Baby Beach beforehand.
Constant winds make these waters a great place for windsurfing, while the waves are more calm than several of the surrounding beaches. You'll know your close when you see a bright red anchor landmark; turn left and Bachelor Beach is just ahead.
Surfside Beach
LOCATION: Oranjestad
Surfside Beach is only a few minutes away from downtown Oranjestad, and is a great beach if you like the idea of amenities being close by. A beach bar and restaurant are just a two minute walk from the water itself, and the water is calm and shallow.
Bonus, this beach also is nearby the famous Aruba sign that nobody can resist taking a photograph of.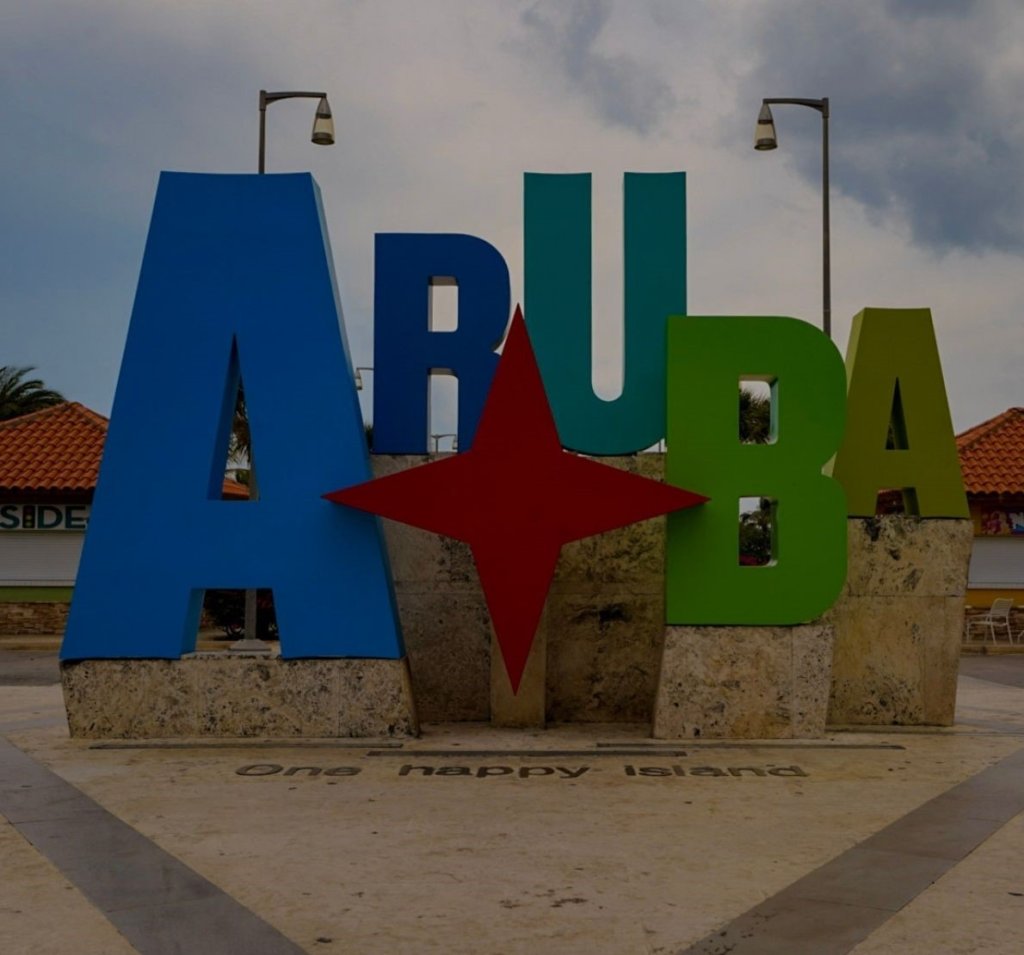 Malmok Beach
LOCATION: Noord
Malmok Beach is located on the northwestern shore of Aruba, near Tres Trapi. This narrow strip of rocky beach offers shallow and crystal clear water. There is also a boardwalk area along the beach where lots of running, yog, and sunset-watching take place. I found this beach to offer a perfect blend of active lifestyle and calm tranquil sunsets.
Dos Playas
Location: Arikok National Park
Dos Playas offers visitors two for the price of one! Split by a large rock formation, this beach consists of two golden sandy coves tucked between tall limestone walls. This beach is within the borders of Arikok National Park, so be aware that it does require an entrance fee of $11 USD. However, I can tell you it is an $11 well spent!
This is a popular spot for experienced body-boarders but is definitely not recommended for the average swimmer. Dos Playas showcases a wild and unspoiled coast that is likely to leave you breathless.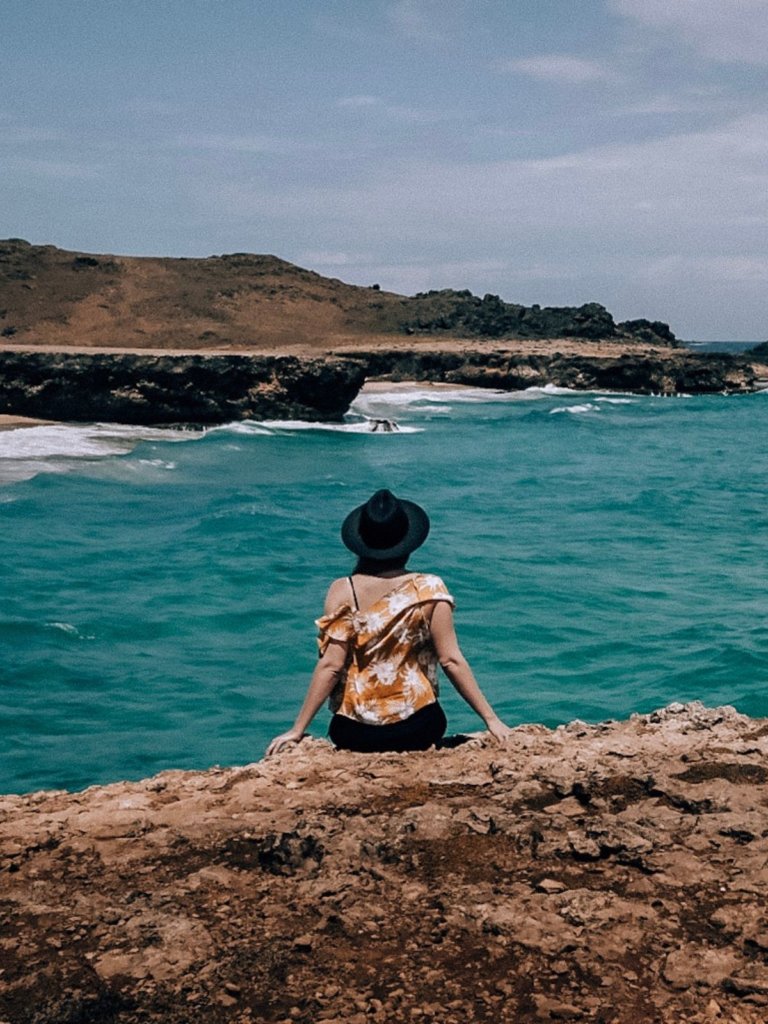 Blackstone Beach
Location: North Coast
Blackstone Beach is located on the east side of the island, near Arikok National Park's northern border. This is another spot not considered safe to swim due to rough waters, but it is worth a visit nonetheless. Literal black stones make up this beach rather than sand.
Additionally, several smaller arches live here and after Aruba's Natural Bridge collapsed, this is a great alternative. Between the stones and the arches, it's a great scenic spot!
Best Snorkeling Beaches in Aruba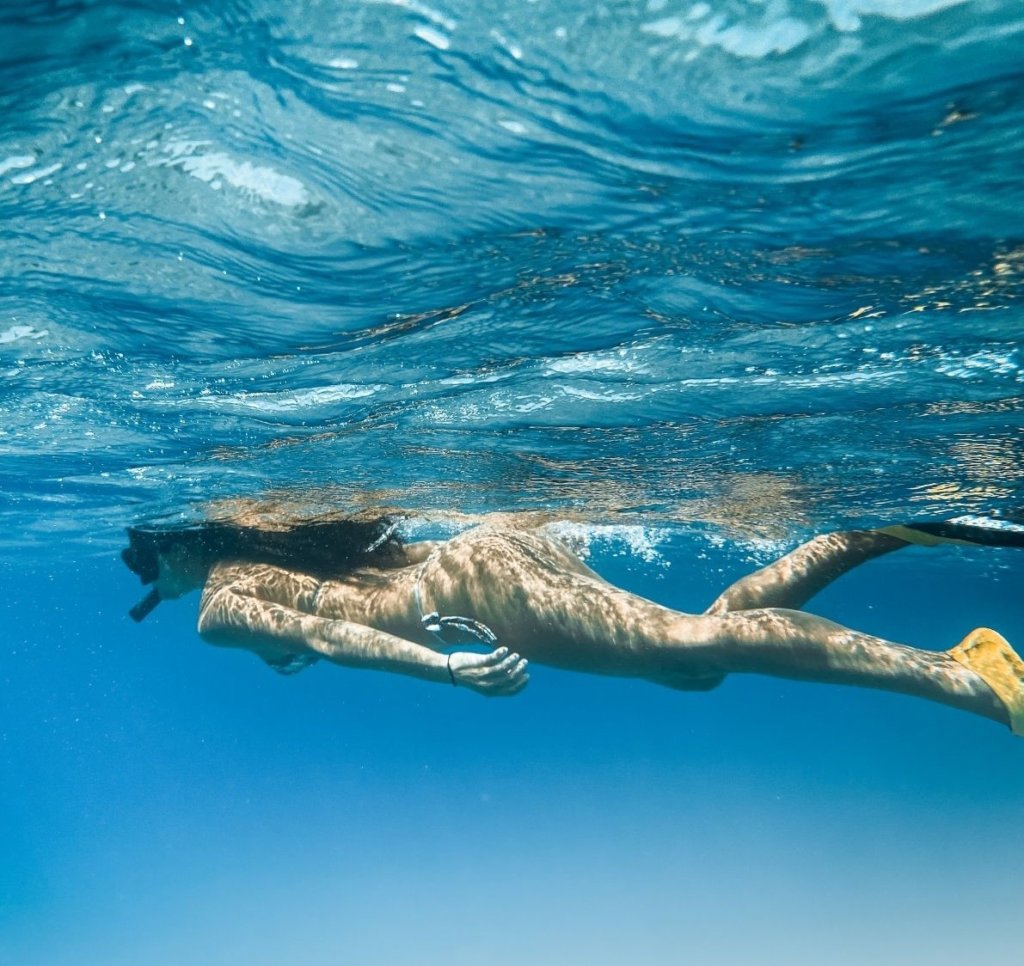 Arashi
Location: Noord
Arashi Beach is located on the northern coast of Aruba, and it is a great option for snorkeling newbies due to its shallow water. Additionally, the sandy floor is soft and smooth, and void of any rough and sharp coral. Small but colorful fish are plentiful.
Snorkelers should bring their own gear – I did not see any available rentals nearby. Grab your gear and get here early; this can be a popular spot, especially on weekends! Arashi Beach is accessible by public transportation, as well.
Hands down one of the best snorkeling beaches in Aruba!
Malmok Beach
LOCATION: Noord
Above, I mentioned that Malmok is a great place for beach activities like yoga or running. Well, it's also an excellent spot for snorkeling.
This narrow pocket of sand is nestled in between the jagged limestone rocks along Malmok's coastline. Catamarans and sailboats frequently anchor here on snorkeling tours, so you know it's an excellent DIY option as well! This is where the famous Antilla shipwreck is located, so you'll likely be sharing the water with other snorkelers and divers.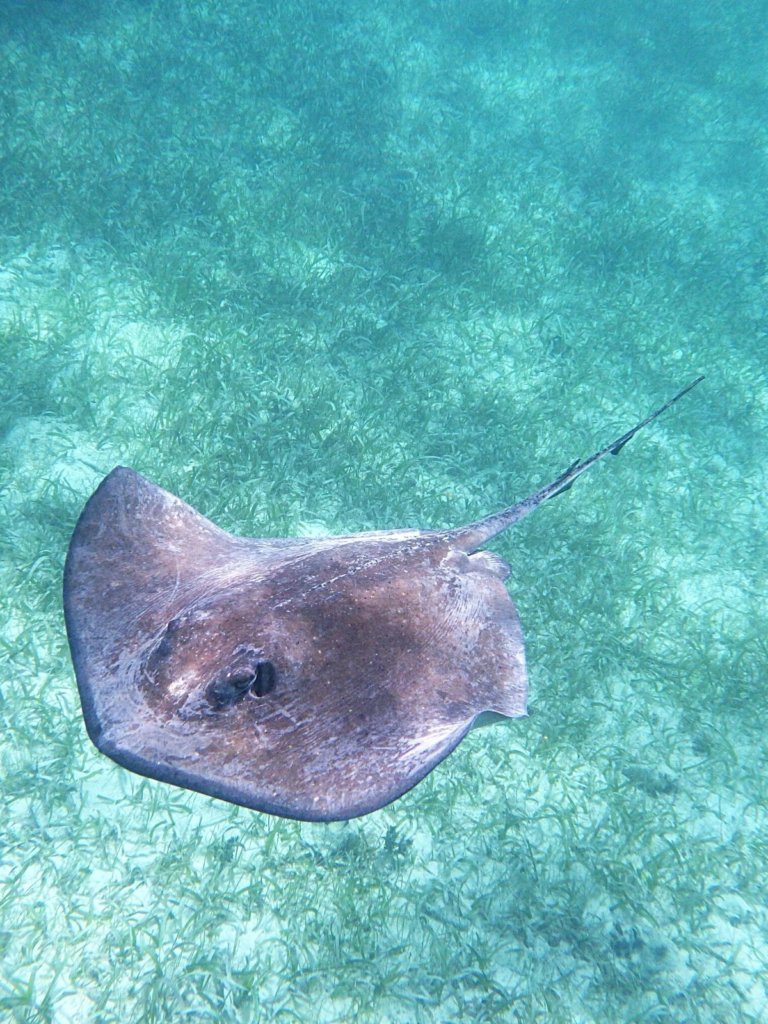 Tres Trapi
LOCATION: NOORD
I visited Tres Trapi toward the end of my trip, and boy am I glad I did.
Visitors can descend into the water via a staircase carved in the rocks, making it a unique beach experience altogether. This is a great spot to see starfish, with the occasional colorful fish peppered in.
Mangel Halto
Location: Pos Chiquito
Mangel Halto is probably the best snorkeling beach in Aruba as far as a colorful underwater treat. Parrotfish, squid, and stingrays can all be found here, to name a few. The reef plunges down to barracuda territory if you can dive that deep.
But, be careful of the strong currents found here. The seas can get rough! And, the floor is covered with rocks that become more and more sparse the farther you get out. Mangel Halto is located near Baby Beach and Savaneta, the former capital of Aruba.
Best Beaches for Kids in Aruba
While I don't personally have kids, I thought that this might be helpful for all of the families out there.
Many of Aruba's beaches, particularly those on the eastern coast, are quite rocky and volatile. Definitely not the kind of place you want to take small children!
So I've picked my top three recommendations on where I saw families with kids having a safe and enjoyable time at the beach.
Iguana Beach
location: Renaissance Island
Since children are only allowed on Flamingo Beach from 9-10am (check out this post for more information on that), this is where families and kids should go! While you may feel like it's a defaut choice, there are actually several pros to Iguana Beach over Flamingo Beach. One being, lots more shade and the availability of water sports.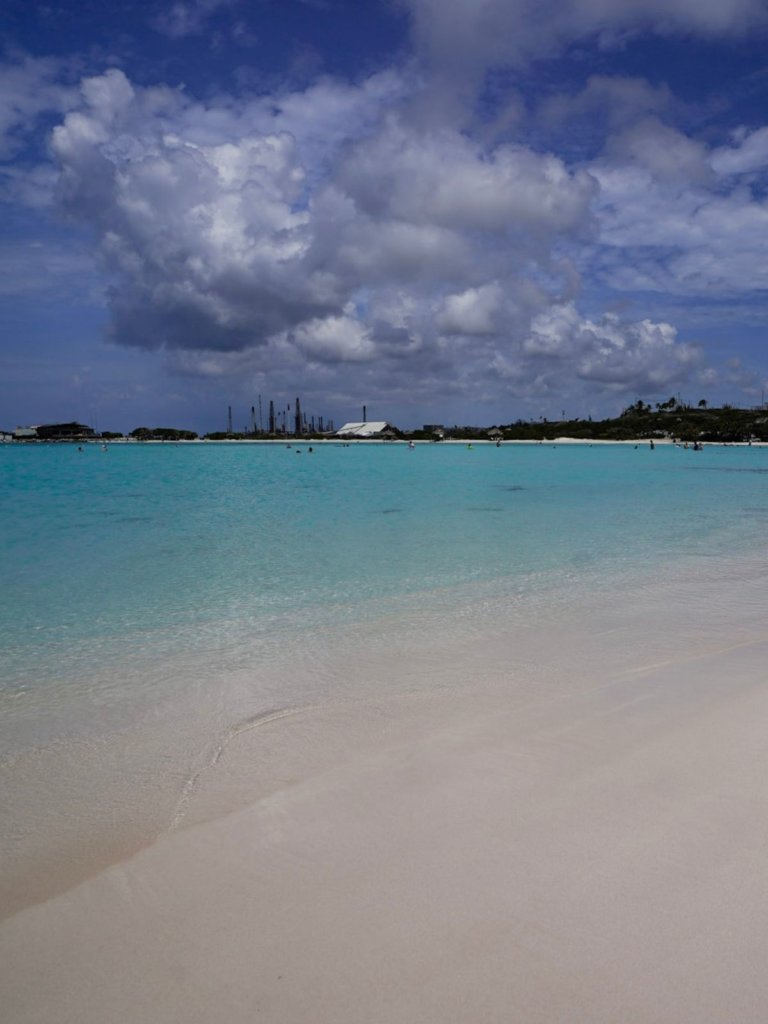 Baby Beach
Location: san nicolas
Baby Beach, which I also mentioned above, is a great place to bring kids because the water is relatively calm and shallow. A great place to get away from crowds of Eagle Beach, Baby Beach offers a long stretch of sand and loads of space to spread out. Bring a sunshade though; there is not much offered at all.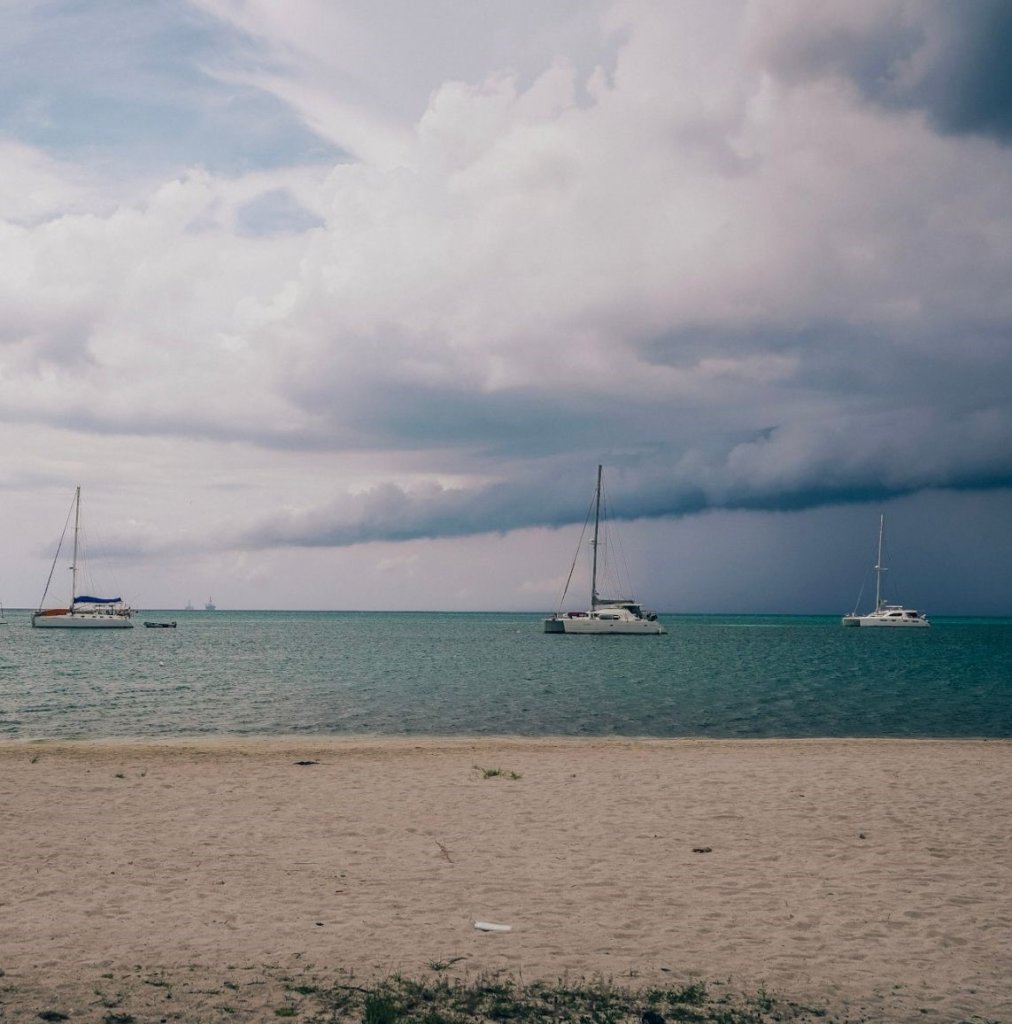 Surfside Beach
LOCATION: ORANJESTAD
Surfside Beach is conveniently located just a few minutes away from downtown Oranjestad, where most of the tourist accommodations sit. So if you need to lug a lot of children's bags and toys, this is a shirt trek.
This beach is perfect for families with small children because the shallow water is super calm. Boats and yachts can be seen in the distance and snacks, food, and drinks can be bought at the beach bar and restaurant just off of the beach.
***
These beaches were just what I needed to reawaken my love for the Caribbean islands. Even on such a small island, each of these beaches has it's own unique look and feel to it.
So which of these best beaches in Aruba are you dying to check out first?!
Pin Me for Later!