So, you've probably seen those vibrant images of pink flamingos in Aruba, standing in clear turquoise water. Flamingo beach in Aruba is a dream! But – you cannot just show up on a whim. A trip to Flamingo Beach on Renaissance Island has to be carefully planned out, or you will miss out on seeing these gorgeous birds! Read on to learn how to visit Flamingo Beach, Aruba.
Pin Me for Later!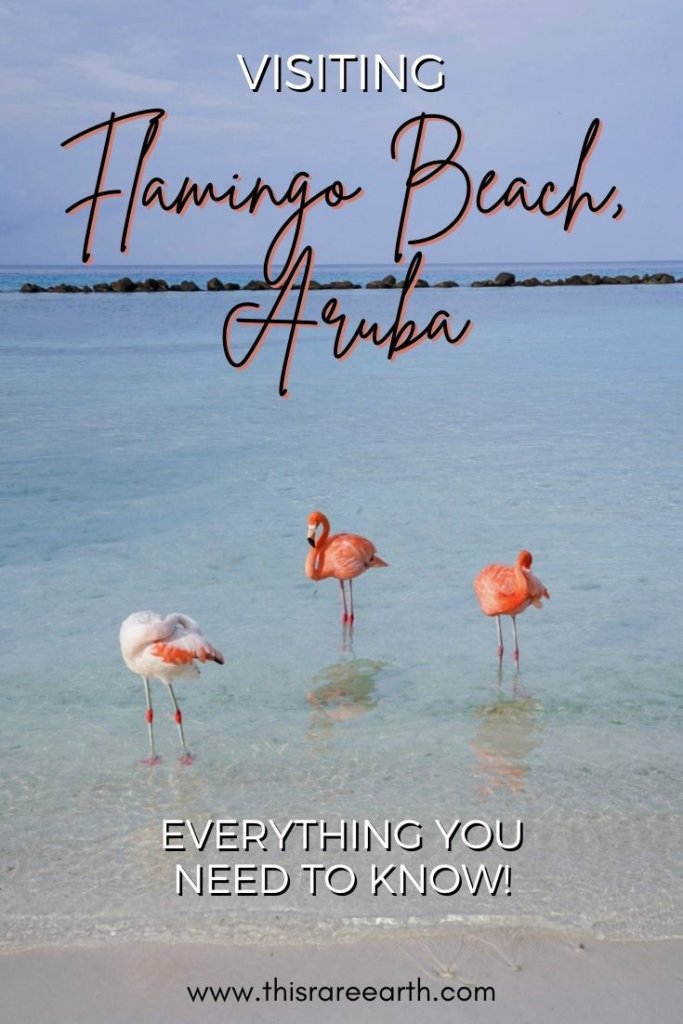 I have to admit – a huge draw in choosing Aruba as my newest Caribbean destination had a lot to do with those coral pink birds. As an artist, the contrasting colors were visually stunning. As an animal lover, I just couldn't resist getting up close and personal with Aruba's resident flamingos.
I did a lot of research on how to pull this off before arriving, because I was aware that these bright pink flamingos do not flock to any old beach in Aruba. Rather, they are only found on Flamingo Beach on Renaissance Island, Aruba.
I immediately noticed that so many blog posts had conflicting information about visiting – and honestly, this isn't really the fault of the authors. The process has changed a lot in the past couple of years.
Lucky for you, I've compiled all of the latest information on visiting the famous Aruba Flamingo island!
You May Also Enjoy: A Complete Aruba Travel Guide
Visiting Flamingo Beach, Aruba on Renaissance Island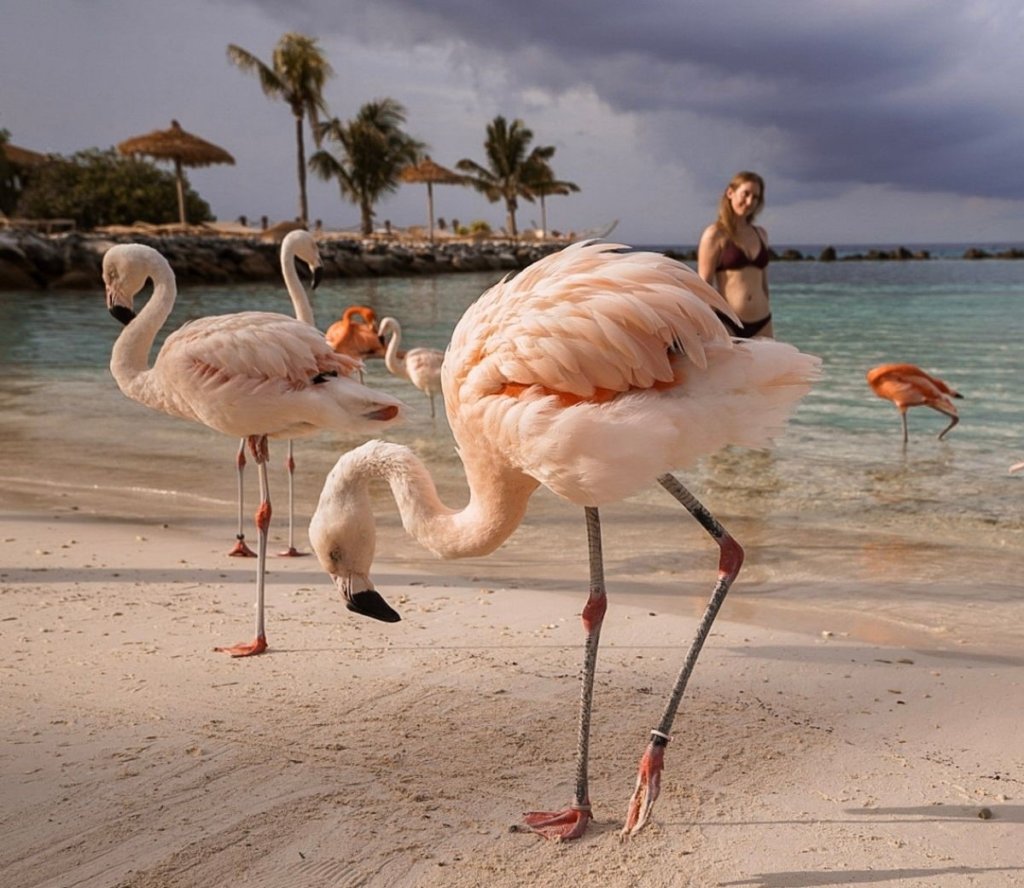 So Where Can You Find Flamingos In Aruba?
Flamingos are not part of the native bird population in Aruba. Neighboring Bonaire and Curacao do have native flamingos, as these two islands have plenty of freshwater rivers. The flamingos found in Aruba are likely from these neighboring islands.
The famous pink flamingos in Aruba inhabit just one small private island owned by the Renaissance Hotel.
How To Get To Flamingo Beach Aruba
To reach Flamingo Beach, you need to travel to Renaissance Island by boat. It is only 15 minutes from the coast of Aruba, and the only way to get there is through the hotel's boat transfer service. Visitors will need to obtain a pass in advance in order to board.
You basically have two options available to obtain these passes; stay at the Renaissance Hotel or purchase a day pass.
How Much Does It Cost to Visit Flamingo Beach?
That will depend on which option you choose.
If you are staying at the Renaissance Hotel, you can visit Flamingo Beach as often as you like for free during your stay. If you choose the day pass route, the price is a fixed $125 per person (which includes round-trip boat transfer, lunch, and a drink.)
So let's break down how to choose one versus the other!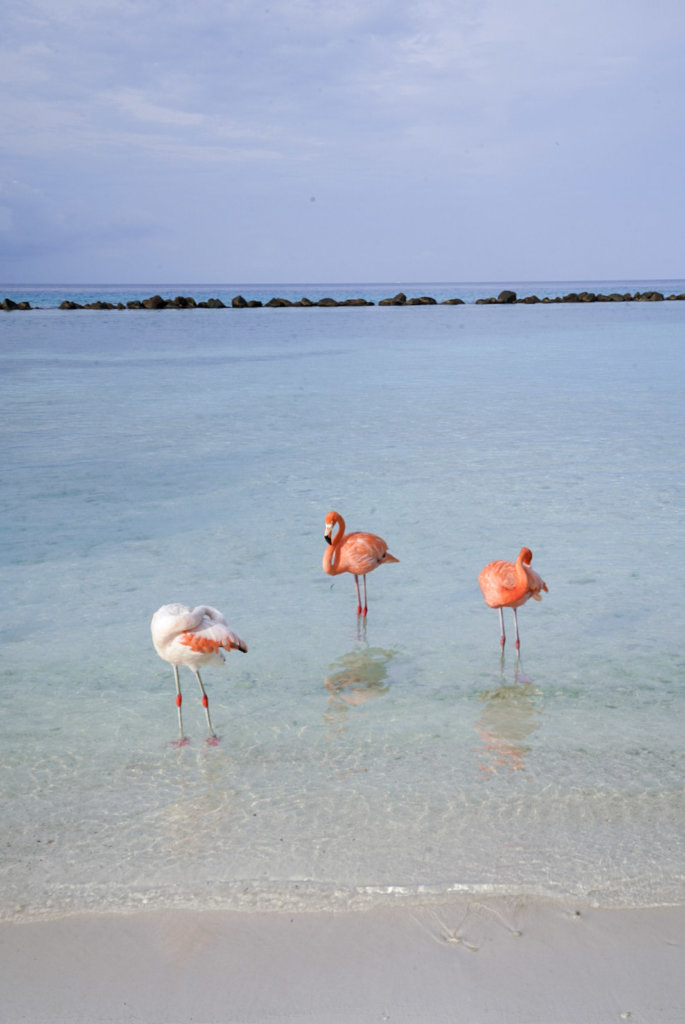 Option 1: Stay at Renaissance Hotel
If you are a guest of the Renaissance Hotel, you can take the boat directly from the hotel lobby. Yes, they do check if you are actually a paying guest and will scan your room key to make sure it is active. The boat leaves every 15 minutes beginning at 7am, seven days per week.
The boat arrives right in the middle of the lobby and then makes its way through the narrow canal directly into the Caribbean Sea. The boats are fairly small, and can only hold 20 passengers at a time. If you want to visit at a busy time, you may need to wait your turn.
On my visit, I did not opt to stay at Renaissance Hotel. The prices were nearly $400 per night for my dates, so it just did not make sense for me to stay there as a solo traveler in Aruba. However, if you are a family of four, then staying at the hotel would be more cost effective rather than buying four day passes. So, it really just depends on your circumstance.
The lowest price I see nowadays for the hotel starts at $250 and climbs up to over $500 a night, depending on the room size. On the bright side, staying at Renaissance Hotel guarantees you access to Flamingo Beach Aruba during your trip. You won't have to worry about day passes selling out and missing those bright birds.
Which brings me to…
Option 2: Purchase a Day Pass.
You may have read that to purchase day pass tickets, you need to show up in the hotel lobby at 6am the day of. While this used to be true, that is thankfully no longer the case!
Nowadays, there is an online system for reserving a day pass to Flamingo Beach. Passes can be purchased here.
It also used to be true that day passes could only be purchased up to 24 hours in advance. I'm happy to report that that is no longer true, either. Well… sometimes.
Currently, passes are released on Saturdays at 9am for dates through the next weekend. However, I noticed that passes sold out online for the whole week by Saturday afternoon, especially during the busy season.
Moral of the story – check the website like a hawk if you want to visit Flamingo Beach via a day pass. Keep in mind that there is a cap of 5 tickets per account on the site.
Additionally, the hotel fluctuates how many passes are available on any given day based on the hotel occupancy rate. If it's higher than 80% occupied, no passes are made available to outside guests. If occupancy is lower than 80%, passes will be available.
I've heard that the maximum number of day passes sold on any given day is between 20-30. So, my best advice is to plan early. Also, be flexible on your dates. I had to book one day farther out than I'd planned because my target date did sell out.
Alternately, if visiting Flamingo Beach on Renaissance Island is one of your bucket list travel experiences (and believe me, I get it!), the only way to guarantee that it happens is to stay at the hotel. So, weigh your options and your budget wisely.
The most unclear part of the whole day pass process for me was where to park and where to board the boat. For anyone self driving in a rental car, let me clear it up for you.
You can park your car near the dock, but since that was closed the day of my visit, I parked in the white-lined spaces in front of Renaissance Marketplace. Find the boat by walking around the back on the wooden dock; the water will be on your left and the buildings will be on your right. Then you will come across a few signs indicating the boat area.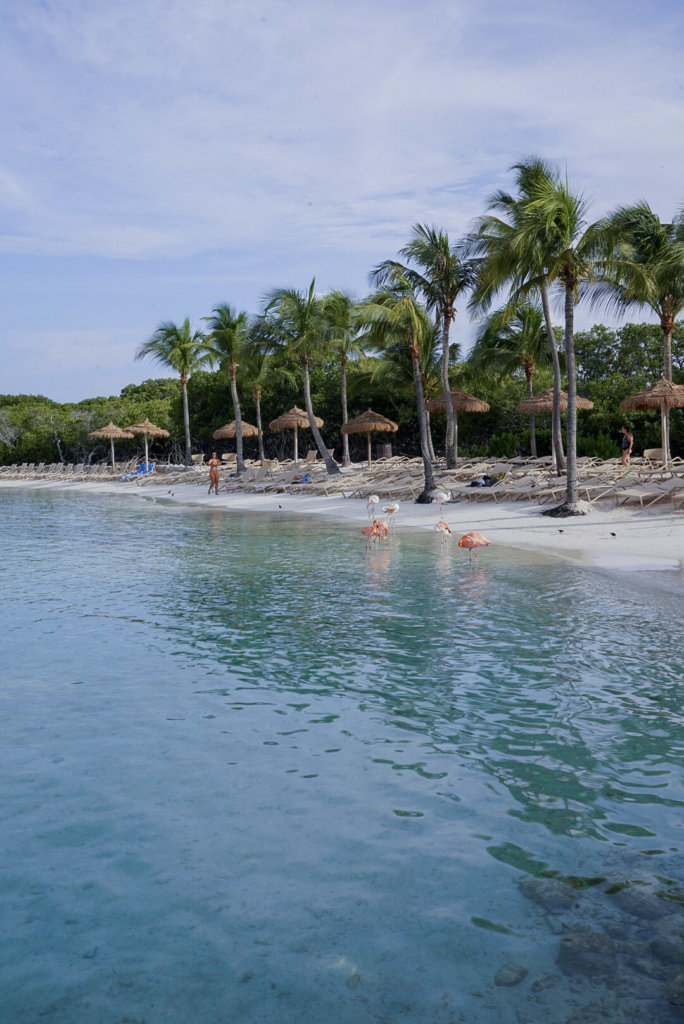 What Is Flamingo Beach Aruba Really Like?
So is it as glamorous as you have seen on Instagram?
Based on what you see online, you might picture a completely deserted and beautiful Caribbean Beach where you and the flamingos frolic through the blue waters as fast friends. To this I say, sort of.
This is a hotel beach, after all, and a large resort style hotel at that. It is not uncommon for it to become crowded as the day goes on. I visited on a weekday, so I cannot comment on if weekends are more crowded.
On the bright side, this island actually houses two neighboring beaches – Flamingo Beach and Iguana Beach. So even though Flamingo Beach is fairly small in reality, at least half of the guests will opt to sit on the other side.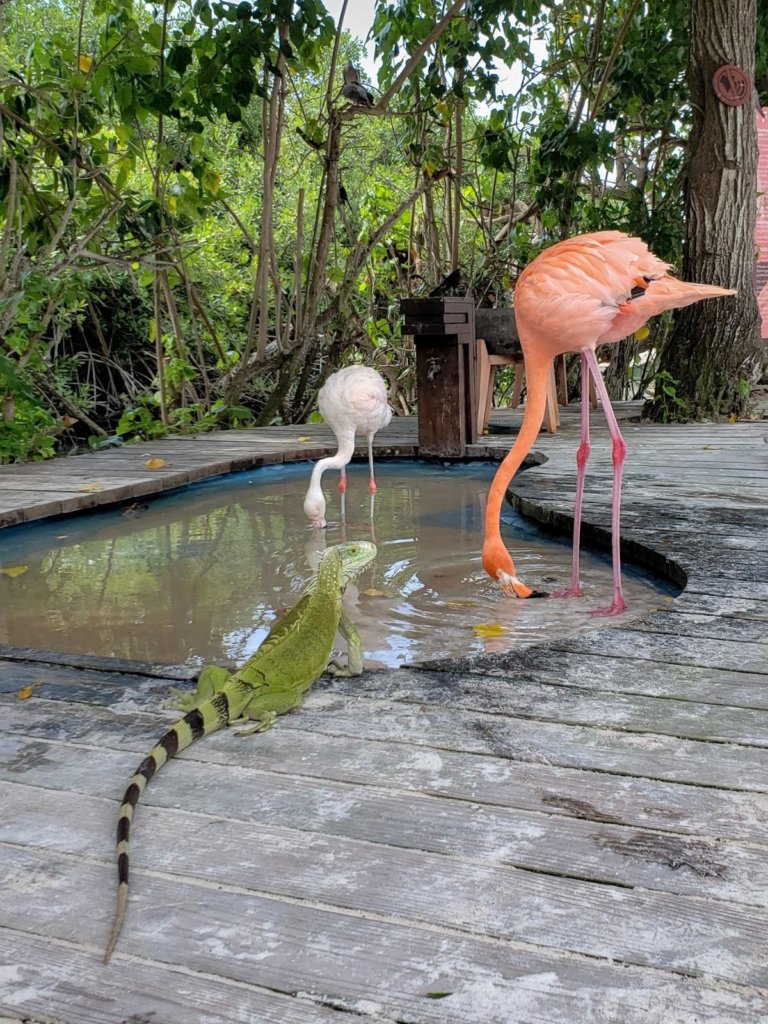 Flamingo Beach vs. Iguana Beach
Flamingo Beach is directly to the right when you get off of the boat. It features a comfortably sized semi-circle beach, with one long row of beach chairs laid out in front of the shore.
Only a few chairs have a sunshade attached, so absolutely pack a large-brimmed hat. A few palm trees offered some shade as well – but honestly, not much.( Check out my Aruba packing list post for more on what to bring.)
Along the far "wall" of mangroves is one row of private cabanas, which are available only by reservation and are several hundred dollars each I've heard. Those would have been lovely to stay in, actually, if I'd been traveling in a group, but alas, I was solo traveling Aruba.
There are also a number of hammocks on Flamingo Beach, directly across from the cabanas. Also, you will see a small tiki hut selling drinks and expensive smoothies. No outside food or drink is allowed.
If you get here early, you can choose your favorite beach chair and location, and take a dip before the crowds arrive. Flamingo Beach is the more "calm" side of the island, as children are only welcome to hang out with the birds from 9-10am.
Alternately, families will probably opt for the Iguana Beach side, to the left as you exit the boat. This side is much larger, with rows and rows of chairs, lots of palm trees offering real shade, and fun activities like kayaking and SUP boards for rent. This is what I would call the more lively side.
The Papagayo Grill is located to the back of Iguana Beach. This is where you will get your free lunch and drink, included in your pass. You may eat in the restaurant or outside on your beach chair. There are only two or three vegetarian options on the whole menu, so that would be one area that they could improve.
How I recommend arranging your day is to hit Flamingo Beach early, interact with the flamingos all you want, and then head over to Iguana Beach for some shade and relaxation.
You May Also Enjoy: The Best Beaches in Aruba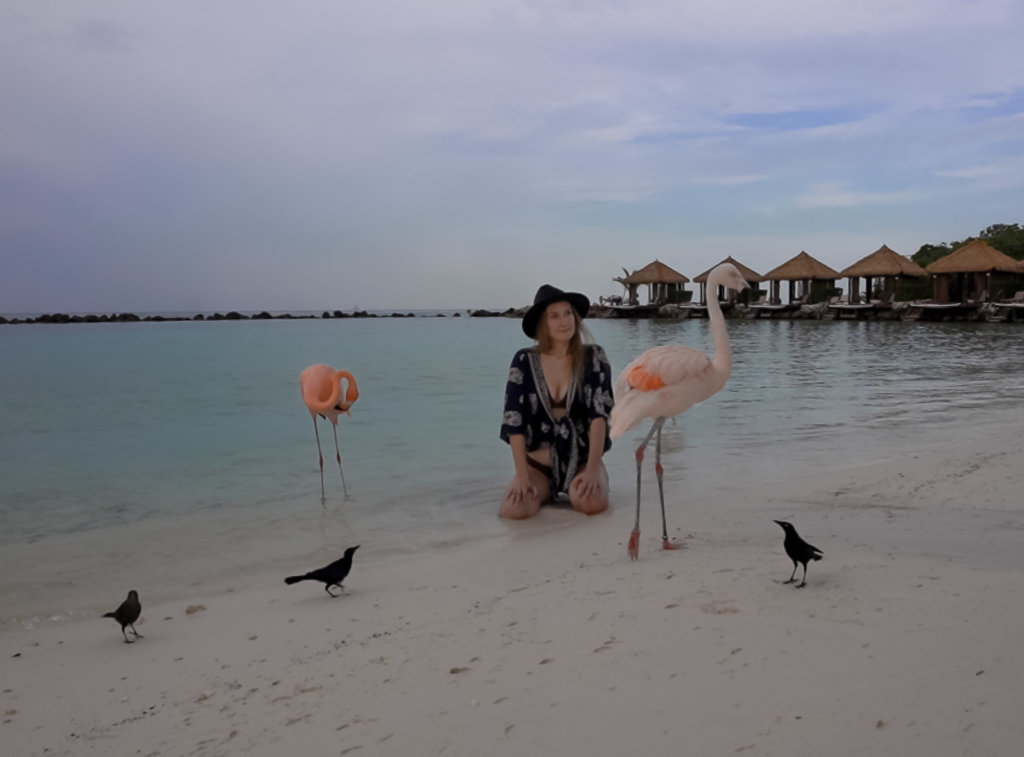 My Tips For Interacting With the Birds on Flamingo Beach, Aruba
Hanging out with the flamingos was actually quite magical for me.
I took the earliest boat at 7am. So, I did get that frolic-solo-with-the-flamingos experience! The only others on my boat were employees of the Island.
I also noticed that in being the first to arrive, the flamingos spent a lot more time with me (and their food.) My guess is that as the day goes on, and as their bellies get more full, those little pellets just aren't as appealing as at breakfast time.
They are definitely strange creatures with individual personalities. For example, the white colored ones (the young ones) were more docile, waiting respectfully as the larger and older pink flamingos ate their fill.
And, one big pink guy in particular was pretty aggressive, needing to be the first and only to eat. And, when my palm was empty, he looked me right in the eye and then gave me a nip. Ha!!! (Don't worry, it didn't hurt. It was hilarious though.)
Bring US quarters for the food machine – one of those old gumball-type machines from my childhood. If you forget, the tiki bar *may* give you change if they have it, but I wouldn't count on it.
Arriving so early allowed me to feed the birds at their hungriest and get pictures before anyone else was on the beach. Is this necessary? Maybe not, as the beach didn't really start to fill until the 10am boats began arriving. But for the experience and the lighting (photographer here), it was worth it to me.
If you are not an early riser, don't worry. Everyone was pretty considerate of taking turns with the birds and there were twelve of them present that day.
Petting or chasing the birds is not allowed. Respect their space – you are a visitor in their home after all. And, if you chase or scare them, they will avoid you, and your frolic-with-flamingo dreams will be crushed.
Rather, let them approach you. Sit down in the water, hold your hand out, and let them come over of their own free will. Take your time.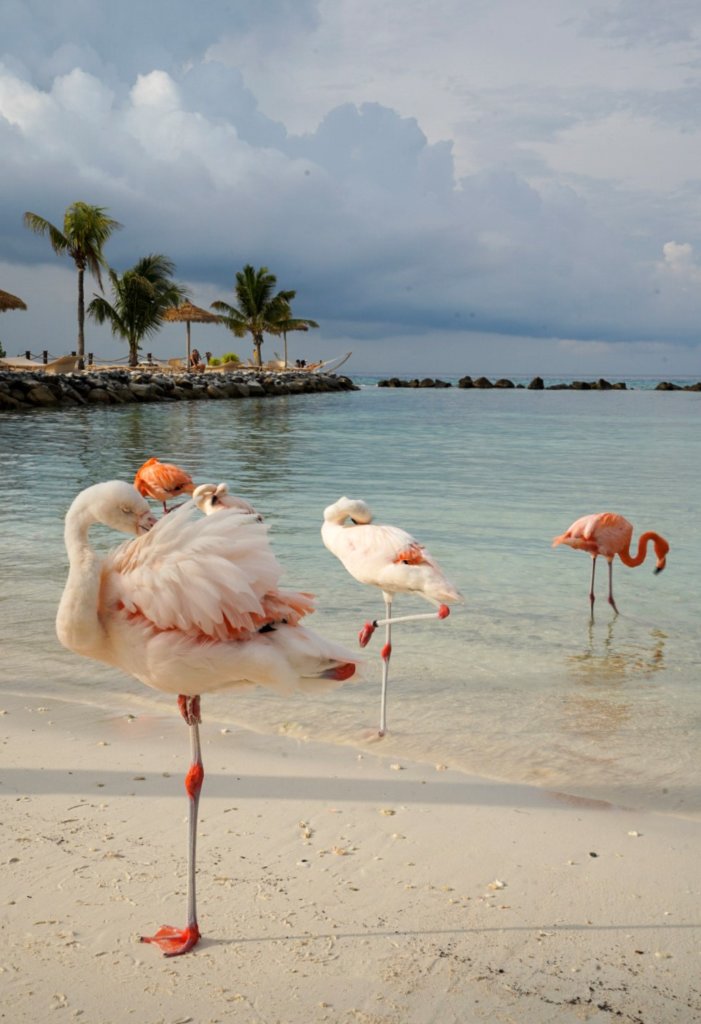 Are the Flamingos Wild?
Yes and no.
Apparently, only about seven of the 12 birds I met that day "belong" to Renaissance Aruba. The others just stopped by from Bonaire and Curacao, and have never left! So, you gotta figure it's a sweet deal if the wild ones have stayed by choice.
I will admit, though, that there is no information provided about how the original birds were acquired of if they are forced to stay. They seem happy and healthy, but unfortunately this is all I know. Again, the fact that five others have joined the beach by choice does speak volumes.
Is Flamingo Beach Worth Visiting?
In my personal opinion, yes!
The price tag is a bit of a splurge – it's true – but keep in mind that it includes round-trip boat transfers, one meal, and one drink. So that softens the blow.
More importantly, it includes interacting with these amazing pink birds. This is an experience that can't be had just anywhere, and it is truly one of the most unique things to do in Aruba. The beaches are beautiful, and a day of relaxation was exactly what I'd needed.
No matter what, you are bound to leave with good memories of your visit! I do recommend visiting Flamingo Beach in Aruba during your trip!
Pin Me for Later!