Are you wondering what to do in Santo Domingo, Dominican Republic? Or maybe you have already explored the Zona Colonial, and now you are ready for something different. I recently visited the Three Eyes National Park in Santo Domingo, Dominican Republic and can provide all of the important facts and an honest review of the caves.
Pin Me for Later!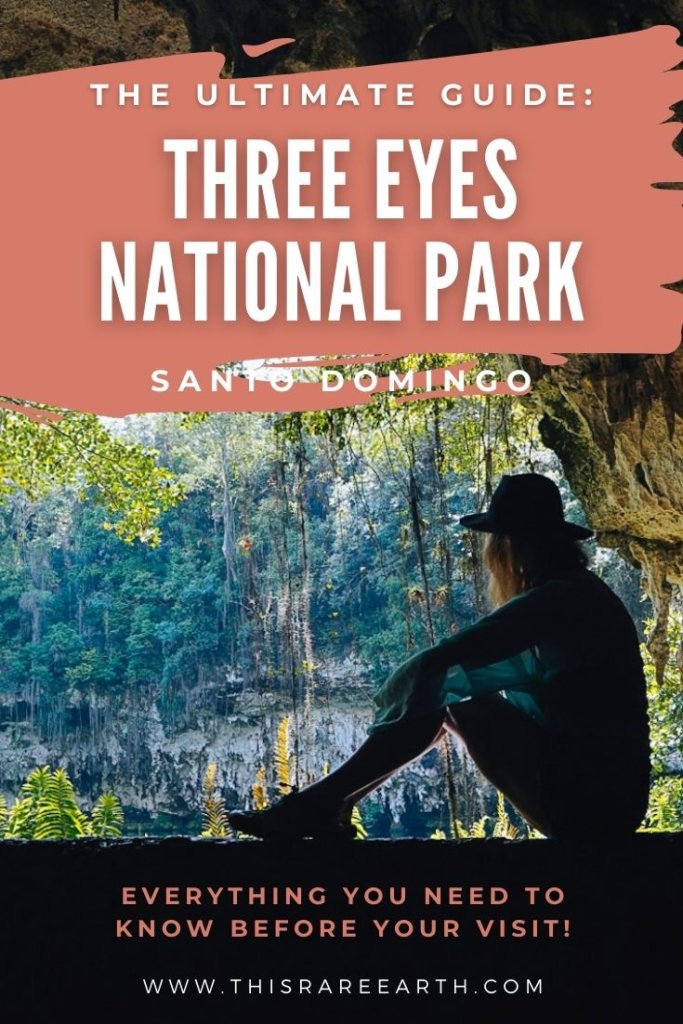 Three Eyes National Park was on my radar before I ever touched down in the Dominican Republic.
I chose Santo Domingo as my base in DR because of its rich history. But as you might know by now, I'm incredibly drawn to natural wonders and focus a lot of my travels on exploring the nature of our beautiful planet. So naturally, these Dominican Republic caves were high on my list of things to see.
No time to read? No problem! Book your Three Eyes National Park tour here!
Two Hour Tour of the Three Eyes National Park Caves – An expert guide will lead you through the cave system, teaching you the history and geology of the park. This tour meets at the national park. Book your spot here!
Coming from Punta Cana? Book the Day Tour! – this full day tour visits top sites in Santo Domingo, caves at Tres Ojos, and even includes lunch. Anyone staying in Punta Cana – this tour will give you a great taste of Santo Domingo as well as the Three Eyes National Park. Book your spot here!
However, once in-country, a long-time expat at my hotel warned me not to go there. He said it was a tourist trap and a waste of time.
His words gave me a moment of pause. In the end I decided to visit regardless, since it was extremely easy and cheap to visit. I figured I wasn't losing much if it got a thumbs-down in the end.
So, what exactly is the Three Eyes National Park cave system and more importantly, should you bother to go there?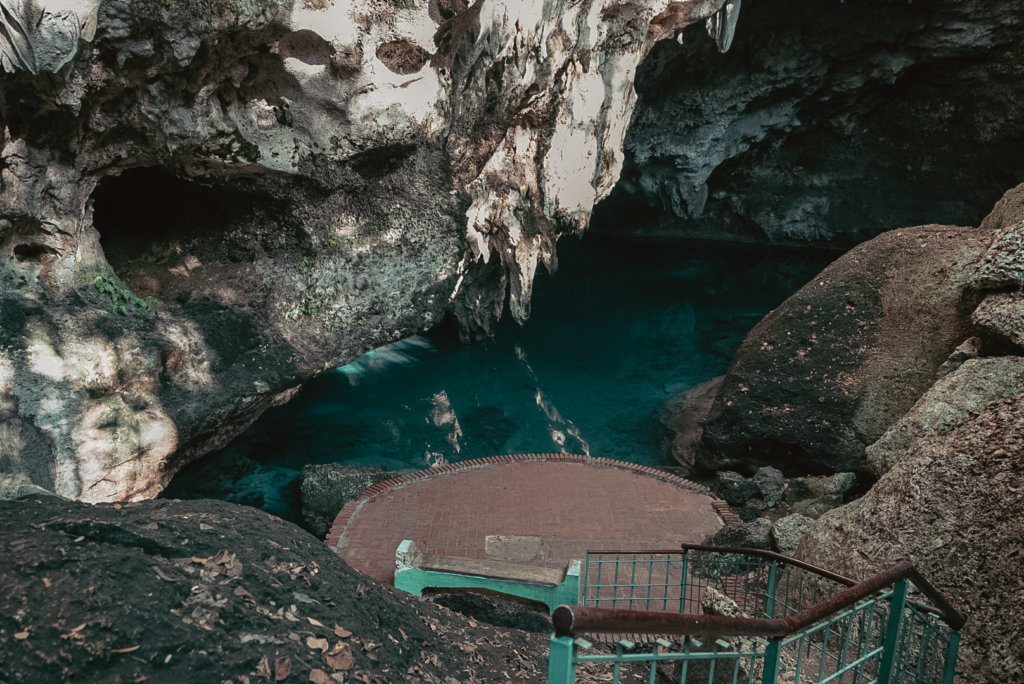 What Is Three Eyes National Park?
The Three Eyes National Park in Santo Domingo, Dominican Republic (known locally as Los Tres Ojos) is a nature reserve covering a 50-yard area of the Mirador del Este park. It sits roughly ten minutes from Zona Colonial by car.
Though from the surface, it appears to be a standard grassy park, an amazing open-air limestone cave system awaits beneath your feet. The crystal clear and turquoise blue lakes known as the "eyes" are what makes this cave system in Santo Domingo spectacular.
The site was formed due to tectonic shifts and collapsing caves centuries before our time. The three main depressions in the ground filled with water fed from an underground river, and each "eye" has a different mineral composition, interestingly.
You May Also Like: What to Wear in the Dominican Republic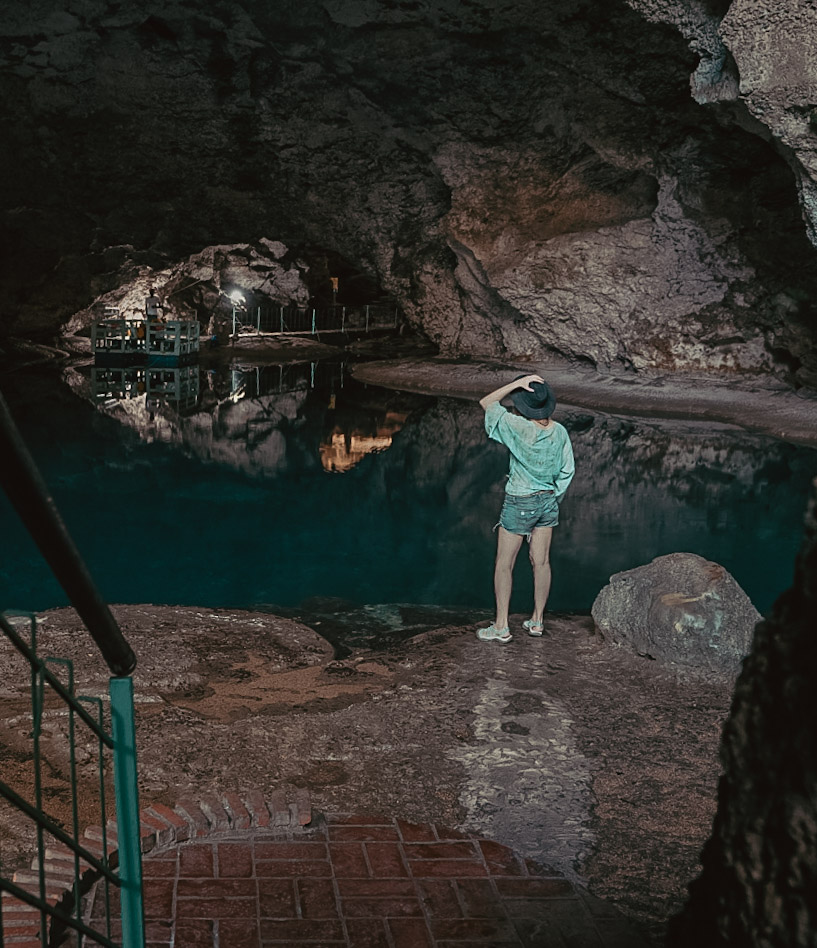 The lagoons range in depth from 8 feet to 25 feet deep. Taino Indians – the first inhabitants of Hispaniola – used these caves for religious rituals many years ago.
The three main "eyes" are names "Lago de Azufre", "La Nevera", and "El Lago de las Damas".
Surprisingly, there is a fourth body of water called "Los Zaramagullones," which can be reached by boarding a wooden raft that is pulled across the third eye. This fourth lagoon is not included in the park's name as it is located outside of the roofed cave system. Instead, it has open sky above.
Where Is Three Eyes National Park Located?
These caves are located just a ten minute drive north of Santo Domingo's Zona Colonial.
My Experience and Review of the Three Eyes National Park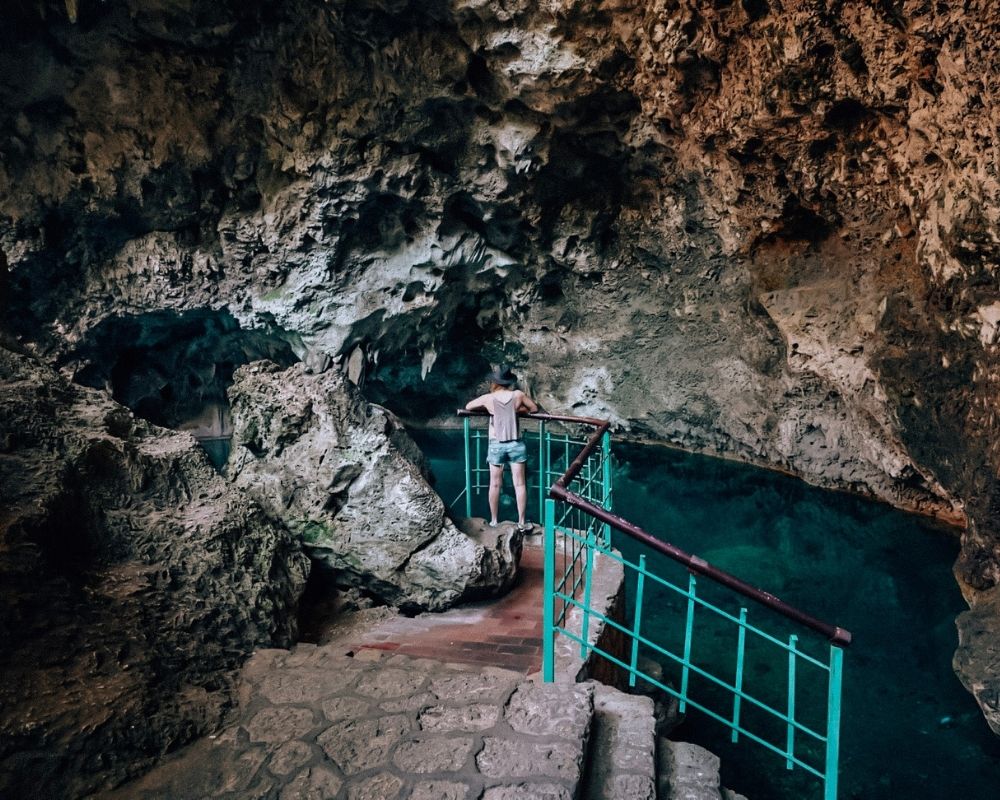 Three Eyes National Park Entrance Fee and Operating Hours
I set out from Zona Colonial just after 8am, even though the caves don't technically open until 9am. The ten minute Uber ride got me there before 8:30am and cost roughly $3 USD each way. This was a steal, so if you don't have a rental car, taking an Uber is a great option.
You May Also Like: The Best Travel Apps
I got my bearings and was pointed in the direction of the ticket booth by one of the men selling guide services nearby. Though I do think guides can teach you facts you wouldn't have otherwise known, I turned him down. I had already researched the history of these Dominican Republic caves, and wanted time to take them in solo.
I'm not sure if it was just luck, but the ticket booth lady let me in extra early. She sold me my ticket at 8:30am and I got an entire half hour to explore solo before the official open time.
What is it like inside the caves of Santo Domingo?
There are steep steps leading down to the cave area and to the eyes. This would not be an ideal place to visit for anyone with accessibility needs, but it is definitely a dramatic entrance!
The deeper you go into the caves, the more intense the humidity feels. It can get fairly oppressive, even by 10am.
The "eyes" are beautiful to look at, and you can see different shades of turquoise blue depending on the depth of the various lagoons. Stalactites and stalagmites dangle down from above the pools and above your head, illuminated by the natural light pouring down. It is quite a sight!
I knew instantly that the expat's advice was wrong.
Perhaps I would feel differently if I'd arrived on a busy day, or in the midday heat. But getting in early and having solo time with the caves was exactly what I'd been hoping for.
It was around 9:30am that a few other people started wandering in, and probably closer to 10am when the larger groups arrived. But by then, I'd already visited all three main pools. The area is not huge.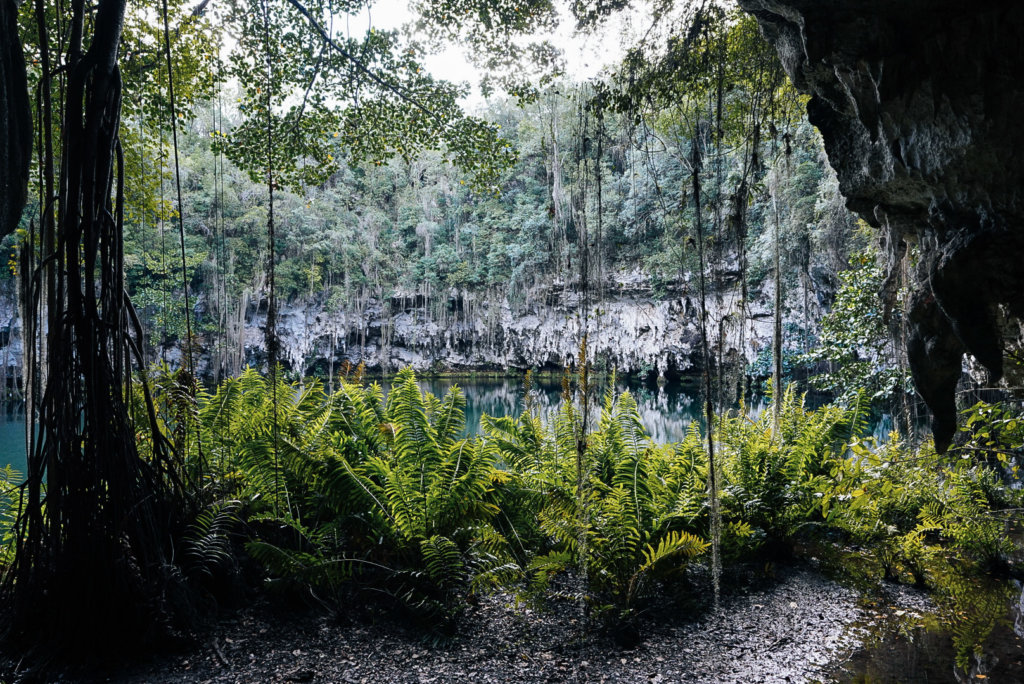 All about the Fourth Eye
I decided to take the wooden raft across the third eye to see the fourth lagoon, and wow, am I glad I did! While the first three are fairly similar in color and in surroundings, the fourth is from another planet.
Lush green plant life surrounds this open-air lagoon and vines hang down in front of the rocky walls. It is beautiful. Completely worth the extra pesos! I have no doubt you will enjoy it.
I probably spent around two hours here total, give or take. If I were to visit in the midday heat, I'm not sure I would last that long. The humidity is for real inside the caves.
I can report that I wholeheartedly disagree with the grumpy expat in Santo Domingo. Three Eyes National Park was extremely worth the visit for me!
It was easy and cheap to get to. I was able to spend time with the pools by myself. And I was blown away by all of the "eyes" – especially the fourth.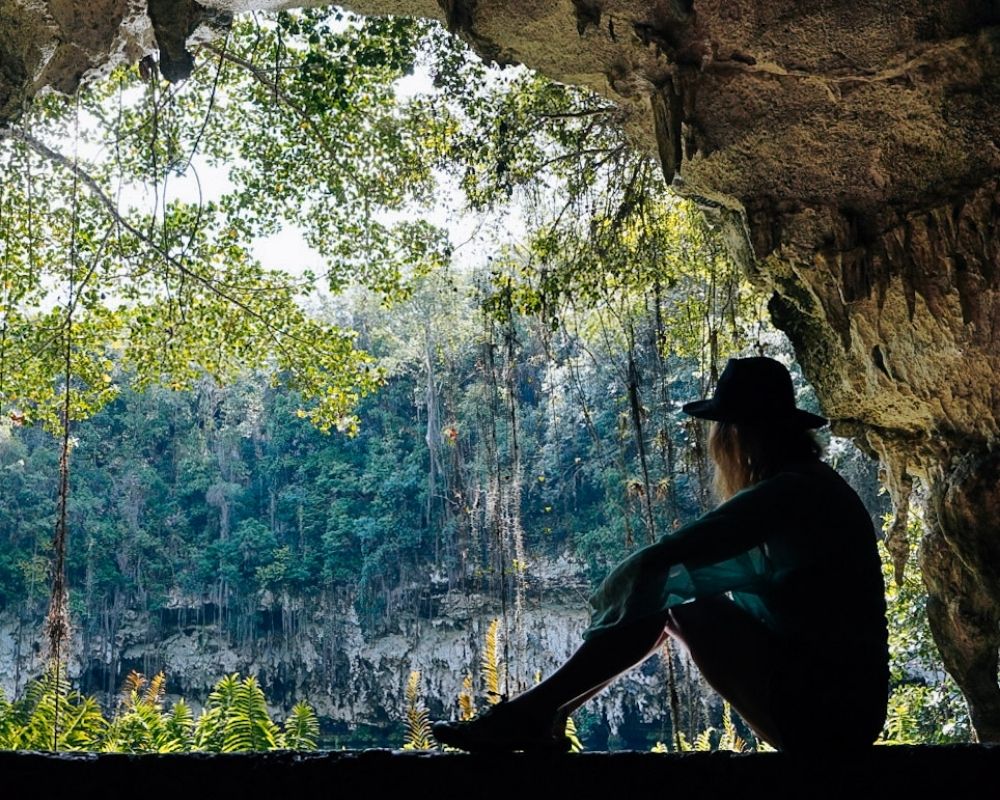 It was also refreshing to see some nature after all of the time spent in busy Zona Colonial.
If you have time to spare, you can walk around the fourth lagoon from above afterwards, once back on the ground level of the park. It was extremely easy to call an Uber for a ride back to Santo Domingo from Three Eyes National Park, as well.
The next day I left the Zona Colonial area altogether to continue my Dominican Republic exploration on the shore. Check out my post on the three main beaches near Santo Domingo and the pros and cons of each if you are planning your route through the Dominican Republic.
These caves in the Dominican Republic should definitely make it onto your itinerary. If you want to avoid the hassle of planning it yourself, you can absolutely join a group tour. It all depends on your preference.
Can you swim in the Three Eyes National Park?
No, you cannot. Swimming is not allowed here. Head to the nearby beaches for that!
Things to Know Before Visiting "Los Tres Ojos", Dominican Republic
Here are the main tips that will help you make the most of your visit to these caves in the Dominican Republic.
Hours of operation are 9am to 5pm, 7 days a week.
Tickets are currently $100 pesos ($2 USD) for entry to the park and caves. The boat ride to the fourth "eye" is an additional $25 pesos (.50 cents USD).
Wear loose, cool clothing because it is extremely humid down there, even at 9am! Check out my Dominican Republic packing list post for tips on the clothing that I brought.
There are guides near the ticket booth who will offer their services, sometimes aggressively. I chose to go alone, as I had already researched the history of the caves, but if you are interested, be sure to negotiate the price.
Definitely bring a water bottle.
Wear sandals with a good grip, as surfaces can be uneven or slippery. You have probably heard me rave about the Keen trekking sandals that I own – these have now been to countless countries with me over the years and I've yet to find anything better. Nor am I looking!
No swimming is allowed. These are not like the cenotes in Mexico, so don't come expecting to swim! These lagoons are for viewing only.
Unless you have a car, take an Uber from Zona Colonial early in the morning. I beat all of the tour groups and I believe this is what made my visit so wonderful; I had the caves all to myself for a while.
Address (if you use Uber or Taxi): Calle Marginal Las Americas Este, Santo Domingo Este 11604, Dominican Republic
I highly recommend visiting the caves of the Three Eyes National Park outside of Santo Domingo. I think it is very much worth the trip and is quite easy to accomplish.
Follow my tips above to make the most out of your visit, and I hope you enjoy it as much as I did!
Pin Me for Later!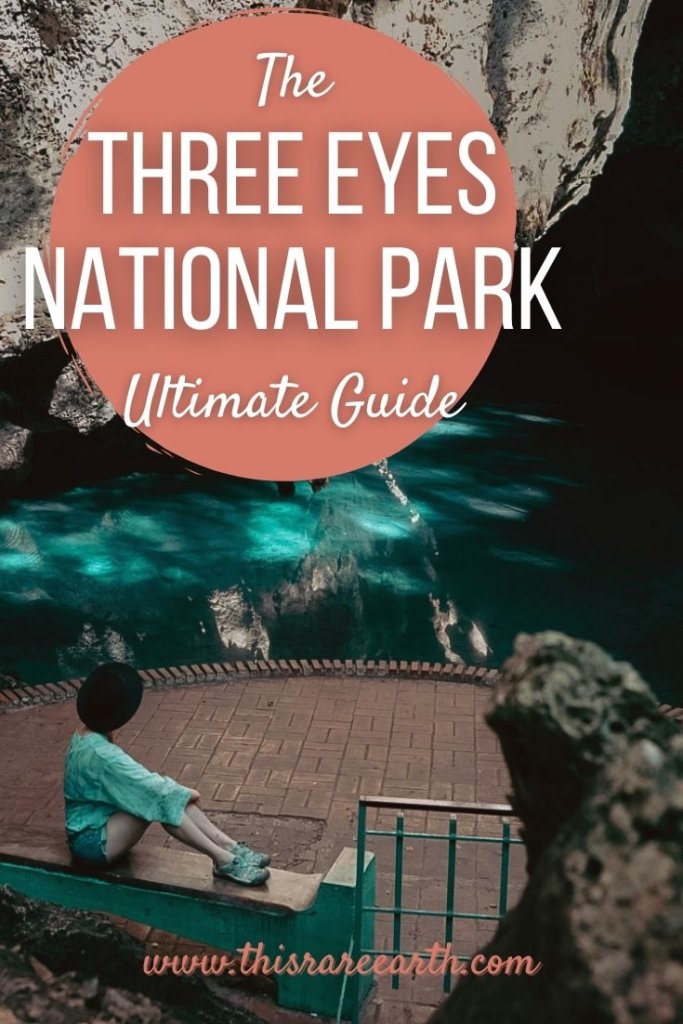 Will you add these Santo Domingo caves to your Dominican Republic itinerary? Have you already seen them? Let me know below!