Headed to the Dominican Republic, but not sure what to pack? I can help! Here is my ultimate Santo Domingo Packing List for What to Wear in the Dominican Republic.
Pin Me For Later!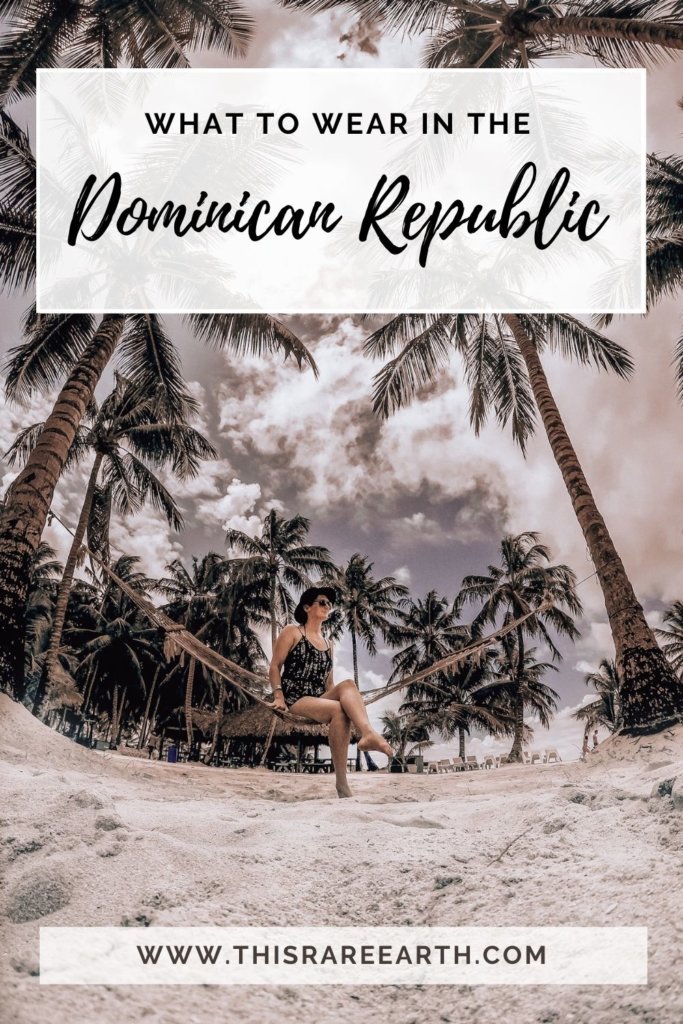 Ahhh, the beautiful Dominican Republic!
After several years of travelling mostly around the Middle East and Asia, I finally returned to the Western Hemisphere and embraced the island life for a bit.
And I have to tell you, it did not disappoint. From the beautiful beaches to the historical cities to the friendly and vibrant culture- you will not regret a visit to the Dominican Republic.
On this trip I stayed on the southern half of the island, exploring Santo Domingo and the surrounding areas. However, I can confidently say that this Santo Domingo packing list will provide you with what to wear anywhere in the Dominican Republic.
It was more than enough for exploring the Colonial Zone ruins, the local hangouts in Juan Dolio, and the tropical paradise of Saona Island. Check out my Santo Domingo beach reviews and recommendations if you are still in the planning phase your trip!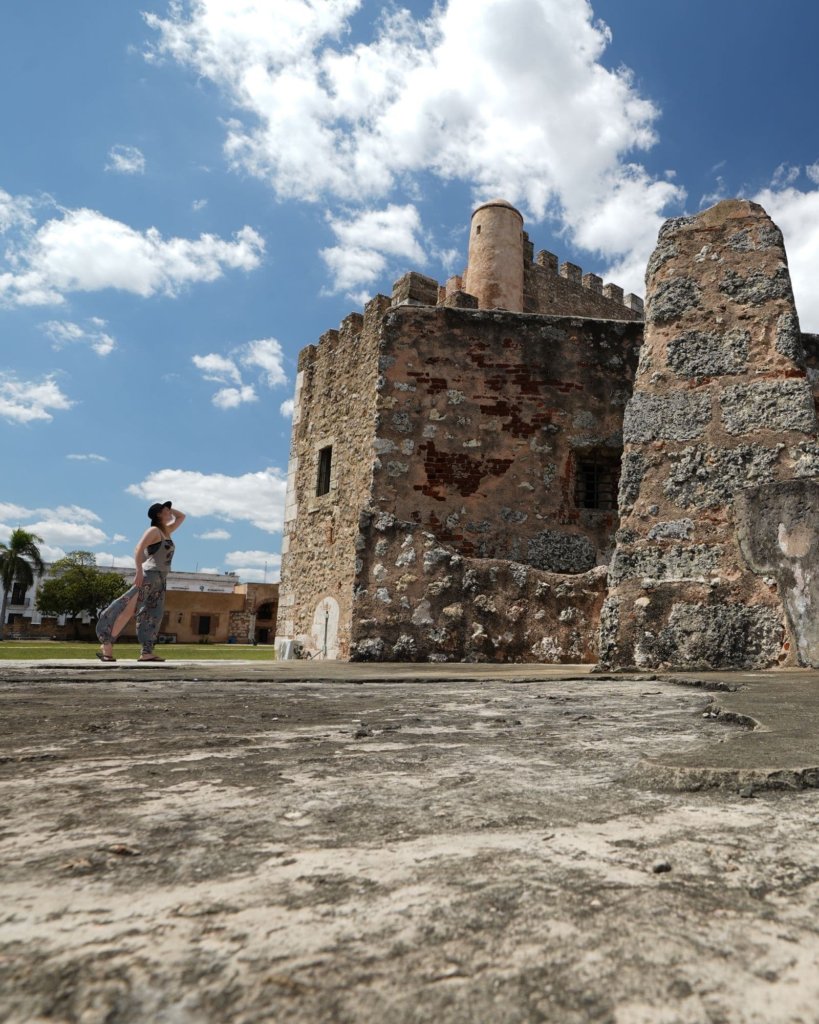 So where to start?
First, let me recommend to pack enough clothing for one week only. If you stay longer, you can always do laundry, and if you stay for less time, you may actually want a few "extras" in case anything is dirty or wet from sweat or seawater.
Packing for one week only is a good general rule for ALL travels, actually, as I like to travel carry-on only a good 99% of the time. Typically, even for a month-long trip, I will pack a full 7 or 8 days worth of clothes in my carry-on, and in addition wear a full outfit on the plane comprised of items I can use throughout the trip.
I launder my clothes by hand at hotel stops that are two nights or more. (A one-night stop often doesn't allow time for clothes to hang-dry in time for checkout).
So, back to the Dominica Republic packing list. Exactly what items should you wear in the country? Below I will list everything I recommend for your Santo Domingo and Dominican Republic packing list.
What to Wear in the Dominican Republic: A Santo Domingo Packing List
Clothing & Accessories:
Nomatter what time of year you visit the Dominican Republic, your packing list should focus primarily on light and breezy articles of clothing, for both the beaches and the cities.
The Caribbean can be quite hot and humid, and heavy clothing items are not typically necessary. To cover up in air-conditioned rooms, I recommend lightweight but long-sleeved or full leg items. Read on for specifics.
Two "beachy" tank tops – two tank tops for beach use that you don't mind getting sandy or sweaty. Also good for any vacation workouts you might do. Here are some basic tanks that I recommend.
Three "nicer" tank tops – Go as casual or as dressy as you like. These are for walking around the Colonial Zone or any other city or rural area you may be exploring. Also good for going out for dinners, etc.
Two T-shirts – You should always bring short sleeve shirts, even for a hot beach destination that you plan to wear tanks and swimsuits a lot. Here is a cute knotted option that is more interesting than a basic tee. Your shoulders will get the brunt of the sun, so sometimes you may need to cover up and give them a break. Also good if you've gotten too much sun already!
One lightweight hoodie – Pack one very lightweight hooded sweatshirt or sweater. This is great to cover up if you are in air-conditioned restaurants or hotel rooms.
One pair of shorts for the beach – Try to make this pair of shorts be double-duty. Pack a pair that is both appropriate for the beach and for working out. Non-denim is ideal.
One pair of shorts for exploring – This should be your denim pair of shorts, or a pair that you would prefer to wear off the beach. I packed denim for around town and cave explorations.
Long flowy palazzo style pants – I love this style of  long, loose flowy palazzo pants. If you follow me on Instagram, you have probably seen that I wear these types of pants all the time – but they are particularly excellent for beachy and hot, humid destinations.
Two bathing suits – If you plan to spend multiple days at the beach, I highly recommend bringing two swimsuits. That way you can alternate every other day, letting the wet pair have a full day to dry out.
Two pairs of leggings – The most comfortable, versatile bottom for any destination. You probably already own these, but Several pairs of basic leggings. if not, Amazon has a nice option. These can also double as workout wear.
One romper or playsuit – so easy to throw on over bathing suits for beach days. This romper has the closest cut to the one I am wearing in the photo below, and I was so happy to have this for my Saona Island trip. A MUST for the beach.
Sleepwear – don't forget to pack whatever your preferred sleepwear outfit might be.
Underwear – This will obviously depend on the length of your trip, but I typically would recommend packing around seven or eight pairs and count on doing laundry. For bras, I would recommend a mix of "normal" bras, bandeau, and sports bras.
Flip Flops – one basic pair of flip flops for the beach and/or showers
Trekking sandals – I talk a lot about my favorite Keen trekking sandals, but I swear these have never let me down! They've been to six continents with me over the years and they did not disappoint in the Dominican Republic. I wore them around town as well as for exploring caves and hiking.
Hat – My much-loved and several years old panama-style hat, which I'm wearing in several photos here, is amazing. But, since it's listing as a product is long gone, I have an alternate recommendation that I also own.  This hat is a #1 best seller.  As a bonus it is foldable and crushable, which makes packing a breeze. You're welcome.
Sunglasses
One Kimono – for covering up on the beach or in the city.
Scarf / Sarong – Go lightweight!  I have this dark green one, and I love it. Great for the flight or as a beach cover up, or even for an air-conditioned room.
Jewelry – optional.
Small cross-body bag – As I've recommended in other posts,  I absolutely loved this bag from Pacsafe.  Santo Domingo – and the Dominican Republic in general – has a bit of a reputation as not being the safest destination. While I had no trouble traveling as a solo female, this bag gives me peace of mind with a theft-proof strap, locking zippers, and RFID protection. I have had great luck with this brand and consider it to be an excellent investment.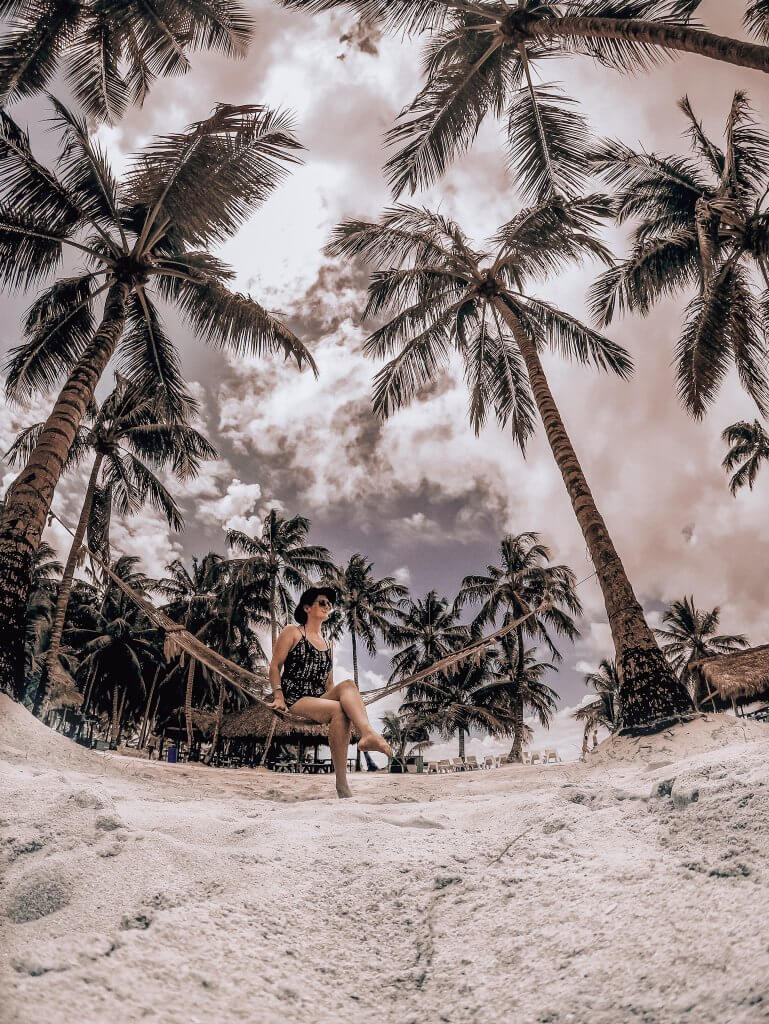 Toilettries:
When you pack carry-on only, you need to make sure that the size of your liquids is 3.4 oz (100ml), which is the maximum acceptable by the TSA, or less – as well as will all fit inside of one 1-quart bag. Think about what is actually necessary and what will be provided onsite.
For example, my hair is picky about conditioner, but couldn't care less what shampoo I use. So cross off anything below that you don't specifically need for your personal Santo Domingo packing list (or that the hotel or guesthouse provides.)
Toothpaste & Toothbrush
Shampoo & Conditioner
Sunscreen – Consider purchasing all-natural or reef-friendly sunscreen as we want to protect the beautiful Caribbean ocean wildlife.
Soap
Deodorant
Brush or Comb
Face wash
Hand Sanitizer
Shaving supplies
Tissues
Moisturizer
Feminine hygiene items
Lip Balm (with SPF)
Face Wipes or Makeup Remover – This one is my all time fave!
Travel First Aid Kit – These are so tiny and packable, they barely take up any space in your suitcase. I also recommend usingthis at home, for hiking safety, or any any trip that you may be solo or in remote areas.
Medications & Prescriptions – Don't forget these as they can be tough to find abroad!
Hair Styling Tools if needed
Gear for your Santo Domingo Packing List:
Gear is slightly dependent on the person.
If you need to work while you travel, you are likely to need your laptop. If not, don't weigh yourself down. Plus, if you're alone, you may need more reading materials whereas if you're in a group, bluetooth beach speakers might be more important.
So again, modify the items below as you like, but this is a good place to start.
Dry Bag – super useful on the beach, on the boat, and in the rain. I have this exact bag in two different sizes and I am beyond happy with it. It may not be the cheapest option, but it is a lot more sturdy than most.
Optional: one microfiber towel – I often pack my thin, foldable but absorbent towel for beaches, camping, and more. It has served me well on multiple continents and is still going strong.
Cameras & Chargers
Books or e-books
Phone & Charger
Earbuds or headphones (great for the flight)
Credit Cards / Wallet / Cash – see my in depth post on keeping money safe while you travel for tons of helpful suggestions that I swear by!
Laptop & Charger if needed
Any other beach items that will make your trip better. Example: bluetooth speakers, small cooler, etc.
As you can probably tell from my photos, my return to the Caribbean was amazing. I hope to head back again later this year, and I'll definitely share where I go and what I do. This list identifies everything I packed for my own trip as well as what I will pack for my future trips!.
Now that you know what to wear in the Dominican Republic, you are well on your way to a successful trip to the Caribbean. As I mentioned before, this packing list will work for any area of the Dominican Republic, not just Santo Domingo.
Lastly, it is worth mentioning that I stayed in AirBnb's during my entire recent trip. I never felt unsafe. New users can save on your first booking!
Pin Me for Later!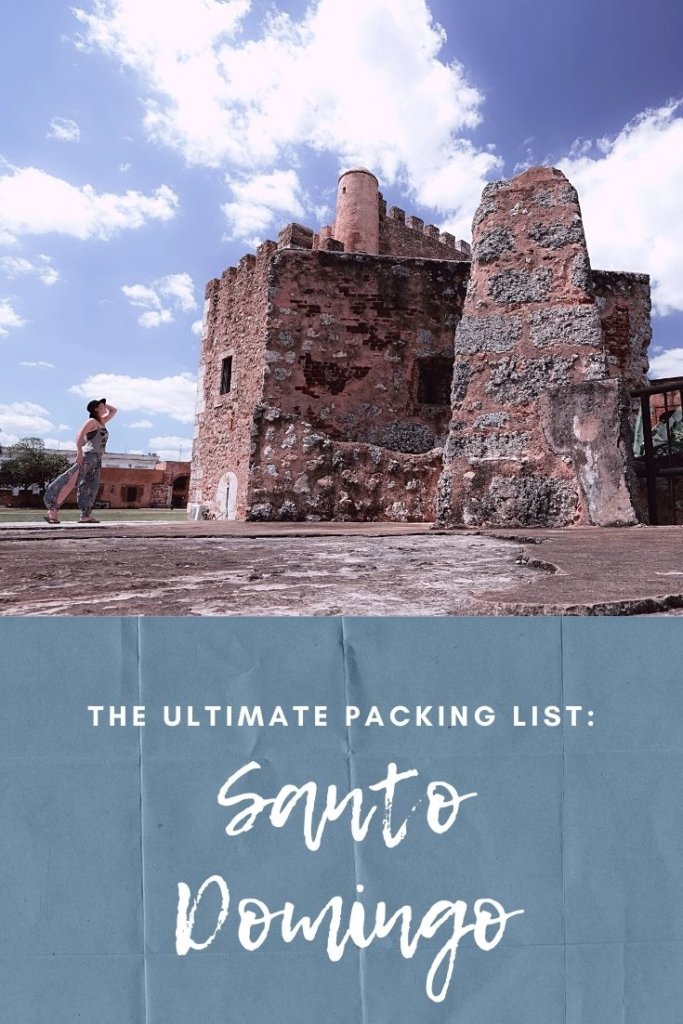 Have a wonderful vacation and please let me know in the comments below if this helps you out!