The area known as "Los Cabos", or "The Two Cabos" contains both Cabo San Lucas and San Jose del Cabo. Most tourists don't even realize that these two areas offer something completely unique from one another, depending on what you are looking for. So which one should you visit? Keep reading to learn all about travel to Cabo San Lucas vs San Jose del Cabo!
Pin Me for Later!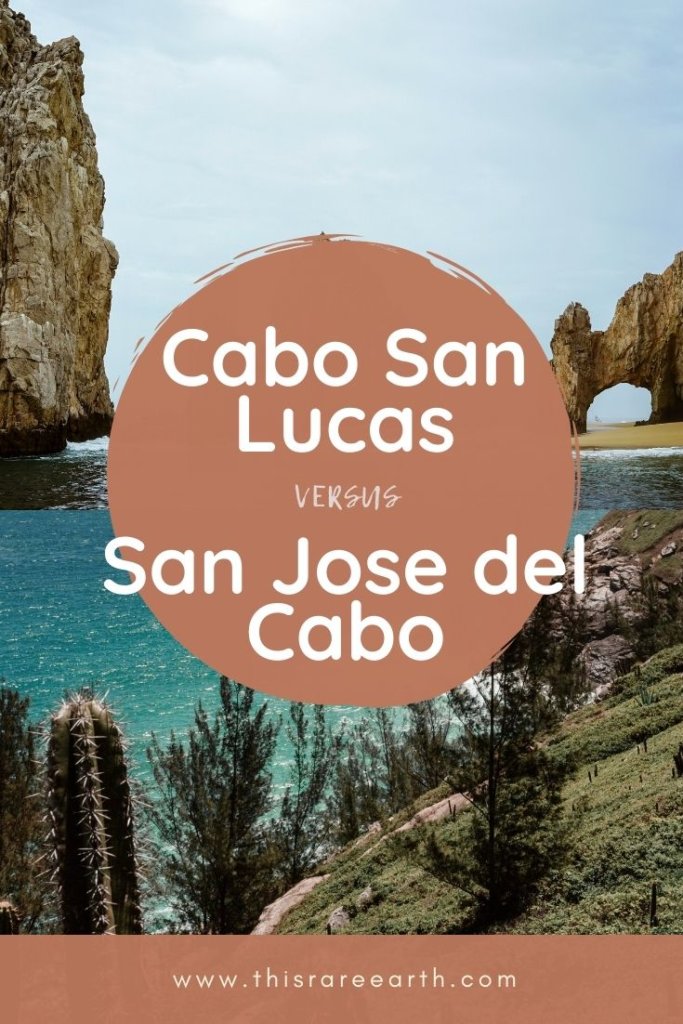 I've been traveling Mexico for a long time now, and I have a great appreciation for the vastly different states and landscapes that stretch across the country. One of my favorite areas of all time though is the cactus-studded peninsula of Baja California.
While Baja is an easy trip from Southern California, that's not why I love it. I love the lively culture; the desert landscape; the friendly people, and the unbelievably blue Sea of Cortes.
Both Cabo San Lucas and San Jose del Cabo are picturesque – beautiful, warm, and sunny beach locales with a desert vibe. But that's about where the similarities end.
You May Also Like: A Baja California Sur Road Trip Guide
Cabo San Lucas and San Jose del Cabo
The Los Cabos municipality is made up of two individual towns: Cabo San Lucas and San Jose del Cabo. When deciding whether to stay at San Jose del Cabo vs Cabo San Lucas, there are a few key factors to consider.
Though little more than 30 minutes apart, Cabo San Lucas and San Jose del Cabo couldn't feel more different!
Let's dive in!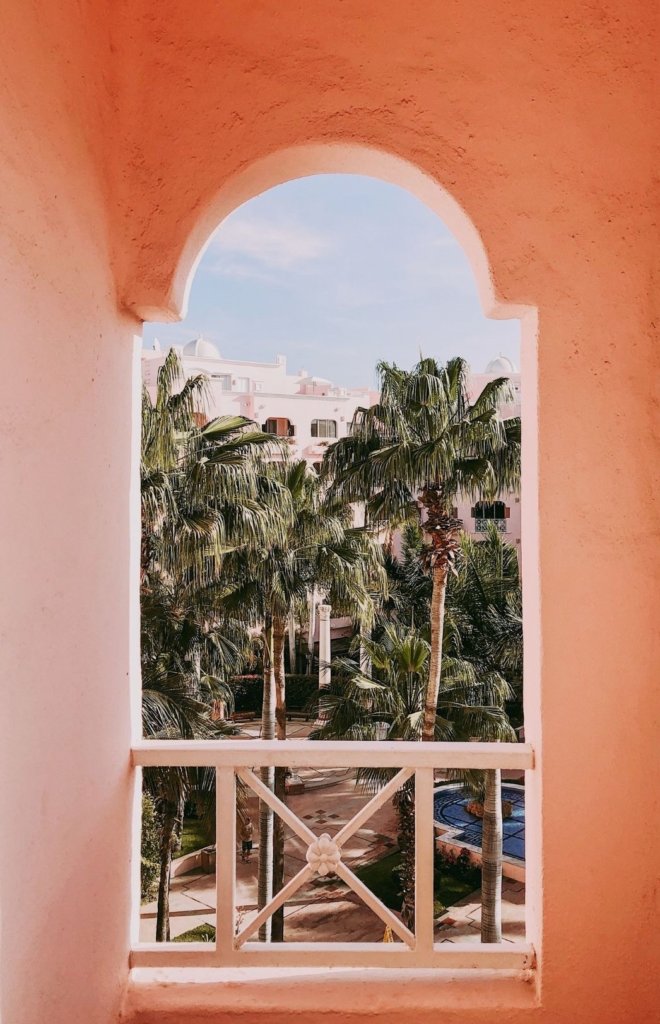 Cabo San Lucas
A few decades ago, Cabo San Lucas was a small fishing village. Quiet, sleepy, and full of locals.
Nowadays, I would describe Cabo San Lucas as colorful and lively. It's the trendier of the two areas, filled with souvenir shops, restaurants, loud bars, and famous dance clubs. Swanky resorts line the oceanfront.
The vibe of Cabo San Lucas is very "Spring Break." This area is young and festive. During actual Spring Break weeks, Cabo San Lucas is typically packed with college students walking the streets in all levels of sobriety (or lack thereof). In one word, it's wild!
One of the best aspects of Cabo San Lucas is the walkability. It is quite easy to walk from your hotel to a restaurant to the souvenir shops to museums.
Cabo San Lucas is built right on the marina, meaning that you are not only in close proximity to beautiful beaches, but also right next to where many boat tours depart. Day trips to Arch Rock and Lover's Beach are a short water taxi away.
You May Also Like: Things to Do in Cabo, Mexico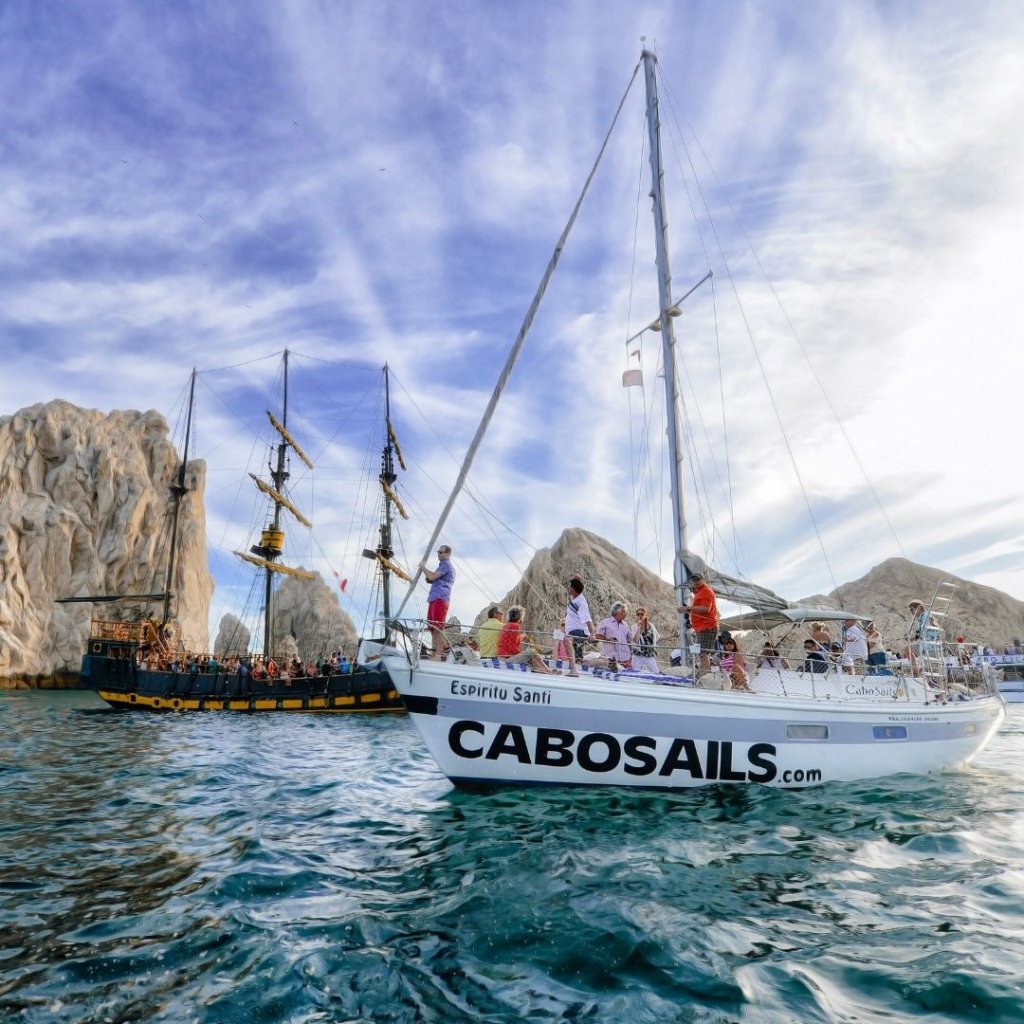 Dinner cruises and party boats depart almost directly outside of some hotels. Group tours like snorkeling adventures and whale watching cruises are also popular, and the tour guides are friendly and enthusiastic in my experience.
It's hard to have a bad time here. If you are someone who likes a lively scene, easy walkable access to tours, shops, and restaurants, then Cabo San Lucas might be for you.
One thing to note, the SJD airport, where most tourists from North America will fly in, is roughly 45 minutes away. So you will need a rental car, taxi, or shuttle to get to your hotel.
You May Also Like: The Santa Rita Hot Springs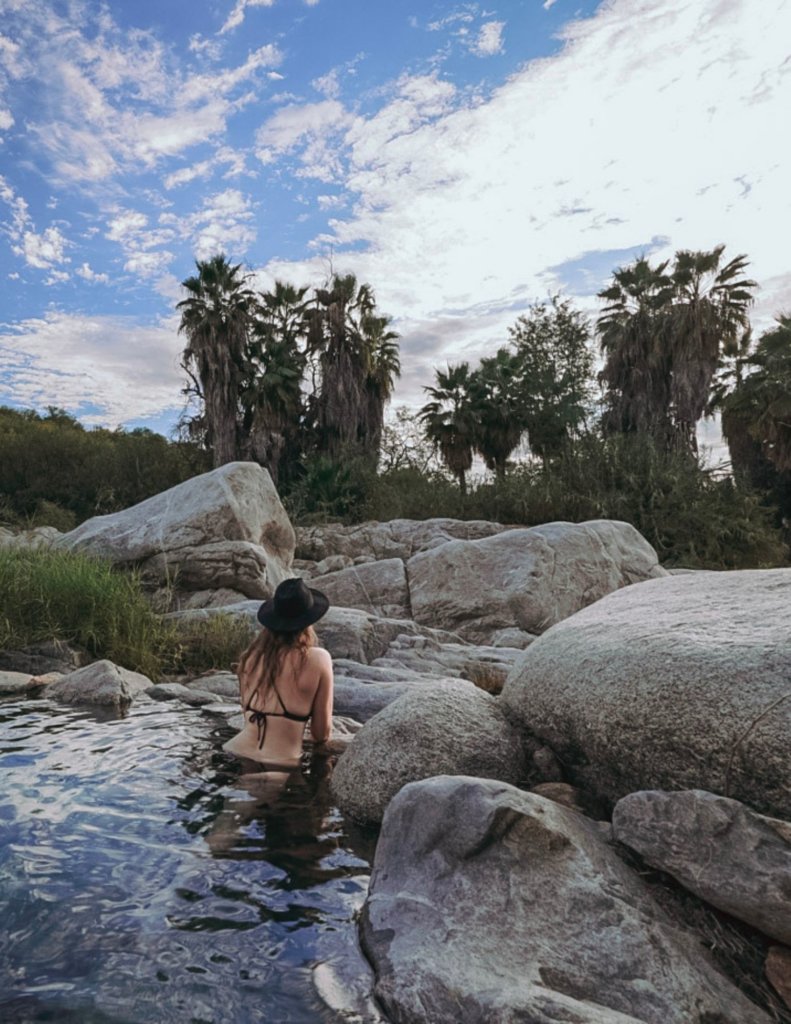 San Jose del Cabo
San Jose del Cabo is the quieter of the two towns, and is much less traveled by tourists. It is a quaint and more authentically "Mexico", in terms of architecture and population. Less locals speak English and the area is not meant to cater to foreigners.
And that's the beauty of it!
There are still plenty of great restaurants, shops and bars to be found in San Jose del Cabo. But, they are more likely to be local mom-and-pop style on this end of town.
Additionally, San Jose del Cabo is not quite as walkable. The local beaches, for example, are a bit more spread out and may require a rental car or taxi ride.
I personally prefer having a car when I visit San Jose del Cabo so that I can explore the area to my heart's content. The town offers gorgeous and open-to-the-public beaches, with easy turnoffs and free parking all along the freeway.
It is definitely possible to find resorts in San Jose del Cabo, so if you want a private beachfront experience you can find it here, too. But San Jose del Cabo is less densely packed with tourists and overall more quiet and calm.
This area also hosts a weekly art walk, with interesting and affordable (and more authentic!) souvenirs every Thursday night. I noticed several golf courses in the area as well, so if you like to golf, this is your place.
San Jose del Cabo is roughly 15 minutes from the SJD airport.
Be aware that most tours will depart from Cabo San Lucas, so check if transportation adds an extra cost for any tours you book. You'll want to allow 30-45 minutes to reach the other side.
You May Also Like: Mexico Travel Tips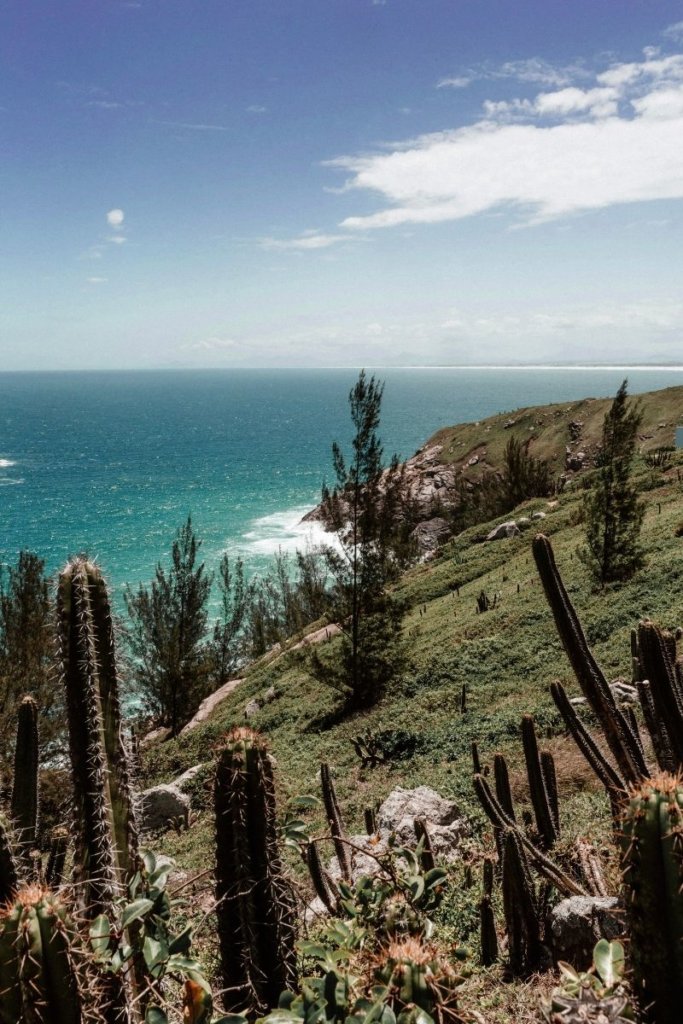 So Which is Better?
When choosing between Cabo San Lucas vs San Jose del Cabo, it really depends what you're looking for. Every traveler is different and prioritizes different experiences and environments.
If you prefer to be walking distance to many tour options and a lively nightlife, choose Cabo San Lucas. If you want to let loose and party, Cabo San Lucas is for you.
If you want to relax and blend in with the locals, choose San Jose del Cabo. For peace and tranquility, San Jose del Cabo is the place.
My best advice, after years of traveling to Baja Sur in Mexico and experiencing both areas many times over, is to rent a car and visit both. I think they are both wonderful and unique for their own qualities.
I love the peacefulness of San Jose del Cabo but also appreciate the walkability and outgoing nature of Cabo San Lucas. San Jose del Cabo is the tranquil and serene little sister of the wild and exciting Cabo San Lucas.
***
I hope that this article helps you choose which area is right for you! When choosing Cabo San Lucas vs San Jose del Cabo, it al comes down to personal preference. But they are both absolutely lovely to explore, and have so many unmissable things to do!
Pin Me for Later!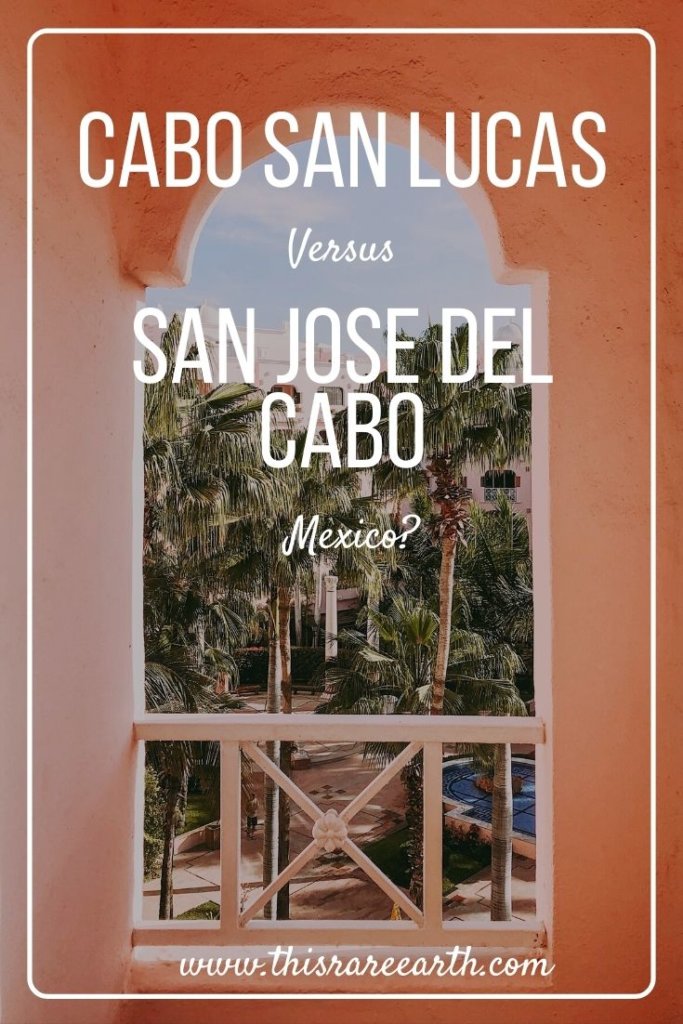 Which area would you prefer? Cabo San Lucas or San Jose del Cabo?