After many trips South of the Border over the years, I'm no stranger to Los Cabos in Baja del Sur. Spanning both Cabo San Lucas and San Jose del Cabo, there are plenty of interesting and exciting (or relaxing if you prefer) attractions in Cabo Mexico! If you are looking for the best places to see, here are the top 10 things to do in Cabo Mexico – and beyond – below.
Pin Me for Later!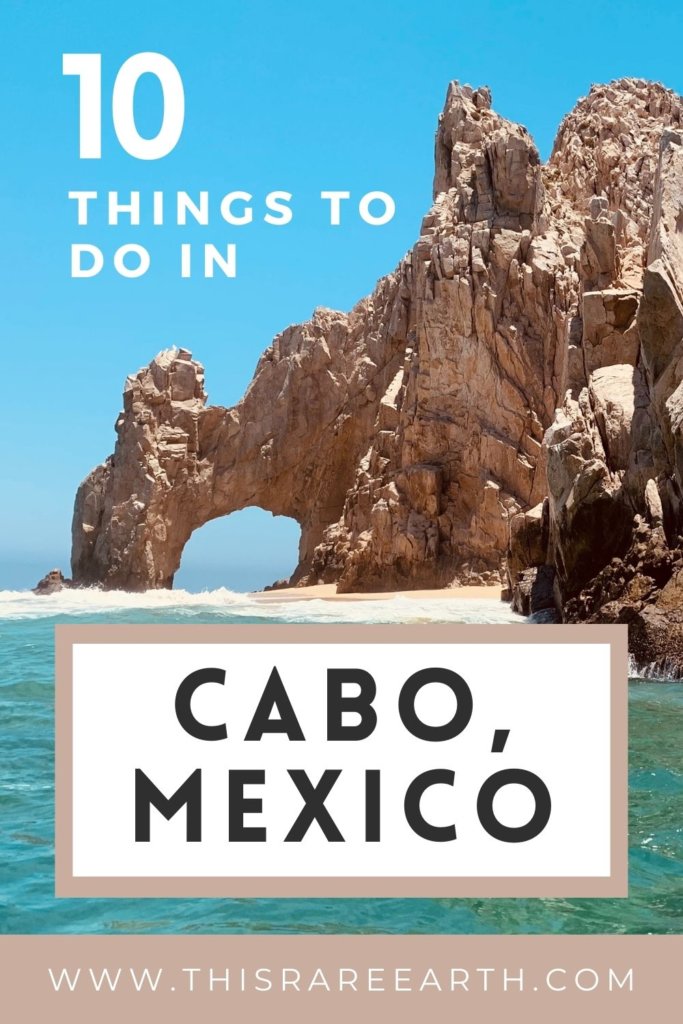 I'm no stranger to Los Cabos, Mexico. For Americans living on the west coast, Cabo is an easy flight and popular weekend destination all year round.
There are so many opportunities to enjoy Cabo San Lucas activities and San Jose del Cabo attractions that it can be hard to know where to start! Luckily, I am here to break down some of the most fun, or most adventurous, or most educational things to do in Los Cabos, Mexico.
Firstly, "Los Cabos" actually refers to the "Two Cabos" of San Jose del Cabo and Cabo San Lucas. These two towns are 30-45 minutes apart and couldn't be more different! Before you start booking hotels, read this guide explaining the different atmospheres found in either of the Cabos.
Once you've determined which area is best for you, now you can think about tours, activities, and things to see and do in Cabo Mexico!
10 Things To Do in Cabo Mexico (and Beyond)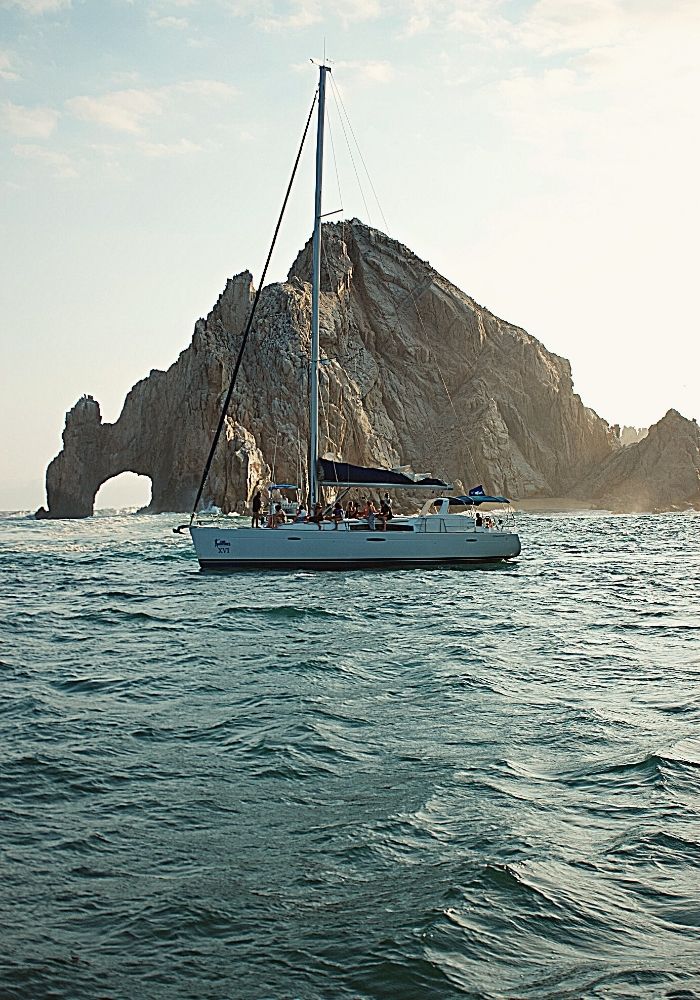 1. Snorkel at the famous Arch
Visiting the famous Arch is one of the most popular things to do in Cabo, Mexico – and for good reason. The crystal clear water of the Sea of Cortez is unmatched!
Snorkeling here will transport you to an underwater world full of colorful sea life. This tour also uses sea scooters to power you around the water – not something you will get on every snorkel tour! A fresh lunch and an open bar are also included.
⭐ Book the Half-day Cabo snorkeling tour. ⭐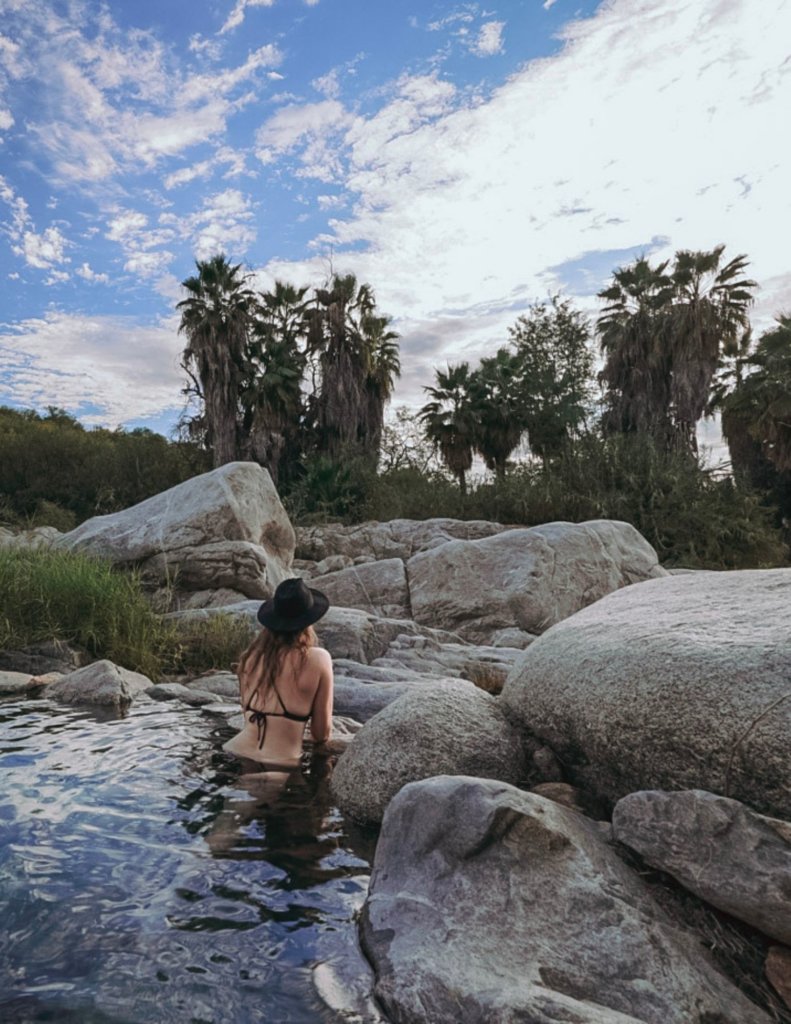 2. Take a road trip to the Sierra de la Laguna
After driving through cactus-studded landscapes, you'll get to soak away the day in fresh water springs and swim through waterfalls. Visitors should be fit enough to hike through the desert environment and over boulders.
The Santa Rita Hot Springs are hidden away in the Sierra de la Laguna mountains, so check if your guide will tack this on as well. While locals have known about this spot for years, visitors to Mexico have more recently been enjoying these natural hot springs. The pools are located right next to a cool stream as well, so you can dip back and forth as desired between hot and cool water.
This is my new favorite spot in Cabo and an absolute must-see!
⭐ Book a tour to the Sierra de la Laguna. ⭐
3. Ride an ATV at Migriño Beach
Anyone looking for adventurous things to do in Cabo should consider an ATV ride at Migriño Beach.
You'll get the chance to drive a quad through the desert and along Migriño Beach, across the sand dunes with views of the Pacific. You'll also get to learn about Cabo's unique flora and fauna from your guide.
⭐ Book a Los Cabos beach and desert ATV adventure. ⭐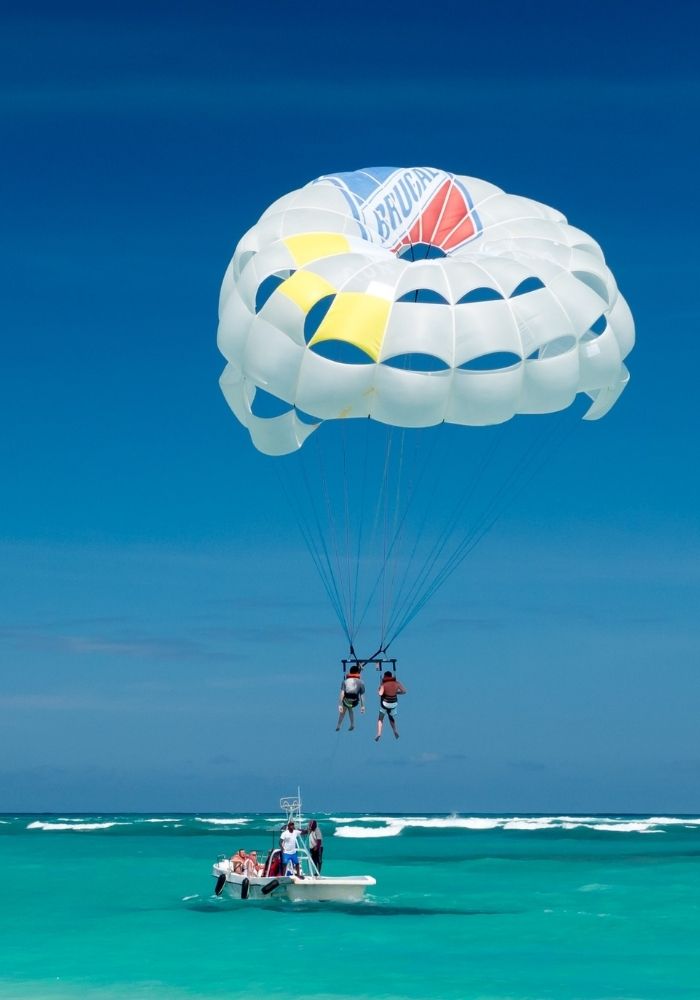 4. Go parasailing high in Cabo's sky
If you get excited at the thought of seeing Cabo from a birds-eye view, than this activity if for you! With parasailing, you'll have an aerial front row seat to view the sights form above.
I personally love parasailing. If you've never tried it, you basically go up into the sky with a billowing parachute holding you up. A rope and harness are attached to the boat, so you get pulled along through the sky from below.
When you're up in the sky, it feels surprisingly slow – but you get to see so much from up above that it's definitely worth it. The height of your flight depends on weather and water conditions.
⭐ Book a Cabo Parasailing tour. ⭐
5. Take a City Tour of Los Cabos
I mentioned this above, but just in case you'd like to experience the difference between Cabo San Lucas and San Jose del Cabo in person, then this is your chance to see it in action.
Check out this article for my own personal take on these two towns. However, experiencing it for yourself is much more fun!
This tour will take you all around both cities, exploring the architecture and the art; the neighborhoods and the restaurants. It's a great experience for anyone who truly wants to get to know the town.
Bonus, this tour also includes a boat ride to the Arch as well.
⭐ Book the Los Cabos City Tour. ⭐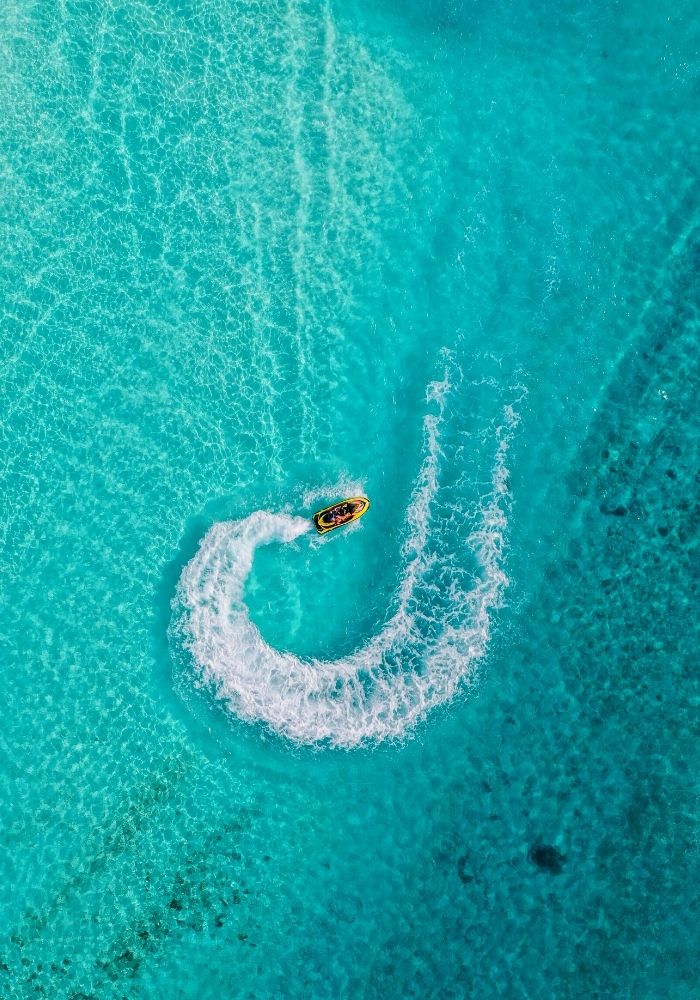 6. Go on a Jet-Ski adventure
If you have never been on a jet-ski, now is your chance!
I absolutely love jet-skiing. The speed, the wind in your hair, and zipping along the turquoise water. It is such a rush!
Los Cabos offers one of the prettiest locations for this activity. You'll get to experience the famous rocky Arch of Cabo San Lucas from a different viewpoint and surround yourself in aquatic beauty.
The tour includes a safety briefing, so if you have never ridden before, don't worry. Life jackets are also included.
⭐ Book a jet-skiing adventure! ⭐
7. Take a Foodie walking tour.
Foodies, listen up! This 3-hour walking tour around Cabo San Lucas will lead you through all the local restaurant hot spots.
Your professional guide will lead you through the vibrant downtown area for both familiar favorites like tacos and quesadillas as well as traditional delicacies. Your guide will also fill you in on interesting Mexican culture and folklore, so this is a tour for your mind just as much as your taste buds.
⭐ Book the Cabo San Lucas Food and Tacos Tasting Experience. ⭐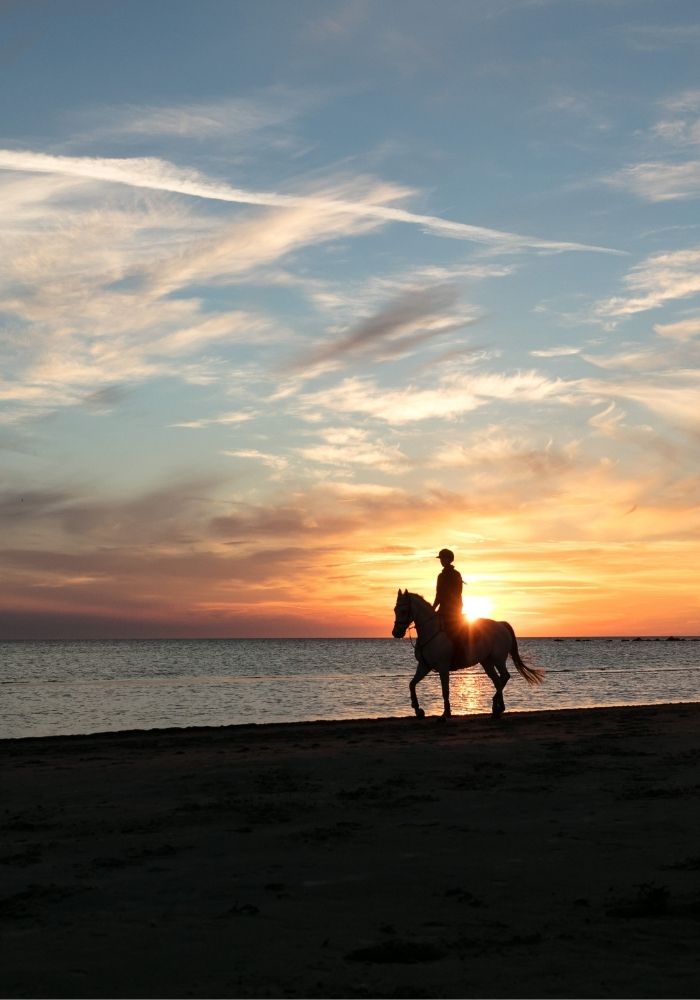 8. Try Horseback riding on the beach
If you liked the sound of the ATV tour above, but want to experience it at a slower pace, then this tour might be for you.
You'll get to escape the crowds and explore the natural beauty of the desert while your guide tells you about the native fauna and fauna. You'll head to the white sand beach, where you can soak up the ocean views.
If you're lucky, you may spot whales, dolphins, or sea turtles while the sun sets. This is a beautiful and natural tour that is great for anyone looing to disconnect and get into nature!
⭐ Book your horseback riding tour. ⭐
9. Book an authentic Mexican cooking experience
This half-day cooking class will walk you through cooking an authentic Mexican meal from start to finish.
You'll get to choose your menu, then your guide will take you to a Mexican market where you will pick up the fresh ingredients.
Your local chef will teach you authentic cooking techniques and recipes. After you finish, you'll get to eat your delicious meal. And, consider this – you can take home the knowledge of preparing this meal and make it again and again from home!
⭐ Book your Mexican cooking experience here. ⭐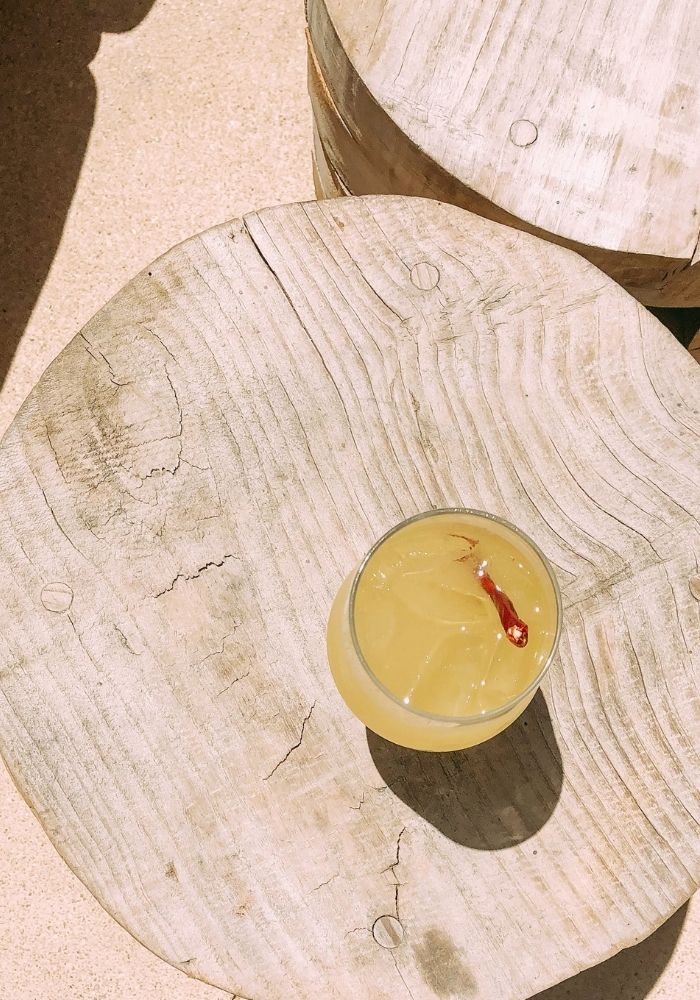 10. Go tequila tasting
When in Mexico!
Enjoy traditional alcoholic beverages from Mexico on this private tequila tasting experience. You'll get a sampling of six handmade tequilas and three types of mezcal. Enjoy tasty local snacks, as well., like dark chocolate, agave, and grasshoppers.
Yes – as in the insect.
This tour will prove to you exactly why Mexico is famous for tequila and mezcal!
⭐ Book your tequila tasting excursion. ⭐
***
Los Cabos, Mexico is one of my favorite areas in Mexico to explore. I hope you've gotten some inspiration on the best things to do in Cabo during your visit!
Whether you are looking for adventure, or nature, or relaxation – it's all here.
Let me know below! Which of these ten things to do in Cabo, Mexico are you looking forward to the most?!
Pin Me for Later!