There isn't anything quite like cruising down the desert roads of Baja Sur, Mexico. Glimmering blue waters in the Sea of Cortez and tall prickly cacti lining the roads and hillsides. A Baja California Road Trip is truly a magical experience! Read on for the most beautiful stops to make your Baja road trip unforgettable.
Pin Me for Later!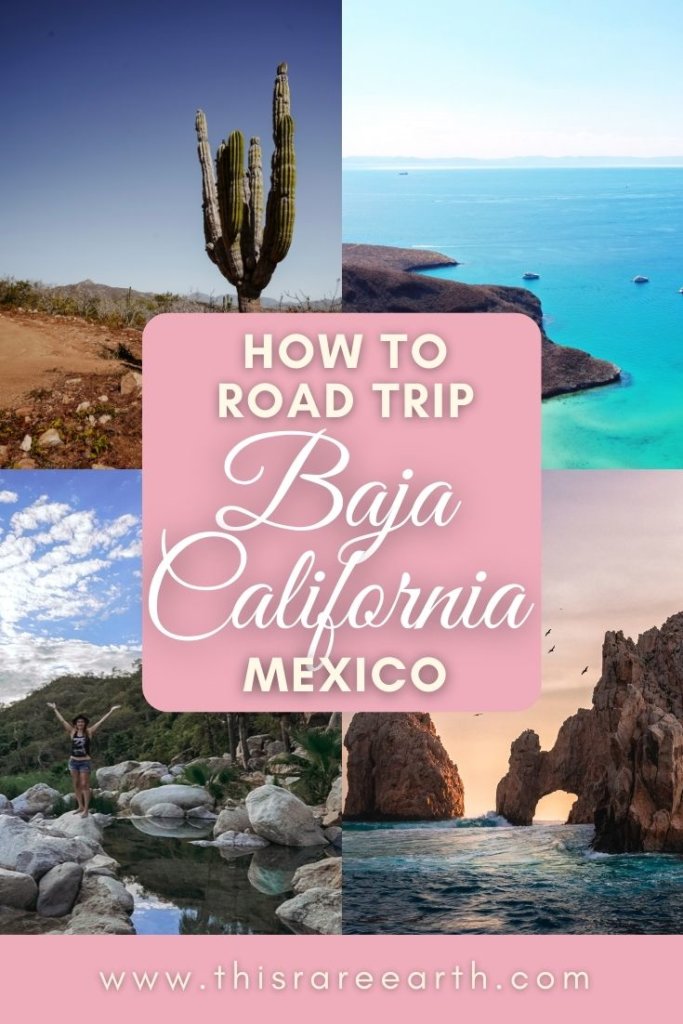 Why a Baja Road Trip?
It seems like the Caribbean side of Mexico is getting all the buzz these days. And, destinations like Cancun and Tulum in the Yucatan Peninsula are certainly beautiful – I can't argue that!
But for me, there is just something so breathtaking about the tropical desert landscape of Baja. Perhaps it's because I've lived in or near the deserts of California and Arizona for years and years. The desert has always been my favorite climate. The tall prickly cacti, the rugged and picturesque mountains, and even the incredible heat are all at the top of my list.
But don't let all of my cacti-reminiscing fool you – Baja Sur also has some of the most stunning ocean vistas in Mexico. On my Baja California road trip, there were so many lovely places that surprised me – from shallow blue bays to pristine natural hot springs.
Baja California has so much more to offer than it's reputation as a Spring Break destination implies. And, the best way to experience everything is to road trip Baja California at your own pace.
A Baja California Road Trip: The Best Stops in Baja Sur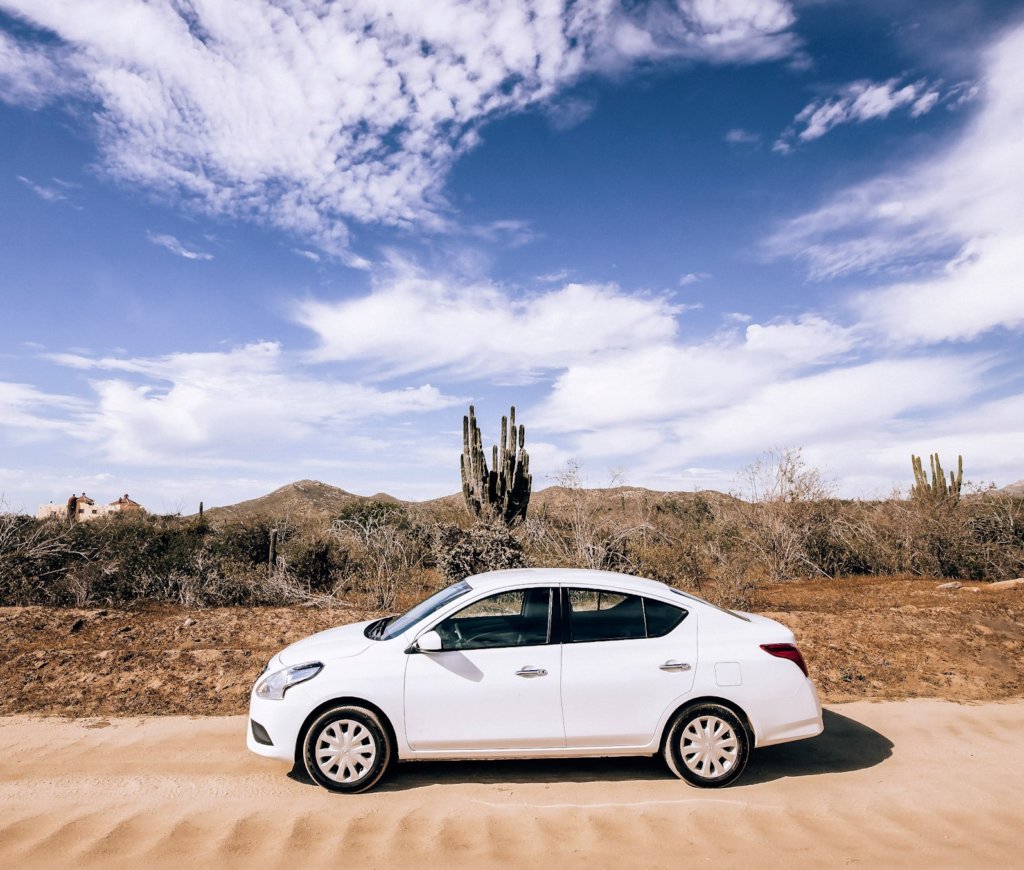 Where To Start Your Baja Sur Road Trip
Though I do highly recommend a road trip through the entire Baja Peninsula, I understand that not everyone may have the time or interest to invest in that. This Baja Sur road trip can be done in as little as one week, or stretched into two weeks or more if you really want to take your time and enjoy some slow travel.
So, for the purposes of discovering Baja Sur specifically, I highly recommend flying into the Los Cabos Airport (SJD). This will take you to the southernmost tip of the Baja Peninsula, where the world famous beaches of the Sea of Cortes are located.
Please note that the Baja road trip route referenced here my include some toll roads. Carry pesos on you at all times to be safe.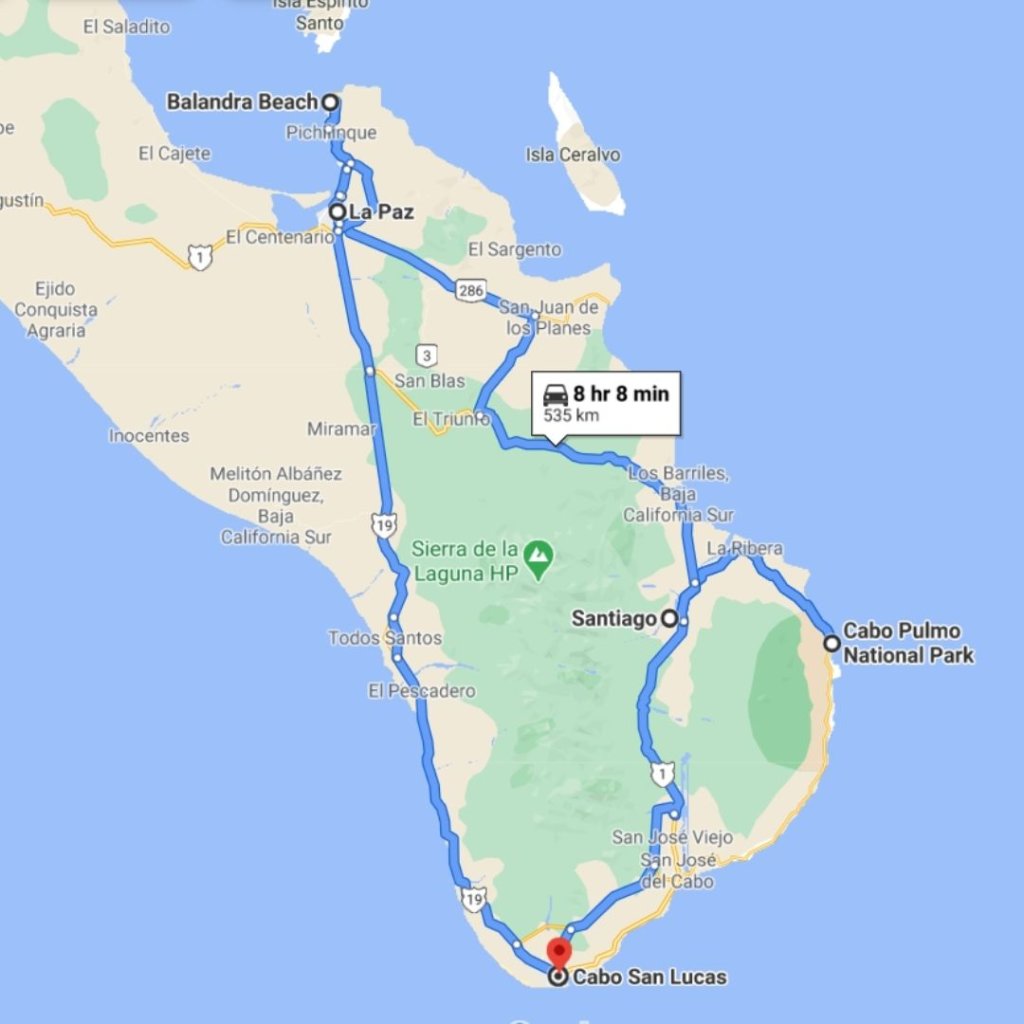 Stop #1: Los Cabos
Los Cabos is an area that contains two separate municipalities – Cabo San Lucas and San Jose del Cabo. Cabo San Lucas is a bit more loud and crowded, with tons of walkable shops and restaurants. San Jose del Cabo, on the other hand, is a bit more quiet and filled with locals, interesting architecture and art.
Click here for my in depth comparison of of Cabo San Lucas and San Jose del Cabo. They are very different, so depending on your personality, you will definitely prefer one over the other!
Whichever you choose, plan to spend at least two or three nights in the Los Cabos area. And, regardless of where you lay your head at night, you should absolutely check out both towns.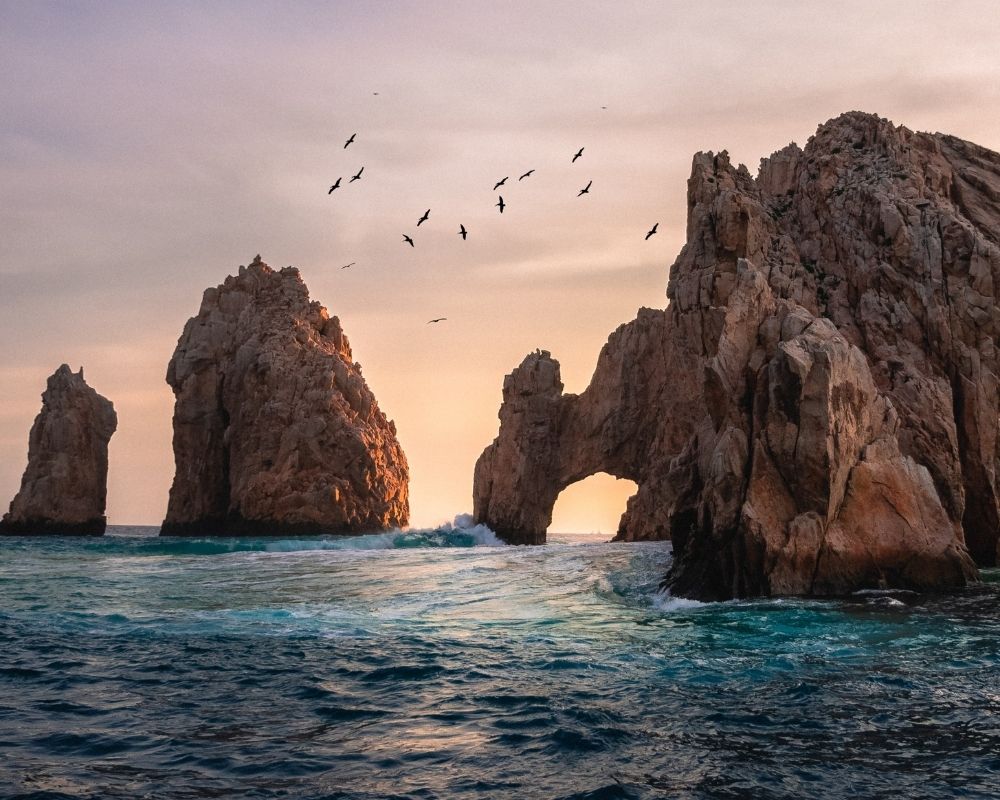 After enjoying the best of Cabo, plan to wake early on your day of departure. Allow yourself two hours on the road to reach your next destination:
Stop #2: Cabo Pulmo National park
Cabo Pulmo National Park is about two hours northeast of the Los Cabos area (depending on your exact starting point). The park opens at 8am daily, and I highly recommend arriving first thing!
You'll get to experience the best of Cabo Pulmo without the heat or crowds. Plus, this will be one of the most picturesque ways to stretch your legs along the way.
This marine park covers over 17,000 acres and is a protected area in Baja Sur. If you are interested in diving, snorkeling, whale-watching, or even just enjoying an incredibly beautiful and laid-back beach setting, then Cabo Pulmo is for you.
It is often said to have the best snorkeling and diving in all of Baja, and features the only coral reef in the Sea of Cortez. I highly recommend spending at least half a day here. The park closes at 5 or 5:30pm depending on the day, so you can stay the entire day as well. Tours can be booked below for various marine activities that you won't soon forget!
You can absolutely book accommodations on the ocean near Cabo Pulmo National Park. I personally drove one hour inland to the tiny town of Santiago. I wanted to set myself up for several early days at my next mountainous region:
Stop #3: The Sierra de la Laguna Mountains
The Sierra de la Laguna mountains are incredibly picturesque. These mountains are compiled of white jagged rocks – a very different terrain than I am used to in the American Southwest.
The town of Santiago is quite literally an oasis, and these mountains showcase exactly why. Crystal clear and cool spring water flows into various lagoons between the mountain peaks. Yes, these are incredible for quick dips in the hot desert sun. But even more of a surprise than the crystal springs of the Baja desert are the hot springs that pool just next to them.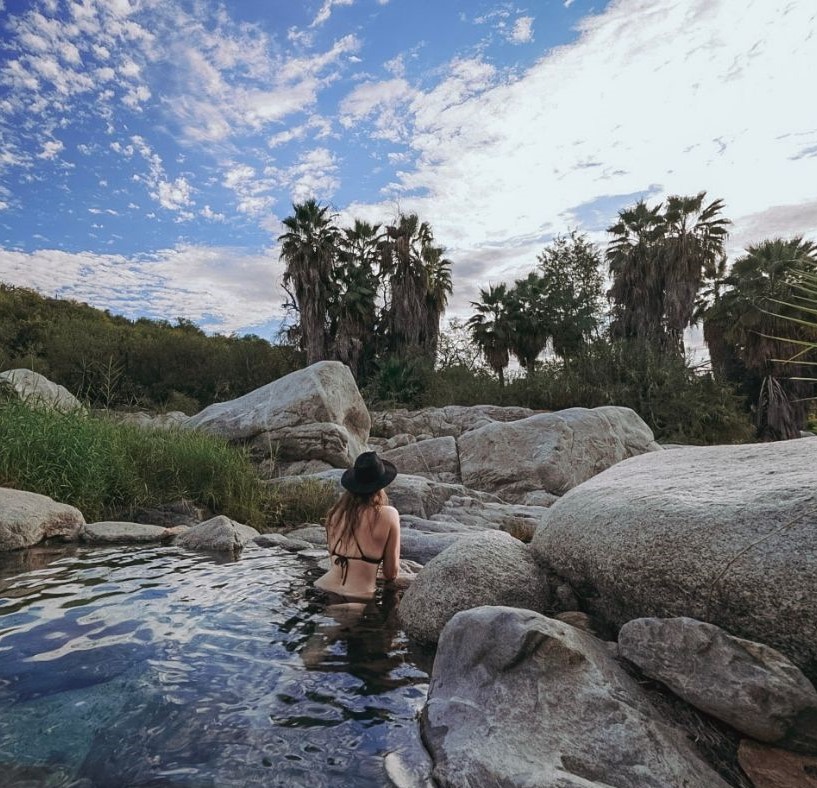 The Santa Rita hot springs are a natural phenomenon and they – like the entire Sierra de la Laguna – are a UNESCO protected biosphere reserve. These springs are so refreshing and a completely unexpected sight in the deserts of Baja. You can quite literally hop from the very hot water of the springs into the refreshingly cool stream next door.
Hiking in Sierra de la Laguna, I saw not one other soul on the rocks. I have an entire post on visiting the Santa Rita Hot Springs that will help you plan the details. This was the biggest highlight of my most recent trip to Baja, so I highly suggest adding this to the list!
Depending on how tired you are, you can spend another night in Santiago, or, drive on to the next location.
Stop #4: La Paz
Two hours north, and headed back to the eastern shore, is La Paz, Mexico. I used La Paz as a sort of rest-stop after a week or so of non-stop hiking and exploring. I booked a hotel right on the water and really made use of the small patch of sand and cheerful pool area.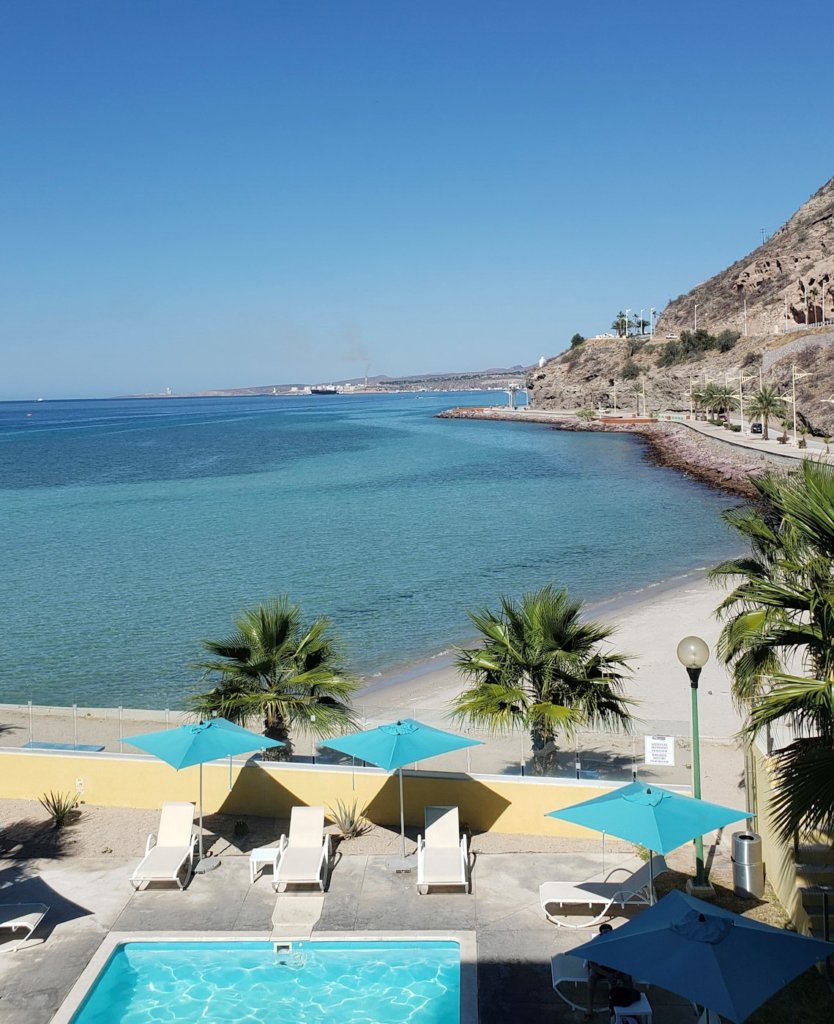 Honestly it was the perfect way to decompress, play catch up, and relax. Even though its a city, it's a fairly calm area ("La Paz" means "peace" so there ya go) nestled between mountains and long stretched of rugged land and cacti.
After a full day of La Paz, I was ready to explore the surrounding areas.
Stop #5: Balandra Bay
This hidden gem is such a stunning location that I wrote an entire post about exploring Balandra Bay while you[re visiting La Paz.
The shades of blue are unbelievably bright, made even more drastic by the dry brown earth and tall cacti that surround it. It takes a roughly 30 minute drive from the outskirts of La Paz to reach here, and the road winds through beautiful mountains.
The bay itself is quite shallow in many areas, with limited beach parking and frankly limited beach spots to choose from. The bay is sheltered between two mountains, and climbing those mountains will give such a stunning view of the entire bay that it just can't be missed.
I stayed a total of four days in the La Paz area and explored Balandra Bay on two of the four days. I spent all nights in the same hotel until I was ready to circle back south.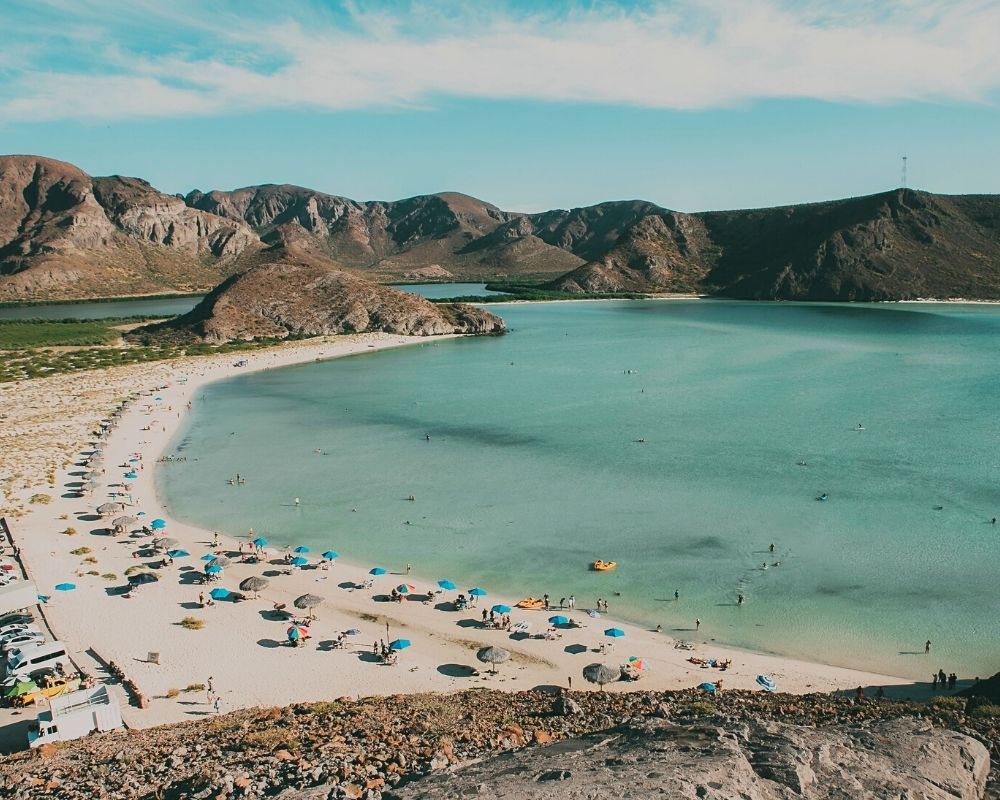 Stop #6: Small Towns on the Pacific Side of Baja
When it was time for me to head back down toward Los Cabos, I wanted to drive through new terrain. I chose to drive down the Pacific side of the peninsula.
Along the way, I stopped at a number of small towns and villages that I passed during the two hour drive south. I also found some picturesque beaches with cacti leading right up to the sand that I thought were incredible.
Yes, I get it – I'm not giving you an exact spot to stop and visit. But that's part of the fun of road trips. Stopping wherever your heart desires and taking time to see everything along the way.
Stop #7: Back in Cabo
Assuming that you are flying out of Mexico from Cabo, you'll complete your circle right back where you started. This is an excellent opportunity to visit any Cabo sights that you didn't see on the first round. Or, if you have time, enjoy a few more days in paradise on the beach.
Can You Road Trip Baja California as a Solo Female?
You bet!
I have road tripped multiple areas in Mexico as a solo female. I would say a solid 98% of the time, everything went smoothly. I felt safe at all times, even in deserted areas. Other drivers were courteous. Maps were relatively accurate.
So what snags did I hit? Actually, none in Baja Sur. I have had a few interesting experiences when previously renting a car in Mexico, but none in Baja Sur.
Every destination and route listed here are ones that I personally drove, completely solo, on my own Baja California road trip.
Take normal precautions, such as:
make sure your gas tank is full before entering remote areas.
download offline maps to your phone and/or bring a paper map.
avoid driving in isolated areas late at night.
make sure your phone has reception or get a local SIM card for emergencies.
And there you have it! An incredible Baja Sur road trip guide that will cover so many terrains – mountains, beaches, deserts. It will also cover two protected nature areas that are just incredible to see in person.
This road trip through Baja will prove to you what an awesome area the Baja Peninsula truly is.
Pin Me for Later!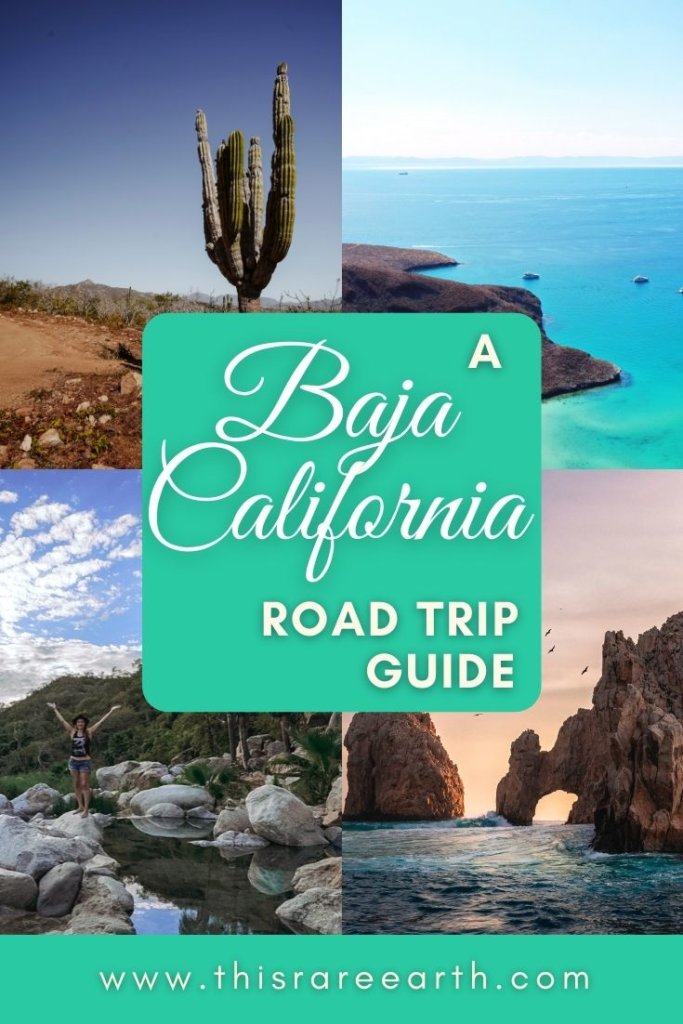 Is there anything else you'd like to know about Baja? Let me know below!