I recently went on a solo female roadtrip around the Yucatan Peninsula, and it is easy to see why the Eastern-most states in Mexico are so popular. After spending time on the Caribbean side of Mexico, I have a list of new favorites found south of the border that you should add to your Yucatan itinerary. Read on for the top 10 best things to do and see in the Yucatan Peninsula!
Pin Me for Later!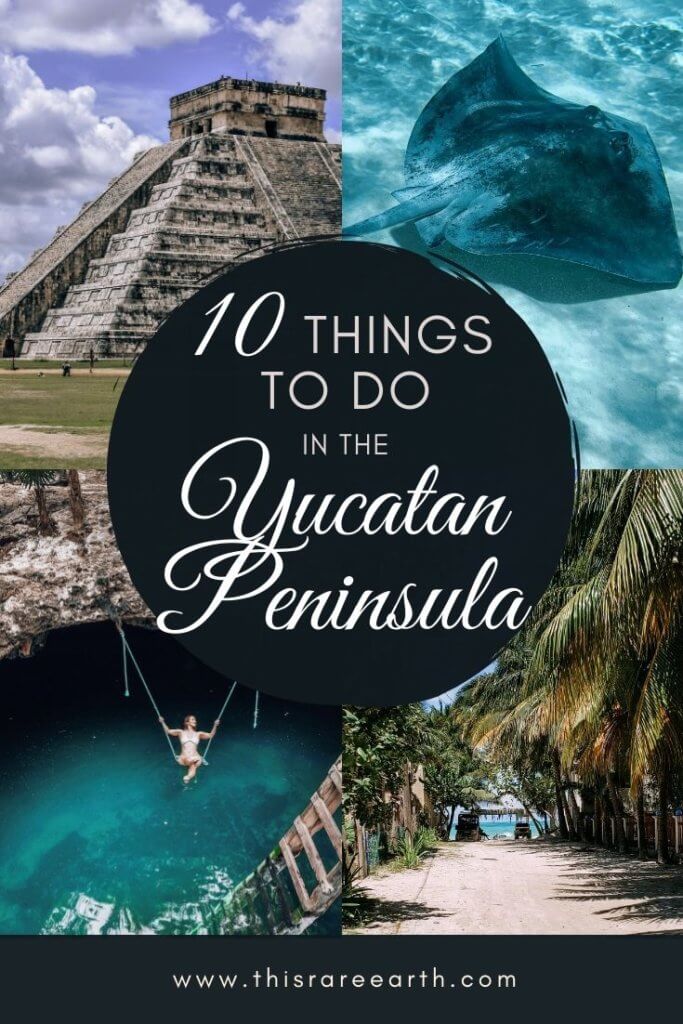 Over the years, I've spent a lot of time in Mexico. From Mexico City to Oaxaca to Valle de Guadalupe to the Baja Peninsula – I've seen a lot of this beautiful country. In fact, it's amazing that I've gone this long without spending time on the Caribbean side of Mexico.
I've recently (finally!) checked this area off of my list, by taking a solo female road trip in Mexico's Yucatan Peninsula, where I've scouted out the most interesting, historical, and breathtaking areas that you should explore on your trip. Keep reading for the top things to see and do in the Yucatan Peninsula!
The Top 10 Things To Do in the Yucatan Peninsula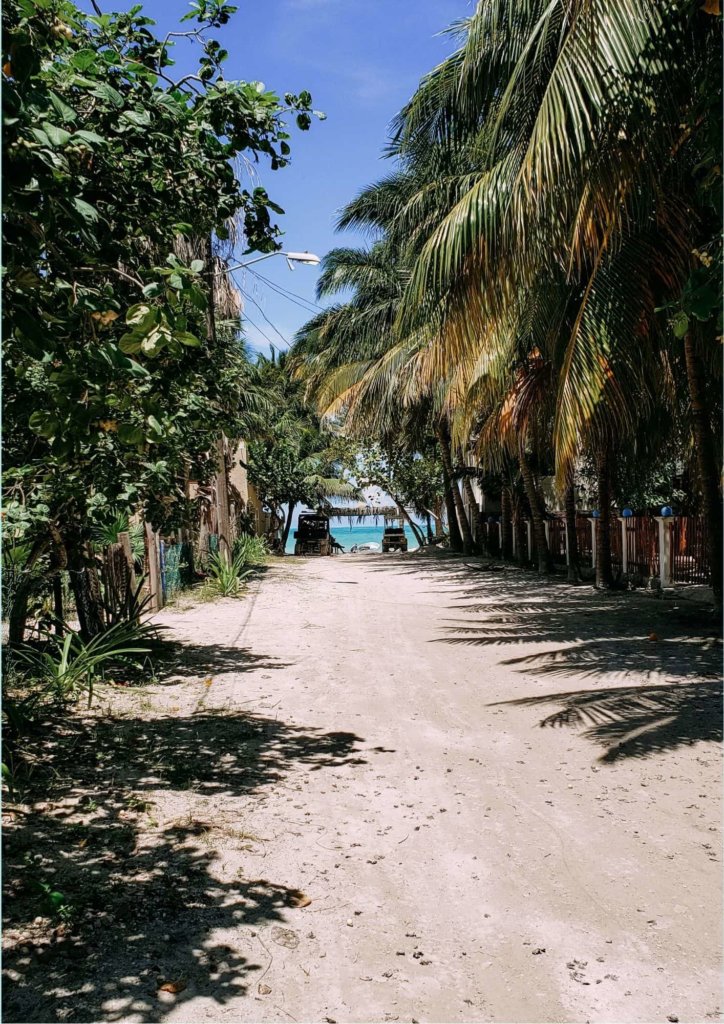 1. Visit Isla Holbox
Isla Holbox is a crescent-shaped island off of the eastern-most point of Quintana Roo. It has a personality unlike anywhere else I've seen in the area – small town, friendly, relaxed but also lively. The island is a short, less-than-one-hour ferry ride from the mainland, leaving from the town of Chiquila every 30-60 minutes.
One of the reasons that Isla Holbox has become quite popular is that it is known as a top location to swim with whale sharks. These spotted gentle giants are harmless, but swimming beside one will remind you how small you really are in this world. The best time to see whale sharks is in the summer, as their migration path dictates.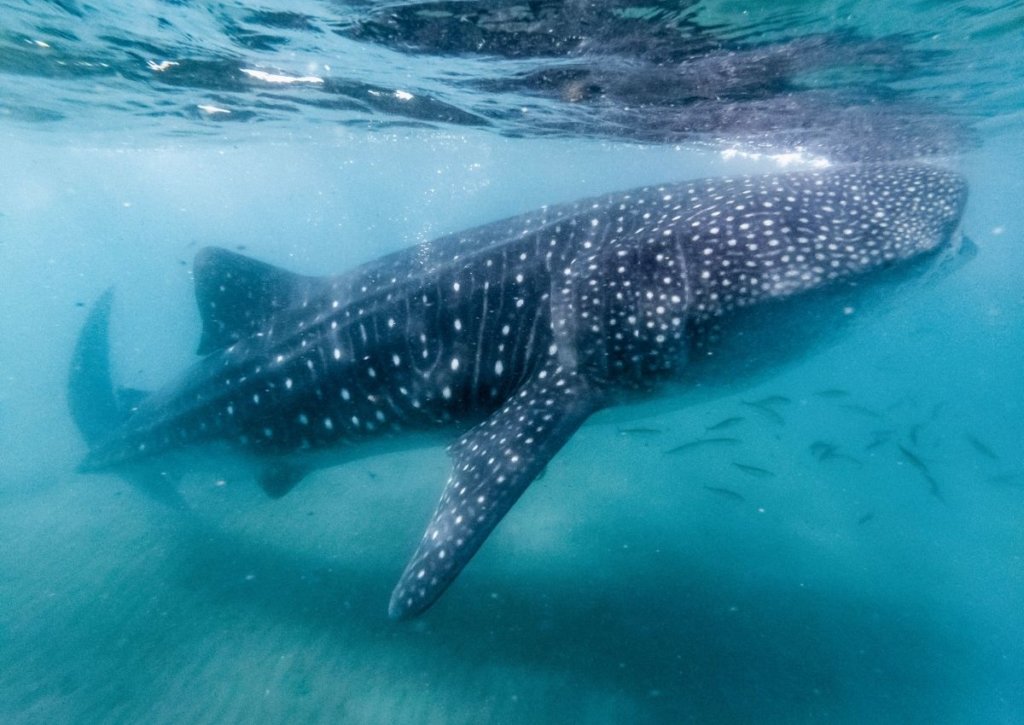 The sand on Isla Holbox is white against the turquoise blue waters of the Caribbean Sea. Various restaurants and hotels claim large sections of the beach, requiring drink and food purchases to use their area. I found some large stretches of sand to the west, though, that were quiet and nearly empty.
No cars run on Isla Holbox (besides a couple of simple service type vehicles). All passenger traffic and taxi vehicles are actually golf carts – which you can rent to explore the island on your own! Bikes are another great option.
The gorgeous nature, beautiful beaches, and lack of cars and highway noises are what make Isla Holbox so charming. Isla Holbox is easily one of the best things to do in the Yucatan Peninsula.
Click Here for a Google Map of Isla Holbox.
2. Explore Chichén Itzá
Chichén Itzá is a name you have probably heard in your early history lessons. If not, let me tell you a little bit about these amazing Mayan ruins.
These world famous ruins cover over 700 acres of the Yucatan Peninsula, and there are still areas of the archaeological site that have not yet been excavated. It's incredibly interesting to get an up-close glimpse of ancient life here.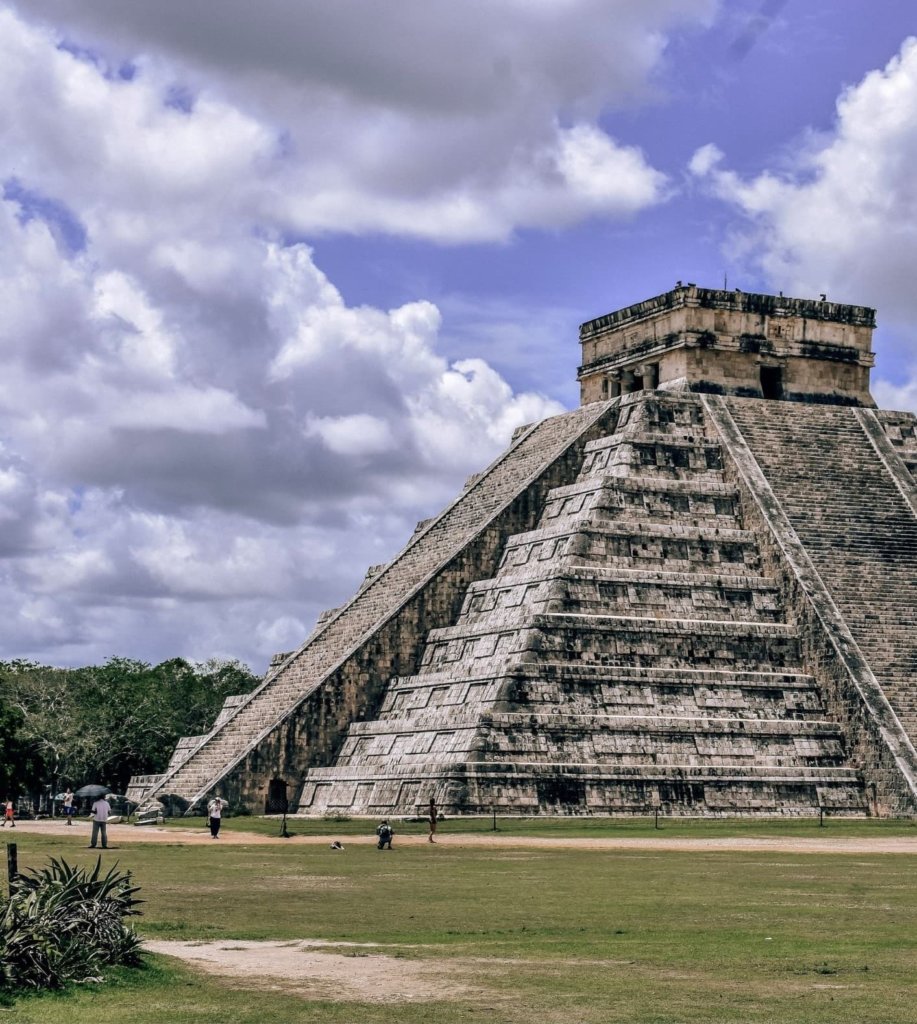 The large pyramid is definitely the iconic image from Chichén Itzá. It reminded me of some of the ruin structures I explored in neighboring Guatemala, at Tikal.
Chichén Itzá's pyramid has 365 stairs running up the side – indicating the 365 days of the year. Much like the Incas at Machu Picchu, the Mayan's were incredibly interested in the sky, and used the stars, moon and sun as inspiration.
"Chichén Itzá" is a Mayan name, which translates roughly to "mouth of the well of Itza" (or so a local told me). There is a large sinkhole nearby exposing freshwater (called a cenote; more on that shortly!). This freshwater sinkhole is known as Cenote De Los Sacrificios… and if you didn't guess from the name, numerous human skeletons with sacrificial wounds were found at the bottom.
Chichén Itzá is filled with other stone structures well worth investigating, far beyond the famous pyramid. You can easily spend a full day exploring these mysterious ruins in the Yucatan Peninsula.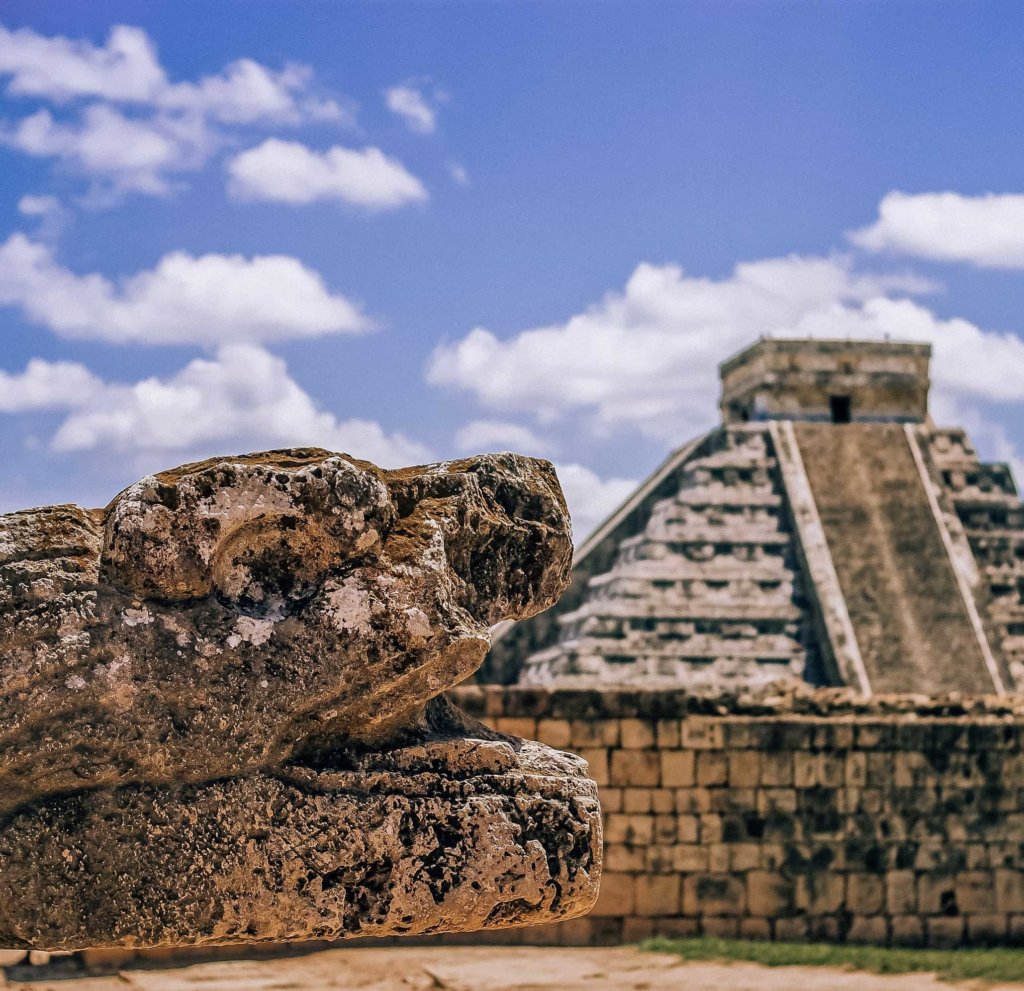 Click Here for a Google Map of Chichén Itzá.
3. Swim The Cenotes
Cenotes are quite possibly my most favorite of all things to do in the Yucatan Peninsula. I'm serious – I never tire of exploring these vastly different sinkholes. And, with over 6,000 across the whole peninsula, luckily I'll never run out of new ones to find!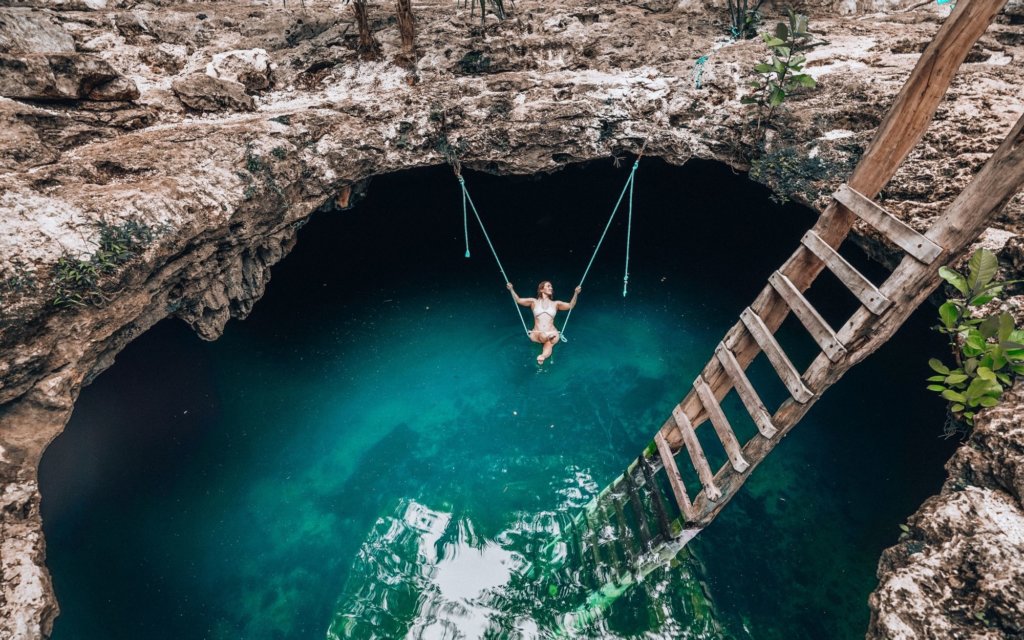 Cenotes take centuries to form. Limestone bedrock is naturally eroded and eventually collapses, creating giant sinkholes in the earth. These openings expose the fresh water from underground rivers and/or collect clean rainwater, creating picturesque and crystal clear blue water. How refreshing in the humidity of this area!
Some cenotes are completely exposed, like Cenote De Los Sacrificios, with it's sheer steep cliffs leading down to the water. Others are partially – or even fully! – underground, inside of underground caves and caverns. These were my personal favorite type.
A few great cenotes to visit on the Yucatan Peninsula are:
And, a bonus; TONS of cool cenotes are possible to visit on a day trip from Tulum.
4. Relax (Or Work Up A Sweat!) At Paradise Beach In Tulum
Tulum is another area where a lot of the beach area can be the private property of hotels. I found Paradise Beach to be a great public alternative, if you are not staying in one of the beachside accommodations.
First, there is a makeshift gym right on the beach that is free to use (or, at least no one was charging on the two days that I visited). The weights are homemade with cement and both locals and visitors work out side by side on the sand. Go early, it gets hot!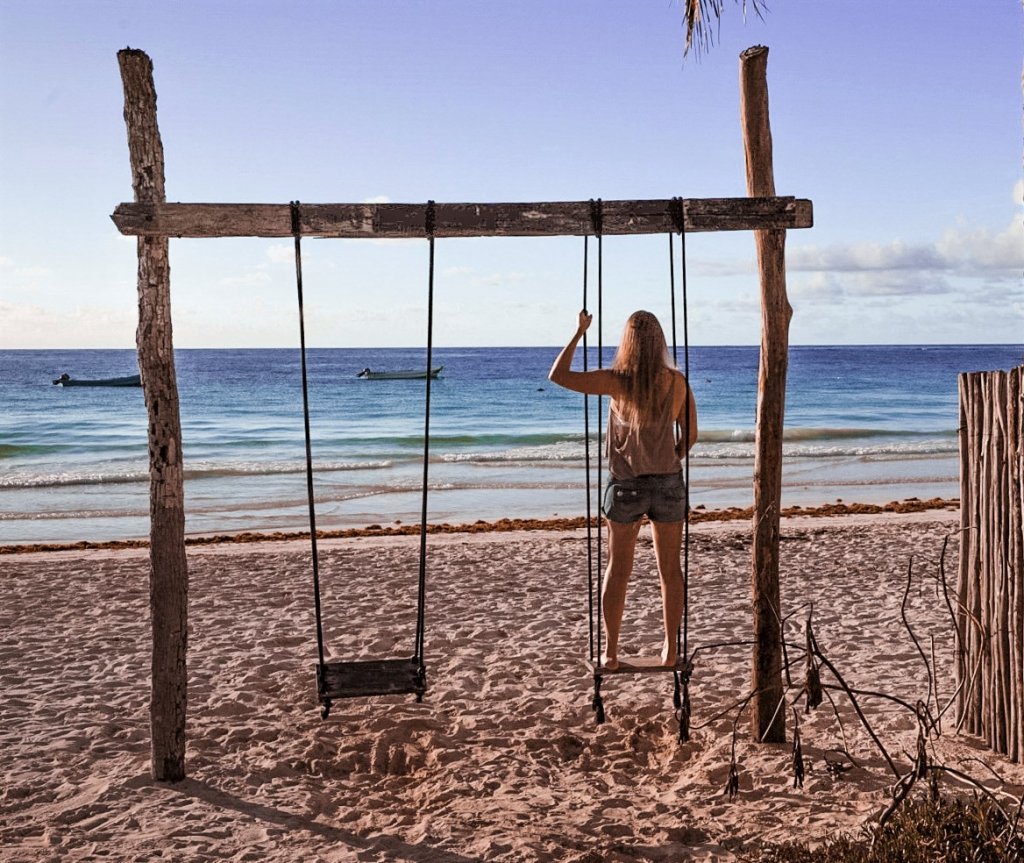 Second, it's a pretty vast area that you can access publicly, so it's great for running or for long walks (or for just laying out, I suppose!). I saw all of these things happening, as well as locals fishing and restaurants prepping to open for the day.
I spent my mornings here, and it was mostly quiet as the sun was rising. It's an unpretentious and laid-back spot, and very peaceful.
Click Here for a Google Map of Paradise Beach.
5. Take In Tulum Arts & Culture
Tulum has it all. Chic hotels, white sand beaches, and vegan eateries galore. But while Tulum becomes more and more trendy, there is still a simplicity here because there are no large chain resorts in Tulum…. yet.
I hope it stays that way because this area's eco-conscious and artsy vibe is what sets it apart from neighboring Cancun. On a walk through town, you will fund interesting art installations and chic local eateries. The boho vibes remind me slightly of Bali, actually, but of course with that Mexican flair.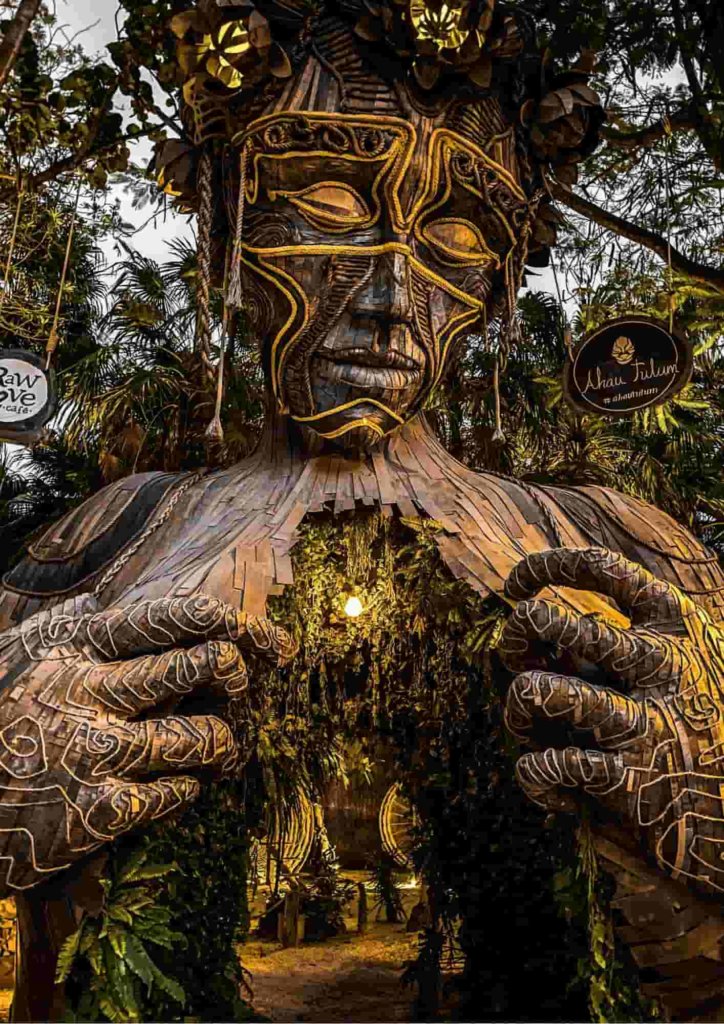 Tulum is a safe place to walk around (even for me as a solo female) so do take a stroll and keep your eyes peeled for all of the boho and artsy decorations and vibes. Tulum's laid back feeling and artsy vibe makes it an easy pick for the top ten things to do in the Yucatan Peninsula.
Click Here for a Google Map of Tulum.
6. Walk Valladolid
The city of Valladolid is located just 15 minutes east of Chichén Itzá, so it is easy to visit on the same day that you explore the ruins. Valladolid is filled with ornate colonial buildings, such as the Convent of San Bernardino of Siena, found near the center of town.
Casa de los Venados is a popular small museum featuring a collection of Mexican folk art. Tours are offered and the entire museum is actually inside of a private home.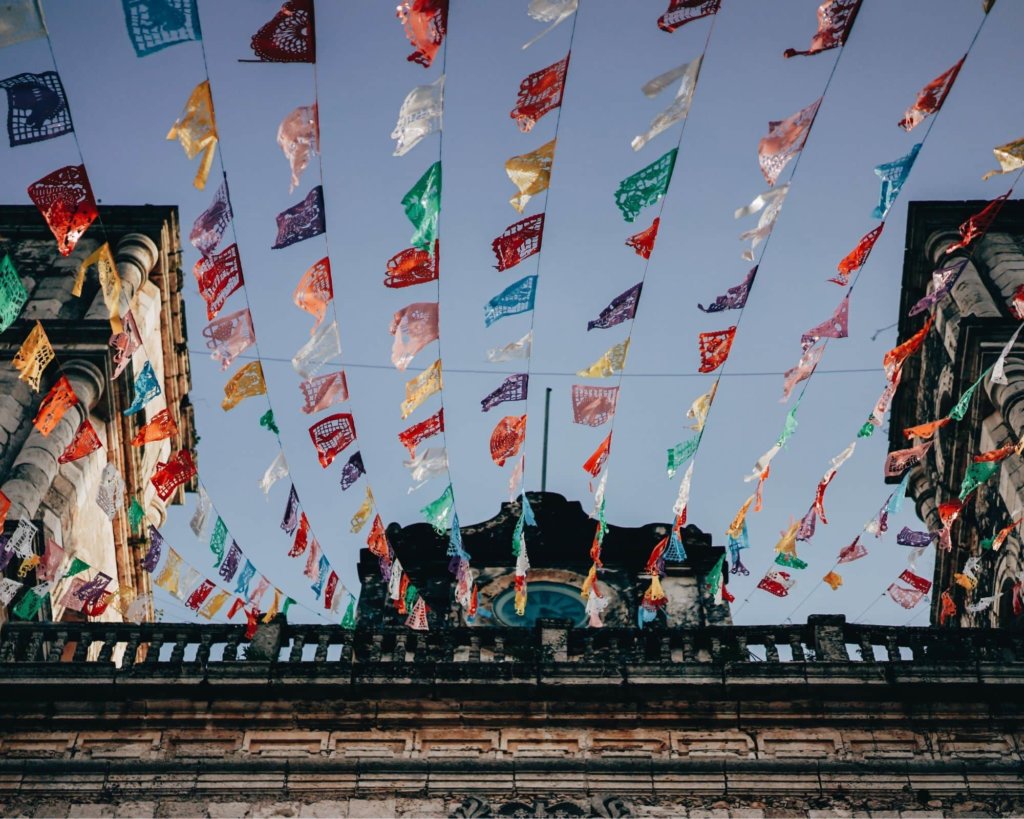 If you are like me and haven't had your fill of cenotes, Cenote Zaci is within walking distance of the museum and is popular for swimming on hot days. This small town is worth a visit, even if just a quick stop on your way to and from Chichén Itzá!
Click Here for a Google Map of Valladolid.
7. Road Trip to Lago Bacalar
Lago Bacalar is a stunning blue lake in the state of Quintana Roo. This is one of my most spectacular finds on my quest for things to do in the Yucatan Peninsula. Locals have been visiting this spot for years but it's just starting to gain popularity for tourists. Lago Bacalar is far south, toward the border of Belize, so it is a bit off the beaten path.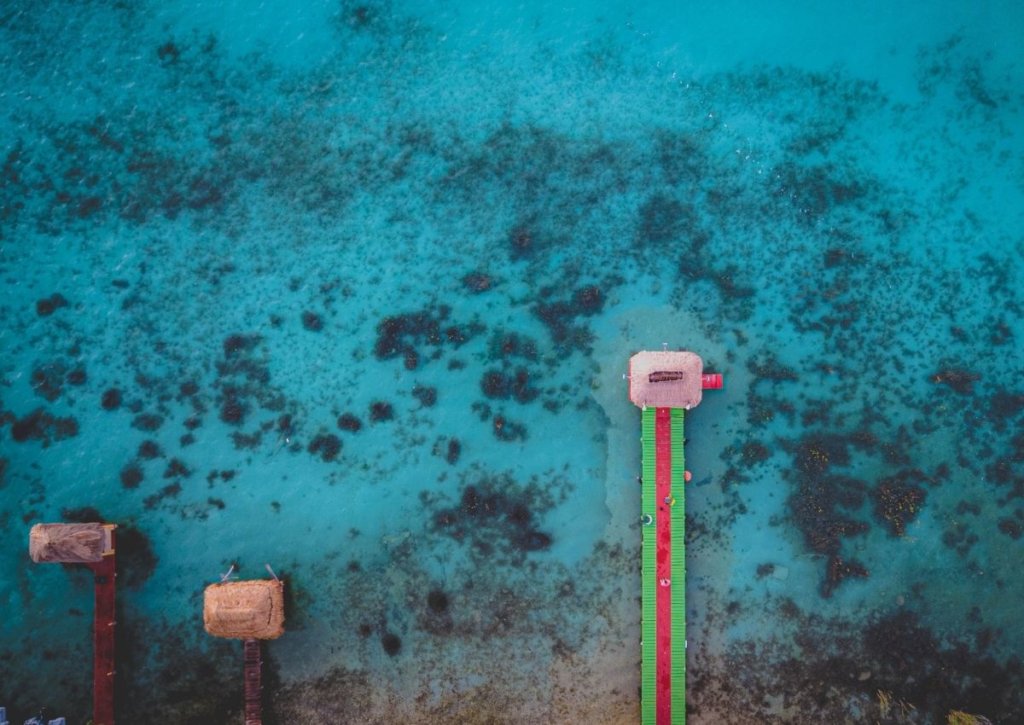 Upon arrival, you are greeted by clear, striking blue water surrounded by greenery. The scenery is breathtaking, and the surroundings are peaceful. Lago Bacalar is an excellent spot to enjoy a quiet day (or two or three).
Click Here for a Google Map of Lago Bacalar.
8. Go Diving In Cozumel
Though remaining largely undeveloped, the Mexican island of Cozumel is a popular spot for cruises to stop and explore. It's a must-see for anyone interested in scuba diving and snorkeling.
Diving attractions include the famous underwater sculptures of the Museo Subacuático de Arte. It's just unreal! For animal lovers, dolphins, rays, sea turtles and manatees can all be found in Cozumel.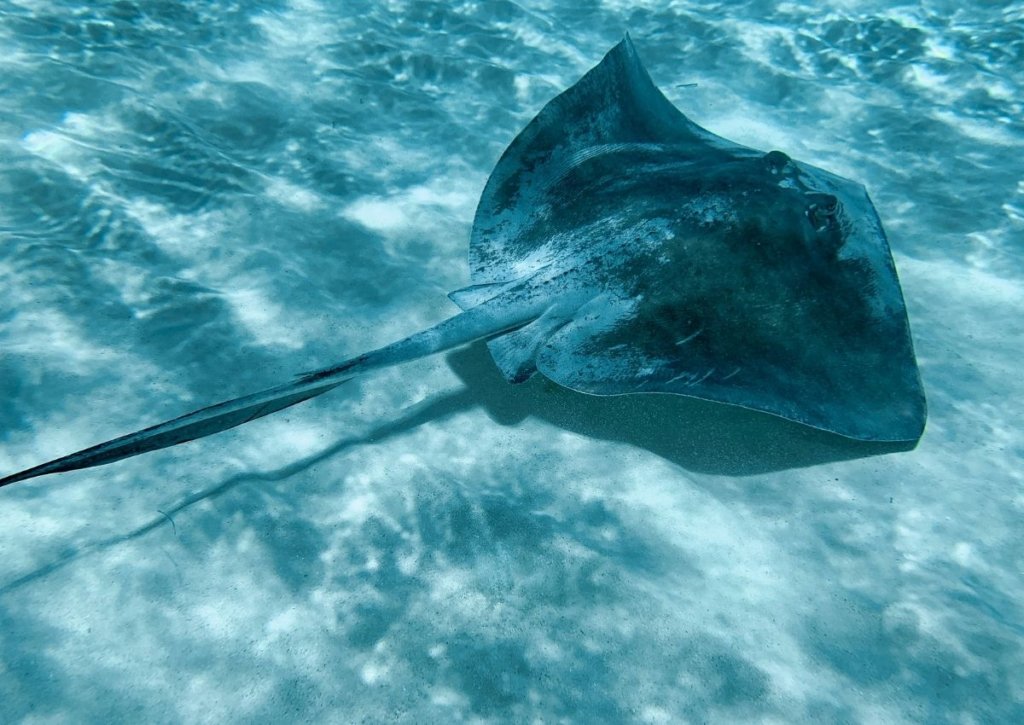 It's interesting to me that an island so close to Cancun is still so natural and undeveloped. Cozumel is full of things to do and is a must see while visiting the Yucatan Peninsula.
Click Here for a Google Map of Cozumel.
9. Travel Back In Time At The Coba Ruins
The Coba ruins are actually a fairly recent find in the grand scheme of things. Though discovered in the mid-1800's, archaeologists were unable to access the site until the 1920's due to the thick dense jungle.
These incredible ruins cover 30 square miles and hold the tallest pyramid in the Yucatan Peninsula. Yep, even taller than the main pyramid at Chichén Itzá.
In the Mayan language, Coba means "waters stirred by wind". These ruins are located near two lagoons – Coba Lagoon and Macamxoc Lagoon – hence the name. The waters can be seen while driving to the Mayan city or once you are inside the site of the ruins. These rivers are believed to be the reason why the Mayan city was built here, as they are fresh drinkable water.
The same roads traveled centuries before by the Mayans is still intact, and you will feel like you're time traveling as you explore this site.
Click Here for a Google Map of Coba.
10. Relax (Or Party) In Cancun
Cancun has a long history with tourists. The area is heavily built up and visitor-friendly, to say the least.
For those looking for luxury, Cancun has no shortage of fancy and all-inclusive resorts, with private beaches and infinity pools. If you are headed on vacation to simply relax, then Cancun might just be the place for you!
Alternately, Cancun has a lively nightlife after years of spring breakers and holiday travelers letting loose. Nightclubs and hotels with loud music and strong drinks are just as easy to find.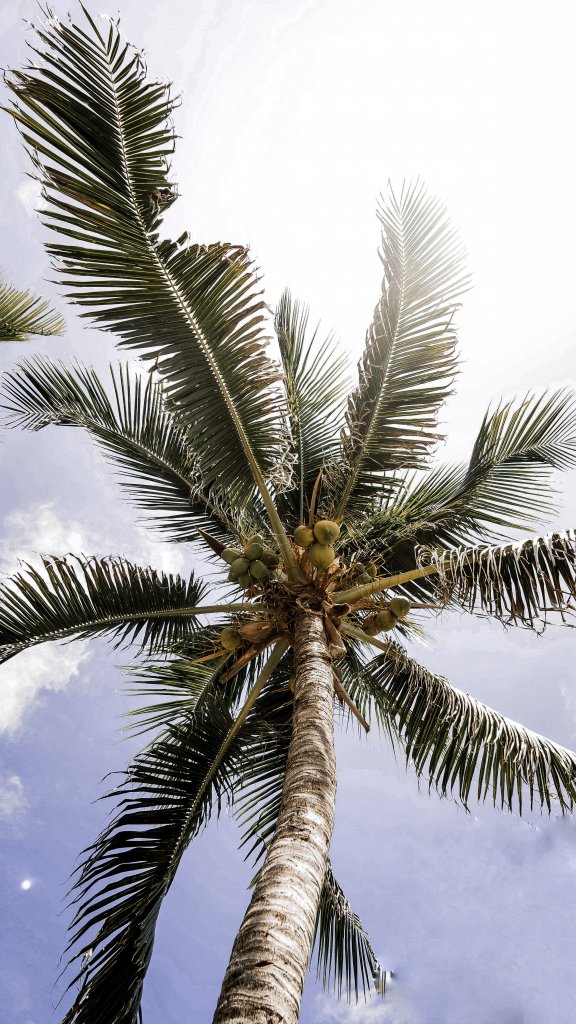 With an international airport, this is oftentimes many visitors' home base. And, with western luxuries right at your fingertips, it's easy to see why some people fly in to Mexico and never leave Cancun.
However, if you do stay here, I urge you – head out on a few of the excursions listed above so you return home with tons of memories and experiences!
Click Here for a Google Map of Cancun.
Pin Me for Later!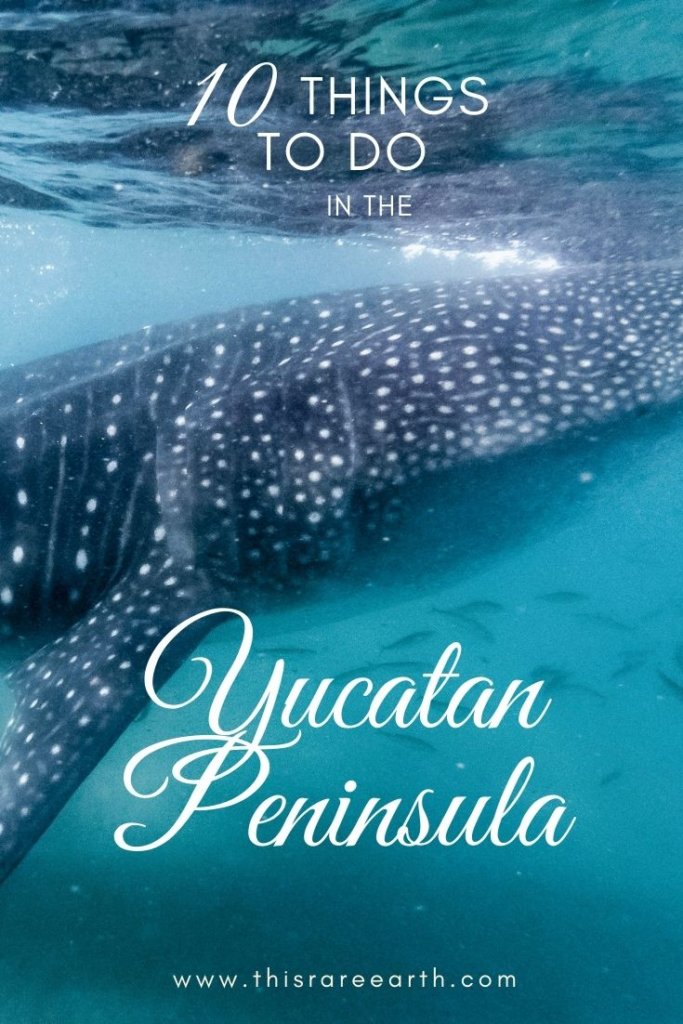 The Yucatan Peninsula is one of my now-favorite areas to explore in Mexico. This list offers a wide array of locations and experiences to get a true taste of the broad area in Mexico.
I'd go back in a heartbeat, because I feel like I need more time swimming in cenotes and exploring the small local towns!
Did this list help you decide on some must-do activities in the Yucatan Peninsula? Let me know below what your first choice will be!