I absolutely fell in love with Tak Be Ha Cenote from the photos alone, and I knew I had to visit. But beware – your plans can easily go awry due to one simple mistake. Read this guide to finding Tak Be Ha Cenote so you don't make the same mistake I did!
Pin Me for Later!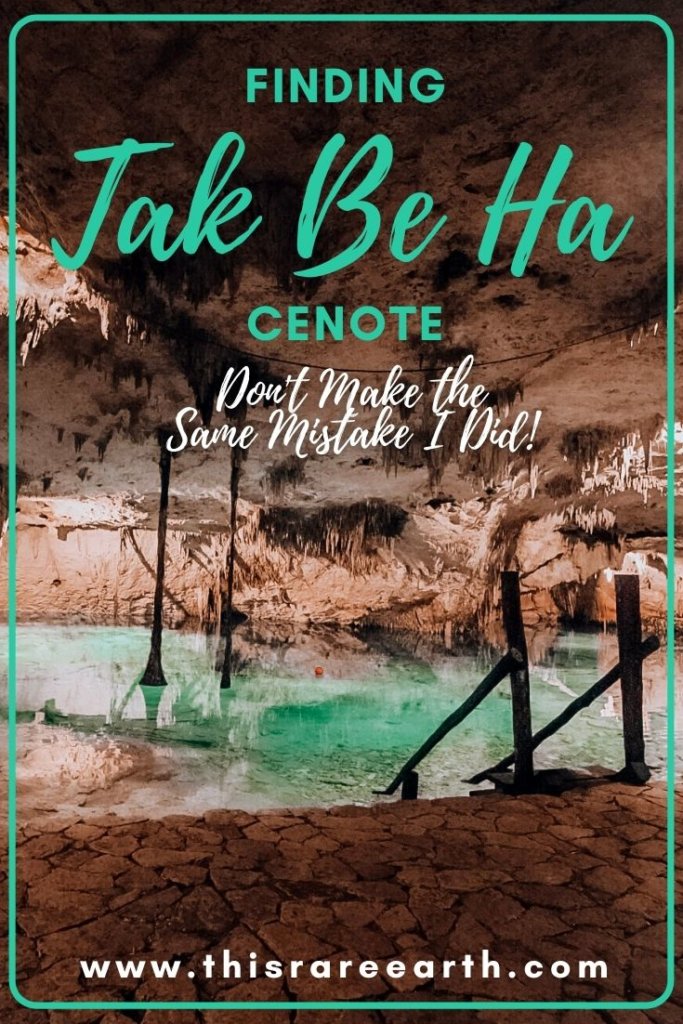 Finding Tak Be Ha Cenote in Tulum. (Hint, it doesn't exist.)
I absolutely fell in love with Tak Be Ha Cenote before I ever even visited. Photos that I saw online were seriously calling my name, ALL IN CAPS and bolded! If there was one thing I could not miss on my upcoming trip to the Yucatan Peninsula,  Cenote Tak Be Ha was it.
I spent a lot of time preparing – even choosing one of my accommodations based on the proximity to Tak Be Ha. I found it on the map and then searched nearby for hotels and Airbnb's. So, what's the problem?
Simply stated, Tak Be Ha doesn't exist. You will find several different spellings of this cenote online- from Tak Be Ha to Taak Bi Ha to Tak Bi Ha. When I noticed this, I originally just thought it was because of the difficulty spelling Mayan words. And maybe it is. In part.
But, the thing you need to know is, the different spellings will take you to completely different places in Quintana Roo.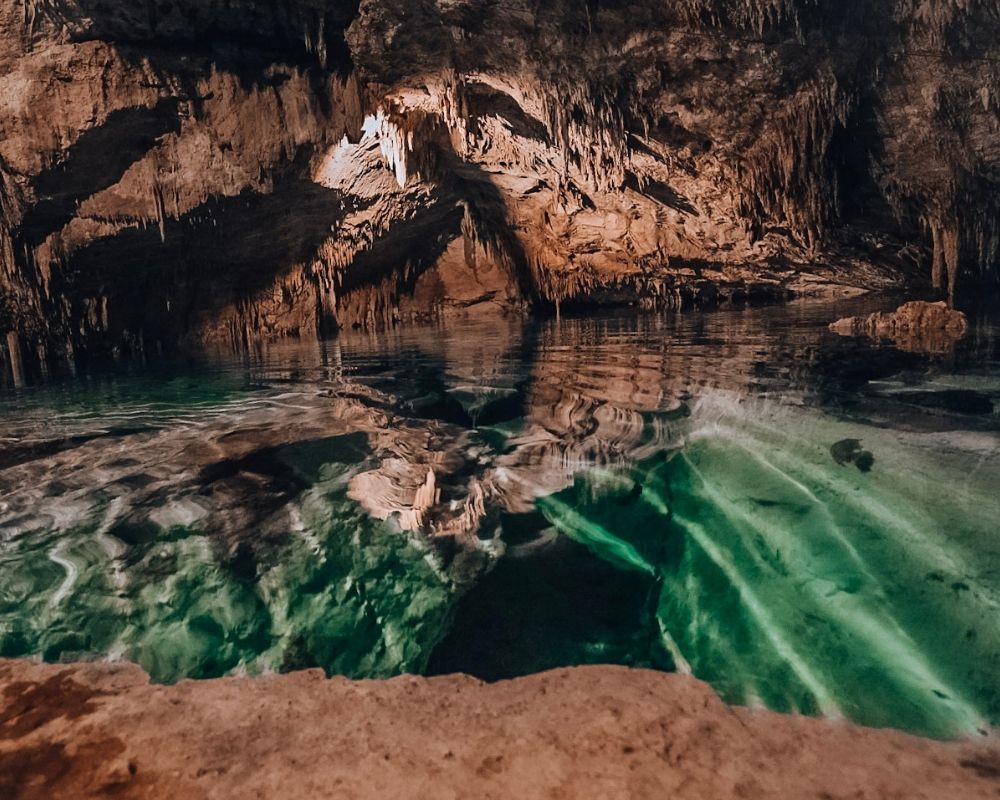 Driving to Tak Be Ha Cenote
Within my first 48 hours in Tulum, I began the trek to Tak Be Ha in my rental car. The road is pretty awful – unpaved, with large potholes and dips. But I took it pretty slow and pushed onward, passing a couple of other cenotes as I drove.
It took over 30 minutes of careful driving to make it to the exact spot that Tak Be Ha Cenote was located on the map. And what was there?
Absolutely nothing.
The exact pin where Tak Be Ha Cenote was supposed to live was actually solid brown earth. Sigh.
I turned around and began the slow bumpy trek back out toward the main road. Since I'd already made it this far, I decided to visit Cenote Caracol, on a whim, and I'm glad I did. It was pretty awesome.
But afterwards, I drove back to my villa, confused and defeated by Tak Be Ha Cenote for the day.
I based all of my decisions on "Tak Be Ha Cenote". Here is where that spelling will take you: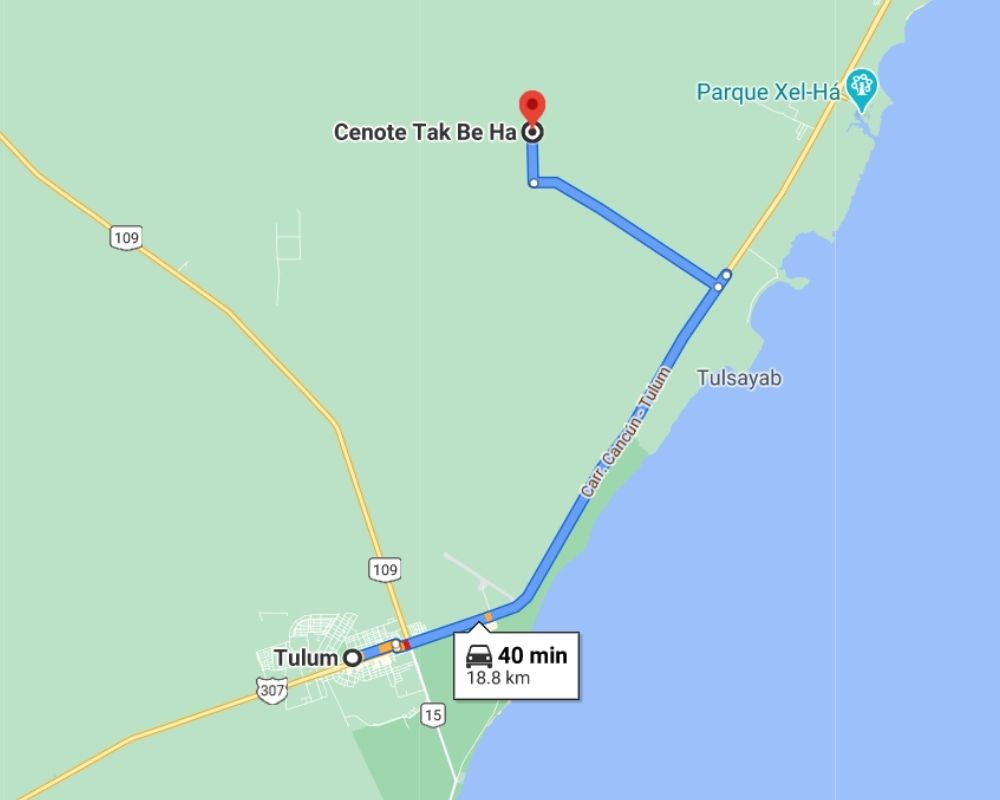 That evening I started to investigate further into the various spellings of this cenote, "Tak Be Ha". Since I was road tripping solo, I figured I had all the time in the world to devote to this.
To make a long research-filled story short, what I found is that the other spelling I most commonly found, Taak Bi Ha, is the correct one. And, depending on how you type it into Google, you will either find solid brown earth, OR, the beautiful cenote.
Finding Taak Bi Ha Cenote
Typing in Taak Bi Ha Cenote to Google Maps will send you to an entirely different location. However, once you reach this spot, there are still some confusing obstacles to overcome!
Here is where "Taak Bi Ha Cenote" will take you: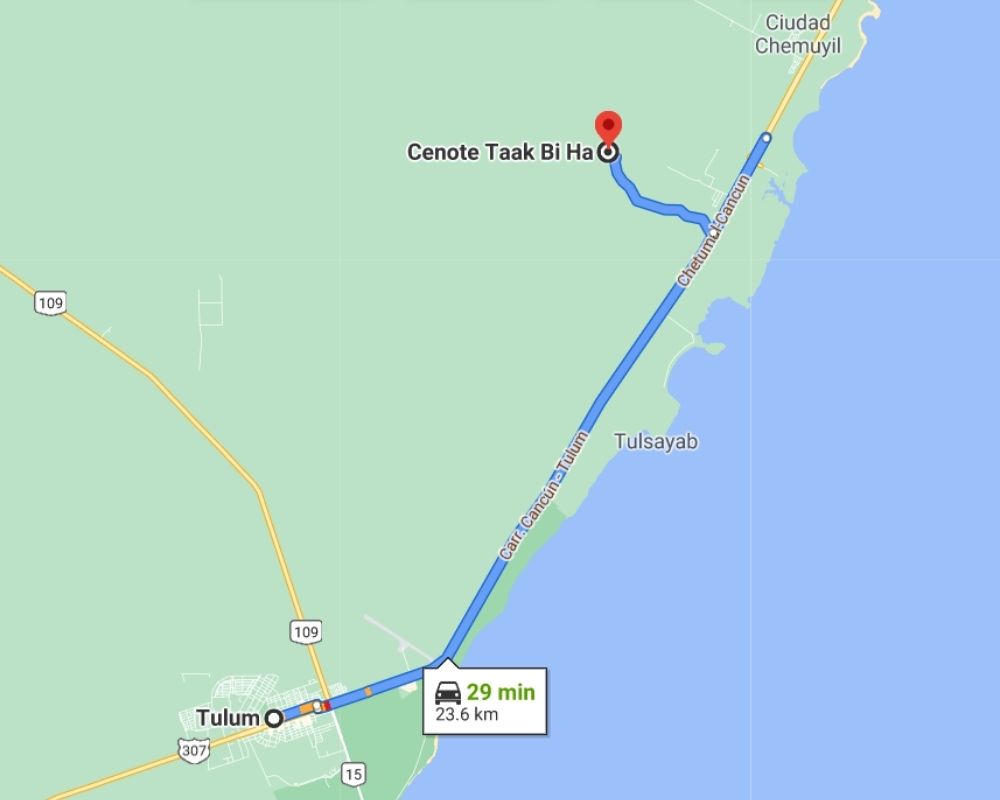 If you are coming from Tulum, note that you'll need to make a U-Turn on the 307 because there is no left turn allowed onto the correct street.
To find Taak Bi Ha, you will need to turn onto the road for the much more famous Dos Ojos Cenote, and proceed to their entrance. On the left, you will see parking in front of the Dos Ojos ticket office. On the right, the road continues, but oftentimes will be blocked by a metal gate arm.
This confused me because I thought that must only lead to Dos Ojos. But after asking two different staff members, I was finally told that Taak Bi Ha was also back there, independently operated.
A man opened the gate for me and I drove through. Continue down this road until you see a sign indicating your turn into Taak Bi Ha Cenote's property.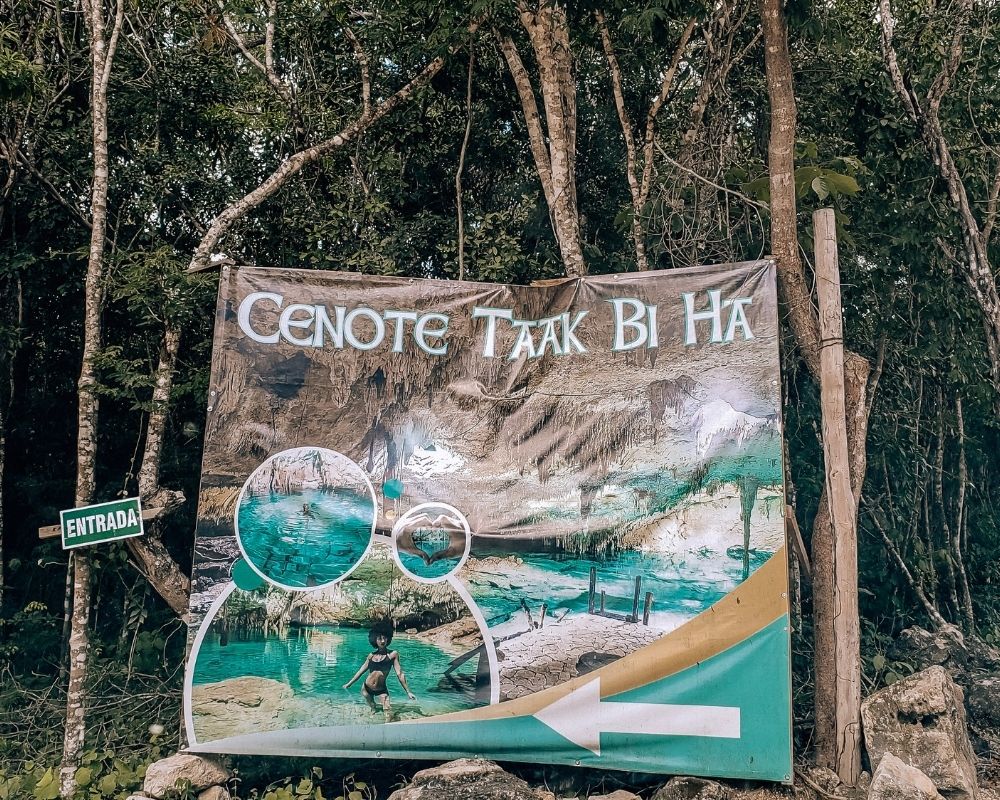 How much is Taak Bi Ha Cenote?
Taak Bi Ha Cenote currently costs 250 pesos. The price did increase in 2020, and by a lot, just as Cenote Calavera did. I suspect they are all hurting from the lack of tourism for most of the year, or simply because cenotes seem to have become much more popular.
Entering Taak Bi Ha
After you pay your fee, you do have to shower off any sunscreens or bug sprays to keep the natural pools clear. Bring a towel or a dress if you will feel awkward crossing the parking lot and entry fee area in nothing but your soaked bathing suit.
You will walk a very short way through the woods and come to a set of stairs leading down down down. Don't linger at the entrance because mosquitos love to hang out here, but be careful on the steps, as they might be slippery.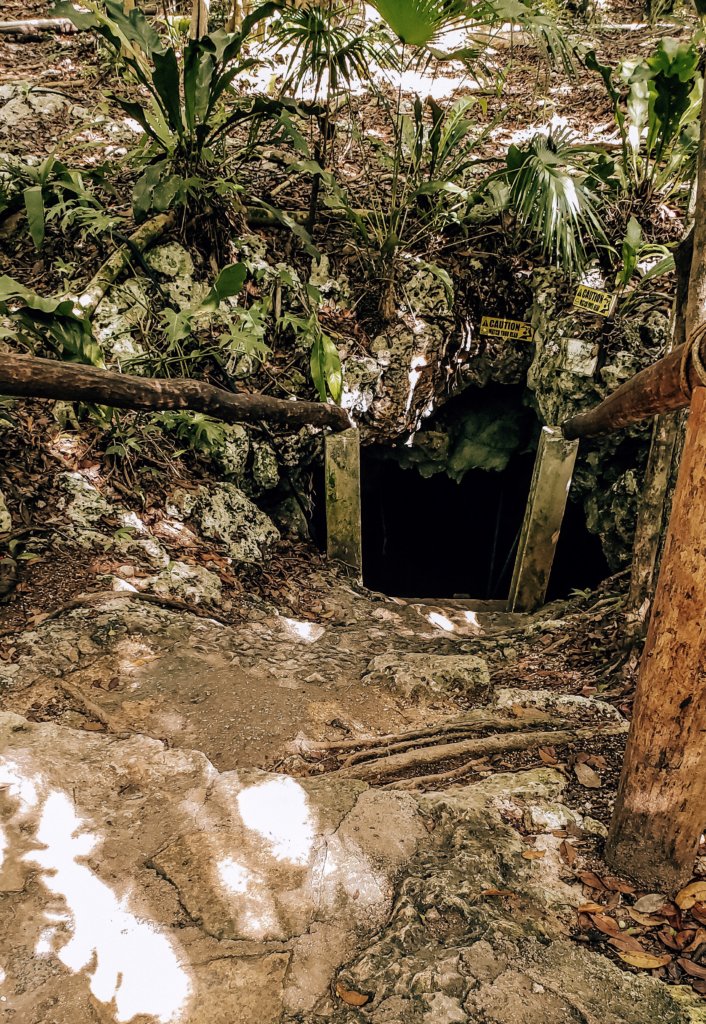 Taak Bi Ha is simply stunning. The blue is positively radiant, and the natural roots and stalagmites and stalactites add such interest to the ambiance. There is a small ladder leading into the cenote, and the water is cool and crisp in the morning.
The cenote holds varying depths, everything from knee-deep to well over 6 feet, depending on where you are. Snorkeling gear is available to rent, which will bring your total to 350 pesos. Diving is allowed in Taak Bi Ha, as it is part of the same cave system as Sac Actun.
I arrived at 8am and got to experience Taak Bi Ha's natural beauty solo. It was unbelievable! Seriously, everything I had hoped for and more, since before arriving in Mexico! I was so glad that all of my searching wasn't in vain.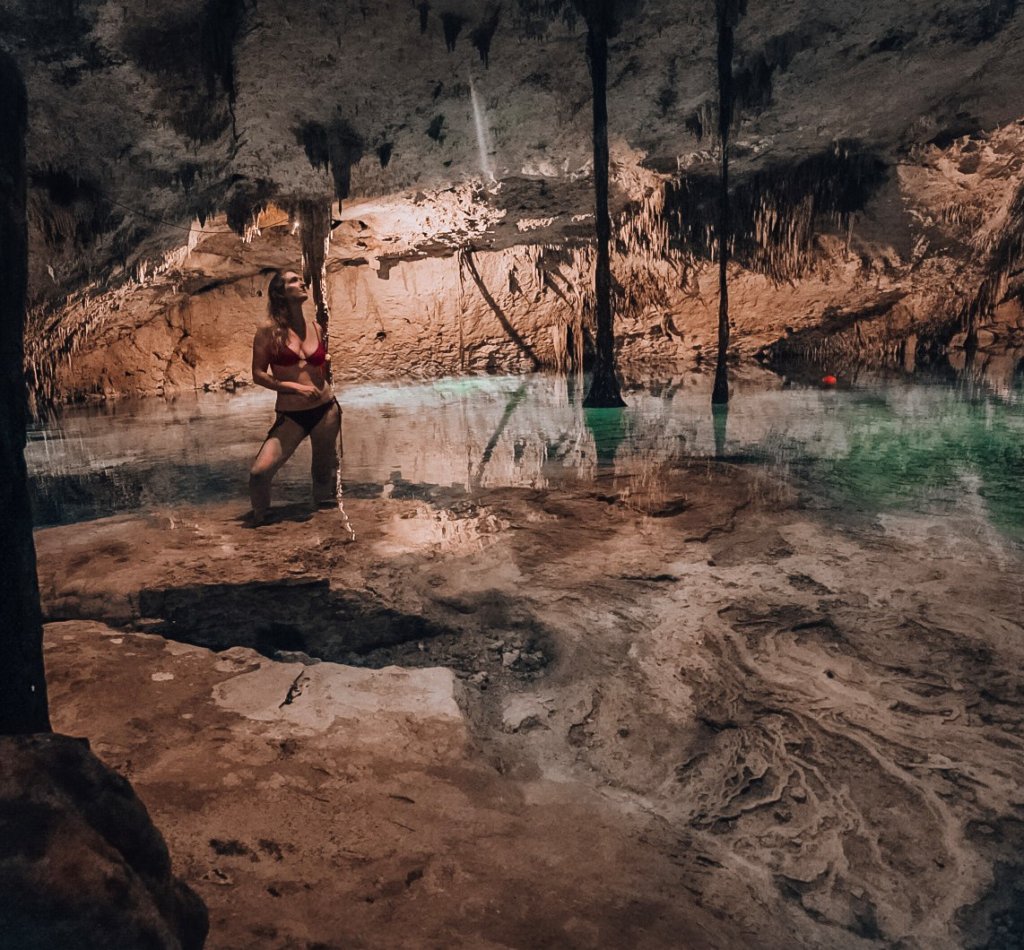 Taak Bi Ha is so so so magical. Really, one of the most magical experiences of the year, and very much worth the trek. Next time I am on the Caribbean side of Mexico, you can bet I will be back. I probably won't get the place all to myself again, but I'm super thankful I did for now.
Other Useful Information for Taak Bi Ha
Taak Bi Ha is an awesome cenote for snorkeling and diving. There are rocky crevices and small pathways to explore. It's truly an unbelievable underwater world.
I think the open-air cenotes are beautiful, but there is just something so mysterious and magical about cave cenotes. The shadowy turquoise hues feel like another world.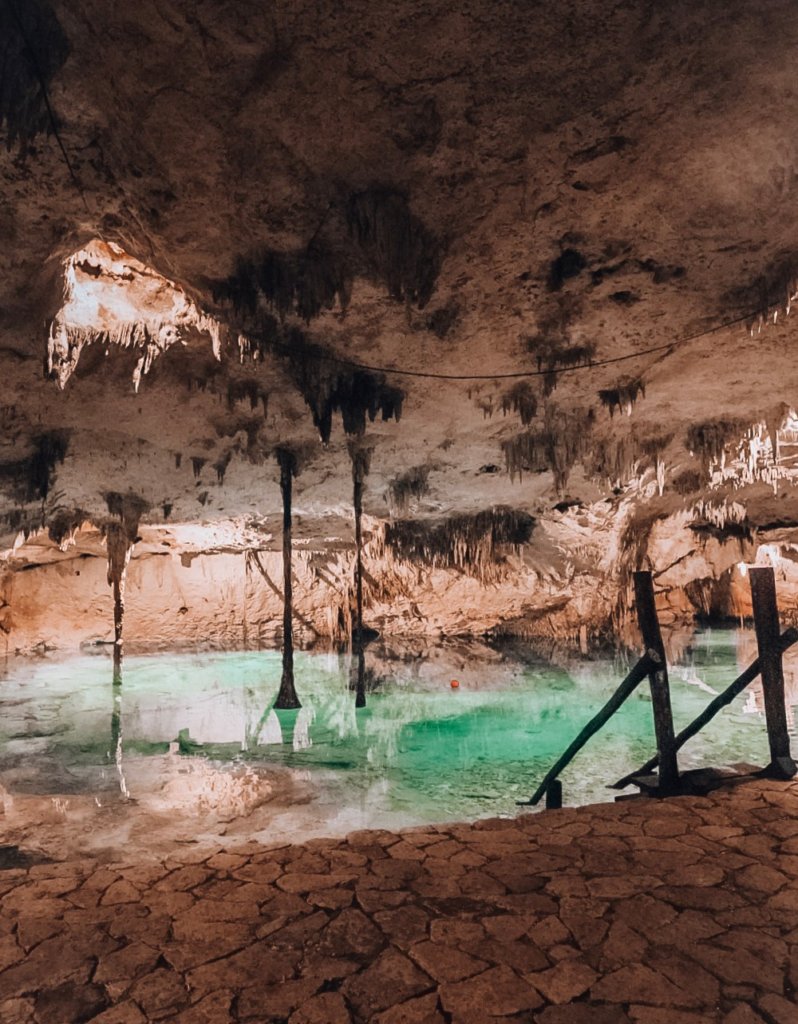 There are lots of bats! While I don't mind these little friends, others might. Mosquitos are plentiful near the entrance into the cave, but once you are in the cave, there are little to none. (Thanks, bats!)
It took just under 30 minutes with a rental car to reach Taak Bi Ha. As I mentioned, finding it was not without difficulty, and I know I'm not the only one. I saw other forums packed with questions from other lost travelers, so I hope this helps someone out. You really don't want to miss this cenote.
If you want to photography yourself or the scenery, I have a few helpful tips.
If you bring a GoPro, be sure to use one of the floaty attachments. Yes, some areas here are very shallow. But in other areas, deep caverns open up and your camera would be gone forever.
It is extremely humid in cenotes, so be careful with expensive lenses and camera bodies. Excessive humidity for long periods of time can cause damage.
Taak Bi Ha is mostly engulfed in shadowy low light. You'll want to have a longer exposure time set to get a good image, and/or bring a camera that is good in low light situations.
This cenote is actually larger than I expected. A wide-angle lens will help you capture more of it.
I hope this guide helps you discern Tak Be Ha Cenote from Taak Bi Ha Cenote, and helps you avoid the time I spent searching and researching. It was absolutely worth it because this is the most beautiful spot.
Let me know if you have any additional questions and enjoy your trip!
Pin Me for Later!