Cenote Calavera has recently skyrocketed into popularity due to social media posts, and with good reason. This cenote is stunning. But if you are planning to visit Cenote Calavera, there are several things you need to know to make your visit worthwhile. Don't visit Cenote Calavera without reading this article first! Here I will share the good, the bad, and the ugly about visiting Cenote Calavera in Tulum.
Pin Me for Later!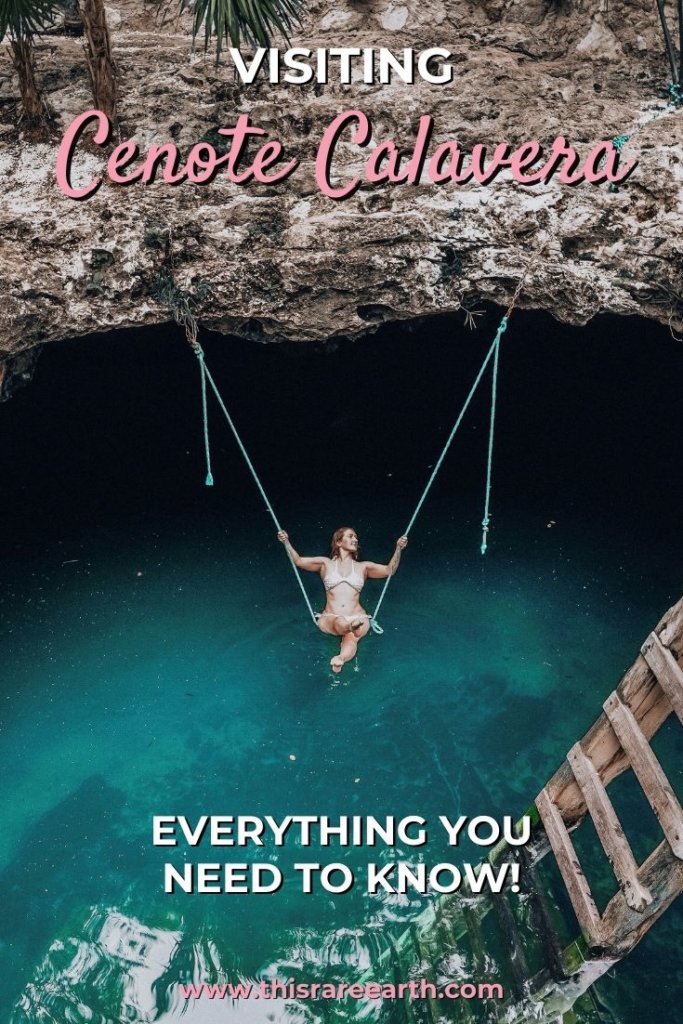 Cenote Calavera is stunning. STUNNING. The deep turquoise water, the lush green surroundings, the mysterious feel in the air… There is a reason that this cenote is becoming so popular. It's a beautiful spot.
And, there's a lot to do here. Swimming, snorkeling, diving, and cenote-jumping. Lazing about in hammocks. Photography. Did I mention the cenote-jumping?
But, even I ran into a few small surprises that I think every visitor should be aware of (and that so many blogs out there have wrong!). Keep reading to find out ALL the details you need to know before you visit Cenote Calavera!
Visiting Cenote Calavera: Everything You Need to Know
Cenote Calavera is a cenote with many names. "Skull Cenote" and "Temple of Doom Cenote" are commonly interchanged (makes sense, as "calavera" means "skull" in Spanish). This is because of the shape of this cenote, which has two small holes in the ground that represent eyes and one large hole that represents the mouth.
Cenote Calavera is part of the same cave system that the famous Sac Actun Cenote is home to. This cave system houses one of the longest underground rivers not just in Mexico, but in the world.
Furthermore, this cenote is one of more than 6,000 found in the Yucatan Peninsula alone. It's difficult to even imagine that many hidden cenotes (not to mention makes me want to spend many months here exploring for more).
Cenote Calavera is what's known as "halocline", or, a mix of freshwater and saltwater. Because this cenote is so close to the ocean, it is natural for saltwater to flow in. However, the saltwater and freshwater do not technically mix, but rather, coexist in layers (think oil and water).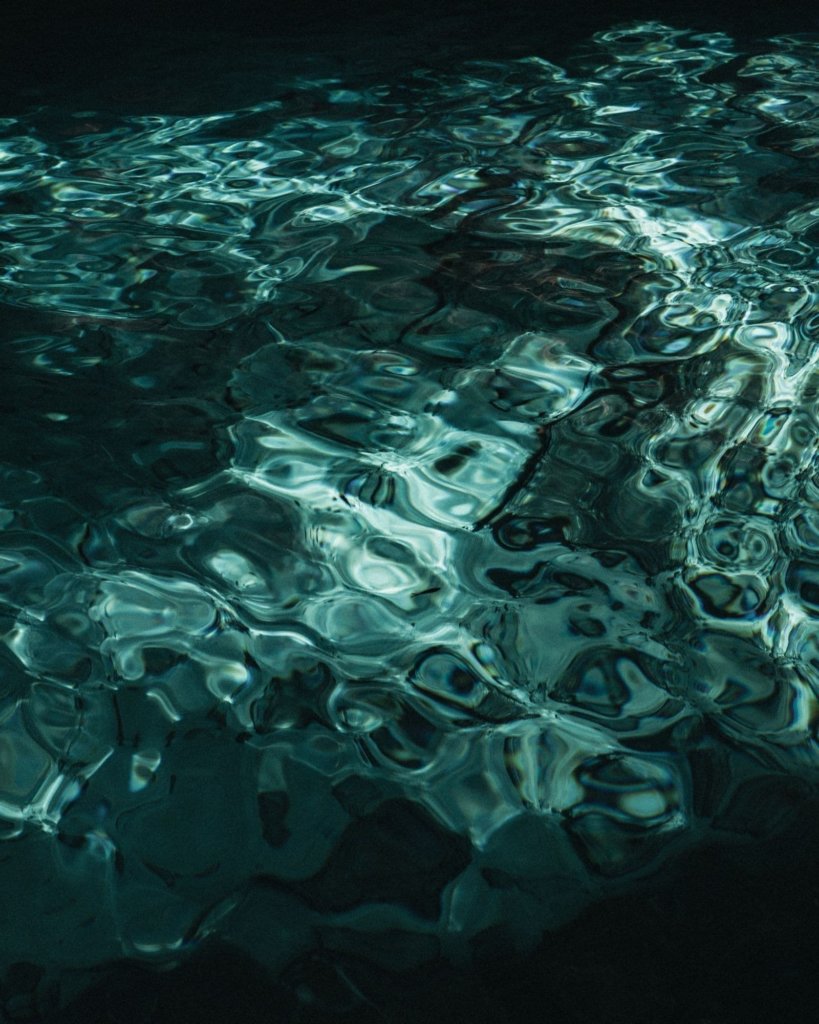 How to Get to Cenote Calavera?
If you are staying in Tulum, then you are in luck. Cenote Calavera is roughly a ten minute drive from the center of Tulum. Cenote swimming is one of the top fun and unique day trips from Tulum and this one is a must-see.
Take QROO 109 and follow signs toward Coba. A few short minutes down QROO 109, you will see a large wooden sign painted white that says "CENOTE" in all caps. This will be on the right hand side and it is often missed on the first pass. (If you hit the Gran Cenote, you've gone too far).
By Rental Car: This is how I got to Cenote Calavera and it is the easiest way, in my opinion. The drive is short, safe, and the cenote does have a small gravel lot for parking (parking is free). It will take roughly ten minutes to drive here from the center of Tulum or about 15 minutes from the hotel zone near the beach.
By Bike: It is possible to bike here! Be aware that in summer months, the air is hot and muggy. If you bike midday, the humidity will feel oppressive. Riding a bicycle will take between 20-25 minutes, depending on your starting point (and fitness level!).
By Taxi: From the center of Tulum, a taxi ride will take around 100MXN (again, give or take, depending on your exact starting point). It's not a bad option if you don't have a car, and should not cost more than about $5USD. Pro Tip: Get the taxis phone number before entering the cenote; waiting on the highway for a return taxi would not be fun).
By Foot: Yes, it's possible to walk here! My best advice is to leave early in the morning (again, that humidity is real). Also, be aware that QROO 109 is a highway. Though it was not very busy when I was there, it is not uncommon for large trucks to speed by. The walking time will vary, of course, but from the center of Tulum a 45 minute estimation is reasonable.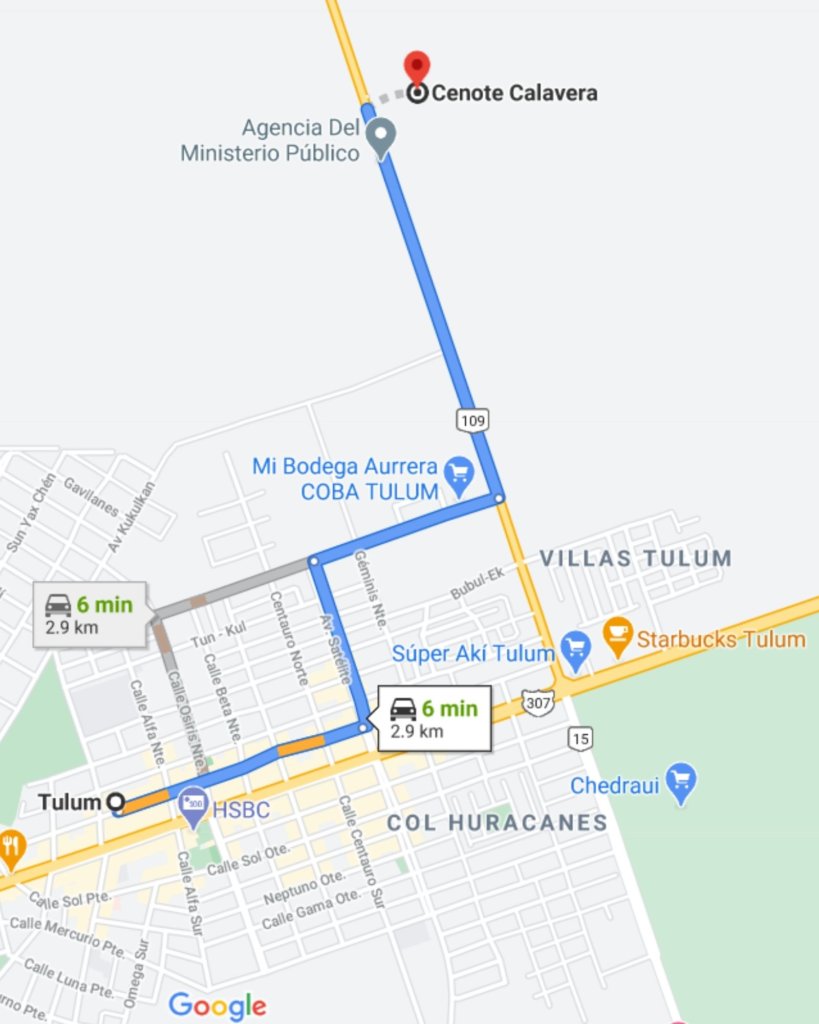 The Current Cenote Calavera Price
This is one detail that 99% of the blogs out there have wrong, and that is the current price for Cenote Calavera.
The Cenote Calavera Entrance Fee is a flat 250MXN. It's quite an increase from previous prices, coming in at more than double what the price was just 1.5 years ago. At the time of writing, that converts to more than $12USD.
While this is steep for Mexico, I do think it's worth it. First, because this cenote is unique and fun, and second because frankly many have gone up to about 250MXN nowadays.
Other Cenote Calavera Entrance Fee Details:
➳ This cenote is cash only. Be sure to bring exact pesos to make it easy.
➳ Be aware, this cenote is oddly picky about cameras. They will absolutely try to charge you an additional $200MXN if you plan to use anything other than your cell phone.
Seriously.
That means you will be paying nearly $22USD to swim and take photos on a camera. And we are talking any camera. Professional looking cameras and GoPros alike will be charged.
Vendors selling t-shirts are usually present. Honestly, if they didn't charge extra for cameras, they'd probably have more luck selling their souvenirs.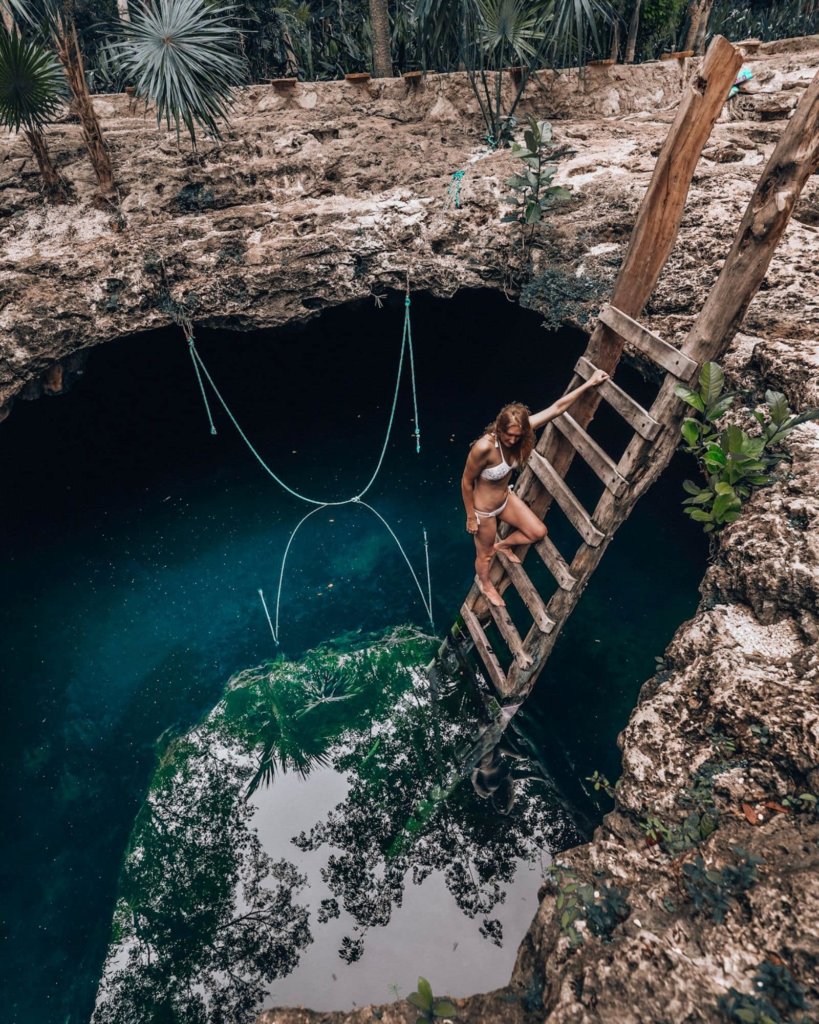 Cenote Calavera Hours of Operation
Cenote Calavera is open daily from 9am-5pm. If you arrive before 9am, the gate will be shut tight. Don't worry, the owner seems to open promptly at 9am.
What To Do at Cenote Calavera?
Upon arrival, visitors must first shower off any sunscreens, bug sprays, or lotions. This is to protect the fragile ecosystem and will be asked of you at all cenotes in the area. (Cenote Calavera does have basic showers and restrooms).
You will most likely see bats here, though not as many as at Cenote Caracol or Taak Bi Ha. I don't mind them at all, and just be thankful that they are keeping the mosquitos at bay.
Things To Do at Cenote Calavera:
➳ Swimming! Though not as large as some of the other well-known cenotes, Cenote Calavera is larger than it looks. The underground swimming portion extends further than the "skull" seen from above, to a circumference of about 160 meters.
➳ Snorkeling! The water is actually quite clear here. Because this cenote is partially underground, though, the water can often appear darker than it actually is. What time of day you visit and how overcast the sky is can also affect the visibility.
➳ Diving! Plenty of divers pass through this beautiful cenote because of the cave system mentioned above. You can not self-dive – you must be part of a tour or with a dive instructor. Additionally, divers must have PADI Open-Water Certification to take part.
➳ Cenote-Jumping! Definitely my favorite thing to do here! Yes, you can take a running jump through the large wide mouth of the skull. BUT, you can also jump through the two small eyes of the skull, as well! Be careful, though – I've heard that many arms and limbs are often scraped up here. So far my spatial awareness hasn't let me down, though.
➳ Relaxing! Hammocks surround the cenote in lush green jungle, so feel free to take some time and relax if you need a break from swimming.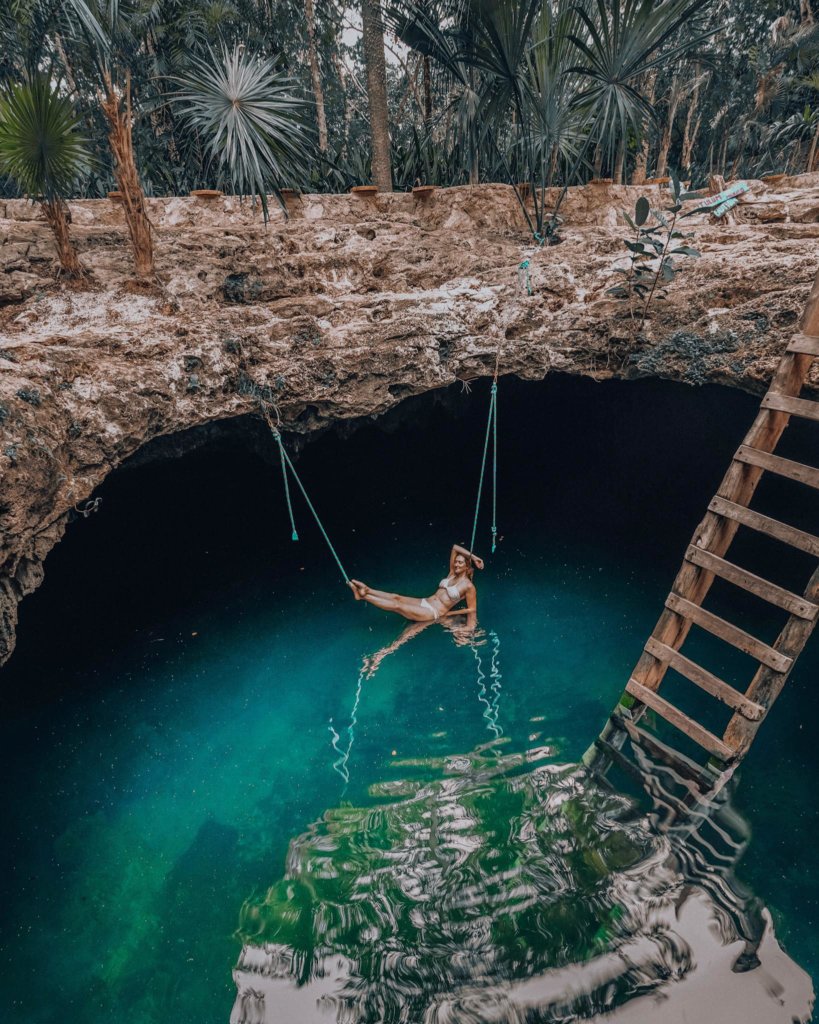 The Perfect Day at Cenote Calavera
My recent trip to Cenote Calavera was amazing. I arrived by rental car before they even opened at 9am. That meant that I had the entire place to myself. When one other couple did arrive, they were lovely and we had plenty of room to do our own thing. This cenote can get quite crowded due to its newfound popularity.
Spend plenty of time exploring, jumping, and swimming. Bring your snorkel gear if you like. Swimming in this cave by yourself does have a slightly ominous feeling, but know that you are totally safe and this is part of the appeal.
The water is calm and is an average of 76°F, which feels cool in the early morning but is so refreshing midday.
I took photos to my heart's content, swam and jumped all morning, and explored the immediate surroundings. It was honestly the best morning I could have asked for, and this is a special cenote, despite the small hiccups about cameras and pricing.
Cenote Calavera Basics:
➳ Cenote Calavera is open from 9am-5pm.
➳ The current Cenote Calavera price is $250MXN and is payable in cash only.
➳  Cell phone photos are free. Any other type of camera will carry an additional $200MXN charge.
➳ Cenote Calavera offers little to no facilities. Bring your own water and towels.
➳ Skip the sunscreen, lotion, makeup and bug spray. Or, if you have it on, please shower first. This is to protect the fragile ecosystems found in these underground rivers and all of the creatures that call them home.
What to Bring to Cenote Calavera
As mentioned, Cenote Calavera has very basic facilities and no concessions. Therefore, you will want to pack some basics for your visit.
Exact Change for the entrance fee
Plenty of water
Bathing Suit (my advice, just wear it under your clothes)
You phone (and a waterproof case if you plan to use it for photos)
Camera and/or GoPro
A hat and sunglasses are a must
A towel or sarong
A dry-bag
Snacks if you'll be here all day
Hands down, Cenote Calavera in Tulum was one of my favorite finds. It was an excellent way to spend some time in Quintana Roo and despite those hiccups I mentioned, I would go back without hesitation. Visiting this cenote is definitely one of the best things you can do in Tulum!
Pin Me for Later!