If you are planning a trip to Tulum, then you probably already know that Tulum is a trendy, artsy area with a lot to offer. There is so much to do in Tulum, Mexico – from the gorgeous beach to the tasty food. But if you are interested in exploring outside of Tulum, there are plenty of Day Trips in the Yucatan Peninsula that will blow your mind. Read on for the BEST Day Trip From Tulum options to make your time in Mexico unforgettable!
Pin Me for Later!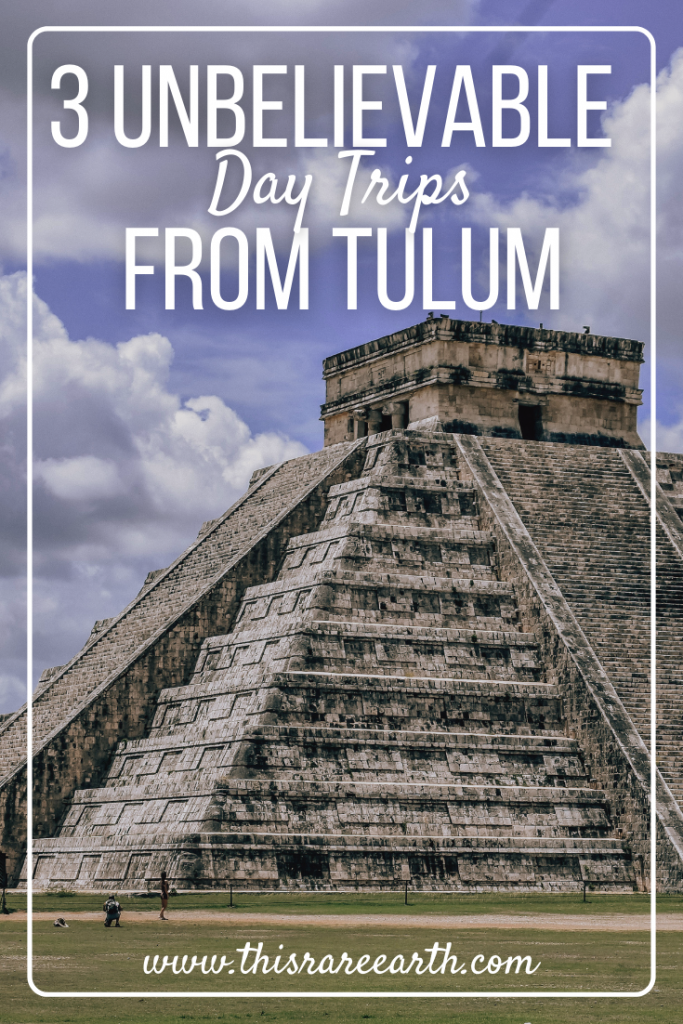 There is so much to appreciate in Tulum, Mexico. When planning your trip, you quickly see the endless options for fun in the trendy, art-filled town. Chic hotels, public art installations, and vegan eateries are found on every corner. Known for laid back beach vibes, there are no large chain resorts found here (yet!).
However, Tulum is not a huge area, and if you are feeling the itch to explore elsewhere while visiting Tulum, Mexico, then I have a few mind-blowing options that you will surely enjoy.
Here are my top three day trip from Tulum options, spanning jungles, caves, and lakes. If you are feeling extra adventurous, you should check out all three!
3 Perfect Day Trip From Tulum Options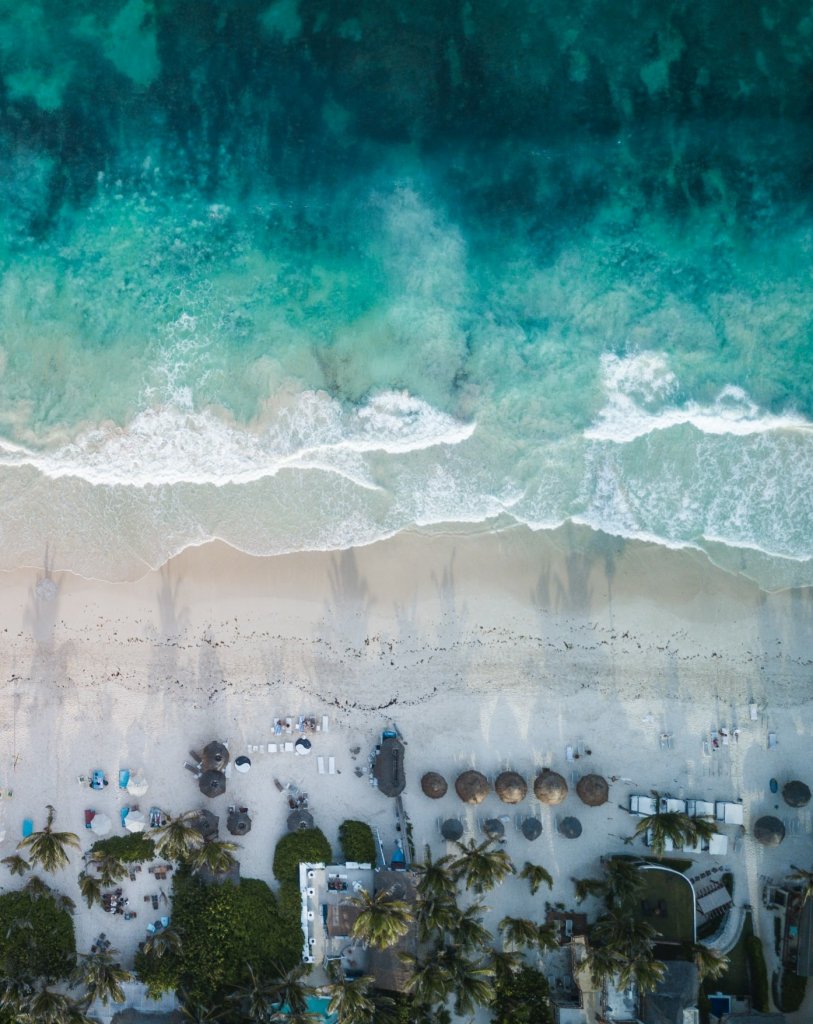 Day Trip From Tulum #1: Cenotes
Cenotes, cenotes, cenotes! Did you know that the Yucatan Peninsula in Mexico is home to more than 6,000 cenotes?!
But What Is a Cenote?
Cenotes are formed through a centuries-long process. Limestone bedrock is naturally eroded away and eventually collapses, creating holes in the earth. These openings expose the fresh water from underground rivers and/or collect clean rainwater, creating picturesque and crystal clear waters.
The Yucatán Peninsula has more cenotes than anywhere else that I'm aware of on the planet! I did thoroughly enjoy visiting Tres Ojos in the Dominican Republic, but there is one important difference….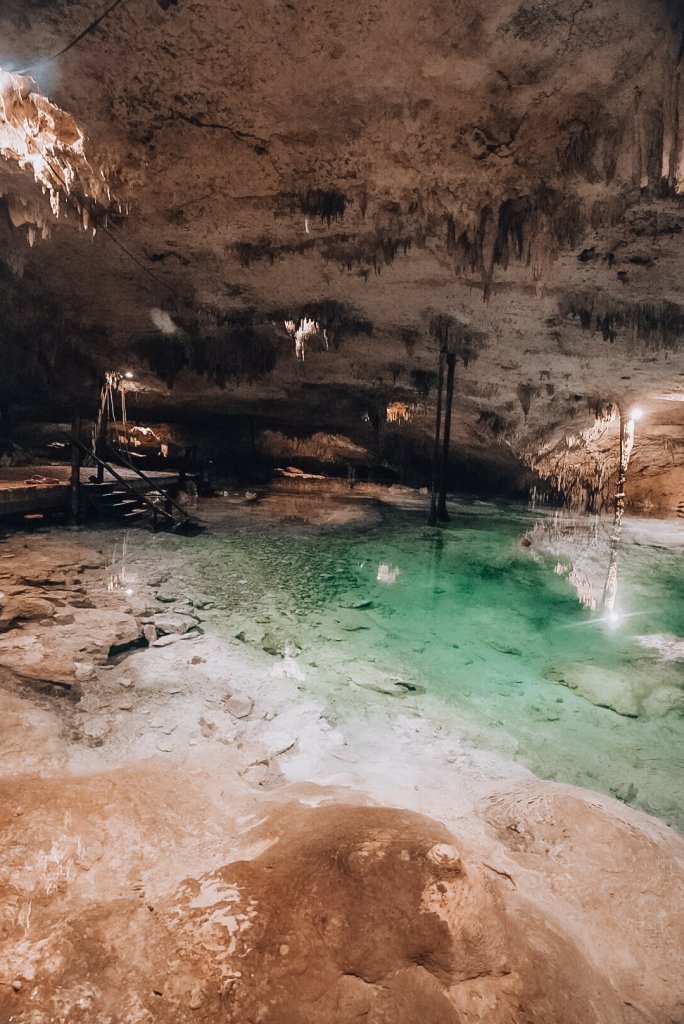 You Can Swim In Yucatan Peninsula Cenotes
That's right, these are underground playgrounds! Here you can enjoy swimming in the cenotes, if you dare. Be aware that they are often partially (or fully) underground or inside of caves. That means lots of friendly fruit bats will share the experience with you. Don't worry, these guys are harmless.
The water is generally very chilly feeling, but it is definitely a welcome change from the humidity in my opinion. I promise, once you get in it's really not so bad!
Looking for even more to do in the Yucatan Peninsula? Click Here for the top ten things to do!
It is worth mentioning, however, that the humidity-plus-water means lots of mosquitoes will be hanging around. No bug spray or sunscreen is allowed in the cenotes (thank you, fruit bats, for keeping the bugs at bay).
Guests are typically required to wash off any of these chemicals upon entry, and the showers provided can range anywhere from rustic outdoor pipes to full private locker rooms. It all depends on how built-up the cenote is that you choose to visit.
What Cenotes Should I Visit On My Day Trip From Tulum?
There are quite literally thousands of options, but it's best to know what you're getting into before you choose. For examples, you will find everything from a more organized experience with lockers and indoor showers to a literal hole in the ground with no facilities. Below I will list a few "Best Of" options
In a full day trip, you can easily hit two of these fun spots (don't forget to add in some time for a lunch stop) if you choose two that are nearby to each other.
For example, an easy combination is to start the Day at Dos Ojos, where you can take a snorkel tour in the cave-cenote and then swim for an hour or so in the open cenote. Then, Dos Ojos has a cafeteria-style area selling food and drinks, making lunch easy. And afterwards, Cenote Sac Actun is only a seven minute drive from Dos Ojos, making it a perfect afternoon activity.
Day Trip From Tulum #2: Ruins
A vacation to Quintana Roo would NOT be complete if you didn't visit the Mayan Ruins on a Tulum Day Trip. Luckily, you have several spots to choose from!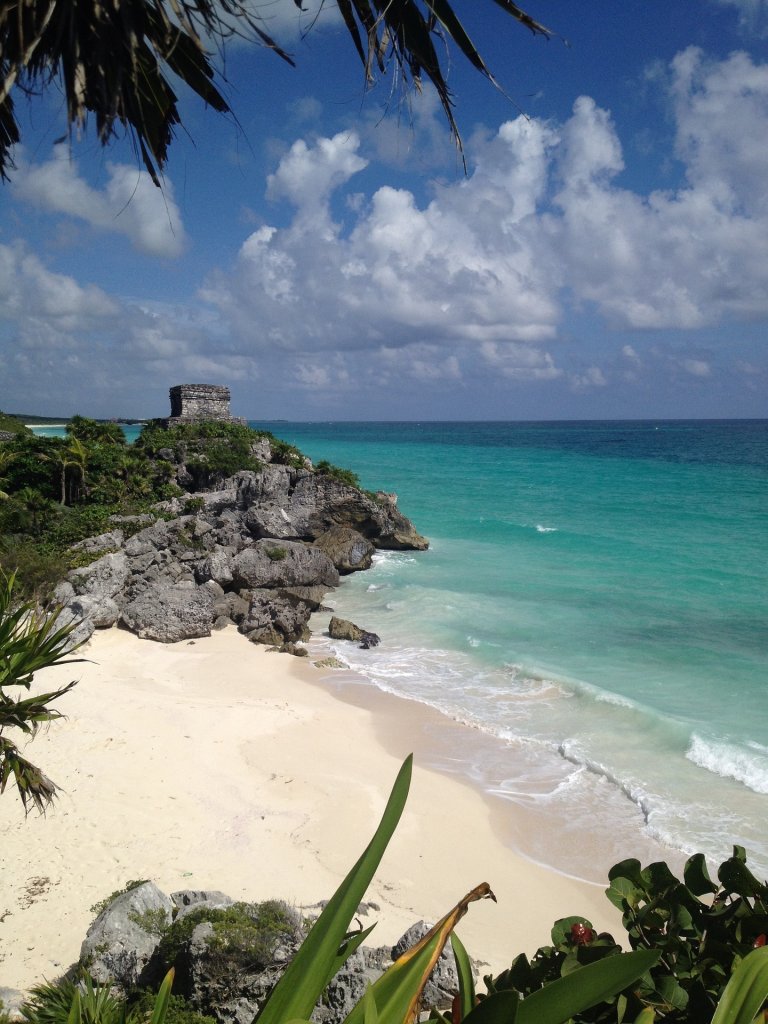 What Mayan Ruins Can I Visit On A Day Trip From Tulum?
The closest option to Tulum are the Mayan Port City Ruins in the Archeological Zone of Tulum. These are casually known as "the Tulum Ruins". These ruins are only 10 minutes outside of Tulum (maybe even less if you are staying on the east side of Tulum). If you do not have a rental car you can easily hire a cheap taxi to drop you off. Catching one for the return is a cinch, too.
As the name suggests, the noteworthy thing about the Mayan Port City Ruins is that they sit directly overlooking the ocean. Pro-Tip: be sure to bring pesos for your entry ticket and avoid a less-than-fair exchange rate.
For a completely different experience, visit the Coba Ruins. These are situated inside of the thick jungle. I found Coba to be beautiful and photogenic, with lush greenery as a backdrop. However, be aware that Coba is about 45 minutes outside of Tulum, so if you don't have a rental car, you will want to either hire a taxi or go on a tour.
The farthest (but most famous) option for ruins is hands down, Chichen Itza. The Chichen Itza ruins are a two hour drive from Tulum – each way.
It is more than possible to plan a day trip to Chichen Itza from Tulum. Your options are again a rental car, hiring a driver, or joining a tour. (Side note, there are several cenotes found near Chichen Itza, so it is completely possible – and recommended – to visit both of these in one day! Maximum fun and variety!).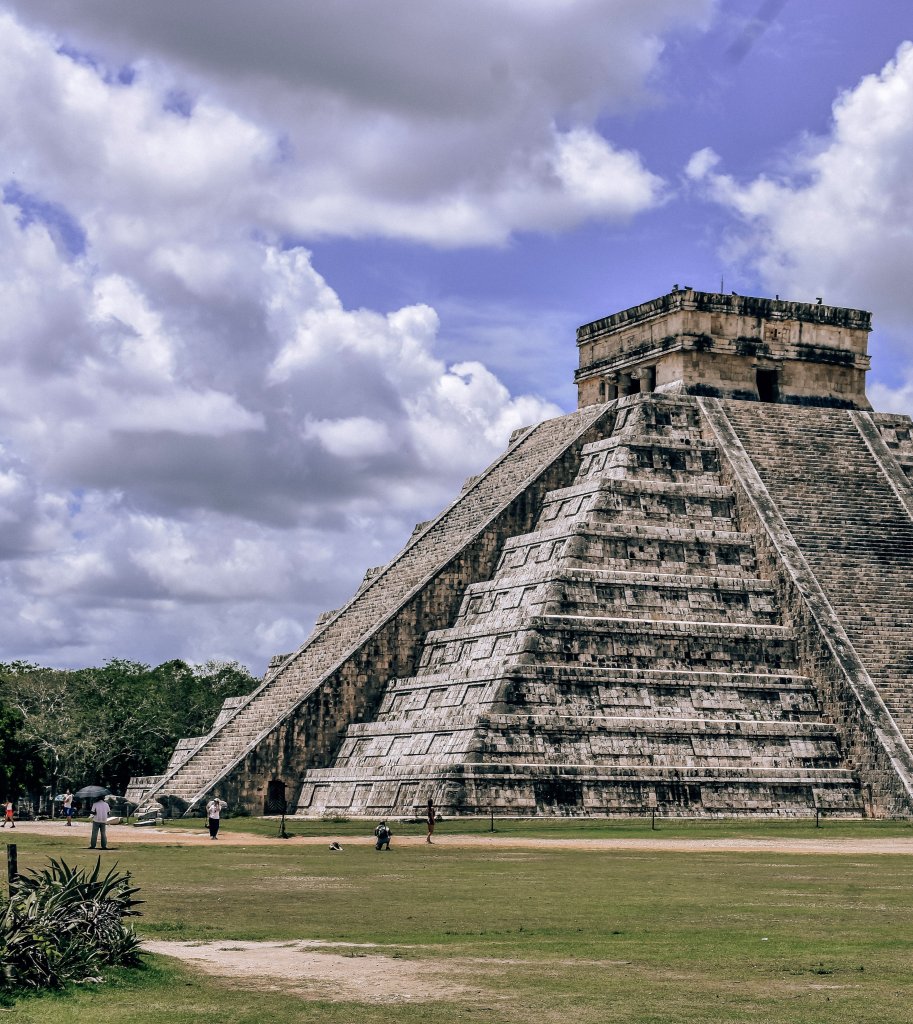 It all depends on how you prefer to travel and what hassles you are feeling up for or not. There are pros and cons to all. I personally preferred to road trip around Quintana Roo, which allowed for a lot of freedom and flexibility for my timeframe. But it's true that renting a car in Mexico can be an ordeal if you're not prepared.
Day Trip From Tulum #3: Bacalar
Lago Bacalar is a stunning local-known spot that has remained a secret for some years. It is starting to gain popularity as a stopover spot as travelers cross from Belize into the Yucatan Peninsula, and for those who are road tripping through Quintana Roo (as I was!).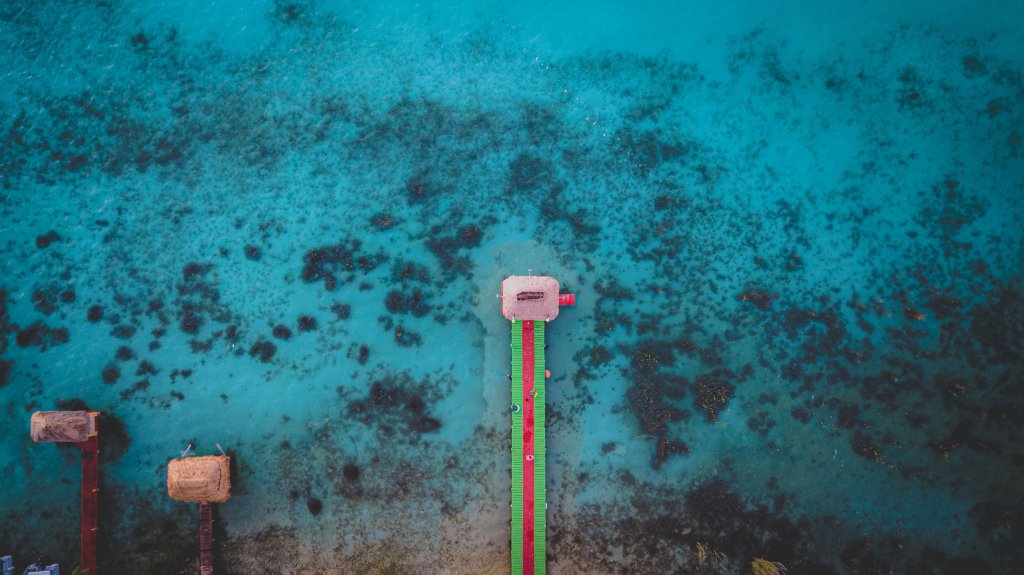 If you make the 2.5 hour drive south to Bacalar, you will quickly see why I've added Lago Bacalar to this list. The water is a clear, striking blue made all the more stunning due to its white limestone floor. The scenery is breathtaking, and the entire area is so calm and relaxed after you've spent time in Tulum.
This is an excellent spot to hang out and enjoy a quiet day if you are looking to escape the crowds of Cancun or Tulum! Hip and delicious vegan restaurants are cropping up in the area. But go soon, because this hidden gem won't stay secret for long!
Pin Me for Later!