Cenote Caracol in Tulum Mexico was an unexpected surprise. It was the most mysterious cenote I visited in all of the Yucatan Peninsula, by far. The vast underground cave, the chilling water, and the swimming fish all made for an immersive cenote experience. Don't miss Cenote Caracol, a mysterious and dark underground cenote in Tulum!
Pin Me for Later!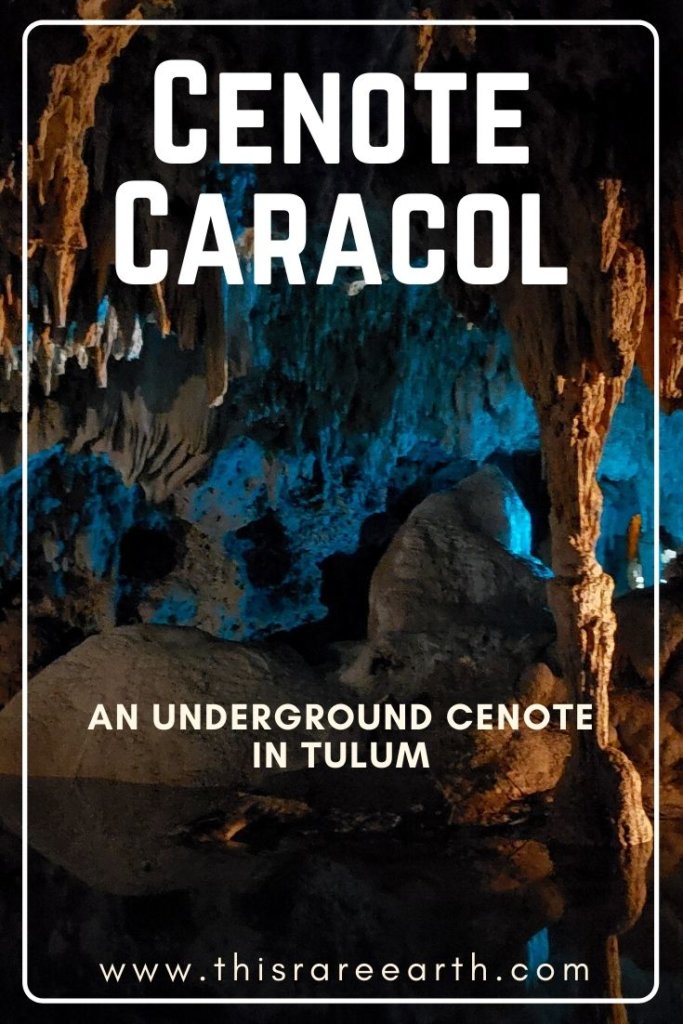 Cenote Caracol: An Unexpected Surprise
Admittedly, Cenote Caracol was not one that I was planning to visit while in Mexico. And that is simply because I had never heard of it or read anything about it in my research.
I quite literally stumbled upon Cenote Caracol while on my failed attempt at finding Cenote Taak Bi Ha. While on the long dirt road, I passed a sign for Cenote Caracol on my way in, and on my way out I decided to stop on a whim so that my trek wouldn't have been for nothing.
Am I ever glad I did!
This cenote is a dark, underground, mysterious hidden gem. It is so worth the trek to get here. Stalactites hang in infinite numbers from the cave ceiling above, and blue and yellow lights illuminate an otherwise pitch black cavern.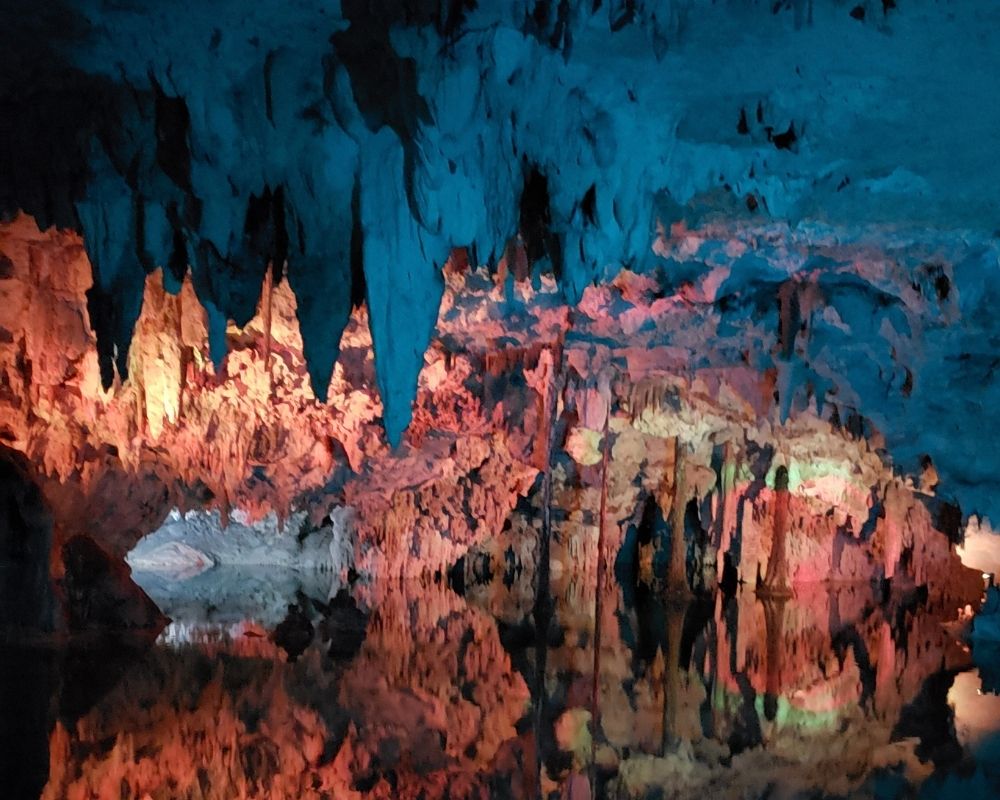 There are two distinct areas at Cenote Caracol; the completely underground swimming hole as well as a partly underground / partly open air walkable area. This is where you will see tropical plants surrounding the cool waters as well as get an up-close-and-personal introduction to the cave system.
Cenote Caracol is part of the Sac Actun Cave System, spanning throughout the Yucatan Peninsula. This is one of the world's largest cave systems, and I highly recommend a visit to Cenote Sac Actun while you're in Mexico.
A very small opening in the ground allows access to the swimming hole. It is surprisingly large – a lot larger than I would have guessed – with some brightly lit areas as well as some dark and spooky corners.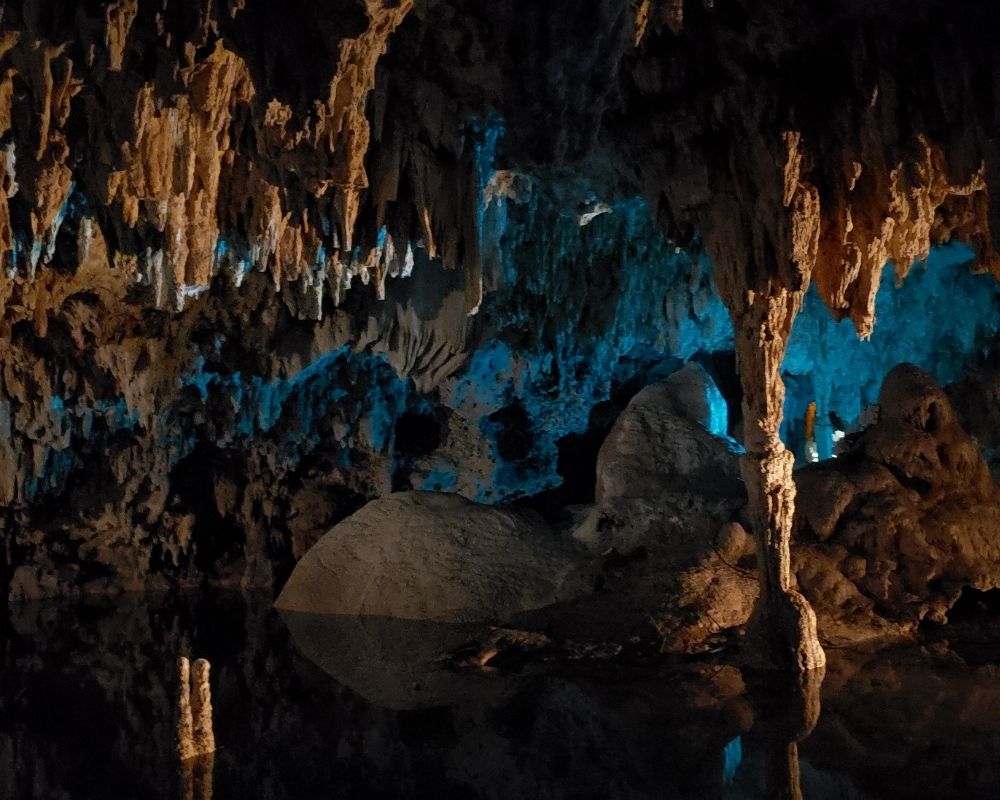 The only critters that I met while swimming were lots of fruit bats and small to medium fish, but not one other human being. The fact that I had the place to myself as well as the vast dark corridors and the sounds of fluttering bat wings really added to the mysterious feeling of Cenote Caracol.
Keep reading for info on location, entry fees, and facilities!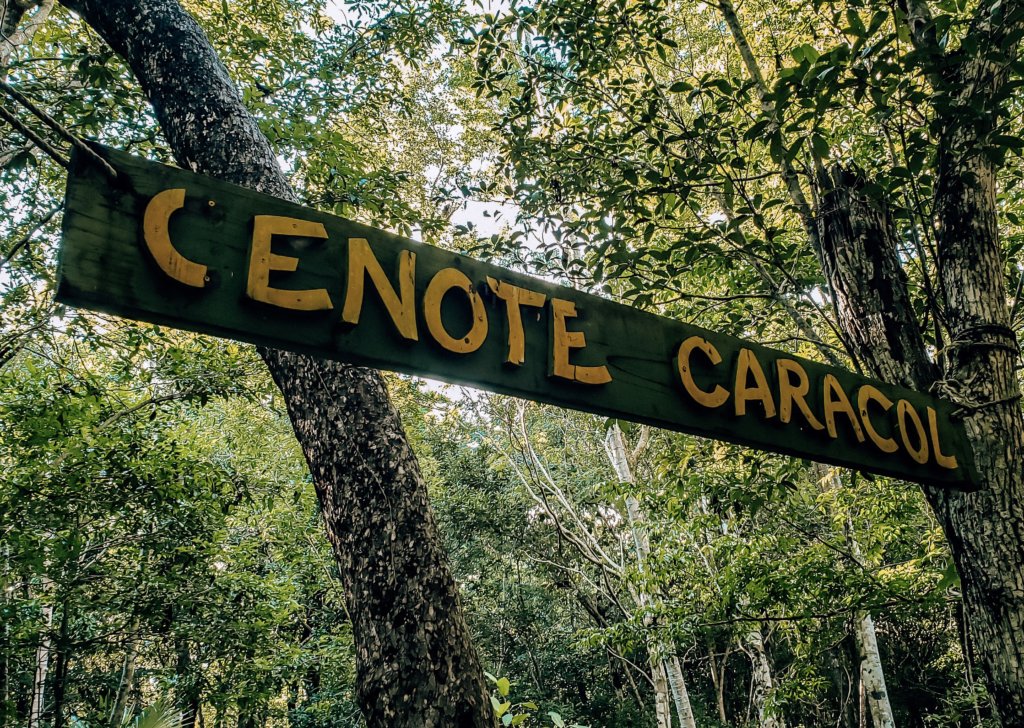 How To Get There:
Cenote Caracol is an easy day trip from Tulum and the surrounding areas of Cancun, Playa del Carmen and the Riviera Maya.
Depending on the season, the access road can be challenging. It is dirt, with large hills, bumps, and potholes. In the dry season, access by car is possible. In the wet season, you will definitely need 4WD.
To access Cenote Caracol, you will be turning from Highway 307 onto a small dirt road. The turnoff to the dirt road can be easily missed, so keep your eyes out! Or, better yet-
Click on the map below for a customizable Google Map. Simply type your hotel address to get directions directly to Cenote Caracol.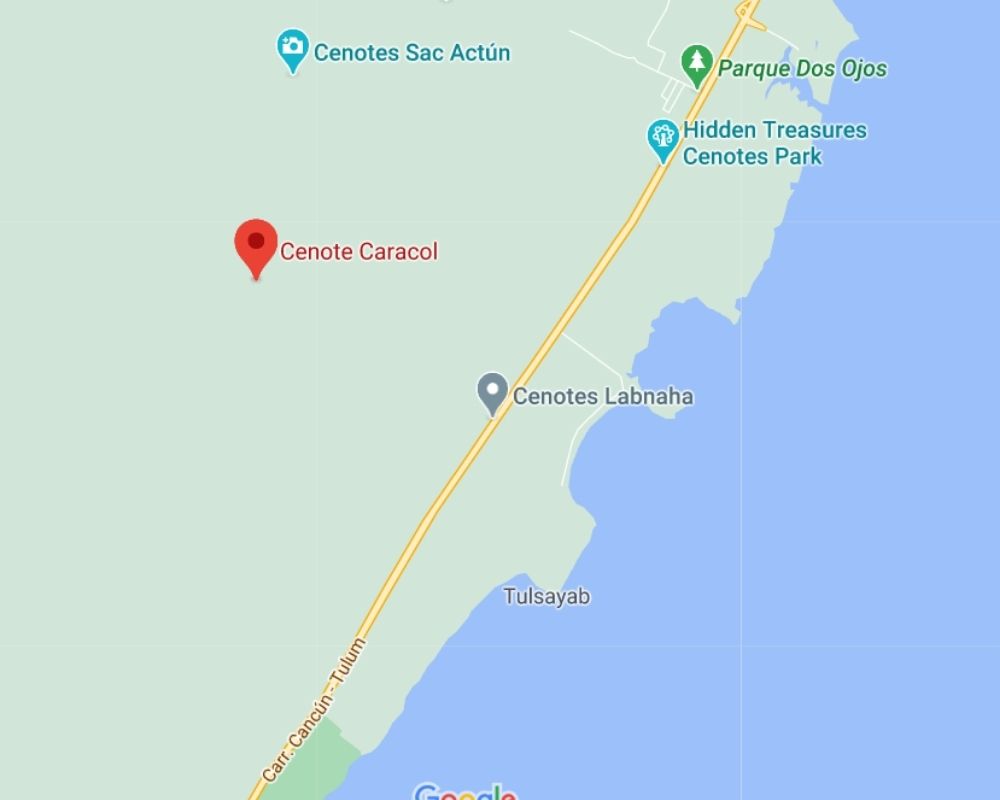 Visiting Cenote Caracol (The Basics)
Operating Hours: 8 AM to 5 PM
Entrance Fee: $250 pesos (yes, the price has gone up)
Scuba Diving: Yes
Good for Swimming: Yes
Facilities: Outdoor showers
Car Parking: Yes (Free)
Above ground are showers and changing rooms. It is required to shower off any sunscreen or bug spray you might have on your body before entering – Mexico does a good job of trying to preserve these pristine waters.
Side note, though there are mosquitoes at the opening of the cenote, once you are inside, the bats keep them at bay.
Once you reach the bottom of the entry ladder, there is a small wooden "dock" (for lack of a better term) where you can place any towels, cameras, or bags you may have.
The water is crisp and cool, and gets quite deep. I would recommend that only comfortable swimmers visit the swimming hole.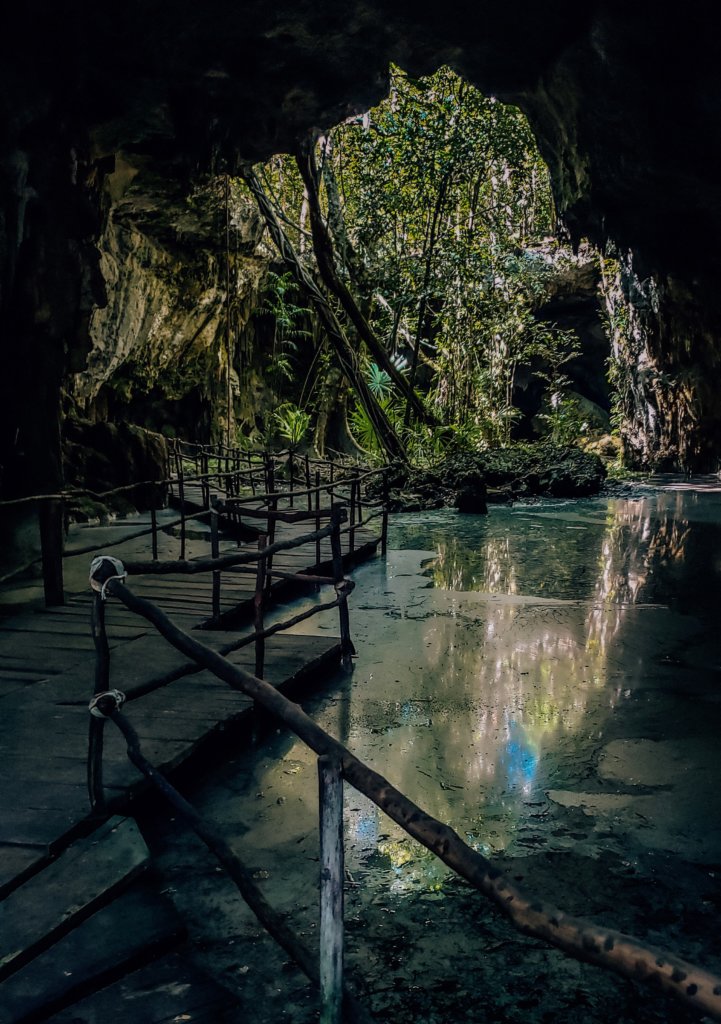 There are caverns to swim through and divers can have a field day swimming in underground passageways. The waters are safe, but deep, and keep watch for large rocks so that you don't kick them while swimming.
Cenote Caracol is one of Tulum's hidden gems – quite literally. I don't believe I would have found or heard of this beautiful cenote if it weren't for my search mentioned above. It's certainly not one of the more well-known cenotes in Tulum!
But that's really a shame if you ask me, because this cenote is truly for the adventurous travelers of Tulum. I was on a solo trip in Mexico when I stumbled across Cenote Caracol, and I ended up having the entire cenote all to myself. Not one. other. soul. was here.
This cenote is undeniably breathtaking. And I can tell you it was haunting and mysterious to swim those dark caverns all alone. I'd do it again in a heartbeat!
Pin Me for Later!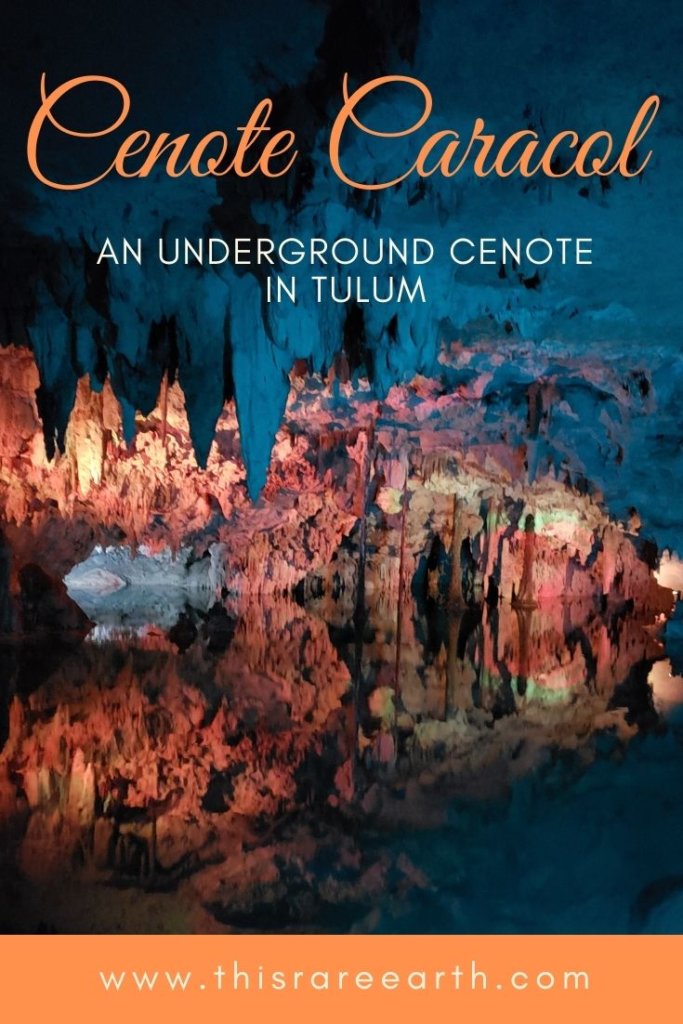 Would you swim this cenote alone? Let me know in the comments below!